If there's one thing that is certain when it comes to AI image tools, specifically avatars and profile pictures, is that we will never run out of custom styles.
In this category specifically, there's been a bit of a "gold rush" for the last couple of months. However, I'm more focused on tools that provide truly unique options, as well as a vast array of styles for customization.
Also, I'm going to be looking at generators outside of avatars. There are now some fantastic services like profile picture generators for passports, for teams, and a few fun projects you can share with your friends.
---
Avatarize – high-quality in over 50 styles.


Avatarize lets you create high-quality, AI-generated avatars for various purposes, such as professional photos, social media display pictures, game avatars, dating profile photos, and more. The service uses the Stable Diffusion 2.1 model for generating these avatars.
You can choose from more than 50 styles and will receive 120+ avatars. The service is pretty quick, with results emailed or sent via WhatsApp within a few hours. Some of the styles available include popular characters like Superman, Batman, Ironman, and Mr. Bean, as well as themes such as art deco, cyberpunk, professional, gym, yoga retreat, and more.
To generate avatars, users need to follow these steps:
Log in and set up a profile.
Upload 10-25 photos following the guidelines (solo shots, even lighting, various emotions, different backgrounds, etc.).
Complete the payment.
In their own words, Avatarize is a paid service because it offers higher quality results than free alternatives, using a highly trained model and powerful GPUs.
Pricing: The pricing for this service is currently $19.99 (discounted from $40). Unsatisfactory outputs are eligible for a full refund.
---
HeadshotPro – professional corporate headshots.


HeadshotPro is a service that provides professional corporate headshots for remote teams using AI technology. The service generates high-quality, AI-generated headshots for individuals or entire teams in minutes.
You need to upload your photos and choose the style of your headshots, and the AI will generate over 120 headshots to choose from.
The service offers the following features:
120 headshots per person
3 unique locations per shoot
4K photo size
Fast 2-hour turnaround time
Some advantages of choosing AI-generated headshots include:
Indistinguishable from real photos
No need for a physical photoshoot
Matching photos for remote teams
The process for obtaining AI-generated headshots is as follows:
Create a team and add colleagues by entering their names and email addresses.
Select a style for the headshots.
Invite colleagues to the platform.
Upload selfies of the team members.
The AI-photographer generates headshots.
Download your favorite headshots.
Regarding data handling, HeadshotPro deletes input photos and models from their servers within 7 days. You own the generated pictures and have a full commercial license to use them.
Pricing: Pricing is affordable, starting at $39 per person, with discounts for larger teams. The service includes a 120 headshots/person, 40+ different poses/shoot, and a 2-hour turnaround time.
---
AIProfilePic – stunning AI profile pictures.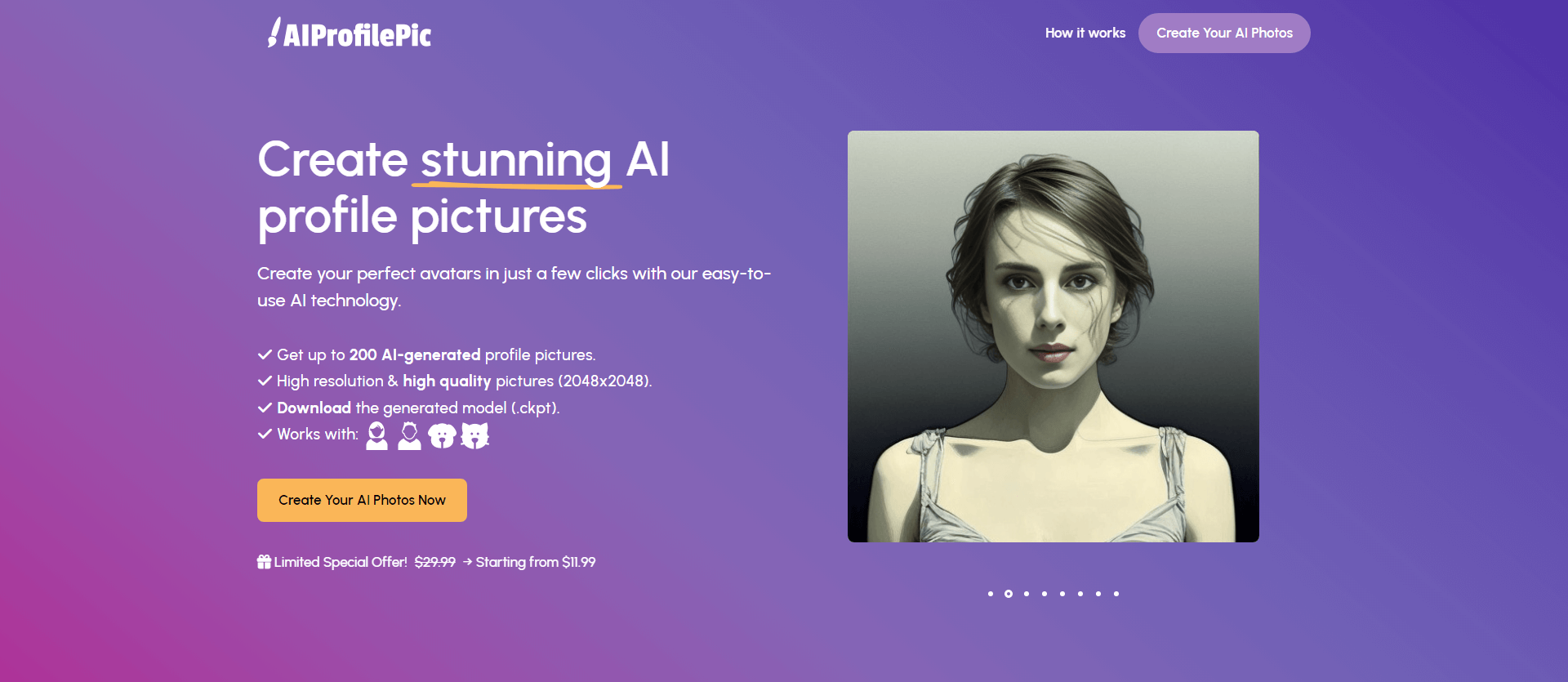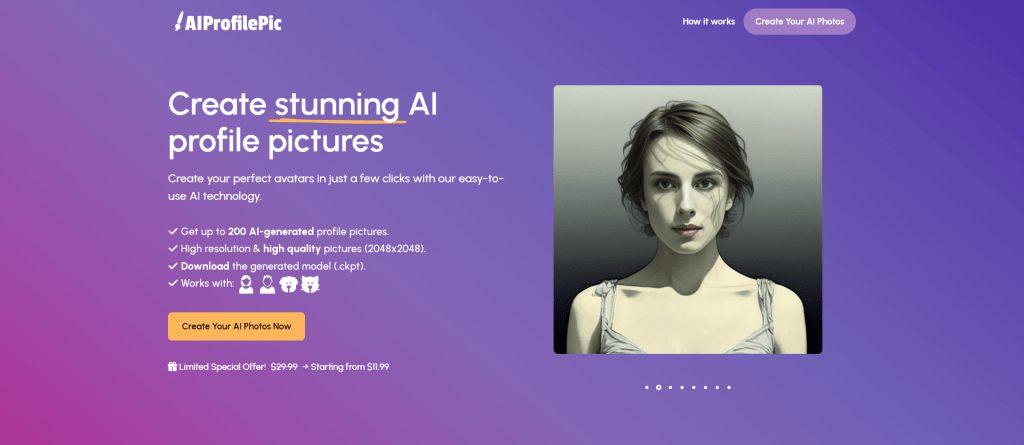 AIProfilePic is an innovative service that creates stunning AI-generated profile pictures in just a few clicks. The entire process is incredibly user-friendly and efficient, making it easy for anyone to create the perfect avatar.
This platform offers up to 200 high-resolution (2048×2048) AI-generated pictures and allows you to download the generated model (.ckpt) as well. You can then use the mode file and load it up in any of the GUI-based tools. In total, there are over 170 unique styles to choose from, ensuring that there's something for everyone.
The process to get started is straightforward: upload 15-20 photos of yourself or your subject, adjust and crop your images using their online photo editor, and then choose your favorite styles from their extensive list. After approximately 2 hours, you'll receive an email to download your awesome new profile pictures.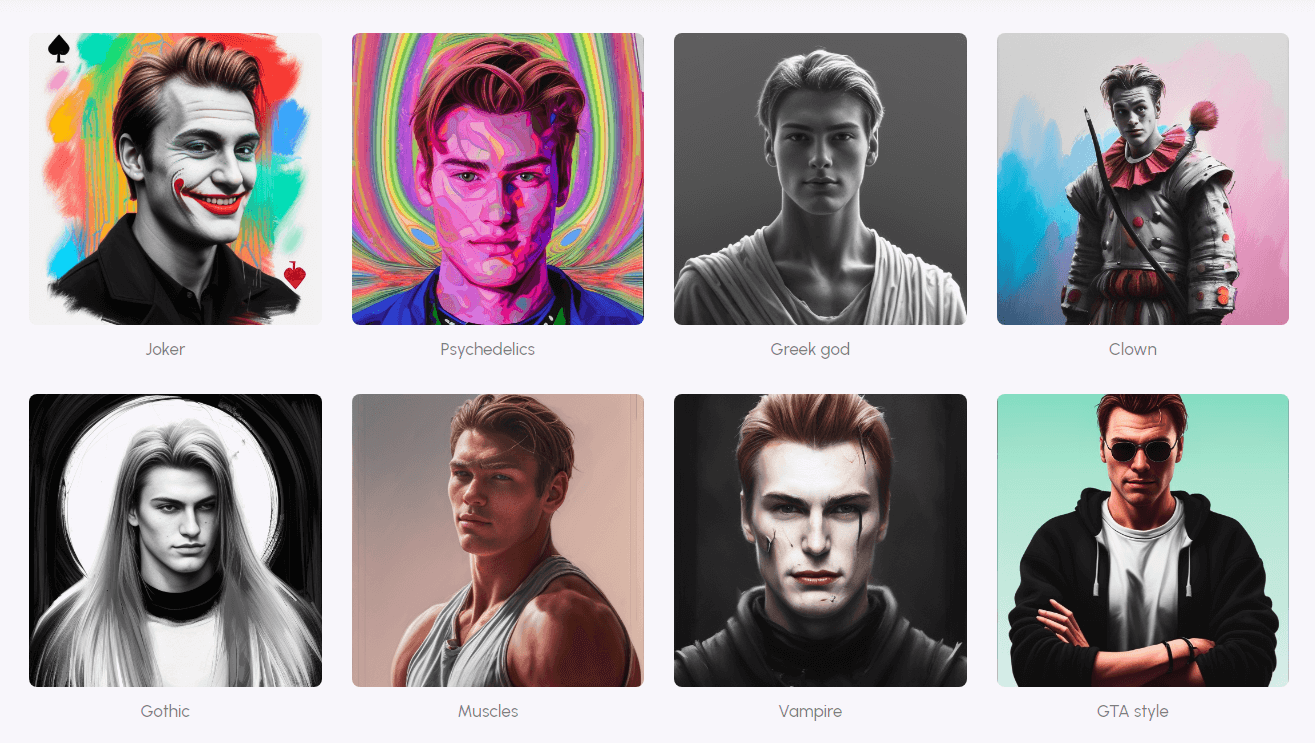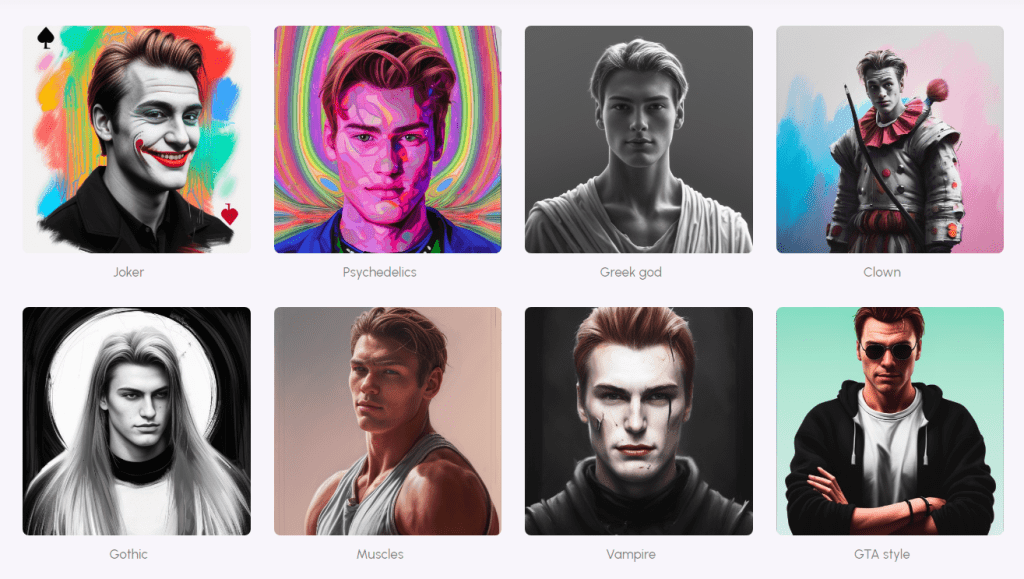 One of the key features of AIProfilePic is the photo quality. The service utilizes a unique approach to avatar creation by combining the power of AI with AI-backed quality control systems. This ensures that each generated image undergoes a series of quality checks, minimizing the chances of unusable avatars.
In terms of privacy, AIProfilePic deletes your photos and models from their servers within a week, ensuring that your data is secure.
Pricing: $29.99 → discounted to $11.99 at the time of writing this. They also offer a refund option, accept various photo formats, and support multiple payment methods.
---
PassPhoto – passport photos with AI.


PassPhoto is a service that leverages artificial intelligence to generate high-quality passport photos. This platform simplifies the process of obtaining passport photos, providing an accessible and cost-effective solution.
The user-friendly interface guides you through a four-step process. First, select your country and upload 20+ facial photos. The AI then analyzes your facial features and generates multiple passport photos. Subsequently, the software checks, crops, and selects the best photos. Finally, you'll receive two official passport photos via email, from which you can choose the best one for your documents.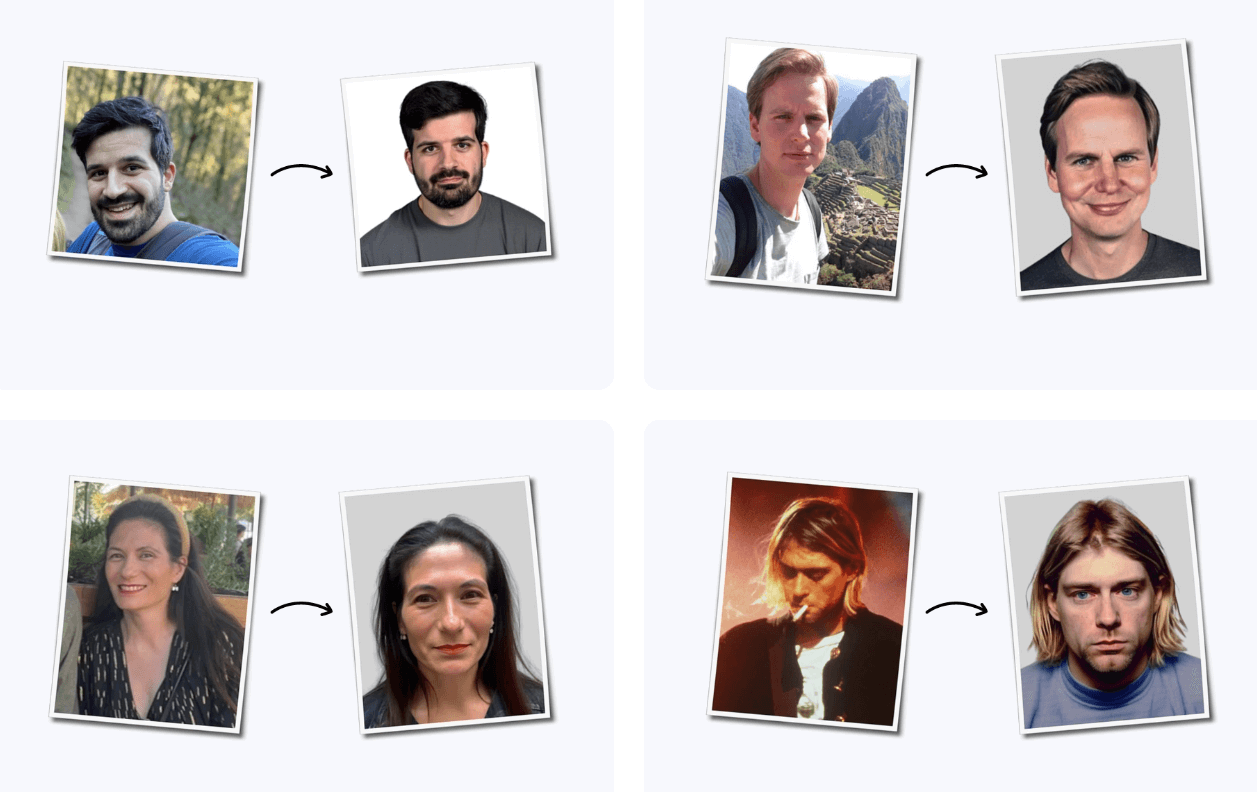 It's important to note that PassPhoto advises against using AI-generated passport photos for international travel documents, such as passports. Additionally, the current waiting time to receive your photos is two days.
Pricing: Priced at $17, the service is an affordable option for those seeking passport photos.
---
photoAI – create AI photos of yourself.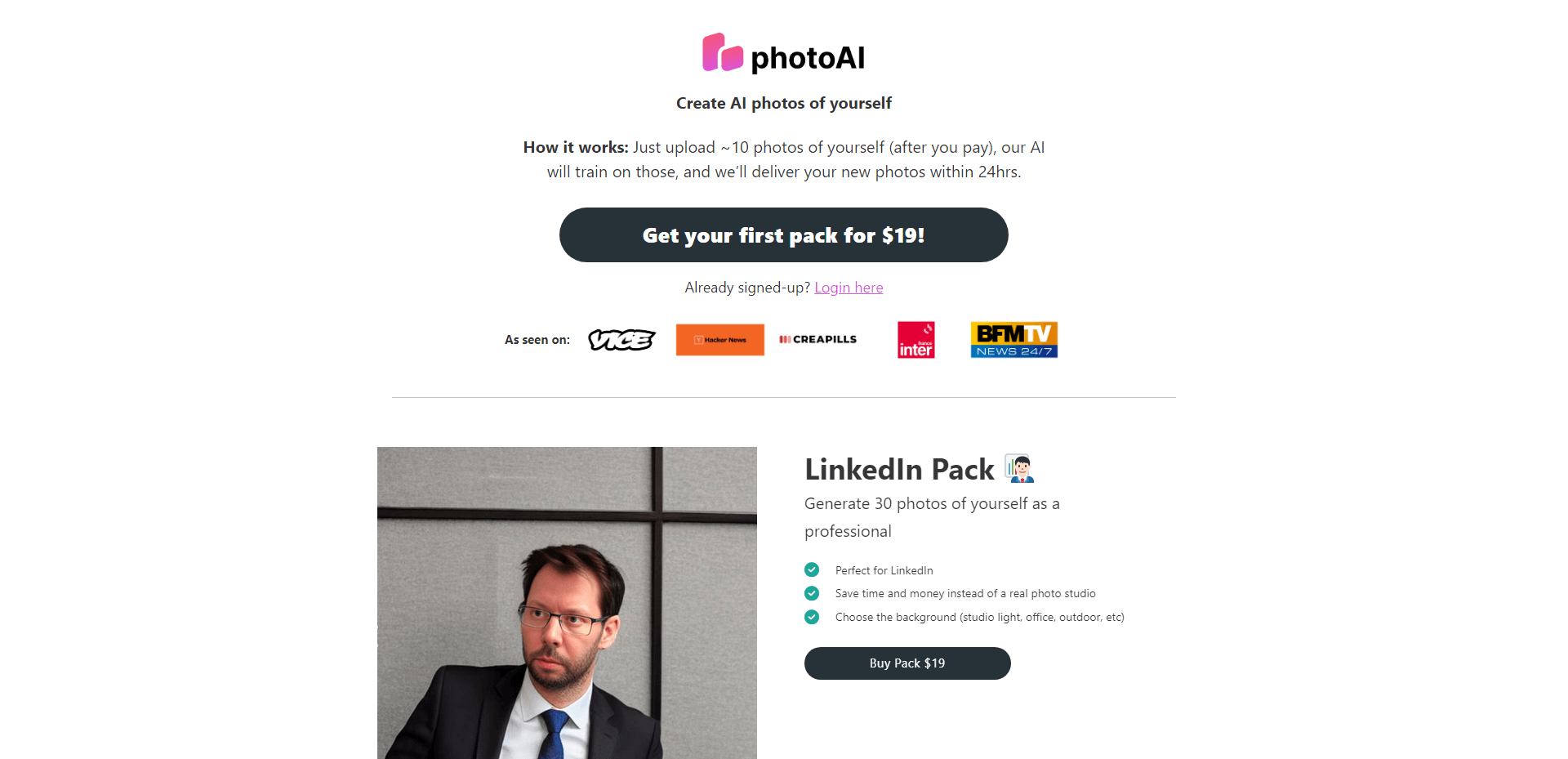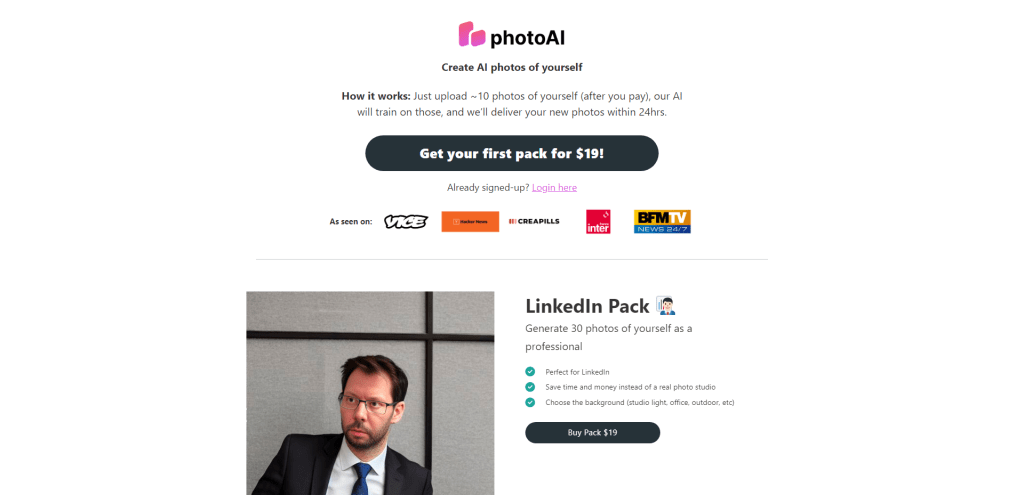 photoAI offers a wide range of photo packs catering to different needs.
The LinkedIn Pack generates professional photos perfect for your LinkedIn profile, while the Tinder Pack creates images that showcase the best version of yourself, ideal for dating app profiles. For those looking to stand out with artistic profile pictures, the Polaroid, Pop, and Royal Packs offer unique styles that can be used for creative avatars.
The site also offers other specialized photo packs, such as the Movie Pack, Celebrity Pack, and Meme Pack. However, these packs are temporarily unavailable.
To use the service, sign up, pay the fee, and upload around 10 photos of yourself – the AI will train on your uploaded images and deliver your chosen photo pack within 24 hours.
Pricing: With a simple, streamlined process, you can obtain a pack of 30 AI-generated photos within 24 hours, all for just $19.
---
Photoshot – capture your style with prompts.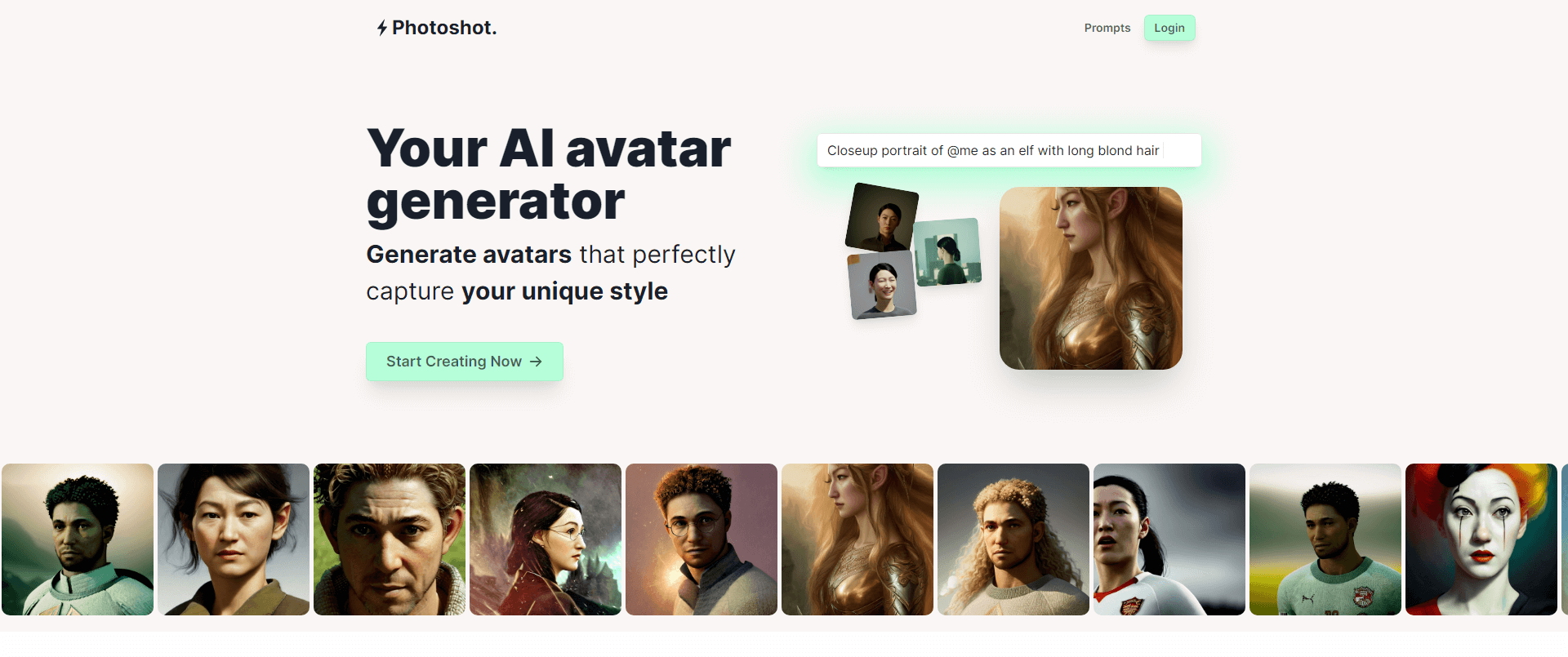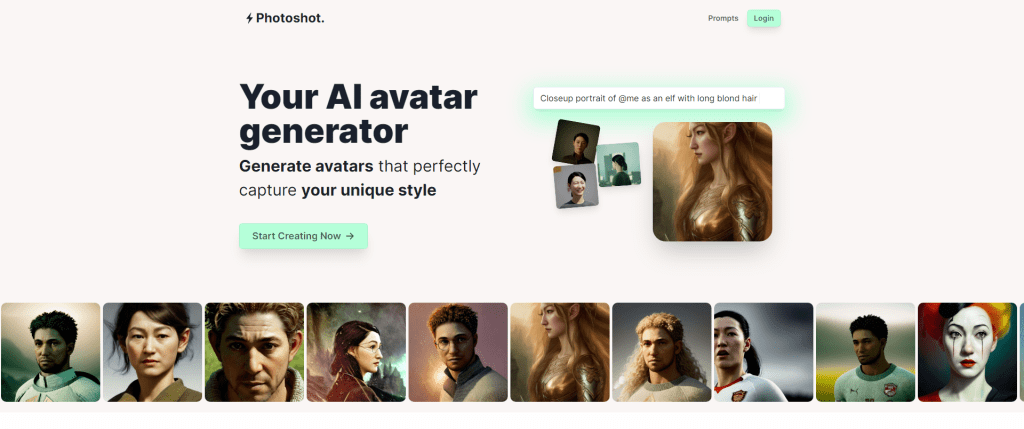 Photoshot is an AI-driven platform that specializes in generating personalized avatars that accurately capture your unique style. With an intuitive process that involves uploading selfies, waiting for the AI to create your custom studio, and providing a creative prompt, you can obtain high-quality avatars in various styles such as viking, paladin, hobbit, superhero, cyborg, and many more.
To ensure the generated avatars accurately represent your appearance, it is crucial to provide a variety of high-quality photos from different angles, including close-ups, profiles, and full-body shots. The accuracy of the avatars depends on the number and diversity of the provided photos.
Pricing: Photoshot offers an affordable package at $12 per studio, which includes 100 4K avatars, 30 AI prompt assists, and the ability to craft your own prompts.
---
ProfilePicture – picture maker and generator.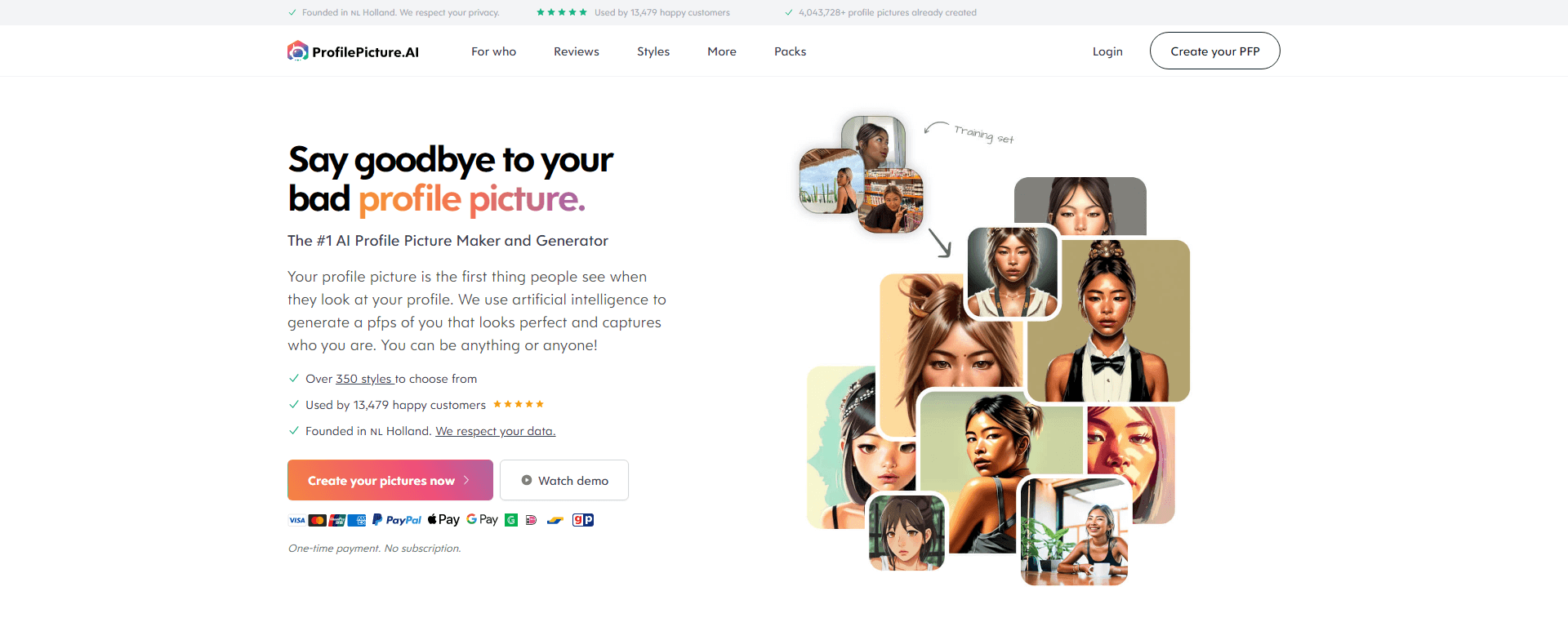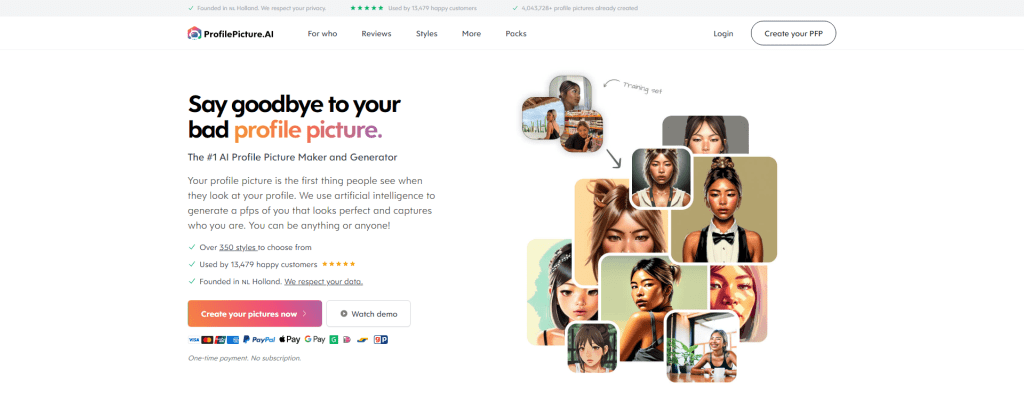 The ProfilePicture generator stands out with its impressive range of features and packages, making it the go-to solution for all your profile picture needs. With its one-time payment system and no subscription fees, you'll have access to a wealth of photo options without being tied down.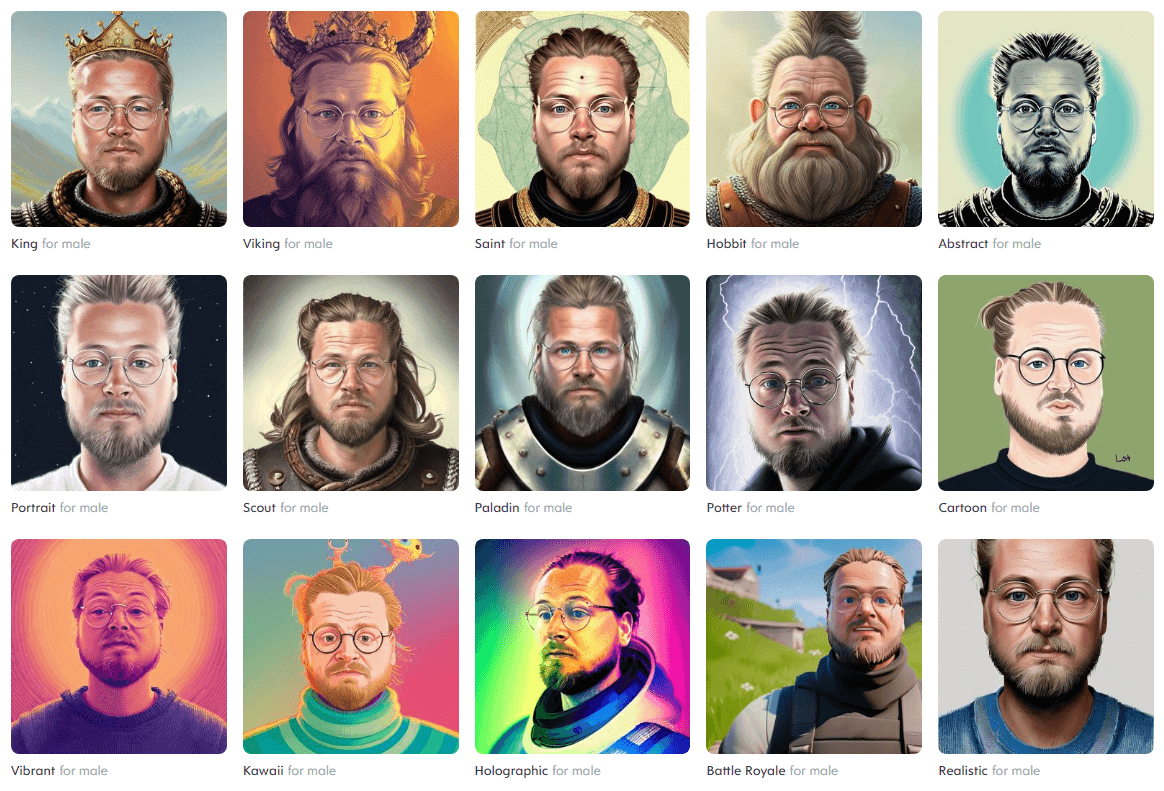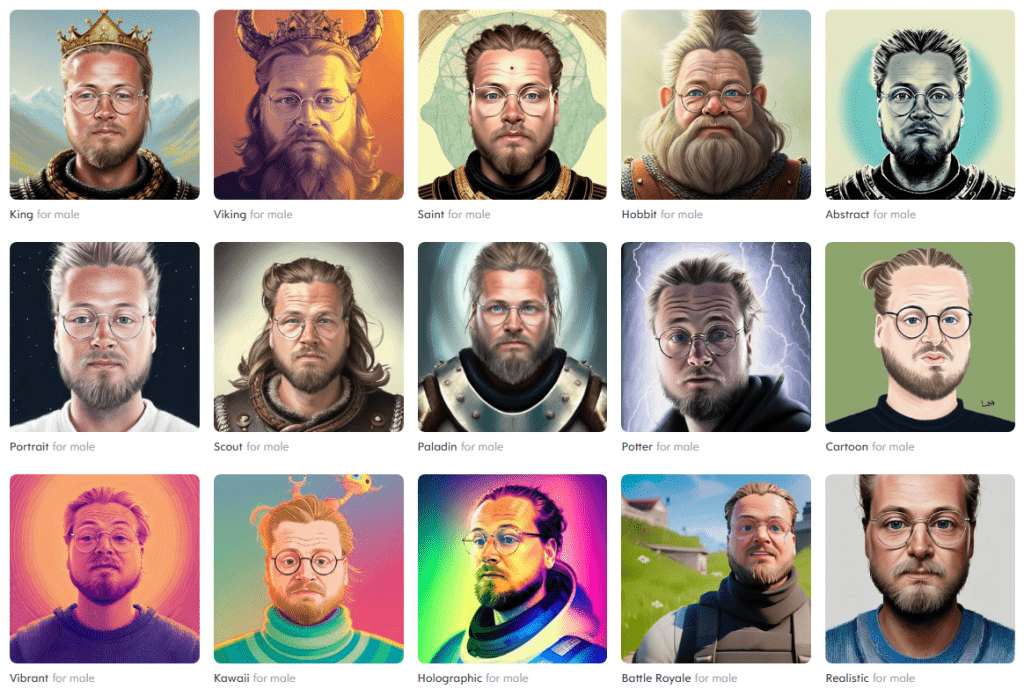 With over 350 styles to choose from, the AI Profile Picture Maker caters to a diverse array of preferences and interests. From professional and business-oriented images to whimsical and fantastical designs, this service has something for everyone.
Pricing: Choose from three one-time payment packages: Small ($32) offers 12 styles and 96 photos in 512×512 resolution; Large ($59), the popular choice, provides 35 styles and 280 HD photos in 1024×1024 resolution; and the best value All package ($99) includes 100+ styles and 800+ 4K photos in 4096×4096 resolution (except for dogs/cats).
---
Tokkingheads – bring portraits to life with AI magic.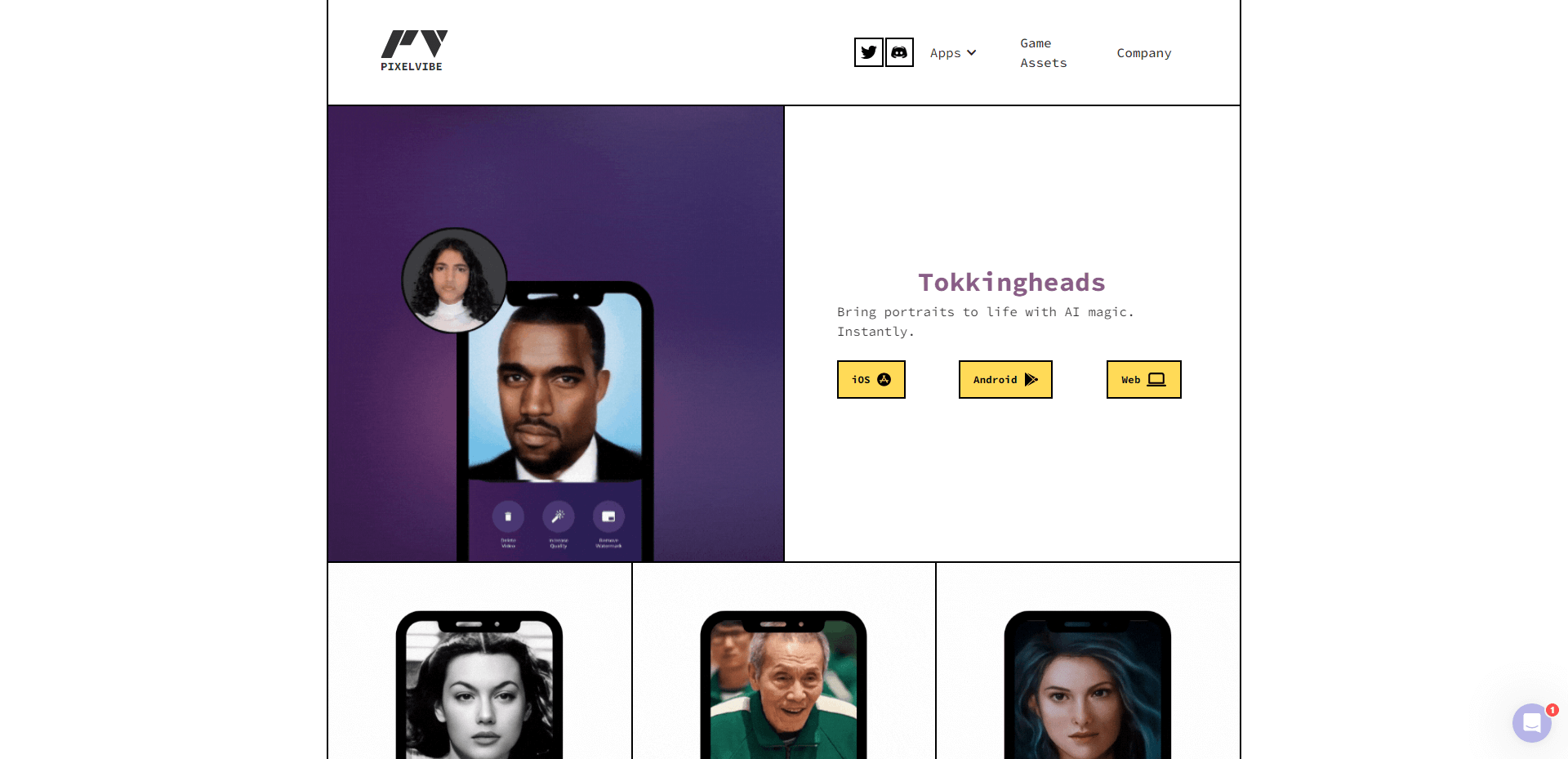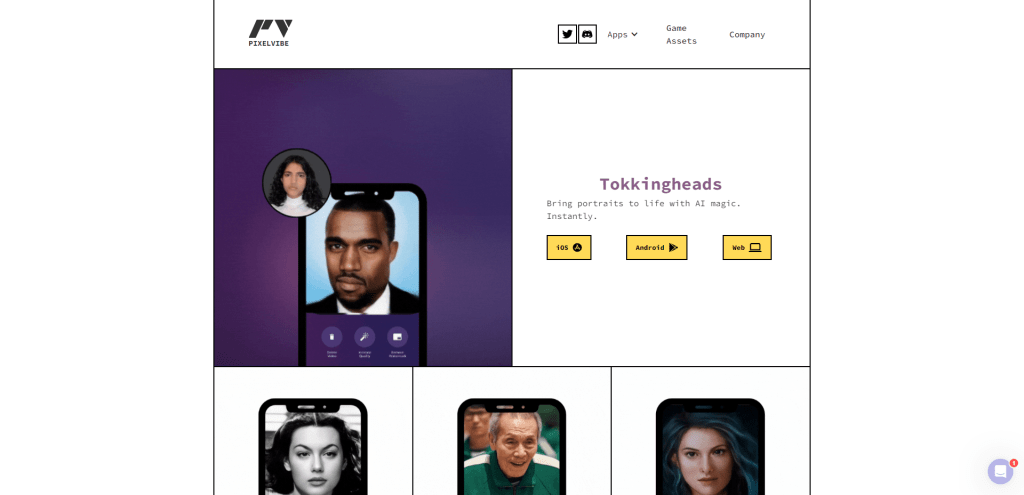 TokkingHeads is hands down the ultimate portrait animation app for creating lifelike avatars that bring your photos to life in a fun and engaging manner.
Getting started with TokkingHeads is incredibly simple: upload a photo with a face, input the desired text or lyrics, choose a song clip or record your voice, and sit back as the app creates a lip-synced video for you.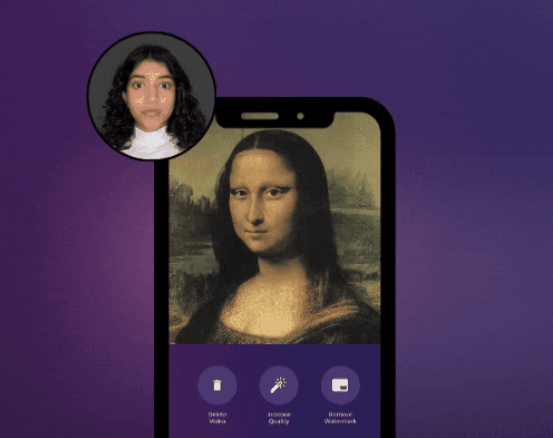 Want to take it a step further? Control the facial expressions with your own face, like magic motion capture on your phone.
The app's versatility is unmatched, allowing you to import photos from various sources, including social media platforms, your camera roll, and more. Regardless of the type of image – paintings, tattoos, dolls, or even action figures – as long as there's a face, TokkingHeads will animate it.
Pricing: Early Supporter Rookie costs $12.99 per month, providing 100 low-resolution and 10 high-resolution watermark-free downloads, a private account, and a 3-day free trial.
---
TryItOn – professional studio quality headshots.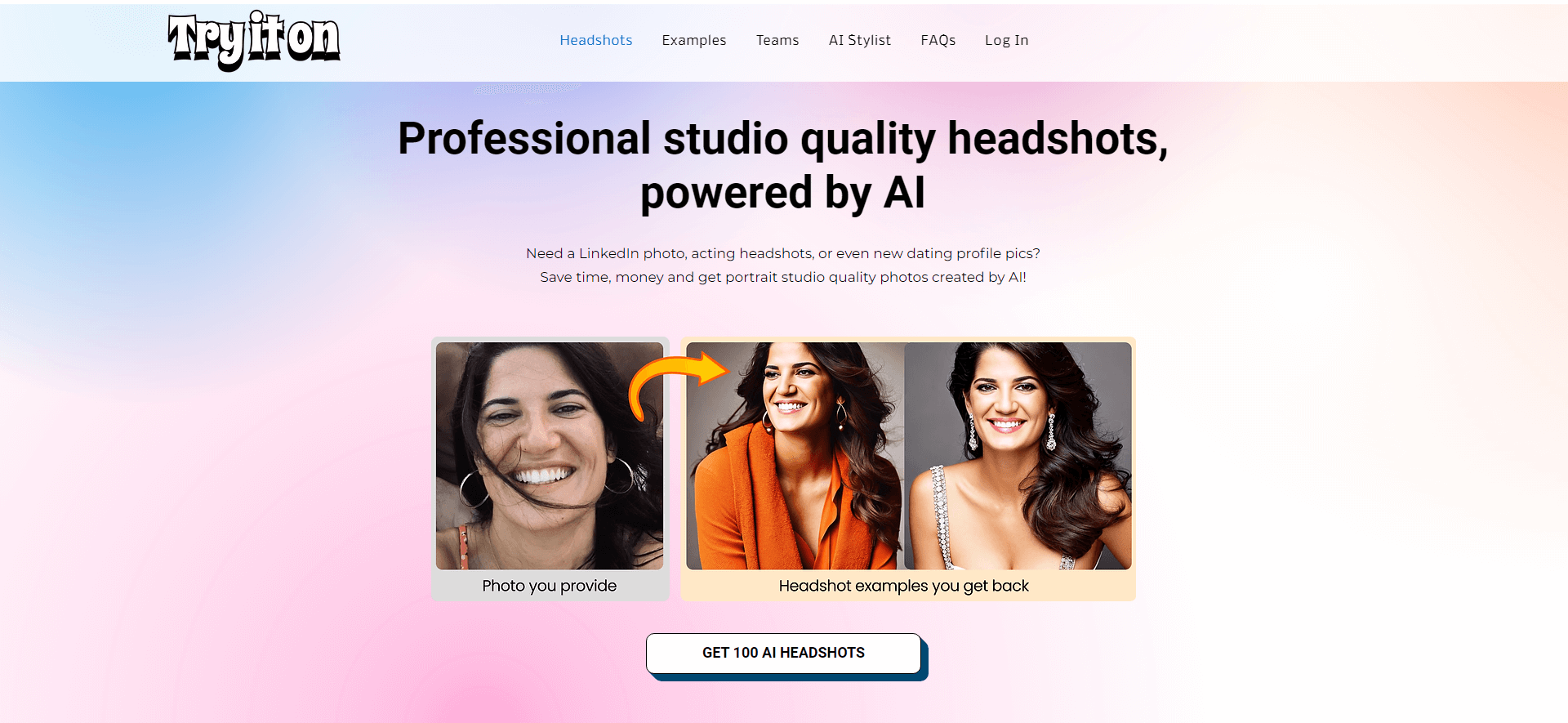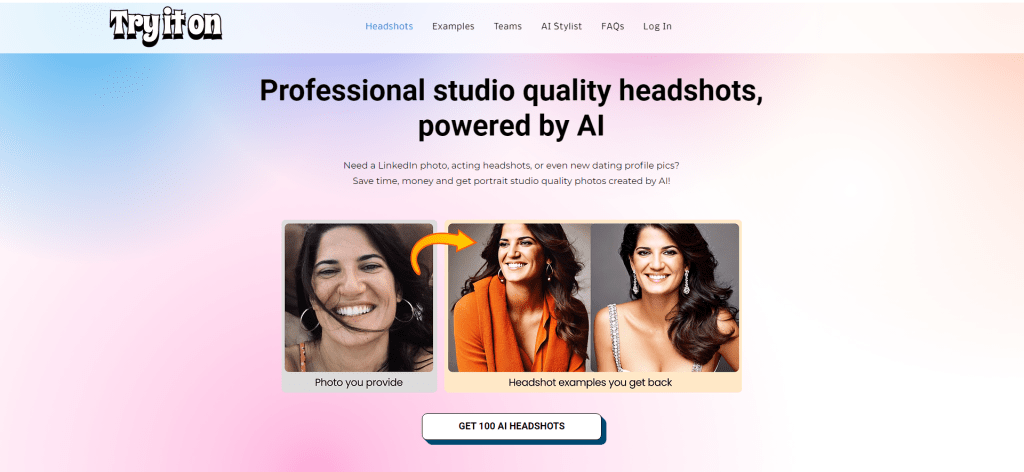 AI Headshots offers professional studio-quality headshots powered by artificial intelligence. Whether you need a LinkedIn photo, acting headshots, or new dating profile pics, this service saves you time and money.
The process is simple: you choose a package, submit your photos, and the AI creates a collection of headshots for you.
In addition to headshots, they offer AI Stylist services where you can upload your photos and get personalized outfit ideas for any occasion. Their AI technology helps you find the perfect look and takes the guesswork out of finding your style.
Pricing: Get AI-generated headshots for $17, which includes 100 headshots with a 10-24 hour turnaround time. The images are 640x640px, and it's essential to follow the photo submission guidelines for the best results.
---
Summary
It's without a question that AI-powered tools and services are transforming the way we create, animate, and interact with images and personal style.
In wrapping up, it's clear that is pushing boundaries and redefining our creative experiences. These ground-breaking tools have made what was once unimaginable, accessible to everyday users and businesses alike.
As AI models continue to evolve and refine their capabilities, we can only anticipate a future filled with even more mind-blowing advancements.