Are you tired of staring at a blank page, and struggling to come up with fresh and engaging content for your blog, website, or social media channels? Well, fear not! The rise of artificial intelligence has brought with it a plethora of tools to help you create high-quality content with ease. That's right; you can now leverage the power of AI to write better, faster, and more efficiently than ever before.
In this article, we're going to introduce you to some of the top AI tools for content writing, so you can streamline your writing process, boost your productivity, and take your content to the next level. From AI-powered copywriters to content optimization tools, we've got you covered.
---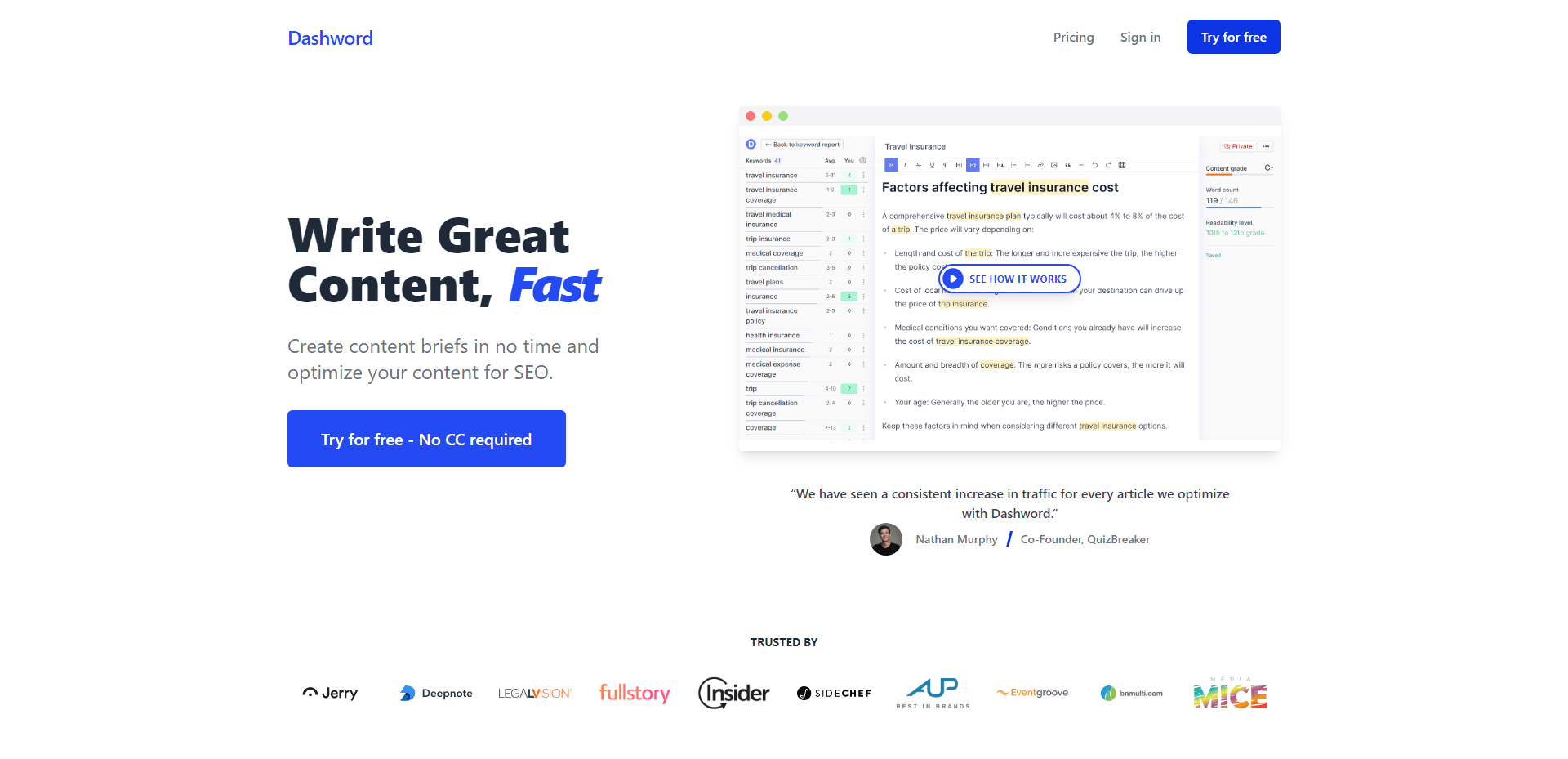 Do you often find yourself struggling to come up with content ideas or spending hours researching and organizing information for your articles? If so, you might want to consider trying out Dashword, a content marketing tool that promises to help you create great content quickly and easily.
Dashword offers a range of features to help you streamline your content creation process. Their content brief builder, for instance, compiles all the information you need to create briefs in minutes, cutting research time in half. You can even access all your competitors' outlines in one place, so you can pick what to write about. And, if you need to make any changes, you can add and edit content in just a few clicks with their interactive builder.
But, creating content is not just about having a great brief. You also need to make sure your content is optimized for SEO. Dashword's content optimization feature will show you all the keywords, frequently asked questions, and anything else you need to include to make your content relevant to your users. Their content scoring system will even give you a clear indication of whether your content is ready to be published or if you need to make some adjustments.
Pricing: They offer a free trial with no credit card required, so you can test it out and see if it's right for you.
---
If you're a content creator, you know how much time and effort goes into crafting a compelling article, product description, or marketing copy. The good news is that Hypotenuse AI has made this process a whole lot easier with its AI content generator. With just a few keywords, you can generate high-quality, well-researched content in a matter of seconds.
What's even better is that you can customize your content by choosing from 25+ languages, various tones, and perspectives. Whether you're a blogger, eCommerce store owner, or marketer, Hypotenuse AI can help you streamline your content creation process.
One of the most impressive features of Hypotenuse AI is its ability to batch-generate content. With its suite of tools like Content Detective and the Blog Article Wizard, you can research up-to-date, factual content and generate product descriptions, SEO copy, and more in a matter of seconds. And if you need to repurpose your content for different channels, Hypotenuse AI makes it easy to do so with minimal effort.
But can AI-generated content really compete with human-written content? Hypotenuse AI thinks so. In fact, it challenges users to guess which of two pieces of content was written by a human and which was generated by its AI engine. The results might surprise you.
Pricing: Hypotenuse AI offers Starter ($24/mo) and Growth ($49/mo) plans with AI article wizard, watermark-free AI images, and bulk product descriptions. Enterprise plan is custom for content teams.
---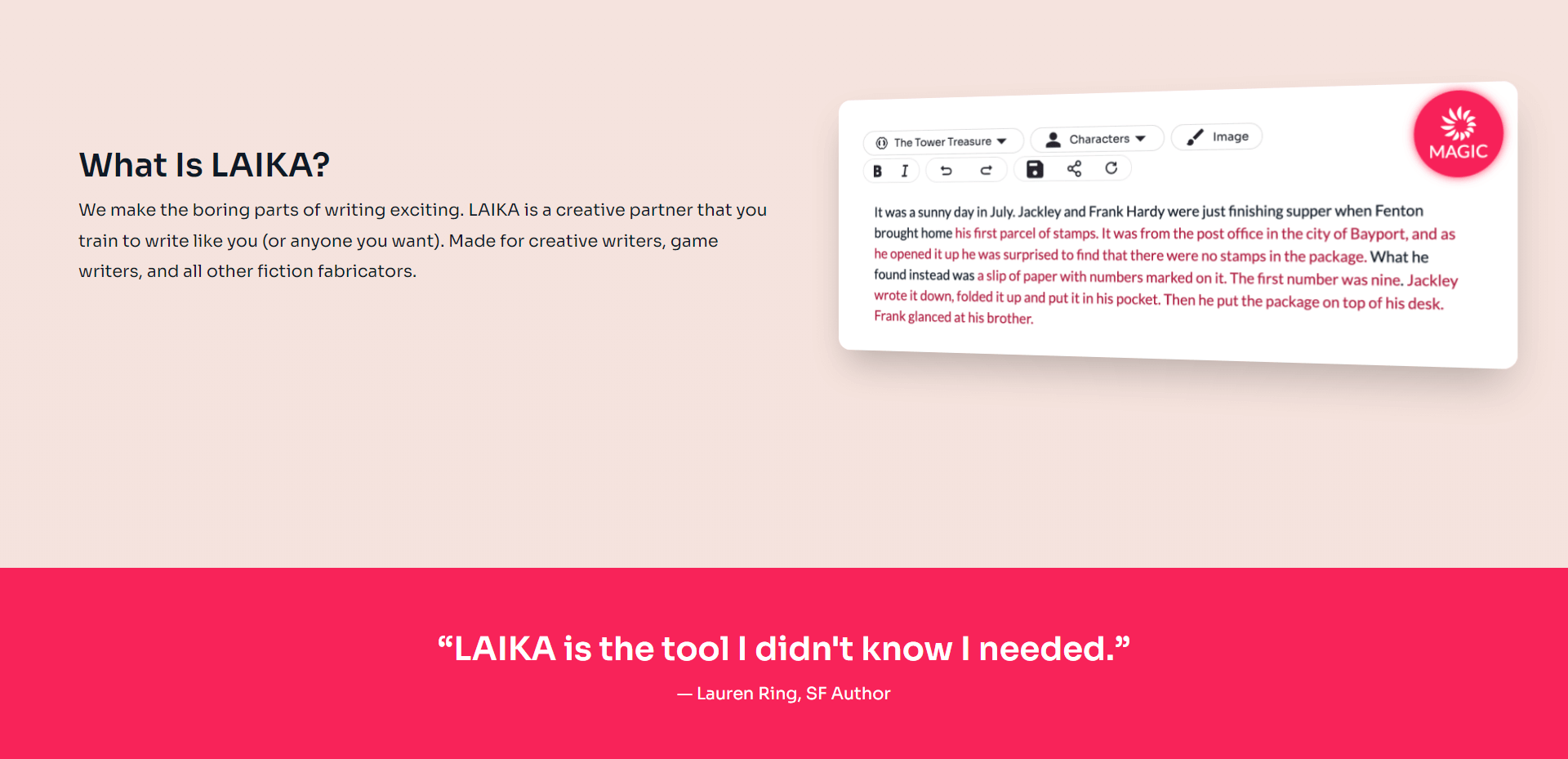 Are you a writer looking for a creative partner that can help you with the tedious parts of writing? Look no further than LAIKA! This is a unique tool that can be trained to write like you or anyone else you choose. It's perfect for creative writers, game writers, and anyone who needs help bringing their fiction to life.
With LAIKA, you'll never get stuck again. LAIKA can continue every thought you start, writing with you in your voice or a voice you choose. Need to learn more about a character in your book? LAIKA uses context to create traits of the characters in your story.
All you need to provide is a name and a tiny snippet of backstory. And if you want to visualize what you've been writing about, LAIKA can conjure up images with the press of a button, in a style fitting to the world your writing takes place in.
Pricing: You have to apply for the Beta program.
---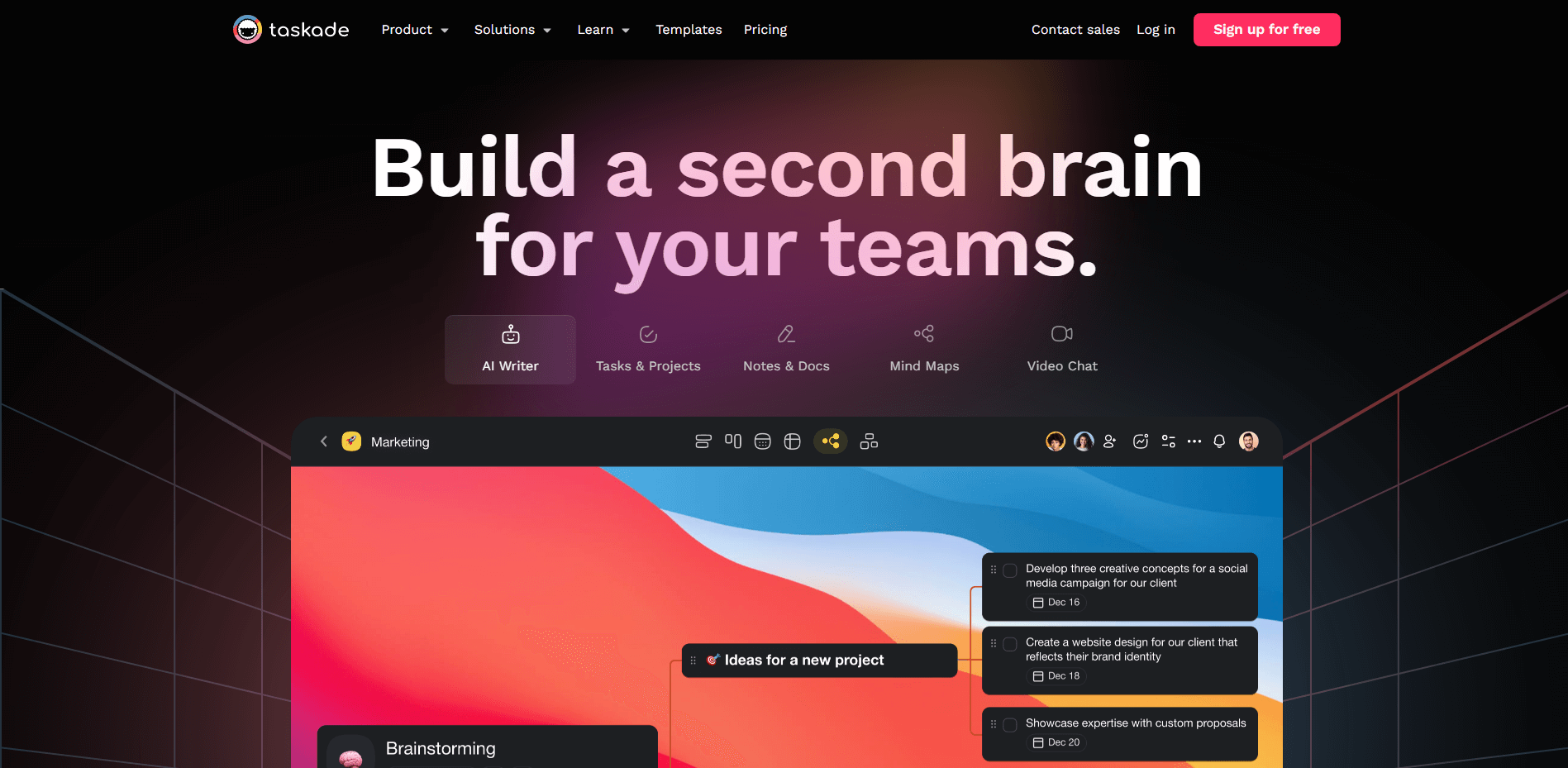 Are you tired of juggling multiple productivity tools to manage your tasks, projects, notes, and collaborations? Say hello to Taskade AI – the future of productivity, available on all platforms!
Taskade is a complete collaboration and productivity tool that offers five tools in one place. The app includes an AI writer, tasks, projects, notes, and mind maps, all of which can be customized to fit your workflow. With Taskade, you can easily organize and manage all your work without getting lost in tabs.
One of the standout features of Taskade is its AI content writer. This tool can help you generate outlines and create amazing content ten times faster. The real-time collaboration workspace, notes and docs, mind maps, and video chat are other impressive features that help you stay connected with your team and ensure everyone is on the same page.
Taskade also makes it easy to manage multiple teams and projects. You can create custom templates to automate your workflow, set up recurring tasks, and manage multiple teams with ease. Additionally, the app offers a range of commands, including adding due dates and changing formats, to make task management easier.
Pricing: Taskade offers three pricing plans: Personal & Family, Teams & Business, and Pro. Prices range from $19/month for 20 members to $99/month for 100 members, with Enterprise-level features and integrations. You can also try it out for free, of course.
---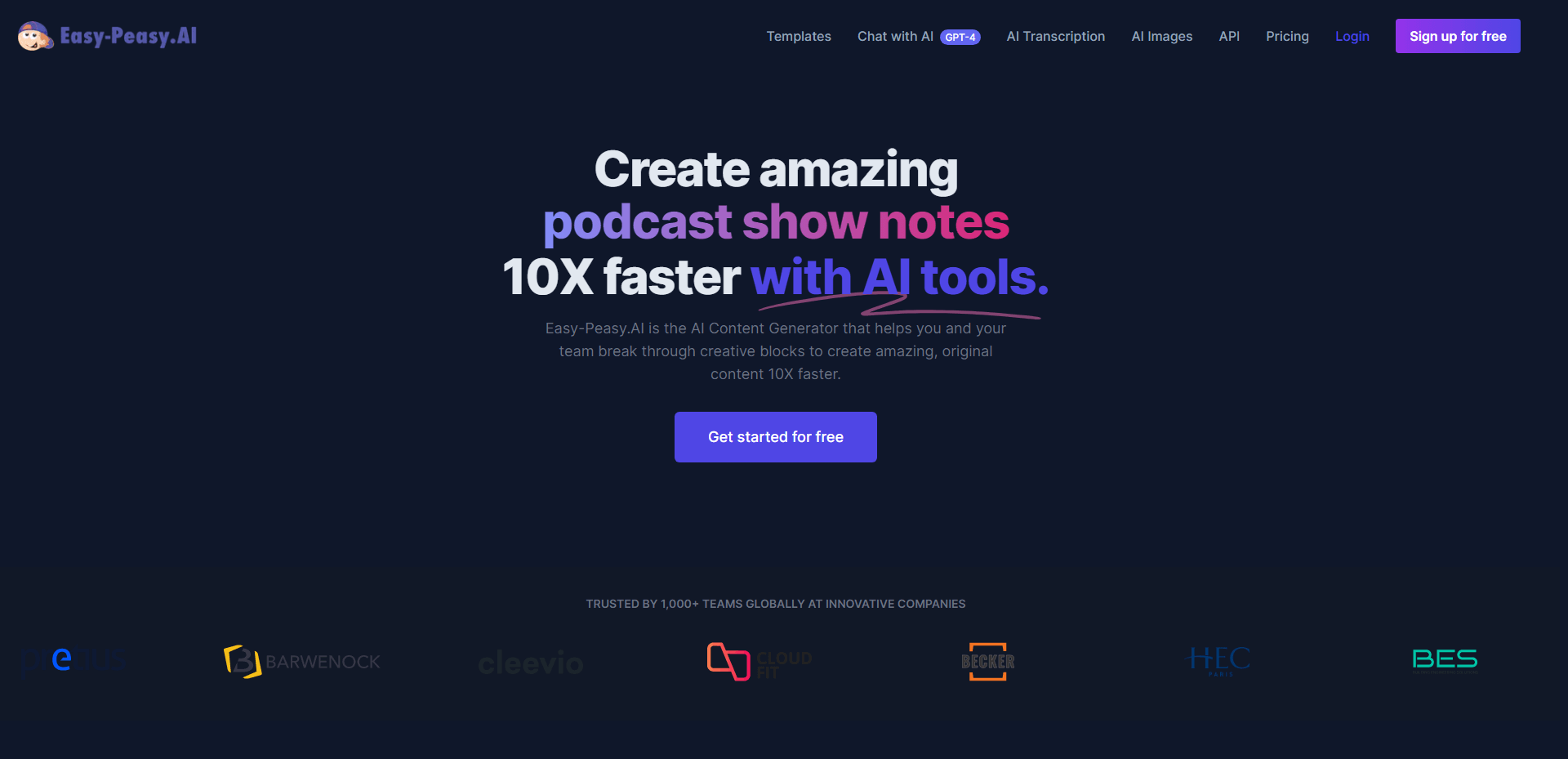 Are you tired of staring at a blank page, struggling to come up with creative content for your blog, social media, or even job descriptions? Look no further than Easy-Peasy.AI, the AI content generator that can help you and your team break through those creative blocks and produce amazing, original content 10X faster.
With over 90 templates to choose from, Easy-Peasy.AI can save you time and improve your writing skills, whether you're creating a long-form blog post or a short Instagram caption. And if you ever get stuck, simply type "+++" or click the "Generate" button, and the AI will fill in what it thinks should come next.
But that's not all! Easy-Peasy.AI can also help you create unique, beautiful artwork and images with just a few clicks. With our intuitive interface and powerful technology, you can generate high-quality art and images in minutes, making your projects stand out from the crowd.
And if you're a busy podcaster, Easy-Peasy.AI can even streamline the audio transcription process, saving you time and effort. With AI-powered audio transcription, you can quickly and accurately transcribe your audio content and generate episode titles, descriptions, and show notes to help you promote your podcast.
---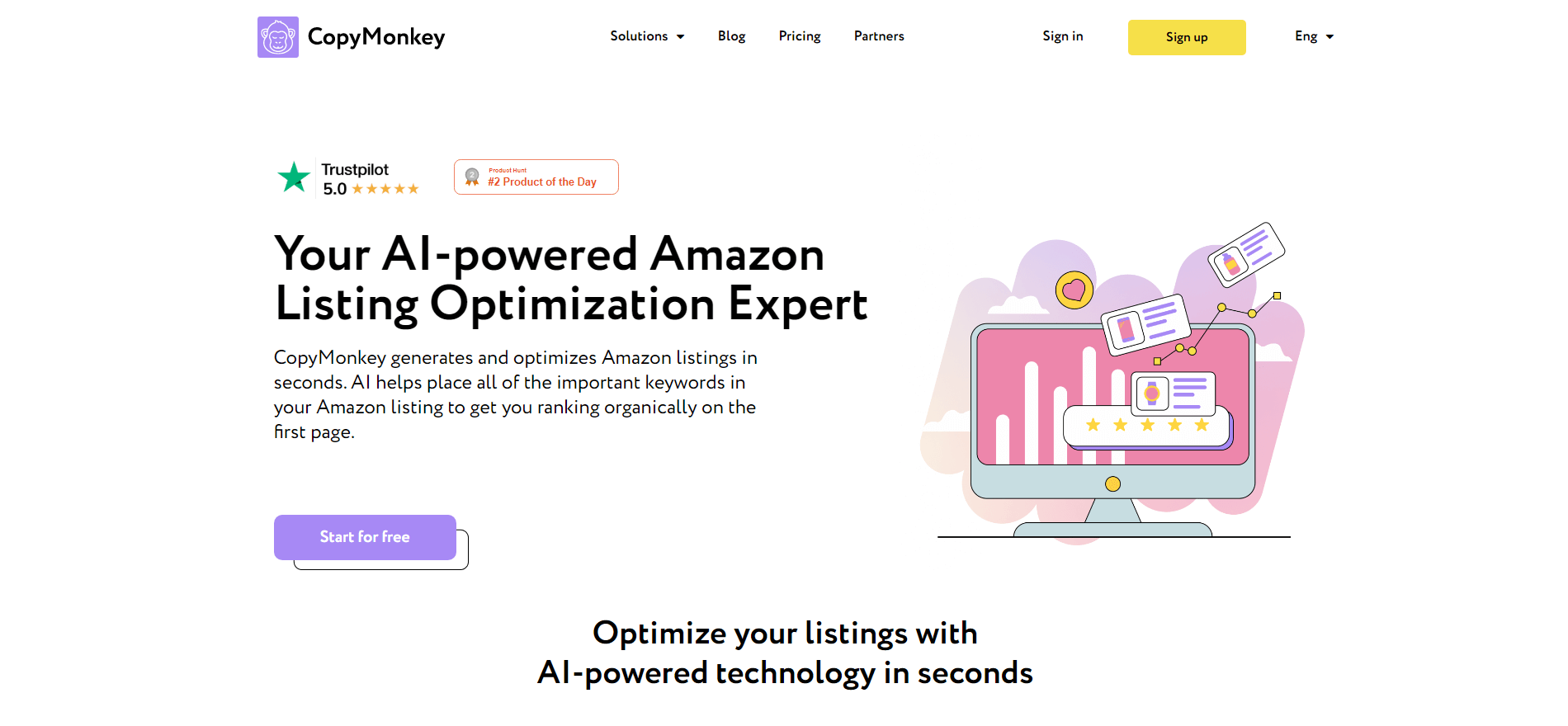 Are you an Amazon seller looking to boost your product listings? Look no further than CopyMonkey, your AI-powered Amazon Listing Optimization Expert. With the help of AI technology, CopyMonkey generates and optimizes your Amazon listings in seconds, placing all the important keywords to rank your product on the first page of search results.
What's even better is that you can start using CopyMonkey for free. With its optimization strategy in several easy steps, you can use the AI Amazon Copywriter to generate keyword-optimized bullet points and descriptions, ensuring you don't miss any important keywords that customers may be searching for.
CopyMonkey also provides insights into what works for your competitors and uses best practices to continuously optimize your listings. You can use Search Frequency Rank and Click Share & Conversion Share to apply relevant and potential keywords, ensuring your copy drives sales.
---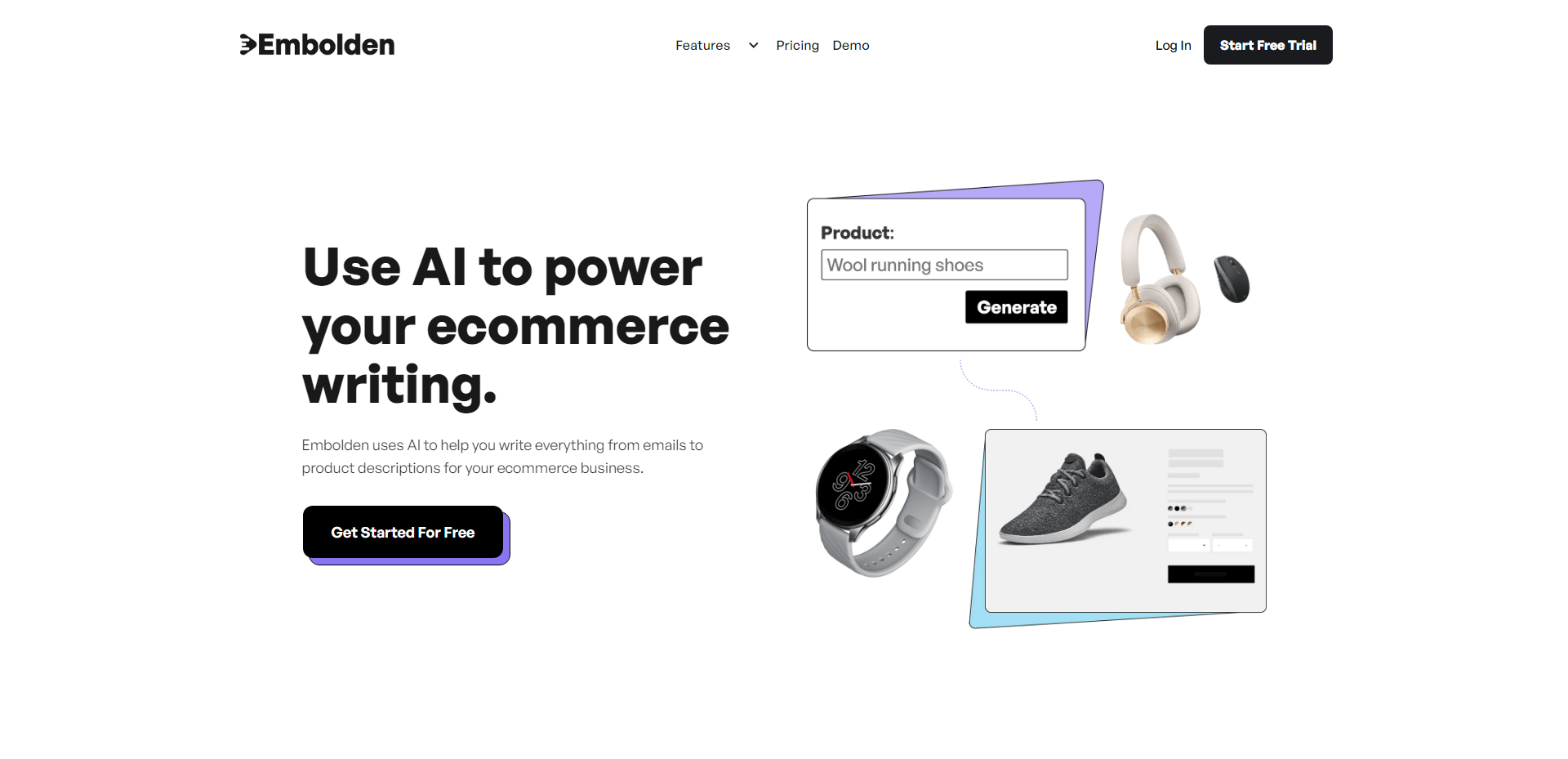 Embolden is a writing tool that helps eCommerce business owners create engaging and contextual content using AI and language learning models. With Embolden, you can save time and money on copy creation and focus on running your business.
Here's how it works:
Choose your tool Embolden offers over 50 writing tools that can help you create content for your eCommerce store. Whether you need help writing product descriptions, emails, or social media posts, Embolden has you covered.
Give your context Once you've chosen your tool, give Embolden as much (or as little) context about your business, product, and tone as you want, and Embolden will do the rest. You don't have to worry about format or structure because the AI will take care of that.
Get your content After you've given your context, Embolden will generate multiple copies of your content. Choose the one that works best for you, and save it to your account or copy it over to your store. The content is SEO friendly and optimized for conversions based on proven formatting and content structures.
Embolden has over 60+ AI writing tools that you can use to create content for your eCommerce store.
Some of the tools include:
Abandoned Cart Email – Generate an email to bring back customers who have abandoned their cart
Product Benefits – Create a list of benefits to help position your product
Shipping Confirmation Email – Generate a shipping confirmation email for your store
Product FAQ – Generate an FAQ for your product pages
Facebook Ad Copy Generator – Write the perfect Facebook ad that brings in sales
Press Release Generator – Generate a properly formatted, professional press release
In addition to these tools, Embolden also offers tools to generate customer avatars, business names, and even startup ideas. With Embolden, you can create content for your eCommerce business 10x faster and save time and money in the process.
In conclusion, if you're an eCommerce business owner looking to create engaging and contextual content quickly and efficiently, Embolden is the tool for you. With its AI-powered writing tools, you can focus on running your business while Embolden takes care of the tedious and time-consuming task of copy creation.
Pricing: Embolden offers a free 3-day trial, followed by a monthly or yearly subscription. Starter: $21/month. Pro: $42/month.
---

Wordkraft AI provides more than 60 content tools that assist you in producing top-notch content for your website, blog, and marketing needs. It has a blog post wizard and can produce content in 27 different languages. With its user-friendly interface, this tool offers ease of use, enabling you to generate content quickly and effortlessly. It is also SEO optimized, utilizing various algorithms to produce thoroughly researched and well-written articles on a wide range of topics imaginable.
How does it work? The process is simple and effortless. First, choose a template that suits your personal or business needs from a variety of available templates. Next, input the details of your product or content into the tool, which will then generate impressive content for you.
Finally, Wordkraft AI produces authentic, top-notch content, enabling you to save both time and money.
Pricing: Try it for free for 30 days, and after the trial, you have the option to subscribe on a monthly or yearly basis.
---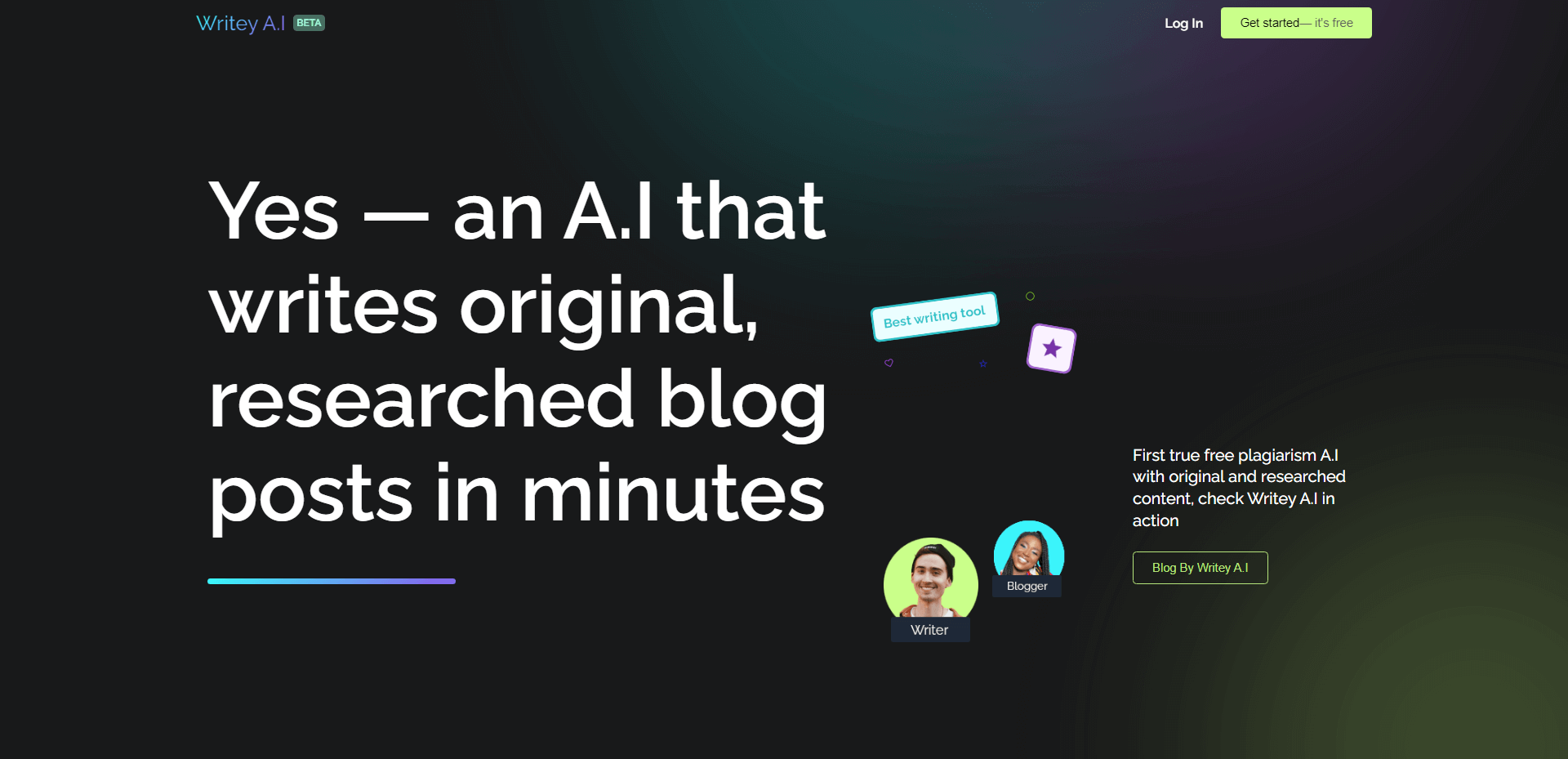 Are you tired of spending hours researching and writing blog posts? Well, Writey A.I has the solution for you! This A.I technology can create original and researched blog posts in a matter of minutes – all for free! Plus, it even includes optimization tips to help your post rank higher on Google.
So, how does it work? Simply choose a title for your post or let Writey generate one for you. Then, let the A.I do the work and generate an outline and text for your post. Finally, follow the optimization tips provided by Writey to improve your post's ranking on Google.
One example of a blog post generated by Writey is "How to Live a Healthy Lifestyle on a Budget." The post includes helpful tips such as shopping for discounted items, making use of insurance premiums, and prioritizing preventive care services. Plus, the optimization score provided by Writey shows areas for improvement to make the post even better.
But that's not all! Writey A.I also includes other features such as a Blog Post Wizard for generating blog posts and articles, Google Search Ads for generating text for ads, and even a Facebook Ads feature for generating text for Facebook ads. It can even generate a logical hook for your product and text for a landing page.
Pricing: It's free to try, and pricing is based on the number of blog posts you plan to write. For example, 15 blog posts will cost you $9 a month.
---

Do you want to generate unique and SEO-friendly articles for your website, blog or social media without breaking the bank? Look no further than Kafkai, the AI writer assistant that can help you produce quality content in minutes.
Kafkai uses AI technology to write unique and creative content that is SEO-friendly, making it the perfect tool for assisting with your blog content, website copy, and social media posts. With Kafkai, you can forget about the heavy-lifting and focus on the real work that humans can do in content writing, such as editorial, curation, optimization, and fact-checking.
If you're stuck, don't worry. Just tell Kafkai a few seed keywords, and let the AI generate the content you need. Kafkai can help you create original content that ranks on Google and generate unique, SEO-friendly blog articles with relevant keywords.
Kafkai has three modes of operation. The first two use Kafkai's own trained models for niche article writing, and the third one is a general writer not trained on any specific niche. If you're in a hurry and don't have a subject in mind, choose your niche, and Kafkai will write a unique article.
If you have a specific subject in mind for a niche that Kafkai supports, you can give it a seed paragraph that it will use to write the article. This seed can come from an article you found on a website, or you can write it on your own. The seed is never included in the article itself.
Pricing: The Writer plan, which costs $29 per month, offers 100 monthly articles, while the Newsroom plan offers 250 monthly articles for $49 per month. Kafkai also offers a 30-day money-back guarantee for their service.
Summary
And that's a wrap! We hope that this article has given you some valuable insights into the world of AI-powered content writing. Whether you're a seasoned pro or just starting out, these tools can help you take your writing to the next level and make the process more efficient and enjoyable. From generating catchy headlines to optimizing your content for SEO, AI has the power to revolutionize the way we create content.
So, give these tools a try and see how they can transform your writing process. Who knows, you might just discover your new favorite writing assistant!
Thanks for reading, and happy writing!