Helpdesk software is a vital tool for businesses of all sizes. It provides a centralized platform to manage and resolve customer support requests. This type of software streamlines the support process, improving the efficiency of support teams and enhancing the customer experience.
Whether you're a small business owner or managing a large enterprise support team, helpdesk software can help you stay on top of customer needs and maintain high levels of customer satisfaction.
In this article, we'll be exploring the best helpdesk software options available on the market today. We'll be looking at features such as ticket management, multi-channel support, and integration capabilities, to name a few.
The goal is to provide you with a comprehensive overview of the options available, so you can make an informed decision about which software will best suit your needs.
Whether you're looking for a simple helpdesk solution to handle basic support inquiries, or a more robust platform to manage complex support operations, this article will help you find the right solution for your business.
---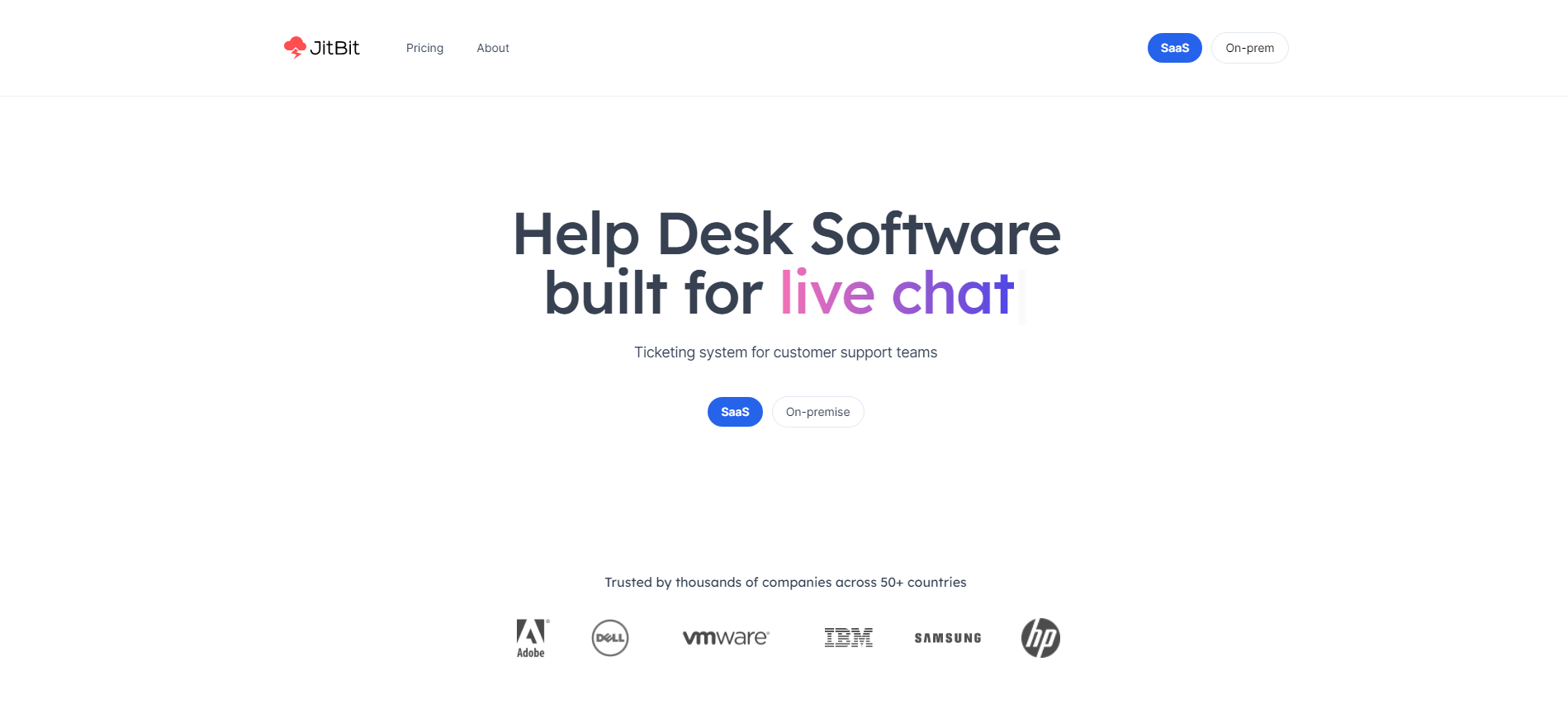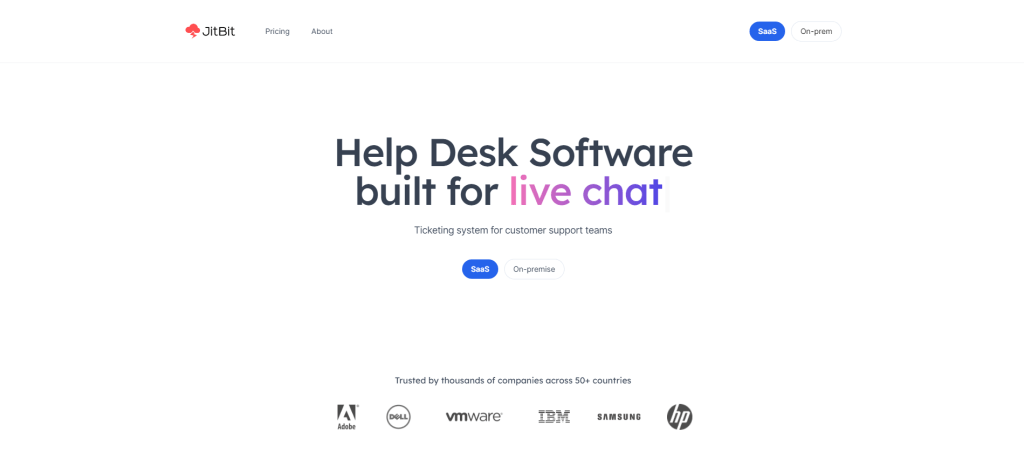 Jitbit Helpdesk is an affordable helpdesk software built for live chat, email support, and ticketing systems. It can be used as a SaaS or an on-premise solution and is trusted by thousands of companies across 50+ countries.
Here are the key features of JitBit:
Quick to set up: The helpdesk software can be up and running in less than 30 seconds after sign-up.
Email first helpdesk: With a focus on email, JitBit supports IMAP, MS Exchange, POP3, SMTP, and has built-in anti-spam protection.
Mobile helpdesk: Comes with free mobile apps for iOS and Android.
Help Desk Automation: Automates the repetitive parts of customer support and saves time with triggers for automatic replies and technician assignments.
Canned Responses and Knowledge Base: Canned responses and knowledge base articles can be inserted with a couple of clicks, and JitBit even suggests relevant articles to customers.
Integration with 500+ applications: Built-in integrations with Slack, Jira, Github, Dropbox, and more, as well as a built-in API and webhooks for custom integrations.
Single Sign-On options: Authenticate users via SAML, Active Directory, Google Account, or custom app/website.
"Ideas" forum: A public forum for customers to suggest and vote for new features and discuss them with the helpdesk team.
JitBit provides detailed reporting and analysis, mobile support, and automation to help support teams deliver awesome customer service.
---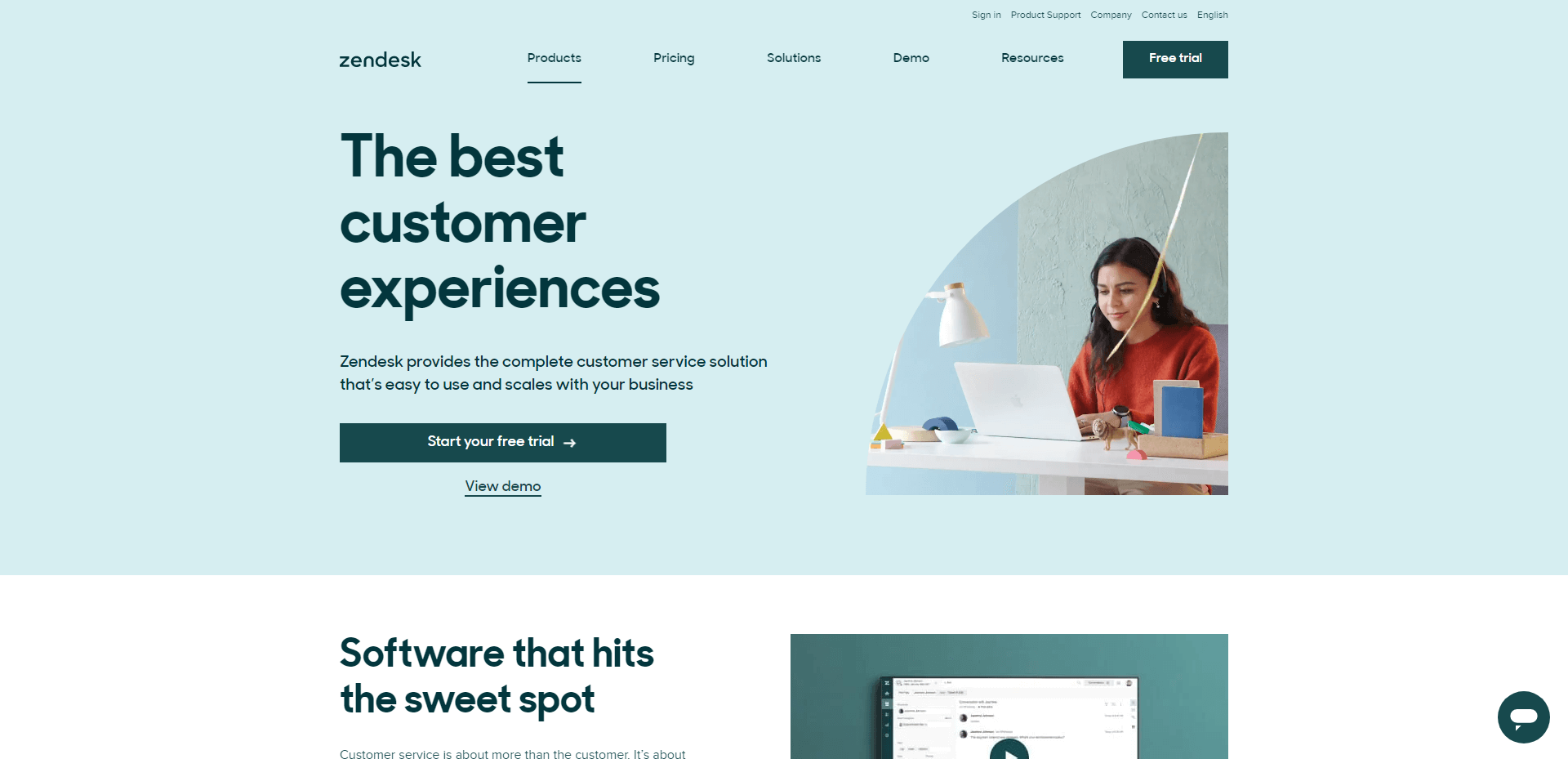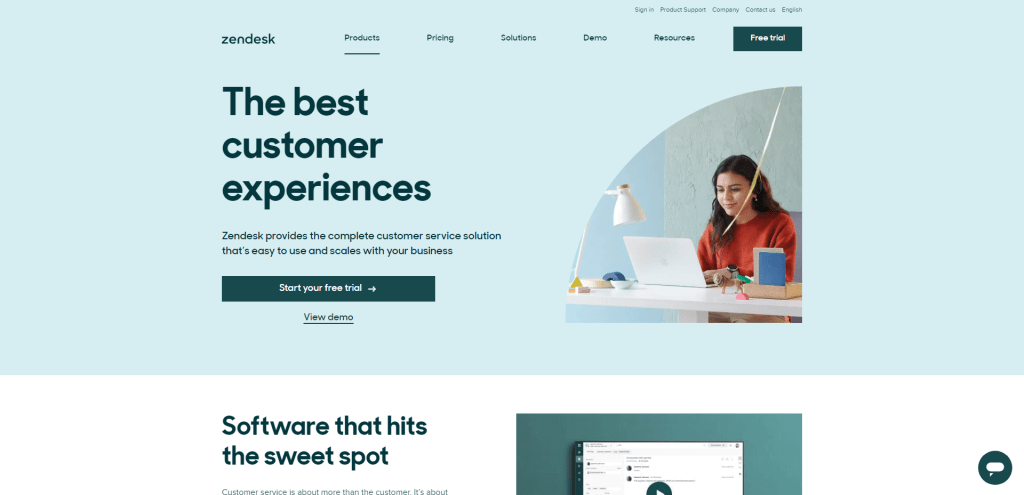 Zendesk is a well-known, multi-channel helpdesk solution that provides features like a shared inbox, a knowledge base, live chat tools, and AI-based solutions such as chatbots and autoresponders.
The platform is quite complex and may require a lot of resources to set up and get running, making it an expensive option for some teams. It consolidates several products into a single platform, with over 1,200 third-party apps and integrations available in its marketplace.
Zendesk is a good choice for companies looking to improve their customer experience beyond just a simple help desk. It has a focus on bringing all customer communications into one place, helping to improve customer service and other systems such as CRM.
Some of its key features include web widgets for faster support, pre-defined ticket responses, personalized views for ticket status, and more. The platform is intuitive and smart, providing organizations with a single database for customer support interactions.
Advanced features include appointment management, customer/contact database, call center management, live chat support, activity dashboards and tracking, pre-defined ticket responses, and a knowledge base.
---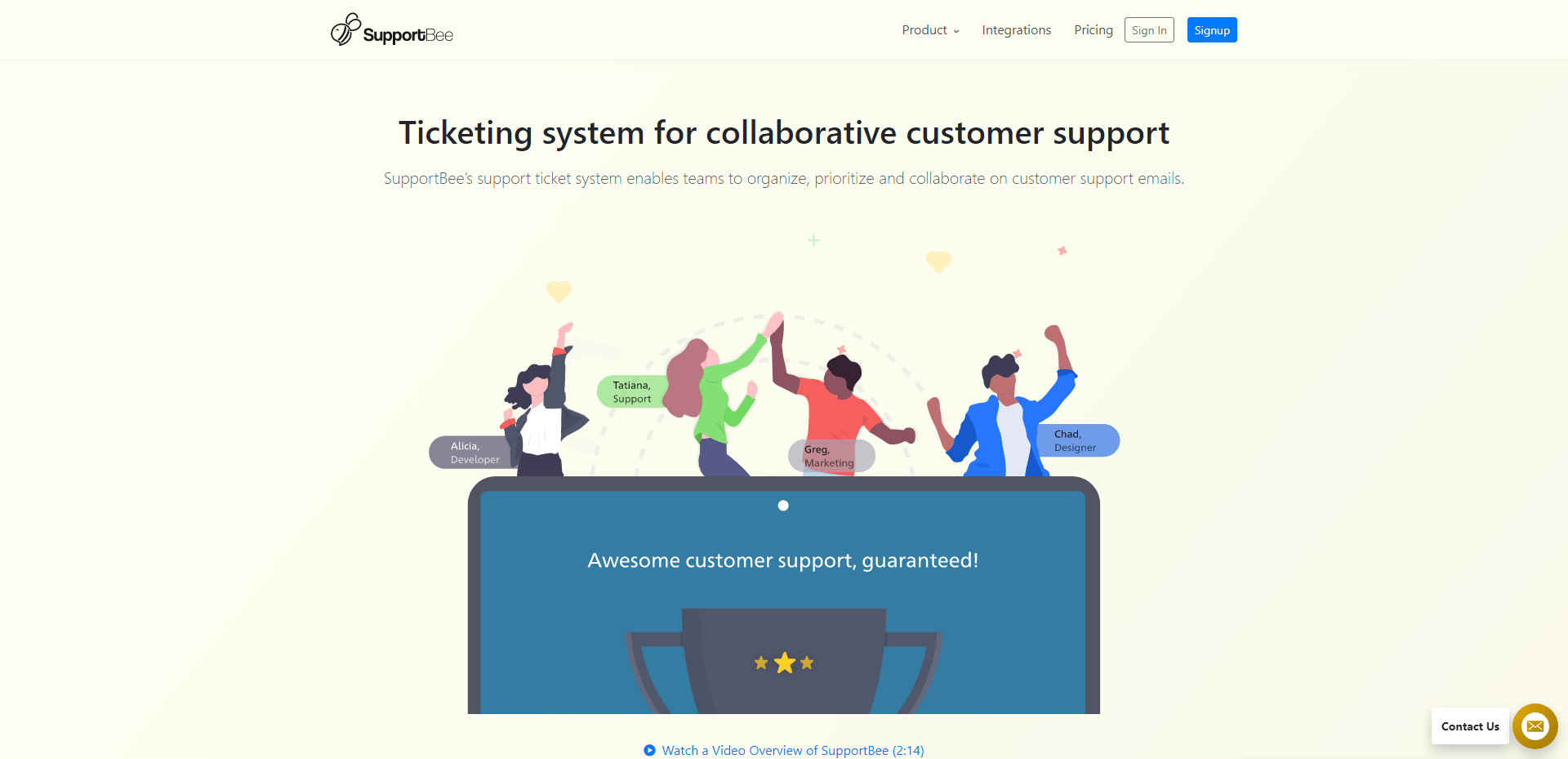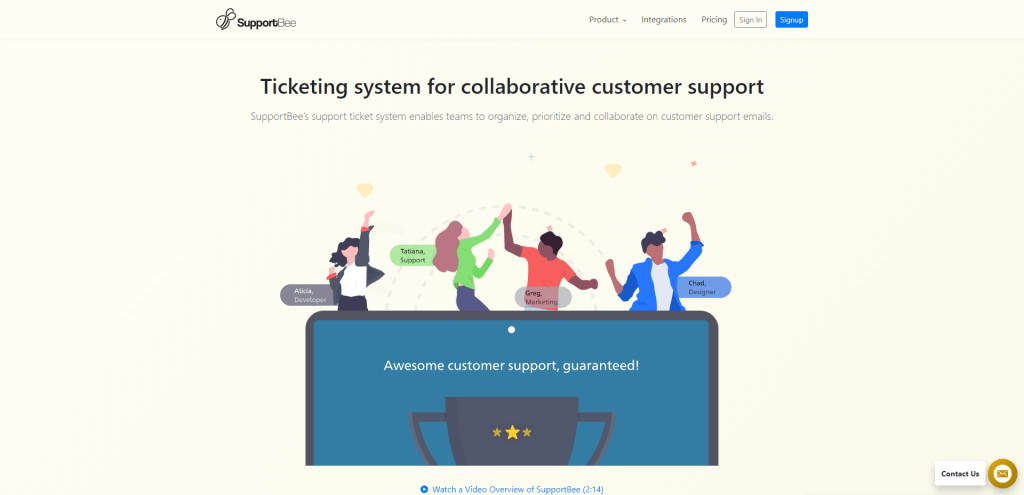 SupportBee is a simple yet effective helpdesk software that is designed for small teams. It is a ticketing system that offers a centralized inbox, knowledge base, customer ratings, and a customer portal. With unlimited inboxes and tickets, SupportBee is easy to scale as your team grows.
What we liked the most:
Easy to set up and use
The shared inbox for efficient collaboration
Knowledge base for customers to find answers to their questions
Customer portal for transparency and accountability
Mobile interface for on-the-go support
Top features:
Simple yet insightful reports
Integration with tools like Slack, Trello, Bigcommerce, etc.
Upload PDFs, ebooks, or other files to the knowledge base
Draft responses and private comments
Professional email signatures
Pricing:
Startup Plan: $13 per user per month
Enterprise Plan: $17 per user per month
Free trial: 14 days
As far as downsides go, SupportBee lacks helpdesk features like live chat, chatbots, multichannel ticketing, surveys, etc.
Overall, the shared inbox and knowledge base make it easy for teams to work together and provide better support to customers. While it may not have all the features of more advanced helpdesk software, it is an excellent choice for small teams.
---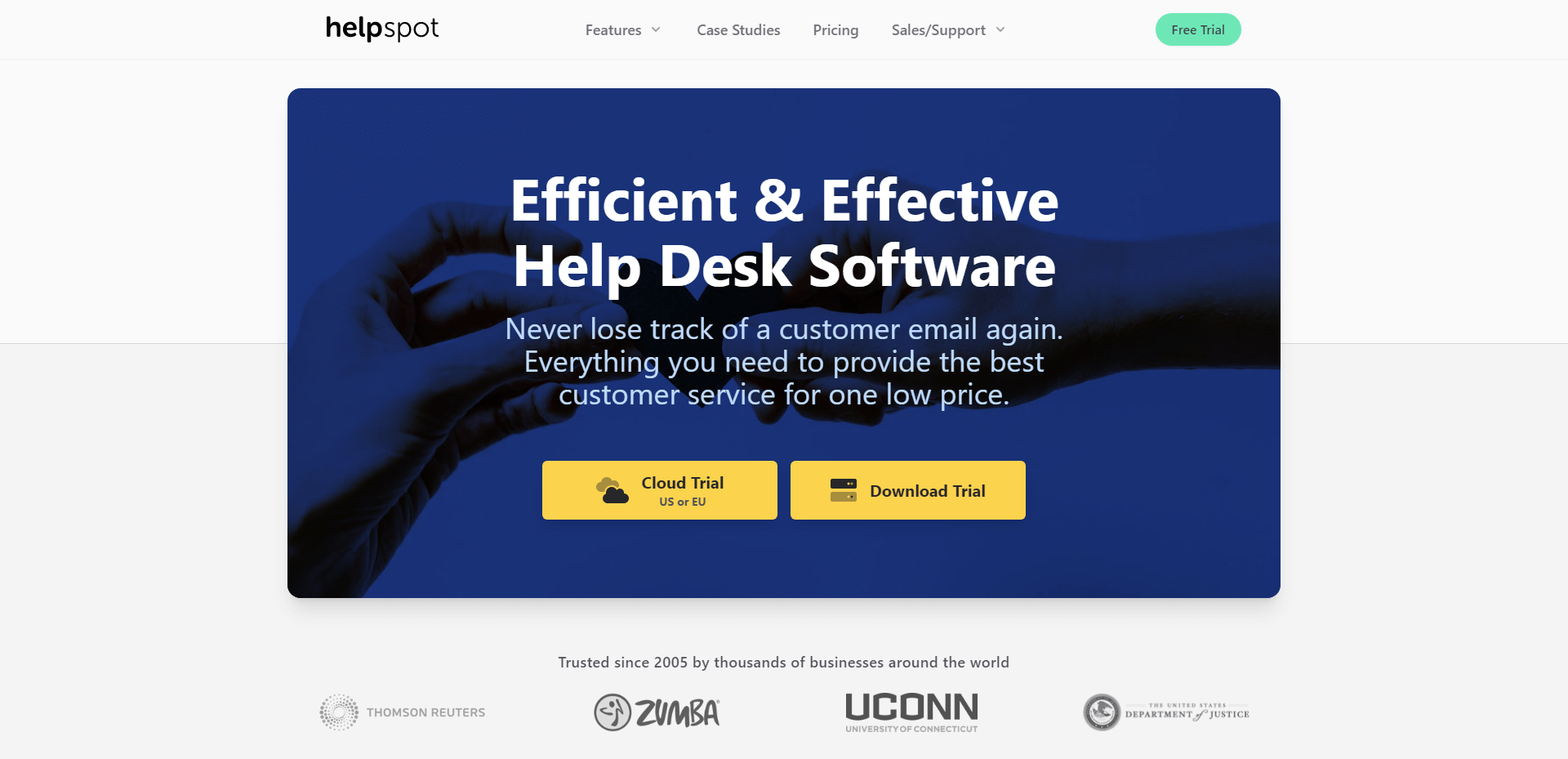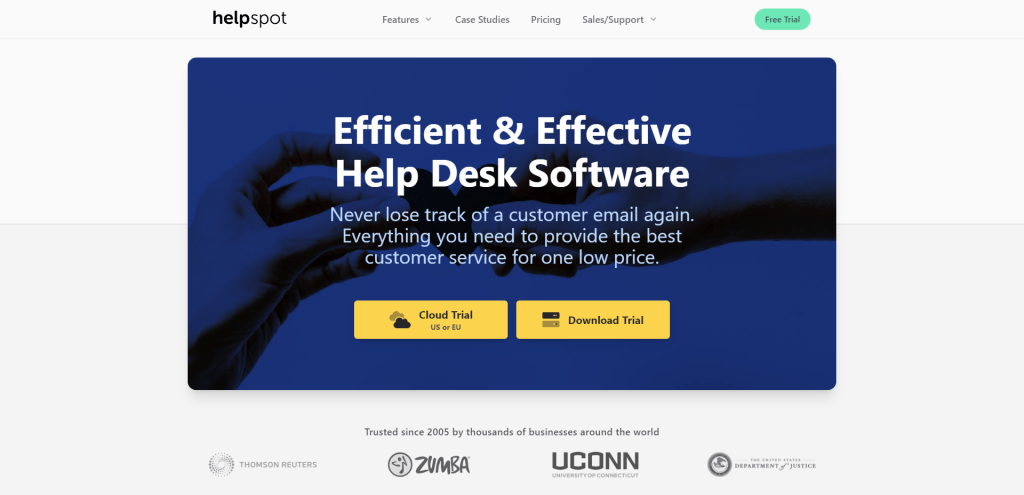 HelpSpot is a help desk software designed for small businesses that offers multiple features to enhance team productivity. The software is designed to provide an efficient and effective way of handling customer support emails. It comes with a powerful shared inbox feature, which allows you to read, reply, and respond to multiple email inboxes from one place.
Some of the top features of HelpSpot include:
Setting up multiple knowledge bases for different brands
Creating powerful and customizable customer contact forms
Tracking what customers are searching for in your knowledge base
Allowing customers to check the progress of their tickets
Creating saved replies for common issues and sharing them across your team
Pros of HelpSpot:
Schedule reports and receive them directly in your email inbox
You can create reports on custom fields
Cons of HelpSpot:
The on-premise version of this tool needs improvement.
HelpSpot offers only a single plan option.
The cheapest plan (3 agents) is roughly $699 per year!
One of the best features of HelpSpot is that you can use the power of automation to assign incoming issues to agents, categorize your tickets, and share notifications with key stakeholders. HelpSpot also has a self-service knowledge base that allows you to create a fully customizable contact form and knowledge base for each of your brands.
You can run your own installation of HelpSpot or let the company host it for you on their secure AWS-based cloud solution in the United States or the European Union.
---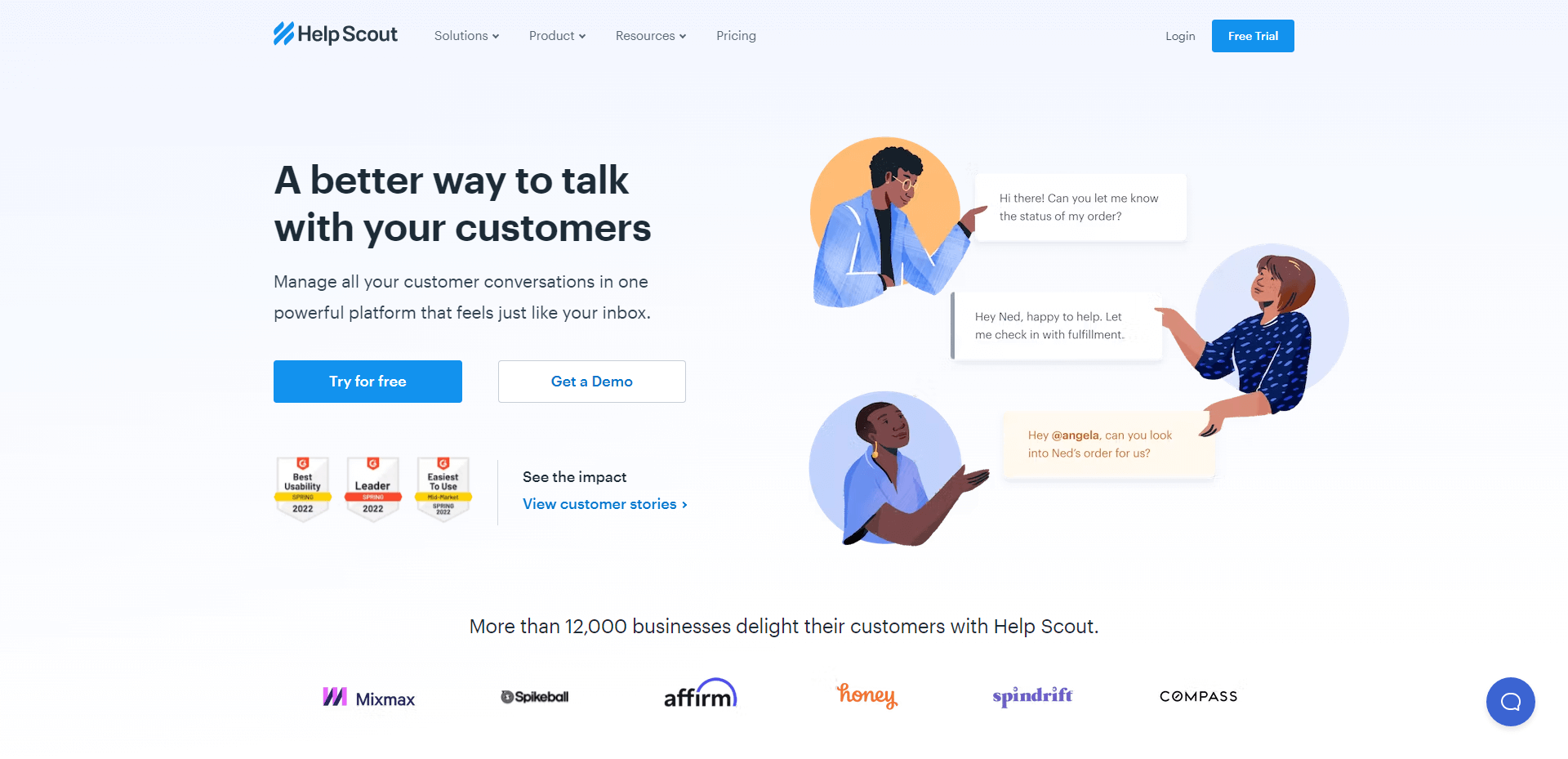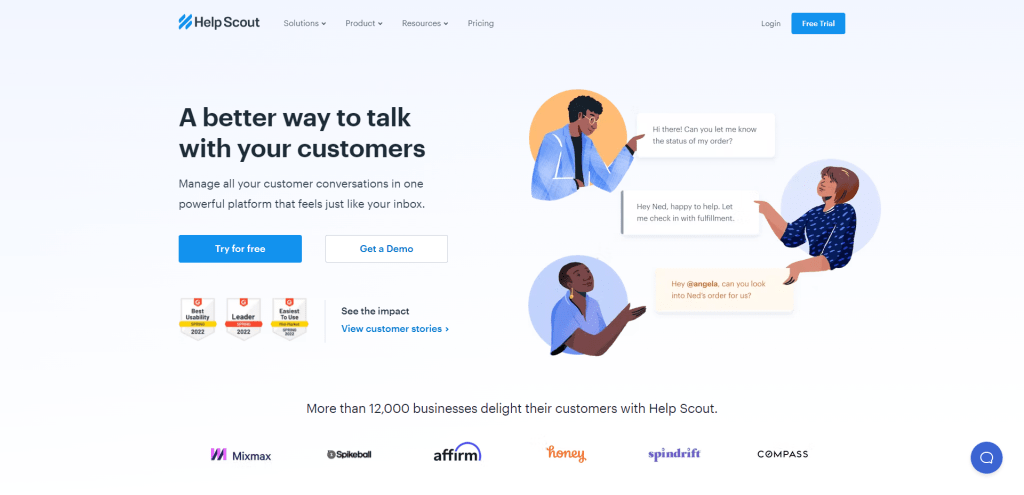 HelpScout is a helpdesk software that allows organizations to manage their customer support in one centralized location. Below, you will learn about the essential features of HelpScout, how to set it up, and how to use it to manage your customer interactions effectively.
Getting Started
HelpScout offers a comprehensive guide for new users, including video tutorials, to help you understand the basics of the software.
HelpScout provides the ability to set up shared mailboxes, which allow multiple users to access the same email inbox. This feature is especially beneficial for departments that receive and send a lot of emails, such as customer support, sales teams, etc.
HelpScout integrates with common email tools and hosts, including Outlook, Zendesk, and Yahoo!
Working inside your Mailbox
Conversations in HelpScout are the interactions with your customers and come from email and live chat.
HelpScout provides features such as saved replies, collision detection, and the ability to personalize your conversations with customer relationship data.
HelpScout also allows you to communicate and coordinate with your teammates using notes, which helps keep track of internal information and decision-making.
You can organize your mailbox using tags and folders to categorize types of requests, keep track of specific topics, and create detailed reports.
Managing Users and Teams
HelpScout provides four user roles: Account Owner, Administrator, User, and Light user. Each role has different permissions, and HelpScout offers the ability to set custom permissions.
HelpScout also provides the ability to create and manage teams, which allows you to define a group of users as a single unit and work with and report on them as their own unit.
In conclusion, HelpScout is a user-friendly and comprehensive helpdesk software that provides the necessary tools to manage customer support effectively. The software is designed to make it easy for organizations to get started and offers the ability to customize the experience to meet their specific needs.
---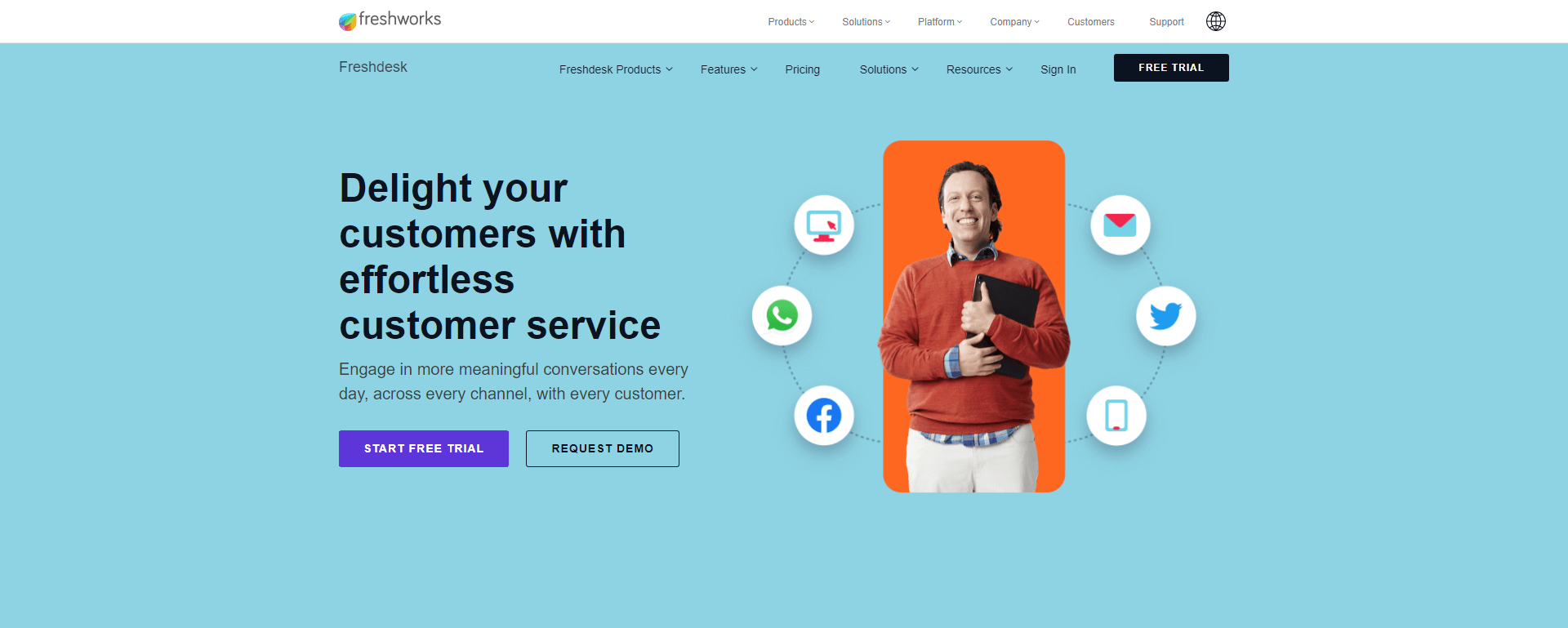 Freshdesk is a comprehensive customer support software that offers a range of features to help businesses provide top-notch customer service. The platform is designed to engage customers in meaningful conversations across various channels and give service agents the tools to communicate with customers easily.
Some of the key features of Freshdesk include:
Freshdesk Support Desk: This provides an intuitive support experience across all channels and helps agents proactively understand customer needs. Agents can quickly resolve customer inquiries using a unified platform's workforce automation and knowledge.
Freshchat: This allows businesses to connect with customers on channels that customers love, such as live chat, web, mobile, and contact center support. AI-powered chatbots can help customers find answers to their questions quickly.
Freshdesk Contact Center: This allows businesses to answer support calls effortlessly, connect customers to the right expert, and prompt agents with a 360-degree customer view. The platform also has powerful routing engines to reduce call wait times and achieve smarter escalations.
Field Service Management: This helps businesses deliver field service that remote agents can trust, by routing service teams efficiently based on availability, proximity, and skillset. Customers can also receive real-time updates via conversational bots and simplify appointment scheduling.
Ticketing: Freshdesk has a range of ticketing features, including prioritizing, categorizing, and assigning tickets, a team inbox for tracking and managing incoming support tickets, and SLA management for setting deadlines for ticket response and resolution.
Collaboration: Freshdesk allows teams to work together to resolve customer issues with features such as team huddles, shared ownership, and scenario automation.
Overall, Freshdesk is a comprehensive customer support software that provides businesses with a range of tools to help them offer top-notch customer service.
---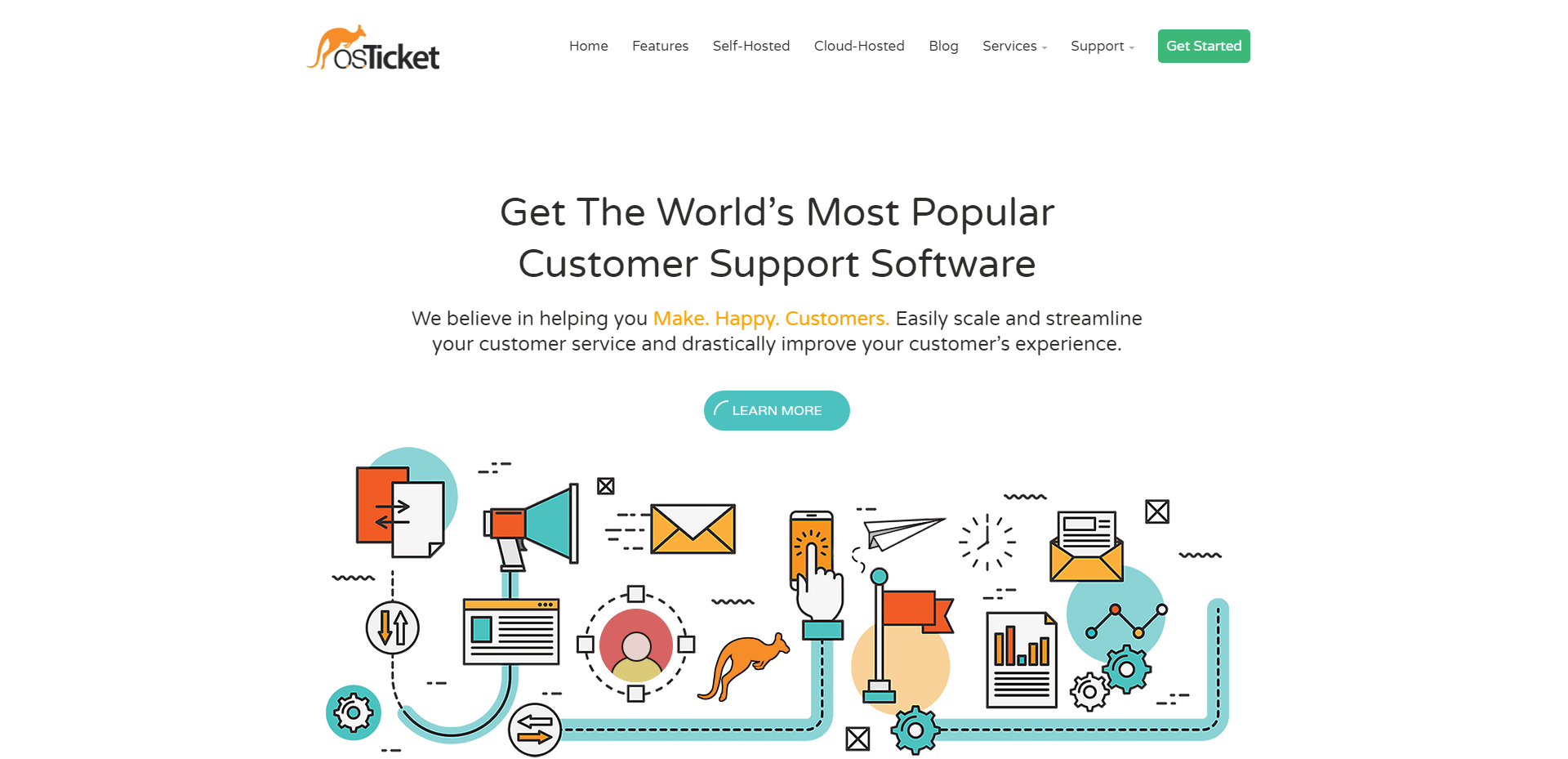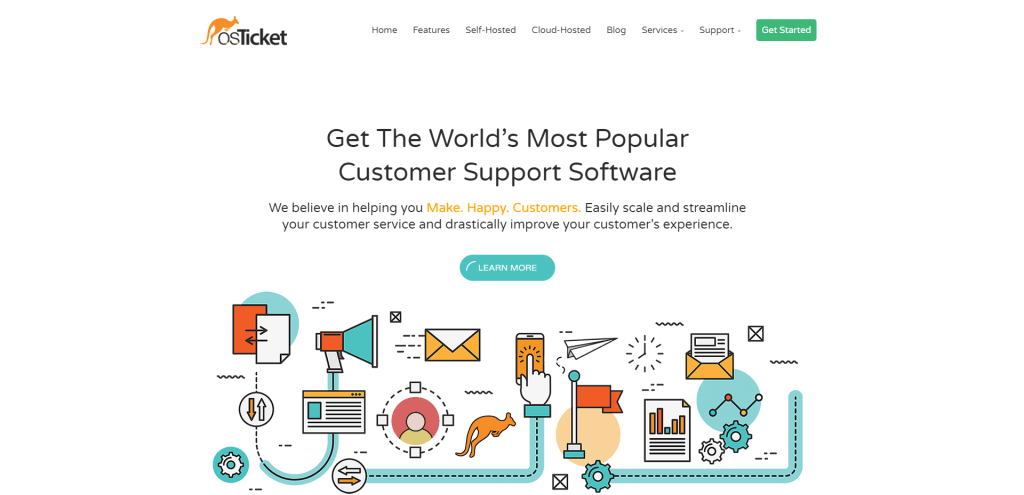 osTicket is a popular and widely-used open source support ticket system that offers free and cloud-hosted options. The free version is downloadable and requires hosting on your own server, while the cloud-hosted version is available for a monthly subscription.
Here are the key features of osTicket:
Free, cloud-hosted, and enterprise versions
Agent collision avoidance
Rules to route incoming tickets
Service Level Agreements
Dashboard reports
Pros:
Easy to set up with comprehensive documentation
Merges duplicate tickets and includes reminders for stale tickets
Customer-friendly with a simple installation process
Configurable help desk topics and service level agreements
Organized ticket management with a rich and simple dashboard
Powerful ticket filtering system
Cons:
Not available as a mobile app
Ticket analytics are basic
Benefits of using osTicket:
Streamlines and improves customer service experience
Automates creation and routing of tickets
Prevents reps from working on the same ticket simultaneously
Easily scalable with customizable features
Free open-source version available
Overall, osTicket is a reliable and straightforward support ticket system that can help you effectively manage and distribute incoming customer cases. Although it may have a bit of an old-fashioned interface, it provides a standard set of helpdesk features such as custom fields, auto-responder, agent collision avoidance, and a customer portal.
---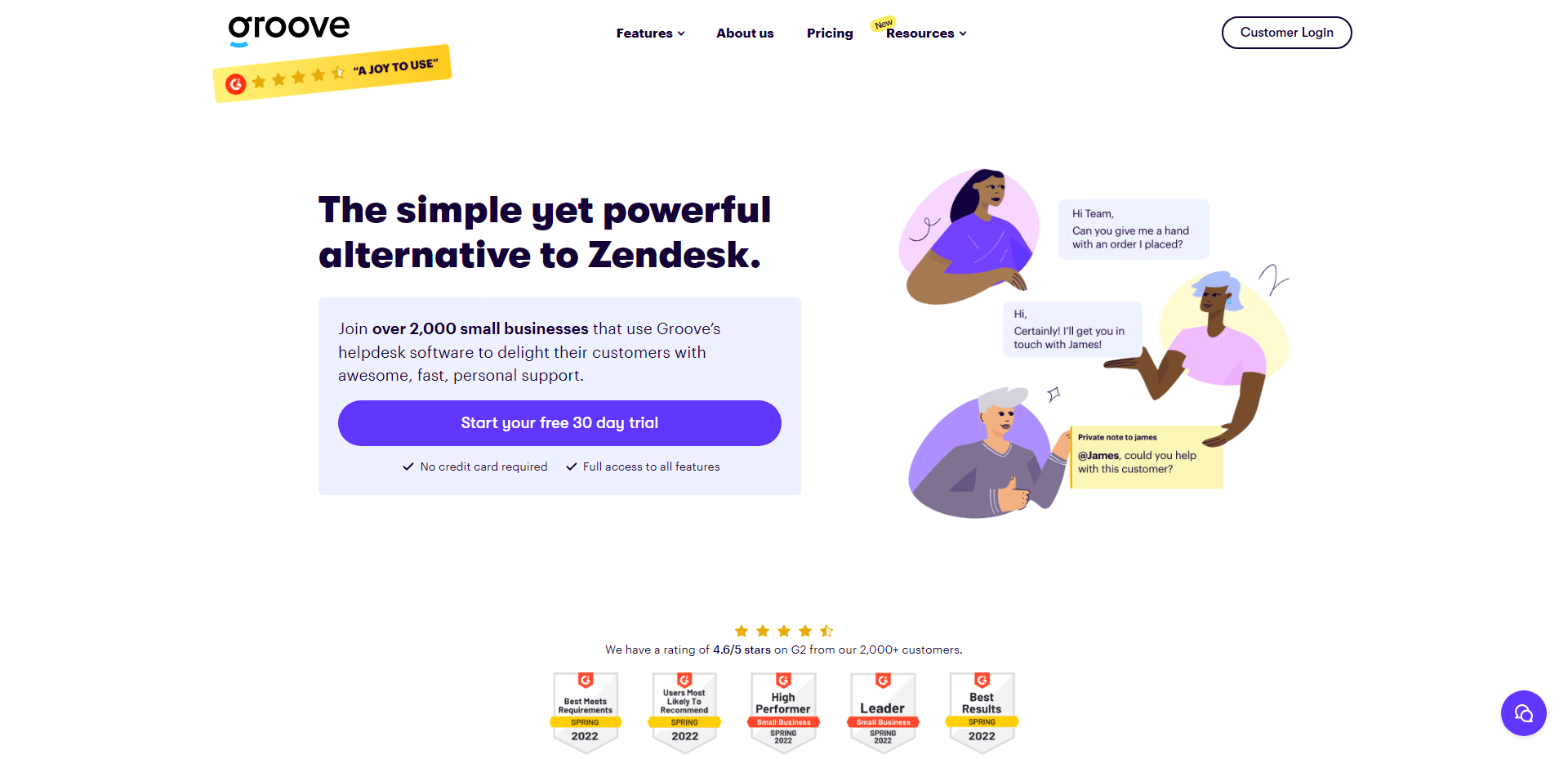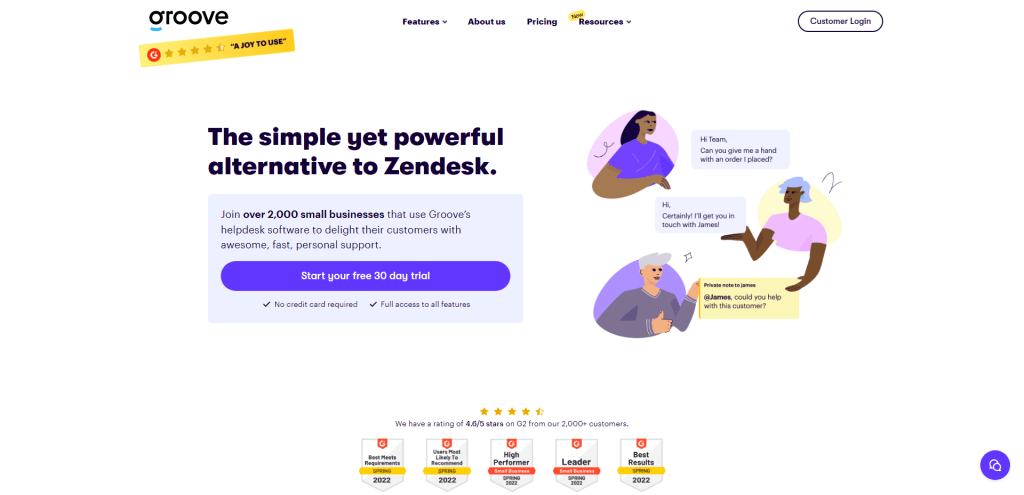 Groove is a cloud-based helpdesk software for small businesses that aims to improve communication with customers through multiple channels such as email, live chat, social media, and phone calls. The software features a shared inbox, live chat system, ticketing and tagging, knowledge base, reporting, and more.
Here are the key features of Groove:
Shared Inbox: A powerful shared inbox that functions similarly to email, allowing team members to prioritize and resolve customer requests easily.
Team Collaboration: Conversation assignments, collision detection, private internal notes, @mentions, and notifications, to ensure clear and effective communication between team members.
Live Chat: Offer instant support to customers through live chat, with features such as round-robin assignment, unattended message logic, email continuation, and alerts & notifications.
Knowledge Base: A 24/7 support solution with a mobile-optimized knowledge base, full team access, complete brand control, and an embeddable widget for easy accessibility on every page of the website or app.
Reporting: Insights into performance metrics, conversation insights, knowledge base reports, and satisfaction insights to help keep track of customer support metrics.
Integrations: Native integrations with tools such as Slack, Stripe, Facebook Messenger, and more, for a seamless and productive support experience.
The software offers a simple and intuitive interface and helps streamline the customer support process, offering customers an online knowledge base, an on-site support widget, and the ability to open support tickets.
Pricing: Groove prices start at $12/user/month and include a 120-day free trial. The company also offers a 93% discount for early-stage startups with less than 10 employees.
Groove is a versatile help desk software that offers businesses the ability to communicate with customers on multiple channels through one platform.
---


Helprace is a comprehensive customer service software that offers a range of features to help companies manage and streamline their interactions with customers. The software offers features like tickets, email management, customer community, feedback, docs & knowledge base, which can be customized to meet the needs of your organization.
With Helprace, you can:
Improve team collaboration with saved replies, internal notes, ticket assignments, collision detection, and tags.
Get to know your customers better with customer profiles, contact cloud, profile notes, satisfaction scores, and previous interactions.
Streamline routine tasks with instant rules, time-based rules, and macros.
Manage your helpdesk with agent roles, ticket routing, auto-assign tickets, and shared tickets within organizations.
Analyze performance with meaningful reports and insights on tickets, productivity, happiness, and team reports.
In addition to these features, Helprace offers multiple mailboxes, smart folders, reminders, custom fields, phone tickets, feedback widgets, and activity log to make your work easier. The software integrates with other systems through SSO, developer API, webhooks, and email commands.
Helprace is suitable for startups, small businesses, and enterprises looking for a comprehensive solution for managing customer interactions. With its features and customization options, Helprace provides a unique and personalized experience for both customers and your team.
---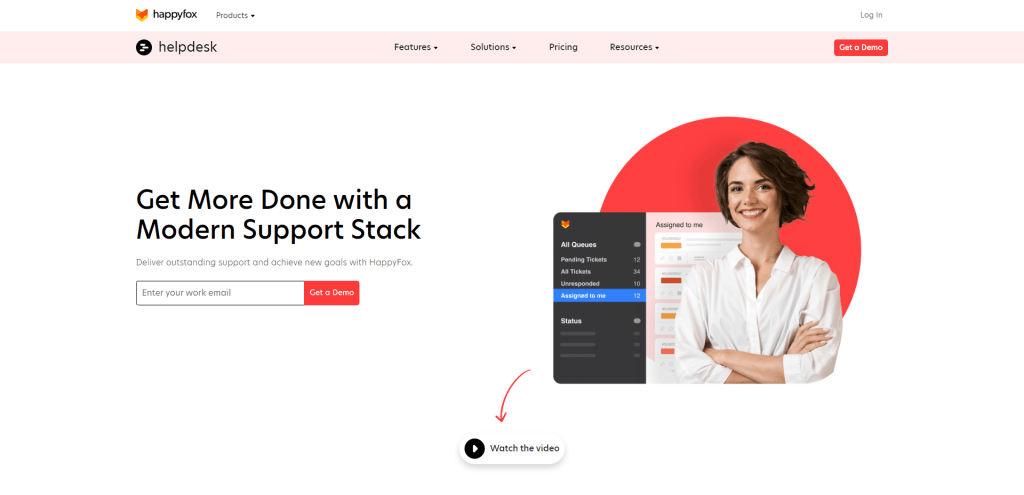 HappyFox is a cloud-based customer support and helpdesk software that provides multi-channel support for customer requests via email, web, phone, social media, and mobile devices.
Key Features:
Multi-channel support: You can provide support via email, voice, chat, social media, and mobile devices.
Mobile app: The software has a mobile app available for iOS, Android and Windows devices.
Integrations: Integrates with various business applications such as Salesforce, Twilio, HappyFox Chat, Olark live chat, Freshbooks accounting, Batchbook, Highrise and Zoho CRM.
Knowledge base and community forum: A built-in knowledge base and community forum that helps customers find instant support and connect with each other.
Easy to set up: The software is easy to set up and has an intuitive interface.
Ticket management: Includes features such as ticketing, asset, task and knowledge management, recurring tickets, canned responses, bulk actions, work schedules, ticket templates, smart rules and real-time reporting.
Slack integration: HappyFox integrates with Slack, allowing users to get ticket-related events, create and modify help desk tickets, configure automation rules and search the knowledge base articles.
Security: HappyFox offers industry-standard security features such as SSL-enabled help desk, encryption by 256-bit AES algorithm, role-based permissions, and restricted access based on IPs.
Pricing: The starting price is $29 per month per agent and comes with a 30-day free trial.
In conclusion, HappyFox is a practical and powerful customer support and helpdesk software that provides multi-channel support, integrates with various business applications, has a mobile app, and is easy to set up. With features such as ticket management, Slack integration, and industry-standard security features, it is an excellent choice for businesses of all sizes.
---
Summary
In conclusion, helpdesk software is a crucial tool for any business looking to improve its customer support processes. Whether you're a small business owner or a large enterprise, there is a helpdesk solution out there that will meet your needs.
From ticket management to multi-channel support and integrations, the options available in the market today offer a wide range of features to choose from.
In this article, we've explored some of the best helpdesk software options available, each with its unique strengths and weaknesses. When selecting the right helpdesk solution, it's important to consider your specific needs and the size of your support team.
By doing so, you'll be able to find software that will help you streamline your support processes, improve efficiency, and enhance the customer experience.