Welcome to the world of customer engagement, where the power of live chat tools has become a game-changer for businesses looking to connect with their customers in real time. As we move towards a more digital age, the expectation for instant and efficient customer service continues to rise. And that's where live chat tools come in.
In this article, we'll dive deep into the best live chat tools currently available in the market. We understand that choosing the right tool for your business can be overwhelming, so we've done the research for you. From small businesses to large enterprises, we'll cover a range of tools that cater to different needs and budgets.
We'll discuss the features, pros and cons, and key factors to consider when selecting a live chat tool. Our goal is to help you find the right tool to elevate your customer service and drive growth for your business.
Whether you're looking for a tool that offers customization options, a mobile app, or seamless integration with other systems, we've got you covered. We'll also look at a number of tools that provide AI capabilities, ensuring that you can provide customer support even when you're at your desk!
---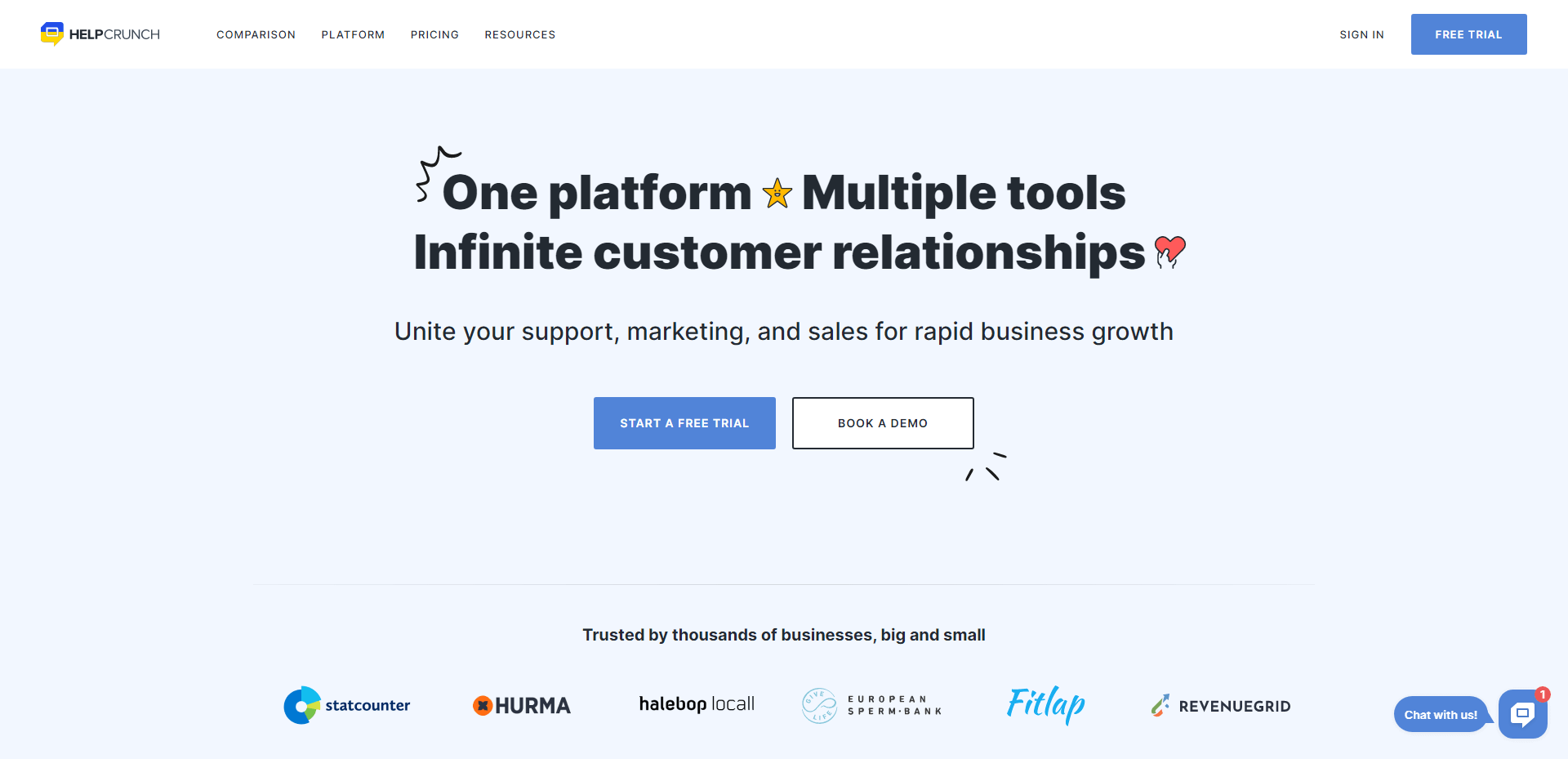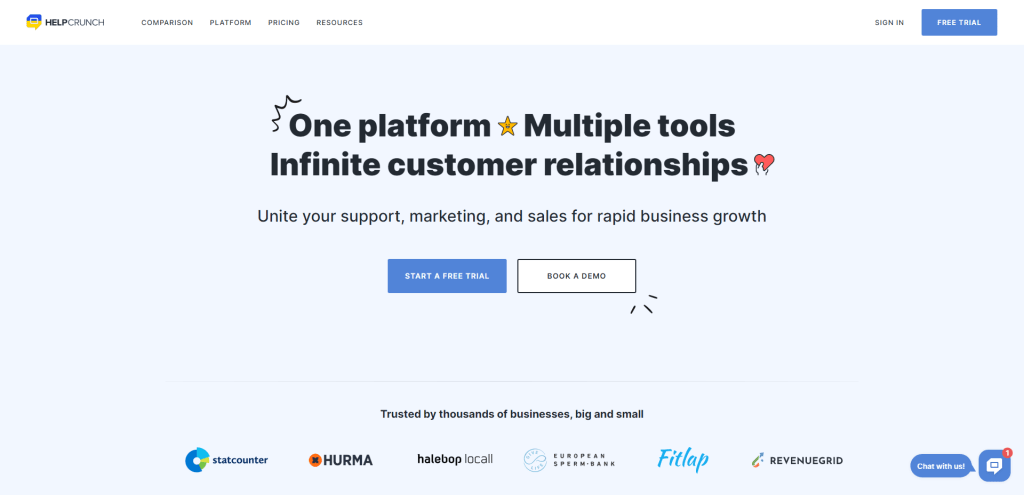 HelpCrunch is a powerful live chat tool that promises to deliver higher sales and better customer support. With its advanced features, you can acquire more leads, convert them into paying customers and provide fast and delightful customer support to your customers.
One of the pillar features of HelpCrunch is its proactive engagement. You can initiate more chats and convert visitors into leads with the help of chat auto-messages. The tool makes it easy to set up rules that trigger timely messages based on users' behavior.
Another great feature of HelpCrunch is its intuitive self-service. With a knowledge base integrated into your live chat widget, customers can easily find answers to common questions without your involvement. This not only saves time but also offers customers a seamless and satisfying experience.
In addition to offering great customer experience, HelpCrunch helps keep your team happy. With a shared inbox, you can manage chats, emails, messengers, and social media in one place, giving your team all the features they need for effective customer communication.
Pricing: The basic plan is $12 per month for 1 team member.
---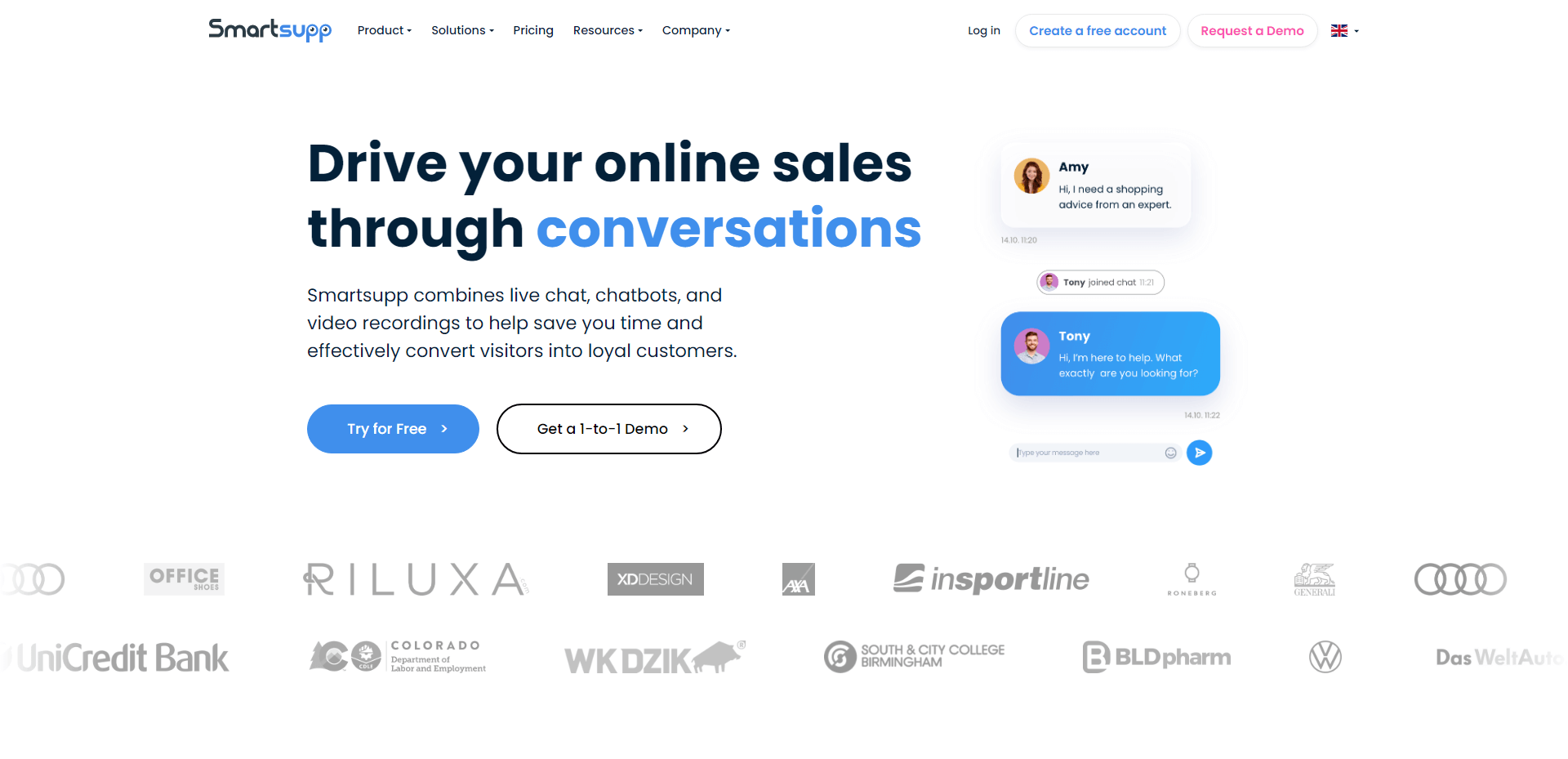 Smartsupp is a live chat tool that enables businesses to connect with their website visitors in real time and drive online sales. The platform offers a personalized, responsive, and intuitive experience that lets businesses genuinely connect with visitors and boost their online sales.
With Smartsupp, you can unify multichannel chats in one dashboard and deliver win-win customer service with human and chatbot support. The chatbox is where the magic happens, allowing you to get in touch with your visitors directly, offer rapid responses, multitask conversations, and deliver premium support while improving conversion rates.
Smartsupp also offers data gathering and conversation history, visitor lists, and video recordings to help you understand customer insights. The platform also enables teams of agents to integrate customer care efforts on live chat and work from the same dashboard to ensure everyone is in sync.
In conclusion, Smartsupp is a simple, effective, and professional solution for customer communication that helps businesses shorten the distance between them and their customers, impact sales growth, and offer instant customer service with the chatbot feature.
Pricing: A free plan is available for 1 agent with up to 100 conversations a month. The premium Standard plan starts at $20 per month for up to 3 agents and includes unlimited conversations.
---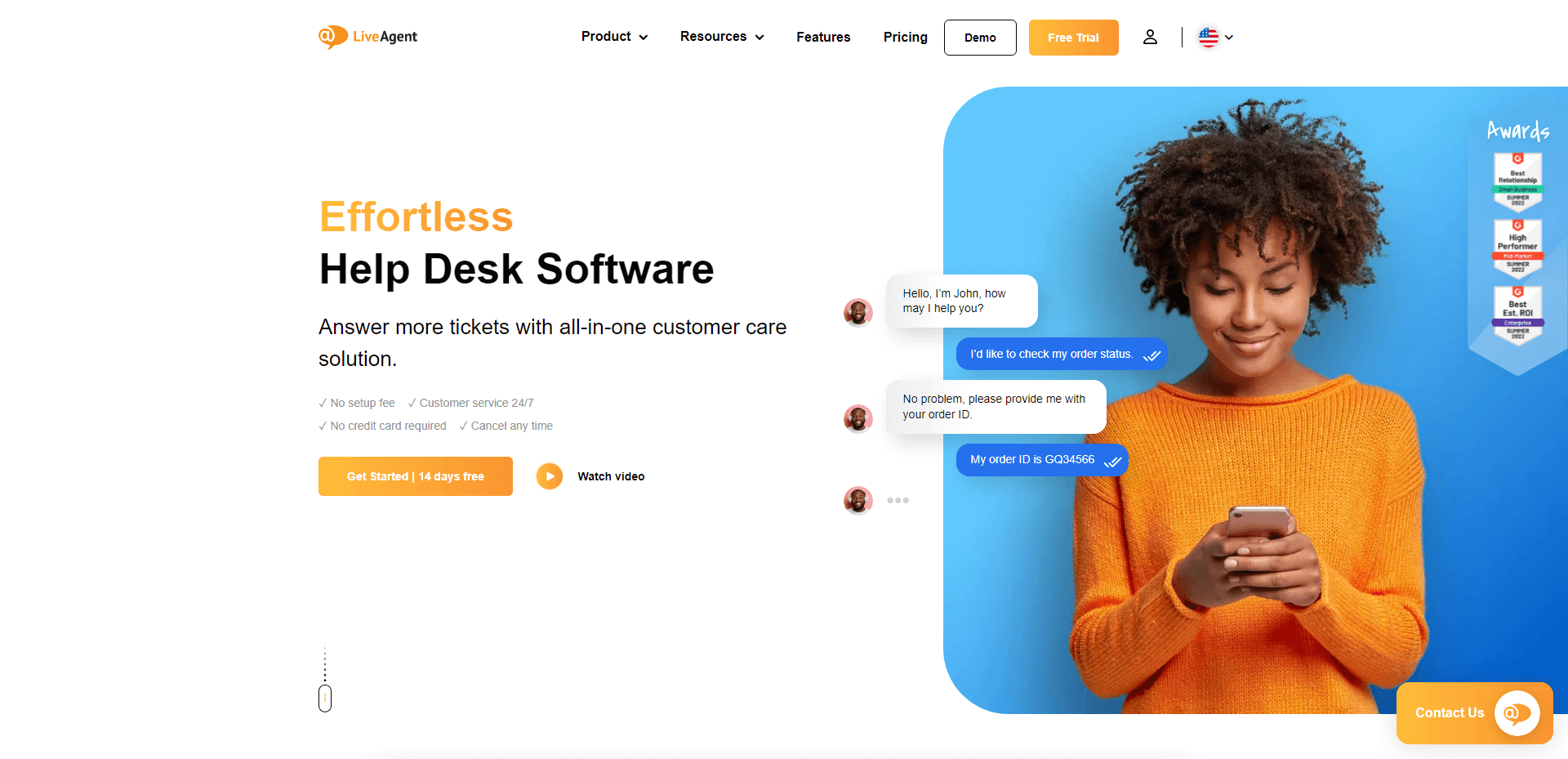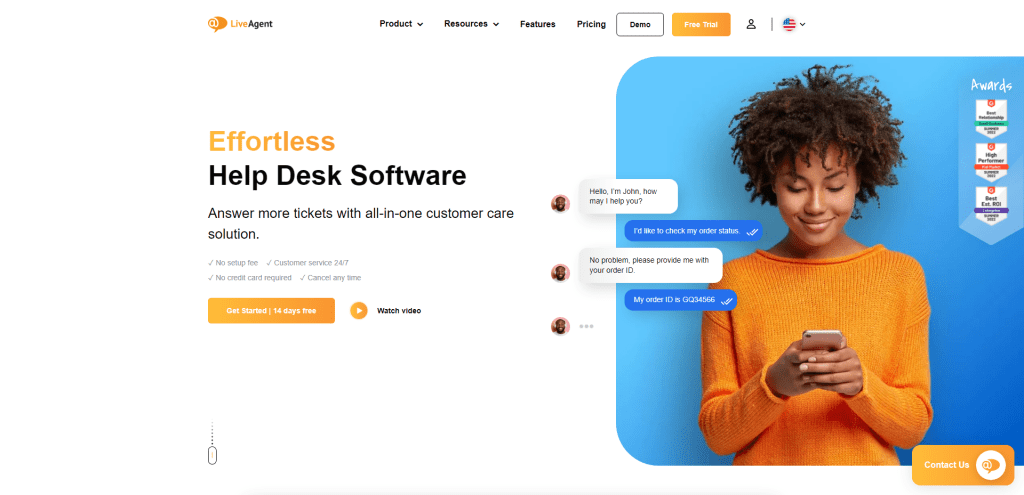 LiveAgent is a live chat software solution designed for small and medium-sized businesses. This web-based platform offers a quick and reliable live chat widget with advanced features that can be customized to match a company's branding.
LiveAgent's key features include proactive chat, chat routing, unlimited history, a customizable chat widget, automation options, real-time typing view, reporting and analytics, and a self-service portal with a knowledge base.
Worth noting that LiveAgent goes beyond basic live chat software, offering a full customer service platform that can handle various communication channels. With features such as website monitoring, visitor tracking, and proactive chat invitations, businesses can improve their customer engagement and retention rates.
Pricing: A free plan is available, with limited functionality. The premium plan starts at $29 per month per agent. This includes a ticketing system and live chat features.
---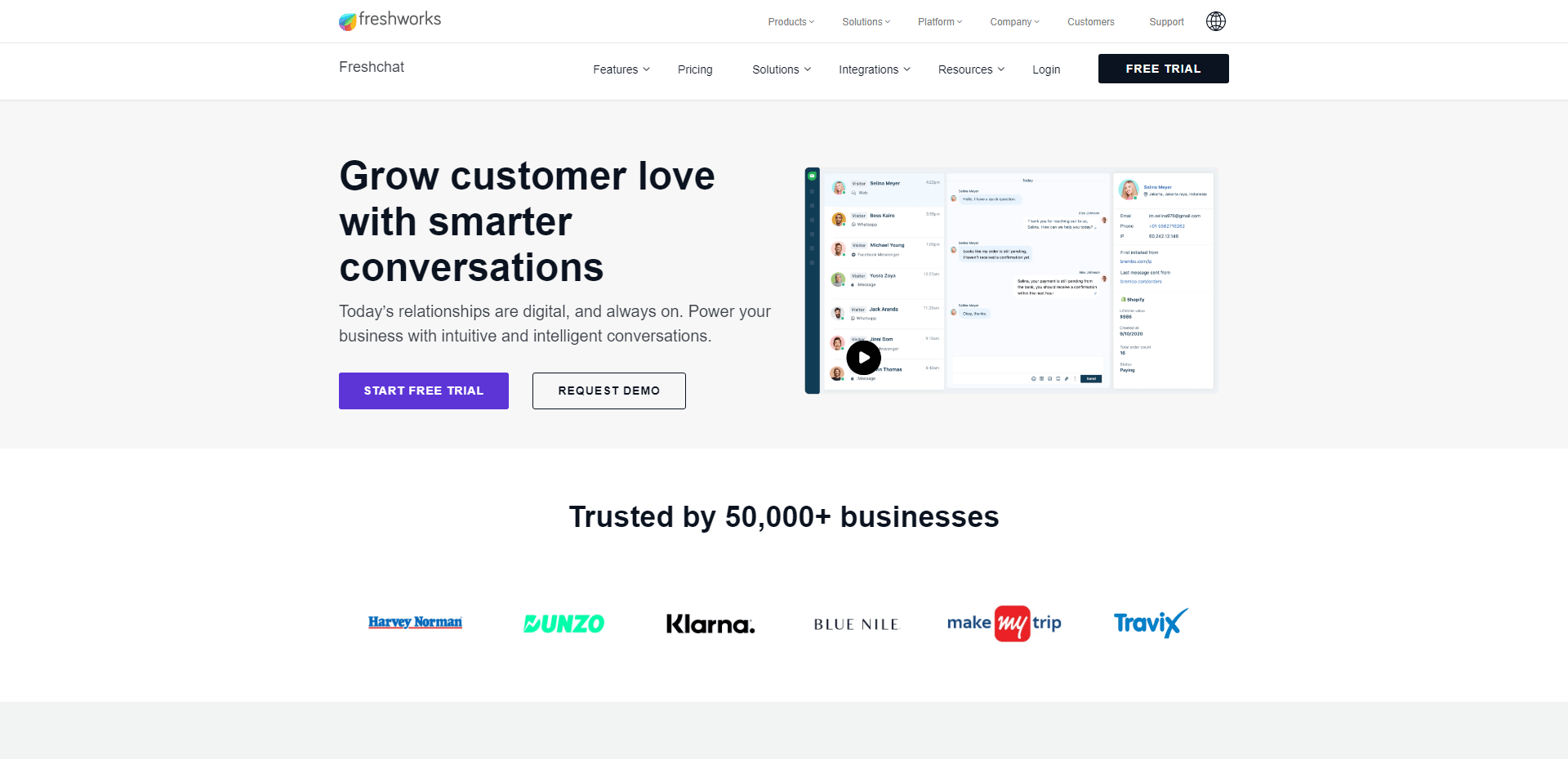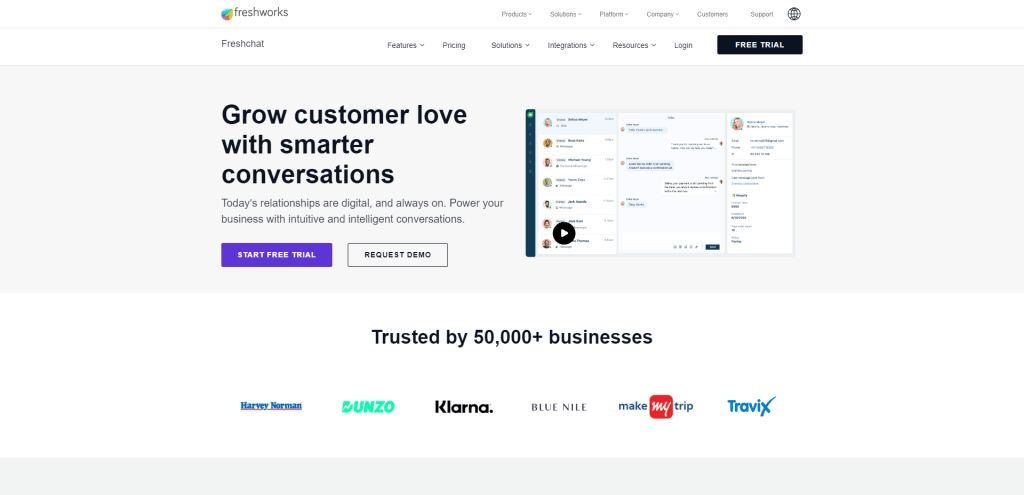 Freshchat, part of Freshworks suite of customer engagement and support tools, is a live chat platform that enables companies to engage with their customers through various channels, including web, mobile, and social messengers such as WhatsApp and Facebook Messenger.
The app was designed for sales and customer engagement teams and focuses on converting leads, with key features like customizable web chat forms, predictive contact scoring, and proactive campaigns to target outbound messages.
Freshchat offers a conversational UI that is aesthetically pleasing and easy to use, with the option to communicate with customers via multiple channels. The software also integrates with AI, providing chat metrics and making it simple to build chatbots, leading to a more efficient and personalized customer experience.
The platform unifies communication platforms, providing personalized customer self-service features and allowing agents to work from anywhere with the Freshchat team inbox.
Some of the standout features of Freshchat include:
Live translate
Chat routing
Advanced roles and permissions
Agent load balancing
High security
Customizable analytics and Messaging API
Integration with other tools for an excellent customer experience
Freshchat is a powerful live chat platform that offers a unified and conversational customer engagement experience and is well-suited for businesses of all sizes.
With its integrations, customizable analytics, and messaging API, Freshchat is among the leading simple-to-use live chat platforms that enable businesses to engage customers and create delightful customer experiences.
Pricing: The Growth plan starts at $15 per month per agent when billed annually. Freshchat does offer a free plan, although it is relatively limited and not suitable for true business needs.
---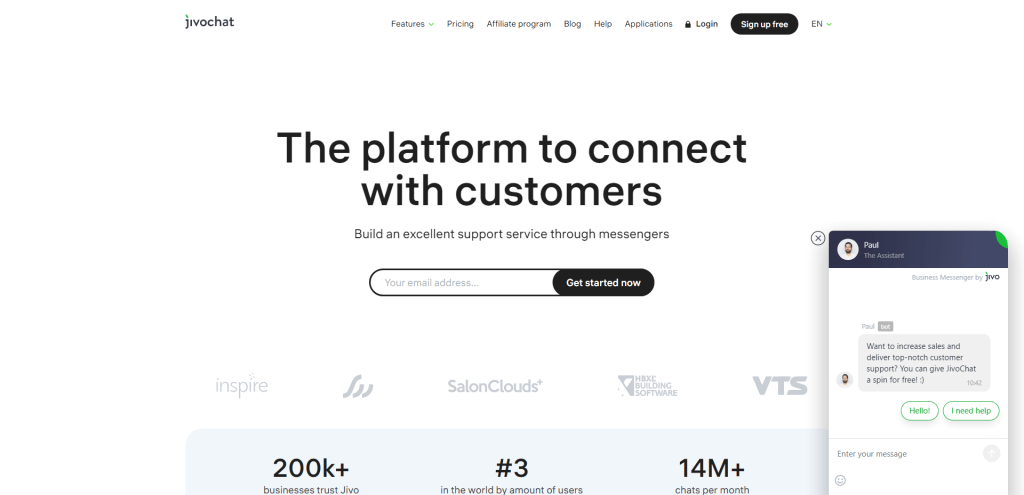 JivoChat is a live chat tool that helps businesses manage and interact with customers in real time through multiple communication channels such as websites, Telegram, Facebook, WhatsApp, and Viber.
The platform is easy to use and integrates seamlessly with daily tasks, making it a great option for businesses looking for an affordable online chat solution to improve customer interaction in real-time.
Highlighted Features:
Unifies chats from different messaging and social media platforms into a centralized dashboard
Offers instant answers to customers with canned responses
Color-coded chats for better organization of conversations
Real-time tracking of visitor location and source
Personalized messages triggered by user actions
CRM integration with detailed visitor information
AI solutions for real-time translation of conversations
Benefits:
Easy-to-use back-end environment
Real-time monitoring and analytics
Intelligent tools like translation
Customizable chat widget in 25 languages, including mobile version
Pre-chat or in-chat contact info collection
One-click call
Unlimited chats and websites
Supports sales and support teams to connect with users via live chat, phone, email and social media channels
Potential Drawbacks:
UI seems plain and dated but is easy to use
Limited features on the free version
Fewer integrations than some alternatives
According to some reviews, JivoChat may pop up too often, frustrating customers.
Overall, JivoChat is a great live chat tool for businesses looking to improve their customer communication. The platform provides a single point of record for support and sales reps, enabling faster response and resolution times. With real-time tracking and personalized messages, JivoChat offers a robust omnichannel experience for website visitors. While there is room for improvement, such as the need for an advanced ticketing system, JivoChat is still a great option for businesses looking for an affordable and easy-to-use live chat solution.
Pricing: A Basic plan is available free of charge. The Professional plan starts at $19 per month (1 agent) and includes all the premium features.
---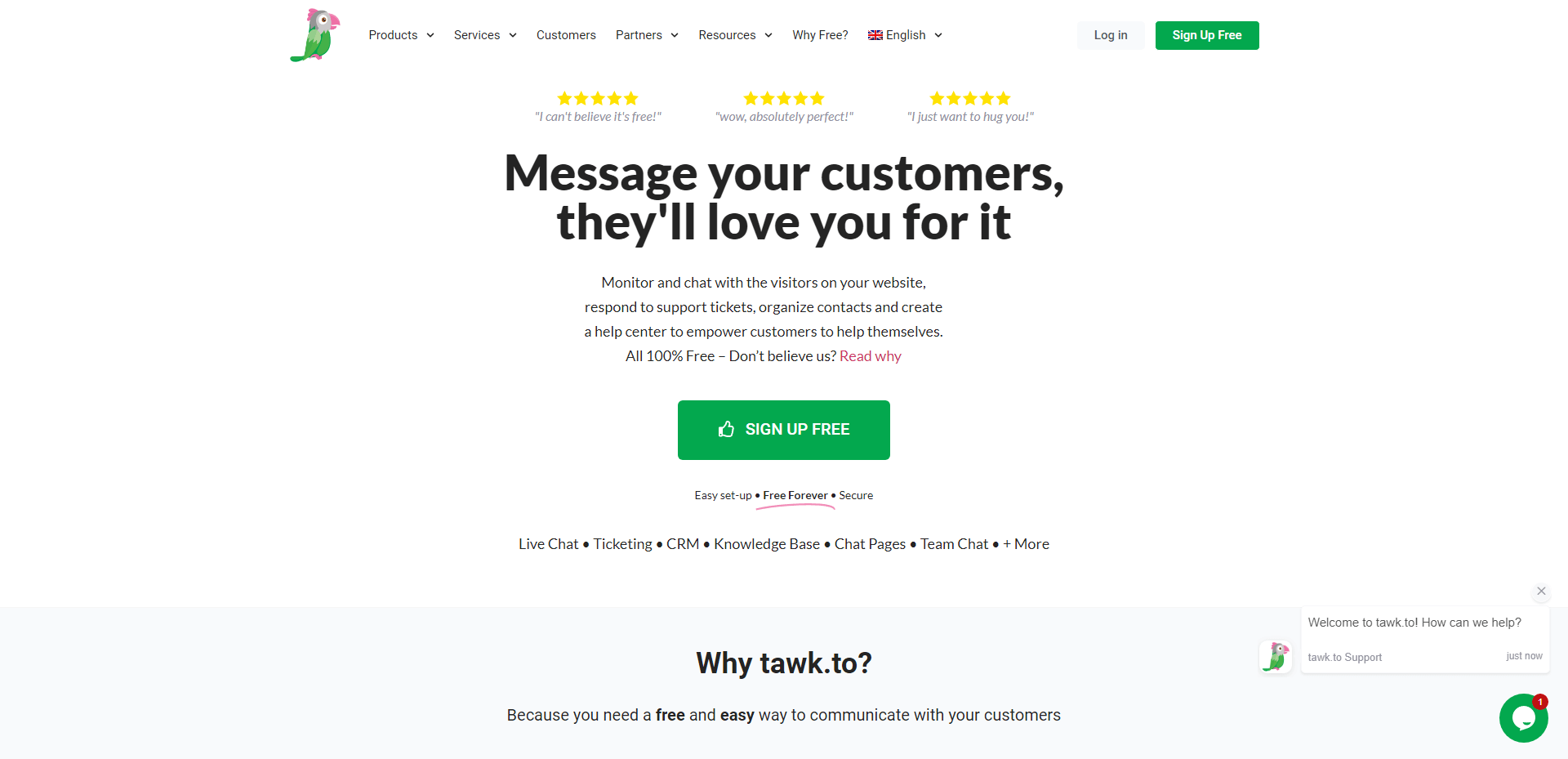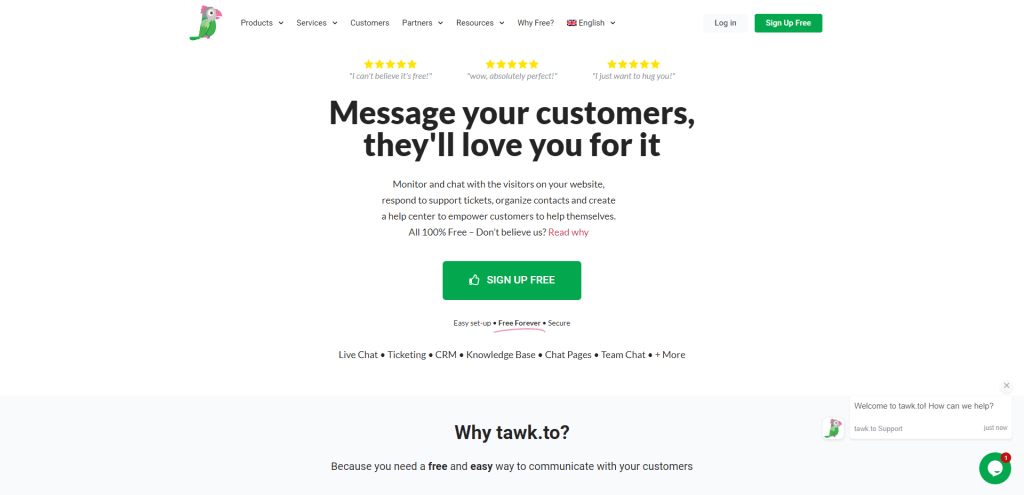 Tawk is a live chat tool that offers a suite of features aimed at enhancing communication between businesses and their customers. The tool is designed to be easy to use and set up, making it a great option for businesses with all levels of experience, including complete beginners.
Here are some key features of Tawk:
Live Chat: The live chat feature allows you to monitor and chat with visitors in real-time, providing quick and efficient customer support.
Ticketing: The ticketing system allows you to respond to customer inquiries and support requests in an organized and efficient manner.
CRM: Tawk provides a centralized platform for all customer interactions, making it easy for you to get a top-down view of the customer journey.
Knowledge Base: The customizable knowledge base provides you with a platform to share your knowledge and streamline support.
Chat Pages: Tawk provides a platform for businesses to create chat pages that can be used to provide targeted customer support.
Team Chat: The team chat feature allows you to collaborate and assign conversations to your team members.
The platform also allows you to localize greetings and messages based on visitors' location and engage with customers using trigger-based messages.
One of the best features of Tawk is its always-free approach, making it a great choice for anyone on a tight budget. Tawk also offers the option to hire live agents through the platform for just $1 an hour.
Pricing: Tawk is 100% free.
---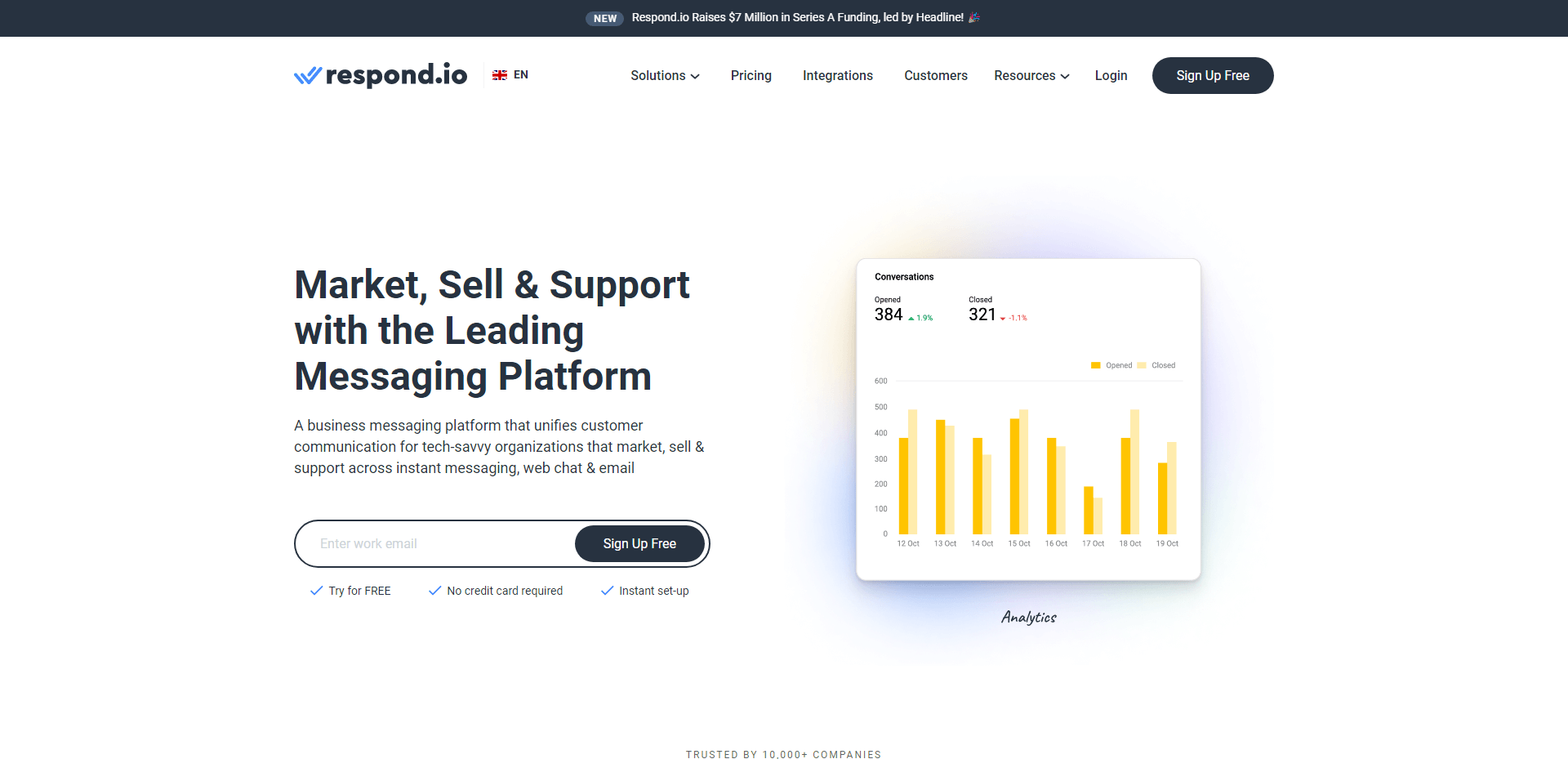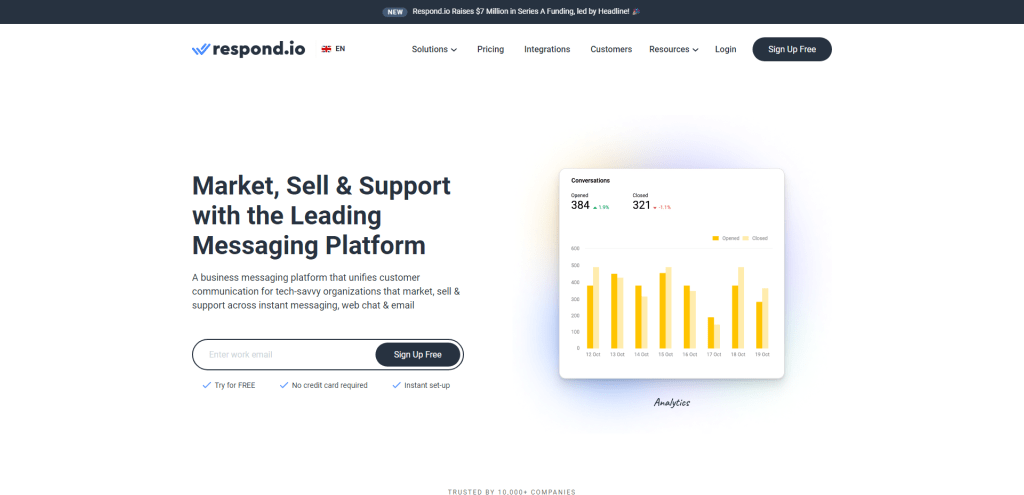 Respond.io is designed to bring together the market, sell, support, and engineering functions of a business, streamlining the communication process and reducing the need for juggling channels between teams and platforms.
Here are some key features of Respond.io that make it a powerful tool for businesses:
One Messaging Platform: A single platform for marketing, sales, support, and engineering, making it easier to manage all communication channels and streamline the process.
Promotional Messaging: You can target specific interests with broadcasts, enroll new contacts in drip campaigns, or trigger event-based promotions via API.
Conversational Support: The platform uses automated messaging to identify customer issues, then routes them to agents based on skill, function, language, shift, and more.
Transactional Notifications: Respond.io enables businesses to trigger abandoned cart messages, payment confirmations, order updates, and more from platforms like Shopify and Magento via Zapier.
Action Shortcuts: You can create custom inboxes, broadcast modules, and flexible automation via workflows.
Reporting & Analytics: Respond.io provides a daily dashboard for managers to monitor conversations and agents' performance, as well as reporting and analytics.
Respond.io is trusted by over 10,000 companies and is available on desktop and mobile devices, providing a flexible solution for businesses looking to improve their customer communication.
Pricing: The entry-level "Team" plan starts at $79 per month. This includes 10 team members and up to 1,000 active contacts.
---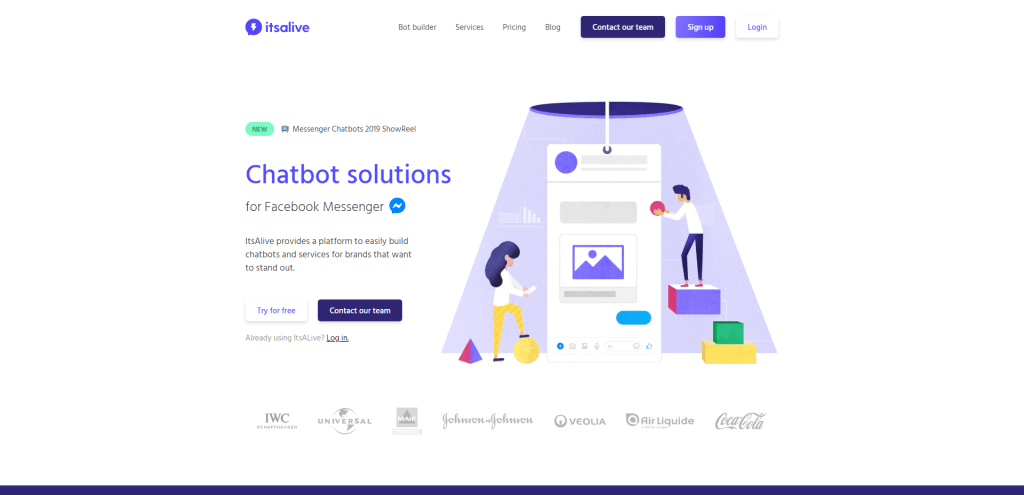 ItsAlive is a chatbot platform designed to help businesses engage with customers and increase conversions. With ItsAlive, you can build chatbots that interact with customers using recipes. Similar to IFTTT, a recipe tells the bot how to act in certain circumstances; for example, if a customer uses the keyword "login," the bot sends a message with "login" options.
To be fair, ItsAlive is probably more distant from the traditional live chat solutions, but it is nonetheless worthy to be included in this article because it excels at its core functionality. For the time being, ItsAlive is only available for Facebook Messenger.
Overall, ItsAlive offers a unique recipe workflow, making it stand out from its competitors. With its user-friendly interface and useful features, ItsAlive is an excellent option for businesses looking to implement a chatbot marketing strategy, especially if you're already using Facebook as a marketing channel.
Pricing: You can try out ItsAlive for free with up to 1 chatbot and up to 1,000 messages per month. The Solo plan starts at $19 per month, and the more business-oriented Plus plan starts at $49 per month.
---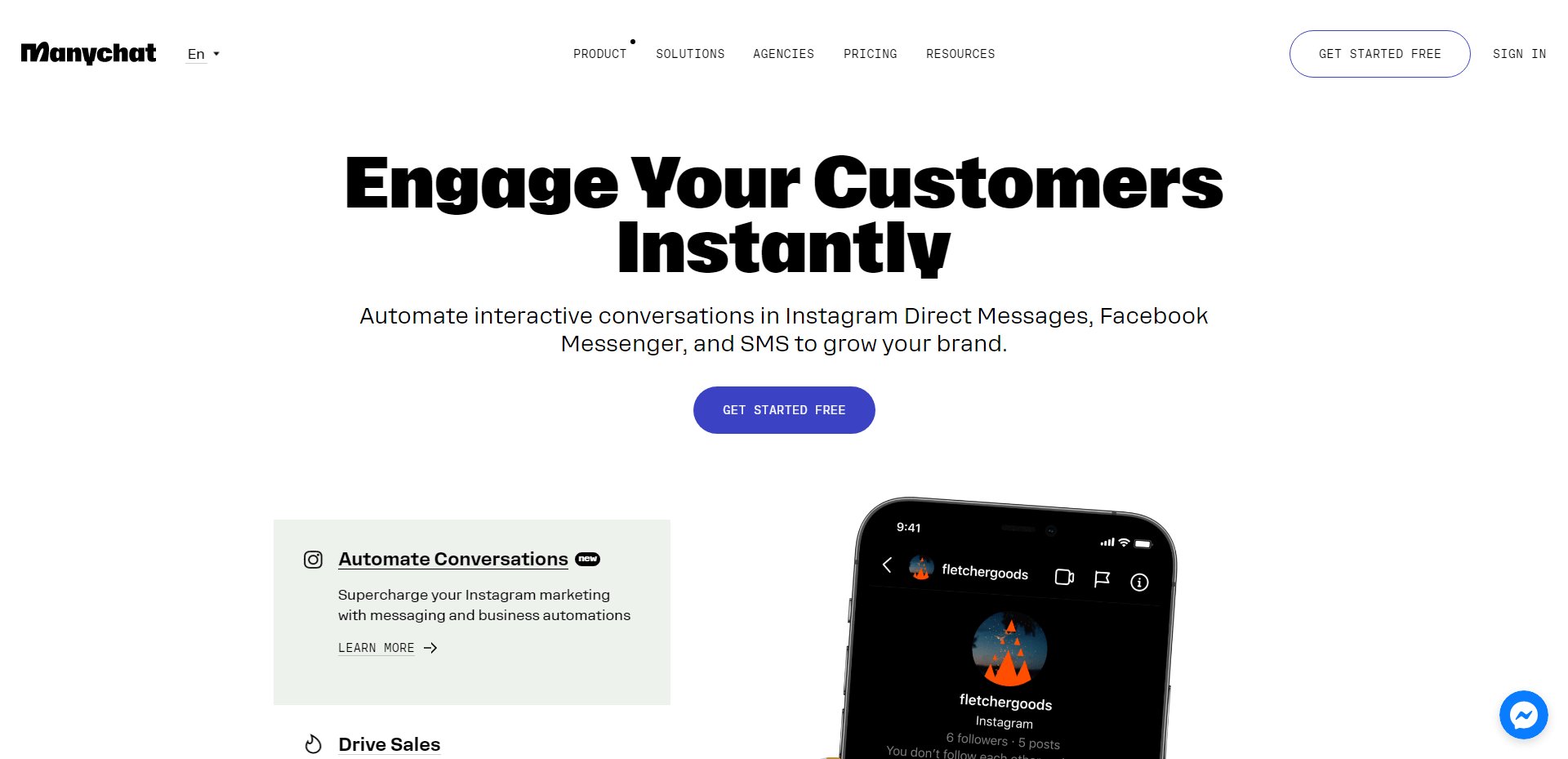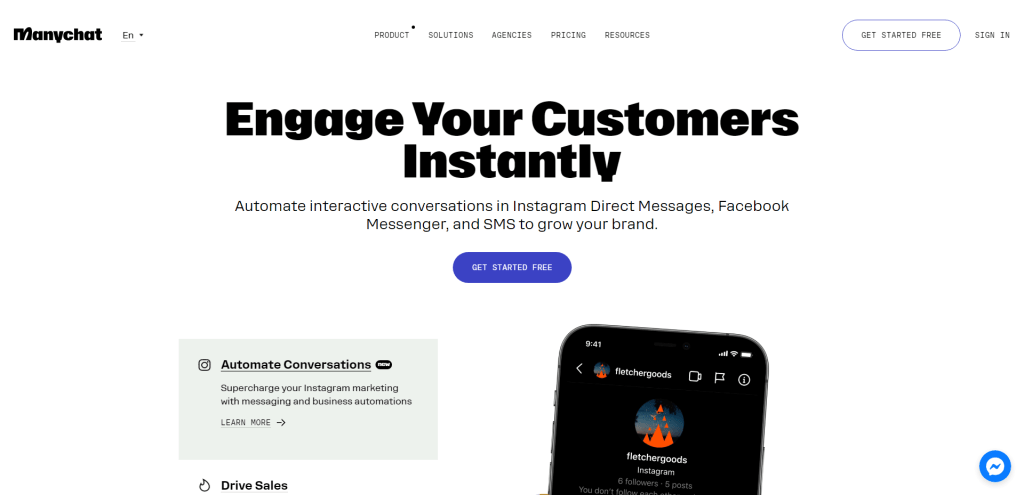 ManyChat is an AI chatbot platform that automates communication through Facebook Messenger, Instagram Direct, WhatsApp and SMS. It provides you with an easy way to build chatbots in minutes without any coding knowledge, and the visual drag-and-drop interface allows users to connect messages and actions with each other.
Key Features:
Easy integration with third-party tools like Stripe, PayPal, Shopify, and others.
19 predefined templates for building bots quickly.
A/B testing is available for the "Pro" plan users.
Direct customers to your Facebook Messenger bot from any channel, including the website, email, or text message.
The platform is best for marketing and sales teams who want to focus on promoting their business through chatbots. ManyChat allows you to generate new leads, engage prospects, and drive sales through any of the supported platforms.
The platform also offers basic reporting and analytics, as well as integrations with popular apps like Shopify, Mailchimp, HubSpot, and more. Overall, ManyChat is an excellent option if you're looking for a quick way to launch a simple chatbot for sales, marketing, and customer service.
Pricing: The Free plan includes up to 1,000 contacts; however, it doesn't include access to Email or SMS channels. And the Pro plan is a flat $15 per month with unlimited contacts and access to all premium features.
---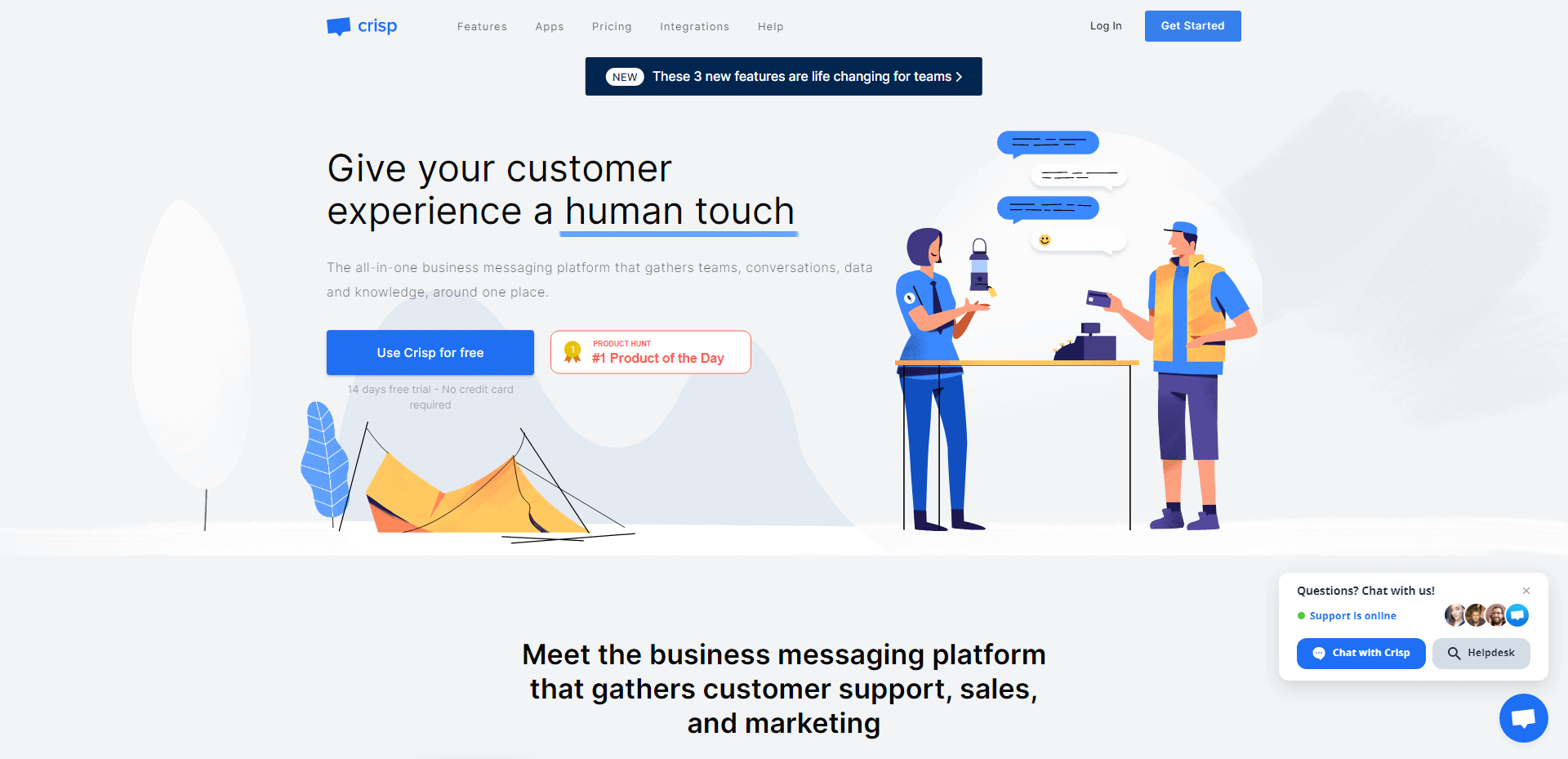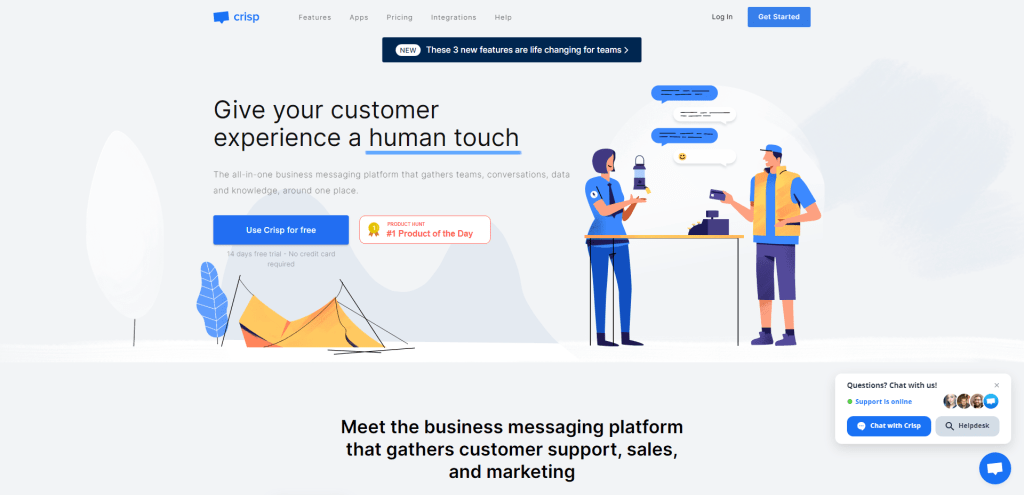 Crisp offers much more than just chat software for your business website. It simplifies customer support by offering a wide range of features, including a shared inbox, multichannel connectivity, and real-time translation.
Companies with longer sales cycles will benefit from the ability to send drip marketing campaigns and sales pipeline automation tools, while SaaS companies can use the status monitoring system to communicate outages to customers proactively.
Key Features:
Customizable Website Widget: From colors to languages and positions, the Crisp widget can be customized to match your brand and enhance customer confidence.
Automated Sales Conversion: With the ability to send automated messages, statistics show that website visitors are more likely to make a purchase.
Personalized Conversations: Business messaging doesn't have to be robotic; with Crisp, you can create a personalized customer experience.
Integrated Knowledge Base: Customers can access help articles and resolve issues directly from the live chat.
Advanced Chatbot Scenarios: Build chatbot scenarios to automate customer onboarding.
Engaging Conversations: Use GIFs and videos to create personal and modern conversational experiences.
Customer Satisfaction Surveys: Get customer satisfaction (CSAT) surveys from the website chat widget.
Crisp also offers fantastic third-party integrations. These include Salesforce, Slack, Hubspot, and even platforms like GitHub and Trello.
Pricing: Free plan includes 2 team members and covers most of the basic features. The Pro plan is priced at $25 per month per workspace, with up to 4 team members and 5,000 contacts.
---
Summary
In today's fast-paced business world, having a strong online presence has become crucial for success. One of the key components of a strong online presence is providing exceptional customer service. Live chat tools have emerged as a popular and efficient way for businesses to communicate with their customers in real time.
These tools are easy to use, cost-effective, and can be integrated with a company's website, making it convenient for customers to reach out for assistance at any time.
Whether you're a small startup or a large corporation, utilizing a live chat tool can greatly improve your customer satisfaction and overall online presence. We hope that this article has provided you with the information you need to choose the right live chat tool for your business and take your customer service to the next level.