With WordPress newsletter plugins, you can prepare your emails directly from your dashboard and easily send them to your subscribers. Different WordPress newsletter plugins allow you to set up and send newsletters in various formats. Some integrate with email marketing services, while others do not.
As such, it's important to understand what your goal is and your preferred method of sending emails. If you're unsure about which one to choose among the many plugins, we've compiled a list of the best WordPress newsletter plugins for you.
Let's get started!
Things to Consider When Choosing a Newsletter Plugin

Before we dive deeper into the actual list, make sure you consider the following when choosing a plugin for sending emails:
Intuitive User Interface - The best plugins in this category provide Drag & Drop features or, at the very least, a pre-made set of templates. Crafting email design from scratch can be an extremely tedious process.
Customization - If you'd like to tailor your newsletters to resemble your general website theme, it goes a long way to have diverse customization features. By choosing a plugin with easy customization, you can make a match according to your site's layout.
Custom Features - Some plugins provide additional features such as custom forms, popups, exit-intent banners, and ways to monetize your newsletter. Consider if you need these features when choosing a newsletter plugin.
Built-in Simple Mail Transfer Protocol (SMTP) Server - This is an important factor to consider since it is practically impossible for an inexperienced user to set up a custom SMTP server. Always ensure that you understand whether or not a specific plugin provides its own SMTP server and whether it guarantees that all emails go to the Inbox rather than the Spam folder.
Now that you know what to look for when choosing the best WordPress newsletter plugin, we can move on to our list. We've outlined the specific factors shown above for each plugin to make it easier for you to decide which plugin is best for your current needs. Most plugins have some form of an Export feature should you wish to change to a different plugin in the future.
---

With 600,000 WordPress websites already using MailPoet since 2011, it's easy to see why it's a trusted email marketing solution. With a free plan for up to 1,000 subscribers and scaling paid plans, MailPoet is perfect for both beginners and experienced email marketers alike.
MailPoet is a user-friendly email marketing plugin that can help you take your campaigns to the next level. This plugin allows you to create, send, manage, and grow your email marketing campaigns directly from your WordPress dashboard.
With MailPoet, you can design emails using pre-made responsive templates or start from scratch. You also have the option to have your newsletters delivered right away, scheduled for later, or sent automatically with new blog post notifications.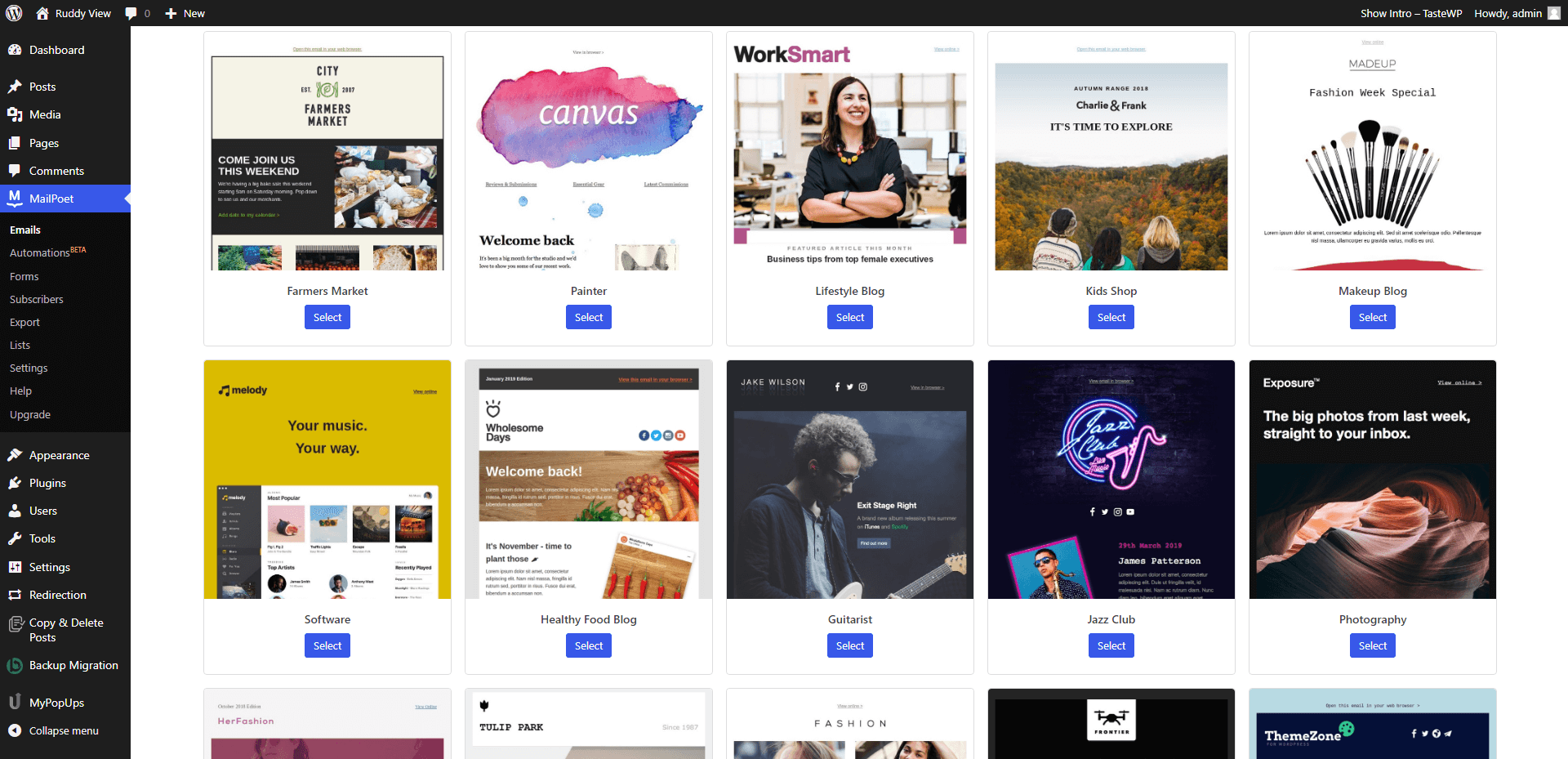 The MailPoet plugin offers many unique features, including a newsletter subscription form builder, subscriber and list management, behavior and interest-based segmentation options, pre-built and customizable email and subscription form templates, and WooCommerce email options like abandoned cart and first purchase emails.
In addition to email marketing, MailPoet also offers advanced functionality for your WooCommerce store. You can send targeted emails to your customers based on criteria like country, number of orders, spending, and active product subscriptions.
Overall, MailPoet is a comprehensive email marketing solution that makes it easy to manage your campaigns from within your WordPress dashboard. With a free plan and affordable paid plans, MailPoet is a great option for businesses of all sizes.

The Newsletter plugin is a powerful email marketing tool for your WordPress website. With Newsletter, you can manage everything from user subscriptions to email automation and list building. With its advanced features and intuitive visual composer, you'll have everything you need to create sleek and effective newsletters with ease.
With Newsletter, there are no limitations on the number of newsletters you can send or the number of recipients you can have, giving you complete control over your email marketing efforts. The plugin also has powerful tracking features, allowing you to monitor the success rate of your outgoing newsletters.
For those of you who already use an external SMTP service provider, Newsletter can be easily integrated with your existing setup. But if you don't, Newsletter offers several Delivery Addons, including Amazon SES, SendGrid, Sendinblue, and several others. The plugin is also fully documented, so you can always refer to the online documentation if you have any questions.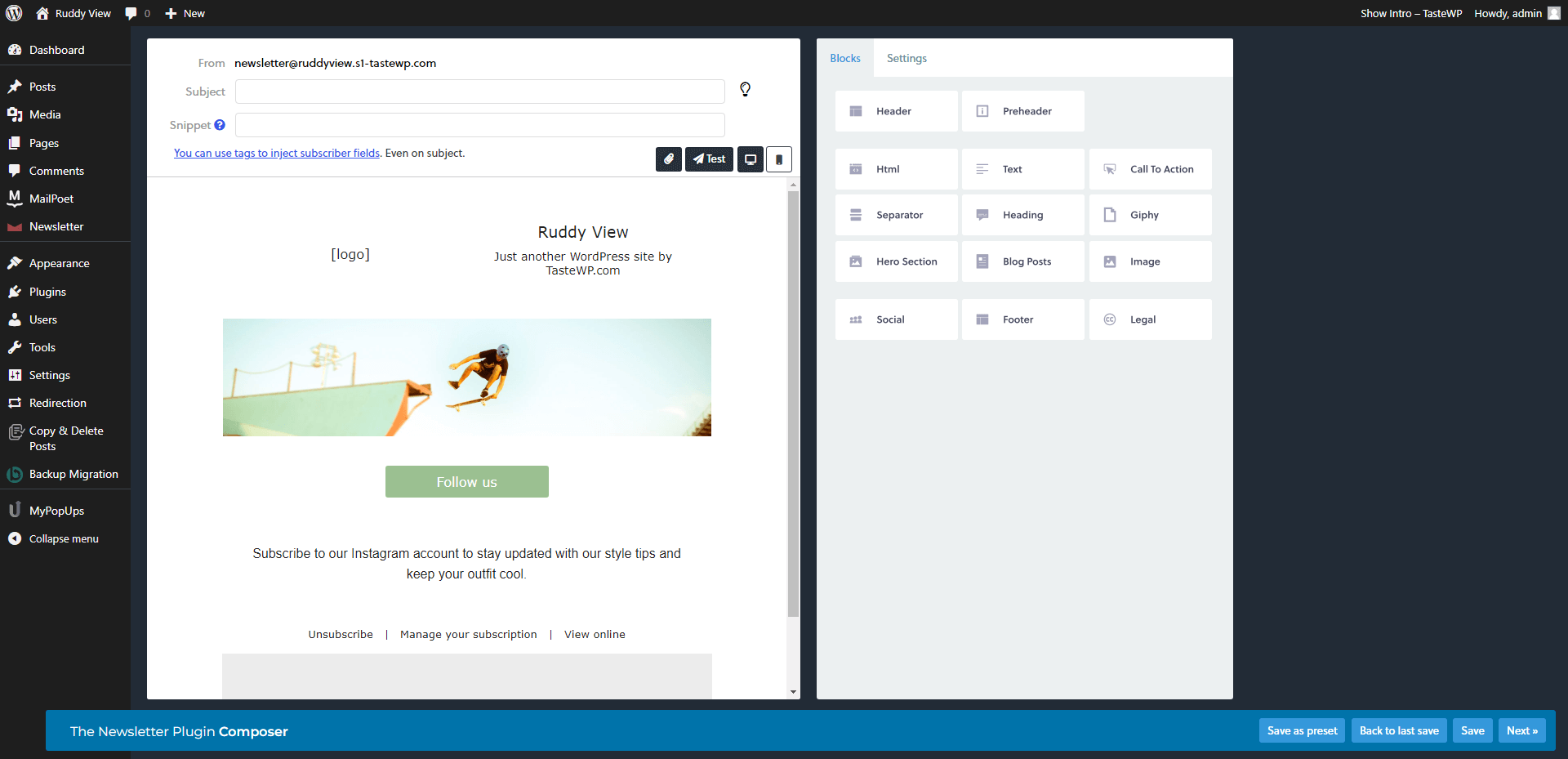 Here is a summary list of some of the best features of this plugin:
Easy-to-use drag-and-drop composer for building responsive newsletters
Unlimited subscribers with statistics
Unlimited newsletters with tracking
Spam check with domain/IP blacklists, Akismet, and captcha
Fine-tuned delivery speed control
WPML, Polylang, and Translatepress ready
All messages fully translatable from admin panels
GDPR compliant
Advanced targeting with list combinations
Customizable subscription widget, page, or form
Seamless integration with WordPress users' registration

Icegram Express is the ultimate email marketing plugin for WordPress and WooCommerce users. It offers a privacy-focused solution with all the essential features you need to automate personalized campaigns and convert visitors to subscribers. With unlimited contacts, forms, lists, and emails, Icegram Express is designed to save you time and money while delivering great results.
This plugin is packed with features, including opt-ins and lead magnets, blog post notifications, newsletter broadcasts, support for multiple ESPs/SMTPs, abandoned cart recovery, and trigger-based automation.
What sets Icegram Express apart from other email marketing solutions is its focus on privacy and affordability. You can own your data, use your preferred SMTP, and enjoy unlimited contacts, forms, lists, and emails without paying outrageous monthly fees.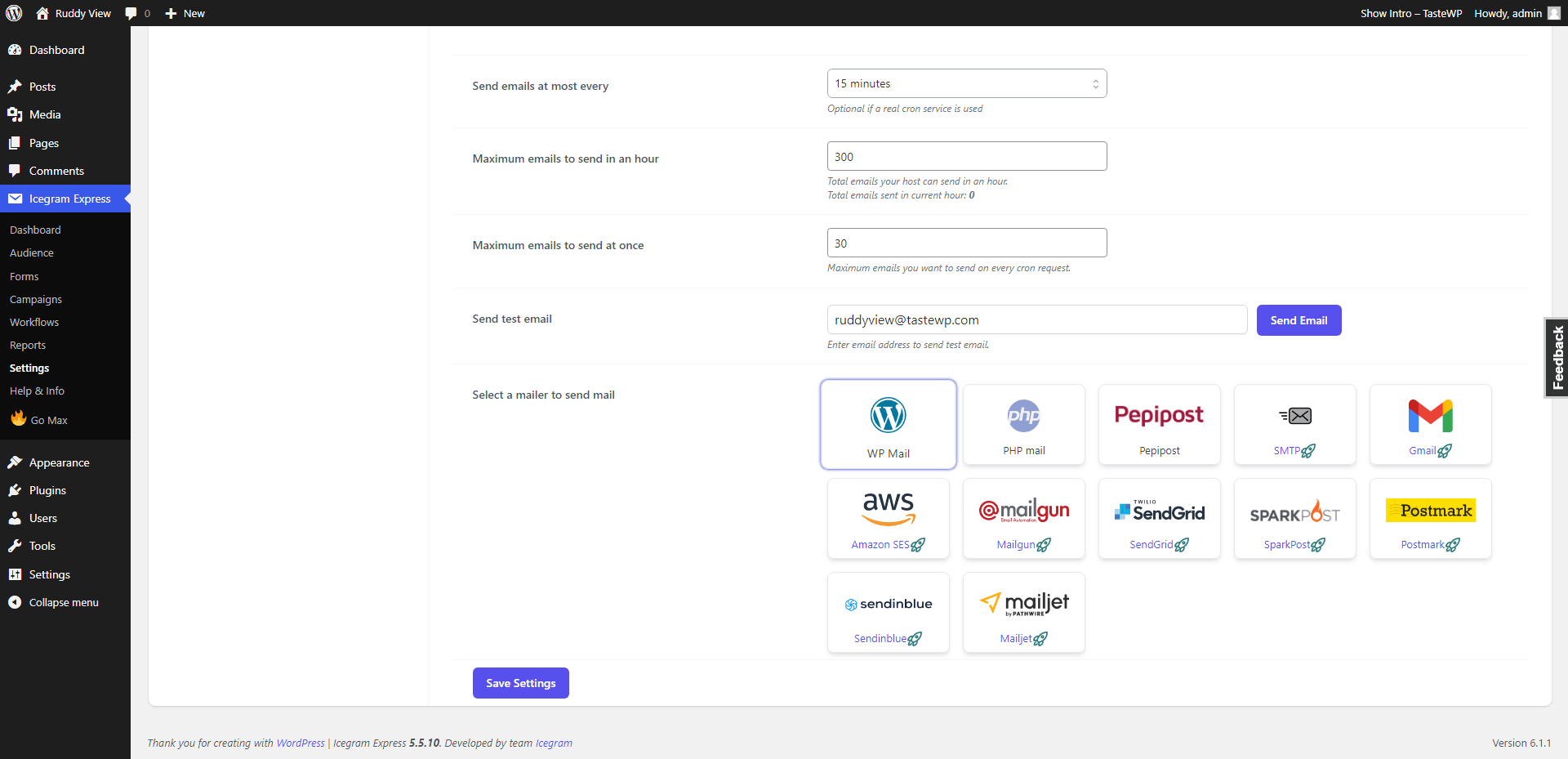 The key features of this plugin are:
Store unlimited contacts and send unlimited emails
Automated new blog post notification emails
GDPR ready with options for Single and Double Opt-In and privacy checkbox
Compatible with various SMTP plugins
Option to collect customer emails using a subscription box or a shortcode
HTML editor and email open/viewed status tracking
Import/export contacts and integration with various form plugins
Option for automatic welcome emails and an unsubscribe link in emails
Advanced features in Icegram Express MAX, including autoresponder sequences, email list cleanup, access control, newsletter templates, and integration with various plugins
Excellent support with well-documented articles and VIP support for PRO users
Regularly updated and improved by the Icegram team
Highly praised customer support with positive reviews.
In conclusion, Icegram Express is an all-in-one email marketing solution that offers powerful features, ease of use, and affordability. If you want to grow your email list, engage with your subscribers, and save time and money, then this plugin is a must-have for your WordPress site.

Hustle is the all-in-one marketing plugin for WordPress, designed to help you grow your mailing list and increase conversions on your site. From the award-winning developers behind Smush and Forminator, Hustle is packed with features that make lead generation and targeted marketing a breeze.
Unlike the plugins we've looked at so far, Hustle is built specifically for marketing purposes. This means that the plugin itself does not provide the ability to send newsletters; instead - you can use Hustle to build your email list and then transfer the collected emails to a third-party service.
Hustle integrates with popular form builders like Forminator and email services, making it easy to collect leads and grow your mailing list. It's compatible with the Gutenberg editor and even has a smart exit-intent feature that detects when visitors are about to leave your site and displays a popup or slide-in to grab their attention.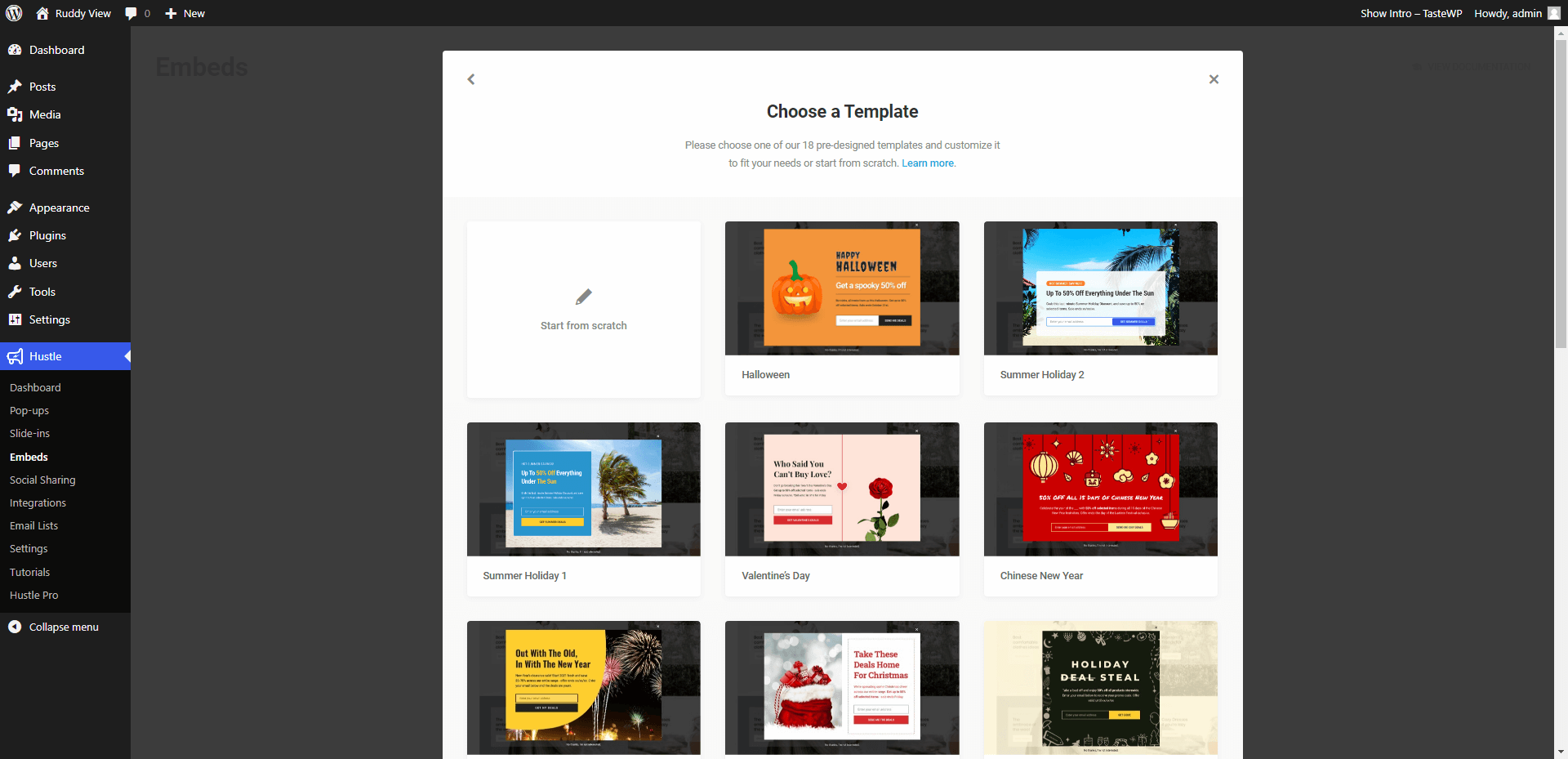 Hustle's display settings are highly targeted, allowing you to set intelligent conditions based on specific pages, visitor device/browser, country, source of arrival, and more.
The popups and slide-ins can be triggered by various behaviors, including time on the page, scroll, and exit intent. You can also set specific schedules for your marketing modules, deploying them at the right time to get the best results.

ConvertKit is a powerful WordPress plugin that helps creators to grow, engage, and monetize their audience. It's a one-stop shop for all your email marketing needs, from growing your audience to automating your campaigns.
ConvertKit was built by a team of creators who understand the challenges faced by other creators in their field. With ConvertKit, you can grow your audience by creating beautiful landing pages and opt-in templates that convert your followers from social media, YouTube, and other channels into your email list. You can also segment your audience based on their interests and behavior to send personalized campaigns that resonate with them.
The plugin offers a visual automation builder that allows you to create automated email campaigns that are personalized and relevant to your subscribers. Whether it's a single promotion or a week-long campaign, you can customize your emails and trigger them based on subscriber behavior. ConvertKit also has a high email deliverability rate, so you can rest assured that your emails will reach your subscribers' inboxes.
With ConvertKit, you can automate your email marketing funnels and create a path for your customer journey. You can set up welcome email series, send thank-you emails, and more. The plugin also comes with pre-built automation templates that make it easy for you to kickstart your email marketing campaigns.
Note: If you'd like to use ConvertKit - you must first create an account on their actual website and then connect your account details through the WordPress dashboard!
Summary
In conclusion, there are several WordPress newsletter plugins available in the market, each with its unique features and functionalities. When choosing a newsletter plugin for your WordPress website, it's essential to consider your specific requirements and evaluate each option based on factors such as ease of use, email deliverability, automation, and design customization options.
Ultimately, the best plugin for your needs will depend on the size of your mailing list, your budget, and the features you're looking for in a newsletter plugin.