The number one reason why WordPress continues to dominate the CMS market share is that the platform simplifies everything. It doesn't matter if it's a theme that can perform many business-related tasks or a plugin that can add extended functionality to your website. If you have a specific feature in mind - there's a good chance someone has built a plugin for it.
And for today's article, our focus will be strictly on booking plugins. The ability to onboard and schedule appointments directly from your WordPress site is crucial if your business is built around an appointment-style structure. But, outside of appointments, other types of bookings include event registrations, custom services, and hospitality services like hotel stays.
You do have the option to pick a theme tailored specifically to your business type (it could be travel-related, or food-oriented), but, most such themes rely on third-party plugins either way.
Finding the right solution for your business or service
So, because there are more than a dozen different fields and service types in which a booking system is utilized, it will go a long way to clarify the structure of this collection. For starters, I'm going to assume that you require features like a booking calendar, payment integration, customer onboarding, and the ability to interact with customers directly.
I'm also going to consider factors such as whether the specific booking plugin works with page builders such as Elementor and others. Furthermore, if you plan to upgrade, I will consider the plugin's price (all the plugins in this collection have a free version). And, in most cases, you probably will want to upgrade to get a more streamlined management experience.
I think you'll find it relatively easy to quickly discern as to which area a specific plugin specializes in. But, rest assured that I've added plenty of personal points for each description.
---

The first plugin in our roundup is Bookly, which functions as a universal solution for adding, managing, and customizing booking forms on your site. In fact, Bookly is specifically designed to be used in both small but also enterprise-level business projects. Once you go through the installation process, you'll get access to a separate Bookly dashboard in your admin panel.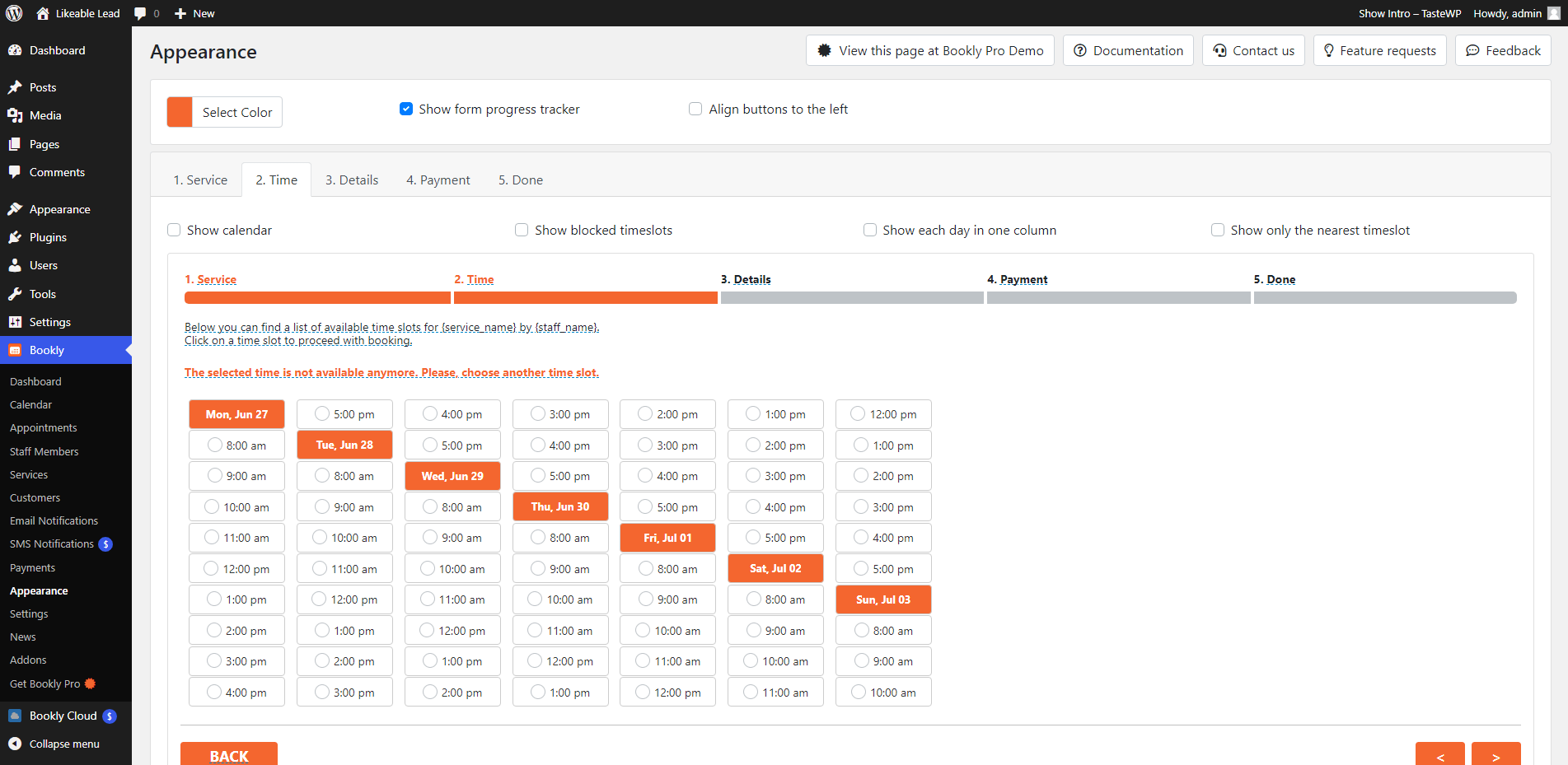 In this dashboard, you'll gain access to tools such as adding Services for which customers can book appointments. Furthermore, if your business is team-based; you can add separate Staff Members and assign those members to individual services.
Bookly: Key Features
Get email notifications whenever a customer books or cancels an appointment.
Customize the appearance of your booking form, either through a visual editor or by applying custom CSS.
A very intuitive learning curve, and requires no prior coding experience. Your only job is to add services and manage staff members. The plugin does the rest automatically.
Regarding payments, the free version of Bookly is limited to local payments only.
So, for example, if you wanted to accept PayPal or Credit Card payments, you'd need to grab the Pro version. Which, I might add, will greatly extend the possibilities for creating a world-class onboarding experience for your customers.

This might be your plugin if you're looking for something simple and only need the core functionality of collecting appointments. The setup takes less than a few minutes, with most of your time spent creating an appointment type.
The page for creating appointment types looks like this: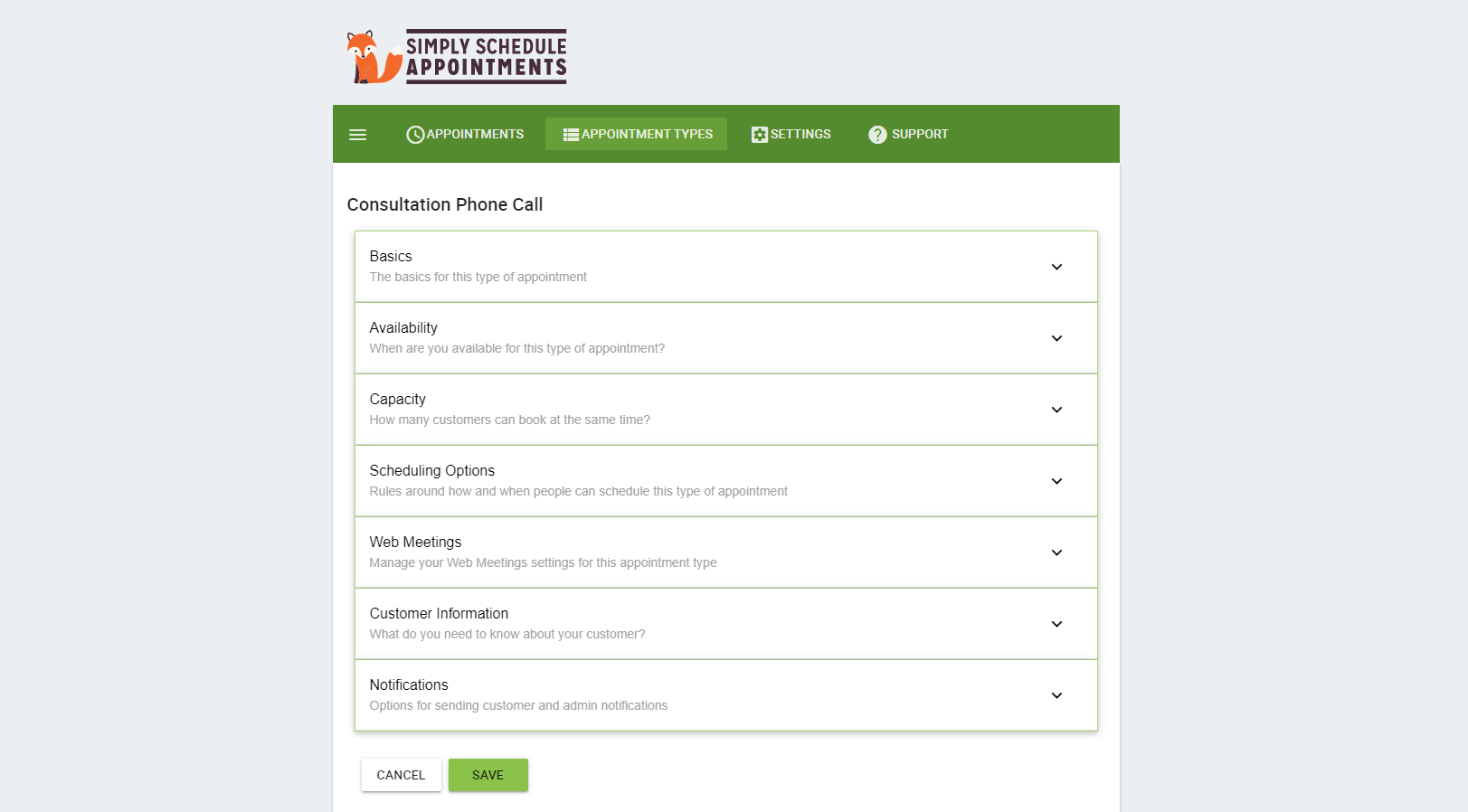 On this page, you'll be able to specify the exact details you need from your clients, but also configure your availability, and do things like adding a custom meeting URL. This URL refers to an online-based appointment experience, so think services like Zoom, etc.
Simply Schedule Appointments: Key Features
Fully compatible with the Gutenberg Block Editor and works with plugins like Elementor, Divi, and others.
Once you create an appointment type - you can display the booking form anywhere on your WordPress site with a simple shortcode.
Directly import various translation packs from WordPress.org to change the plugin and all its forms into your preferred language.
If you enjoy using the plugin, you have the option to upgrade to a Plus plan. This will then let you do things like collect direct payments, track statistics, and add team members.

WordPress is a prime choice for travel-related businesses, whether it's publishing travel articles or providing tour services. And this plugin is optimized specifically for managing travel bookings.
One of the key features of a travel booking system is the ability to outline the entire trip and all the details on a single page. This is why this plugin operates directly from the WordPress Editor - letting you publish tour details (individual or packages) similarly to blog posts.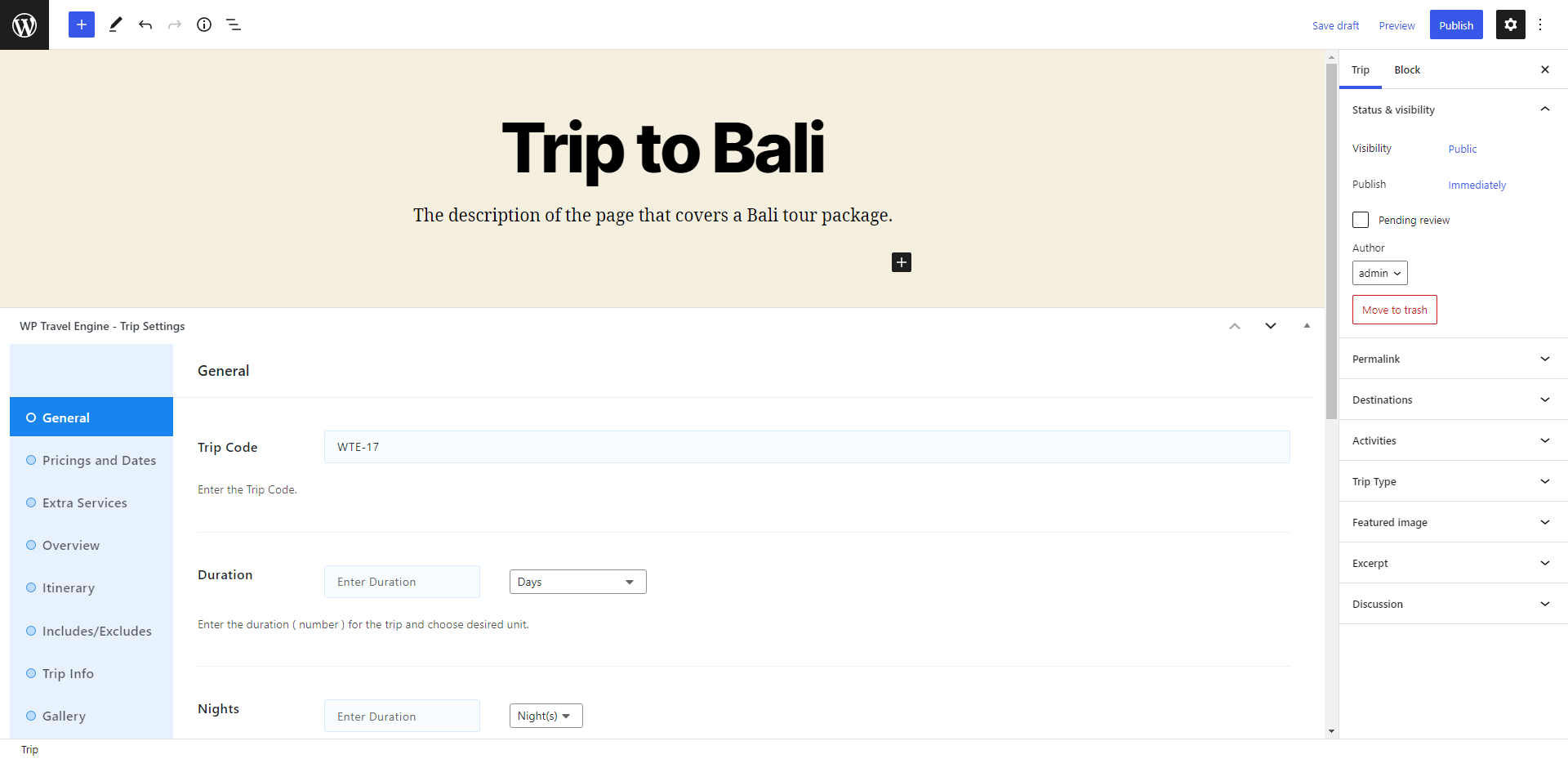 As you can see in the image, the plugin takes full advantage of the Block editor. However, below each post, you also have the custom trip settings panel. In this panel, you will be free to add specific details about your tour package(s). For example, you can outline an entire itinerary and add galleries, maps, and individual details about trip locations.
WP Travel Engine: Key Features
Create detailed packages with enormous flexibility for adding additional information.
Let customers reach out with pre-sales questions through a custom inquiries form.
The default payment gateway is PayPal, with direct and check payment options.
Regarding theme compatibility - the plugin should work fine with any theme. Although, the authors have outlined the themes with which this plugin works the best. In any case, if you don't mind doing a bit of design work - you should be able to get this plugin working.

As an alternative to all the business-first plugins, this one is focused on a more practical approach. And that approach is meeting scheduling. In other words, you can use this plugin to create a custom calendar you can provide to your clients so they can book a meeting with you in your specified timeframe.
Easy Meeting Scheduler: Key Features
You only need to set up the calendar once.
Works with Google Calendar, Zoom, Google Hangouts, and more integrations.
The plugin creates a custom page you can share with clients through email or otherwise.
There's not much else to this plugin. I tested the settings page, and it's very straightforward to set everything up. Also, if you go to the download page below - it has a link to the demo site, which you can use to preview the plugin from the front end.

When grabbing this plugin and trying it out on my testing site, I was blown away by how much functionality it offers. I was expecting fairly practical functionality for a plugin that advertises itself as a booking solution for salon-type businesses. But I can comfortably say that this plugin can handle both small-scale and established parlors with hundreds of customers.
Once you install the plugin, you can go to the Salon option in your dashboard menu.
From here, you'll be able to access the entire Calendar for your business, which you can use to modify individual entries manually. Furthermore, you can add services and categorize them, add staff members, and see customer data. And there's even the option to add discounts and monitor their usage.
Salon Booking System: Key Features
Ideal booking system for salons, barber shops, trainers, and similar business types.
Follow-up system that can be configured through Email or SMS as an alternative.
Set specific timers for when you're open to business. Outline days and hours individually.
If you're curious about what this plugin (forms and all that) will look like to your customers, I recommend looking at the demo website. The fact that this entire booking system is available for free makes it that much more desirable.

We've been looking at several niche booking plugins, and this one is no exception. WP Hotelier, as the name gives it away, is a unique booking system for hotels, room rentals, B&Bs, etc.
Does WP Hotelier work with all themes?
The answer is yes. The plugin works with any theme, but the authors have specified that the only two themes that have pre-built styles for this plugin are Uncode and Manila. In other words, if you use it with a custom theme - you may need to style the appearance of this plugin yourself.
It works as you would expect. Upon installation, the plugin adds 2 separate rows to your admin dashboard panel. These rows are called Hotelier & Rooms. The former is for customizing and changing the settings about your hotel, but also to specify payment gateways, etc. And the latter is for adding details about the actual rooms available at your hotel, or rental place.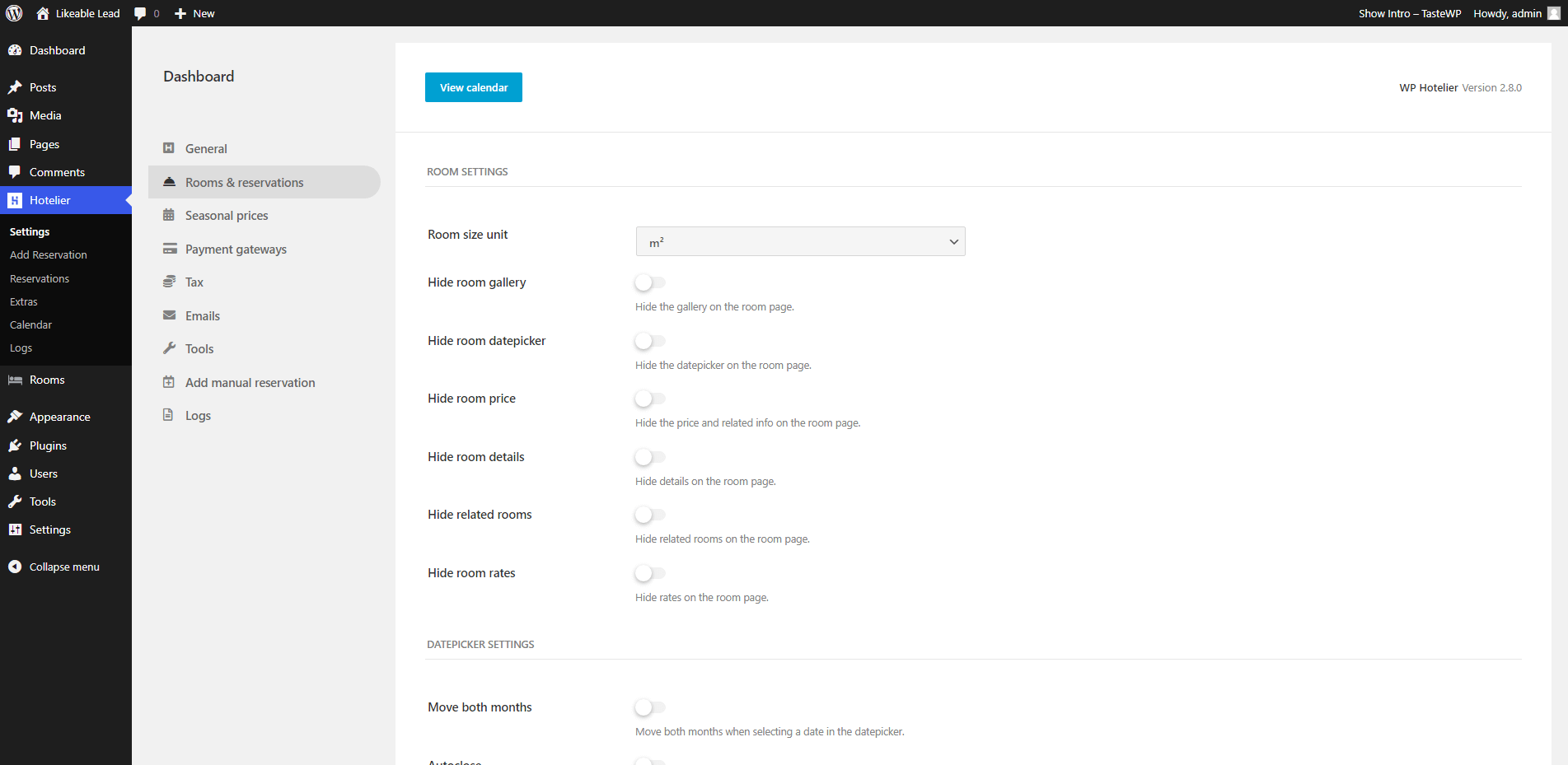 As you can see, the settings dashboard is full of options. You can customize display options for certain design elements and manage intricate payment configurations. For example, you can enable/disable certain payment gateways and also change the default currency sitewide.
WP Hotelier: Key Features
When adding new rooms, you can use the WordPress post editor to enrich each listing visually. Furthermore, the plugin provides its own separate settings panel.
You can create user roles and delegate booking management to a hotel manager.
The plugin has an Extensions system that you can use to add new features.
If you're interested in seeing what this plugin looks like - try out the demo site.
All the relevant plugins, in one place
When researching this post, I noticed that other writers/publishers are creating multiple articles using the same plugins. So, rather than creating posts such as "the best hotel booking plugins" or "the best salon booking plugins" - I have put together the plugins that I feel are most relevant in any scenario. And, as you saw throughout the article, some of the plugins are tailored specifically to a unique type of business.
But, more importantly, these plugins should cover a broader range of use cases for whenever you want to allow your users to book appointments or otherwise sign up for your services through scheduling. Last but not least, if you'd like to try these plugins on a demo website - check out my article on how to create a free WordPress testing site.