In today's fast-paced digital world, businesses are constantly seeking innovative ways to enhance their customer support and ensure a seamless experience for their users.
Artificial intelligence (AI) has emerged as a game-changer in this arena, offering a wide range of tools designed to improve response times, personalize interactions, and provide round-the-clock support.
In this article, we will explore the transformative potential of AI in customer support and discuss how these cutting-edge tools can help you elevate your customer service game.
---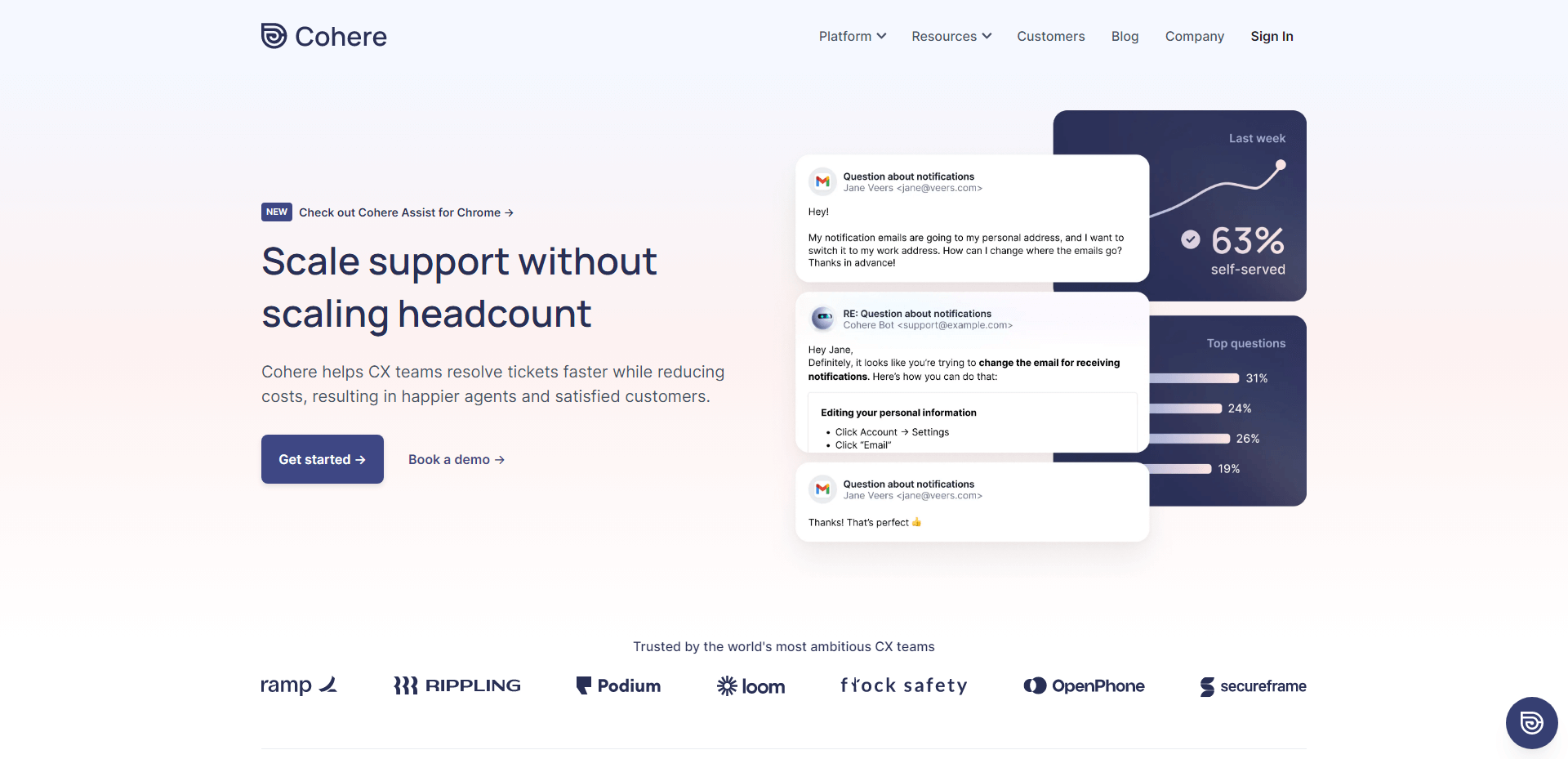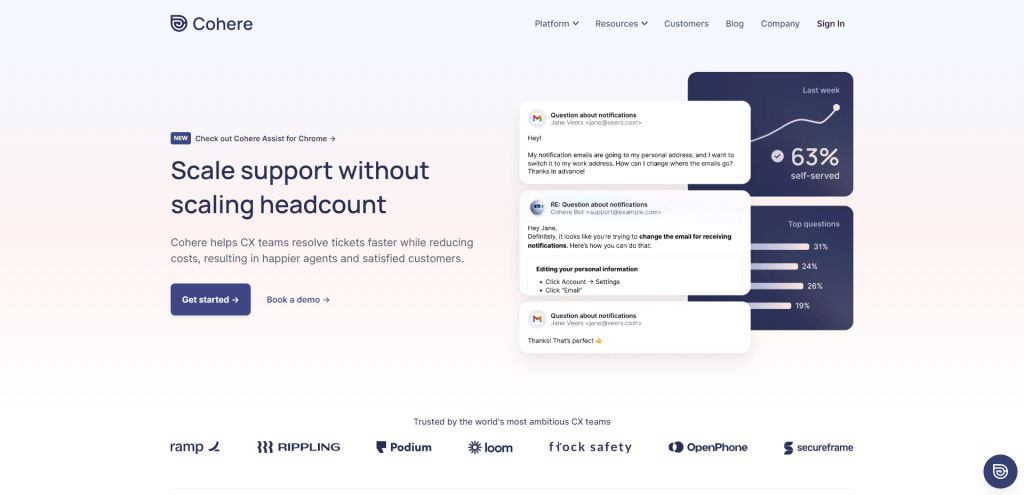 Cohere is a cutting-edge customer support automation solution that promises to help businesses scale their support operations without increasing headcount.
Trusted by some of the world's most ambitious customer experience (CX) teams, Cohere offers comprehensive features to resolve tickets faster, reduce costs, and deliver a satisfying experience for both support agents and customers.
Key Features:
Ticket Resolution – Cohere automates up to 60% of customer support tickets, providing instant and personalized answers to customers across various channels.
Guided Solutions – Rather than just offering answers, Cohere guides users step-by-step through resolutions and can even perform actions on their behalf.
Integration with Existing Resources – Instantly turn support articles and past conversations into personalized answers and accurate resolutions with a single click.
Advanced Analytics – Cohere helps identify potential issues and content gaps, making it easy for businesses to resolve them quickly.
AI-driven Automation – Cohere leverages the latest advancements in large language models, ensuring that customers always receive accurate answers.
Smart AI Suggestions – Cohere Assist uses AI to learn your team's response style and generate ready-to-send replies, making every agent a top performer.
Real-Life Success Stories:
Cohere has driven industry-leading results for top companies like Ramp, Flock Safety, Rippling, and Podium. For instance, Ramp automated 60% of tickets and saw a 5x ROI, while Rippling went live in days and increased deflection by 50%.
Integration and Ease of Use:
Cohere can be easily integrated with existing CX stacks, allowing businesses to leverage their current platforms and drive self-serve resolutions across chat, email, SMS, and more. The dedicated success team at Cohere ensures that businesses can prove ROI in days, not months, and helps optimize personalized flows with Flowgen AI.
Final Verdict:
Cohere is an innovative and effective solution for scaling customer support operations without sacrificing quality. By automating repetitive tasks, empowering agents with AI suggestions, and providing accurate and personalized answers to customers, Cohere is a valuable tool for any business looking to improve their customer support experience.
---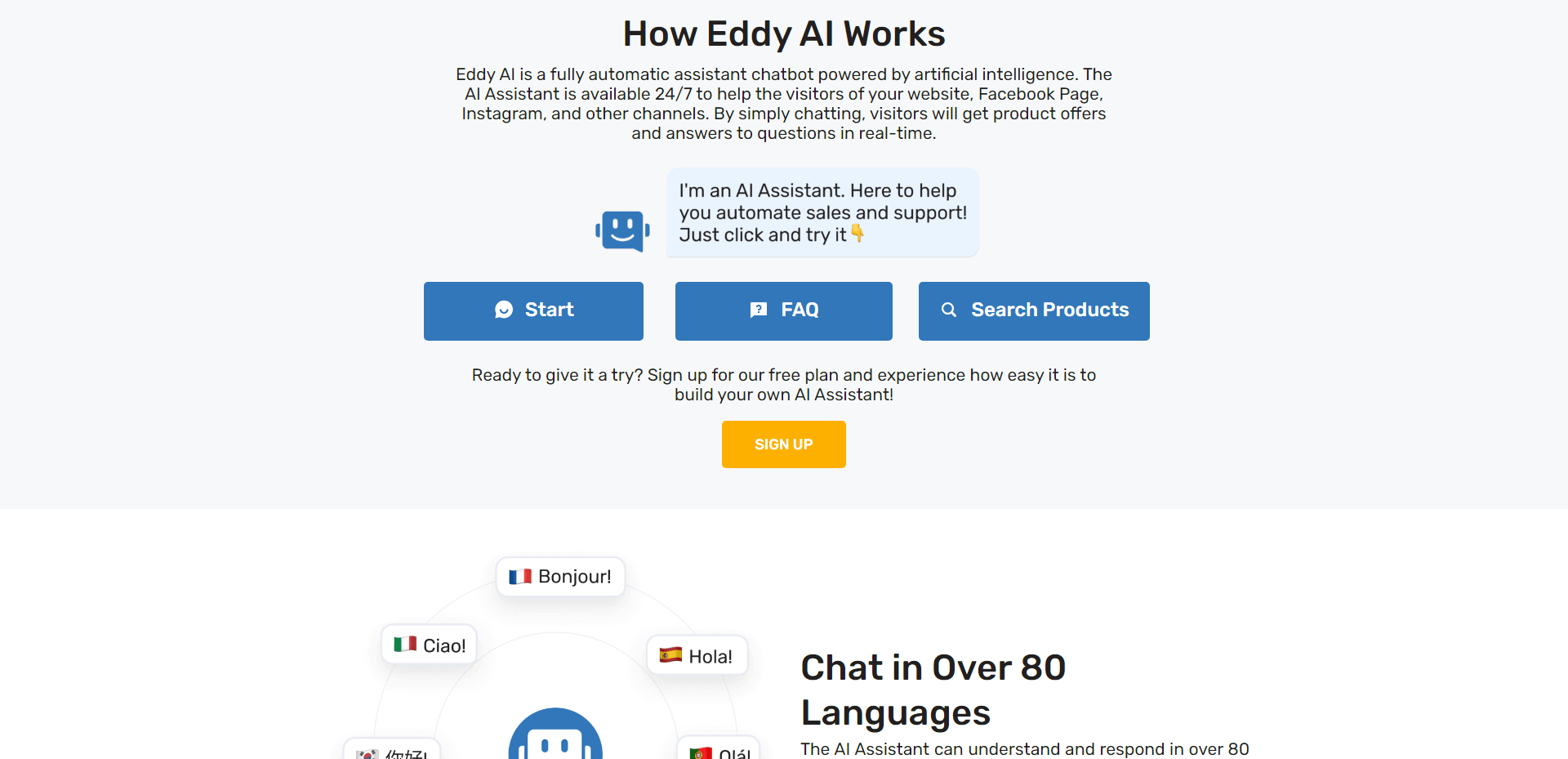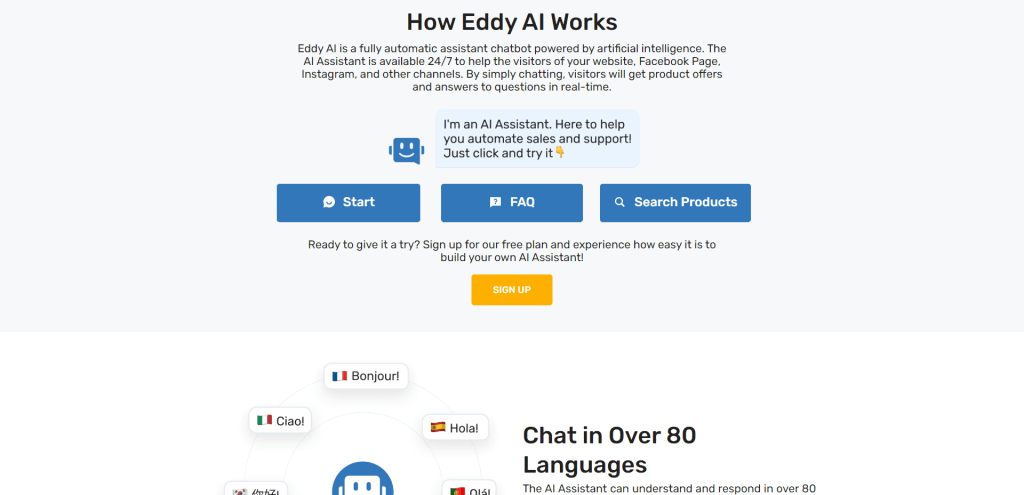 EddyAI Assistant is a powerful AI-driven chatbot designed to increase sales and streamline customer support. With its 24/7 availability, multilingual support, and ease of integration, EddyAI aims to provide a seamless customer experience, helping businesses optimize their support and drive revenue growth.
Key Features:
Seamless Integration – can be quickly integrated with various channels, such as websites, mobile applications, Facebook Pages, Instagram, and popular social media messaging apps.
24/7 Availability – EddyAI is available round-the-clock, offering product recommendations and answers to customer inquiries in real-time.
Multilingual Support – The AI Assistant can understand and respond in over 80 languages, making it an ideal solution for businesses with global audiences. The multi-language support is available for Premium plan users, while the Free plan offers English as the default language.
Automate FAQ Support – EddyAI Assistant can answer customer questions in over 80 languages by uploading your FAQ. Unanswered questions are recorded and sent to a live agent on your chosen support channel.
Detailed Analytics – the platform provides comprehensive reports on user engagement, helping you optimize your support and sales strategies.
Customization – can be fully customized to match your brand's look and feel, extending your online presence.
Free Plan – EddyAI offers a free plan, allowing you to test its features and benefits without financial commitment.
It's also possible to integrate this tool into WordPress and Facebook, Messenger, and Instagram. For all other types of websites, there's a widget that the platform provides once you've done signing up.
---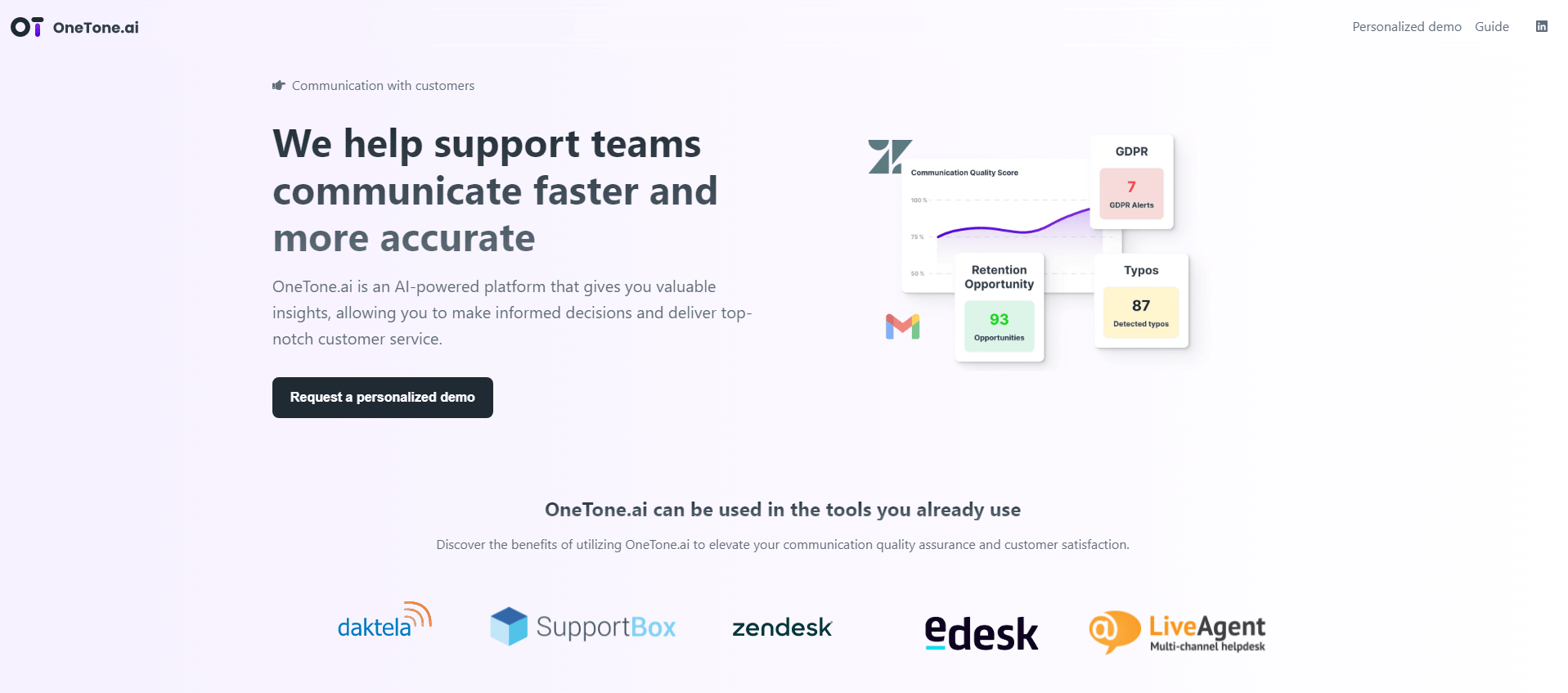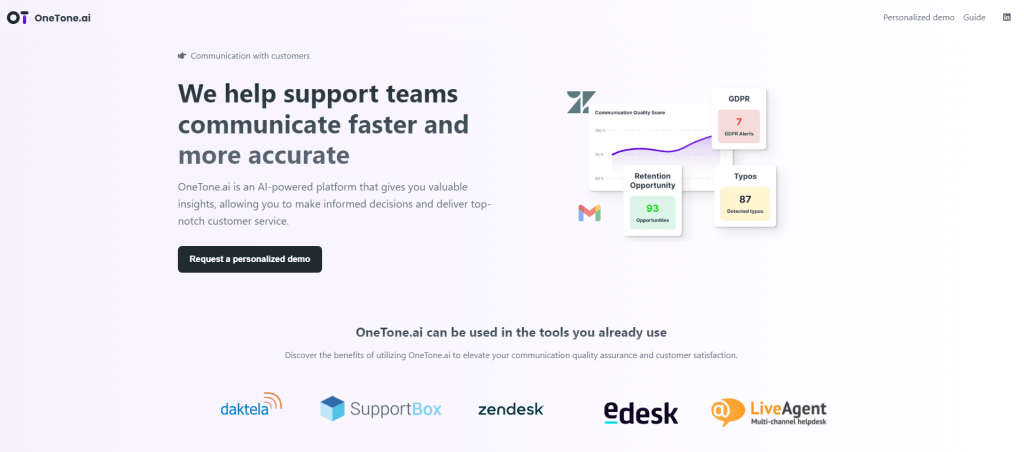 OneTone is an AI-powered platform designed to enhance customer support and communication. The platform offers a Google Chrome extension for support agents to improve their conversations with customers and a monitoring app for managers to gain insights into customer communication, including missed opportunities, mistakes, and common needs.
Key Features:
Integration with Popular Tools – OneTone can be integrated with popular customer support platforms such as Zendesk, eDesk, LiveAgent, SupportBox, and Daktela, ensuring seamless workflow across various systems.
AI-Powered Insights – Leveraging advanced AI algorithms, OneTone analyzes customer interactions collected through its browser extension, providing businesses with valuable information to enhance customer service and decision-making.
Browser Extension – The OneTone browser extension is easy to use and allows support agents to quickly access the platform's features, saving time and boosting efficiency.
Sentence Autocomplete – The platform offers a sentence autocomplete feature that helps support agents craft responses more quickly, reducing response times and enhancing customer satisfaction.
Text Templates Manager – OneTone includes a text templates manager, enabling support teams to create and use pre-written responses to streamline customer communication.
Analytics Platform – The platform offers an analytics dashboard for management and quality teams, providing insightful data to optimize customer support operations.
To get started, independent support agents can install the browser extension, while customer-focused teams can get exclusive access to the latest features and updates of the monitoring app by providing feedback and suggestions.
---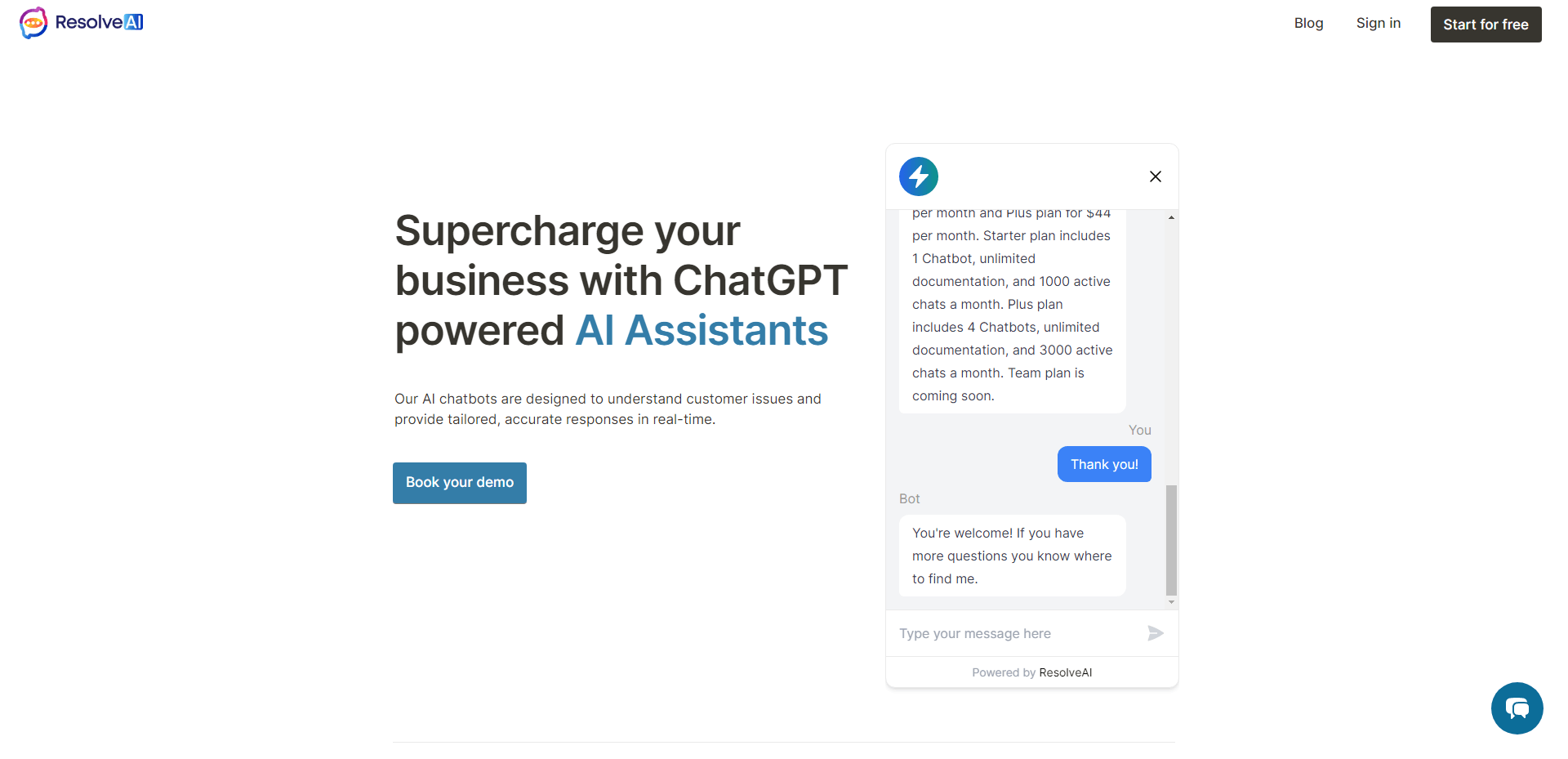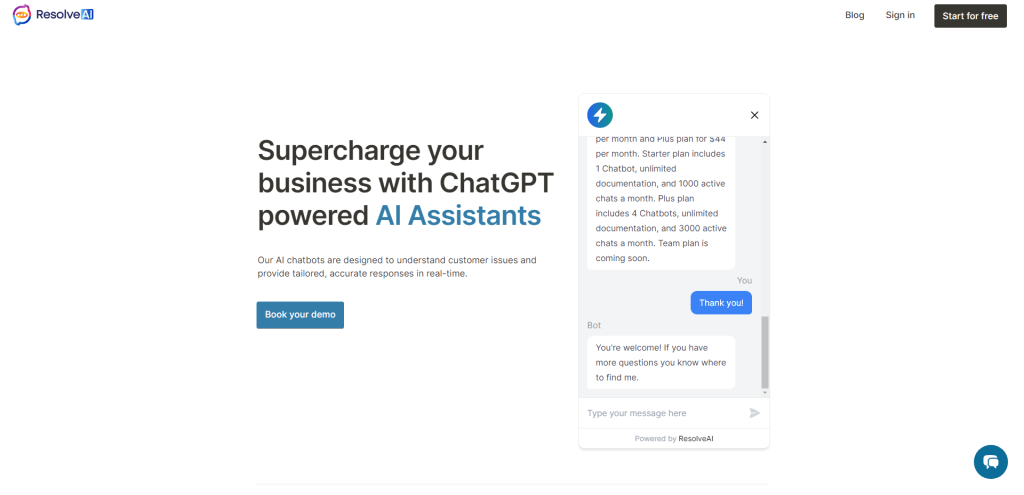 ResolveAI offers AI-powered chatbots designed to enhance customer support by understanding customer issues and providing tailored, accurate responses in real-time. The platform enables businesses to create a knowledge base that the chatbot will use to address customer inquiries. With quick setup times, you can integrate the chatbot into your websites using a provided script.
One of the key features of ResolveAI is automated customer support. The AI chatbots provide 24/7 customer service, reducing turnaround time for customer inquiries. The platform also offers personalized responses, where the AI chatbots detect customer issues and provide tailored solutions in real-time. Furthermore, the system provides real-time insights into customer service operations, helping you increase customer satisfaction.
ResolveAI chatbots also offer live chat functionality, allowing human customer support agents to join the conversation when needed. The platform supports multiple languages (currently in beta), making it suitable for businesses catering to a global audience.
Pricing: The options include a Starter plan for $44 per month, featuring one chatbot and 1,000 active chats per month. The Pro plan, priced at $89 per month, offers four chatbots and 3,000 active chats per month. For businesses requiring a more customized AI experience, ResolveAI provides a Specialized plan with unique features and priority support.
Summary
In conclusion, AI-powered tools for customer support are revolutionizing the way businesses interact with their customers. By leveraging advanced technologies such as chatbots, real-time insights, and personalized responses, companies can provide an unparalleled level of customer service that not only meets but exceeds user expectations.
As AI continues to evolve and improve, we can anticipate even more innovative solutions that will further enhance customer support, leading to happier customers and stronger brand loyalty. The future of customer service is undoubtedly intertwined with the advancements in AI, and businesses that embrace these tools will be well-positioned to thrive in an increasingly competitive landscape.