Infographics are a common way of presenting information graphically, using clear illustrations, diagrams, and charts supplemented by text and visual storytelling elements.
Instead of endless paragraphs of text, infographics are composed of vivid illustrations that reveal the details of even complex and confusing information in a matter of seconds. As a result, journalists, webmasters, copywriters, and other specialists need much less time to find a common language with the audience.
Unfortunately, not everyone has the design chops to create stunning visualizations: even experienced designers will find themselves in creative setbacks.
This is also one of the reasons why tools for this job are so popular. In other words, infographic tools specialize in providing pre-built templates, which you can either use as they are or further customize them to meet your requirements.
Infographics: A brief history lesson.
The idea of visual representation of information (and not necessarily statistical or analytical) has been resorted to since primitive times – knowledge between tribes and secrets between hunters were transmitted utilizing rock art in the Paleolithic era. And over time, the culture of transmitting unknown and excessively intricate data through illustrations has not disappeared but has only grown to an even greater extent.
But are infographics really such an all-powerful tool? Or are multicolored tables and charts with arrows all around just a passing trend? As designers and marketers (and also some psychologists like Steven Pinker) suggest, the popularity of infographics (or, in his case, the representation of information in visual format) has to do with several important social and psychological processes.
First, visual illustrations broadcast several types of information at once, like pre-formatted graphic images and text, which is easier for the brain to digest because the facts are presented clearly. As a result, what is seen is instantly combined with what is read and immediately put off in memory.
And secondly, plain texts struggle to engage audiences on that extra level. Among the top reasons to include illustrations as part of your content strategy are clear communication and the ability for readers to remember the presented information more concisely. In this context, it makes no sense to call infographics a trend – creators in any industry dealing with "information" are typically advised to master visual content presentation alongside text.
Having said that, infographics, in particular, can be extremely time-consuming. In fact, some of the world's largest publications – The Guardian, The New York Times, etc. – will have separate departments specializing in visual content. But if you're a blogger or an independent content creator – that might not be an option.
So, with that said, here are some of the best free infographic tools, which include templates, samples, and tips on making the best visual presentations of your content.
---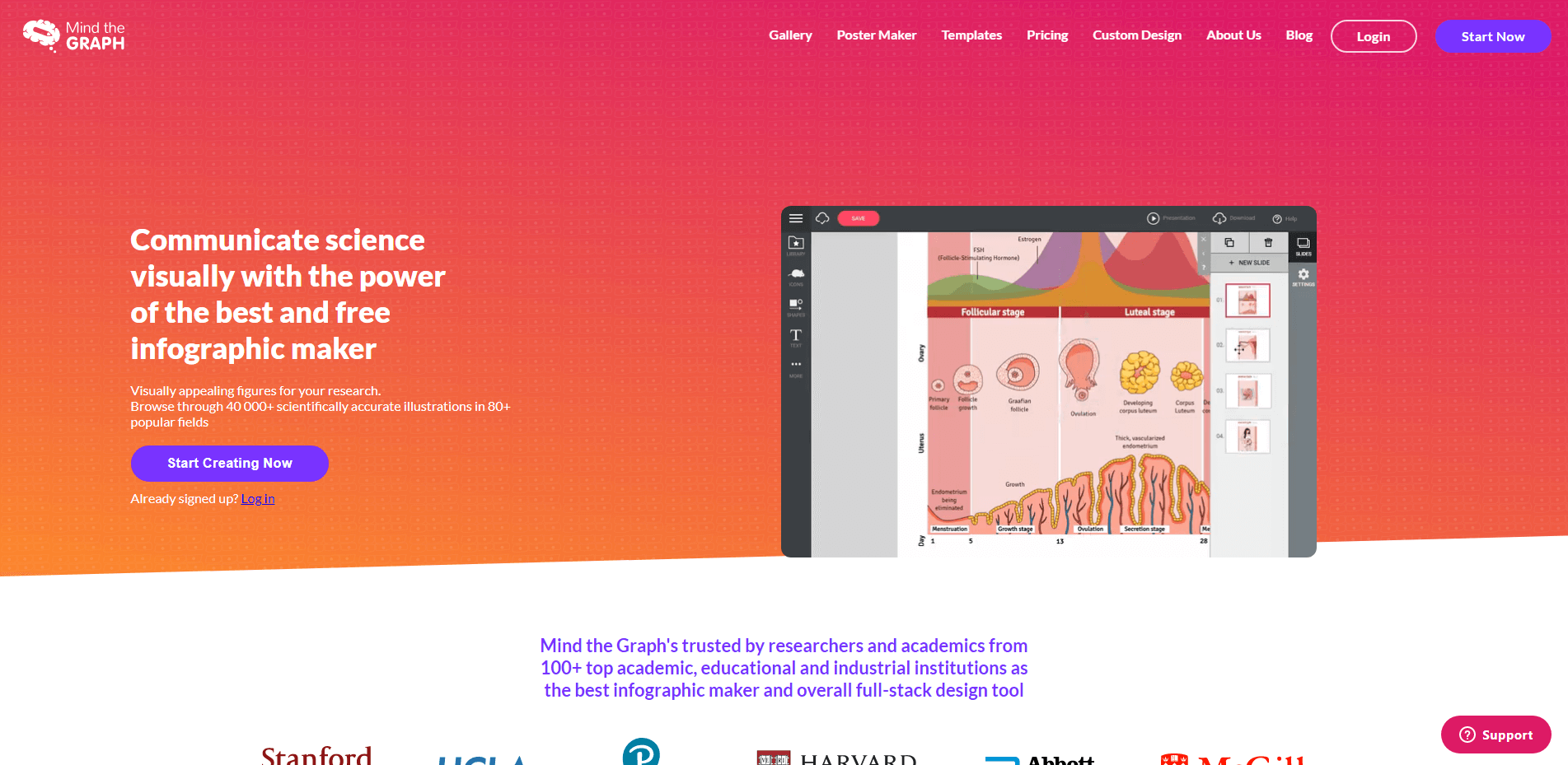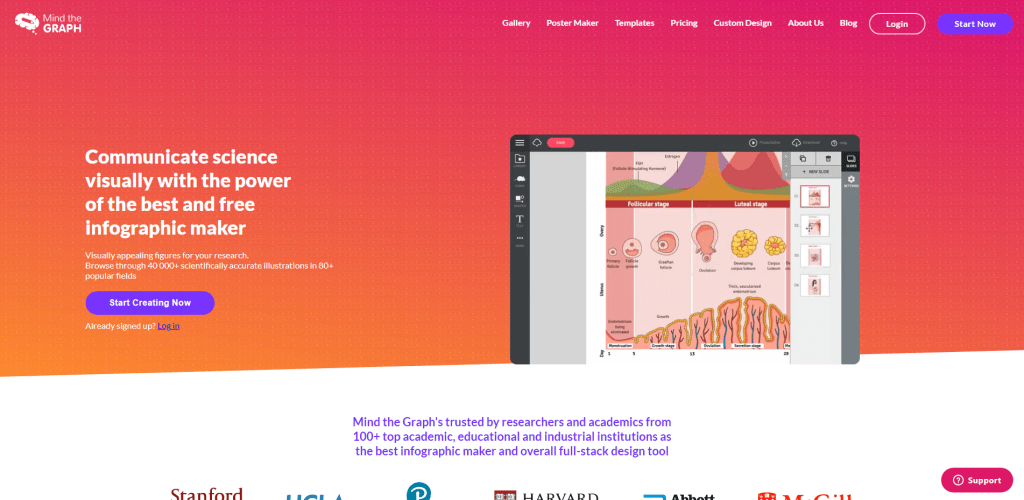 Mind the Graph is a graphic editor with design elements and specific tools for developing presentations, visual aids, and posters with diagrams. The site contains templates with illustrations, thematic icon sets, and digitized materials that can be used for visual presentation projects in any category.
Now, one thing to note about Mind the Graph is that they're heavily focused on the scientific field; particularly, the templates and free assets are focused on things like the human body, science, biology, health, etc.
Who is it for: The gallery of templates and illustrations at Mind the Graph is aimed at those who are connected with science in any way: students, teachers, and even employees of laboratories, phytosanitary services, and research centers.
Pricing: The basic free subscription (Starter) severely restricts creative experimentation: many templates are unavailable, illustrations are blocked, and exporting virtual posters, charts and tables will be difficult. And yet Mind the Graph will definitely come in handy, at least for term papers and presentations at universities, as a platform with unlimited ideas. And for $7 a month, the possibilities will be even greater.
Pros:
A unique collection of illustrations related to chemistry, biology, physics, and biology, and also to scientific research and weird myths.
The Mind the Graph editor available on the site is suitable for presentations, infographics, and even the layout of visual aids.
Starting with a student subscription, the service lets you work collaboratively and combine ideas in real-time.
Cons:
Even a $7/month student subscription does not remove the limit on the number of illustrations available per month (no more than 10).
The free version of Mind The Graph exports files with a watermark and is only in JPG format (unsuitable for presentations).
---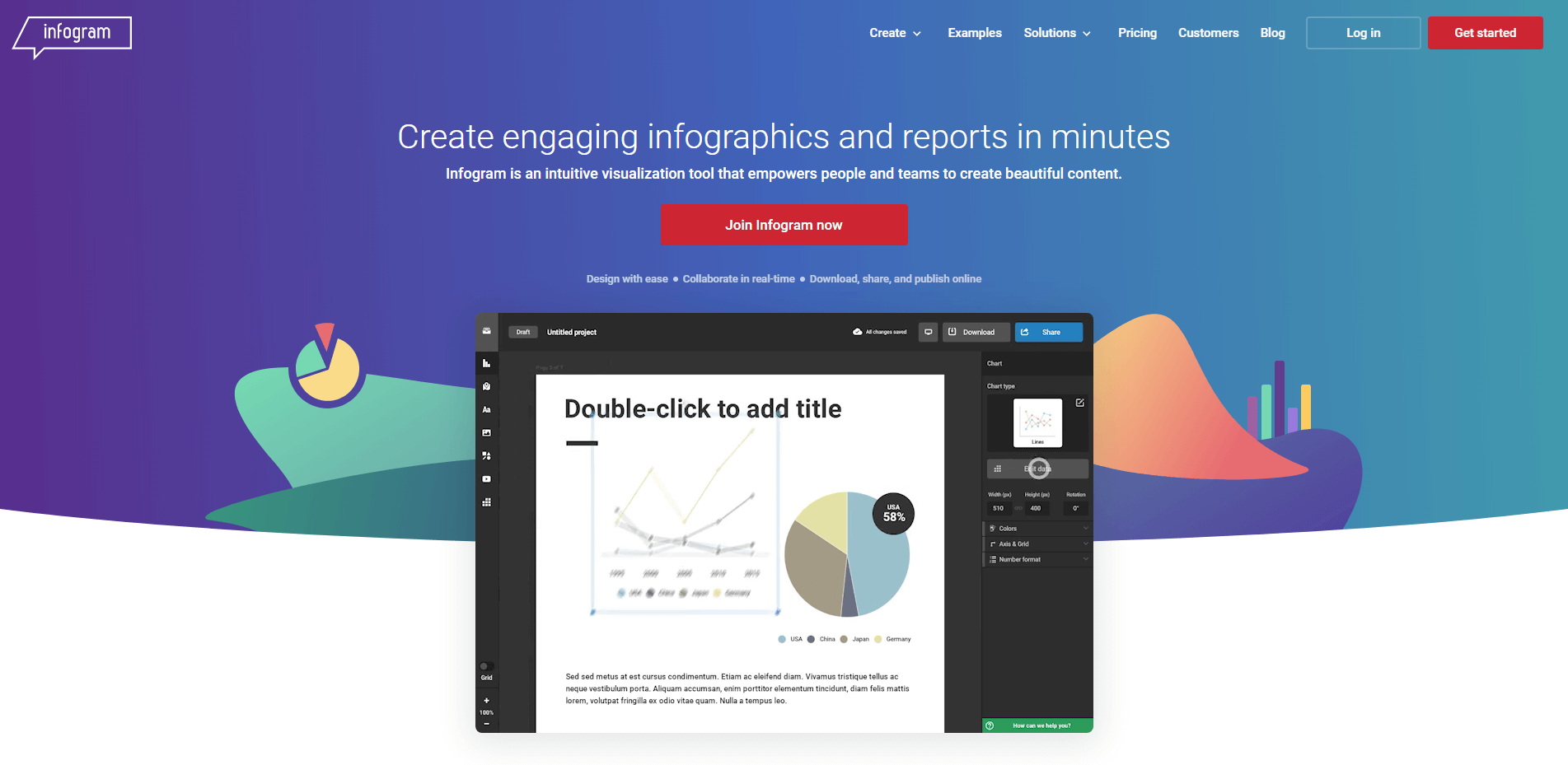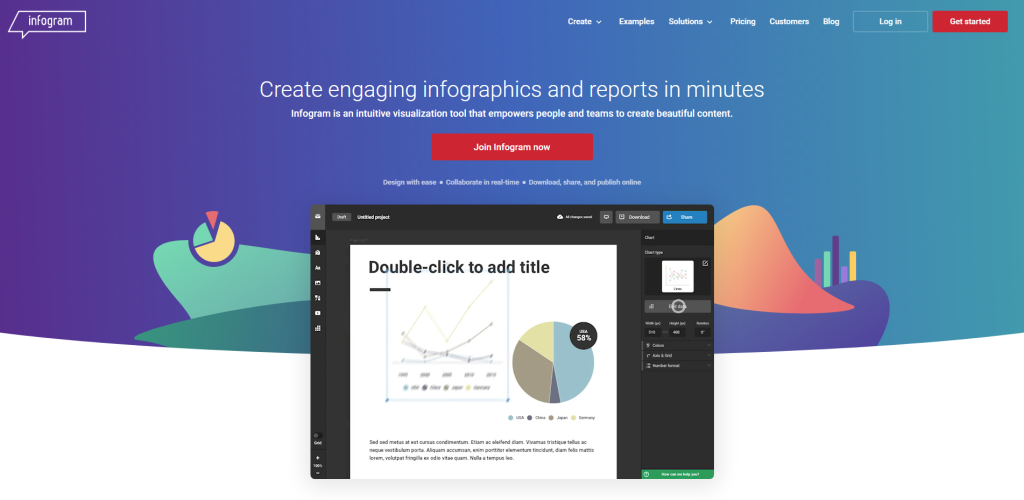 Infogram is an online editor from Prezi with an impressive collection of interactive templates and tools for planning publications in social networks and implementing non-standard promotion strategies. And it is not necessarily about advertising and classic marketing; they also provide plenty of ways to create reports, slides, posters, and creative content for social media platforms.
But what makes Infogram stand out from its competitors is its Maps section, which is designed to make international and local maps. With hundreds of pre-built templates, you can kickstart your next infographic and be done with it in a few hour's time.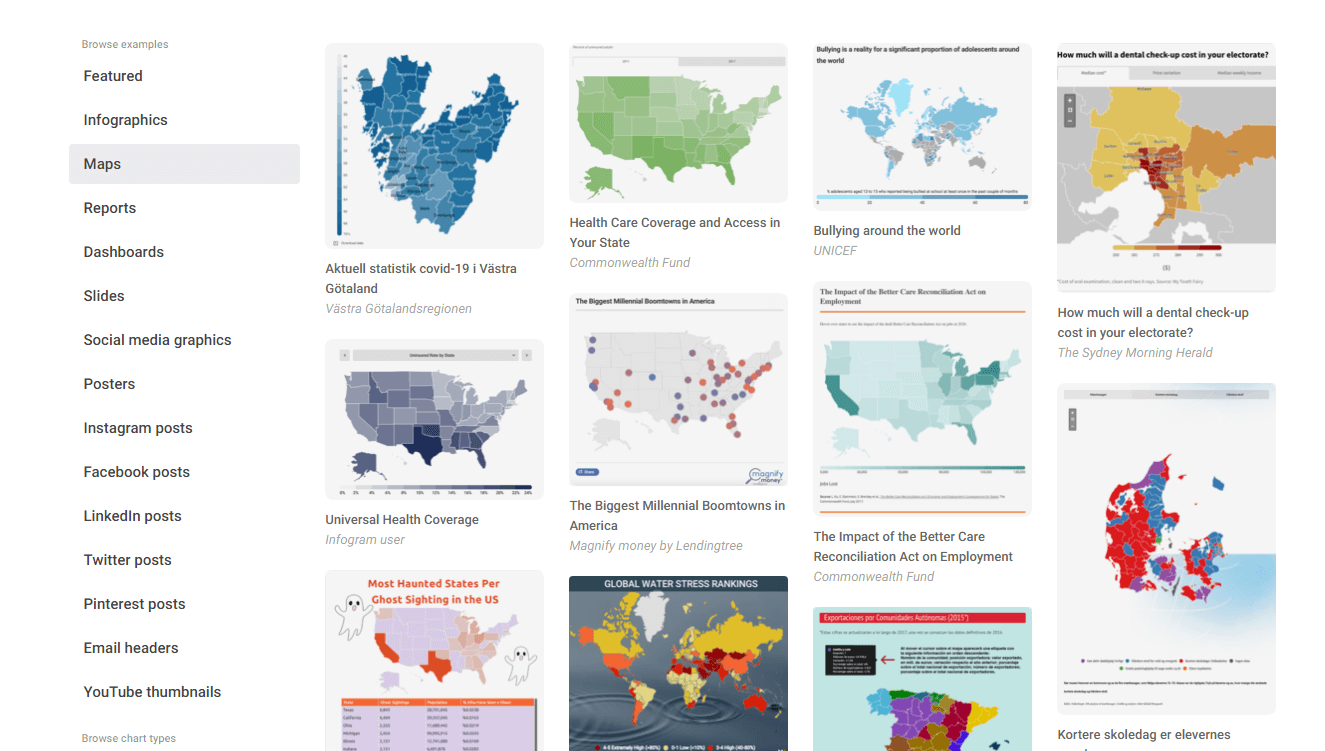 Who is it for: Infogram specializes in visualizing statistics, but the service will suit those who want to create informative historical timelines in a single illustration and statistical data on an adjacent diagram.
Pricing: The free rate on the Infogram site is limited in functionality: for example, you cannot exchange ideas with the team and keep projects of 5 or more pages. The free plan also has some exporting limitations, with HD versions of your infographics limited to Web publishing only through their own platform. Additional features are available with a subscription starting at $19 a month.
Teamwork: Collaboration tools are available with a Business subscription. This includes the ability to collaborate together on any given design in a unified dashboard.
Pros:
Thousands of templates for everything from email newsletters to clickbait splash pages for YouTube videos.
New content appears on the site almost every week: works are shared by professional designers and even analysts with experience.
The graphic editor on the Infogram site supports animated icons and illustrations and easily converts presentations into videos.
Cons:
There are occasional difficulties with publishing content through the Publish section – some services are unavailable for unknown reasons;
Importing and exporting materials before purchasing a subscription is possible only in low resolution, not in all formats, and not in all cases.
---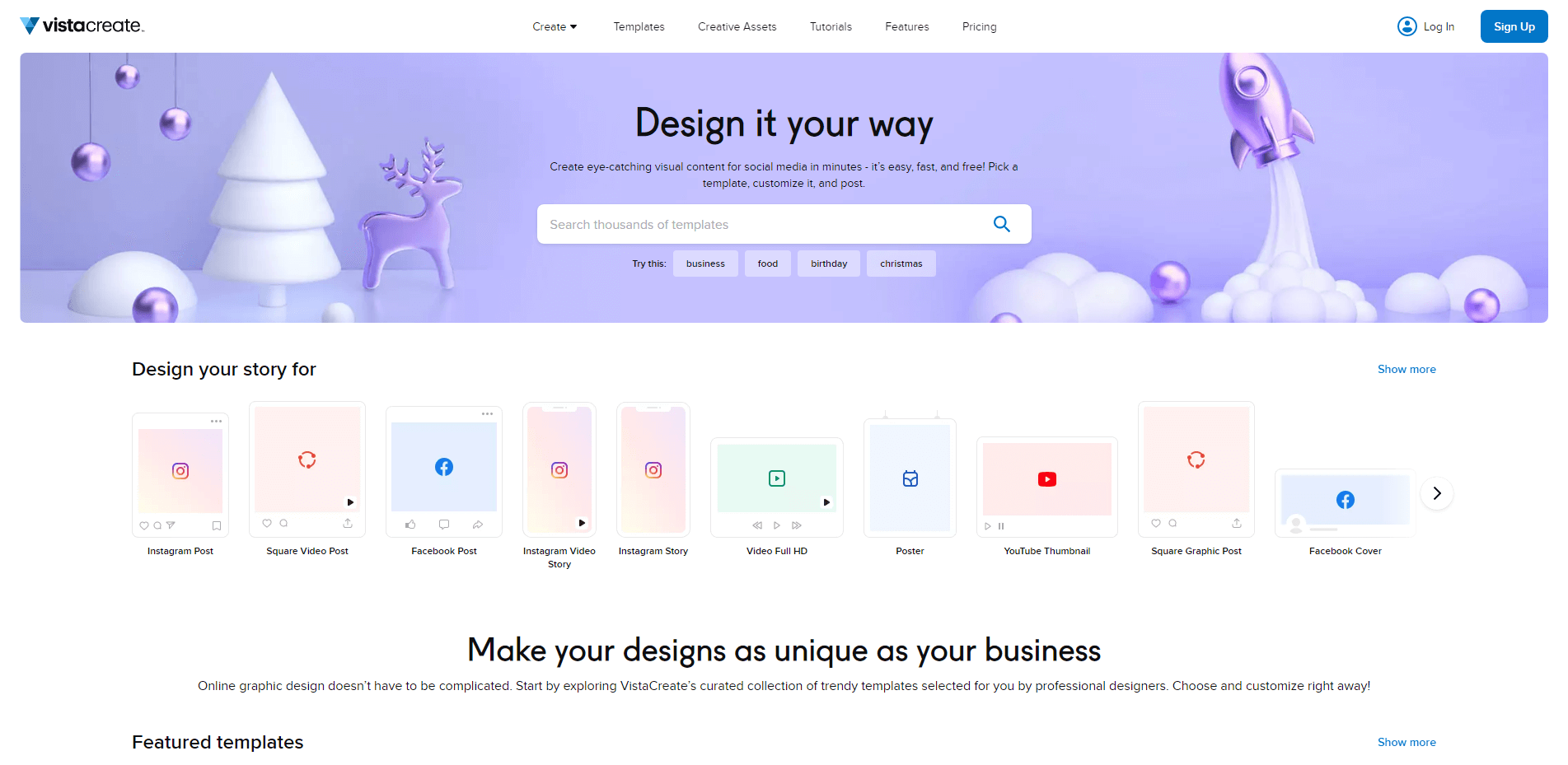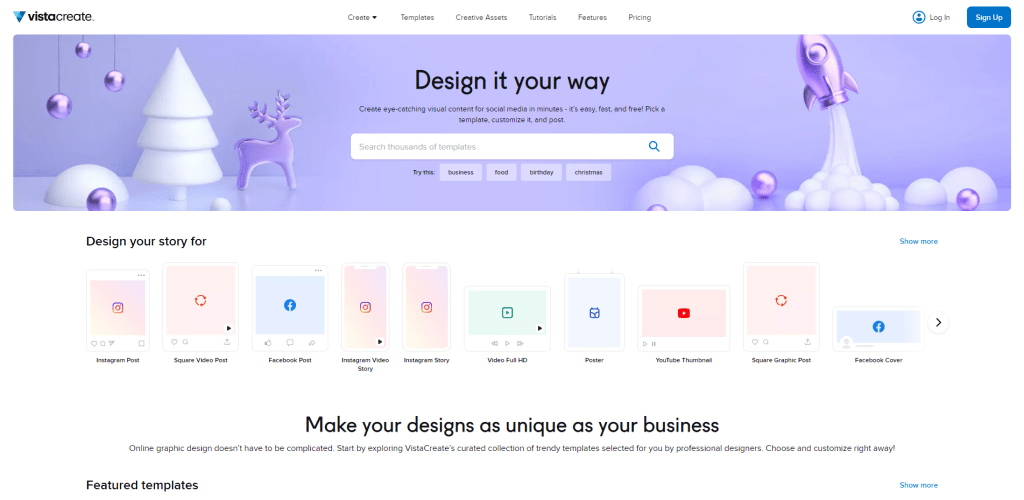 VistaCreate is a visual graphics web editor with designer elements built specifically for building infographics and visual content for social media sites. No knowledge or specific skills are needed – all you need to do is choose the right template and replace the necessary parts, such as putting in the right brand name or supplementing the statistics.
In recent years social media has evolved to become a business-oriented solution for actual businesses and individuals who do most of their business inside apps like Instagram and Twitter. And with VistaCreate, you can take your social media game to the next level with a platform that specializes in providing visual content templates specifically for social media platforms.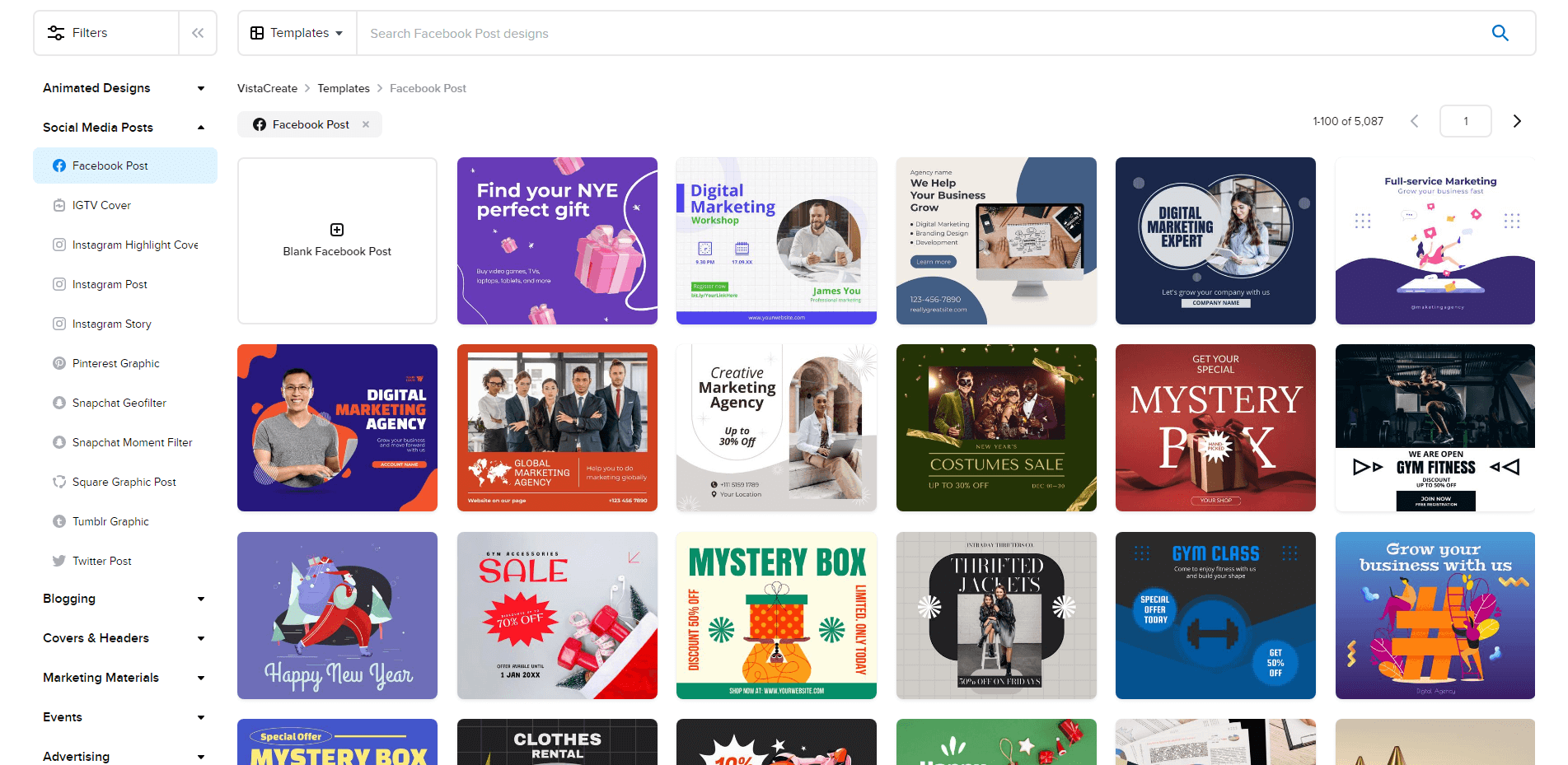 Who is it for: It's the perfect platform for people who spend a lot of time on social media, either as business owners or as people who are in charge of managing social media marketing on behalf of a brand.
Pricing: The free Starter version includes access to 100,000 templates, millions of photos, videos, and icons, plus branded fonts, music, and even 10 gigabytes of free space in the cloud. Additional privileges come with a subscription – for $10 a month, you'll have access to a sticker builder, team account, and personal branding.
Teamwork: A collaborative account is not available in the free version of VistaCreate. Without a Premium subscription, it's impossible to connect to someone else's workspace or comment on projects being developed.
Pros:
Built-in collection of photos from stock-photo platforms, support for vector graphics, 10 gigabytes of storage space for projects;
100,000 design ideas for any purpose – publications, reports, or even theses and dissertations;
A set of tools for background editing, branding (style, icons, colors), and even developing custom stickers.
Cons:
New content on the site does not appear very often, but even worse is the search – finding patterns (by keywords) is harder than it seems.
---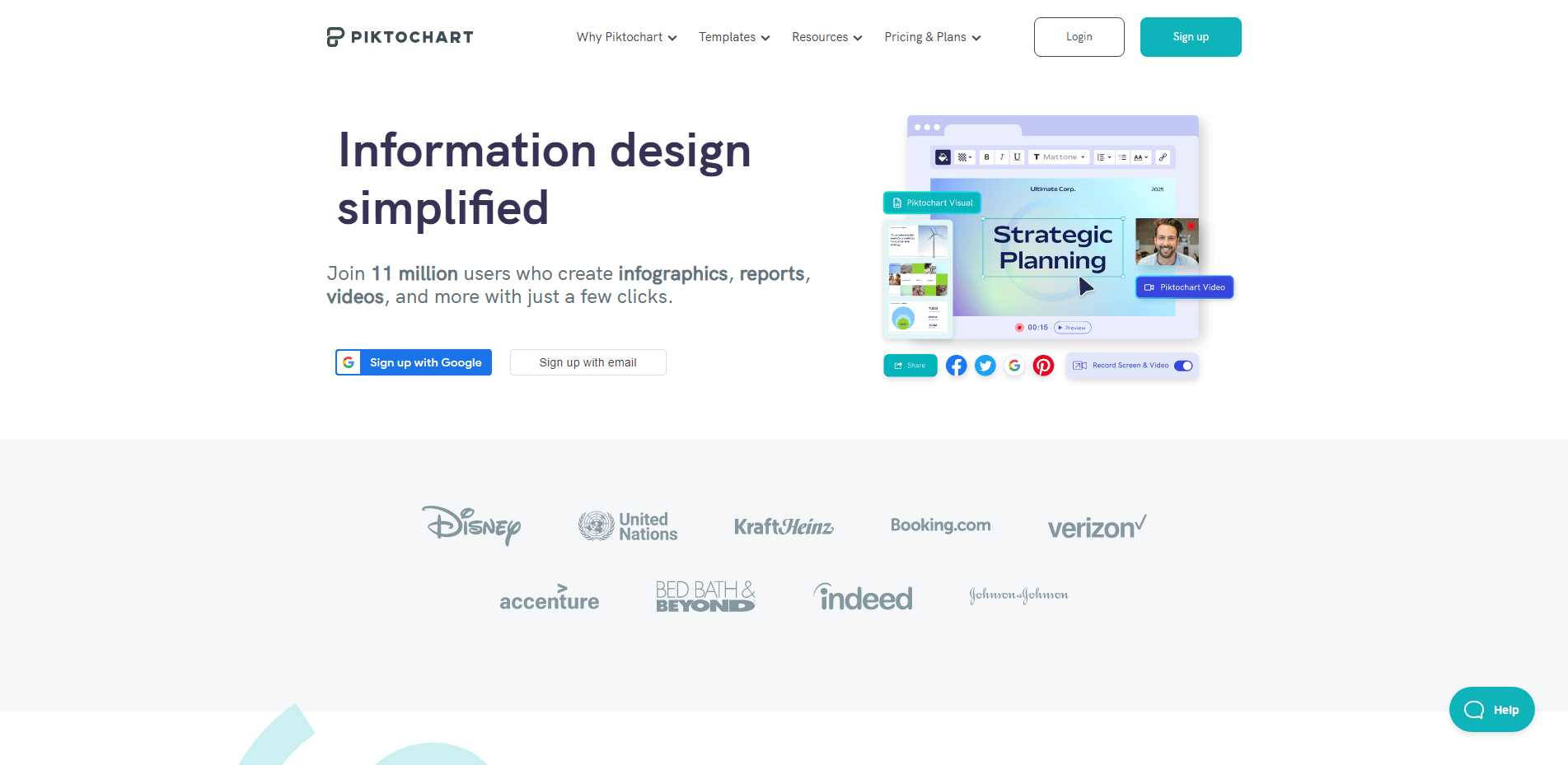 Piktochart is a visual editor with an intuitive design, crossed with an "informational content" builder. With the help of special templates, it's possible to "assemble" brochures and posters, create illustrations for posts on social networks, and at the same time, turn lifeless statistics into fascinating infographics.
Piktochart also provides the means to prepare video presentations: the Video Tools feature includes animated screensavers, titles, and text templates. Turning figures and facts into videos have never been so easy!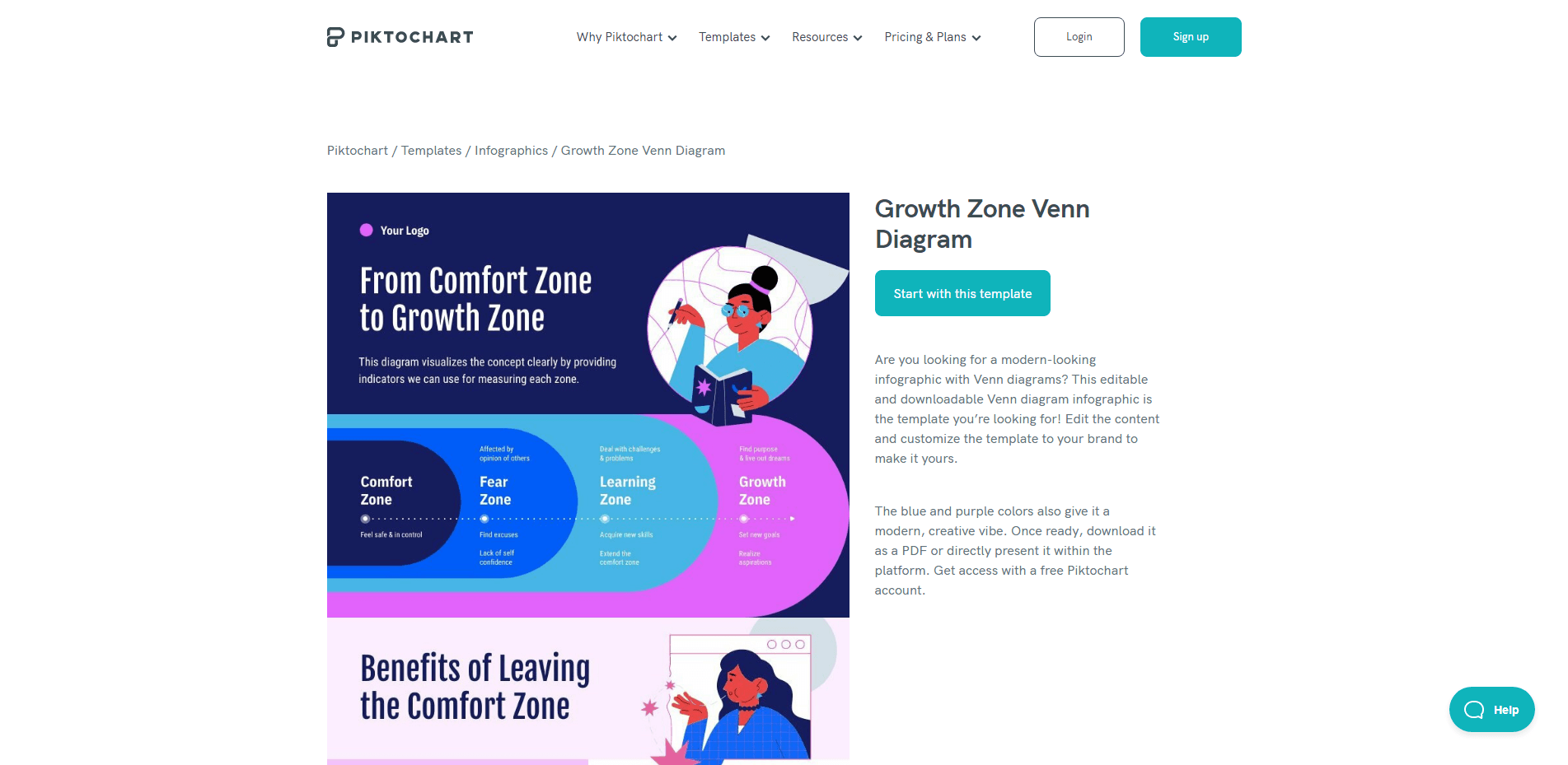 Who is it for: Piktochart service is aimed at a diverse audience. Including those who have never built an infographic before (they provide templates and instructional guides), and experienced teams who want to work on infographics together.
Pricing: The basic version of Piktochart is available for free. Of the restrictions – only 100 megabytes of free space in the cloud storage, minimal technical support, and only one workspace. Fonts are limited, too – you can not go beyond the free collection without a subscription. Restrictions are removed for $29 a month.
Teamwork: Collaborative mode on the Piktochart site is implemented in several ways. First, a "Branding" system (brand colors, logos, and fonts) is available to designers and marketers. And second, it's possible to work inside the Web editor with real-time interaction with your team, arranging comments, and collecting feedback on specific elements.
Pros:
Thousands of templates with icons, graphic elements (from lines to animated buttons), and even web layouts.
Built-in "branding" system that automatically arranges logos and adds a palette with branded colors.
Teamwork mode with chat and instant file sharing, the ability to assign roles and tasks.
Cons:
The free plan limits the quality of importing and exporting graphic materials and does not work with some icon formats.
---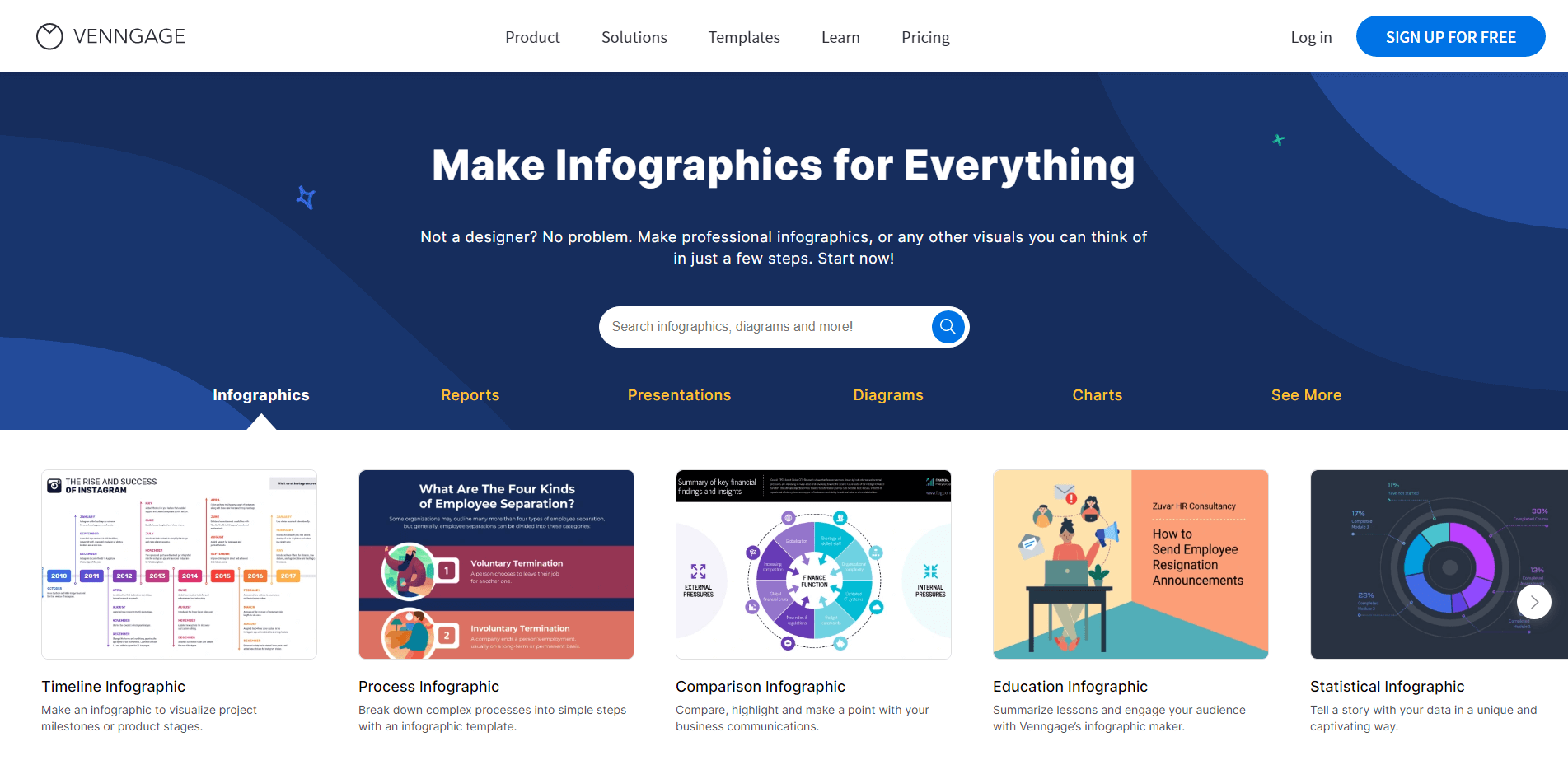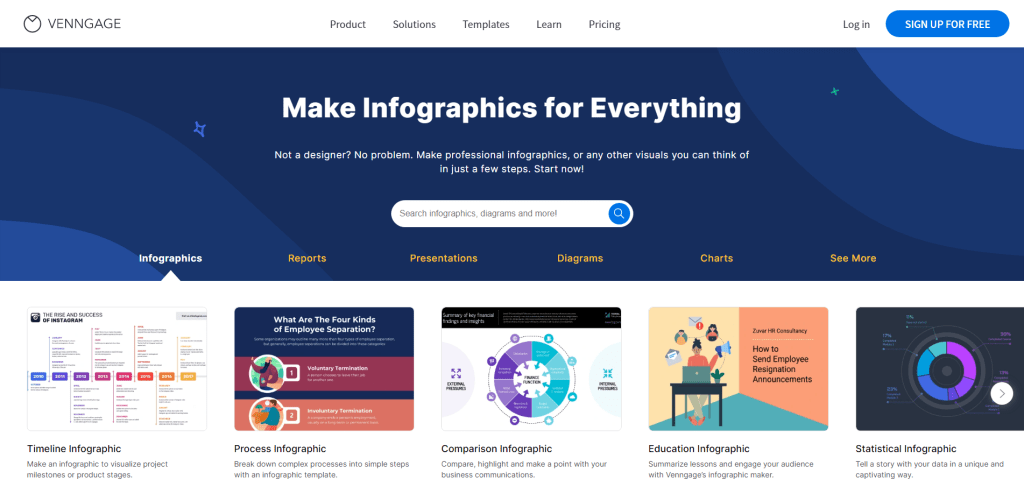 Venngage is a service for creating visual content: reports, posters, posters, and infographics. You can use ready-made templates or develop your own. The free version has a variety of templates, icons, and fonts, but the premium plan provides more features.
The service is suitable for companies of any orientation. Managers will be able to create visual reports and develop business presentations. SMM managers will have all the tools to make content for social networks. Designers can create posters and flyers and brand a company faster. Pictures for the diary and planner will help ordinary users to design records and visual references.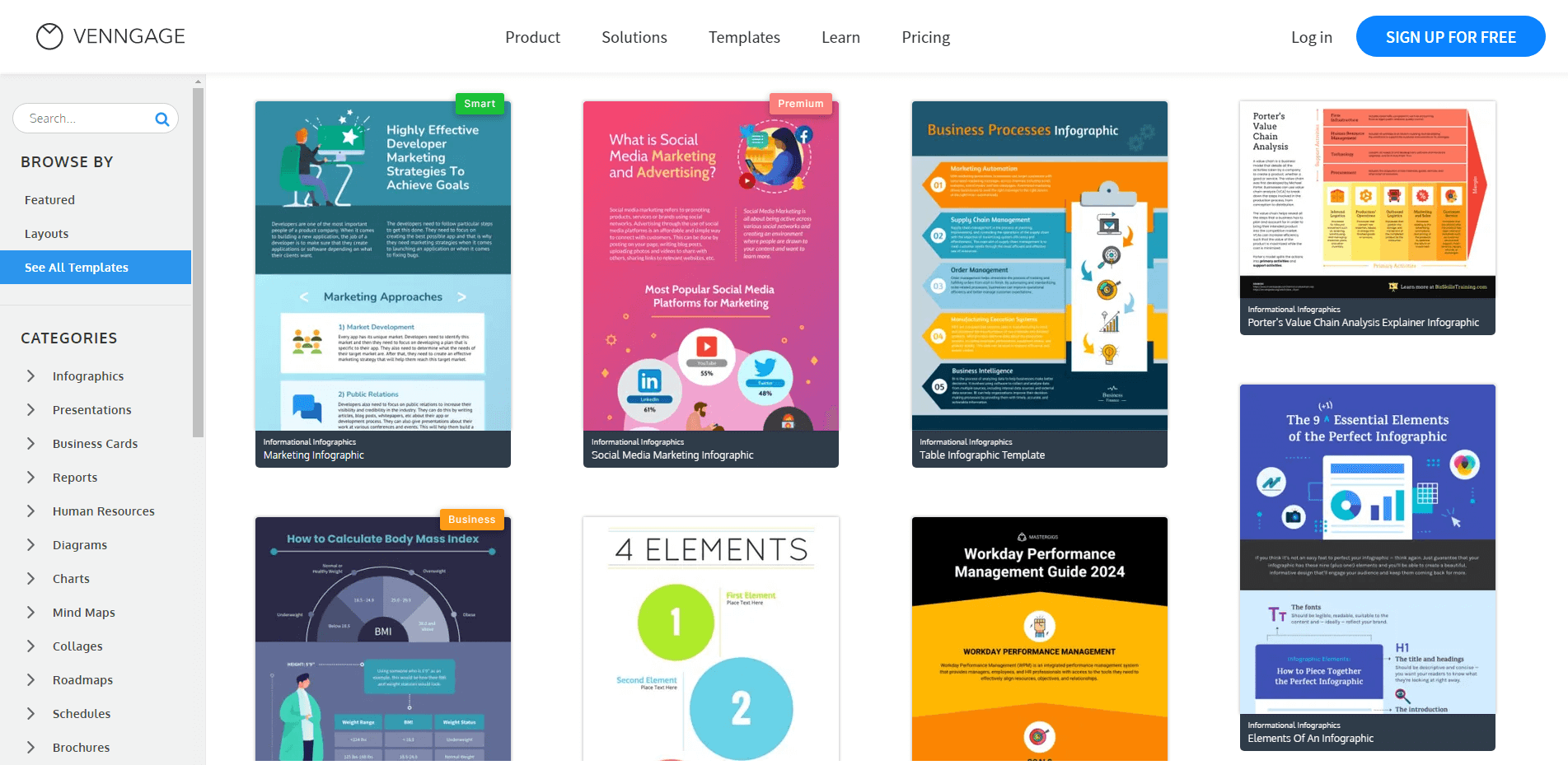 Who is it for: The templates presented on the Venngage site are suitable for beginners who make presentations and turn statistics into illustrations, as well as for professionals who design posters and develop promotional scenarios.
Pricing: The free version of Venngage is limited: you can't upload materials in a suitable format, add fonts or access the premium icons, but it's also impossible to access the collaboration features. That said, the majority of templates are accessible to free users. Additional privileges are unlocked for $16 per month.
Teamwork: Collaborative projects are not available in the free version of Venngage: the service will not allow you to view other people's work, comment on ideas, or share uploaded materials to the site.
Pros:
Sophisticated infographic categorization: the site provides templates for both tables and charts.
Free choice of additional templates to work on business ideas, presentations, charts, and even certificates.
The built-in converter of graphics in PDF, PNG, and even HTML formats to use for email marketing.
Cons:
Exports for free users are watermarked.
---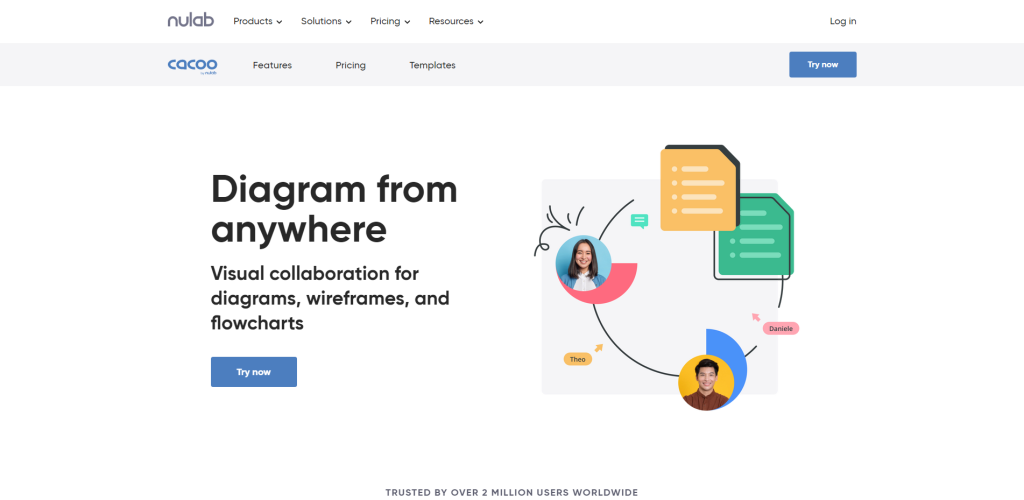 Cacoo is a creative platform designed for the collaborative development of diagrams and charts, visualization of statistical information, and even meetings and events with elements of strategic planning. It's quite similar to what FigJam offers, or Figma in general, but with distinct diagramming features.
And Cacoo does even better with infographics: the platform provides thousands of templates, with features like animated icons, transitions, and dynamic charts.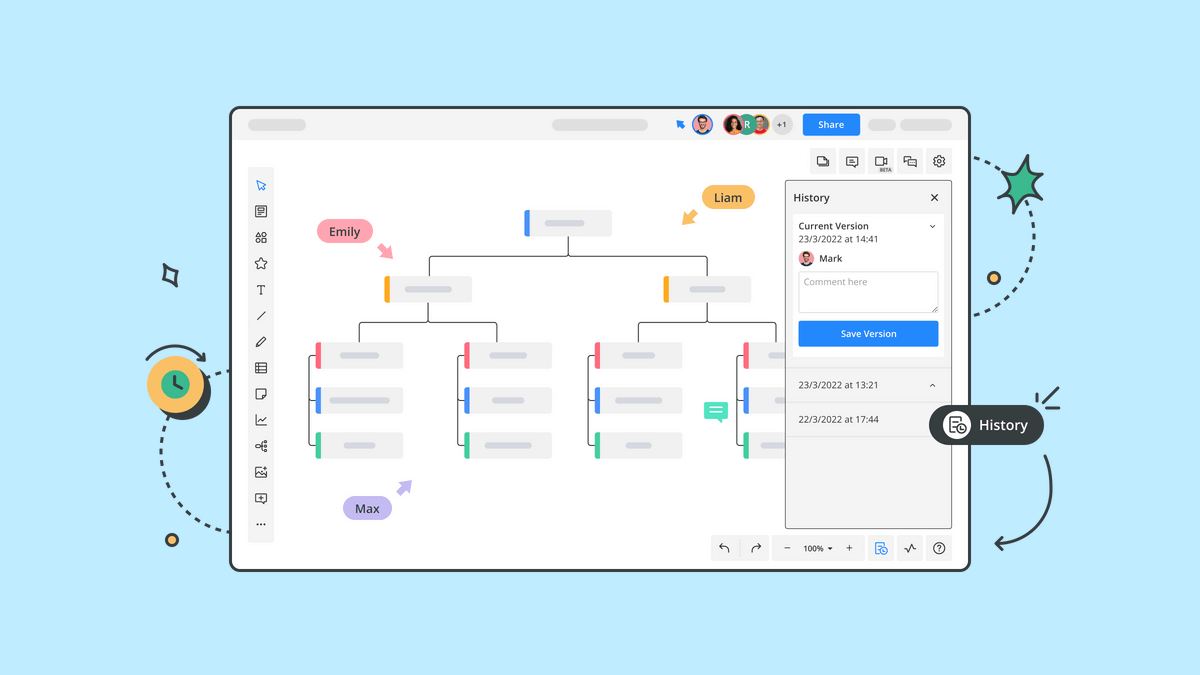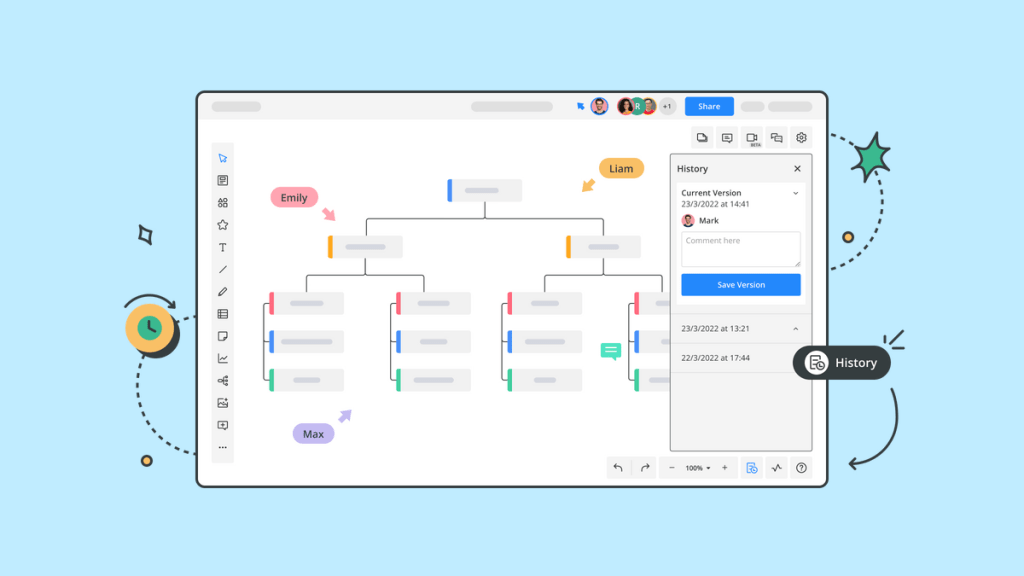 Who is it for: Cacoo is suitable for beginners: the platform offers a substantial collection of templates, added tutorial videos, and integrated a system of tips for those who are not yet familiar with data visualization. That said, the product is aimed at teams with distinct experience in creating diagrams and using them as part of a larger project. In other words, it's also a great fit for experienced users.
Pricing: The free plan limits how much you can do; for example, use only 6 elements inside a template without access to additional style elements. Free users can only export in PNG format. The Pro plan ($6/month) removes restrictions and gives you access to exclusive blank templates and elements.
Teamwork: Even with the free plan, the Cacoo service does not prevent you from interacting with others in real time (up to a team of 6 people).
Pros:
Thousands of templates with charts, tables, diagrams, and tools for visualizing business ideas and promotion strategies.
Built-in multi-user real-time collaboration system: dozens of people can work on a project simultaneously.
Cacoo service supports dozens of workspace organization plugins (Kanban and Scrum boards, task management, version control).
Cons:
Additional tools for teamwork (for example, TypeTalk) are purchased separately from the standard subscription.
---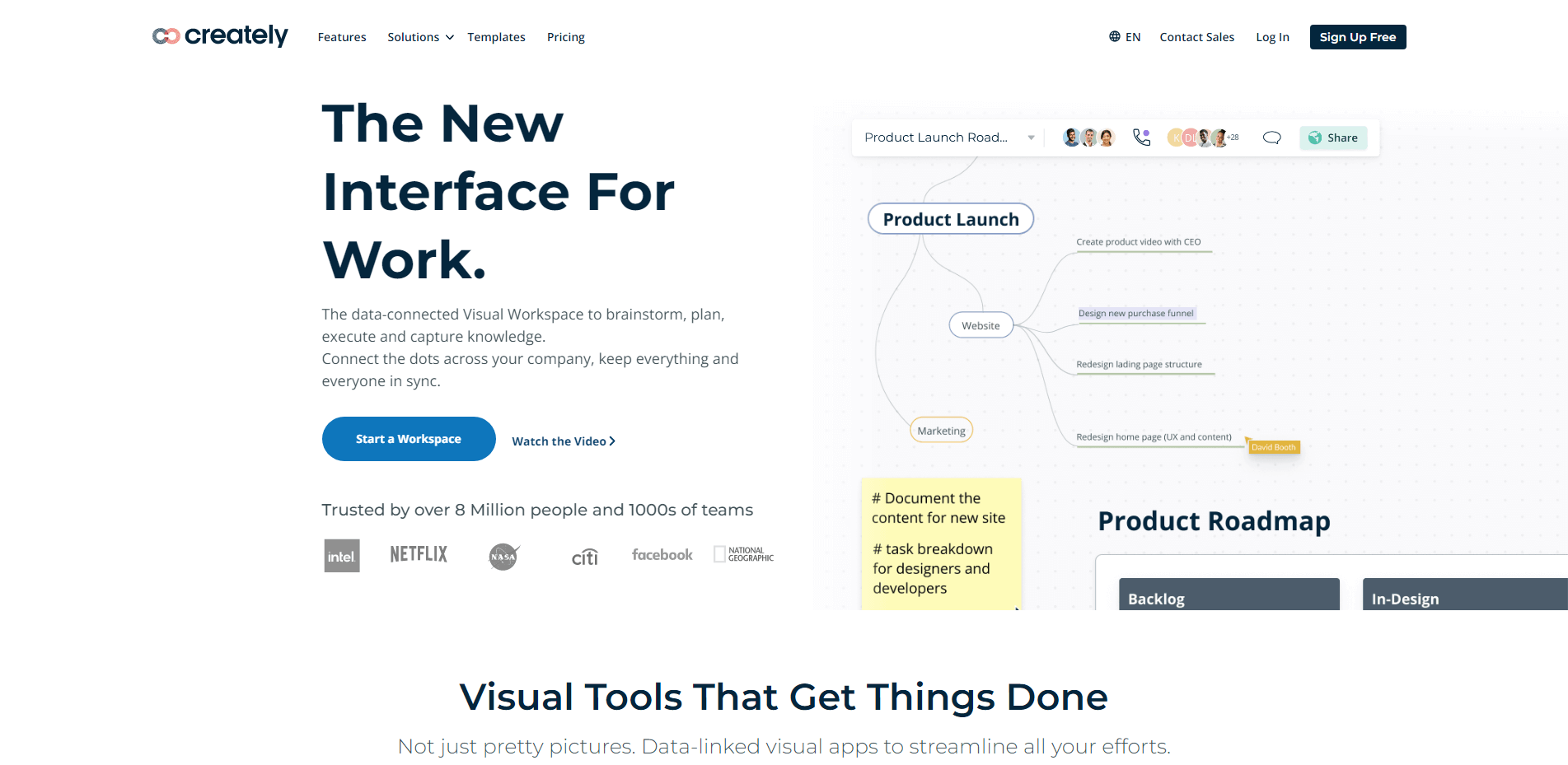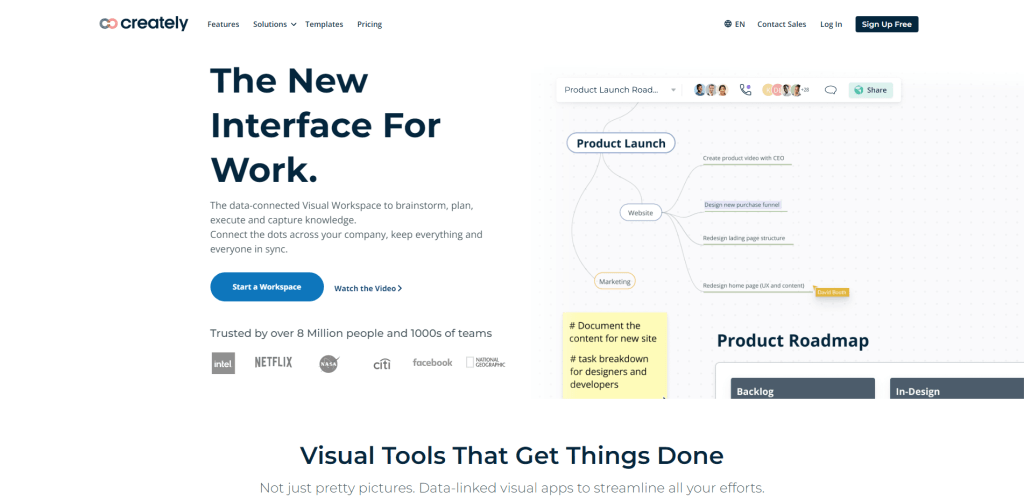 Creately is a digital workspace that can visualize information and handle non-standard business tasks, including strategic planning, analysis of statistics, and gathering creative ideas. The platform provides the means to visually build an entire project timeline, including drawing diagrams, placing footnotes, and forming tasks.
In addition to charts, diagrams, and visualization elements, Creately also handles alternative tasks – for example, providing access to a special editor with diagrams, tables, and expressive illustrations, assembled from blocks and statistical information. These can be built from scratch or by using templates, or you can combine multiple templates and take only the parts you need.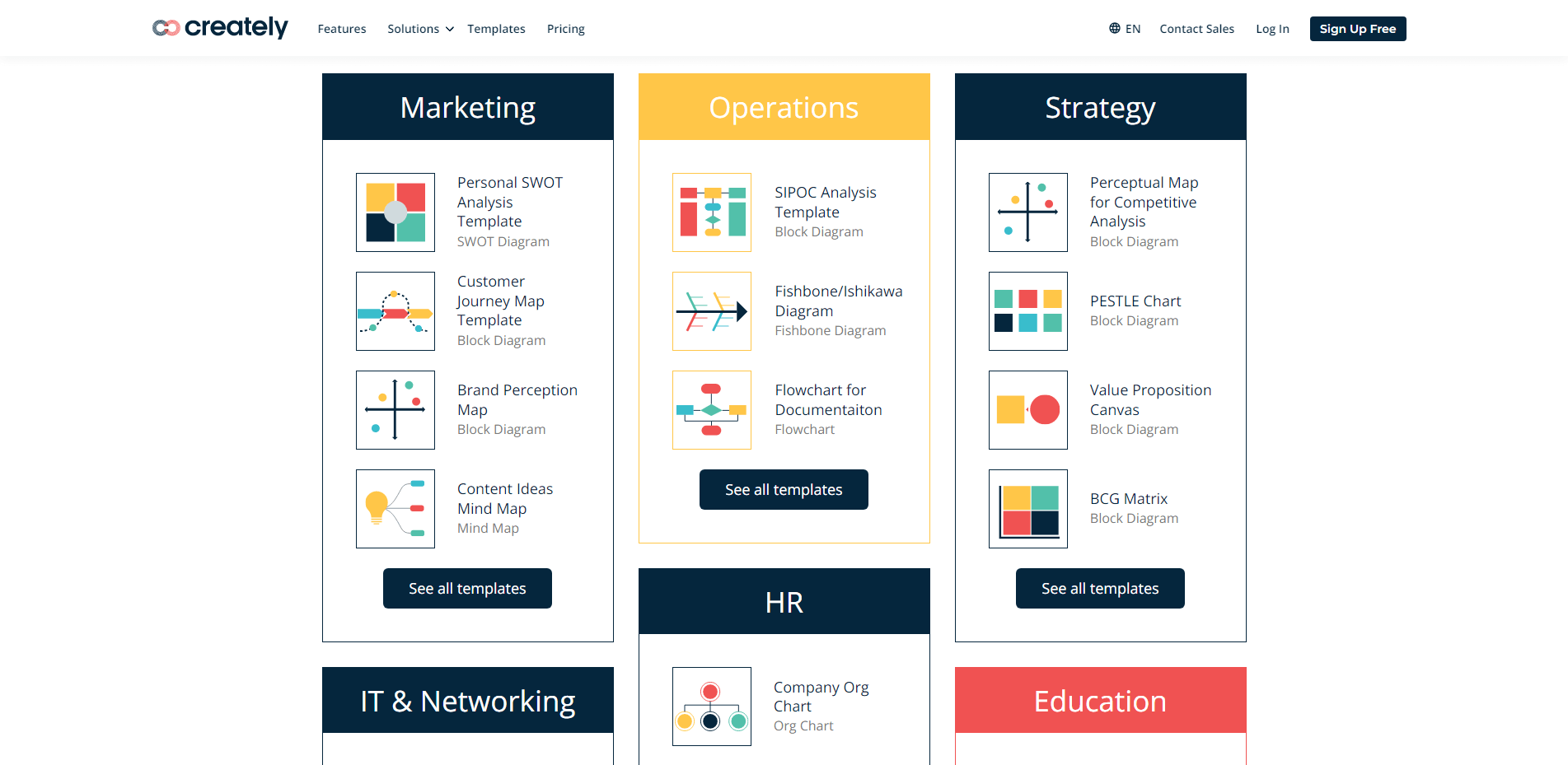 Who is it for: The service is not suitable for novice designers and marketers: instead of a traditional graphic editor, the platform focuses on diagrams and technical business-related mindmaps.
Pricing: Creately's basic version is available in demo mode (no more than 3 jobs with a couple of folders and a limited number of graphics). But even without a subscription, it's great to work with, and it's also possible to collaborate with others on the free plan. The premium plans start at $5 a month.
Teamwork: Creately service provides teams and creative groups with tools to work together on projects: the site has a system of access rights, added roles, and credentials. There's also support for interactive whiteboards (Kanban and Scrum) and collaboration features for interaction with colleagues in real-time.
Pros:
The built-in graphic editor can even cope with non-standard tasks – for example, developing schemes and smart maps.
New content on Creately's site appears weekly – the platform adds new templates and provides creative new diagrams.
Cons:
Obtrusive ads appearing in the editor on Creately's site periodically force you to interrupt your work and view pop-up ads.
An over-detailed interface with an impressive collection of settings, buttons, and drop-down menus is sure to confuse beginners.
---
Summary
As you can see, creating infographics is not that difficult. Various resources and ready-made templates have already done the hard part on your behalf. All you need now is an idea, and some data, and put it all to work.