I think anyone who publishes blogs and articles, ultimately is doing so because they want to attract a readership. And, if things go well, turn that readership into customers, or at least loyal patrons of whatever service or product you're trying to promote.
As for me, I do it because it's something I have done for many years, decades even. And, as far as marketing goes - I'm extremely familiar with SEO, and the idea of attracting visitors through Google Search. There's not much else to it.
Let me make it absolutely clear that this recap is not a one-stop guide for getting all your posts featured in Discover. It's simply a post-mortem of everything that went into writing the articles that did get featured! Strap yourself in because there's a lot to learn.
The first article to get featured in Discover
On February 20th, 2022 - Google featured my article about front-end frameworks in Discover. It remained featured for 2 days, which led to a total of 14,000 impressions and 850 unique visitors. This site was around 6 weeks old at the time of that happening.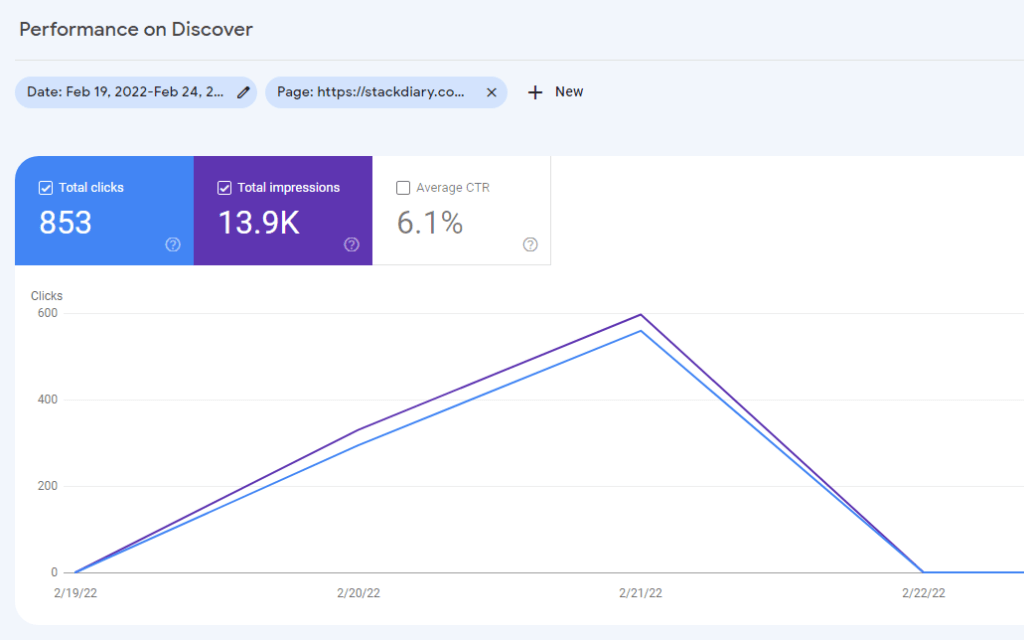 It was, in all honestly, such a pleasant surprise. I did not expect a site this new to be considered for inclusion in Discover. But, in saying that, that article took me 3 days to finalize. I believe I spent more time designing the structure than I did writing.
But, before I talk more about design, let's talk about the results of that first feature.
---
If you're familiar with SEO even an inch, you know that backlinks play an important role in how Google asserts its Search results. It's also one of the things I consistently ask myself when writing new articles, "Is this something I would want to show off to my friends?".
Sometimes, things don't go according to plan, and an article turns out less exciting than you initially thought. That's just writing, in general. But, for me personally, a good metric to look at is how many people mention my article either on social media or on their blogs.
If I did a good job, it should generate at least some buzz around it. And, for a new website like this one, even a single tweet goes a long way to inspire confidence.
So, how much buzz did my first Google Discover feature generate?
Clicks: 4,500 unique visitors in February.
Links: Over 25 direct blog mentions, including from sites like Codrops, Speckyboy, WebDesignerDepot, and numerous developer newsletters.
Social: Around 100 unique mentions across Facebook, Twitter, and LinkedIn.
In the end, the article got promoted to number one result in Google Search for the keyword, "front-end frameworks 2022" - which was also my goal, ultimately.
Not too shabby, right?
The second article to get featured in Discover
On March 9th, 2022 - Google did a second Discover feature for my article about CSS tricks.
I woke up that day, had my coffee break, and went on to check what was new in my email and elsewhere. Upon checking the site analytics, I was greeted with more than 800 real-time page views in the last hour. Hmm, interesting!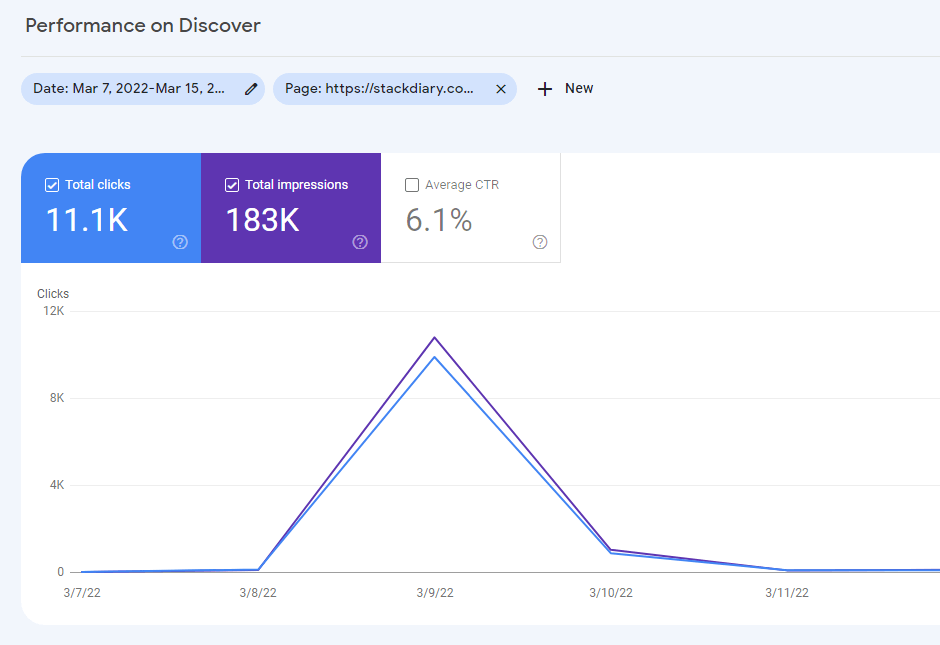 As you can see in the screenshot above, the results this time around were much more impressive! More than 180,000 impressions with a little over 11,000 clicks. But it didn't stop there, either. So far (3 weeks since publishing) the article has gotten more than 22,000 unique visitors, with hundreds of mentions across social media, newsletters, and blogs.
And it's also sitting on page one when searching for "CSS tricks". Although I don't imagine this article getting past the actual CSS-Tricks website; which I love, of course.
My process for writing articles
This blog is largely about topics related to web development, web design, and also a little bit of digital marketing. E.g. The post you're reading right now. These are the topics I love and work with on a daily basis. I understand my limits, but I also have an understanding of the type of audience that I am trying to reach. This is an important thing to understand.
Let me illustrate this with an example.
Discover uses ML to curate content feeds
ML = Machine Learning.
When I was doing research for my first article that got featured, I noticed one particular thing. 99% of the articles I checked for supplemental information were all stating the same exact thing. How likely is it that 19 out of 20 writers are using the same exact words to explain a particular concept or idea? It's very unlikely.
Now, I don't have any squabble about this personally.
Google has also provided a small informative page on how to "Get on Discover" - one of the key points in that reference is about EAT. An acronym for Expertise, Authoritativeness, and Trustworthiness. In other words, Google is putting a lot of trust in its ML algorithm.
However, I would imagine that Google's algorithm is smart enough to be able to distinguish this on the fly. It just wouldn't make sense for Google to keep highlighting the same exact article in Discover, but written by a different author. And, on top of that, Google's algorithm has gotten much better at understanding long-tail queries inside the article body itself.
My point is, if you're going to write detailed articles and do extensive research - you have to come up with ways to add a personal touch. I was appalled to see that the top 10 results for a specific query were all described using the same words and ideas.
In short, such articles show a clear lack of expertise.
Visual content and my approach to it
One of the guidelines that Google mentions on its official Discover page is the usage of visual content. Here is the direct quote:

Makes sense. I will add that none of my images were 1200px in size (I use 820px for all my visuals, or at least the majority of them) so take that "rule" with a grain of salt.
I try to create all my featured and other in-content images myself. In fact, I use a relatively rudimentary approach by putting together various photos and images from freely available stock materials. Be it icons, vectors, or designs from landing pages. But, more importantly, these images are unique. I do all my image work in Figma.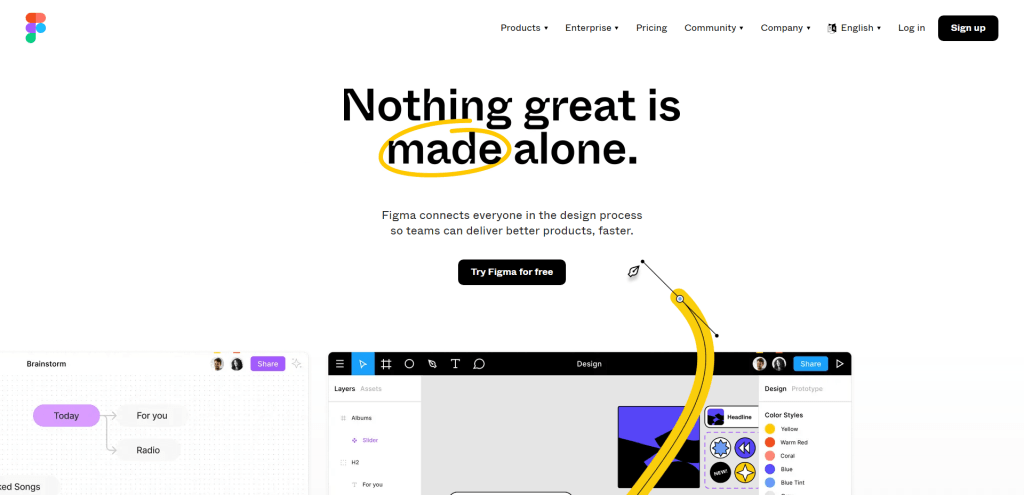 Figma is a browser-based vector editing software primarily used by web designers. I have been a loyal user since the day it was released 5 years ago. And, I don't know what I would do without this tool, honestly. Every single image (on this site) that hasn't been saved directly as a screenshot, has been in some shape or form edited in Figma.
I'm mentioning this because I believe that unique visual content plays a massive role in what content gets featured in Discover and what doesn't.
In fact, visual content isn't just images, but also the design elements that you use to visually present your content - articles and blogs.
Here is a list of additional design elements I try to use in my articles:
An introduction or a summary that is styled differently from your main content. E.g. The summary I have written for this article.
Adding custom styling to highlighted/important text. E.g. I wrap all my code-related keywords in a custom-styled <code> element.
Instead of providing plaintext links, I have created buttons with custom icons next to them. Much more visually appealing.
Use line breaks to divide content into sections, particularly useful when you're doing list posts or roundups. Which I do relatively often.
Back in 2010, Google's crawler might have struggled to understand various design elements.
But, in this creative web design timeline - I am certain Google adds at least a little bit of weight to articles that are more than just a bunch of text on the screen.
Having a clean and easy to navigate layout
Ever since I started my first blog ever (way back in 2005 or so) - I have maintained the principle of having my design as minimal as possible. In other words, I prioritize a clean layout but also try to avoid loading external scripts or other third-party nonsense.
And in this day and age, Google has been very vocal about telling webmasters to provide good desktop and mobile browsing experiences. This is further amplified by the Core Web Vitals initiative which emphasizes site performance as a factor for good user experience.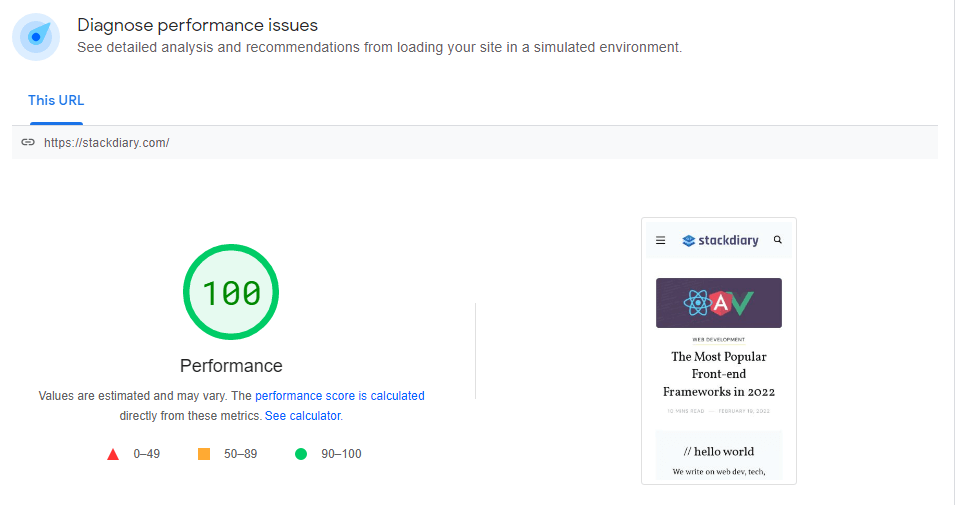 If you are going to publish content with the intention of having it rank well in Google Search, or be picked up by Google Discover - investing in performance is a must-do.
This, of course, is also dependent on the type of content publishing platform that you're using. Me, I use WordPress. And, I generally try to do most of the optimization myself. Not only on the blog (through plugins and whatnot) but also on the server-side.
The saying less is more fits quite nicely in this context.
My final thoughts
I think it's fair to assess that there is no one-for-all recipe for getting featured in Discover. At the very least, we know that site age is not a factor. And, I think it's also fair to say that the algorithm Google uses is prioritizing unique (experience) and interesting opinions.
Besides, it should always be about providing relevant information rather than trying to game a system that perhaps isn't intended to be gamified. It's nice when it happens, and clearly, it has a compounding effect, but I would stay away from any expectations.