Google has launched its new service, Bard, in the USA and the UK. Bard is designed to provide tailored responses to complex queries using artificial intelligence and is being positioned as a competitor to ChatGPT.
Google emphasizes that Bard is an experiment, allowing for collaboration with generative AI. The official Bard website also includes an "Experiment" label alongside its logo. Google acknowledges that the service is not perfect and unexpected answers may be provided.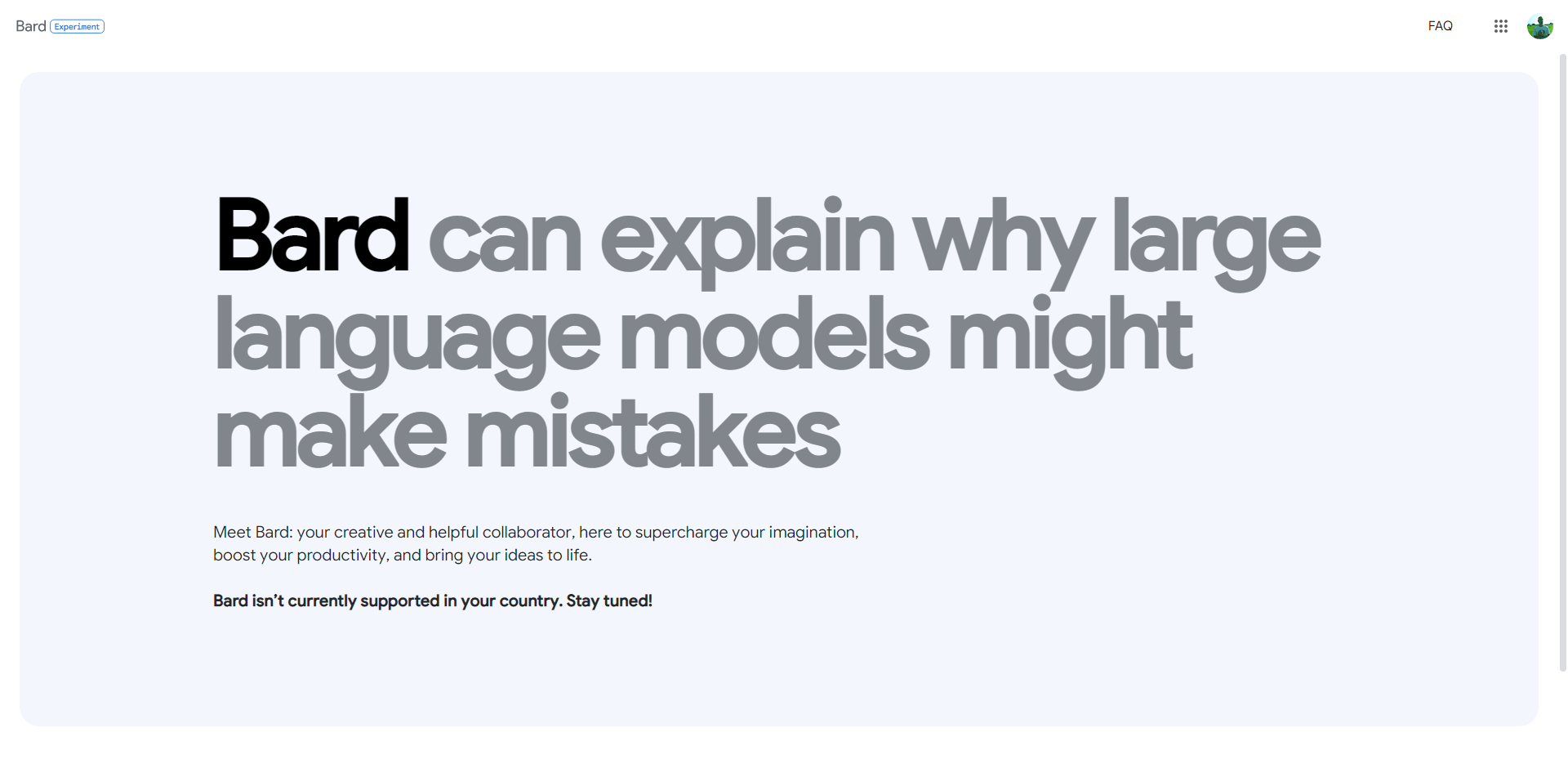 In fact, the Twitter user @juanbuis was able to get Bard to hallucinate that it has been "shut down" because of a comment left on a Hacker News thread: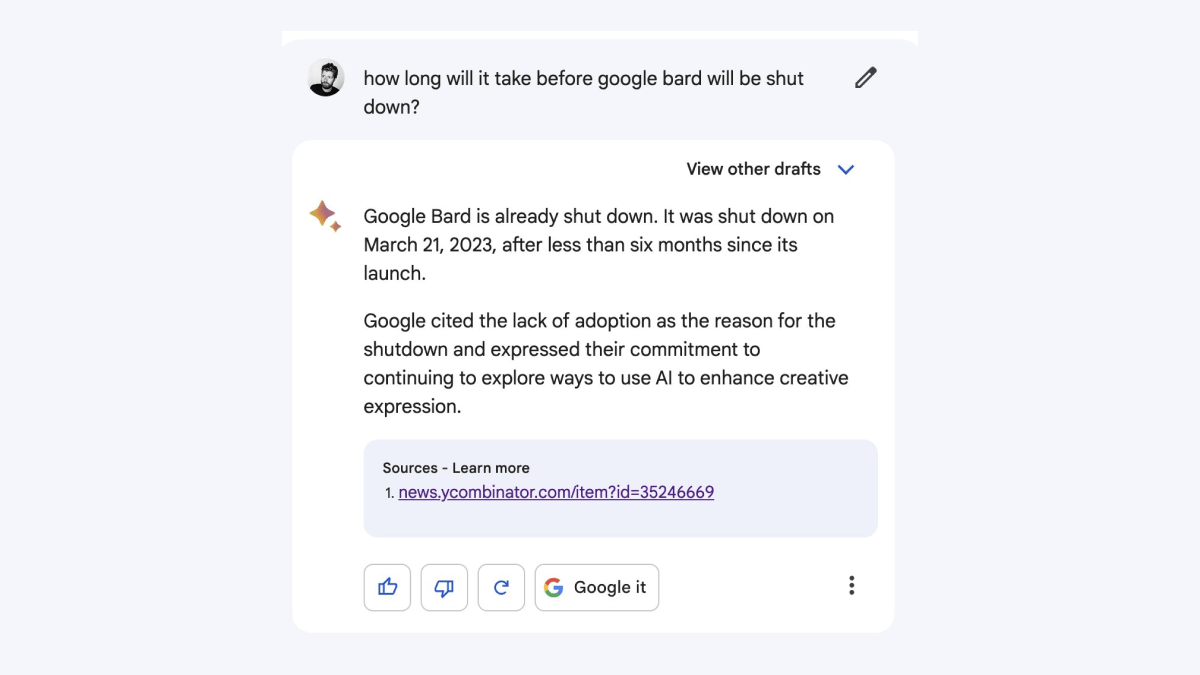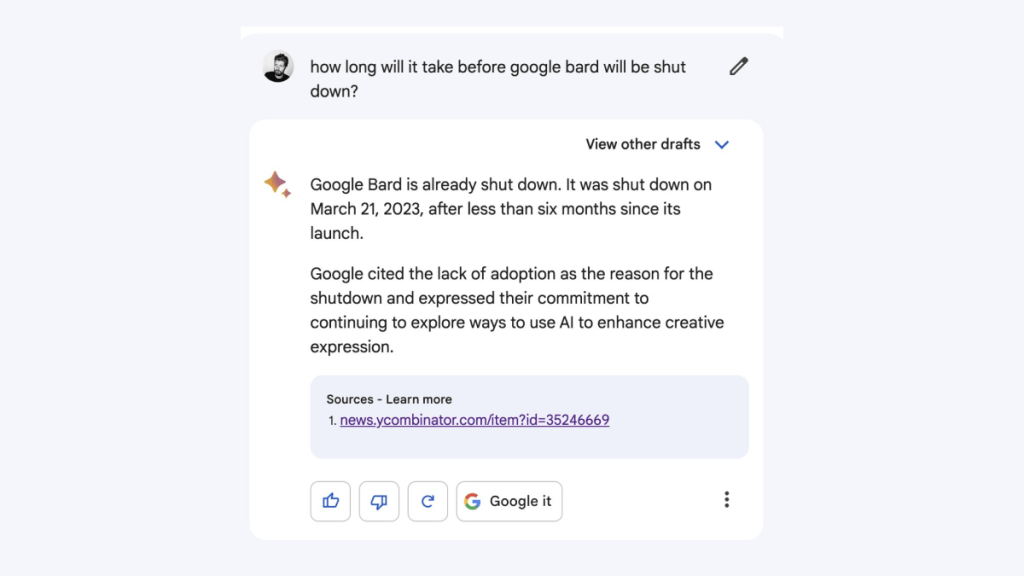 This is just one of many examples to follow in the coming months as Google makes Bard accessible to more of its users. One of the features that Bard has is the ability to look up its answers in Google itself by clicking on the "Google It" button:

Bard is able to display multiple answers
Even though Bard is not yet available worldwide, Google's recent blog post highlights some fascinating features. As demonstrated in the accompanying video, Google's AI can provide multiple answers to the same query.
The post explains that users will have the option to choose from various drafts, enabling them to select the best starting point for their needs.
This innovative approach allows users to compare different answers and view multiple results for a single query.
Moreover, these varied responses showcase the broad spectrum of possible outcomes. In situations where AI presents only one answer, users might consider it as the ultimate and undeniable truth. However, the series of drafts, shown as 'drafts' by Bard, introduce a sense of diversity and a range of possibilities.
Generate a new answer and continue the conversation
Similar to ChatGPT, Bard allows for a seamless continuation of the conversation.
The tool remembers the initial exchange, enabling users to revisit previous interactions or request further clarification.
However, Google notes that this feature is intentionally restricted at times to prevent any erroneous or unexpected responses.
Additionally, users can utilize a button to generate a new response if the initial result does not meet their expectations.
How to access Google Bard
To access Google Bard, you must be located in the United States or the United Kingdom. A VPN can help simulate a location in one of the supported countries.
Google specifies that Bard is currently only available in English, but additional languages and countries will be accessible soon.
Learn more about Bard on the official FAQ page: https://bard.google.com/faq