Thanks to the rapid advancements in artificial intelligence, we now have a plethora of powerful tools that can accurately transcribe and translate text and audio in real-time.
Whether you're a journalist conducting interviews, a language learner trying to improve your listening skills, or a business professional communicating with clients around the world, these tools can be incredibly useful for streamlining your workflow and improving your productivity.
In this article, we're going to take a closer look at some of the best AI tools for transcription and translation. From popular apps like Ava and Taption to cutting-edge platforms like DeepL and Papercup, we'll explore the features, benefits, and limitations of each tool, so you can decide which one is best for your needs.
---
Ava – live captions for video.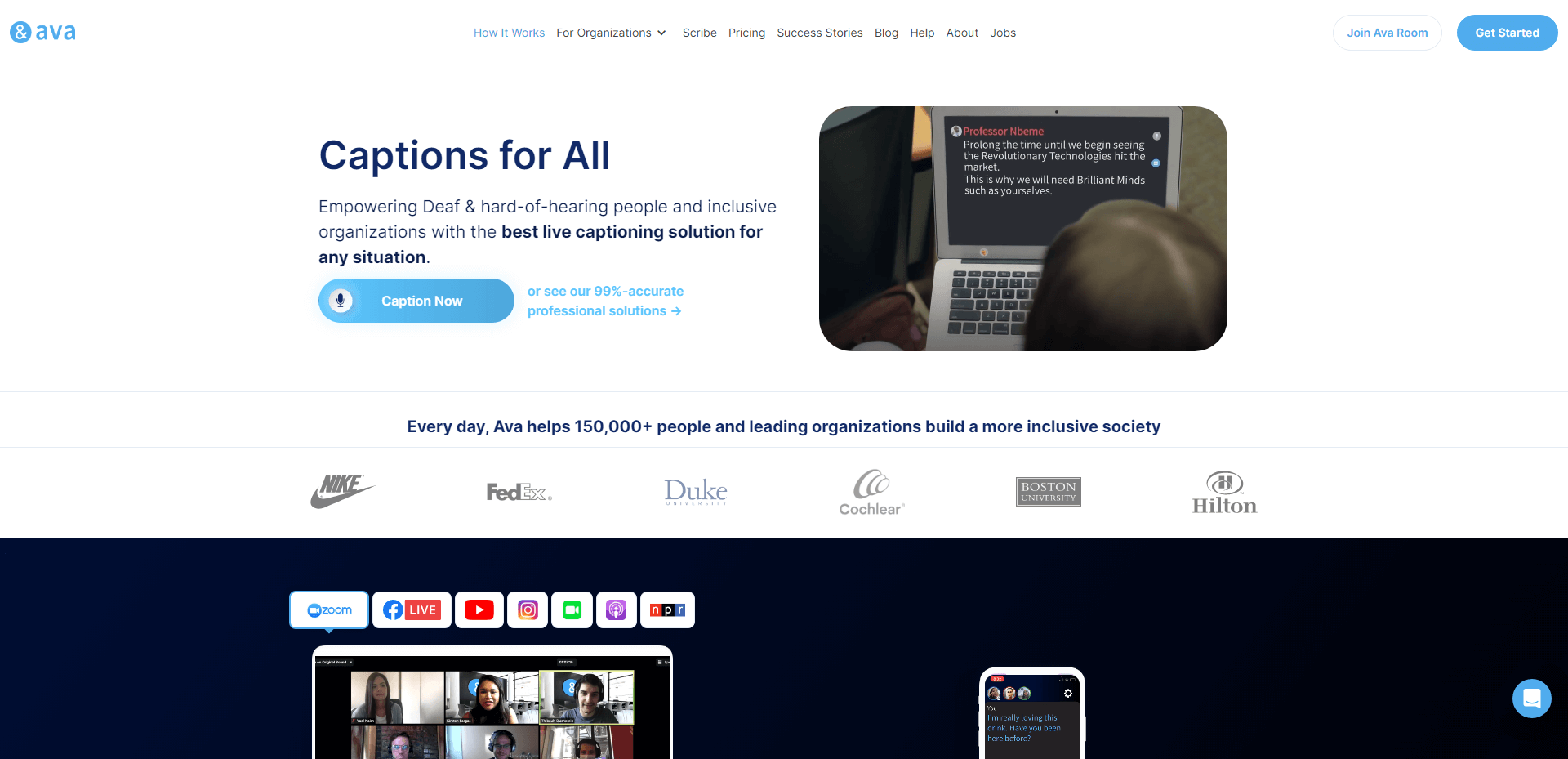 Ava Captions is an innovative solution that empowers deaf and hard-of-hearing individuals and inclusive organizations to access real-time captions for any situation. With Ava, you can enjoy the best live captioning experience for desktop, Mac, Windows, and web, and download the app for free on iOS and Android.
Ava uses state-of-the-art AI technology to transcribe what people say instantly, then improves the quality with algorithms that add punctuation, speakers, and vocabulary based on your diction. Finally, professionals live-correct the captions to ensure the highest level of accuracy possible.
Pricing: The platform offers a free plan with an always-on-top captions bar and speaker identification. Paid plans unlock higher-quality captions, training webinars, and more.
---
Taption – transcribing suite for videos.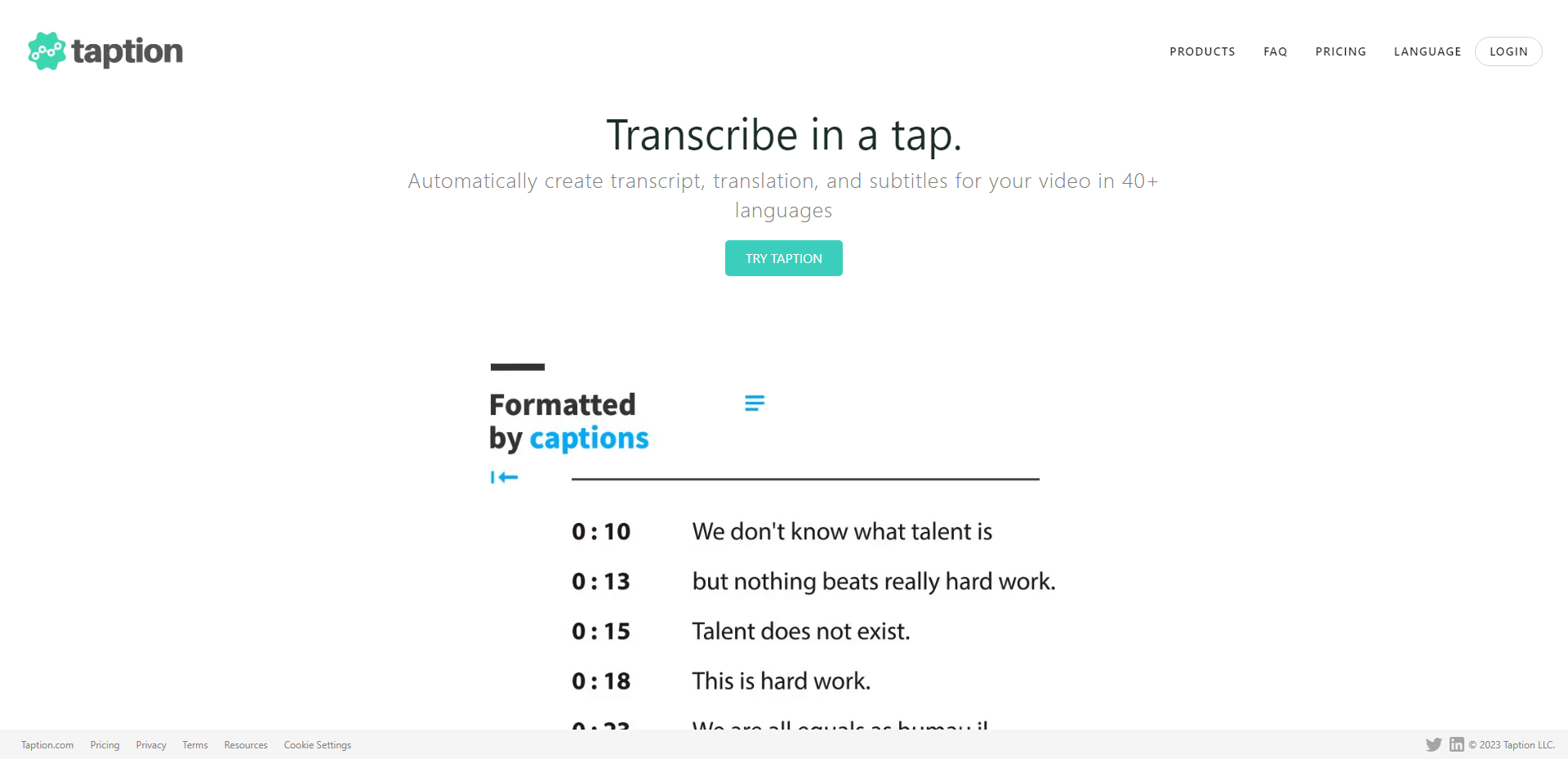 In today's world, video content has become a crucial aspect of communication, education, and entertainment. However, it is often challenging to cater to a diverse audience that speaks different languages. This is where Taption comes into the picture! Taption is an incredible platform that automatically creates transcript, translation, and subtitles for your video in over 40 languages!
The process is simple and straightforward. All you need to do is upload your media file to Taption, and the platform will take care of the transcription process, with support for more than 40 languages. Once the transcription is complete, you can easily edit your transcript without worrying about adjusting the time.
With Taption, you can also translate your transcripts and verify them with our side-by-side comparison interactive platform. Taption supports over 50 languages for translation, making it easy to cater to an international audience. Additionally, Taption also supports speaker labeling for your audio files, which is incredibly helpful when you have multiple speakers in a video.
One of the most impressive features of Taption is that it allows you to add captions or bilingual subtitles to your video automatically. You can even convert your audio file to a video by adding an image and subtitles to create an MP4 video with captions. This feature is particularly useful for those who create podcasts or audio content.
---
Deciphr – podcast transcript summaries on the fly.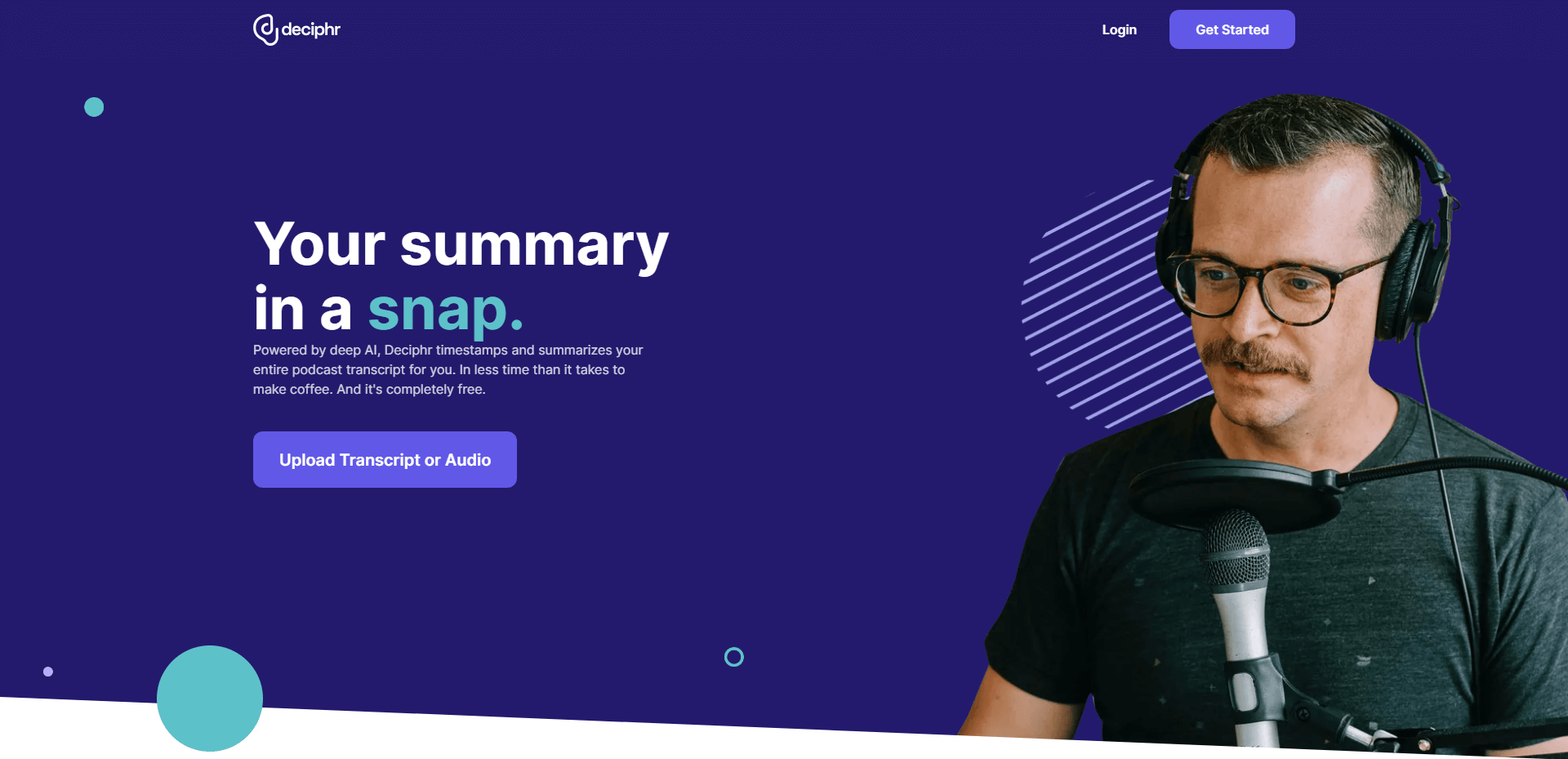 Are you a podcaster looking to save time on content production? Deciphr has got you covered! Powered by deep AI, Deciphr timestamps and summarizes your entire podcast transcript for you in under 60 seconds, completely free of charge.
With Deciphr, you can upload your transcript or audio file and sit back while the AI gets to work. It reads through your transcript and listens to your audio to figure out what's going on in your episode, and then presents you with timestamps of all the key topics covered in your episode plus show notes too!
Not only is Deciphr fast and efficient, but it also ensures your data is safe with end-to-end encryption. So, you can trust that your transcript and audio files are in good hands.
---
DeepL – translate text and files with AI.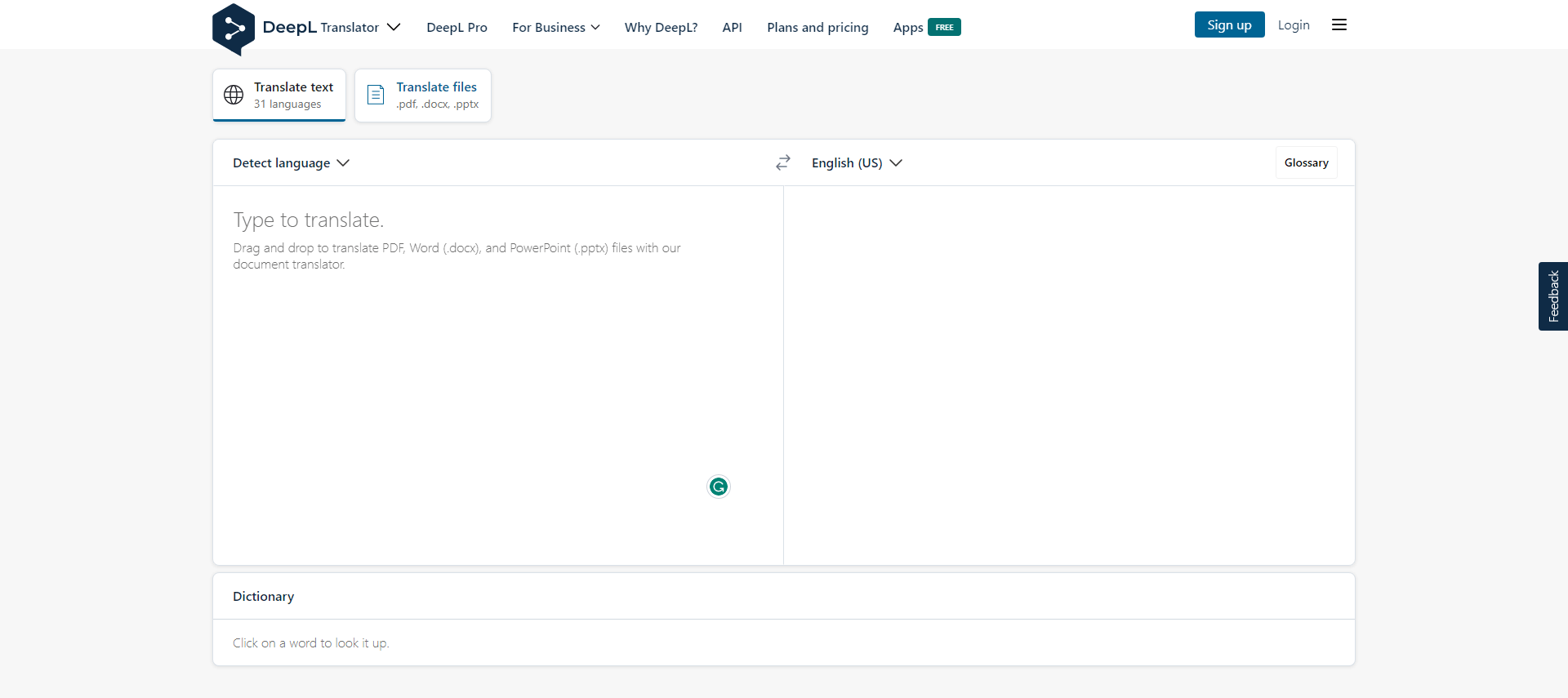 Are you tired of spending hours on end trying to translate texts, only to find yourself struggling with the quality and accuracy of your translations? Look no further than DeepL! I'm a DeepL user myself, and I guarantee you that it blows translators like Google Translate out of the water. In fact, if you compare it by translating text from a foreign language – you might surprise yourself to see the stark difference in how much more detailed the translations by DeepL turn out to be.
One of DeepL's most useful features is the ability to tailor translations to fit your needs. With alternatives, you can easily adjust translations to suit your context. If you need to select alternative words or phrases, DeepL saves you the time of searching for them. Simply click on a word, choose between the alternative options, and the surrounding text will be automatically adjusted. It's that simple!
And if you need to translate large amounts of text, DeepL Pro has got you covered. With unlimited text translation, you can translate as much text as you like without worrying about restrictions. Plus, with DeepL Pro, you can bypass the free translator's limit of 5,000 characters and translate as much as you need via the web and desktop apps.
---
Papercup – for dubbing and video translations.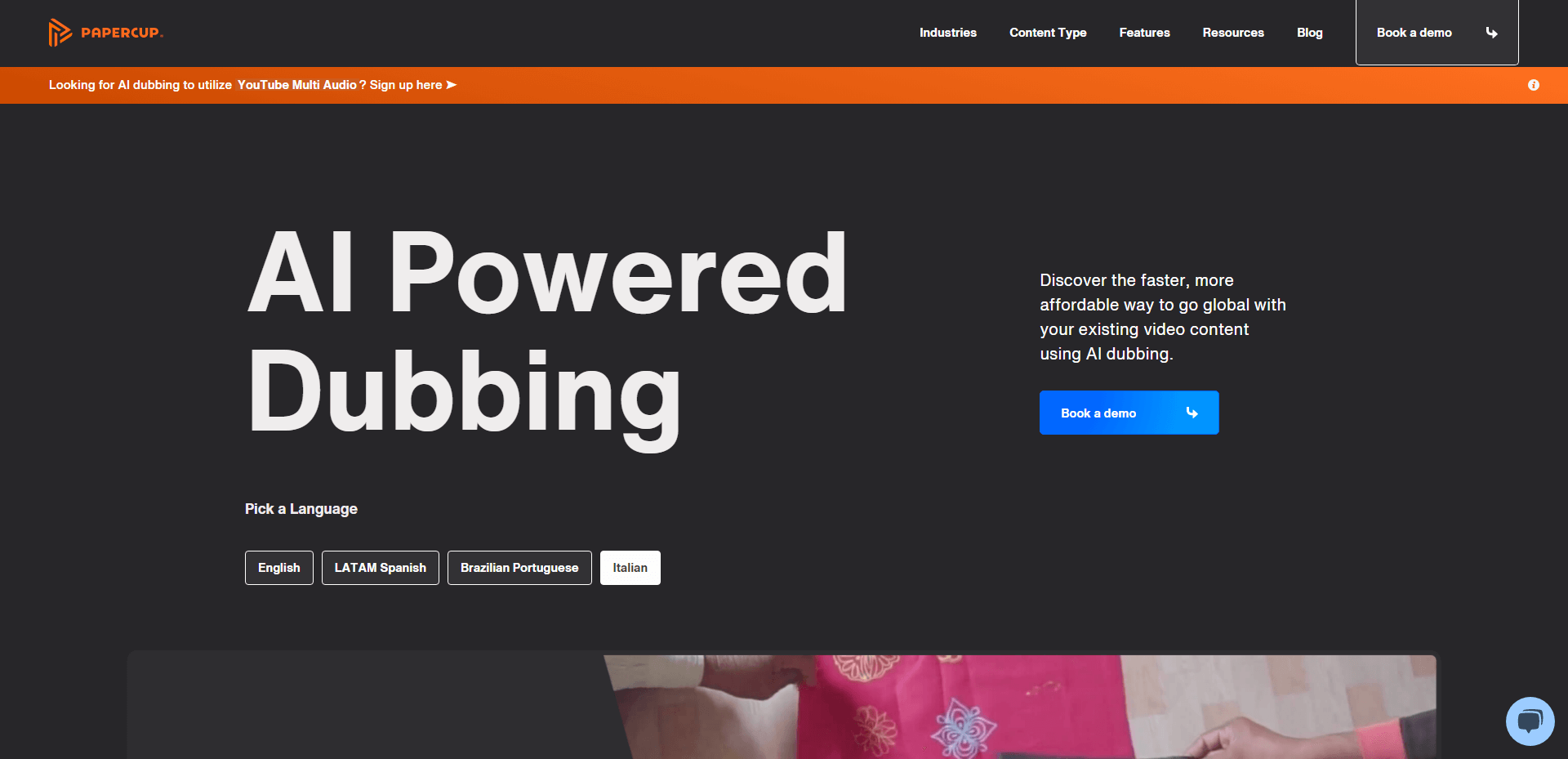 Are you looking to expand your video content to a global audience but worried about the cost and time it takes to dub your videos? Look no further than AI-powered dubbing! With Papercup's award-winning artificial intelligence system, dubbing your videos has never been easier or more affordable.
Gone are the days of relying solely on subtitles to localize your videos. With AI dubbing, you can provide your audience with a more immersive and engaging viewing experience. And with Papercup's synthetic voices, your audience won't even know the difference.
Here's how it works: simply submit your existing video content for translation and voiceover. Papercup's AI will automatically transcribe, translate, and create a human-sounding voiceover for your video. Their team of QAs will verify the quality and make any necessary adjustments to ensure a seamless experience for your audience.
And don't worry about limitations based on industry – AI dubbing is suitable for any industry, from media companies to enterprise to eLearning to content creators. With a wide range of voices and styles to choose from, you can even customize your voiceover to fit your brand or content creator persona.
Pricing: The product, for the time being, is only available as a demo, so you must contact the Papercup team to arrange one. The product is designed at a high-level and is intended for high-scale production use.
---
Rephrasely – paraphrase text in multiple writing modes.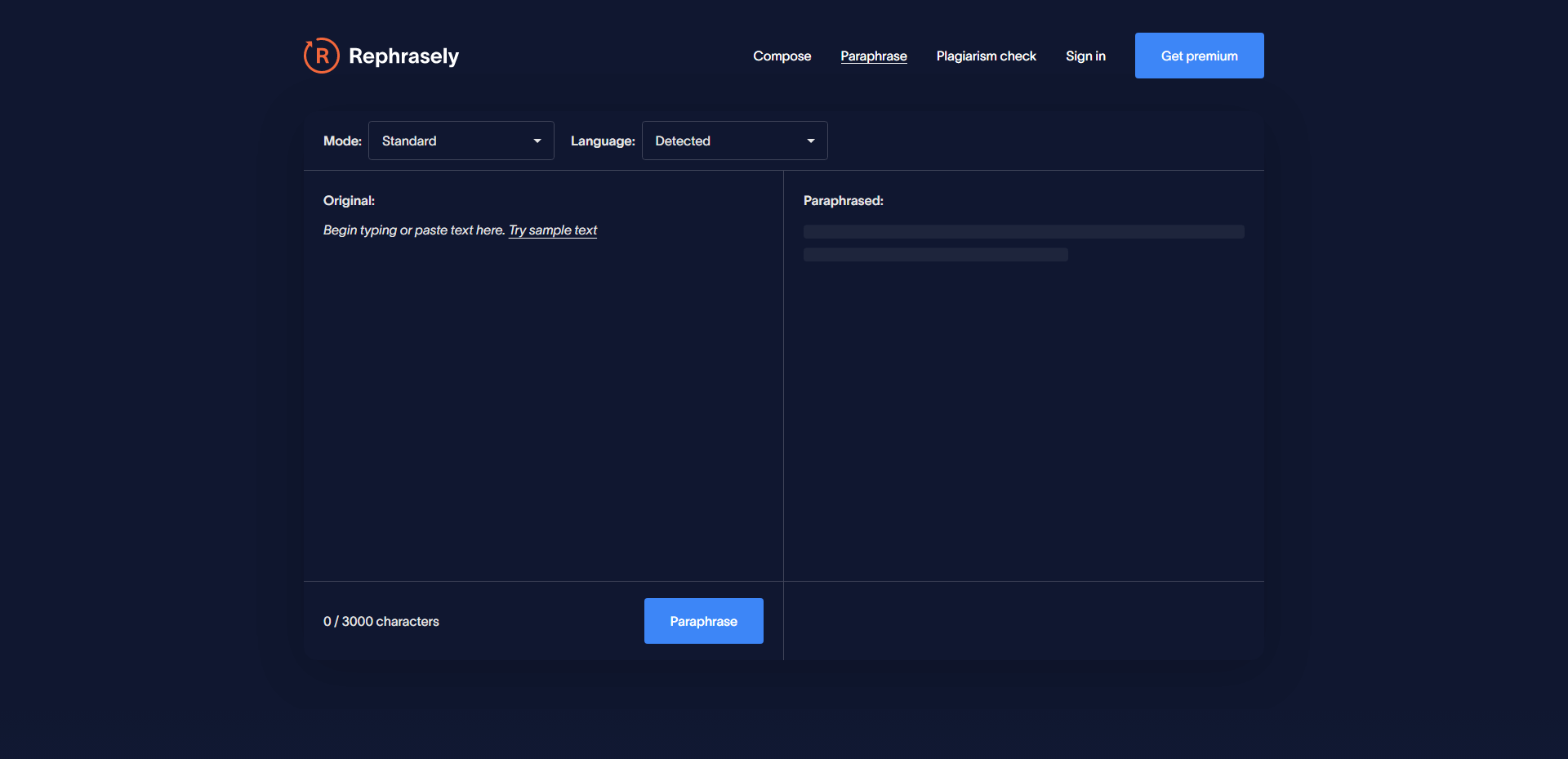 Writing is an essential part of communication, and your words matter. Whether it's an academic paper, a cover letter, or an email, conveying your message effectively requires using the right words. Sometimes, you might find yourself struggling to find the right words to use, and that's where Rephrasely comes in.
Rephrasely is a paraphrasing tool designed to help you find the best words to match your expression. With this AI-powered tool, you can easily generate paraphrases for your original writing. You can simply paste your text in our input box or start writing; the tool will do the rest.
What I love about Rephrasely is its user-friendly interface that allows you to paste or start writing your text in the input box and takes care of the rest. With 18 different writing modes, including a summarize tool, free grammar checker, and sentence shortener, I was able to find the perfect words to convey my message effectively.
Pricing: You can try it out on the homepage, but the premium plans start at $7.99 per month, or $4.99 per month for an annual plan.
---
Rythmex – audio to text converter.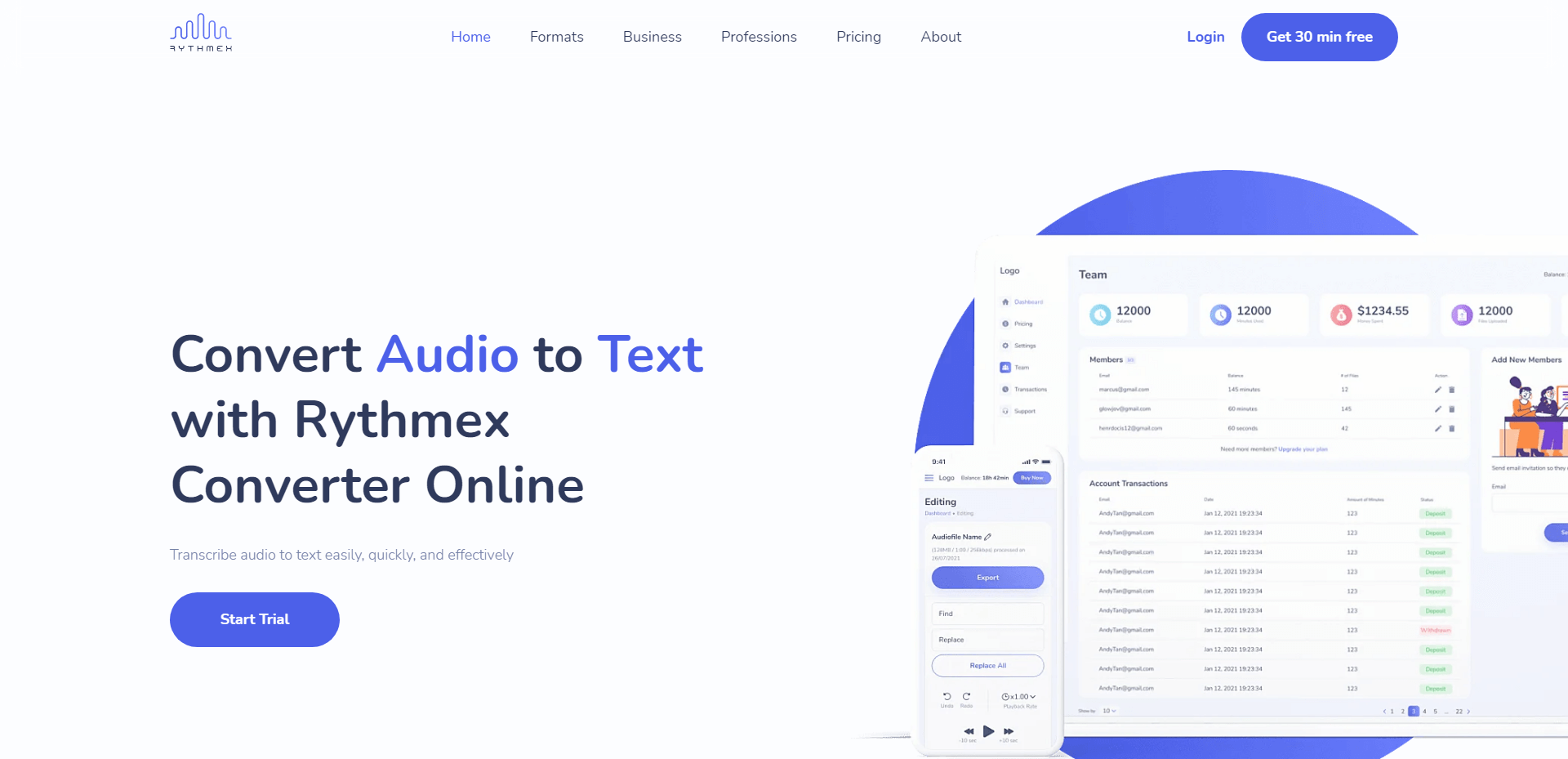 Looking for an efficient and easy way to convert your audio to text? Look no further than Rythmex Converter! This powerful tool allows you to transcribe audio to text quickly, easily, and effectively.
The process is simple: upload your audio in one of the acceptable formats (including MP3, WMA, WAV, OGG, and more), and Rythmex will take care of the rest. The tool will transcribe your audio to text in just a few moments, and you can edit the transcription using the advanced editor. Need to make large-scale edits? No problem! Rythmex offers a powerful "search & replace" function that makes it easy to quickly edit large amounts of text.
Best of all, Rythmex offers a free trial to test the service before you commit. And if you need to transcribe more than 50 hours of audio, Rythmex offers special rates that you can discuss with their team.
So why choose Rythmex over other transcription services? For starters, the tool is always online, so you can use it whenever and wherever you need it. And if you're looking to transcribe audio for business purposes, Rythmex is a cost-effective way to get the job done quickly and professionally. Whether you're a radio station, a transcription agency, or a podcast producer, Rythmex offers the tools to convert your audio to text easily.
Pricing: Rythmex offers a range of plans, including pay-as-you-go for $15/hr, premium for $5/hr, and enterprise for teams. Prices vary, and processing time is 1-3 minutes. Contact for rates on over 50 hours.
---
Voicetapp – transcribe audio & video to text.
If you're looking for a hassle-free way to transcribe your audio or video content into text, Voicetapp might be the solution for you. Voicetapp is a cloud-based artificial intelligence software that uses the latest speech recognition technology to convert your audio and video files into text with up to 100% accuracy.
One of the standout features of Voicetapp is its ability to recognize over 170 languages and dialects, making it a versatile option for those who need to transcribe content in different languages. The speaker identification feature allows you to identify up to 5 speakers in the audio, making it easier to keep track of who said what. Additionally, Voicetapp offers a live transcribe service that supports 12 languages, making it a great option for live events and conferences.
One of the most exciting features of Voicetapp is its flexibility in use. You can use it to transcribe podcasts, videos, generate subtitles for videos, turn conference calls into hardcopy transcriptions, and even transcribe creative brainstorming for future marketing content. The software also offers auto-punctuation detection, making it easier to identify and insert appropriate punctuation marks.
Pricing: Voicetapp offers 3 pricing plans with audio time limits of 60 mins for $9, 180 mins for $19, and 480 mins for $39. They also offer a free trial, so you can test it out and see if it's right for you.
---
Summary
And there you have it, language lovers! We've covered some of the most impressive AI tools for translation and transcription available on the market today. With these innovative tools at your disposal, you can easily communicate with people from all corners of the globe, regardless of language barriers.
Whether you need to transcribe a lengthy audio file, translate a complex document, or chat with someone in a different language, there's an AI tool out there that can help make your life easier. So go ahead and give these tools a try – you might just be surprised at how quickly and accurately they can help you achieve your language-related goals.
Thanks for reading, and happy translating/transcribing!