With an increasing number of businesses moving their operations to a digital environment, it's more important than ever to create an online presence that sets you apart from the competition. And more specifically, adapting your store's web design to match the latest trends. Thankfully, as a WooCommerce user – you have a lot of options.
It's no secret that a custom web design for an eCommerce store can set you back tens of thousands of dollars. But do you have to make such a commitment?
As we will learn throughout this collection – WooCommerce offers some of the best templates and designs at a fraction of the cost if you were to hire an external agency to do all the work. Specifically, our goal is to review the best WooCommerce themes designed with fashion in mind. So, think clothing lines, seasonal collections, and everything in between.
Current web design trends for eCommerce stores
To make this review as cohesive as possible, I've taken the approach of making it objective. In other words, we will base our selection of themes following the current trends in eCommerce web design.
So, what are those trends?
Asymmetrical design. It's hard to perfect the art of asymmetry, but when done right, it has that wow factor in terms of branding and first impressions. This will be best exemplified by the themes we've chosen to review.
Minimalism. Outside of professional product photos and descriptions – there should be as little design distraction as possible. And minimalism also means fewer things to load on the page, which contributes to optimal website performance.
Interactivity. The old-school way of selling online was, "Slap a product photo with a description on a page and be done with it.". The new era lets customers experience the product through videos and 3D images.
Professional photos. As will be evident throughout this article, many designs can be greatly complemented through the use of various photography effects. In particular, the use of shadows and bright backgrounds in combination with web design elements.
I think this collection of WooCommerce fashion store themes does an excellent job at portraying what can be achieved in terms of modern and interactive design features. So, let me not hold you up any longer – here are the top picks for the most professional, stylish, and adaptive themes!
---
1. Kalles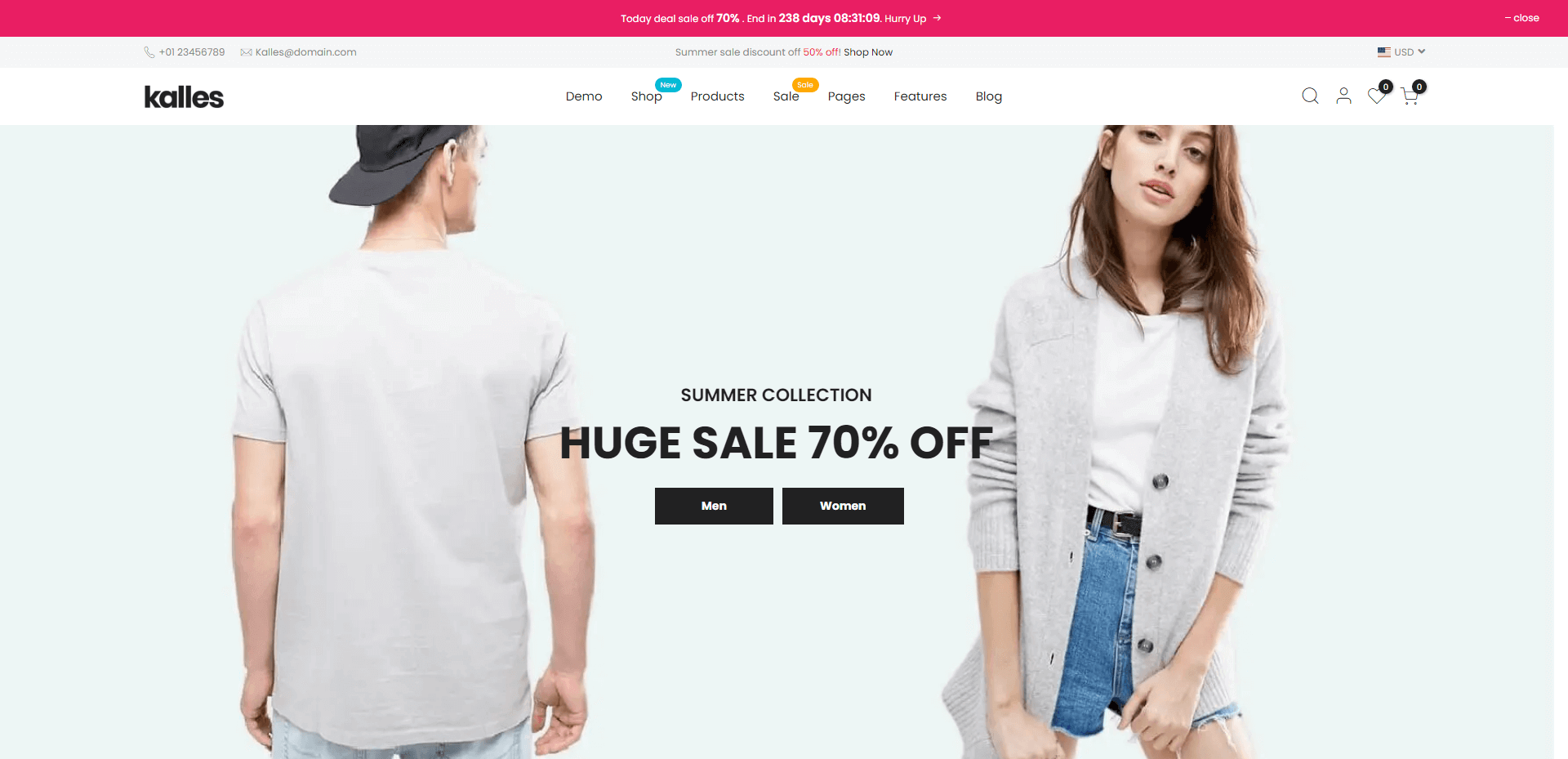 Kalles: Summary
Downloads: 848
Publisher: The4
Pricing: $59
Noteworthy features: Live Site Editor with Elementor, drag & drop Header customizer, all images included in the theme are license-free, SEO best practices, and custom Maps widget.
It's going to be hard to beat a theme like Kalles when it comes to design flexibility and choices, but also the fact that it works with the Elementor page builder. If you love the idea of being in charge of the final design for your fashion store – this theme is highly recommended.
Even the example screenshots don't do this theme full justice. You can select any of the 20 pre-made designs out of the box. That's 20 unique designs for one.
The overall design follows many of the trends we discussed earlier. It's clean (minimal) and emphasizes photography on both category pages and product listings.
All the elements you see in the demo layouts can also be mixed and matched.
This is great for cases like seasonal promotions that you may run, as it lets you redesign and borrow design elements from many of the included layouts.
2. Sober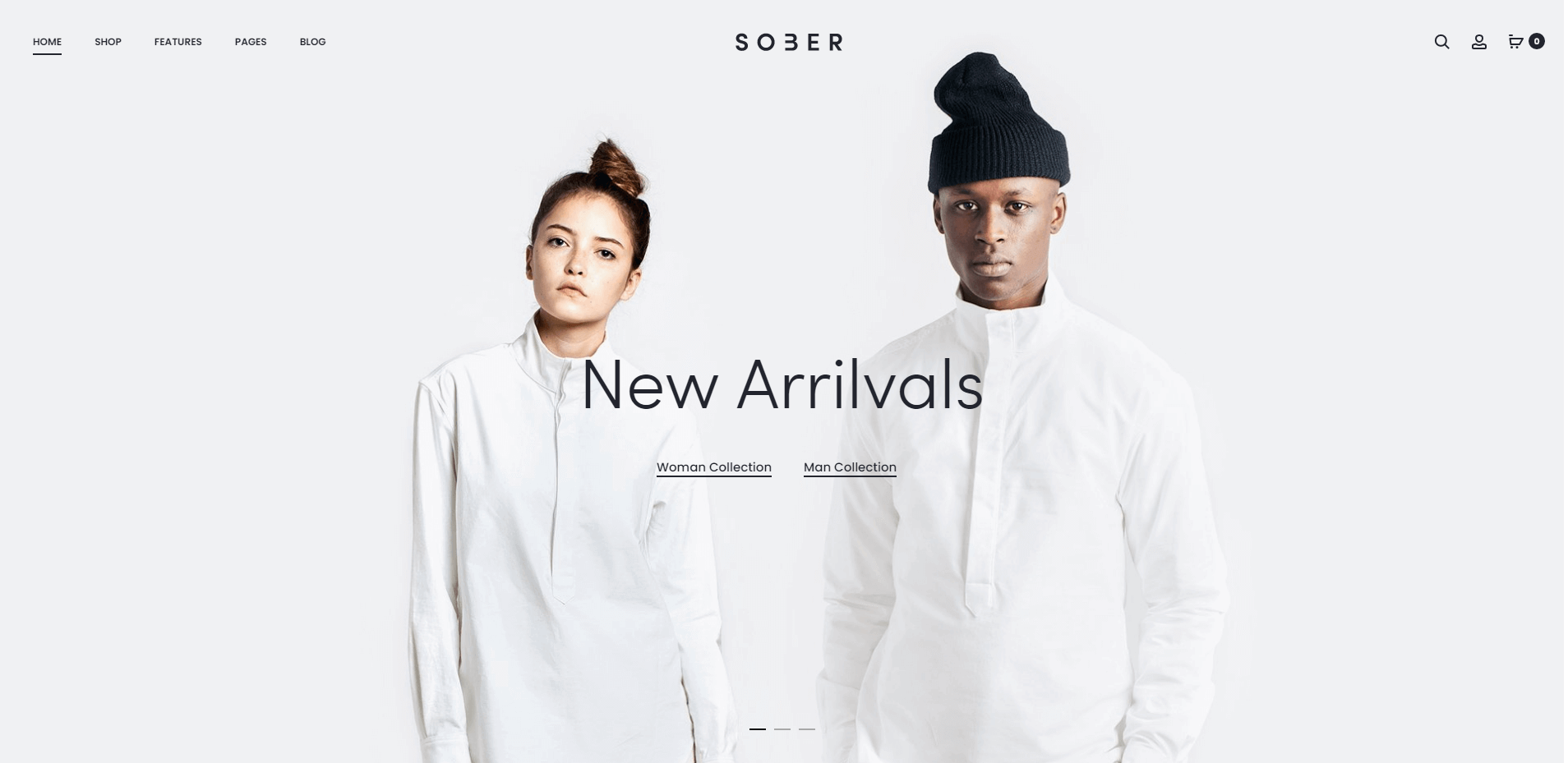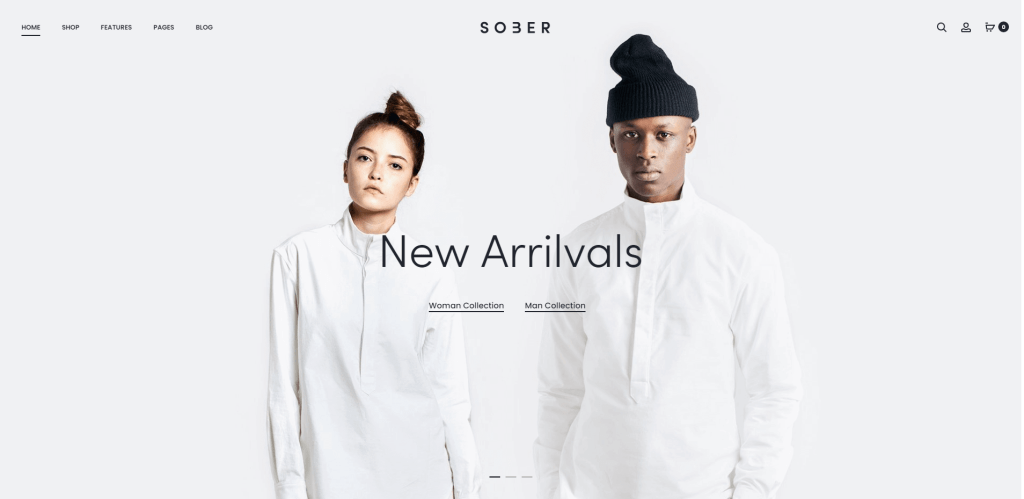 Sober: Summary
Downloads: 8,707
Publisher: uixthemes
Pricing: $59
Noteworthy features: Modern design features (animations, video, overlays), Instant Search for products, vibrant Blog design, a Portfolio system for seasonal products, and Smooth Scrolling.
The Sober exemplifies a lot of what we said earlier. It's a fast theme with a unique approach to displaying products on the homepage. And that approach is the integration of a "Quickbuy" feature.
So how does that work? Customers can get a quick overview of your entire store catalog whenever they land on your homepage. Then, after clicking on a specific product, the product card is displayed on the same page rather than taking the customer to a separate page.
If, for example, you're running an already established brand, then a feature like this can help you generate more conversions by giving your customers a direct shopping experience.
This theme does more than just that. There are around 16 homepage variations and around ten different ways to display your product pages. That alone makes Sober an excellent choice if you love the idea of changing things up once in a while.
3. Haaken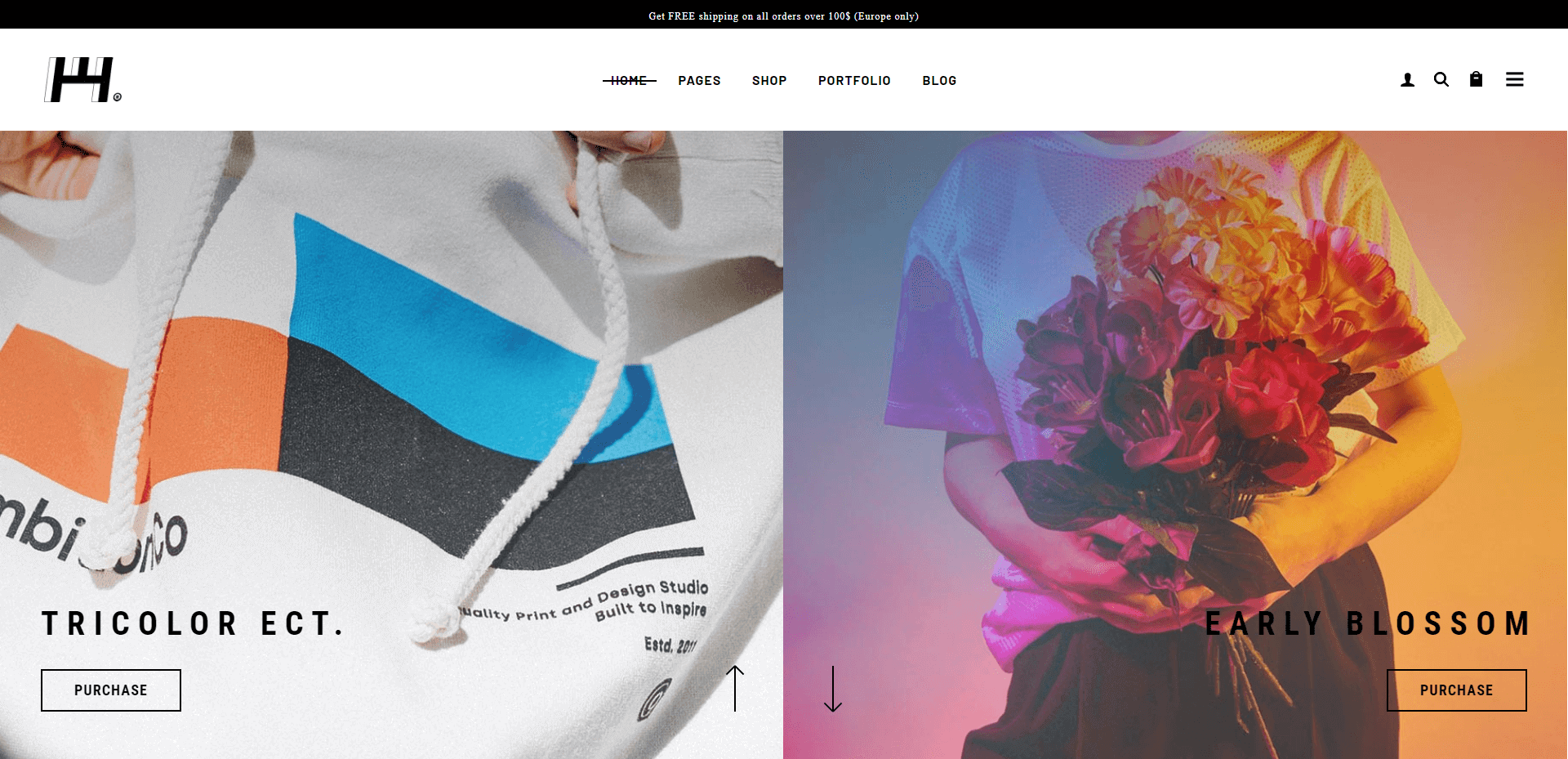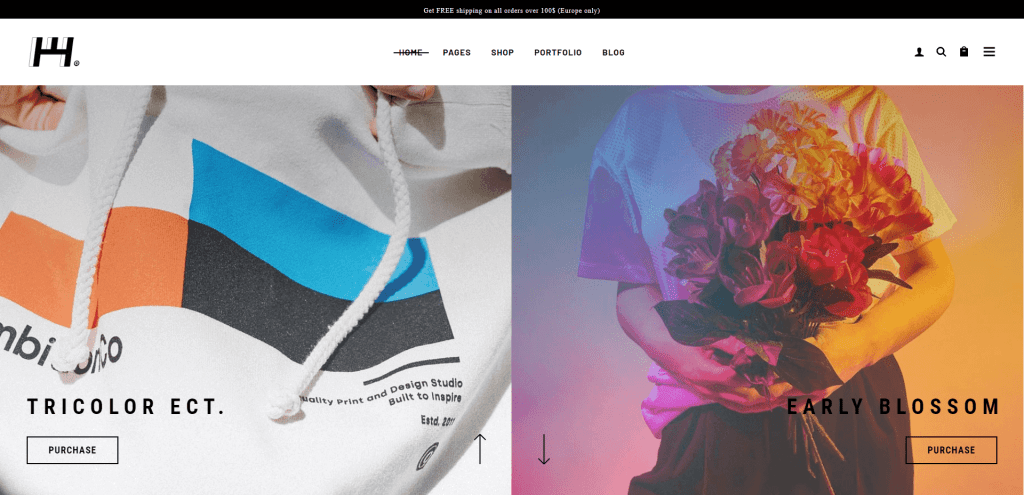 Haaken: Summary
Downloads: 527
Publisher: Edge-Themes
Pricing: $85
Noteworthy features: Pixel-perfect design for Mobile devices, Newsletter pop-up widget, Product Variations, a custom template for Order Tracking, YITH Wishlist included for free.
Haaken is a contemporary WooCommerce theme that will work on various fashion niches, such as streetwear, clothing shops, and one-time seasonal lines. The big selling point for Haaken is the use of large visuals in combination with subtle yet effective motion effects. Here's an example:
If you're unfamiliar with using motion design to boost visitor engagement, check out this article from Marina Yalanska at Tubik Studio. The Haaken theme uses many motion/transition effects to bring the design to life. And in combination with high-quality photography, it can make for a pleasant browsing experience for your existing or new customers.
There are six different homepage layouts, and the product display is divided into three categories: Shop Types, Shop Layouts, and Product Types. Each type and layout has up to ten variations, which lets you go to great lengths to create a unique design combination. You can also do things like creating Portfolio categories for past, existing, and future collections.
So, to conclude, if you love large visuals or feel like they would fit with what your fashion product is, the Haaken theme offers multiple ways to emphasize the said product(s) in a modern yet clean way.
4. Konte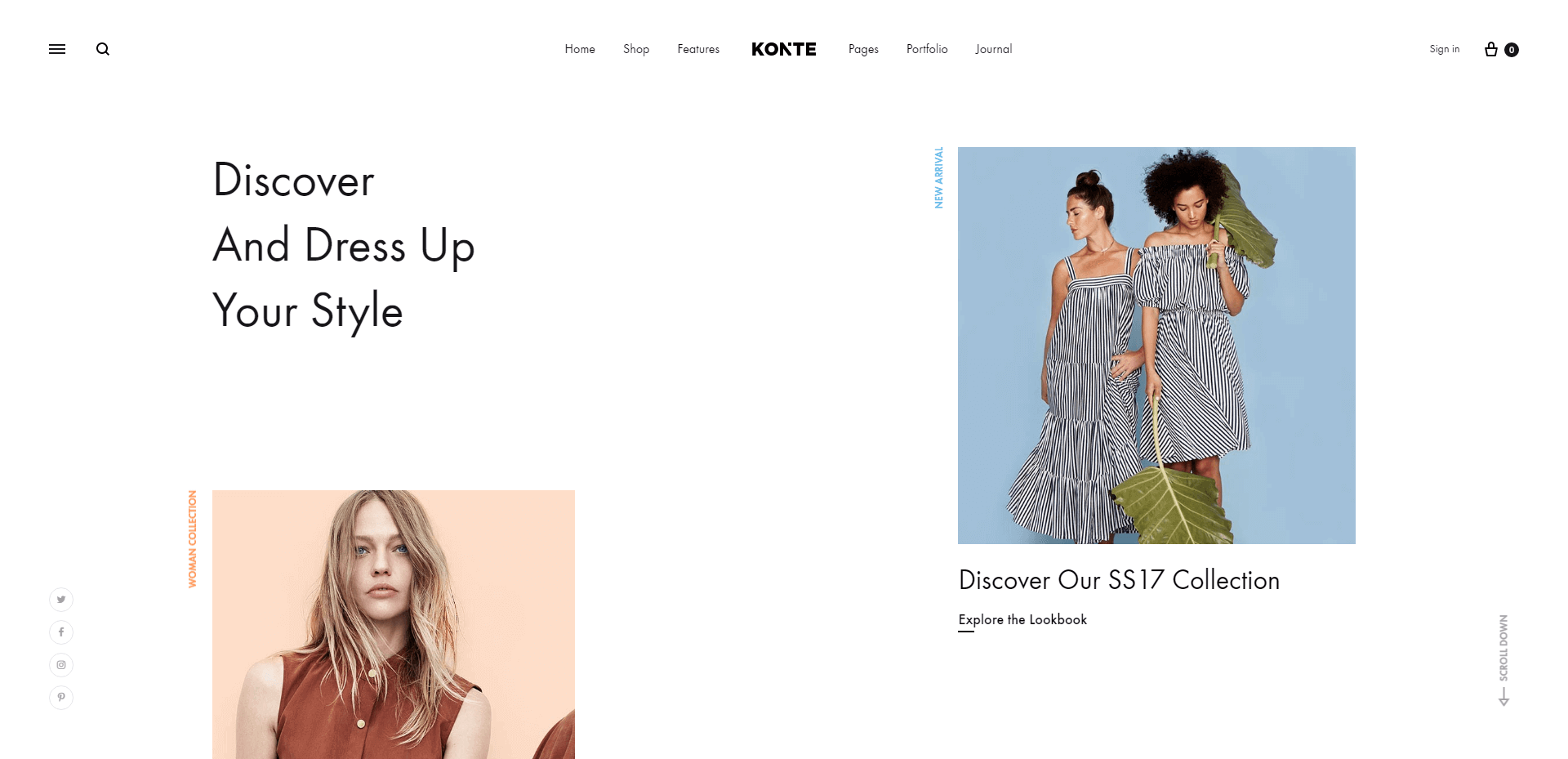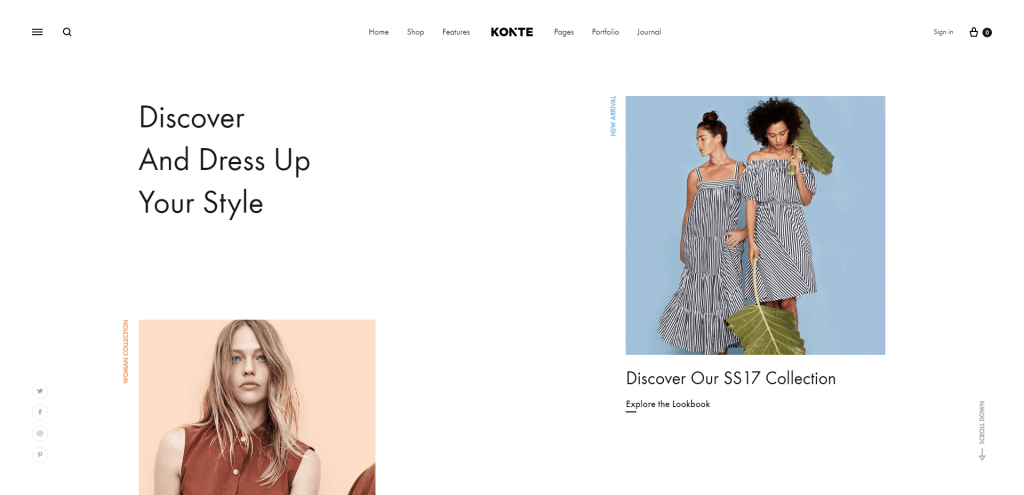 Konte: Summary
Downloads: 5,544
Publisher: uixthemes
Pricing: $59
Noteworthy features: Elementor & Visual Composer support, fourteen homepages, seven product page layouts, highly-customizable product filter, product quick view, and exceptional performance.
The author's behind the Konte theme call it a "Minimal & Modern WooCommerce WordPress Theme", but from a feature/design standpoint – it can also be called a multi-purpose theme. With the number of features and tools packed inside this theme – finding a design that fits your brand will be nice and easy.
With Konte, you can start building (or rebuilding) your fashion store with multiple choices for a starting point. It has pre-built homepages in categories like modern, minimal, collections, and one particularly unique concept – an Instagram Shop design.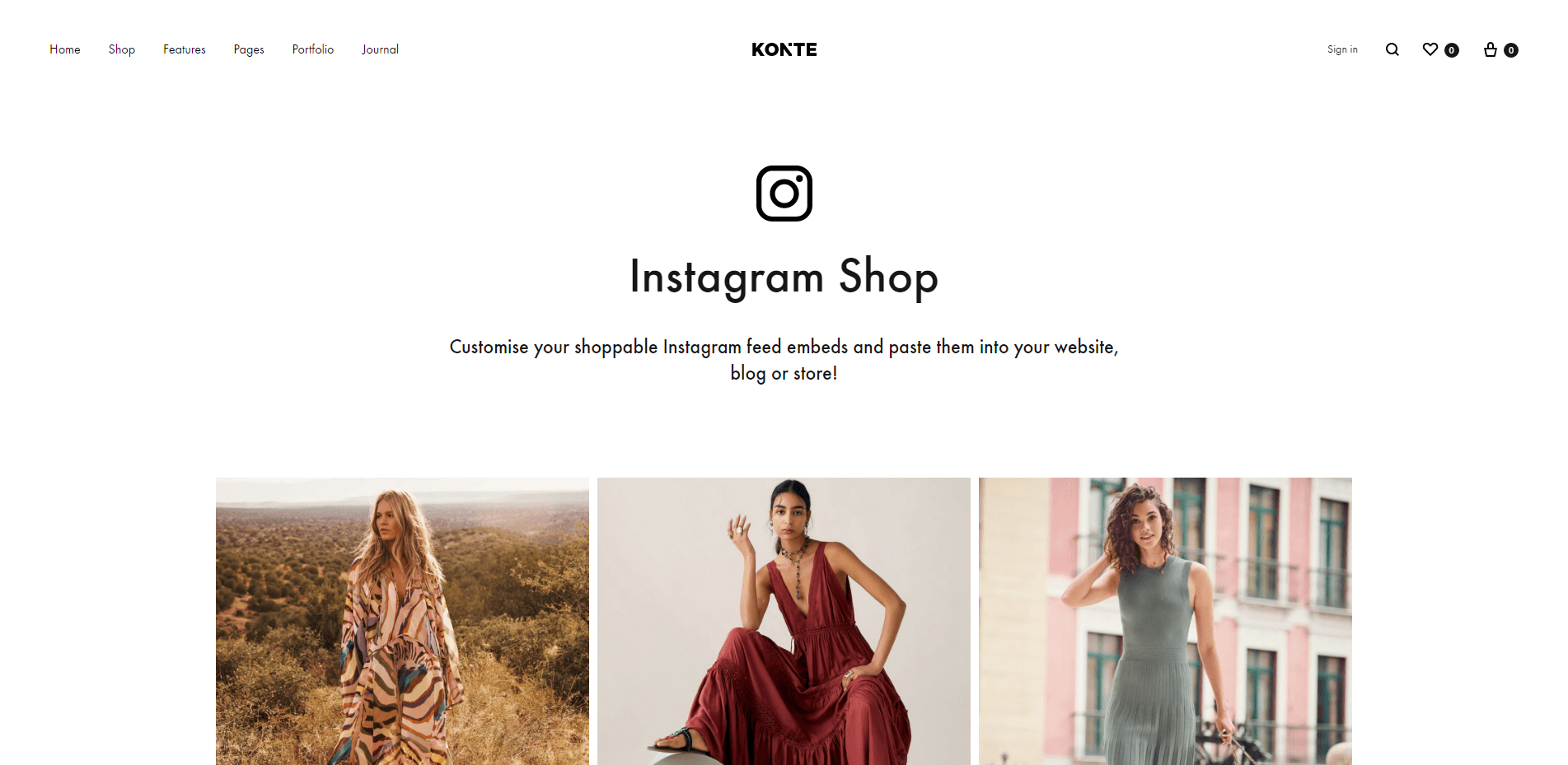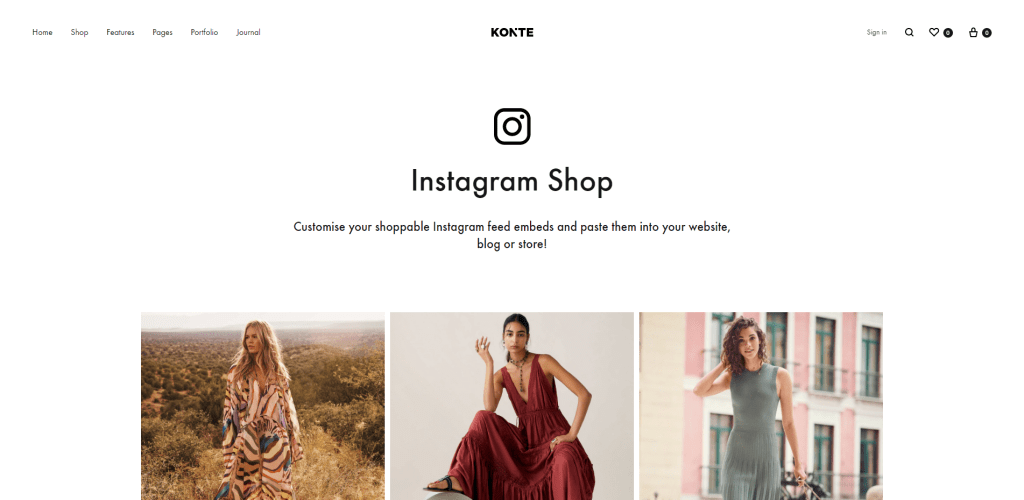 This is a fantastic opportunity if you're already using Instagram as an eCommerce solution. And all you need to make this work is to use the Konte theme's dashboard to enter your Instagram feed address, and that's it. The theme will automatically embed your entire catalog as part of the Store section or inside your Blog posts. You can skip this feature entirely and focus on using many of the Konte theme's other designs, all of which initially follows the guidelines we listed.
5. Yobazar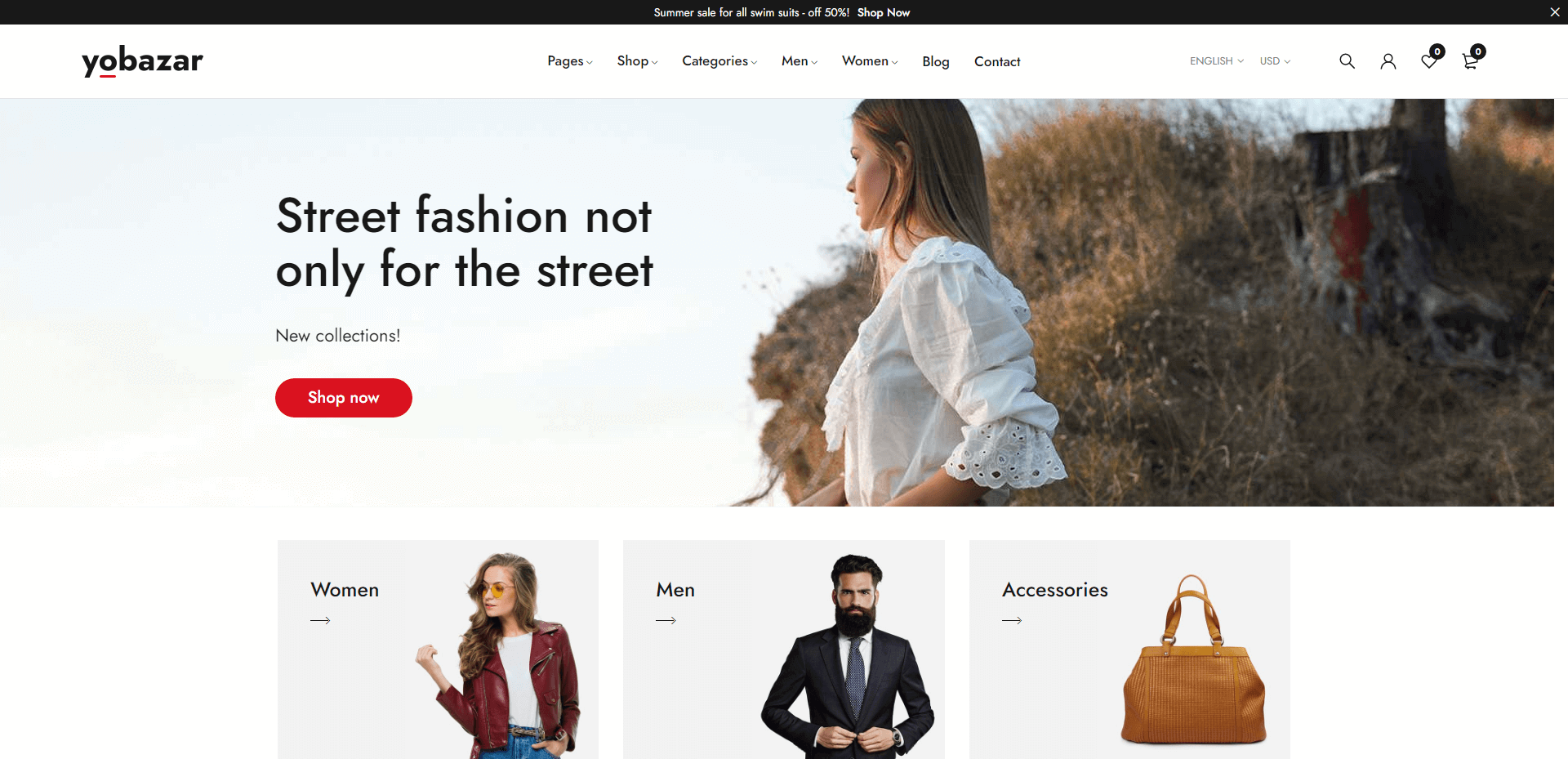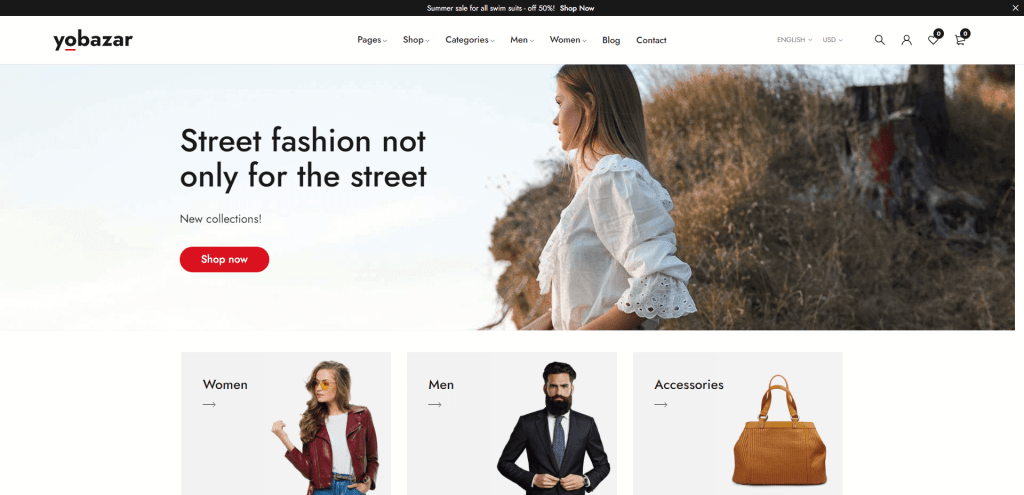 Yobazar: Summary
Downloads: 845
Publisher: skygroup
Pricing: $59
Noteworthy features: Ideal for large-scale brands and online stores, built with Elementor, optimized for mobile devices, and advanced features for promoting/emphasizing your products.
One topic we haven't touched upon yet is mobile shopping. According to a Dynamic Yield study, as much as 60% of all eCommerce traffic comes from mobile devices, but only 16% of that converts into sales. And the number one reason that number is so low is – "Poor design is plaguing mobile websites as the majority of shoppers find pages and links to be too small to click on.".
Mobile design examples for the Yobazar theme. Click on images for a full preview.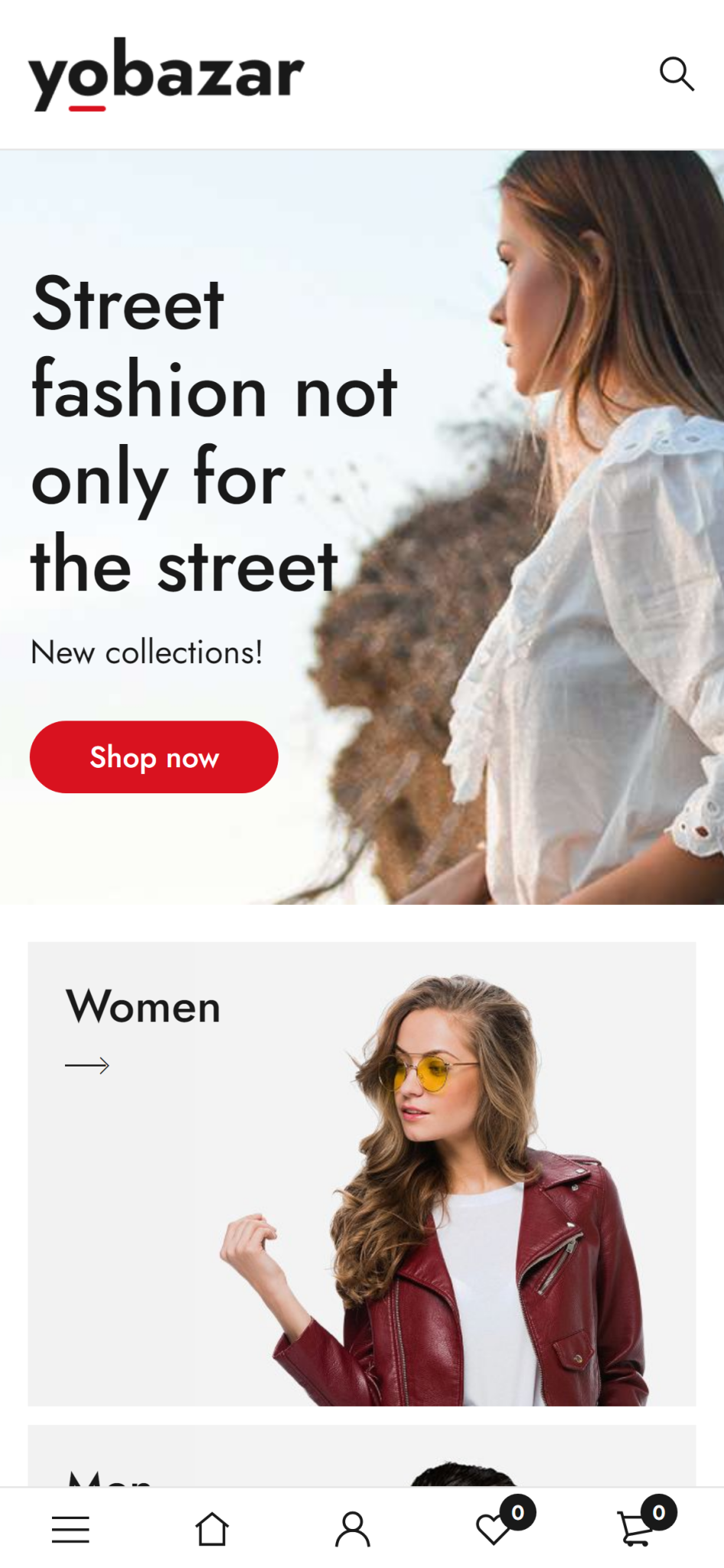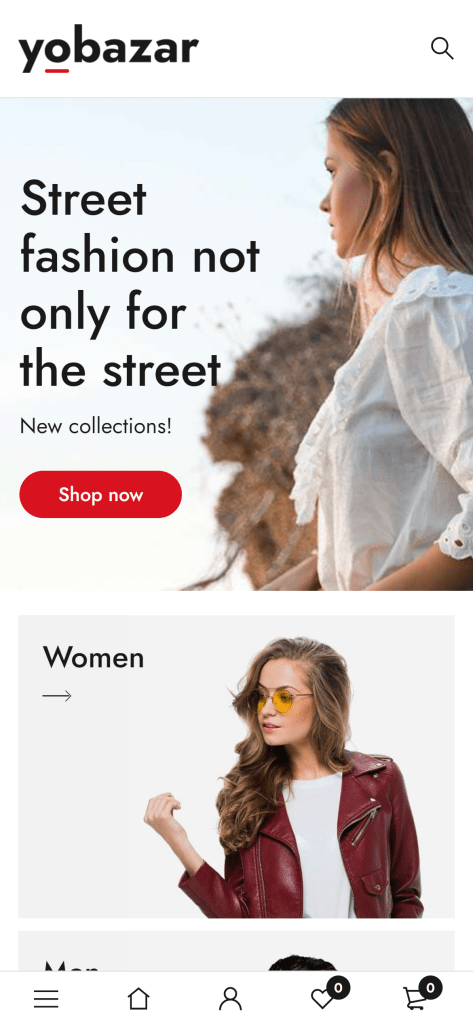 In this context, the Yobazar WooCommerce theme has been built to help you improve those numbers, and it does so by having built a unique mobile-first design:
The menu and navigation are designed to feel like a native mobile application.
The header is purposefully designed to be smaller to emphasize products.
A fixed bar widget to help customers quickly navigate through items and checkout.
Of course, this theme also excels in delivering superb Desktop experiences. Some of the theme's strengths are creating motion effects, a clean design, a fully featured mega menu, and a modern blog design alongside it. I found the typography incredibly sharp, which transpires over product pages, where you can provide long-form product descriptions and other information.
6. Esmee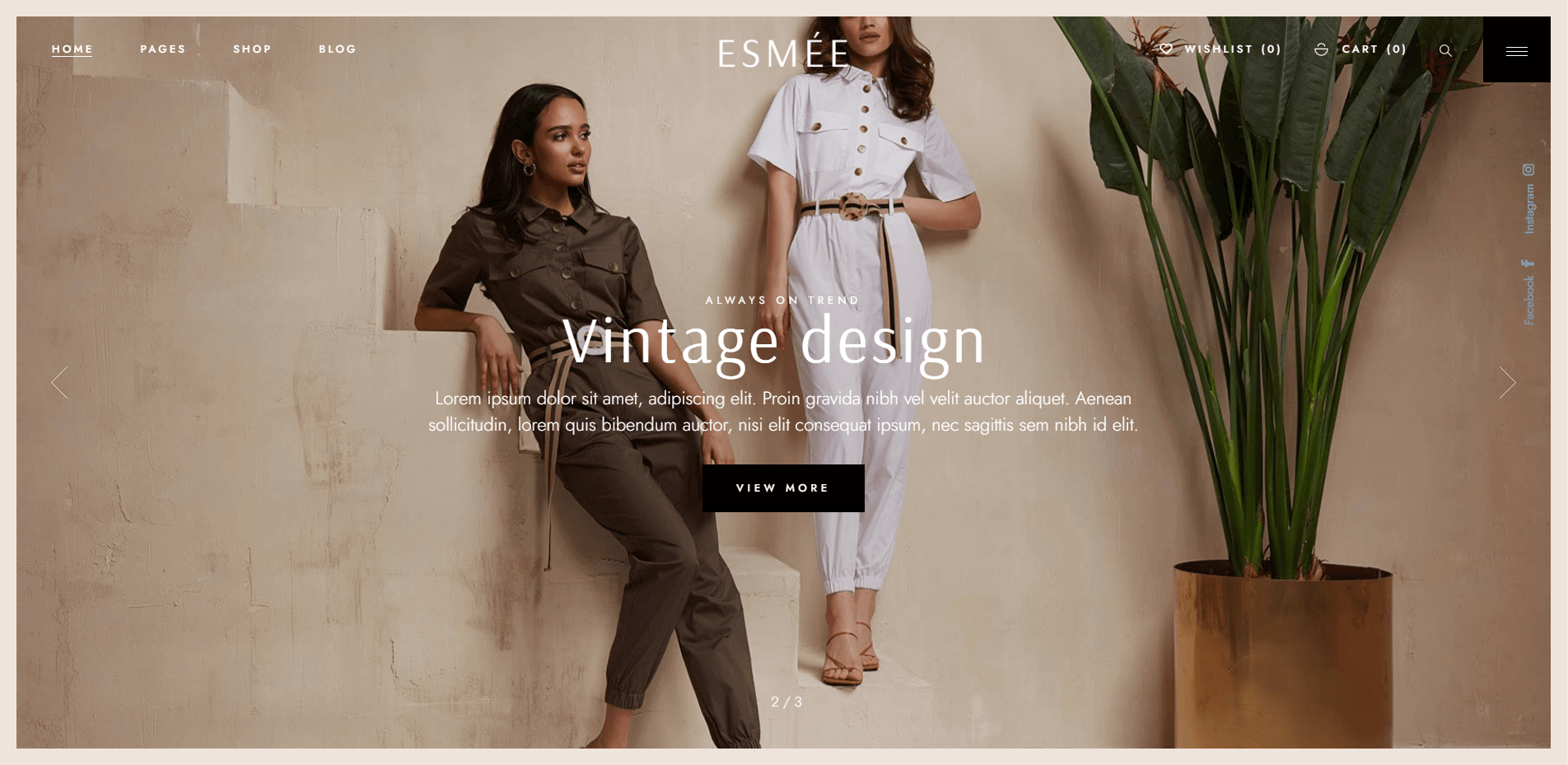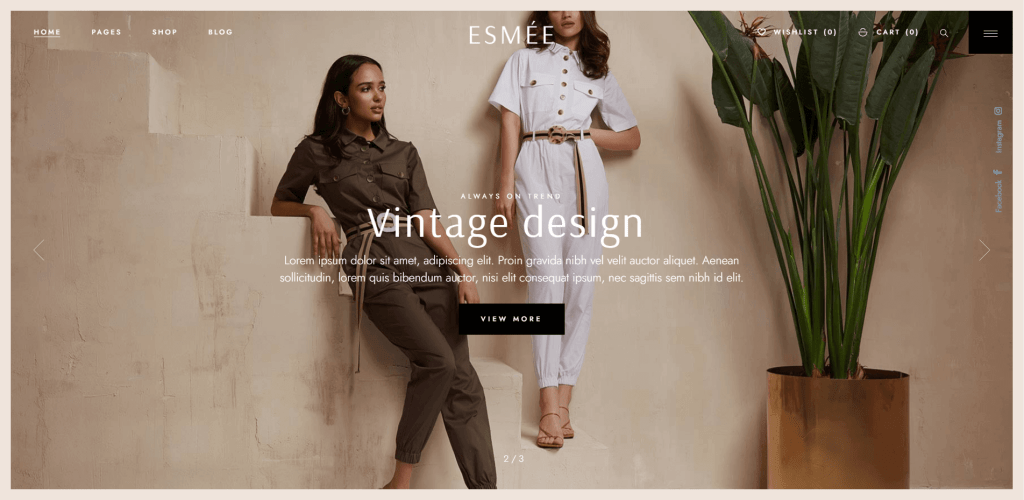 Esmee: Summary
Downloads: 249
Publisher: Mikado-Themes
Pricing: $79
Noteworthy features: Header Layouts that work on any layout, multiple YITH addons, Elementor & Slider Revolution bundled in, and a vast collection of pre-made layouts and pre-designed sections.
The Esmée theme is designed strictly for fashion stores and is based on three core principles. Those principles are professional typography, many whitespaces, and large visuals. The end result of this approach is that your store looks and feels brandable. This means that the Esmée theme will work great for anyone looking to either redo their branding or start a new fashion store from scratch.
One of the unique features of this theme is the ability to change header layouts for each of the theme's pre-made demos. You can see what that looks like in this video preview:
This feature is particularly useful when you plan to release a new collection or a specific line, as it will let you adjust the design appearance slightly. So, the next time your customers/community visit your store, it will have a fresh look. But there are a few other great features in this theme:
Multiple custom layouts for specific product types, including galleries, virtual products, products with large images, and products on sale.
Several popular YITH in-built into the theme, including Wishlist, Quick View, and Color & Label variation switcher.
Shortcode structure means you can design layouts (pages, blogs, etc.) using shortcodes and align them in an order that fits your brand or style preference.
Designed to look great on mobile devices, with fully responsive layouts and navigation tools to make mobile customers happy!
If you love a design that feels authoritative while maintaining modern elements and easy navigation, the Esmee theme is well worth looking into.
7. Fisino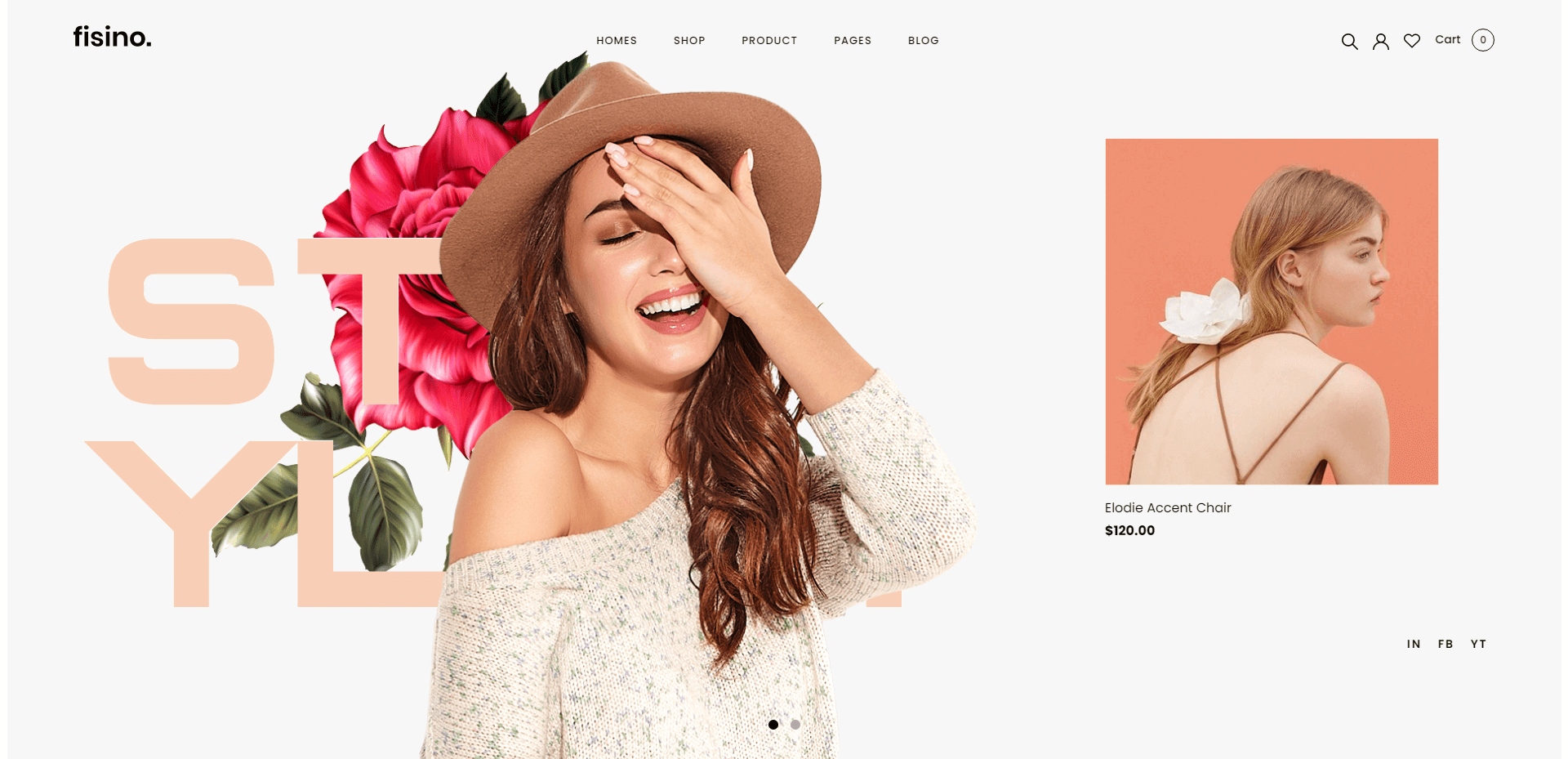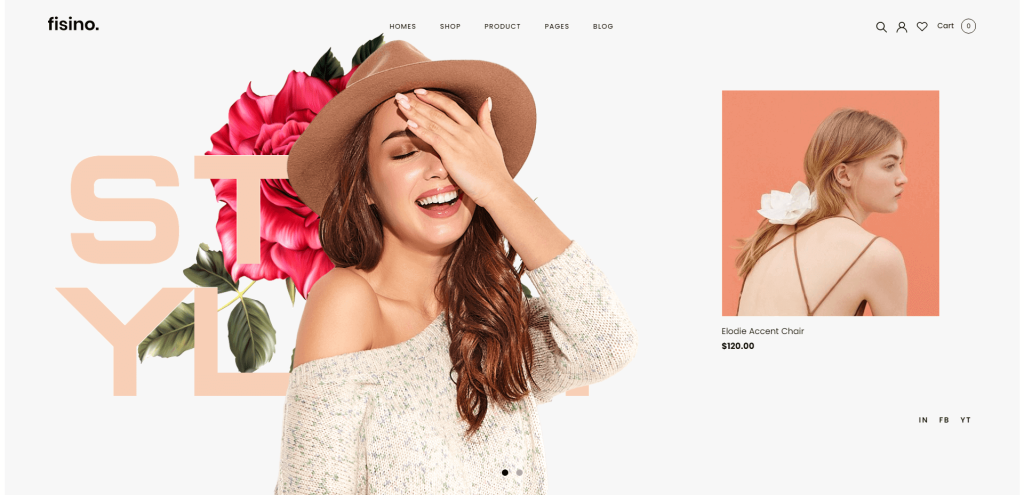 Fisino: Summary
Downloads: 330
Publisher: familab
Pricing: $48
Noteworthy features: High-quality product page design with numerous layout options, optimized for mobile users, powerful filtering widget, currency selector, and professional layout structure.
The Fisino WooCommerce theme is designed for fashion stores in various niches and boasts several unique features to set it apart from other themes. It can be used for fashion stores specializing in accessories, garments, and even fashionable crafts.
Its clean grid-based layout structure differs from the themes we have seen so far. This doesn't mean that Fisino isn't using modern design elements such as animations or background patterns; it simply means that the Fisino theme uses those elements in smaller quantities, resulting in a more linear browsing experience for the people visiting your store.


That said, I found the Products page design to be quite refreshing. It uses a custom Categories header (see screenshot above) to help your customers navigate their preferred categories quickly. But more than that, it's an aesthetic design feature that will ensure your site looks and feels reputable. This aesthetic approach also extends to the theme's actual product listings, and you can choose at least nine different ways to display (individual) product pages.
8. Valeska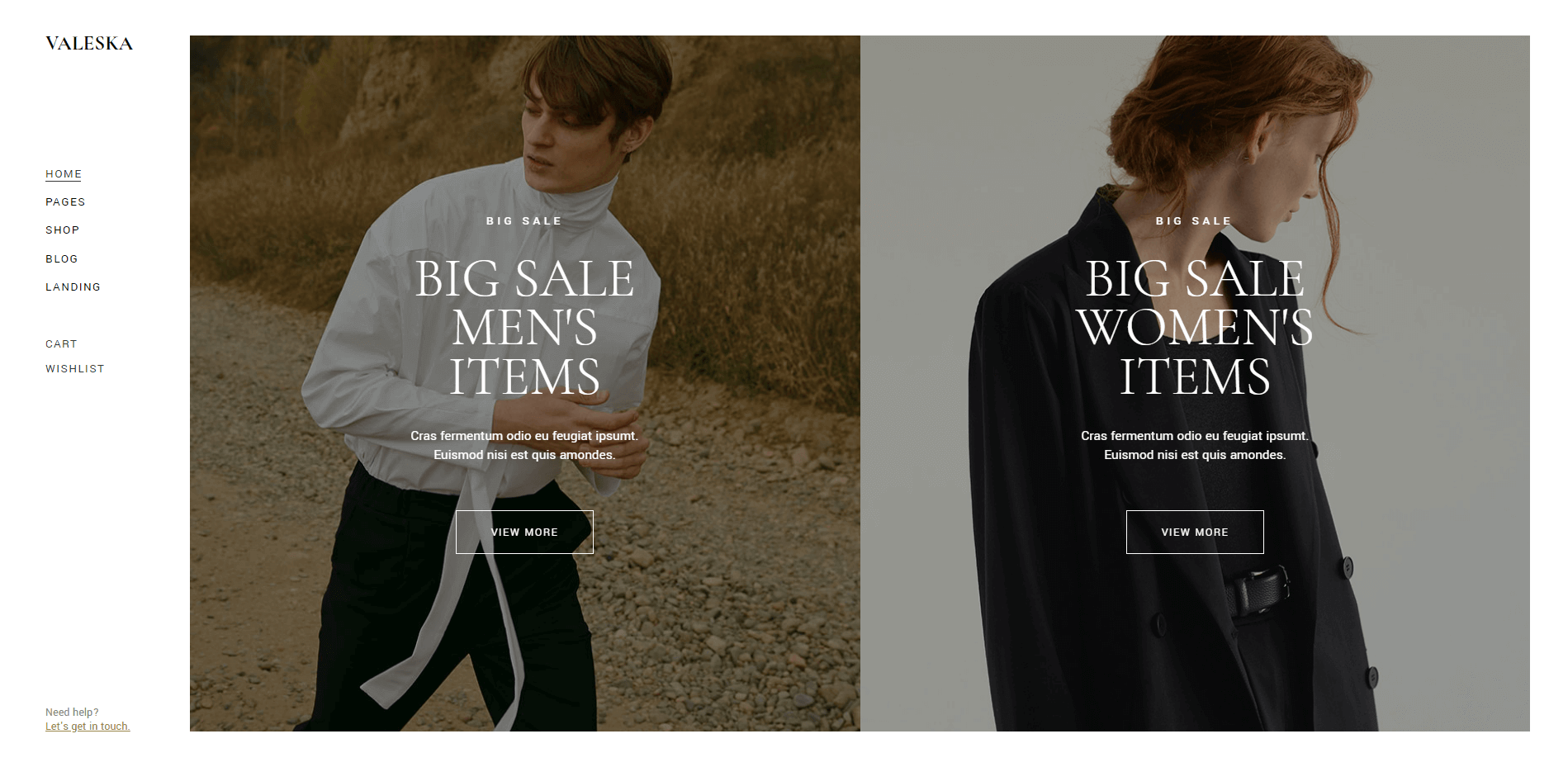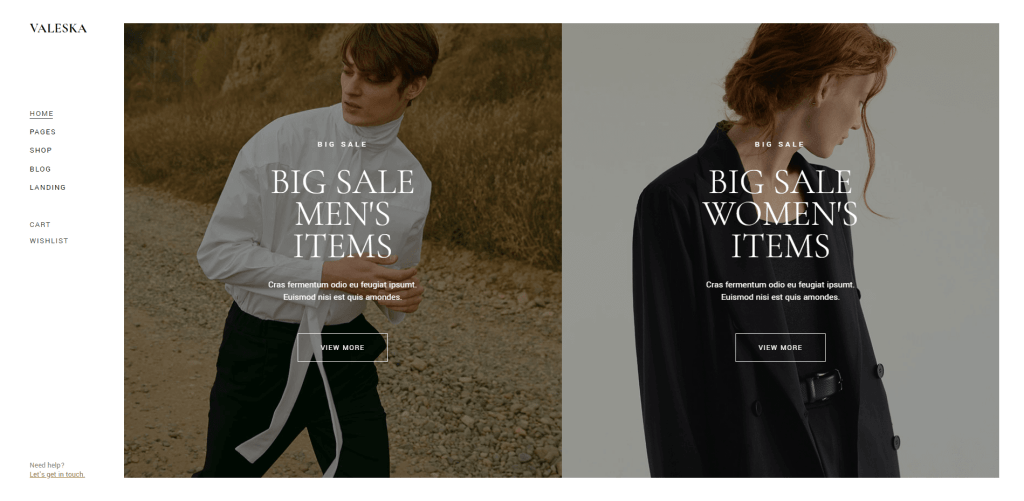 Valeska: Summary
Downloads: 299
Publisher: Edge-Themes
Pricing: $79
Noteworthy features: A custom framework for changing site settings from the admin dashboard, change content width, back to top button, and creative borders to add to your images.
The authors of Valeska describe it as a theme for fashion (clothing) and luxury brand stores. So, does it live up to that description, and would it be a good choice if you wish to acquire this theme for those specific types of stores? I have to say that Valeska does a good job sticking to the elements that make other luxury brands and professional clothing line stores stand out.
Those elements include:
Clean and spacious design.
Emphasis on using photography as the driving force.
Excellent choice of typography.
Combining these elements puts a significant emphasis on your product's presentation instead of design features that might feel overwhelming. While I agree dynamic designs are fantastic, luxury tends to be one of those niches where people already have an idea of your brand. And if this is the case for you, a theme like Valeska will make a strong case for getting customers to the checkout page asap.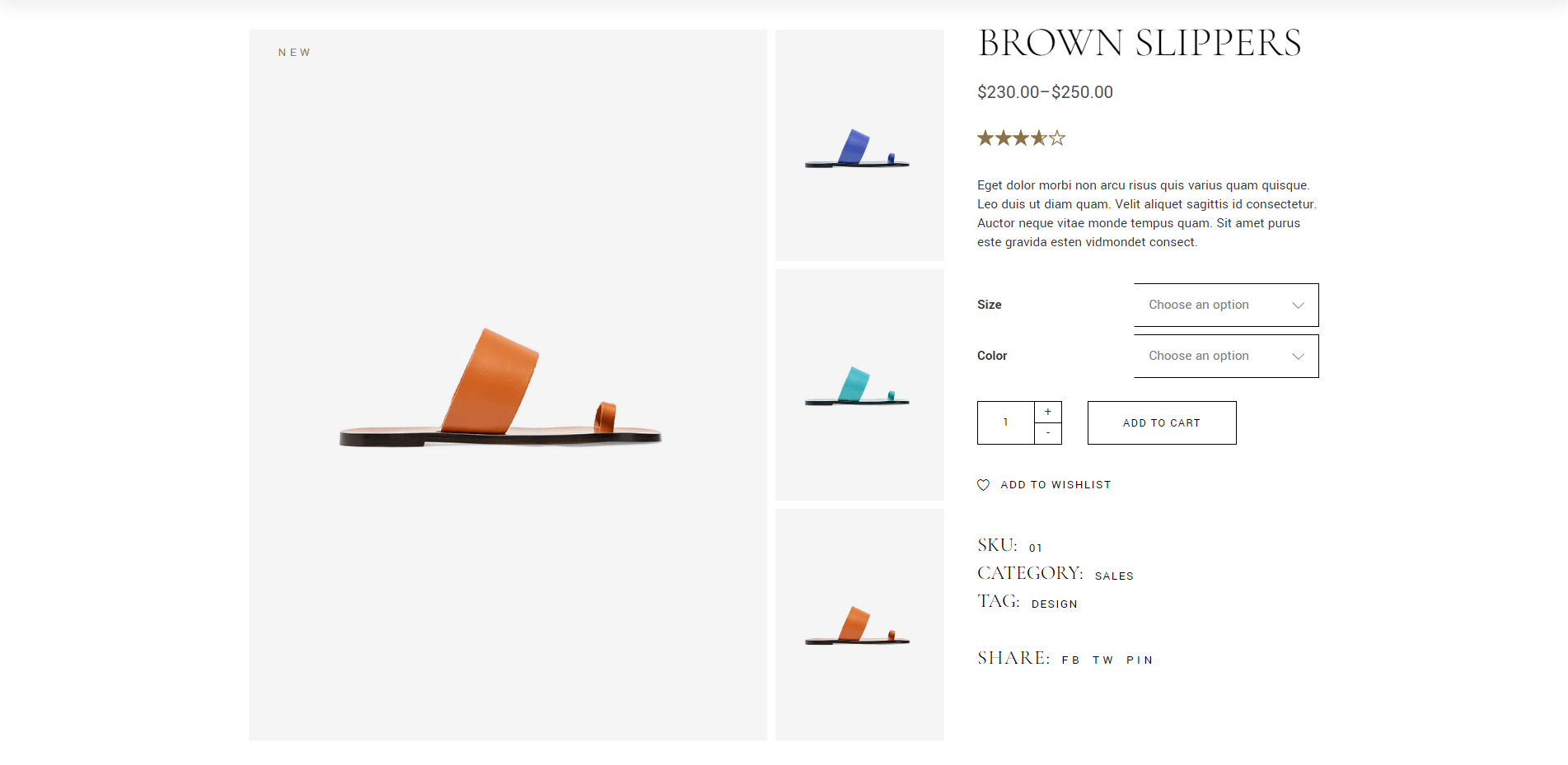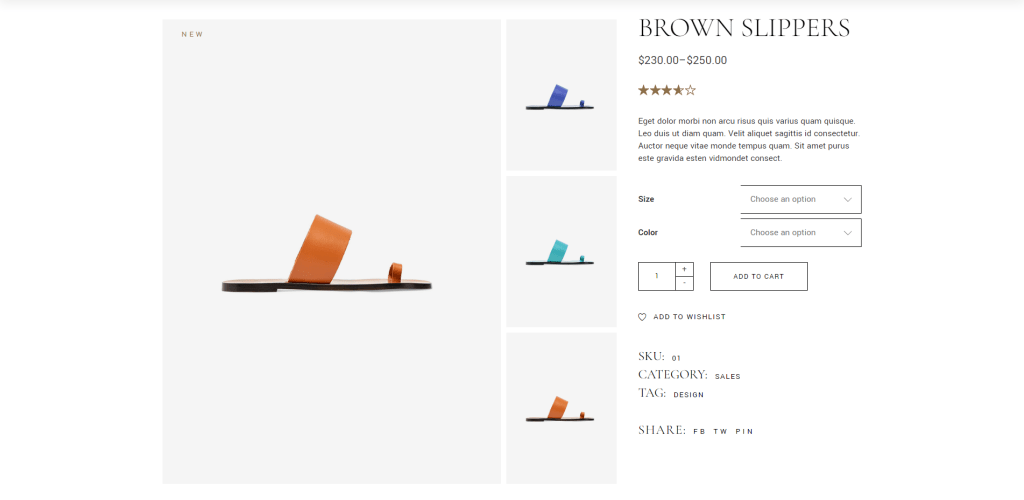 The product page design allows for things like variable product display (multiple versions/colors of the same product), product grouping (sell a dress + necklace, for example), and finally – the ability to sell digital downloads. These could be brochures, magazines, or anything relevant to your brand.
9. Elowen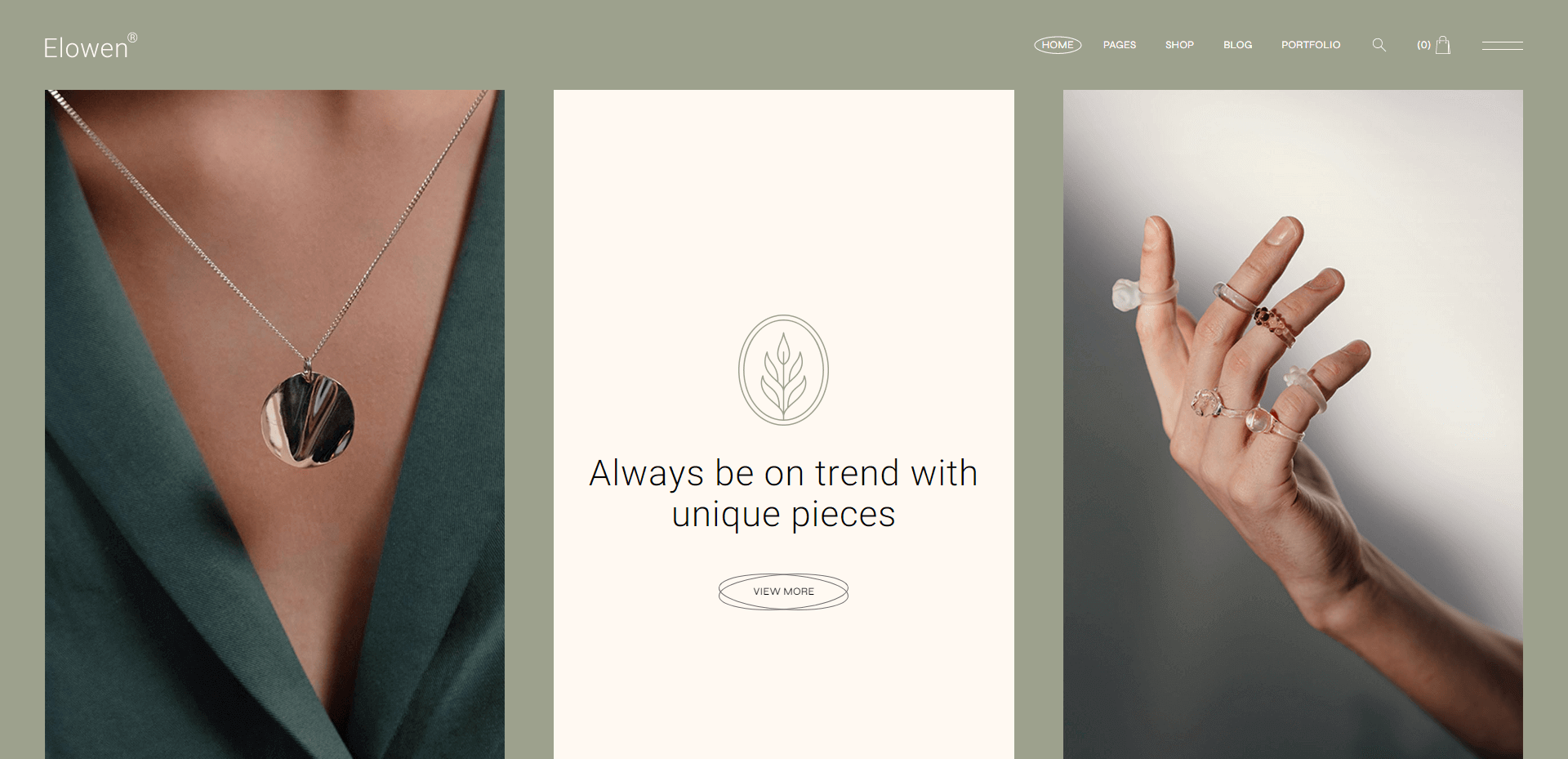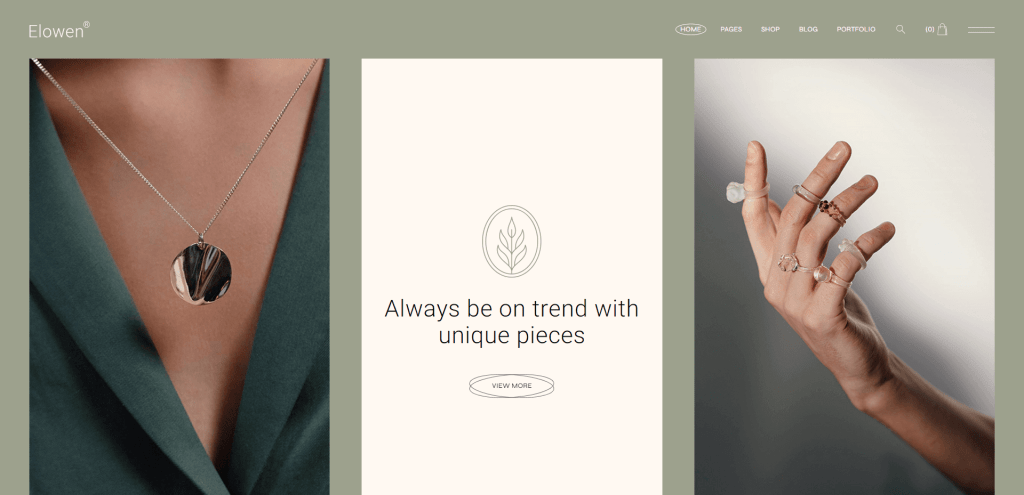 Elowen: Summary
Downloads: 51
Publisher: Edge-Themes
Pricing: $85
Noteworthy features: Unique design approaches for homepage presentation, a vast collection of shortcodes, ability to create Portfolio pages to archive past collections, elegant feel and look.
My first impression of the Elowen theme is that it is doing things that no other theme we've looked at has done so far, and that thing is making bold design choices! To be more exact, Elowen has two unique homepage styles: Fullscreen Slider and Divided Showcase.
Fullscreen Slider – this style uses nothing but full-width images in a slider format to present your products/collection. Nothing else on the homepage makes this arguably the boldest design choice in this entire list of themes.
Divided Showcase – this style uses the concept of dividing the homepage into two sections (side by side), one side can be used for promoting shop categories, and the other one to display products. When customers scroll down the page, only the product side will move. Super quirky!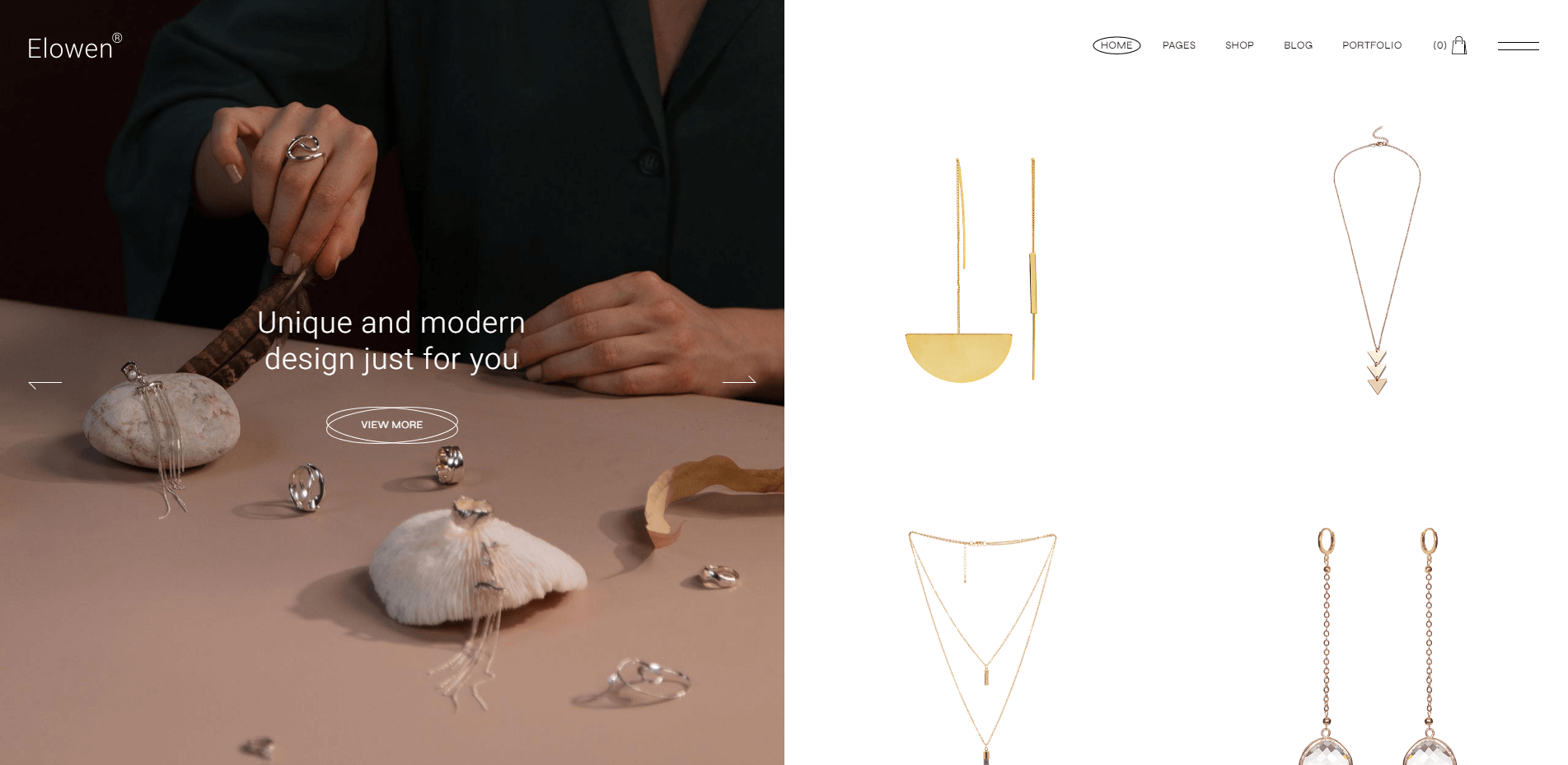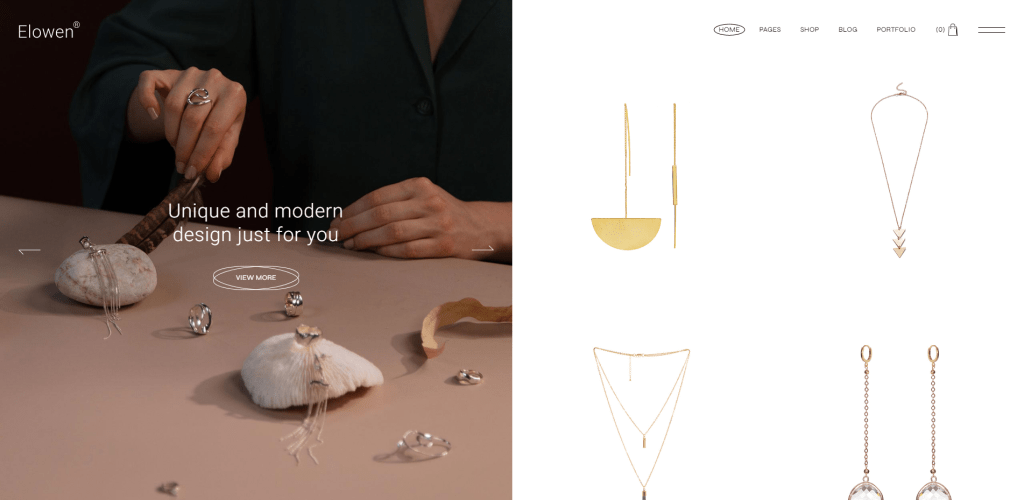 But these are not the only designs as part of this theme. You also have the Default design (ideal for traditional fashion stores) and designs for Jewelry, Cosmetics, Ceramics, and Watches. Each design has its own personality, but the consistent features include beige colors, animated hover effects for buttons and navigation, and aesthetic placement of photography.
This theme is also a great example of the eCommerce design trends we discussed at the start, as it follows the principles of asymmetry combined with minimalism and subtle interaction.
10. Tritmix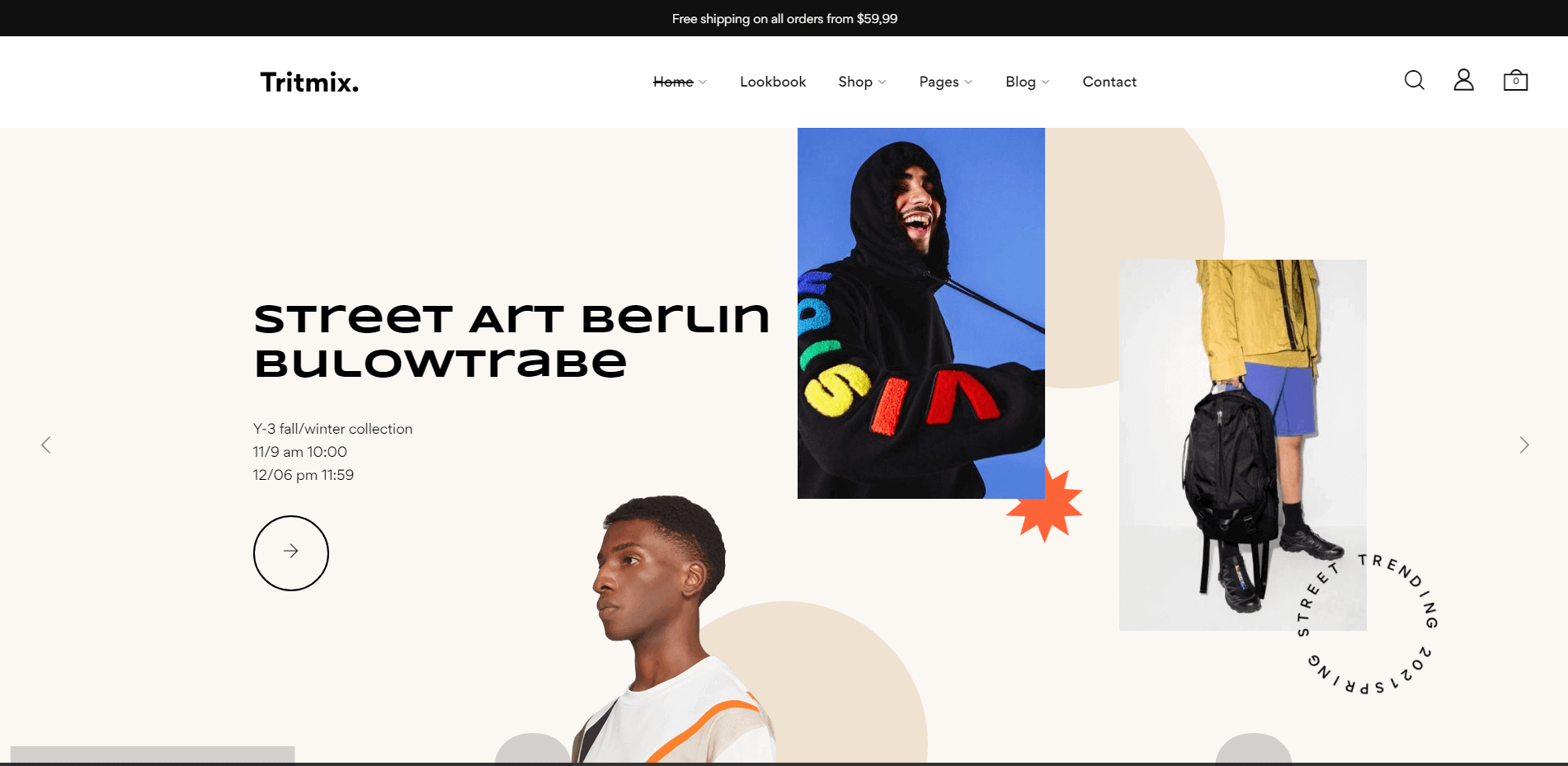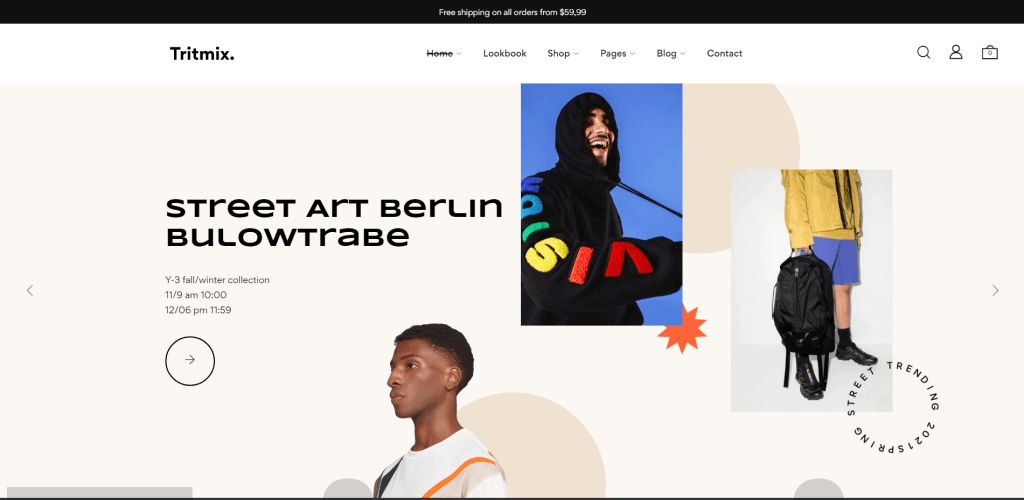 Tritmix: Summary
Downloads: 18
Publisher: leebrosus
Pricing: $59
Noteworthy features: Multiple plugins included to help boost sales, fashionable yet clean design, up to ten homepage options, blog design, and works with the Elementor page builder.
The Tritmix theme is a great choice for two reasons: it is new (very few stores are using it), and it feels fresh, thanks to its many design features and elements. One of those features is the use of modern fonts, combined with transition effects for product display.
Here's an example of the Recommended section:
If you love blogging or plan to implement it as part of your marketing strategy, the Tritmix theme offers several unique blog layouts. These are designed much like the product pages, with a strong focus on making the browsing experience feel fluid. And, best of all, when you find a demo layout that you enjoy, you have to click a button to import it, and your site is ready!
Other features as part of this theme include Smart Wishlist, Variant Swatches, and an Advanced Product Filter. The Product Filter works in such a way that you can specify multiple options for your products, and customers can then either find those products based on the said options, or they can choose specific options on the checkout page. You can even add Deal Countdowns if you like!
Building an eCommerce fashion store with WooCommerce
There are countless reasons why people love using WooCommerce (outside of the fact that it is built on top of WordPress), and among those, you'll find things like simple to use, easy-to-understand user interface, and access to hundreds of themes and plugins.
This collection of fashion store themes is evergrowing. It takes some time to review each design, understand its best features, and then list it out. But rest assured, this list will grow as more great themes become available. Until then, hopefully, this list (so far) will help you find your next design!
Frequently Asked Questions
Are these themes mobile-friendly / responsive?

Absolutely! Every single theme on this list has not only a responsive design but, in many cases, a carefully optimized layout structure specifically for mobile devices.
Where can I get help with settings or customization for these themes?

All themes in this collection come with 6 months of complimentary support from the agency that published the theme. This includes customization, settings, and help with other technical tasks.