WordPress has come a long way from being seen as only a blogging solution. Since the release of the Gutenberg Editor – the platform has continuously pushed for giving its users more freedom with design choices using the concept of Blocks.
The ultimate goal for Blocks is to transform WordPress into a website builder. It is already possible to a certain degree, through the use of plugins, and, more recently – the addition of Full Site Editing. FSE is a new kind of website-building experience where WordPress users can style the design of their site directly from the front end.
What is Full Site Editing?
In simple terms, the Full Site Editing feature lets WordPress users change the design of their (block) theme, without having to write any code. The emphasis is on Block themes since this new feature is only available to themes built on Blocks' foundations.
As a WordPress user, you are already familiar with using the Gutenberg Editor to write blog posts using blocks. The idea for FSE is the same. Just like writing a blog post, with the Full Site Editor, you can also edit the design of your site using blocks.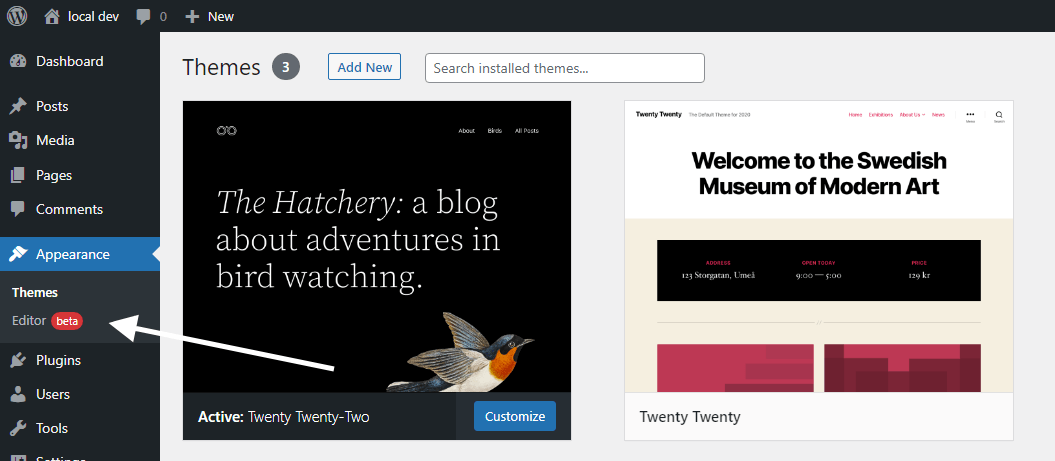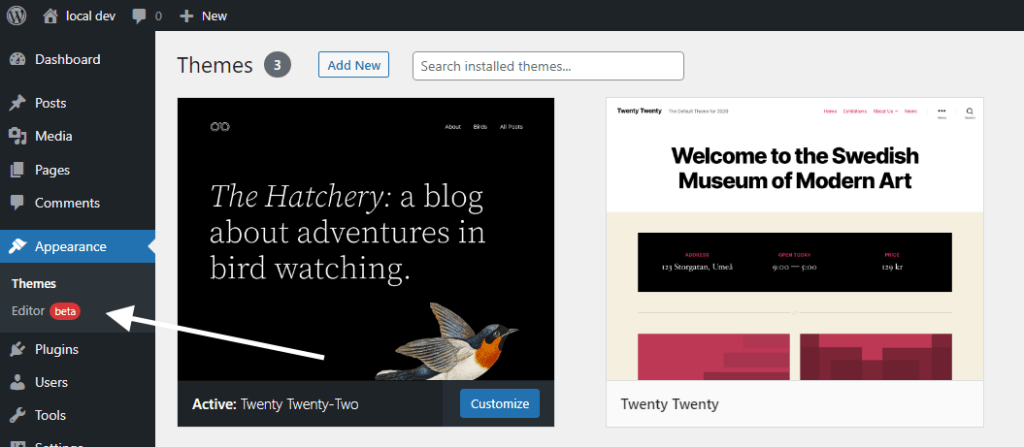 Once you activate a Block theme (such as Twenty Twenty-Two), you'll notice a new option underneath the Appearance tab from the Admin dashboard. It is called Editor.
Clicking on Editor immediately takes you to the new Full Site Editing dashboard. The default page that opens is the homepage. But you can select any page supported by the theme, and begin customizing. Here is an example: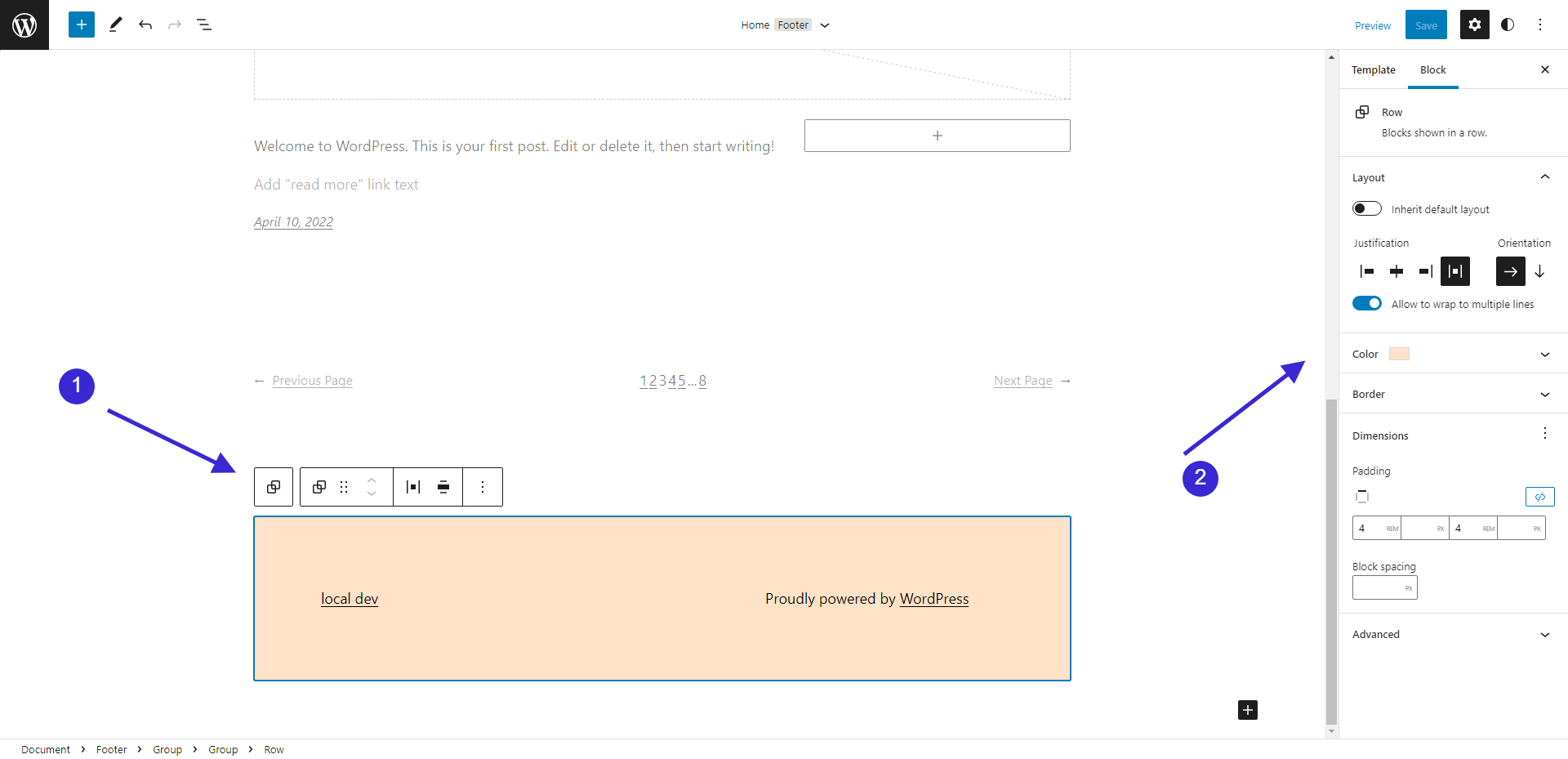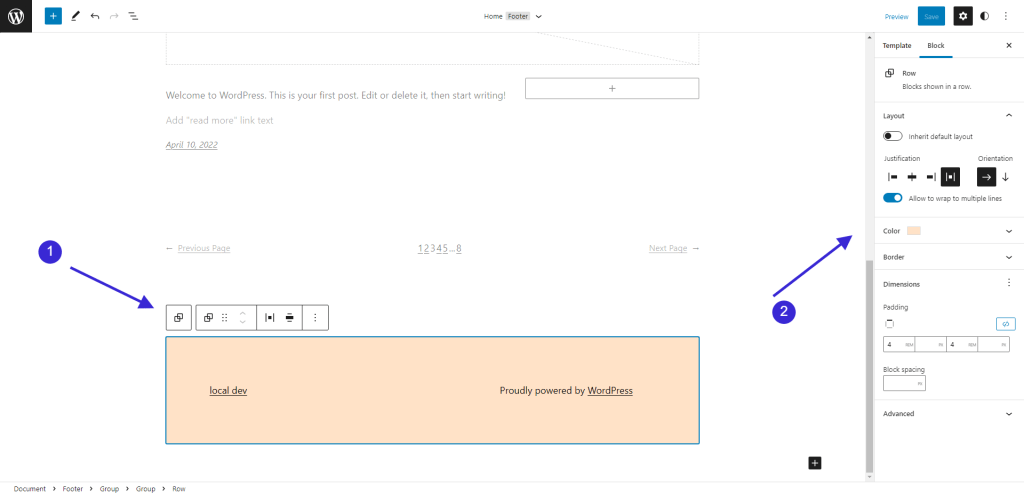 In the demo above, I have:
Selected the Footer block as a whole section.
Changed the background color using the Block editor.
I didn't need to write any custom CSS. I also didn't use a single plugin. All of the changes are saved directly into the theme itself. Best of all, you can style your entire website this way.
You can select the smallest elements, including pagination and individual navigation items. It is a native website-building experience inside WordPress itself. And, as you can imagine, it will only improve as time passes.
Ushering in a new era of WordPress
The concept of FSE is still very fresh in everyone's eyes.
I think it's safe to say that for the time being, FSE will struggle to compete with refined website builders like Elementor and Visual Composer. But I'm certain that things will change dramatically with the release of WordPress 6.0 and beyond.
As for block themes, developers have already started working in this area. In the WordPress repository, there are over 60 such themes available. And perhaps another 50 spread out through both premium designs and open-source projects.
So, with all that said and done, I think it's time we take a closer look at some of the best Full Site Editing themes. Updated frequently to include new themes as they come out!
---
Wabi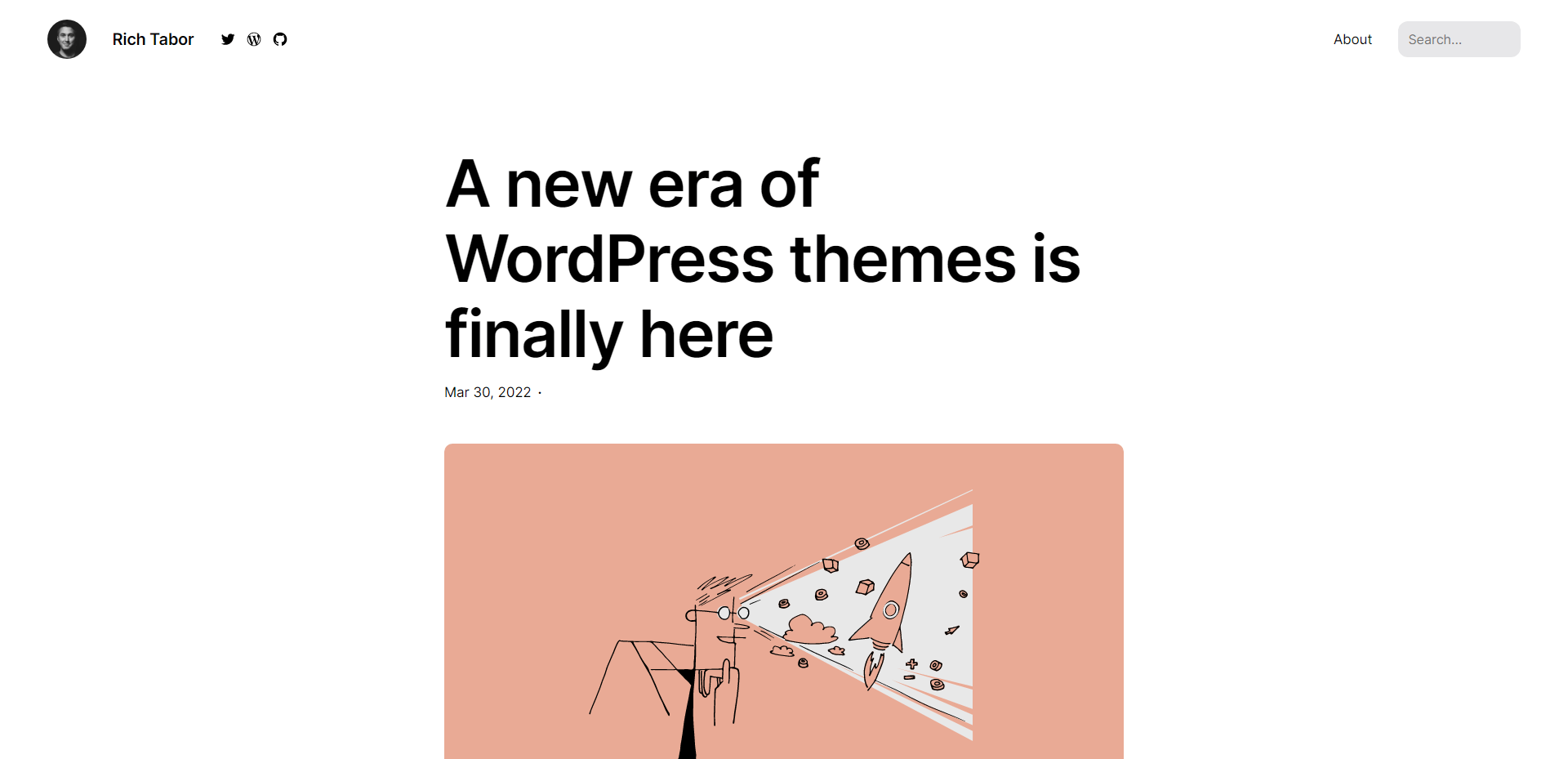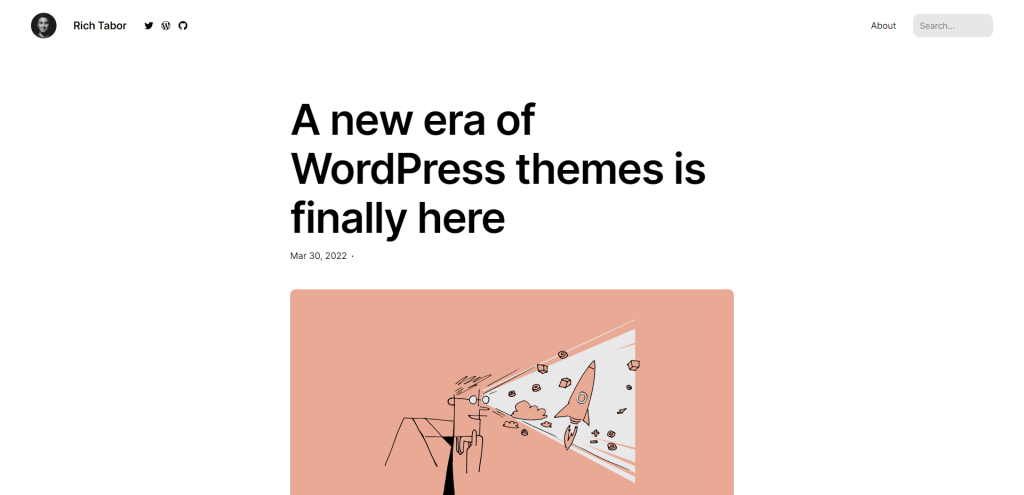 Rich Tabor has been building WordPress products for over a decade. You might know him from plugins like CoBlocks, but also his theme company ThemeBeans. As it happens, not only is Rich a big fan of the new WordPress features but he also has built a Full Site Editing theme himself. The Wabi theme.
Much like his Tabor theme (which I love!), Wabi is built for storytellers, bloggers, and anyone interested in publishing detailed content. It's also an excellent choice for portfolio sites, and Rich uses the theme on his website.
One of the key features of Wabi is the ability to switch styles* in a single click. It has both a Light and Dark theme and multiple dynamic color variations. This gives you the creative freedom to style each post independently.
Use the links below to read more about the theme and see it in action.
* The Gutenberg plugin is required for custom styles.
Tove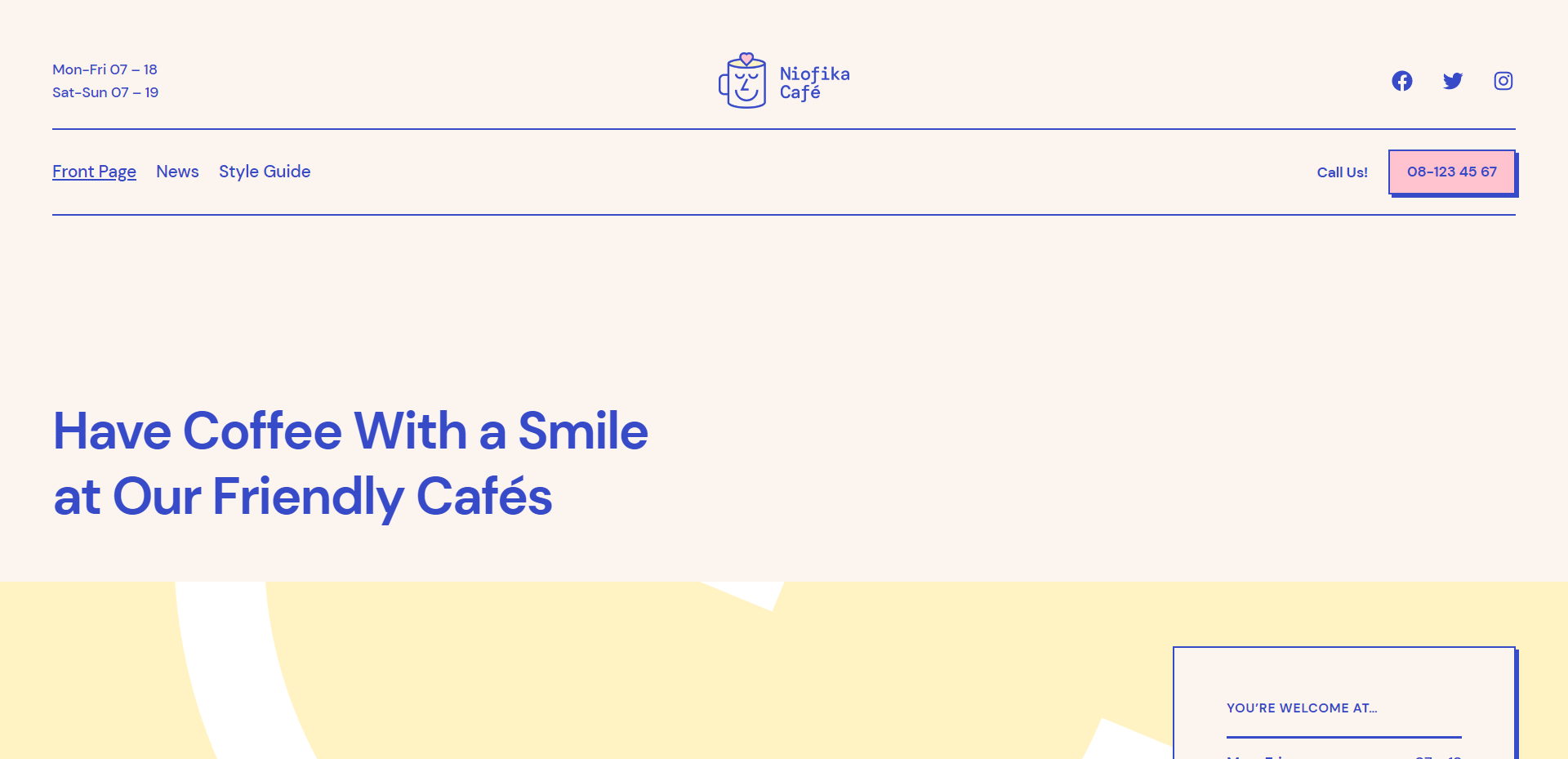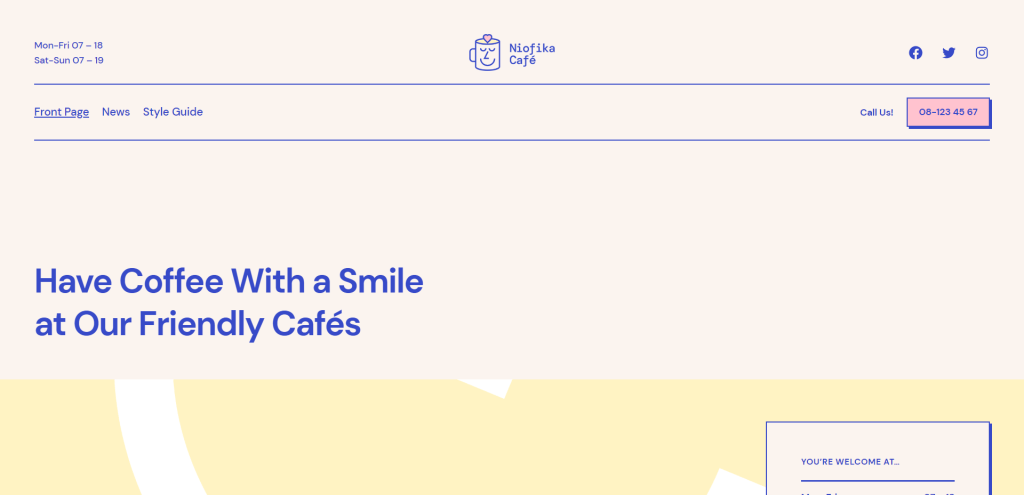 Seeing a new theme released by Anders Norén is always a treat. And if you're a fan of a stylish design approach, the Tove theme will impress! But not just with design, either.
The theme is built from the ground up as a starting point for Full Site Editing. And Anders has put in quite a lot of work to provide creative elements out of the box. But on top of the design, the theme leaves a small footprint; using no JavaScript or front-end images.
The demo site (link below) is built for a restaurant site. But, if you like the theme's overall feel, you have total freedom to adapt it to your needs. All in all, around 40 block patterns are included in the Tove Style Guide. You can use these to stitch together any number of designs for any of your WordPress site pages.
Blockpress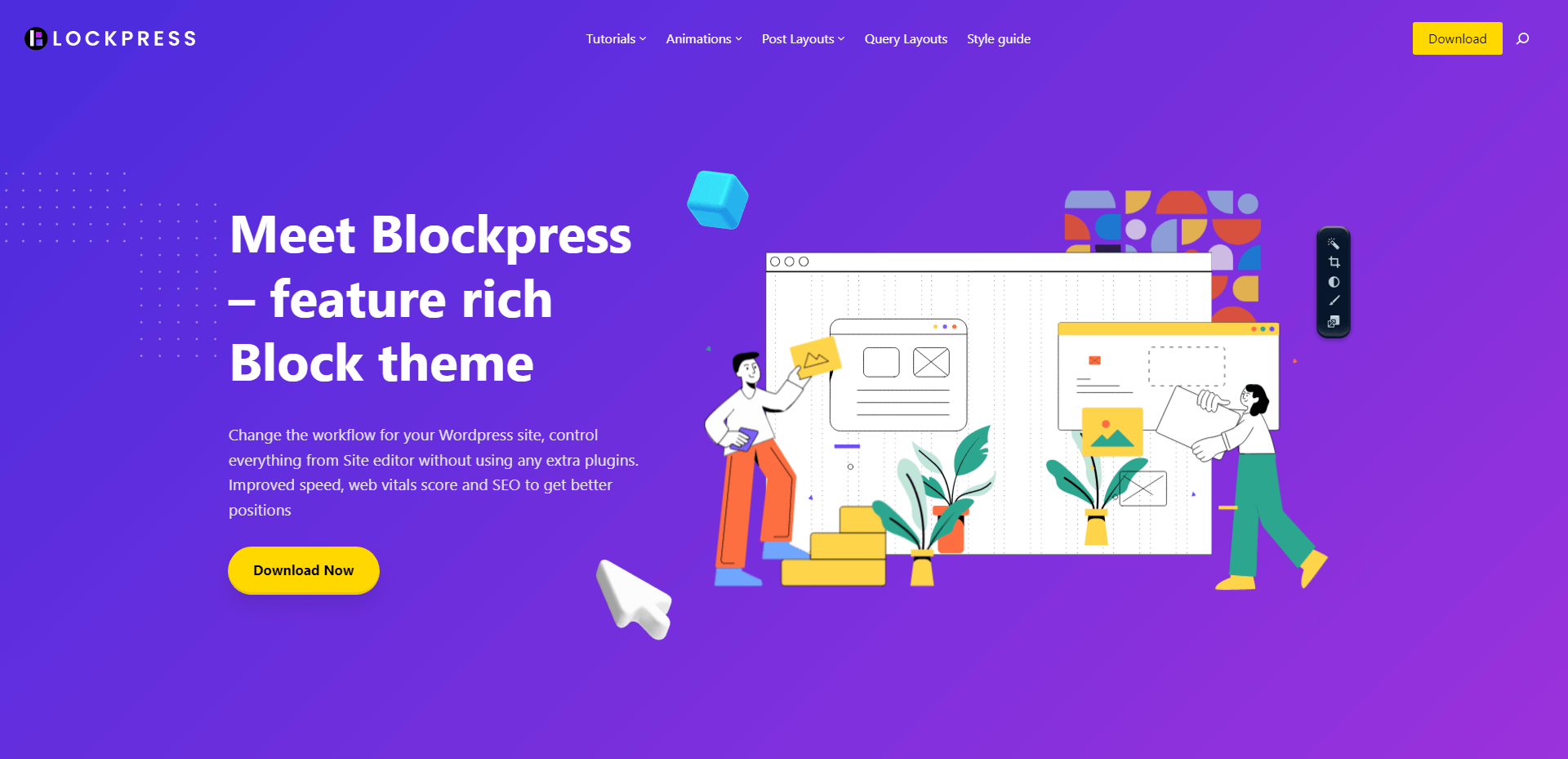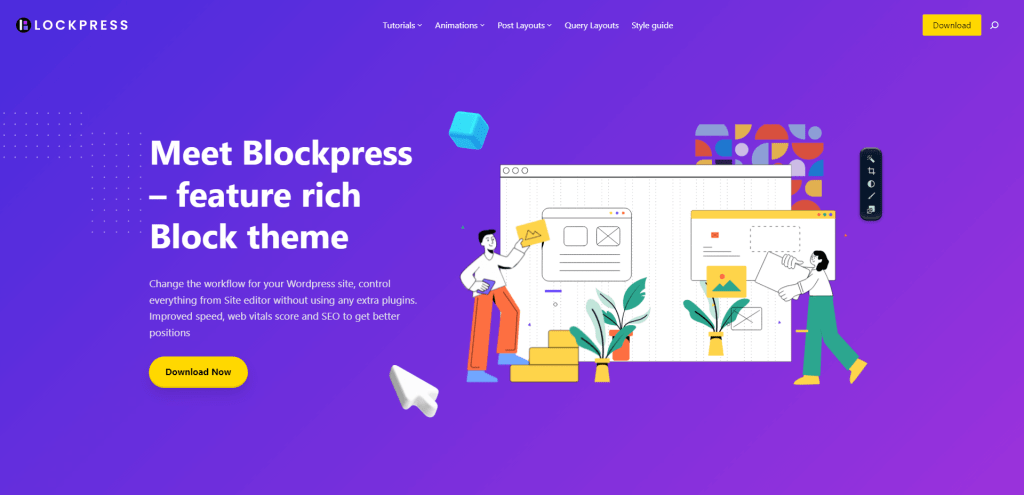 Blockpress looks to be one of the first all-in-one block themes which support Full Site Editing. And, it's built with best practices in mind.
Specifically, Blockpress is optimized for asset usage. Each page uses only a small footprint of required assets, and everything else is loaded based on the blocks you use on any page. Additionally, the theme doesn't use jQuery or external libraries.
The result of this is an extremely good Core Web Vitals score. Another interesting feature is the inclusion of animations. Which, as I said earlier, is what this new paradigm of themes is going to be all about. With Blockpress, you can use the Lottie Animations framework features, directly from your block editor. No performance bottlenecks, either.
Archeo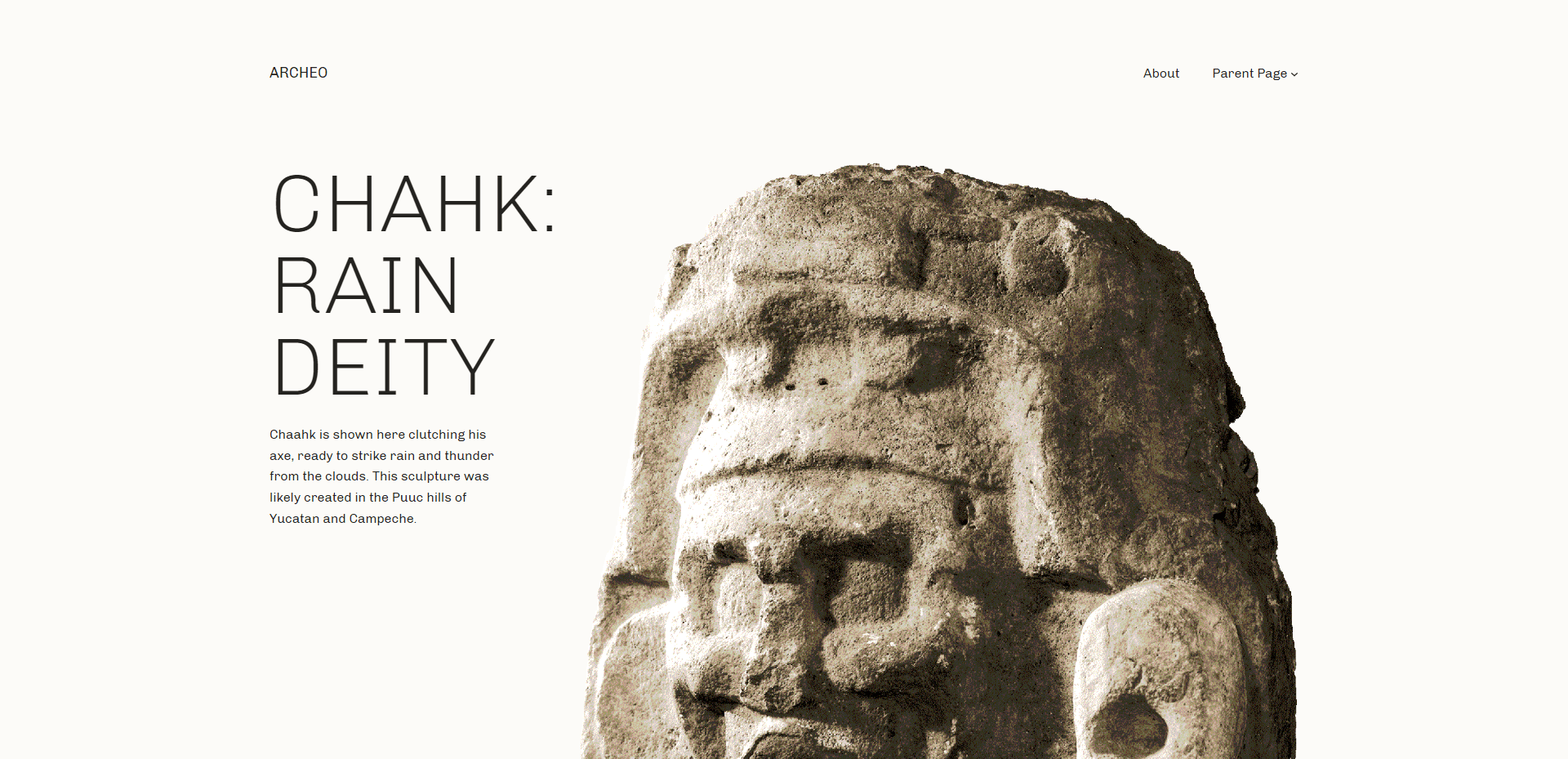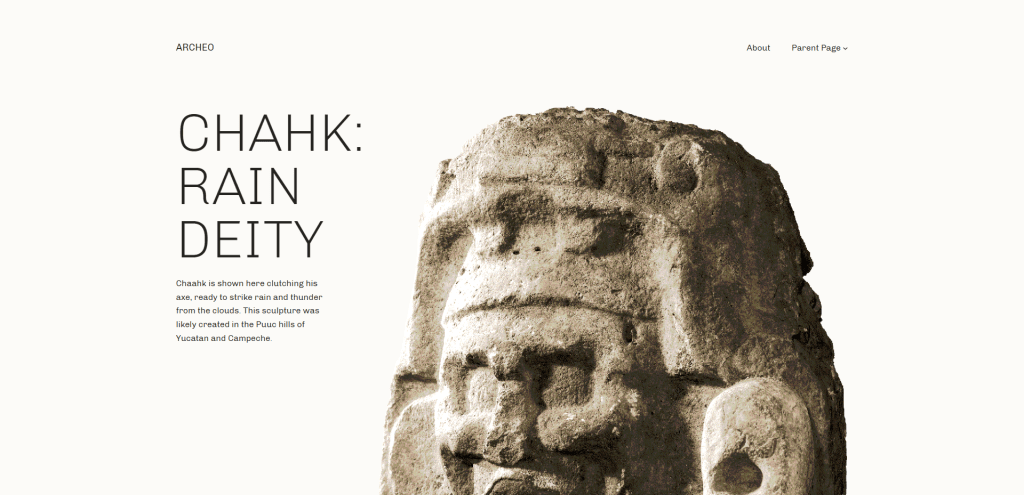 It only makes sense that Automattic themselves would produce FSE themes. There are a few on this list from them, and the first one is Archeo. The theme is built to be used by writers who love a simple layout with large typography.
The main concept behind the design is to have a large photo as a hero section, a mid-section for blog posts, and a dedicated footer. Inside blog posts, the layout structure remains the same. Of course, you have plenty of freedom to change things around.
Bricksy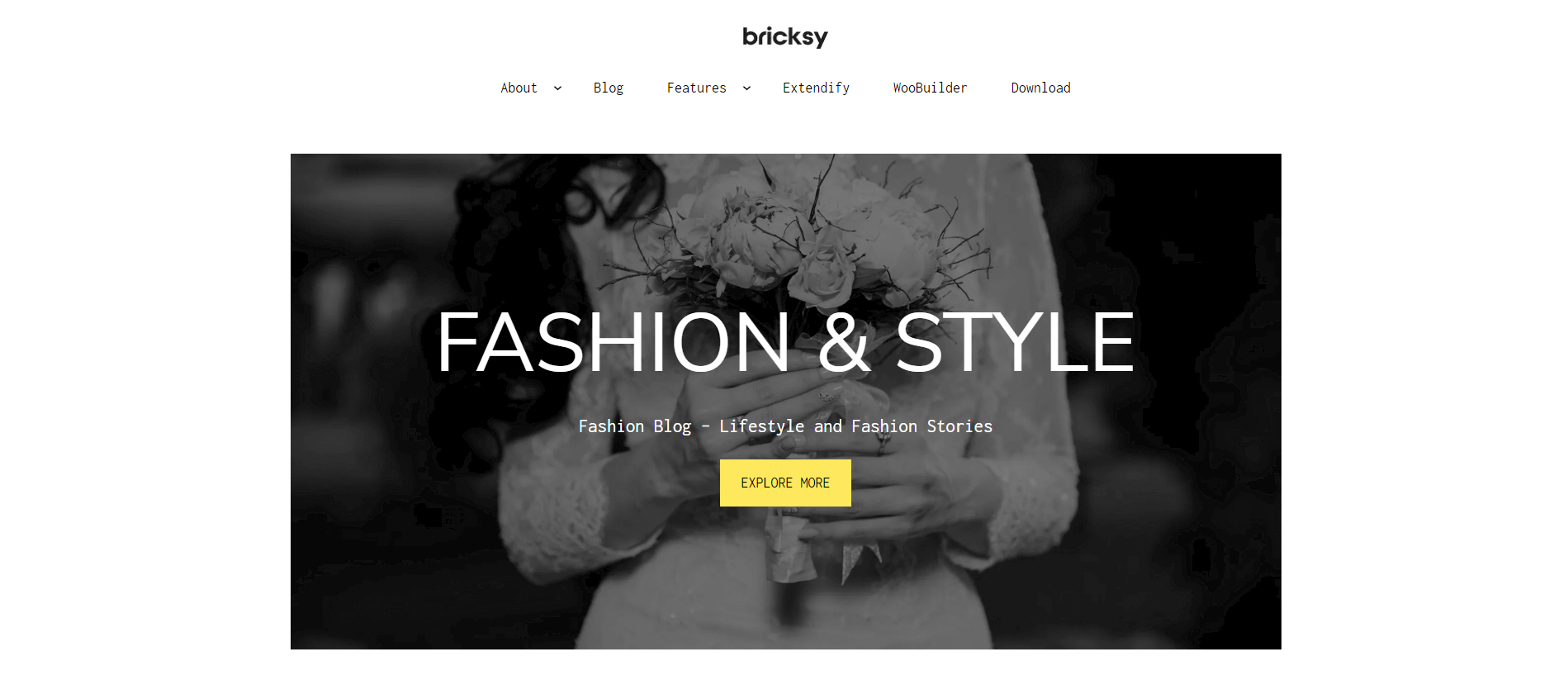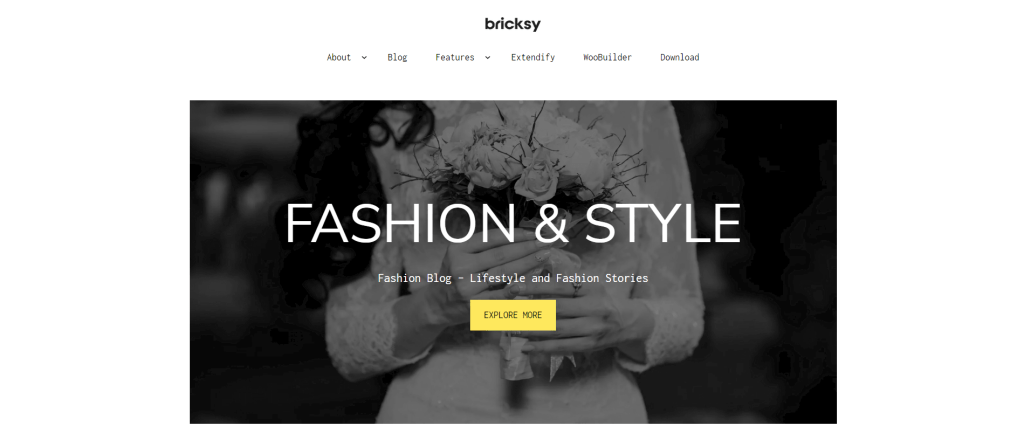 Bricksy from Anariel Design is yet another theme focused on the multi-purpose approach of block management. Specifically, Bricksy is designed to include a variety of block patterns, which act as the foundation for the site design you wish to achieve.
At this time, Bricksy has demos for food, wedding, and fashion blogs. But, upon taking a closer look at all the patterns, it's safe to say you can integrate this theme into practically any project. You can check out the website link below, in which a video introduction to the template library is included in this theme.
Speaking of patterns, check out this article from Justin Tadlock on WP Tavern - WordPress has added a Patterns directory, which has community-made block patterns you can copy and paste into your existing themes. Fully compatible with any WordPress theme.
Skatepark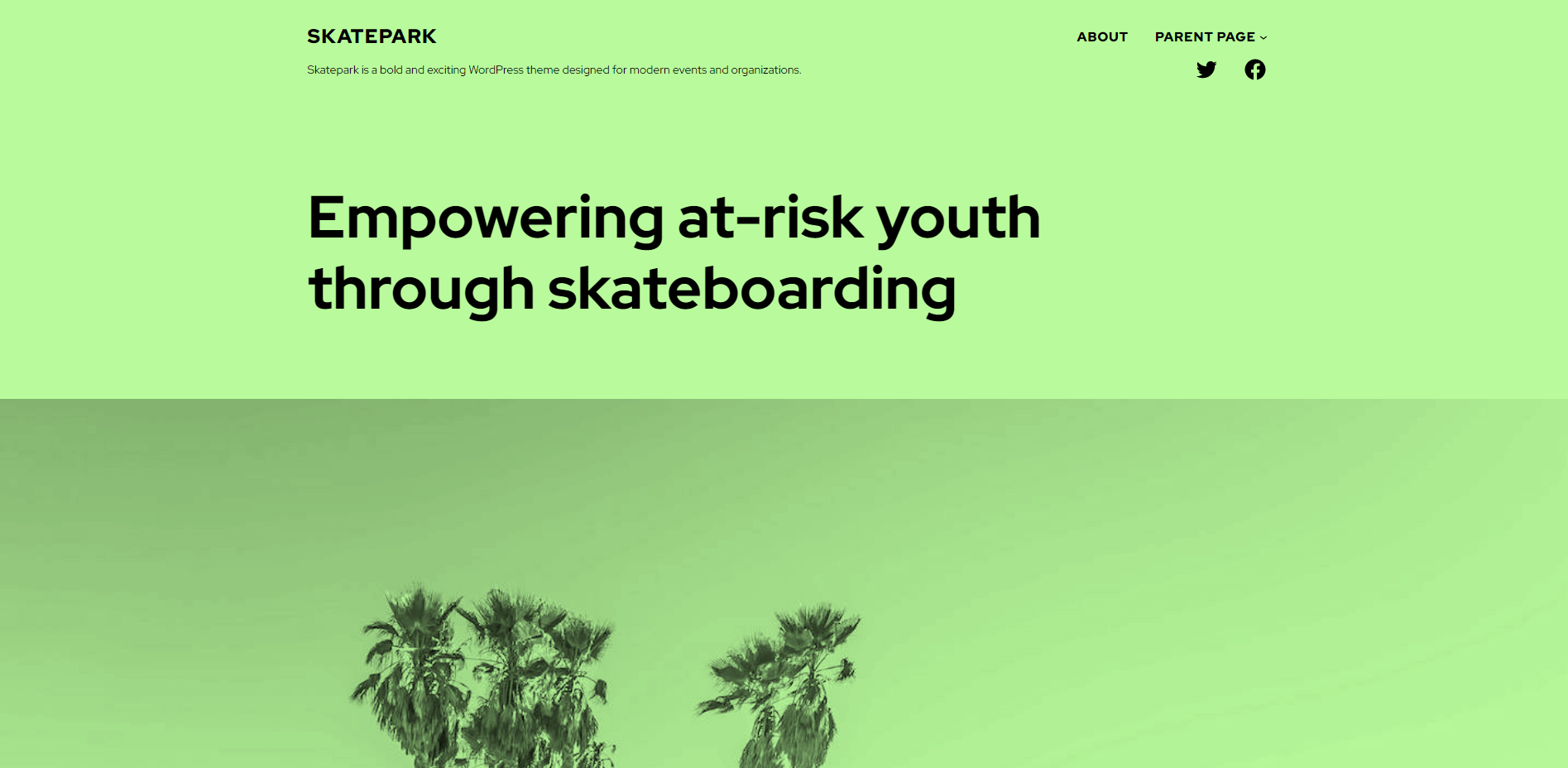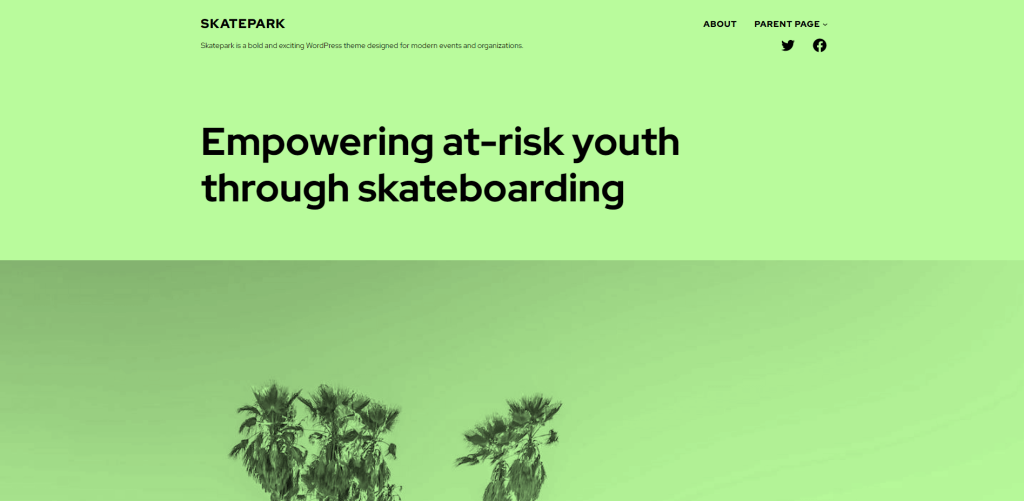 The Skatepark theme will be a fantastic starting point for any media-related websites you plan to build with WordPress. As a Full Site Editing theme – it is built to be customized by you.
Geologist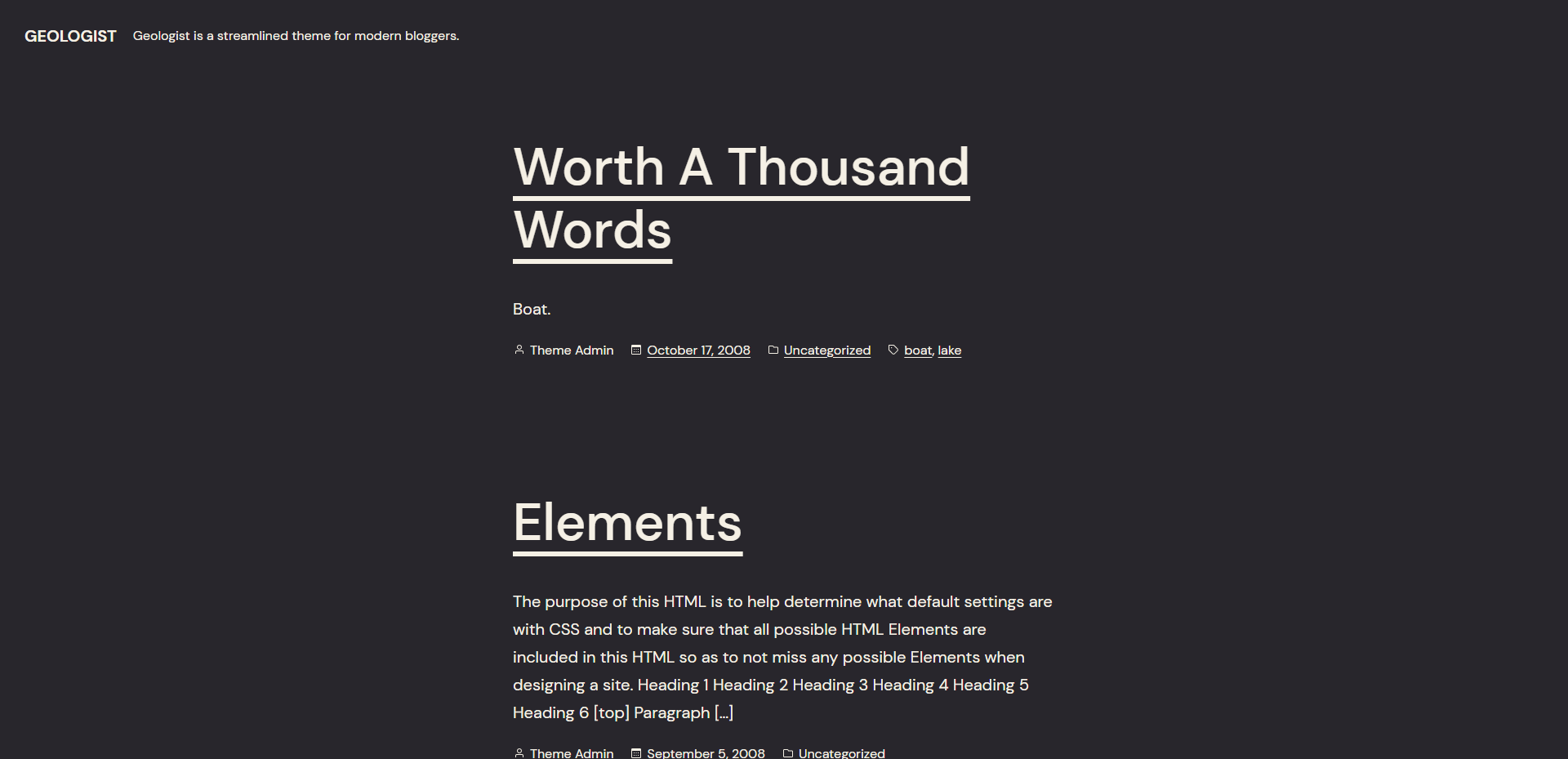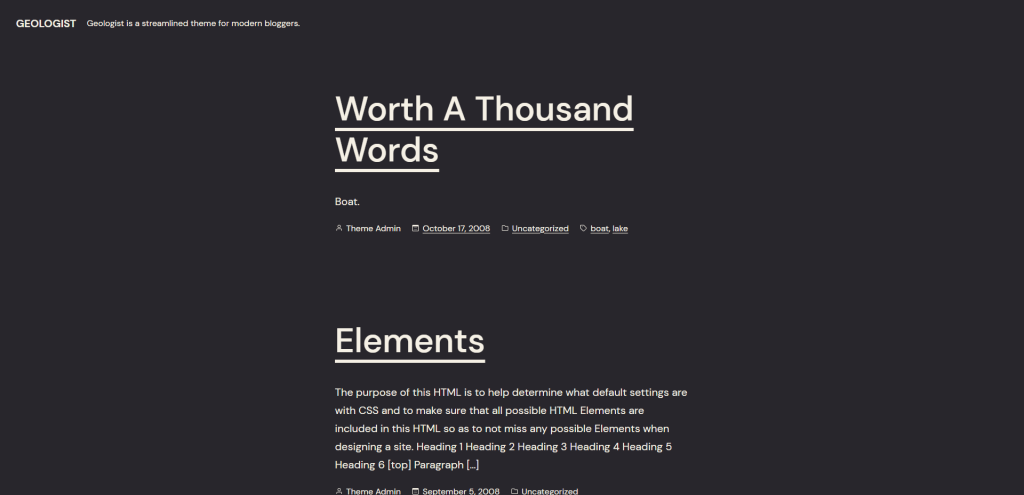 Geologist is another Automattic theme (last one, I promise!) – focused on writing, with a native dark mode in case that's your forte. Overall, the minimal style means there isn't much to say, other than the codebase being optimized for real-time block management.
Ona Minimal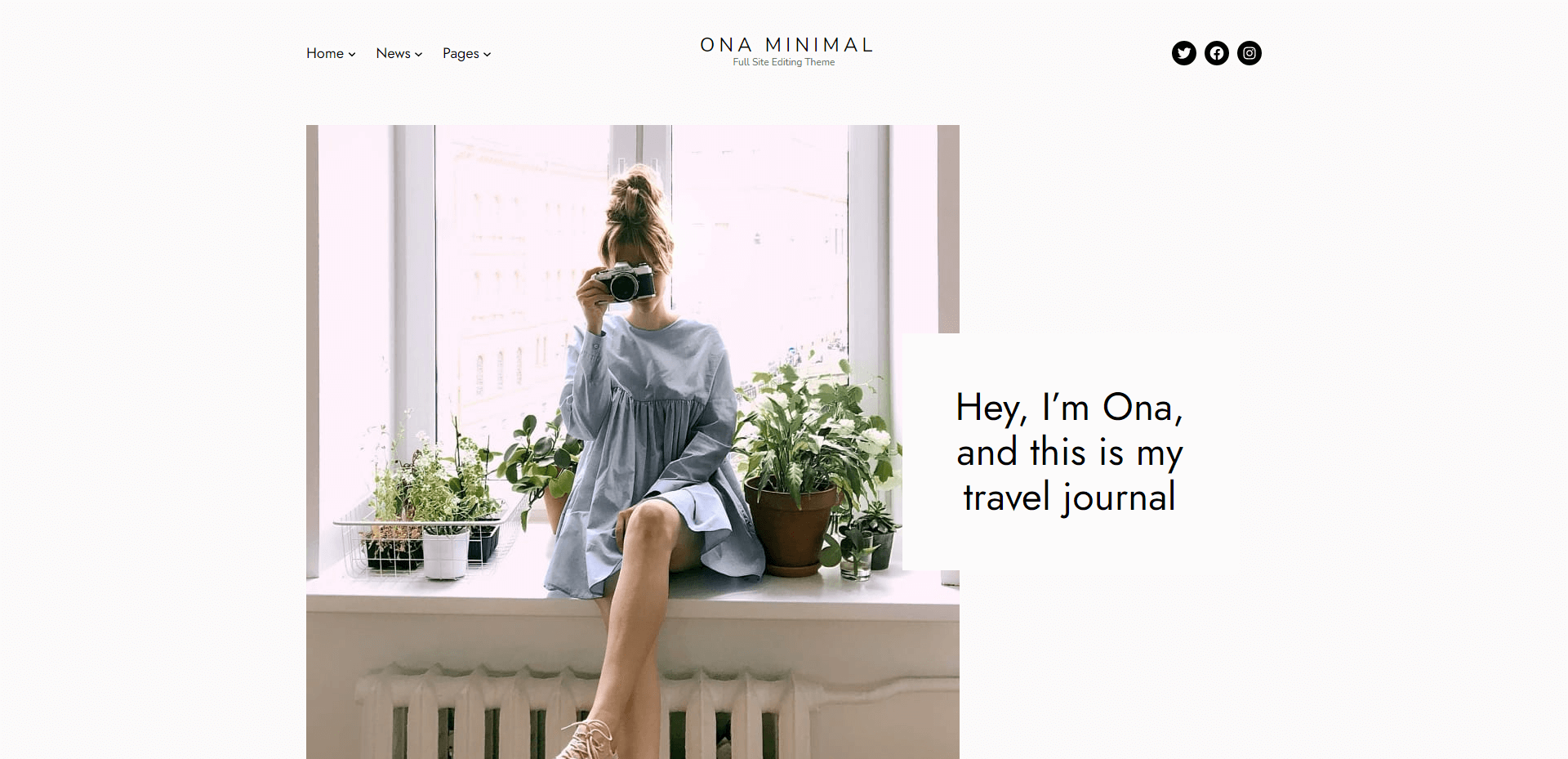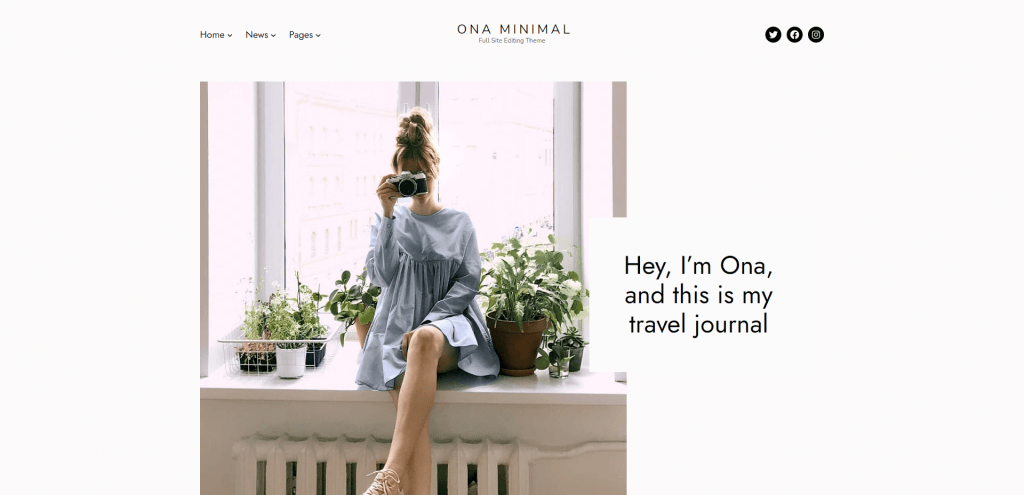 Even though the Ona theme is described as minimal, I feel the design style helps compensate for it a lot. Then again, I'm a big fan of stylish typography, and Ona just has that structure to leave a good impression.
If I had to say who this theme is for – I'd say it's for professionals, fashion bloggers, and anyone who likes a clean layout. I also love the attention to detail:


A clean subscription form with social links is just perfect. Other patterns include a portfolio block, an Instagram feed, and a super nice full-width blog post layout.
Kemet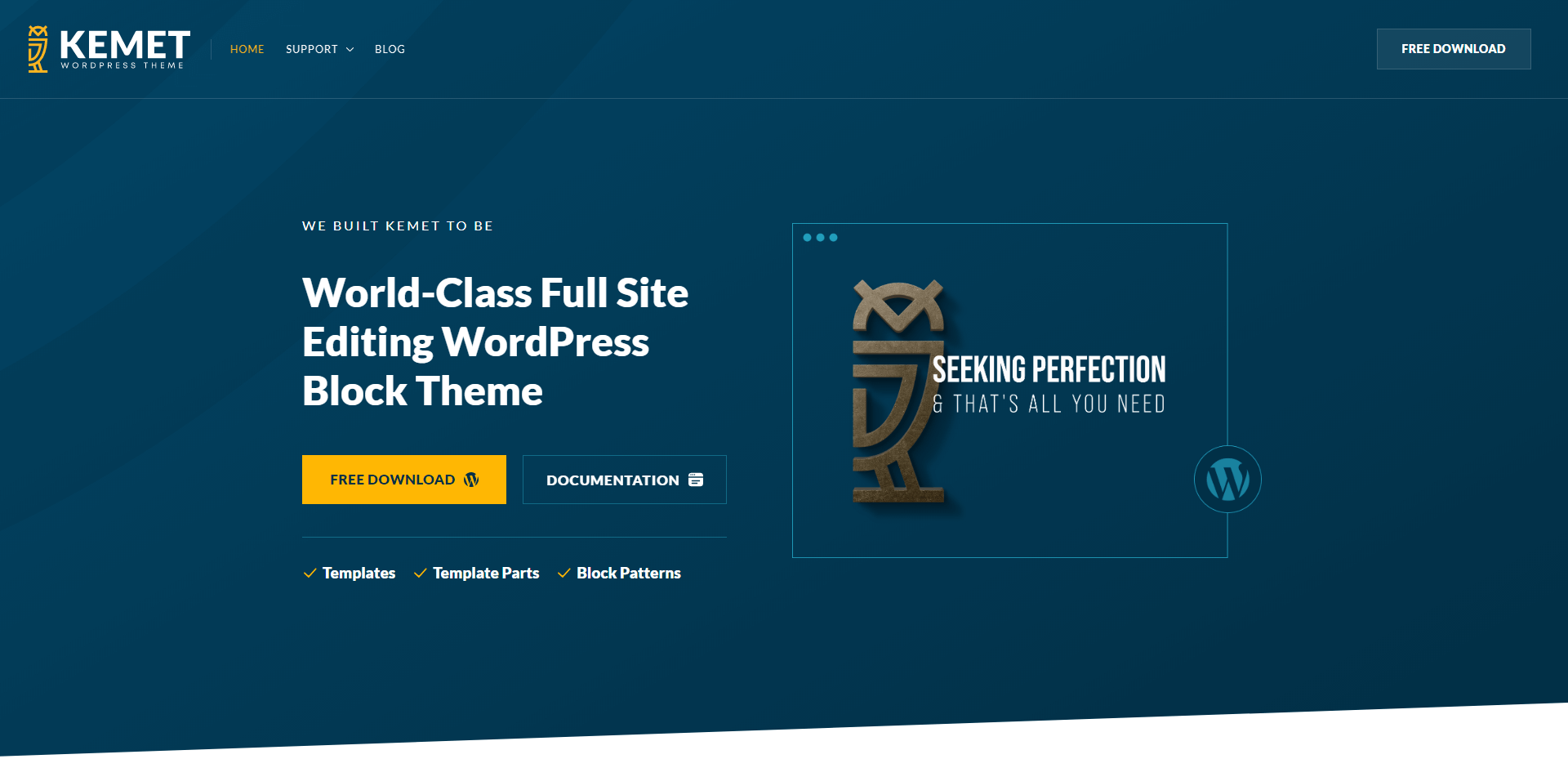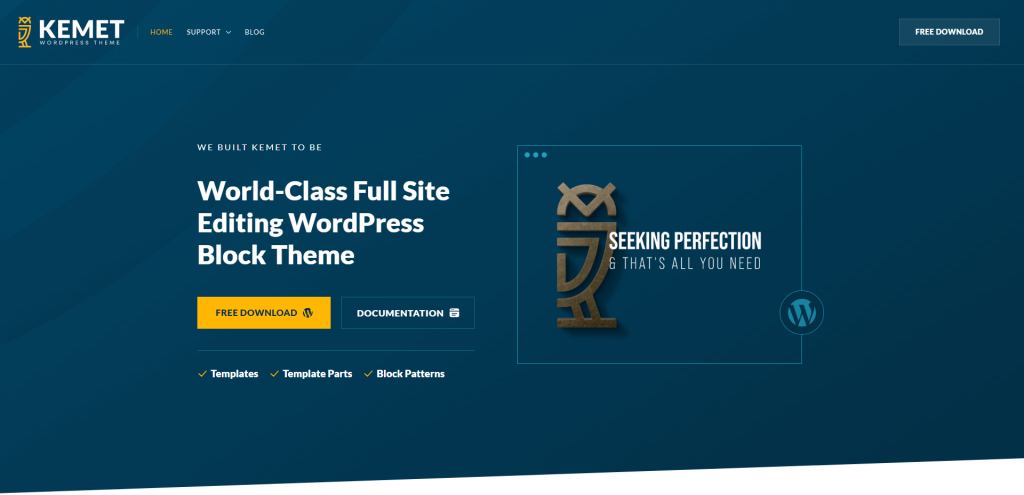 My impression of Kemet is that it's more like a framework than just a regular theme.
It's packed with features like sticky containers, separate template parts, and custom image styles, and is also optimized for translation. The in-built template patterns are particularly useful when building a multi-page website. If you're looking to create a business or an agency site with Full Site Editing – Kemet is a theme worth considering.
Financio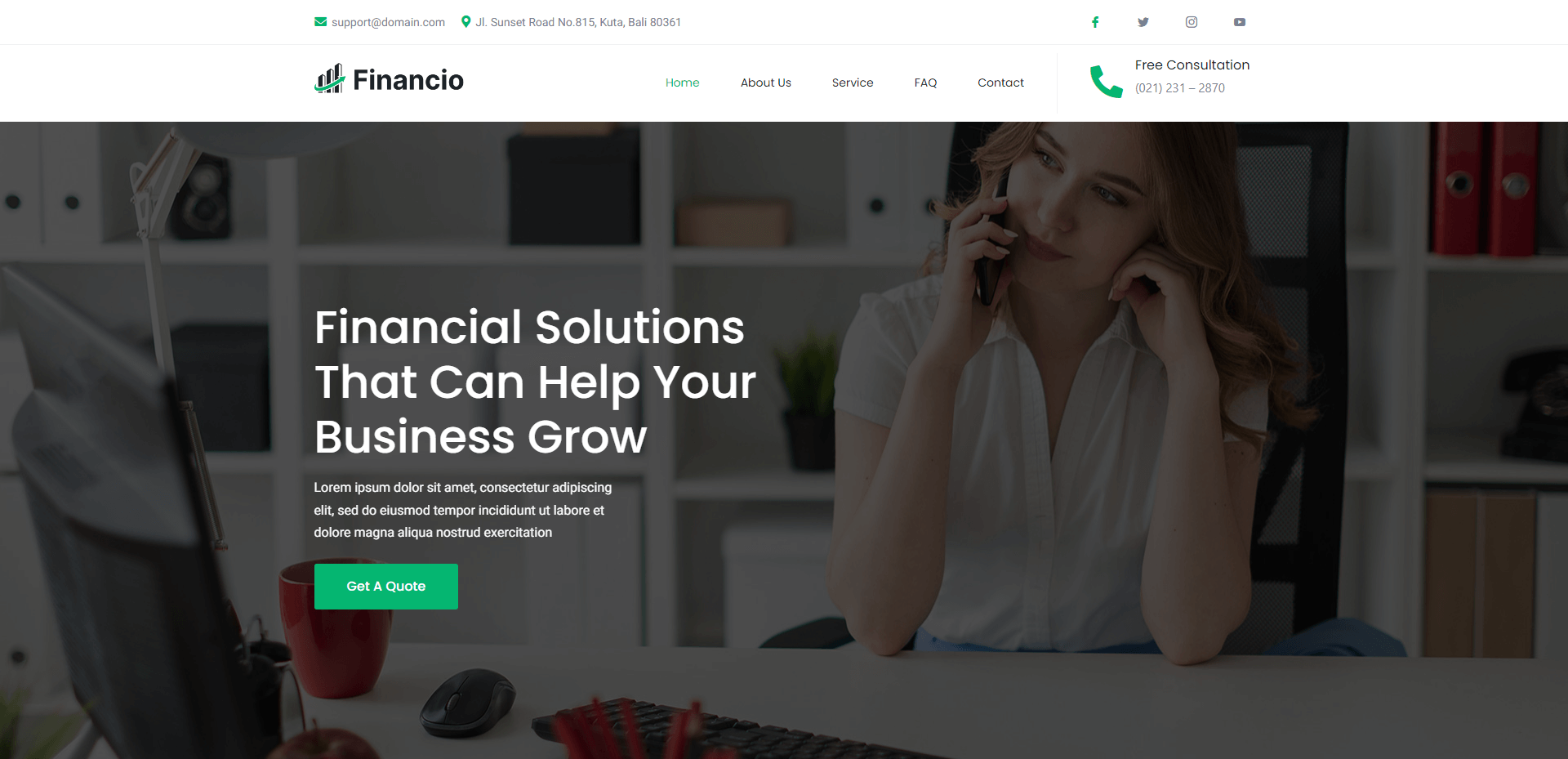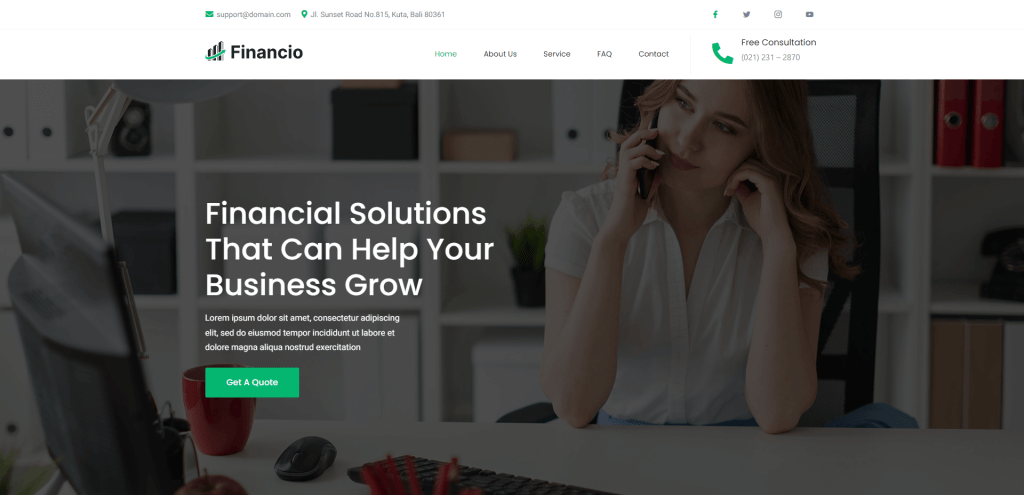 The default design of Financio seems to target business-style websites. The neatly organized navigation menu with a full-width hero page is quite nice. All the icons you see used for feature cards and other site elements can be replaced with a single click.
Worth noting that Financio is developed by Gutenverse. And they have a bit of experience working with WordPress blocks. So, expect a smooth site editing experience, which you can build upon from the pre-made template they have provided.
Catch FSE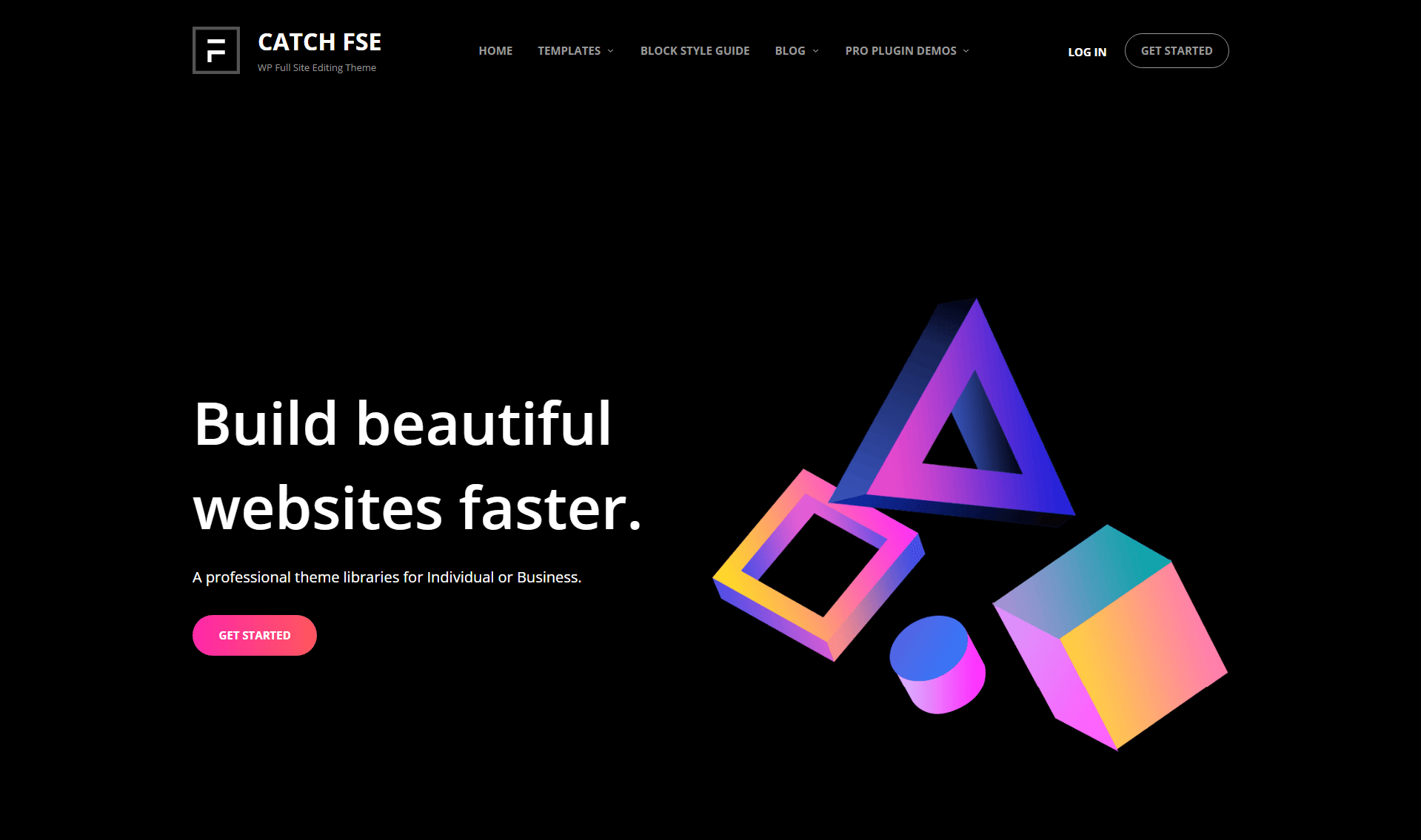 Catch is one of the newest WordPress themes that support Full Site Editing. It's also one of the few themes built as a landing page instead of a blog design. The layout, as you would expect, includes many sections covering all the important aspects of building a business landing page. All are editable directly from the front end.
And if you want your website to have a dark mode, you don't need to make the adjustments yourself with this theme. It is by default designed to have a dark mode. Other than that, it's free and slowly gathering up active users.
Gutena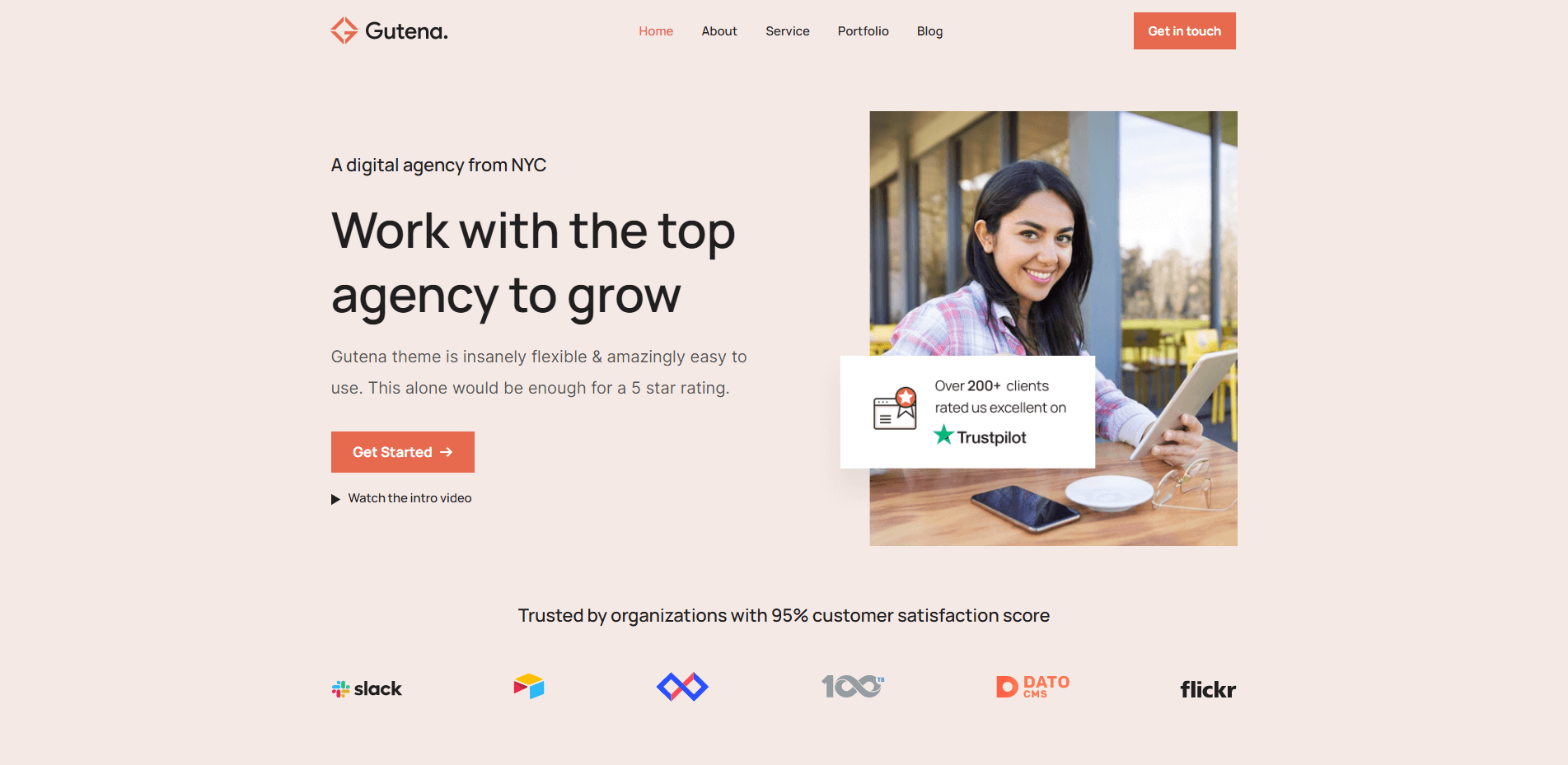 Gutena is one of the newer FSE themes added to the WordPress repository. With an abundance of creamy tones and thoughtfully optimized elements, this theme is an ideal candidate for an agency, business, and startup website.
From a design perspective, I was pleasantly surprised to see the implementation of overlay cards, the use of box-shadow elements, and plenty of imagery to help you get your business mission in front of your customers.
And you have full-on freedom to modify each element through the new Block theme editor.
Wei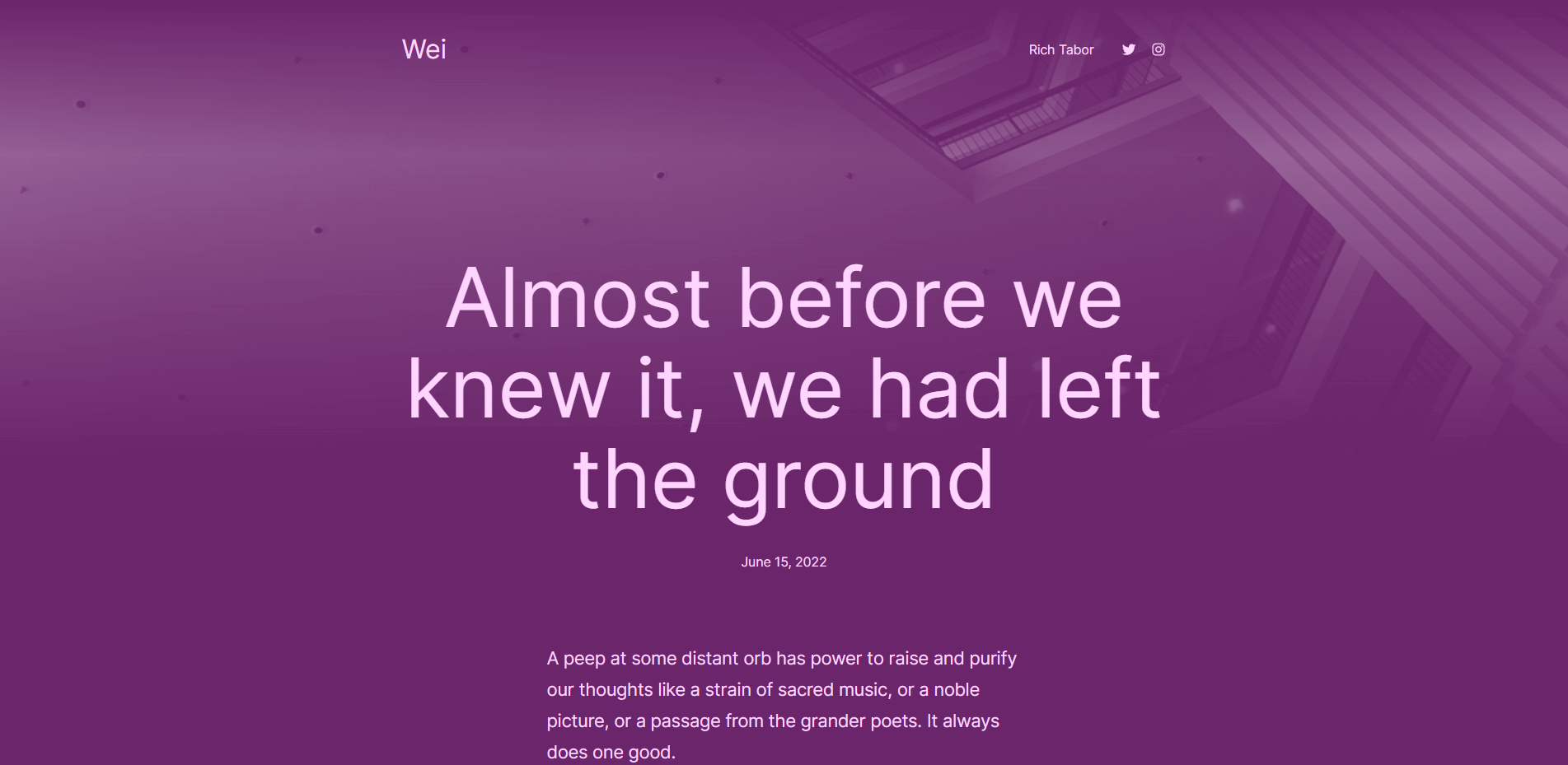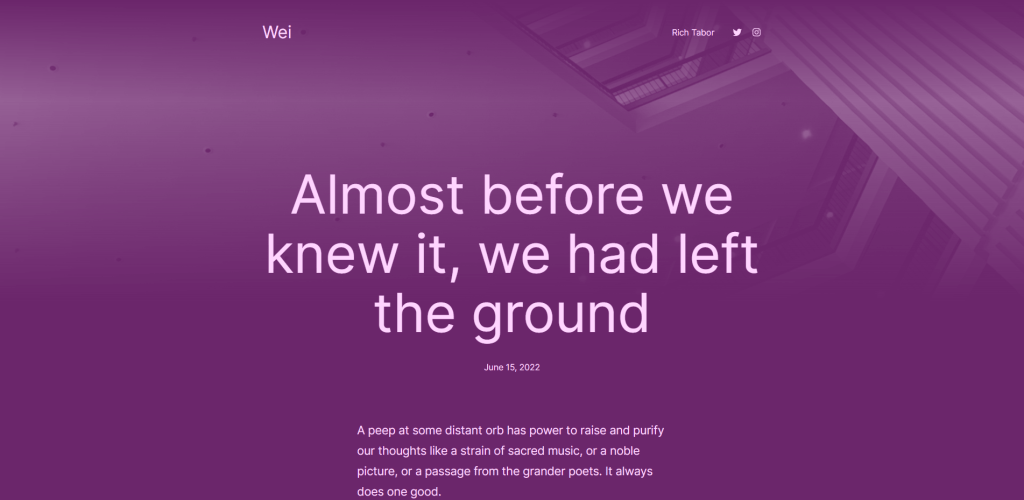 The very first FSE theme we looked at in this collection was from Rich Tabor. Now, a little over 2 months after publishing this article – Rich has come out with yet another Full Site Editing theme called Wei. Interestingly, despite it having been a few months since his last release – there have been an extremely marginal amount of similar themes introduced to the market.
Wei is designed to be used for practical blogging necessities. It's designed to give you plenty of options for managing multiple styles and layout accents. As you will see in the demo, each blog post can have a separate style – including colors and a custom background image.
WaterLava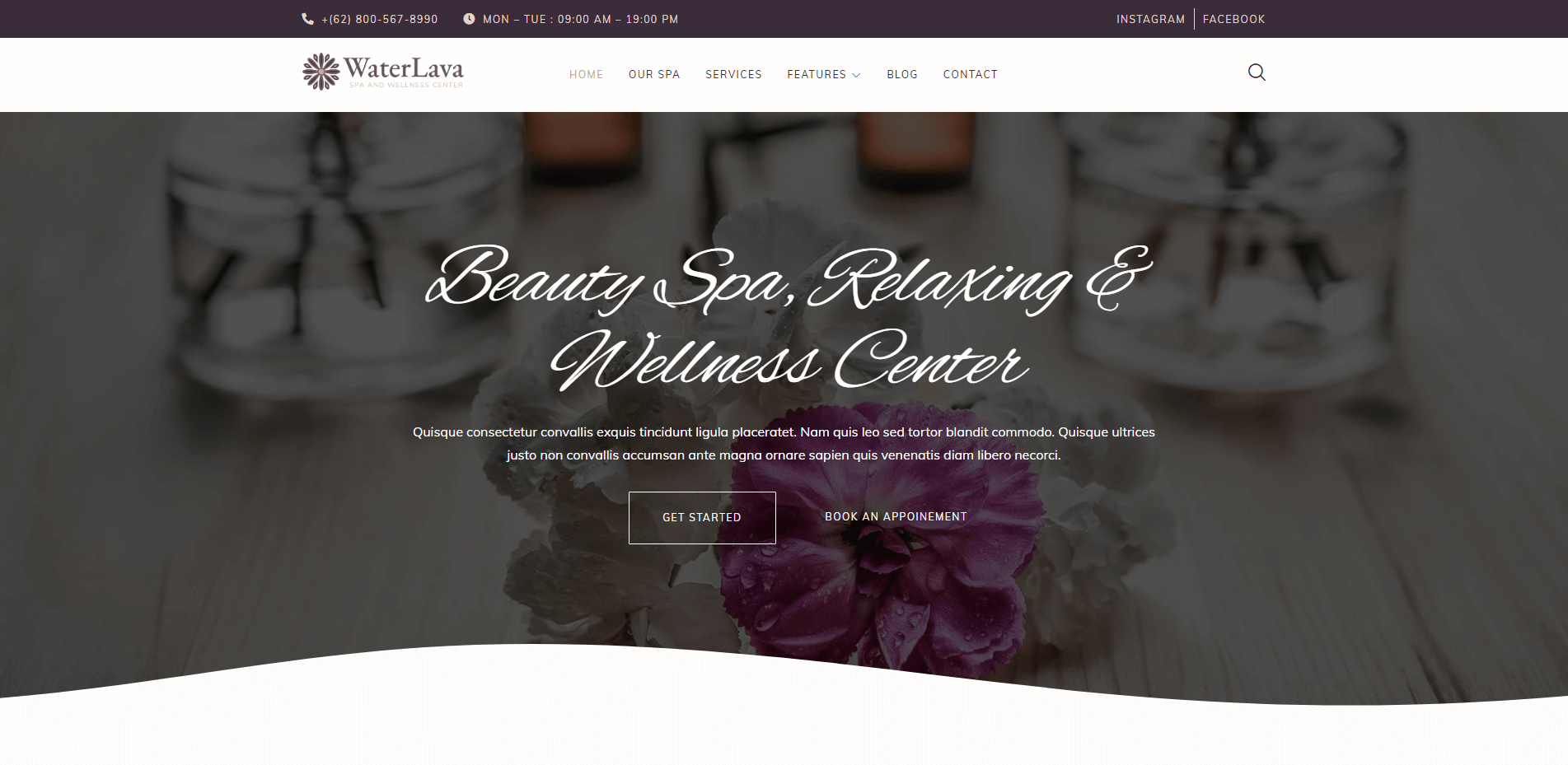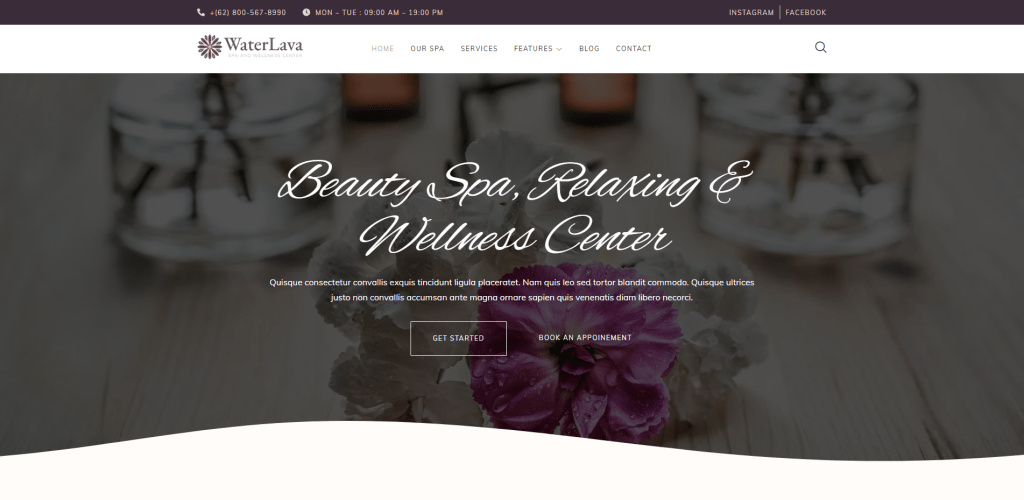 This Spa / Beauty oriented theme from Gutenverse delivers a super-smooth landing page experience and adds many unique features to your site. For one, WaterLava has an in-build forms builder, which will spare you from using a plugin for the same purpose.
The homepage is designed to include transition animation effects, so sections come into view as the visitor navigates the site. In this theme, you'll also find plenty of unique shape dividers – so think waves and custom lines to add that modern feel to your site.
It's also carefully optimized for performance. The theme doesn't depend on jQuery, and patterns/blocks are loaded only on the pages where they're being actively used.
The future of WordPress theme development
I think what we are seeing now is a slow evolution for the next phase of WordPress. For the time being, traditional themes and website builders will have their place. But, in the future, it's quite clear that WordPress will transition into a full-scale site builder.
I'm also quite confident because companies like Webflow have shown that it is possible to build visually attractive websites with nothing but plug-and-play tools.
The question is, when will theme developers start embracing this next phase? At this time, the availability of block themes is quite sparse. I guess that once we start seeing genuine reliability in terms of editing, things will change rather quickly.
Sure, many WordPress users will keep using traditional themes, but the idea of using WordPress as a native site builder is something to think about.