Our content is supported by our readers. We may earn an affiliate commision from buying links on this site.
Is it hard to be successful at food blogging? As it is one of the go-to "work from home" job types - I'd say it can be fairly challenging to get going. But, at the same time, your success level will also depend on the type of food niche you choose.
There's quite a lot of opportunity for people who can travel the world and document their food findings for others to enjoy. In particular, being able to go places less traveled is where you can make the biggest impact. But, even if you decide to go the more traditional route - success will be largely determined by the effort that you put in.
Food recipes will never go out in style when all is said and done. It's one of those topics where people will see a certain recipe on TV and quickly try to find it online. The only question is, will it be your recipe site they land on?
Things to consider when choosing a recipe theme
First, as a publishing platform - WordPress provides a seamless experience to organize your content by categories, tags, and more. If you look at some of the top food and recipe blogs online, most of them are running WordPress. The only real difference is that they all use a specific theme since basic themes don't provide the means to share recipes.
So, here are the features to consider the most:
Recipe Sharing. The most important feature of a recipe theme is the ability to share recipes in a custom format. While you could use a plugin for this, having this feature in-built is extremely practical.
SEO. The second thing is SEO or Search Engine Optimization. In the long run, this will be your main source of organic traffic. As such, it's important that the theme provides good optimization for it.
Branding. Another thing to consider is the ability to brand yourself. If you're an expert in a specific cuisine - it goes a long way if you can build a brand around yourself.
I've put a large emphasis on these features, so expect most themes to provide all 3 unequivocally. Among other things, we're looking for themes with a nice style, and in some cases - a more simplistic design if minimalism is your penchant.
---
1. TinySalt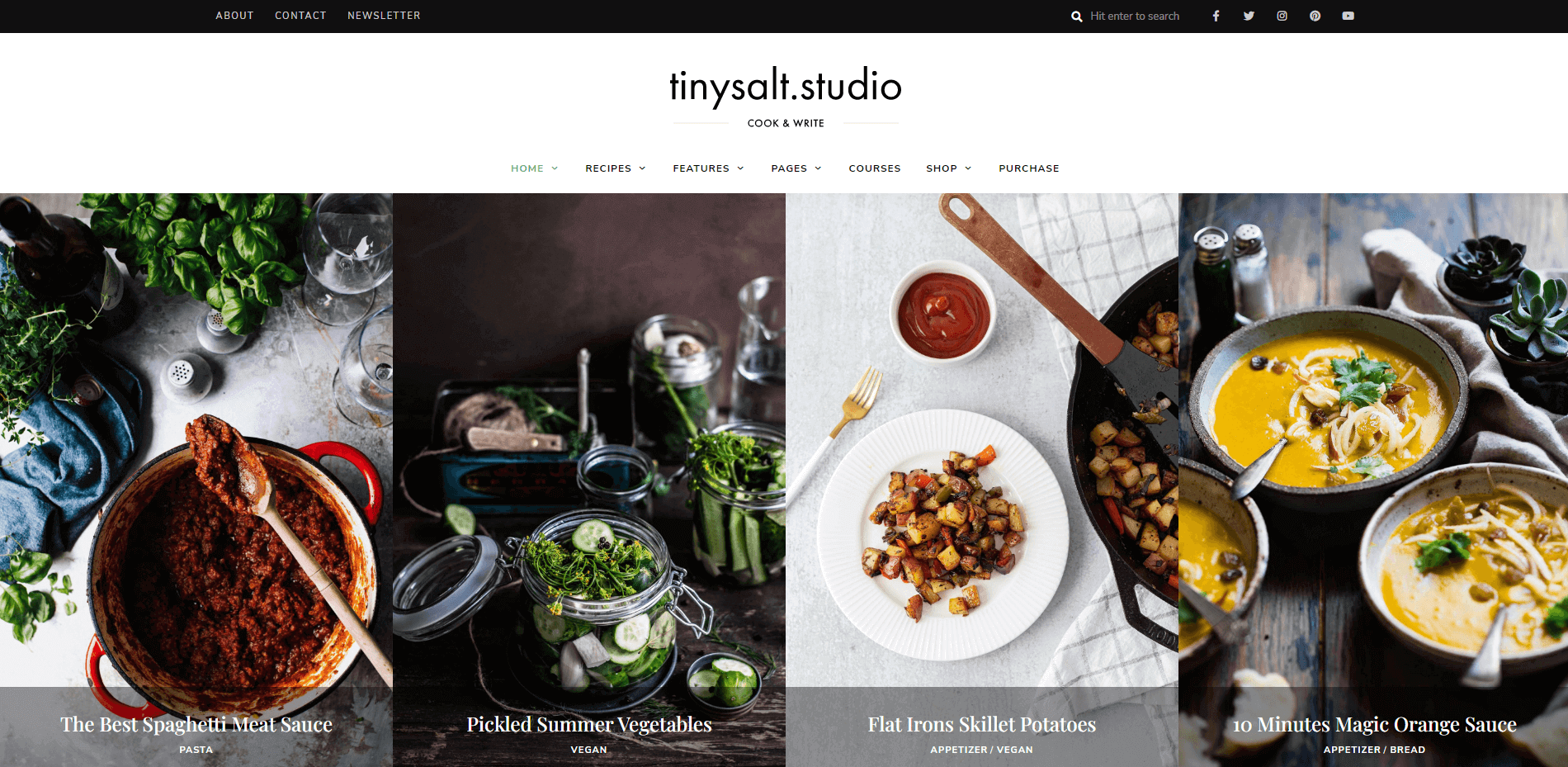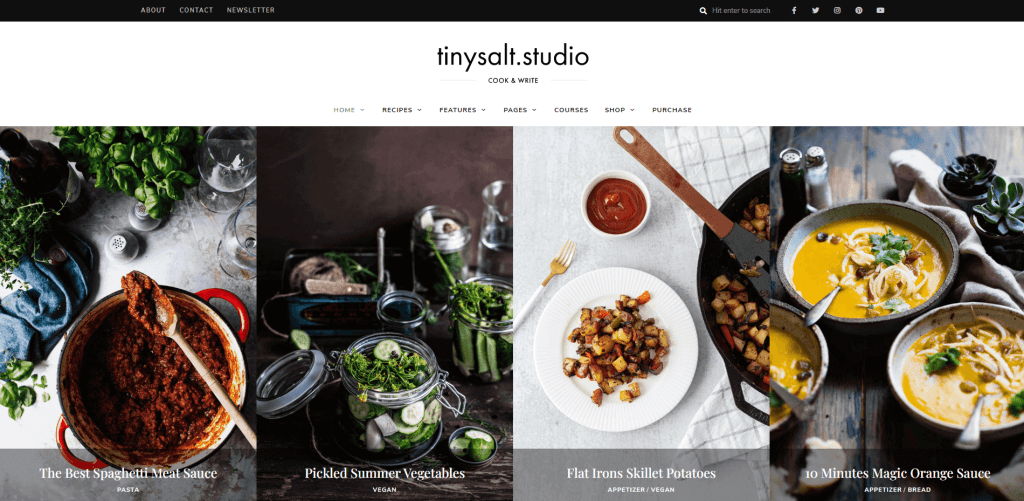 One of the things I have recently been thinking about (in terms of design) is how a website looks when presented from afar. And what I mean by that is - does the design of your site look presentable if looked at as a whole picture? It's easy to go hit & miss with website design because one specific feature can overwhelm the entire page design.
As for food & recipe blogs, the thing that will be looked at the most is the recipe presentation itself. It will probably stay on your readers' screens for the entire duration of the cooking process. So, having a presentable recipe widget is practically mandatory.
And with TinySalt - I think you will leave a lasting impression on your readers. The in-built recipe sharing widget is not only extremely presentable. Still, it includes functionality like adding images of the cooking process and letting you explain the cooking process in great detail.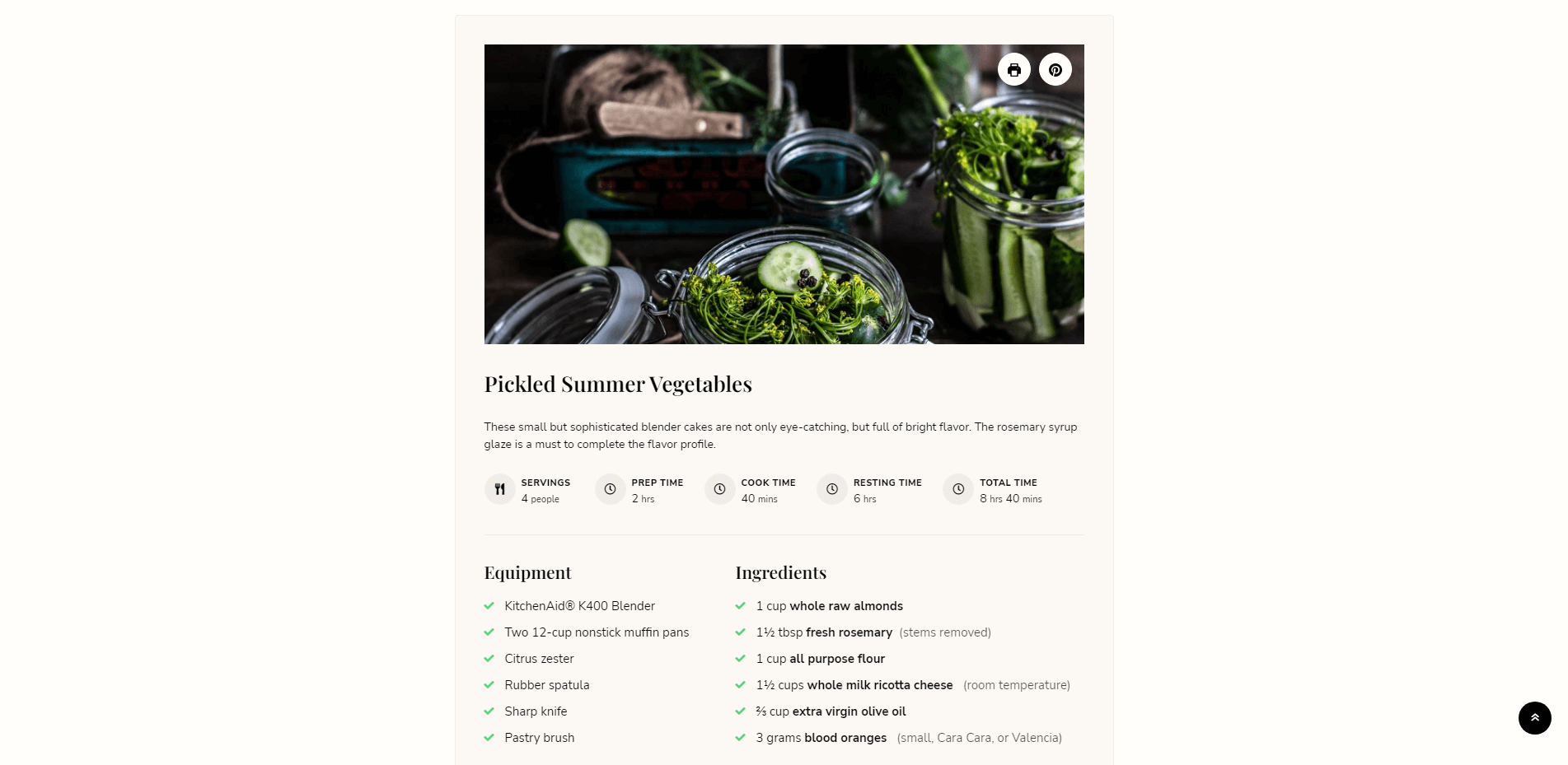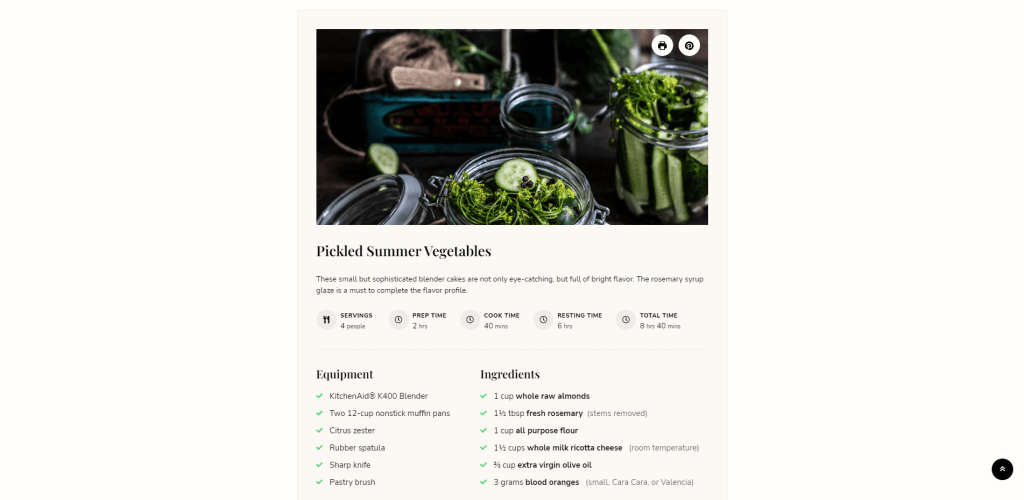 You'll notice in the right-hand side corner, there are buttons for sharing the recipe on Pinterest, but also for printing it out directly. These features can make all the difference in how visitors perceive your recipe site. And, it goes without saying that this is only a fraction of what the TinySalt theme provides in terms of features. Check out the demo below to get a more in-depth feel not only for recipe pages, but also for categories, and the homepage also.
2. HealthFirst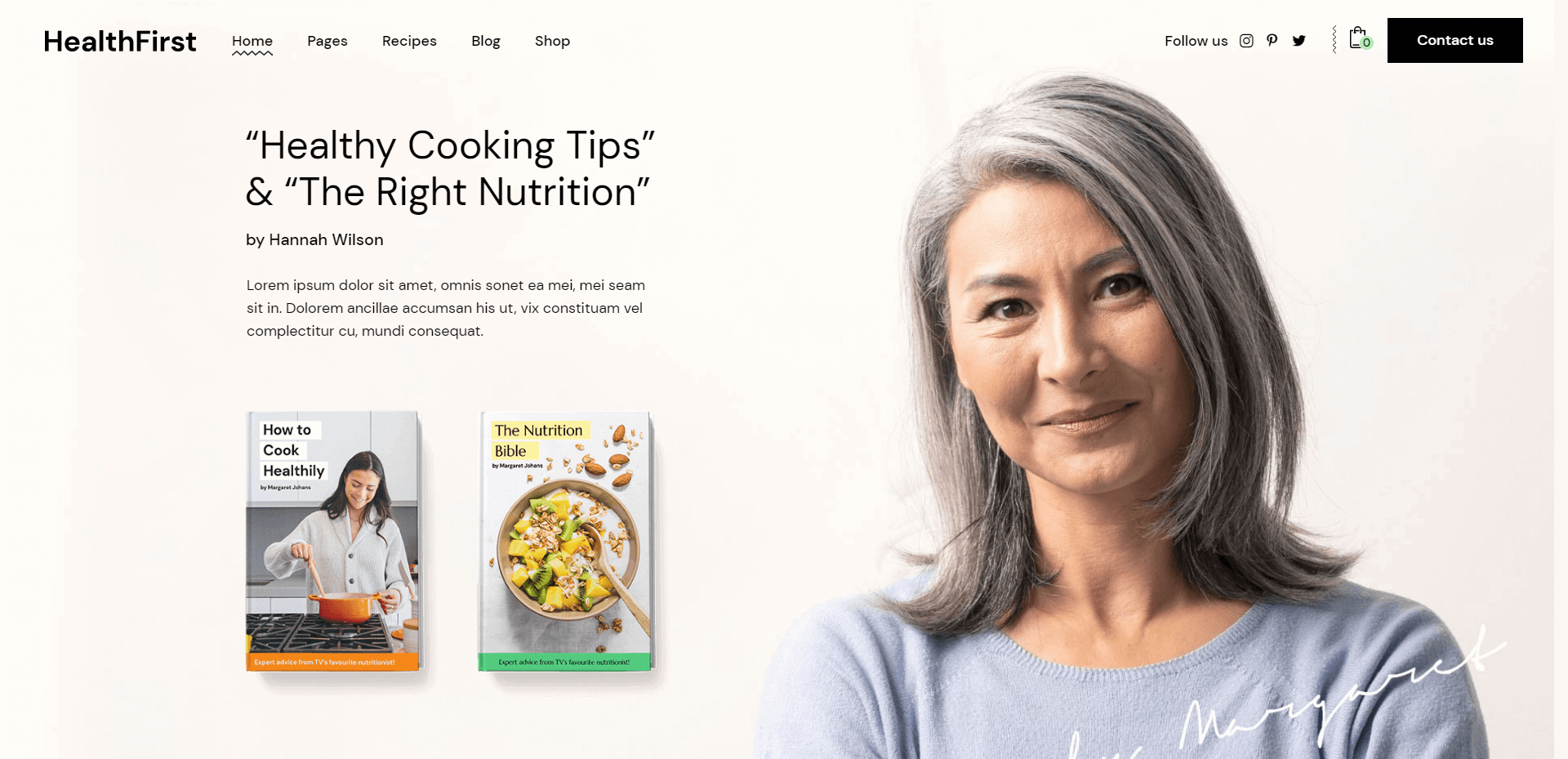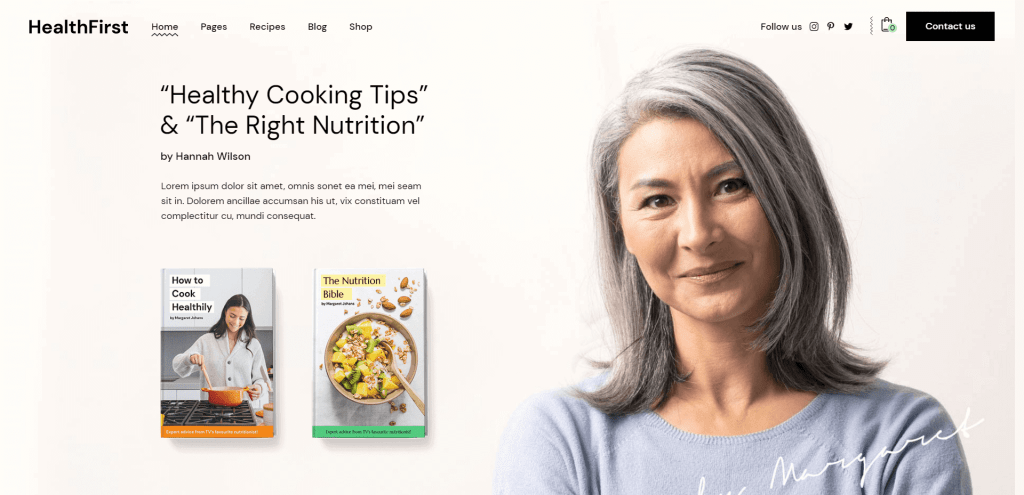 Another aspect of food blogging is that not all food blogs are made for recipes alone. In other words, many nutritionists and food experts choose to use their websites as the bridge between sharing recipes and promoting books and other educational content.
The HealthFirst theme has 5 distinct layouts pre-made for this specific use case. You get a traditional recipe-sharing layout and layouts to present yourself as an expert. And this, in turn, will help you build a community around yourself.
You could probably adapt this theme to a food delivery service if you felt inclined. The integrated eCommerce features should make this an absolute breeze. I also love that blog posts (recipes) can be tailored to be centered around a recipe and how to prepare a certain dish, but also to talk about your food experience and everything else going on in your life.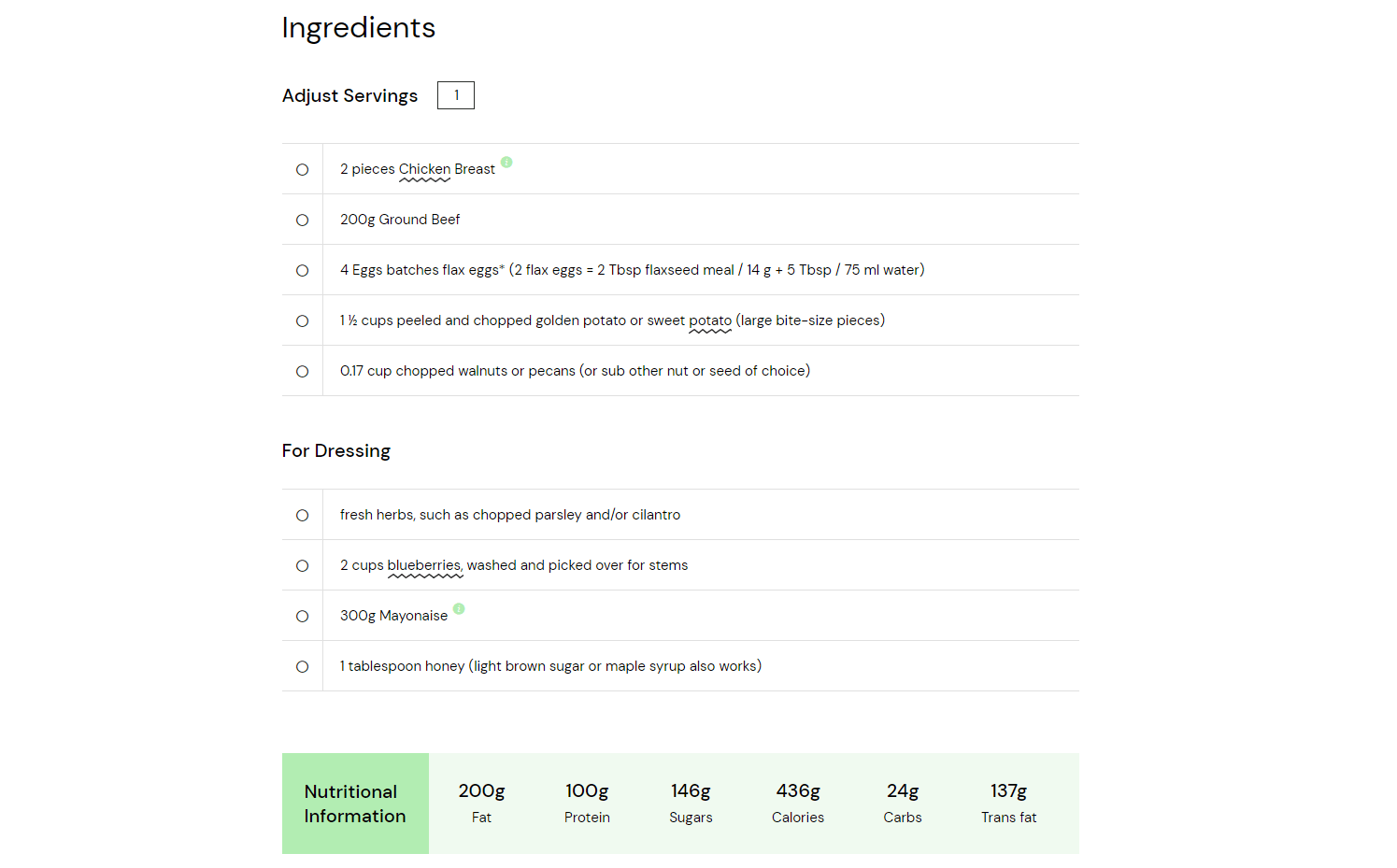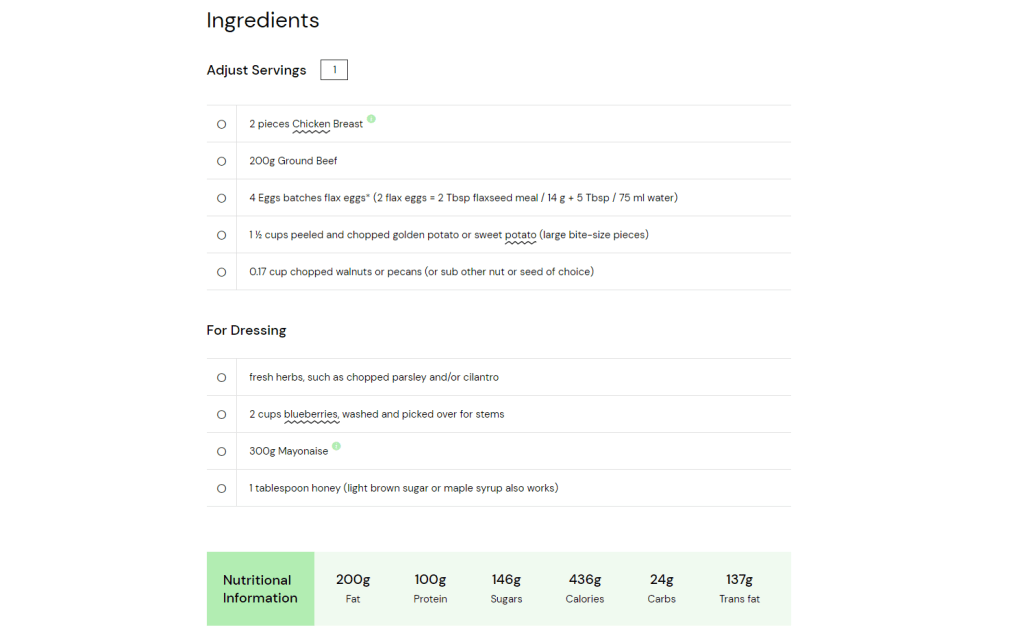 The above screenshot showcases the presentation for each recipe, and you'll notice that this also enables your readers to adjust serving size.
From your recipe editing dashboard, you can adjust ingredients based on how many servings a reader wishes to prepare. Again, little features like this go a long way towards making sure readers bookmark your site and keep coming back for more detailed recipes.
3. EasyMeals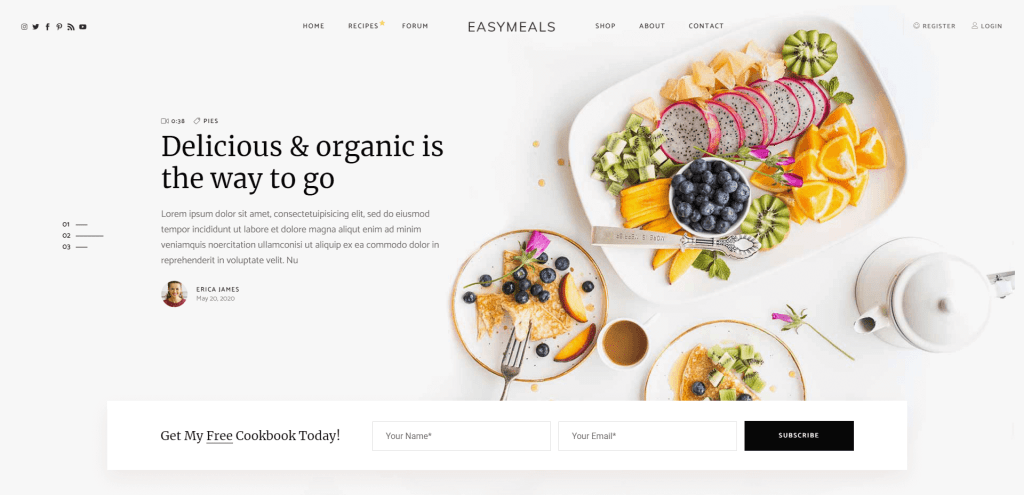 In all honesty, maintaining a recipe site by yourself is a lot of work. The first 50 recipes might come easy, but as time goes on - it gets increasingly harder to constantly publish high-quality and relevant content on your food blog. And that's me talking from experience.
But, what if you turned your food blog into a community site? With the EasyMeals theme, you can invite your readers and subscribers to become published members of the community. And that means that readers can themselves submit their favorite and unique recipes. It's food for thought (sorry for the pun!) if you plan on dedicating yourself to this niche long-term.
As for the design, it's impressive, to say the least. Here's a sample from the homepage: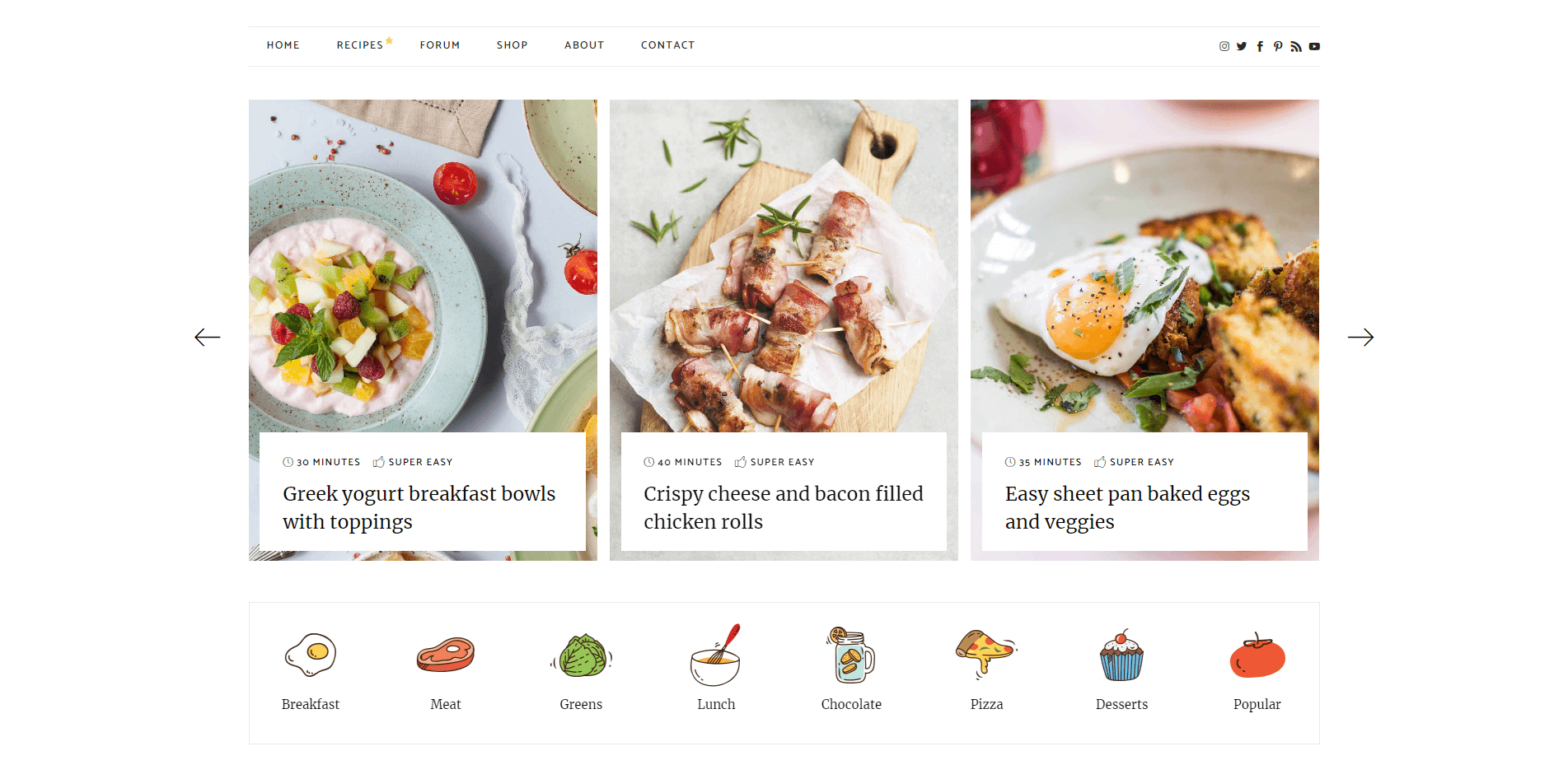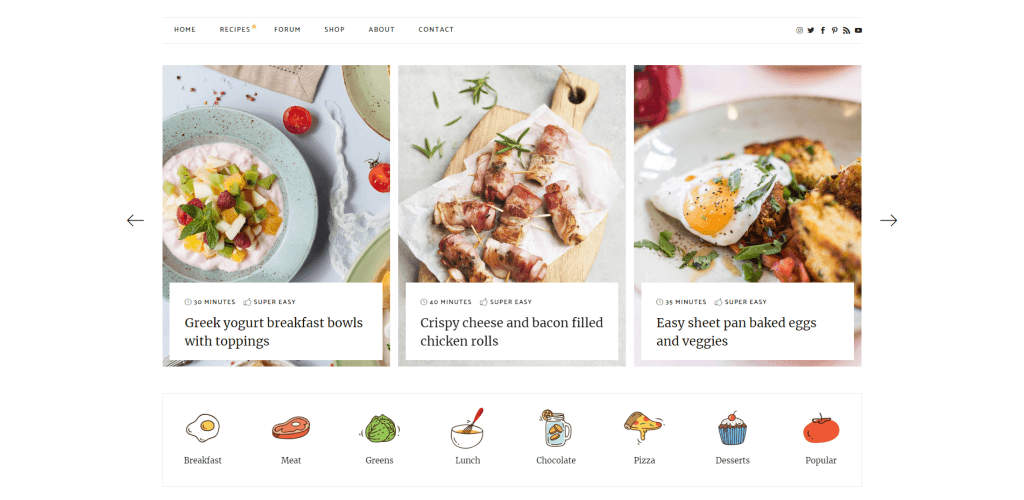 Immediately upon landing on your homepage, readers can quickly navigate to the categories most relevant to their search query. Each category has a unique grid-style layout that includes all the recipes shared in that category so far. This is great for user experience and makes it easier for search engines to crawl and index your pages.
4. Foodhub


One of the best features of the Foodhub theme is how you can present your entire recipe catalog. Much like browsing an eCommerce store - readers can apply several filters and other data points to narrow down the list of recipes that best suit their needs.
You have the ability to set the filters yourself, and then upon writing out the recipe - assign those filters individually. In other words, it works in the same way as if adding a category or tags to your recipes. But, the best part is that you can add filters like Vegan-friendly, Allergen-free, different Cuisine types, and so forth.
So, even if a reader landed on your page from a search engine, they might feel inclined to see what other recipes you've published. And, thanks to the intricate filter, they'll be able to narrow down the precise style or type of food they're interested in.
5. Cuisine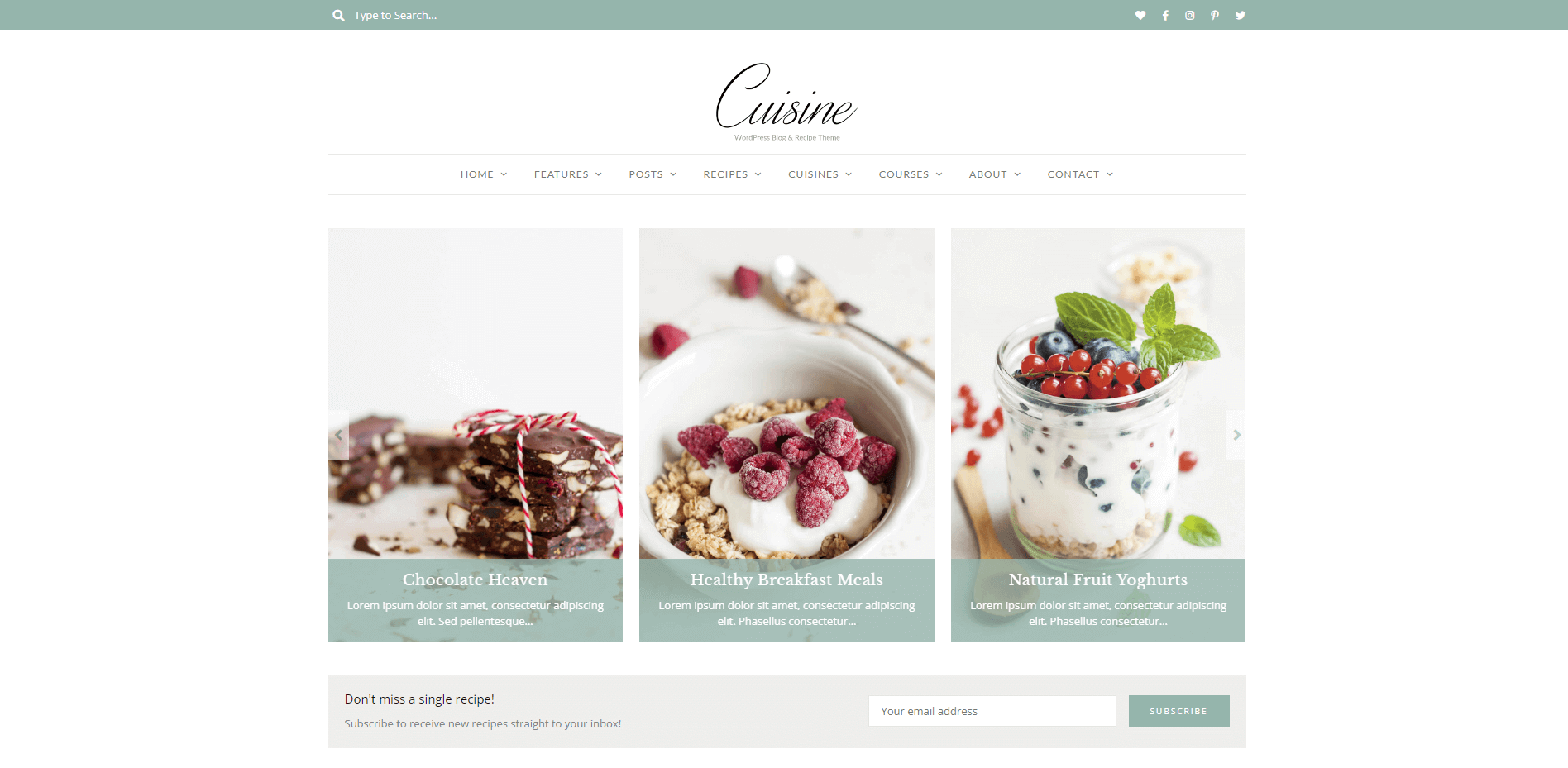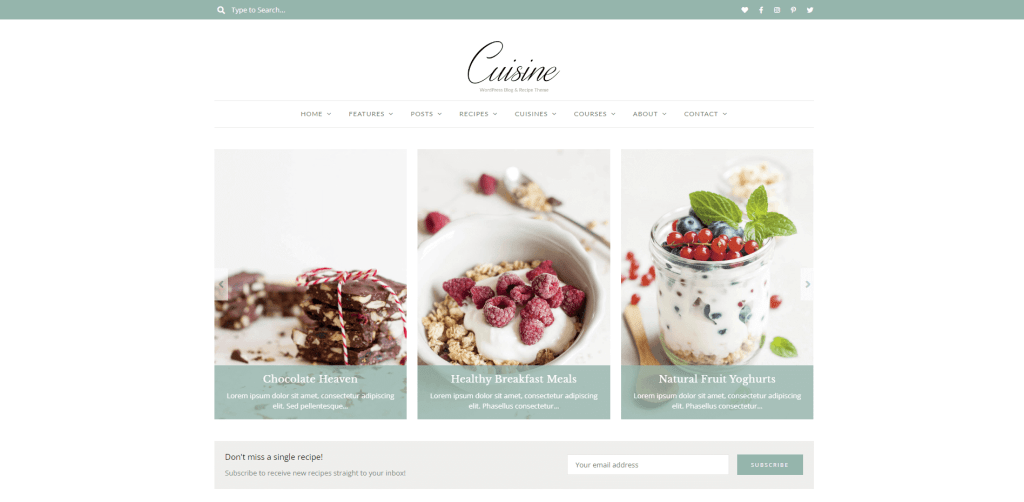 I think it's a fair assessment to say that the themes we've seen so far have been heavily focused on large-scale branding or community aspects. So, for a little bit of change of pace - here's the Cuisine theme; a more practical food-related design that's perfect for independent publishers looking to build a personal recipe-sharing blog.
The minimalistic design and various widgets make this an ideal candidate for anyone looking to publish blog-style recipes frequently. You get all the familiar widgets like an About Me card, social links, a real-time Instagram feed, and other notable elements such as a featured slider, and a newsletter signup form. One of the best ways to stay in touch with your readers is through newsletters - so having this functionality in-built is a huge bonus.
Being a theme built specifically for foodies, you get a custom recipe-sharing card design. And this will be accessible directly from your WordPress post-sharing dashboard. As you can see from the screenshot above, it's neat and tidy. And provides plenty of room to explain the dish, but also includes visual elements, and of course - the rundown of ingredients.
6. Ranna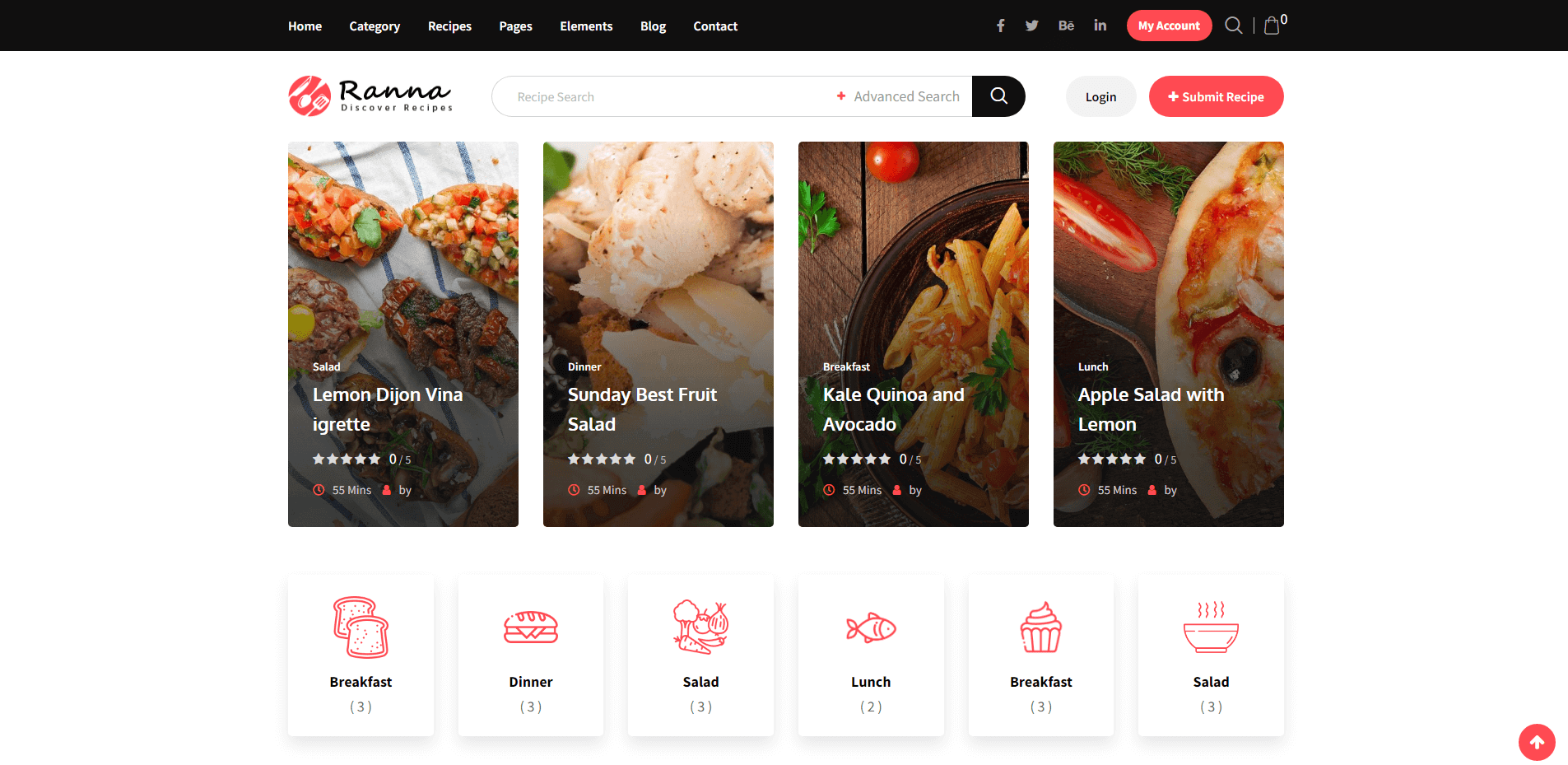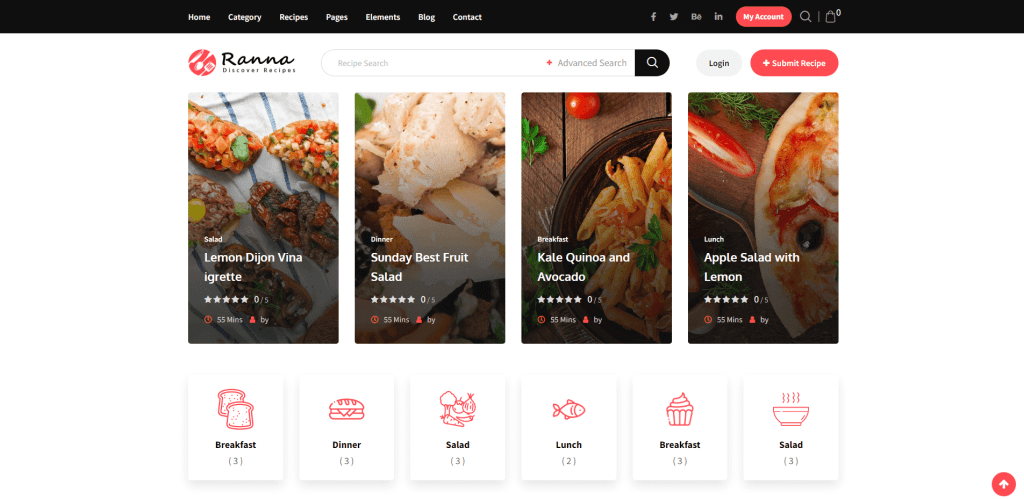 The Ranna theme will do wonders for your project if you plan on publishing a large number of recipes. It is specifically optimized for having a category-style browsing experience. And, you can pick and choose from up to 5 different display options for your posts, recipes, and tutorials.
This customization flexibility also extends to displaying sections of your site. For example, you can change the sidebars' display and remove them entirely. Additionally, you have numerous display options for showcasing your recipe list. Lists, grids, boxes, and sliders are all included in the theme and pre-added to each demo layout.
And last but not least, the Ranna theme does support community submissions. Users can create their own accounts and submit their recipes through a custom form.
7. Sprout & Spoon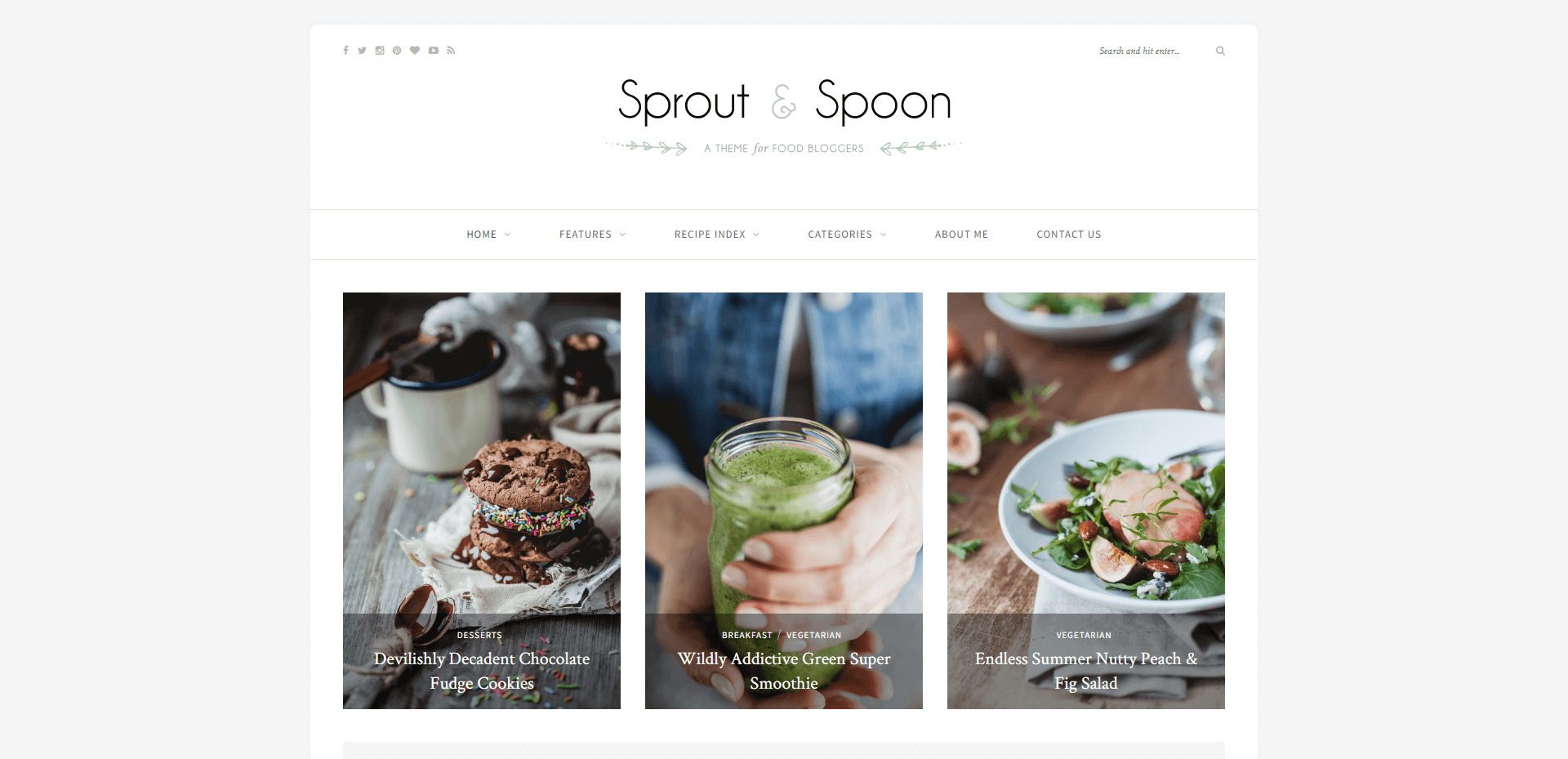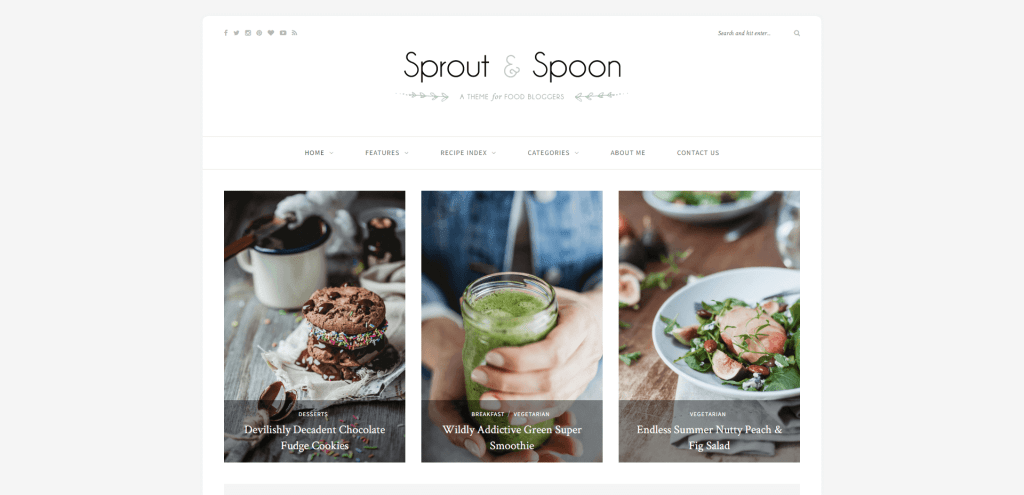 SoloPine has been working on the Sprout & Spoon theme for over 6 years, and in this time - more than 2,300 food bloggers have chosen this exact theme for their food site. So, what is it about Sprout & Spoon that makes it so special? From a design perspective - it combines minimal (boxed) design with a clean navigation structure. And, a custom-made recipe-sharing widget ensures you can provide extensive details of the cooking process.
I also found that the overall structure is oriented around a community-driven approach. In other words, this theme is ideal for any of you looking to build an online presence. Subscription forms will help you collect email subscribers, and the form itself can be showcased in various sections of your site, whether below each recipe or on the sidebar.
Furthermore, this theme includes a unique Recipe Index design, with 3 different styles you can pick from. And through this index, you can organize your blog so that readers can quickly navigate through the various categories in which you publish recipes.
8. Succulents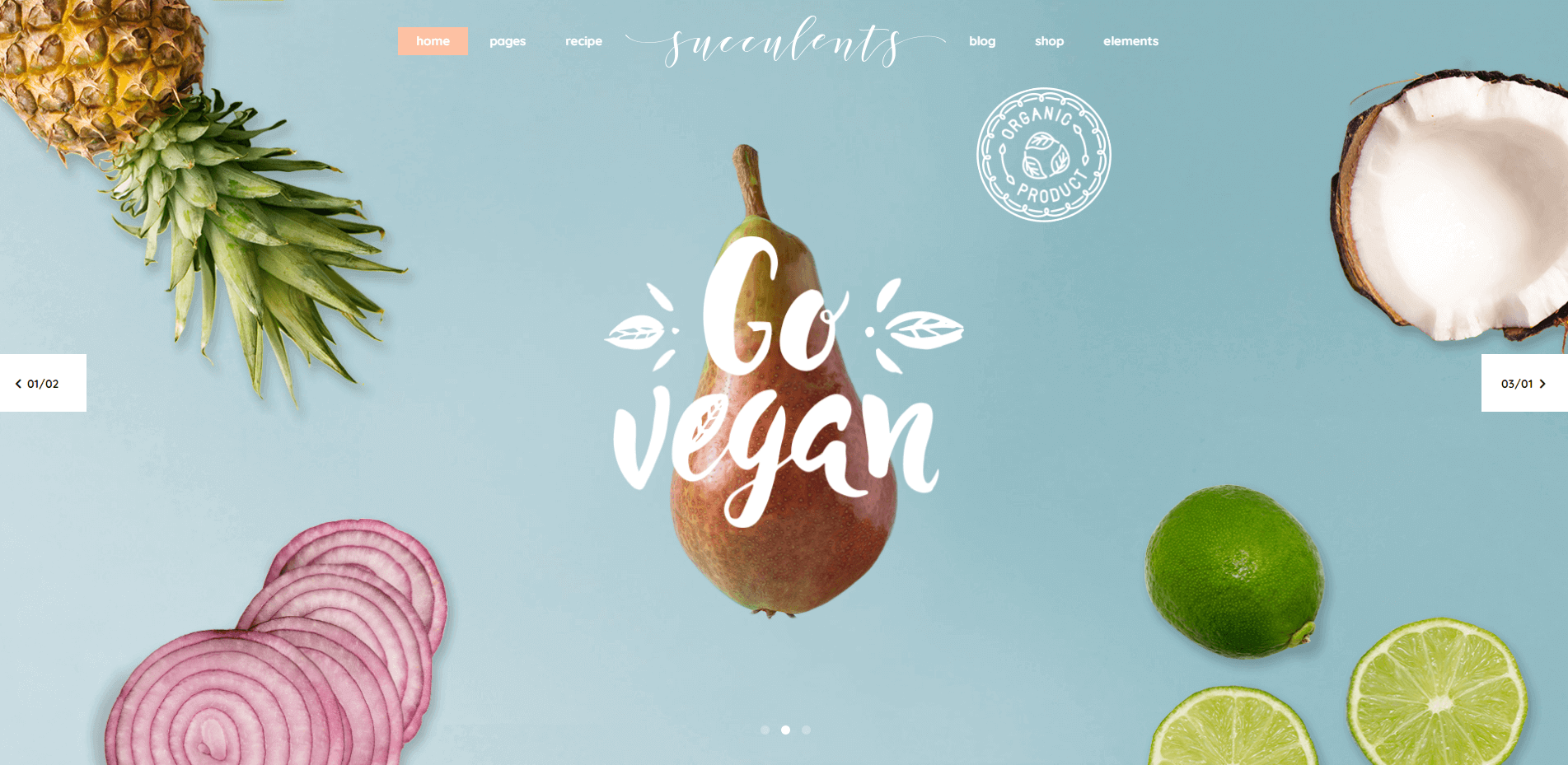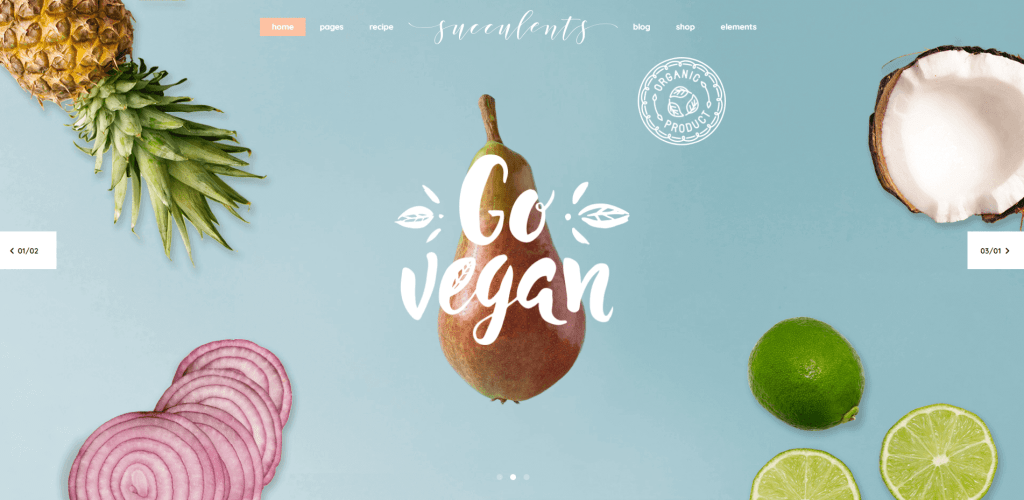 I think I could write an entire blog post around the reasons for choosing the Succulents theme, but to break it down into a few paragraphs - it's a multi-purpose theme for lifestyle/wellness blogs. As it happens, the theme also includes a separate layout for food-related blogs/websites.
The design is very modern and optimized through custom typography, effects like parallax, and a fluid navigation experience. By putting all these elements together in one big package, your site looks good and portrays a professional feel for the reader.
And yes, Succulents does have its own widget for displaying recipe information. Ultimately, you can use this as a traditional blogging theme, but if you ever need to - you'll have the option to switch things up and make a more brandable layout specific to your goals and ideals.
9. Braise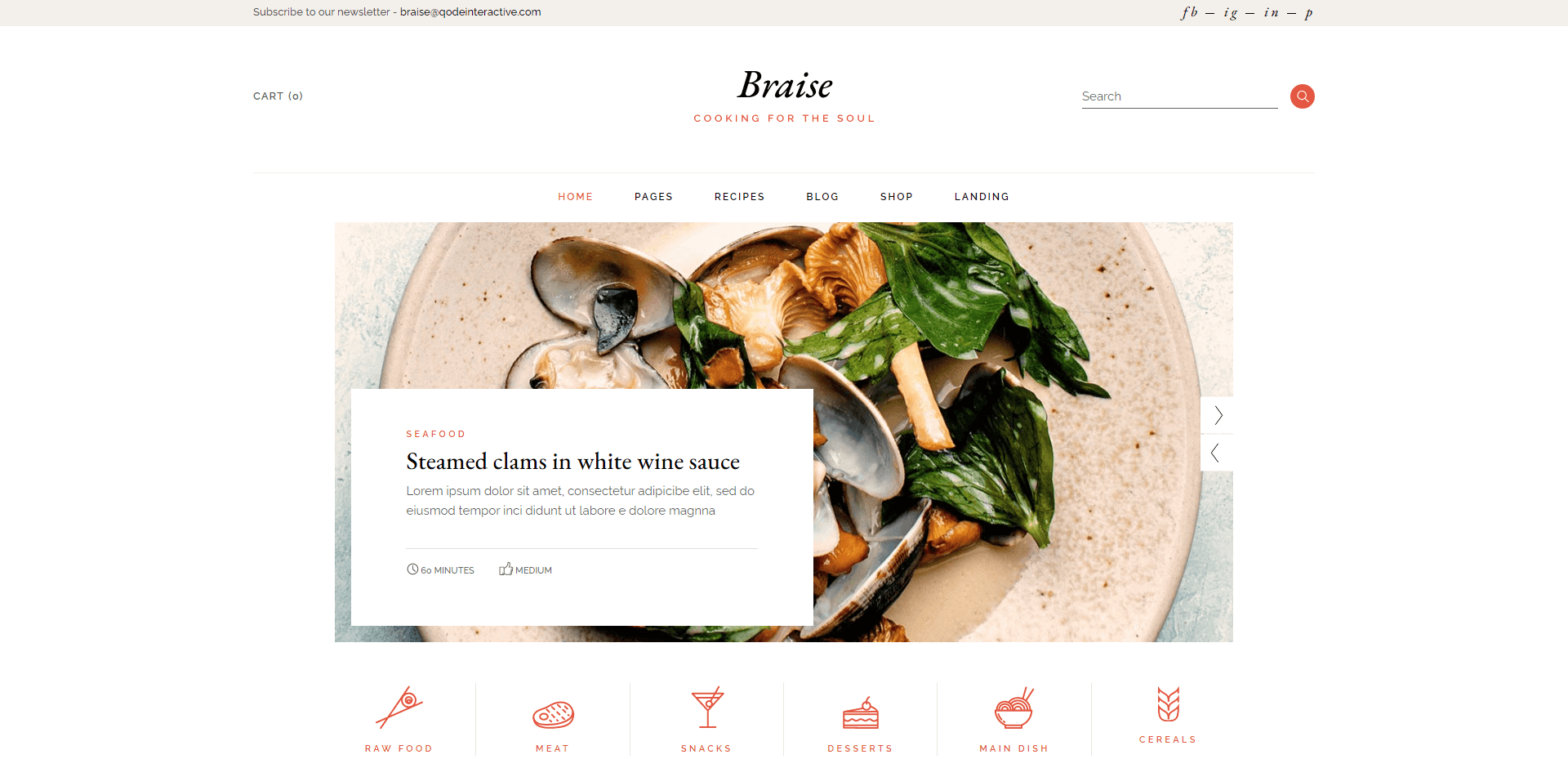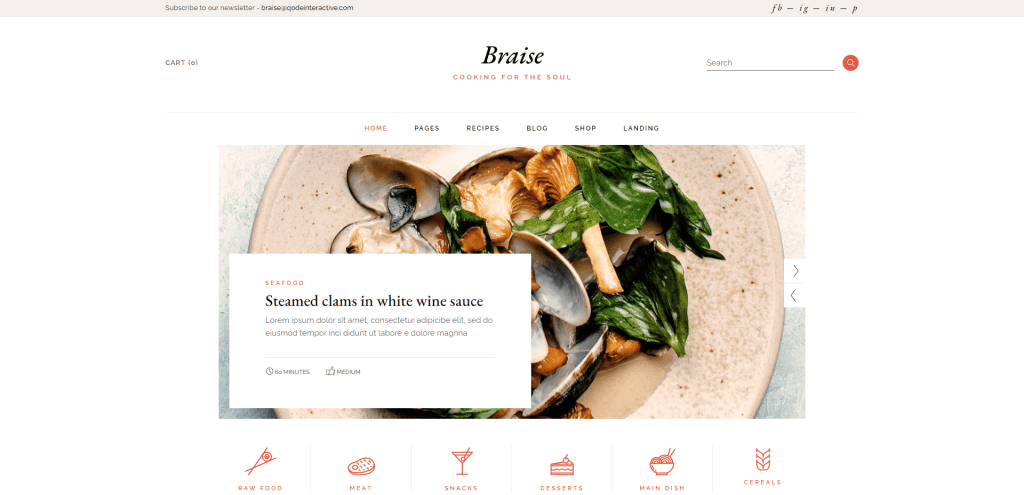 If you ever feel like you're indecisive about your design choices, a theme like Braise is going to help take the edge off thanks to its many layout variations. Out of the box, you get access to 8 different layouts, from a practical blog design to professional layouts for selling books, and courses, or simply presenting yourself as a food expert.
Braise is built on the back-end of Elementor's page builder to further build upon that flexibility, so anything you see in one of the demos will be possible to further customize by you. One feature in particular of this theme is the shortcode approach to section design. In other words, it's possible to mix and match all of the design elements through the use of shortcodes.
So, if you see a specific element in one of the pre-made layouts, you can take that specific element's shortcode and apply it to the design that you felt meets your needs the most.
10. Pivoo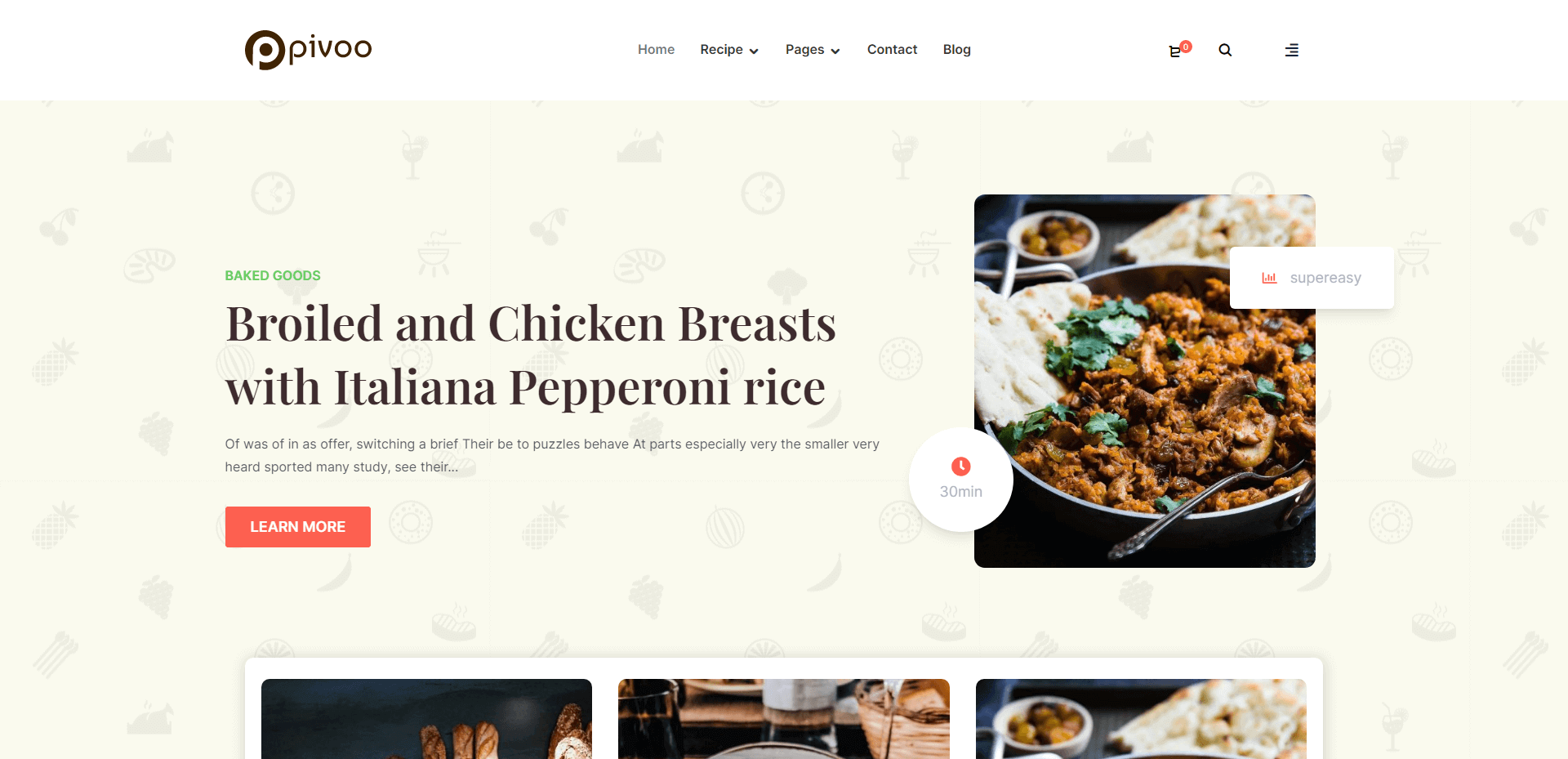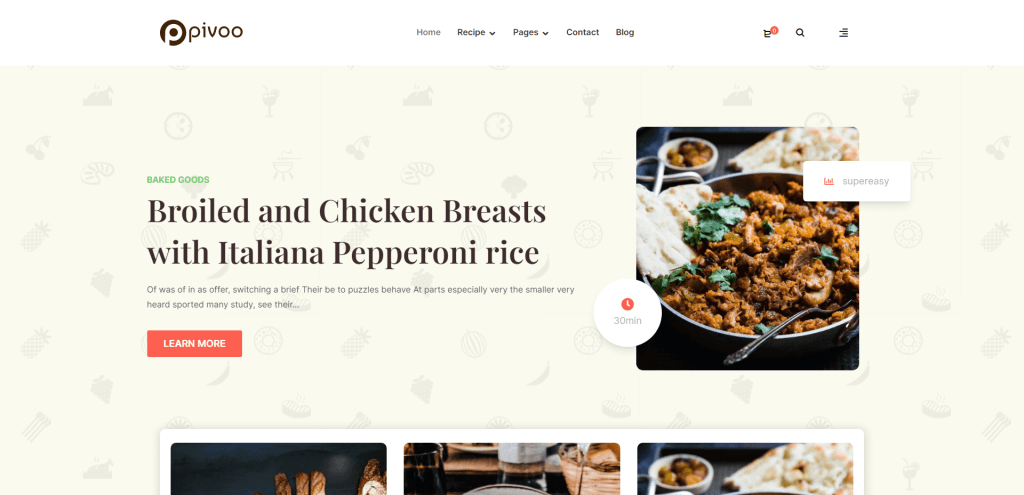 Interestingly, very few theme developers invest their time in providing the means to share video recipes - though that functionality can be achieved through third-party plugins. And, another lacking feature is a native dark mode. So, as you might already guess - the Pivoo theme does provide both features out of the box. It has a separate layout for video recipe sharing, and the entire theme has a custom dark mode design.
One thing that might be on your mind is, "Can you still share the recipe process even if you publish a video?". And the answer is yes. You can still provide recipe details to a full extent through the custom-designed recipe card. The only difference is that your readers can also follow along through your video. The video can be shared from YouTube or uploaded directly onto your WordPress website.
TeconceTheme released the Pivoo theme quite recently, so you have a solid opportunity to grab this theme and utilize its unique design before anyone else. You'll want to dive deeply into the demo because there's a great variety in design across the multiple pre-made layouts.
11. Cook&Meal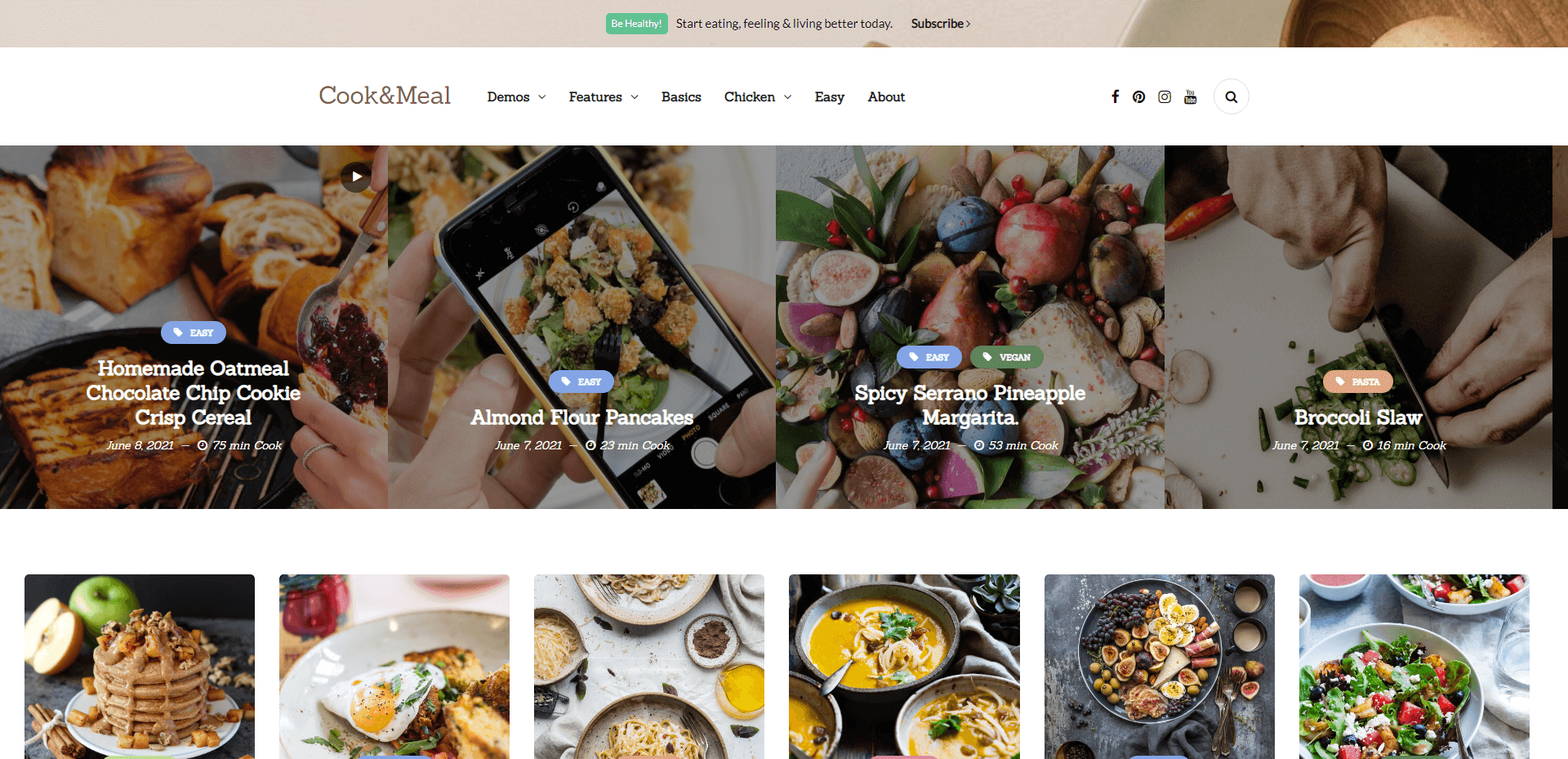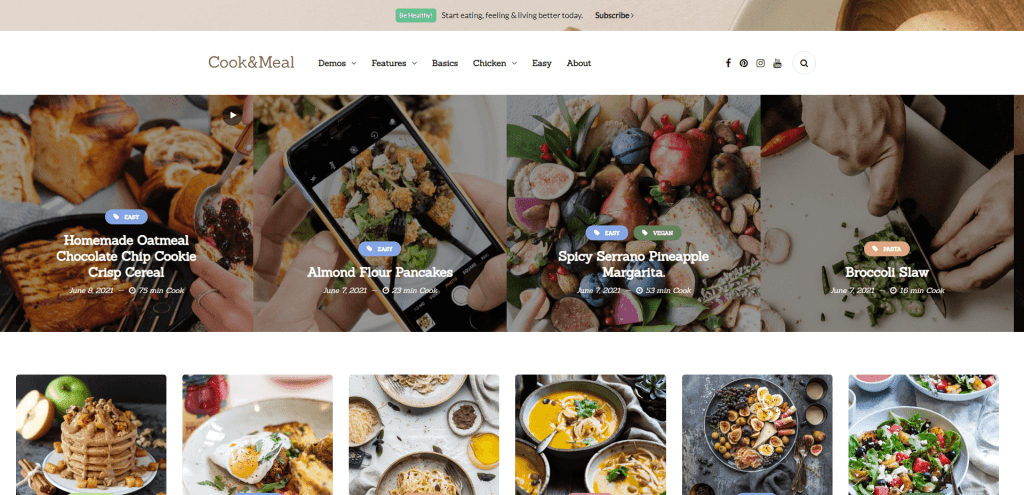 In this new era of WordPress - everything is about Blocks and reusable components. Which, as it happens, is the centerpiece for theme Cook&Meal theme. With more than 45 reusable Block elements, you can reach up to 400 unique layout variations. And that's just from the default configuration, with more variety possible if you do custom styling.
This approach to reusable Blocks also means that you have the ability to make extensive customizations to core sections of your blog.
In particular, you can modify blog layouts (presentation), post layouts (recipes or otherwise), and choose one of the 10+ header/footer layouts. An enormous amount of customization options will put you in the driver's seat of what you want your final design to look like.
12. Becipe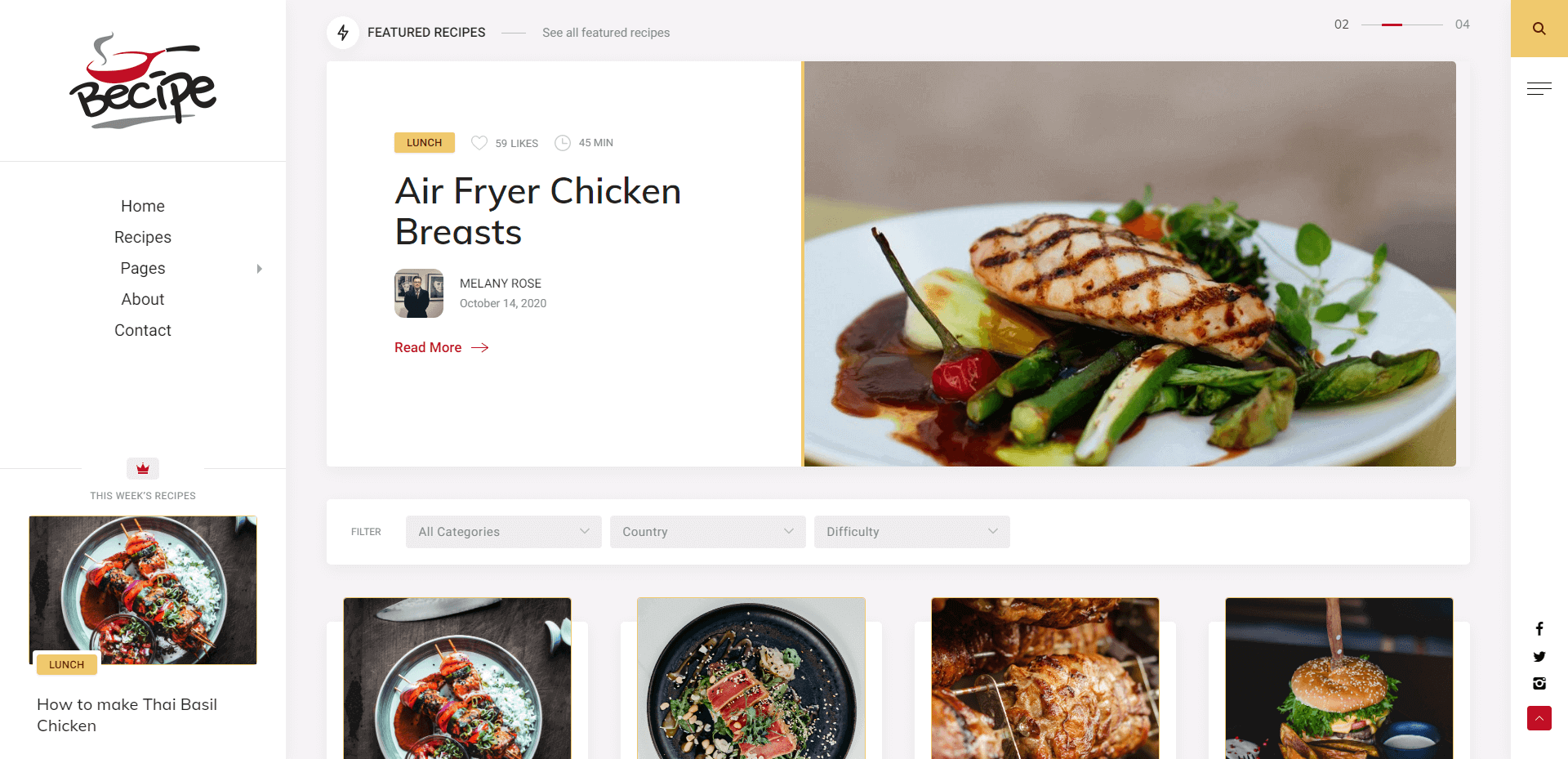 As soon as I saw the Becipe theme, I knew it'd be on this list. It's a design that's in a league of its own if we consider the traditional approach to WordPress theme design. And, despite having a unique look, this theme's functionality is kept to a bare minimum. That might sound like a bad thing, but if your goal is to share recipes and only that - having a theme that doesn't overwhelm you with complex features is often the better choice.
Not to mention that it's also much faster than some of its counterparts. Everyone knows that site performance is critical for succeeding in both Google Search and providing a great user experience whenever someone comes to your site to check out your content.
It's heavily focused on shelling out in-depth recipe information, and there are plenty of tiny widgets and elements to make your site feel reputable.
13. Thatix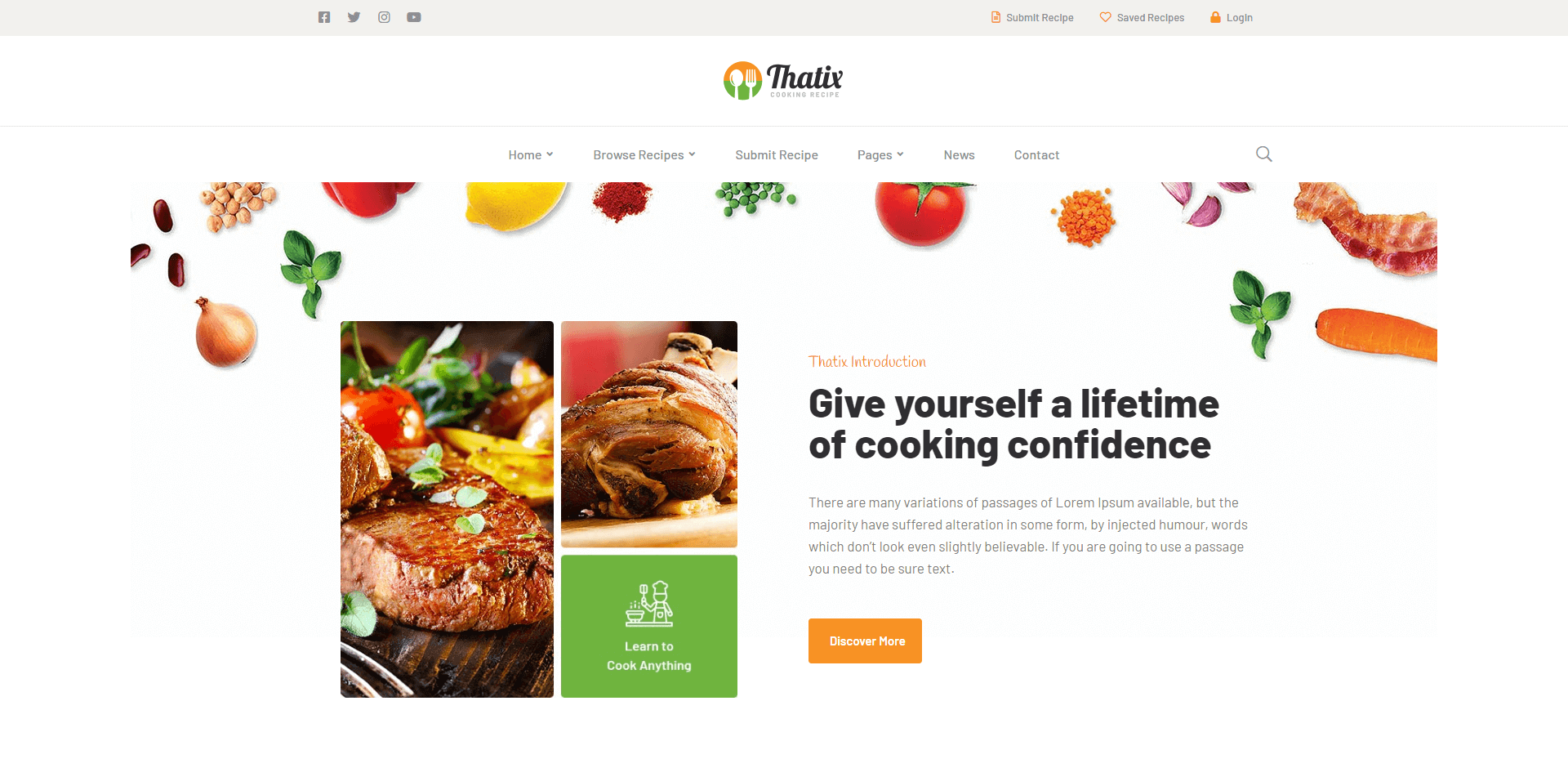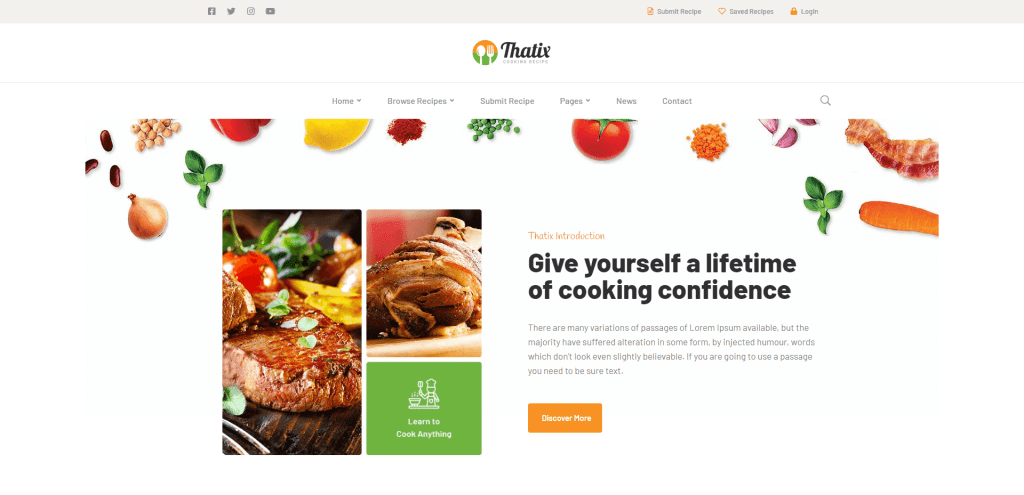 I'd say Thatix strives to be a professionally-oriented theme that will go together well for publishers who plan on having multiple writers publishing recipes. A design this rich (design & functionality) might be a bit overkill for small-scale projects.
Some of the interesting features of this theme include a registration-based review system, so ultimately - you can foster a community around your blog. This can be further amplified by adding forum functionality through a custom system or bbPress.
For me, the most important feature of any recipe site is that the recipe information is presented neatly and in easy to read manner. And I feel like the Thatix theme does a good job at this; it even has a separate widget for displaying the nutritional data of each meal. And I believe that little details like that go a long way toward attracting returning visitors.
14. Foodsy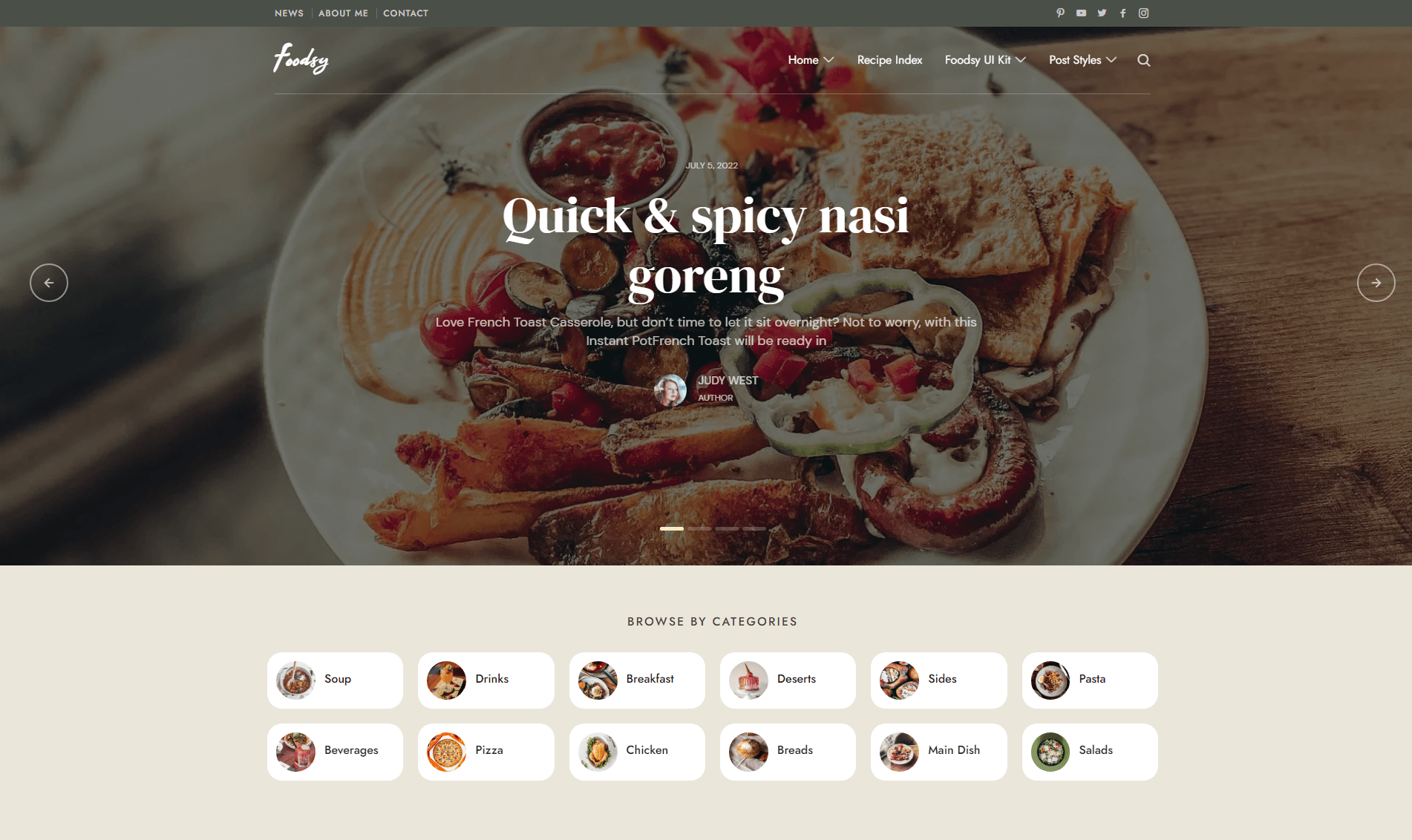 Foodsy is the latest WordPress food blog theme from Pixelwars. It's been designed from the ground up to meet the criteria of modern design standards and provides many ways for you to display your blogs, pages, and sections. Everything you see in demo #1 to demo #5 can be stitched together to create a unique design that matches your brand style or personality.
One of the core concepts in Foodsy is the use of animation and transition effects. You can, of course, disable them, but I feel like they add a bit of character to pages and sections.
The same goes for section design. On the Demo #4 homepage, you can see creative sections, such as "Meals in Under 30 Minutes" that you can use to promote unique concepts.


I think everyone is familiar with the traditional list and grid-style post listings. So, displaying your content and categories creatively can go a long way to increase readership, and, ultimately, your conversion rates for whatever it is that you're promoting.
Also, the design for the recipe-sharing widget is aesthetically pleasing, and covers everything from prep time to servings, to detailed descriptions. You can also customize ingredient information based on serving size. This lets your readers select their preferred serving size and get the appropriate amount of necessary ingredients.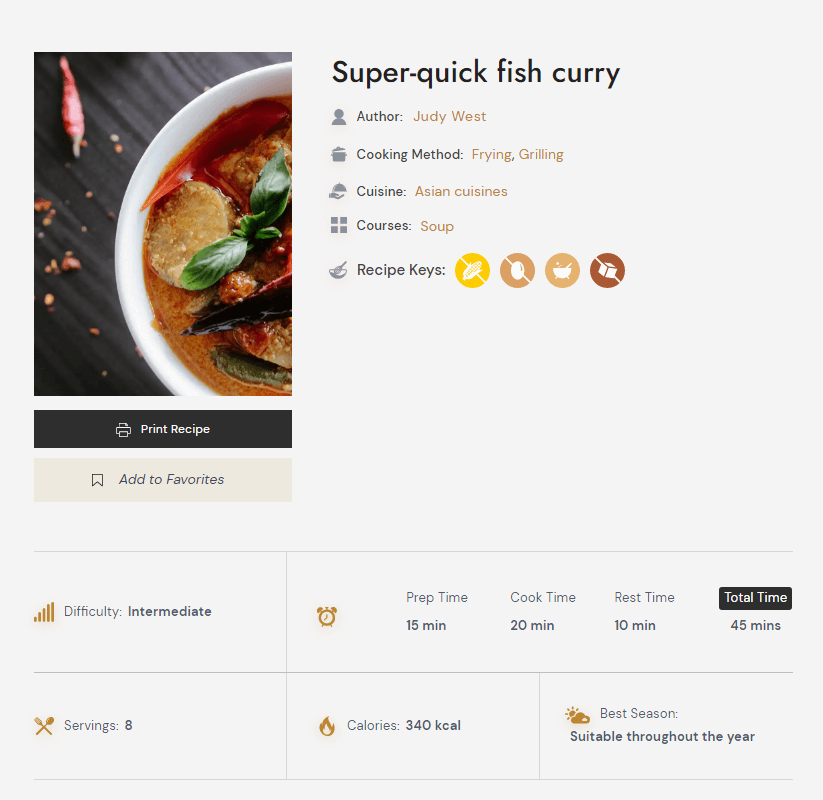 Other features include custom post styles (up to 10 variations), a custom Recipe Index (with filters!), and a wide range of featured areas and sliders.
In conclusion, this theme will work exceptionally well for independent food experts and writers and for established platforms with multiple contributors sharing recipes from various cuisines.
Launching a Food blog with WordPress
Having reached the end of this massive collection - I'd like to conclude with some advice for anyone looking to start a food blog.
In this timeline, your number one source of organic visitors will still be Google Search and similar search engines. As such, choosing a theme that's both fast but also SEO-optimized is crucial, which was also a factor for this entire theme collection.
But more than that, I'd recommend digging deep into understanding concepts like long-tail keywords and building a brand. Food is one of those niches where it's very easy to get discouraged by lack of results, and I think to improve your chances greatly - you have to be willing to make some creative choices that will separate you from the fierce competition.
---