Typically the first thing that comes to people's minds when they hear the words online forms is to think of a contact form or an onboarding form for a newsletter. But forms have more than just practical everyday uses. A form can collect survey data, accept payments, create lesson plans, request quotes, and submit support tickets. And much more.
It all depends on the specific WordPress plugin you're using to build your forms. So, this article aims to highlight the currently most popular plugins for building and managing forms. The features we're looking for the most are pre-made templates, the ability to add custom form fields, and the ability to style the forms to your own liking.
If you're interested in use cases like managing bookings or appointments, I've written a separate article specifically on the topic of WordPress booking plugins. Additionally, if you feel like trying out each plugin for yourself - I recommend using a service that can spin up a free testing site for you. That is the approach I used for this review, also.
We're also going to look at unique features, such as integrations with 3rd-party services and the ability to utilize conditional logic. E.g. Display a form when certain conditions are met. And, we'll focus strictly on free solutions, which may or may not have a premium version.
---

Forminator: Summary
Users: 300,000
Publisher: WPMU DEV
WPMU DEV is not only one of the leading WordPress publishers, but also the company behind plugins such as Smush, Hummingbird, Hustle, and of course, Forminator. As with all of their plugins, the emphasis is on a smooth user experience. And with Forminator, creating forms will be easier than ever, largely attributed to their template-based system.
Once the plugin is installed, you can go to Forminator -> Forms. On this page, you can click Create, which will open up the following prompt: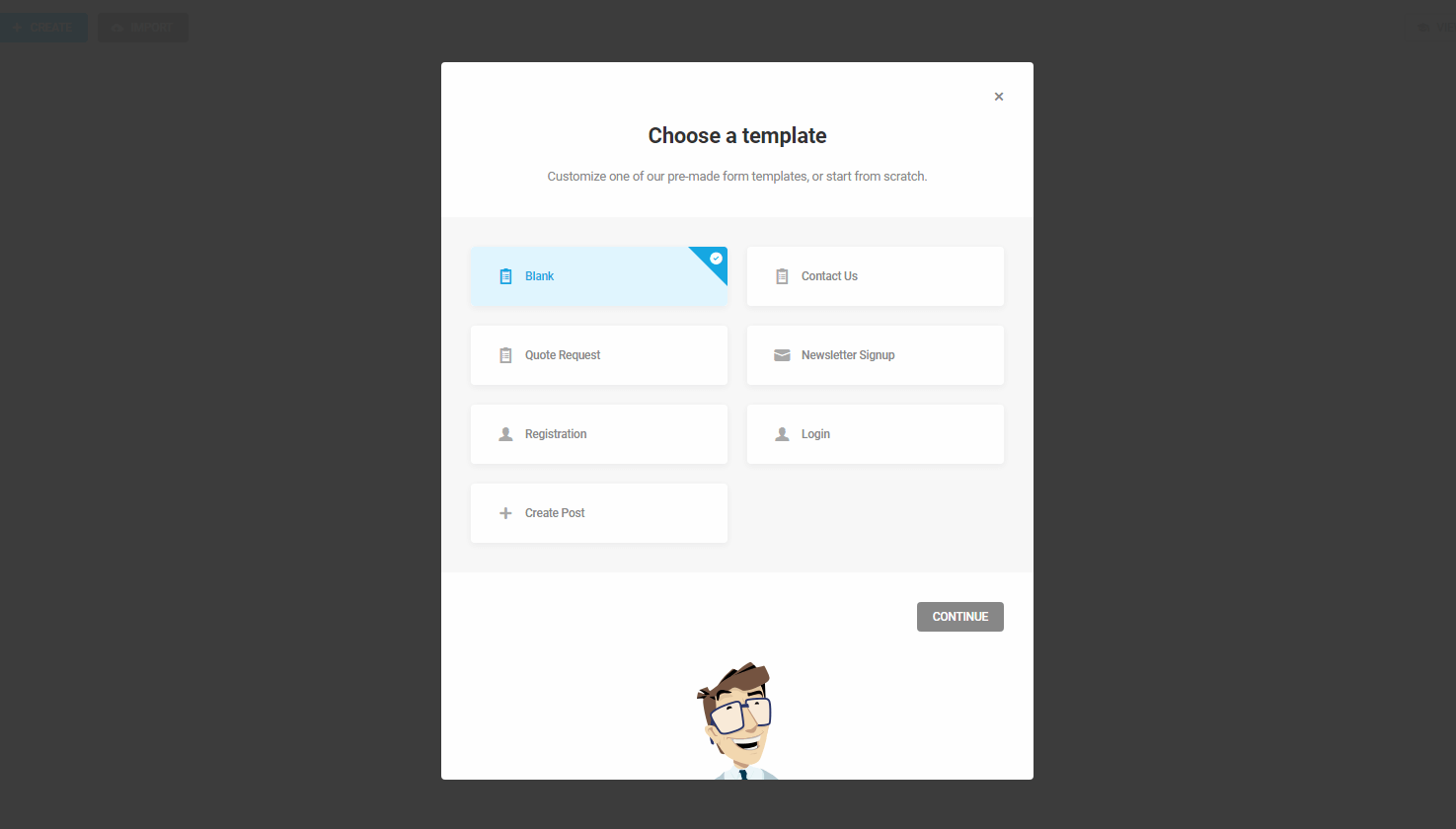 By default, there are form templates for Contact pages, newsletter signups, and quote requests, but also a blank template. No matter your option, you'll have full autonomy in customizing the form - input fields, design, behavior, etc. - and ensuring that the end result aligns with your requirements. Here are additional screenshots for the form builder: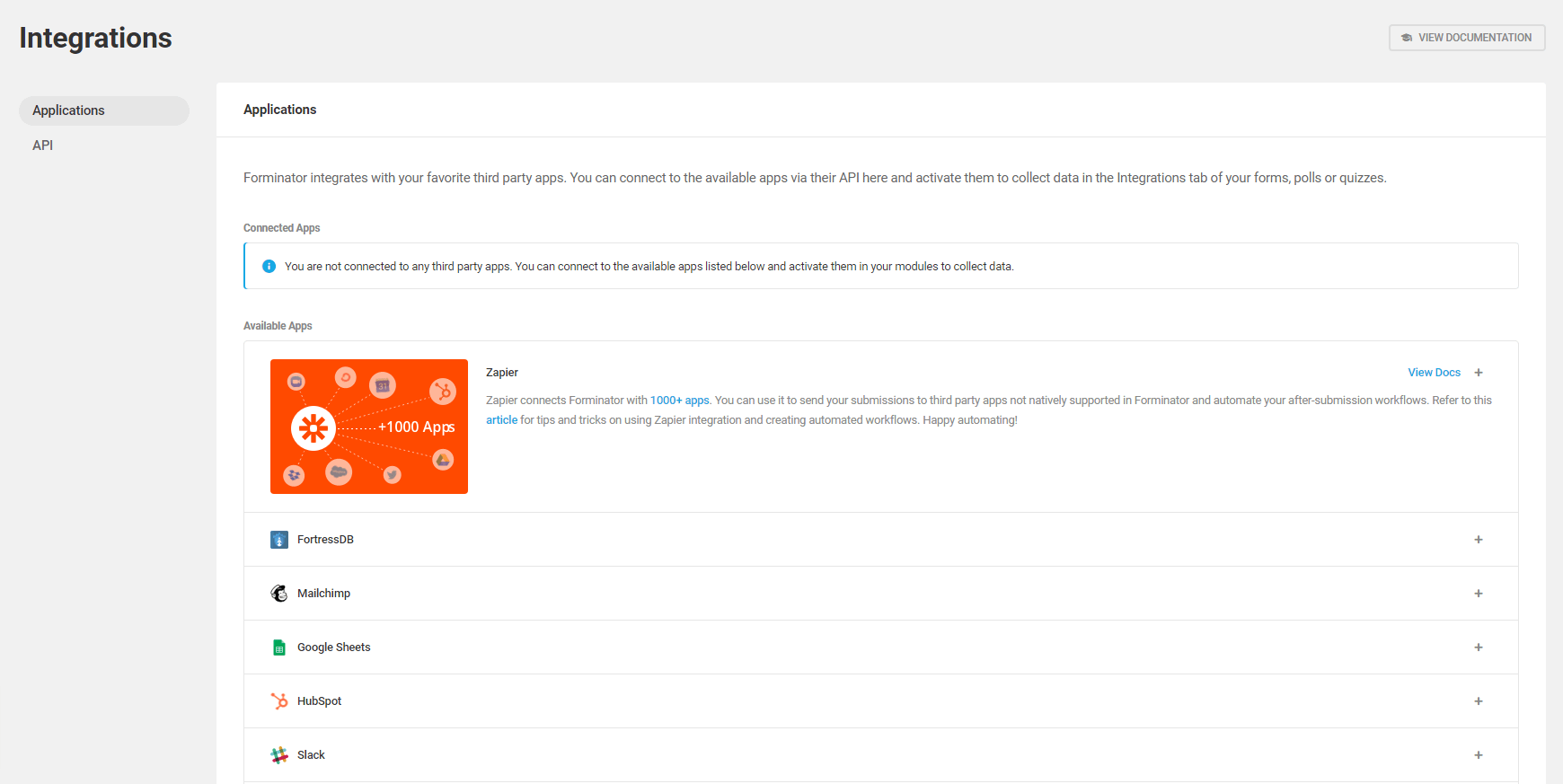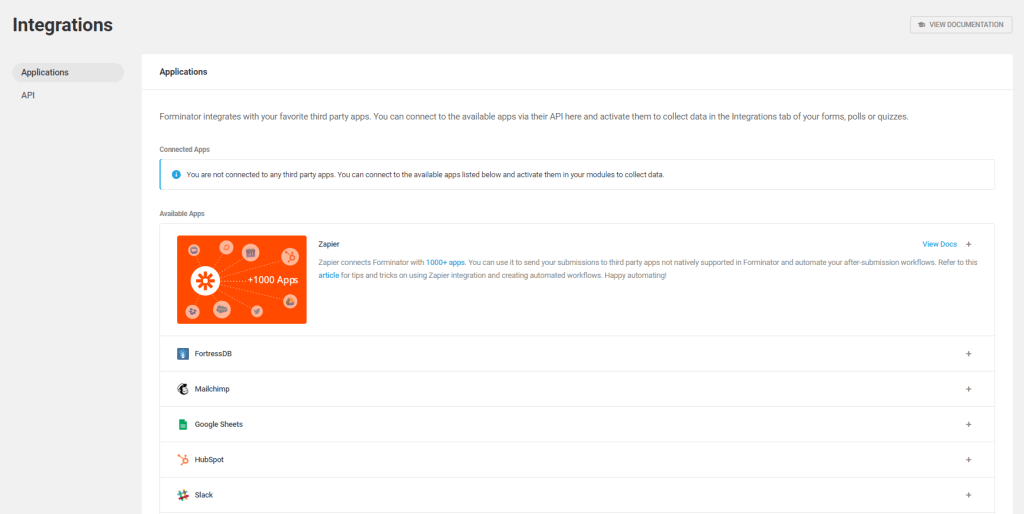 ---
Once you finish designing your form, you can publish it and grab a shortcode. This shortcode can then be placed on any page or blog post. On top of that, you can also track analytics for your forms, and monitor both views and, submissions; conversion rates.
Formintator: Features
Has support for Forms but also surveys, polls, calculations for lead generation, and payment integration.
Integrates with third-party apps like HubSpot, MailChimp, Trello, and many (over 2000) others.
Developer-friendly: You can build plugins (using the API) on top of Forminator.
If you upgrade to the Pro version - it is subscription-based, which isn't ideal, but given how much work they're putting into this plugin, it might just be justified.
Last but not least, Forminator also supports quizzes and polls, using the same form-building interface. So, if you were ever planning to engage your audience with alternative types of content, the Forminator plugin will help you do just that.

Ninja Forms: Summary
Users: 900,000
Publisher: Saturday Drive
Ninja Forms has been in active development for over a decade. And with millions of active users, the plugin has reached a household name status. So what makes it so popular?
For one, Ninja Forms is a fully visual form builder. The entire process of building a new form is done through a drag & drop interface. This speeds up the process and provides better visual clarity of the form design you're trying to achieve.
Here is a demo of the user interface for the default Contact Me form:
You can double-click the video for a fullscreen preview!
Clicking on the "+" widget at the bottom-right corner will open up a dashboard that includes all of the available input fields. If, for example, I also wanted to collect the phone number of people contacting me, I can click on the Phone input field, and it will be automatically added to the form.
Ninja Forms: Features
GDPR-Friendly: Forget about needing to weave through rigid regulations. The plugin, by default, does not store any data. And you can configure the plugin to be compliant when you do want to collect some data collected from the forms.
An extensive collection of pre-built templates lets you quickly create forms for the necessary purpose.
You can create live links for the forms you're creating with Ninja Forms.

Has been pre-translated in over 15 languages.
The free version doesn't go much further than that. However, if you commit to using Ninja Forms regularly, they have an extensive add-on directory. These add-ons (extensions) range from things like file uploads to PayPal integrations and much more.

10Web Form Maker: Summary
Users: 80,000
Publisher: 10Web
Whenever I see developers work to provide samples of what their product can do, I almost always know I will end up with a good user experience. This was the case when trying out the Form Maker from the folks at 10Web. Upon installing the plugin, you'll be able to navigate to Form Maker -> Forms, which has 5 pre-built form templates.
Those templates include:
Contact Us
Client List
Feedback Form
Business Survey
Product Order Form
And despite being "example" templates, they're quite well designed.
Here is a showcase of the Product Order Form: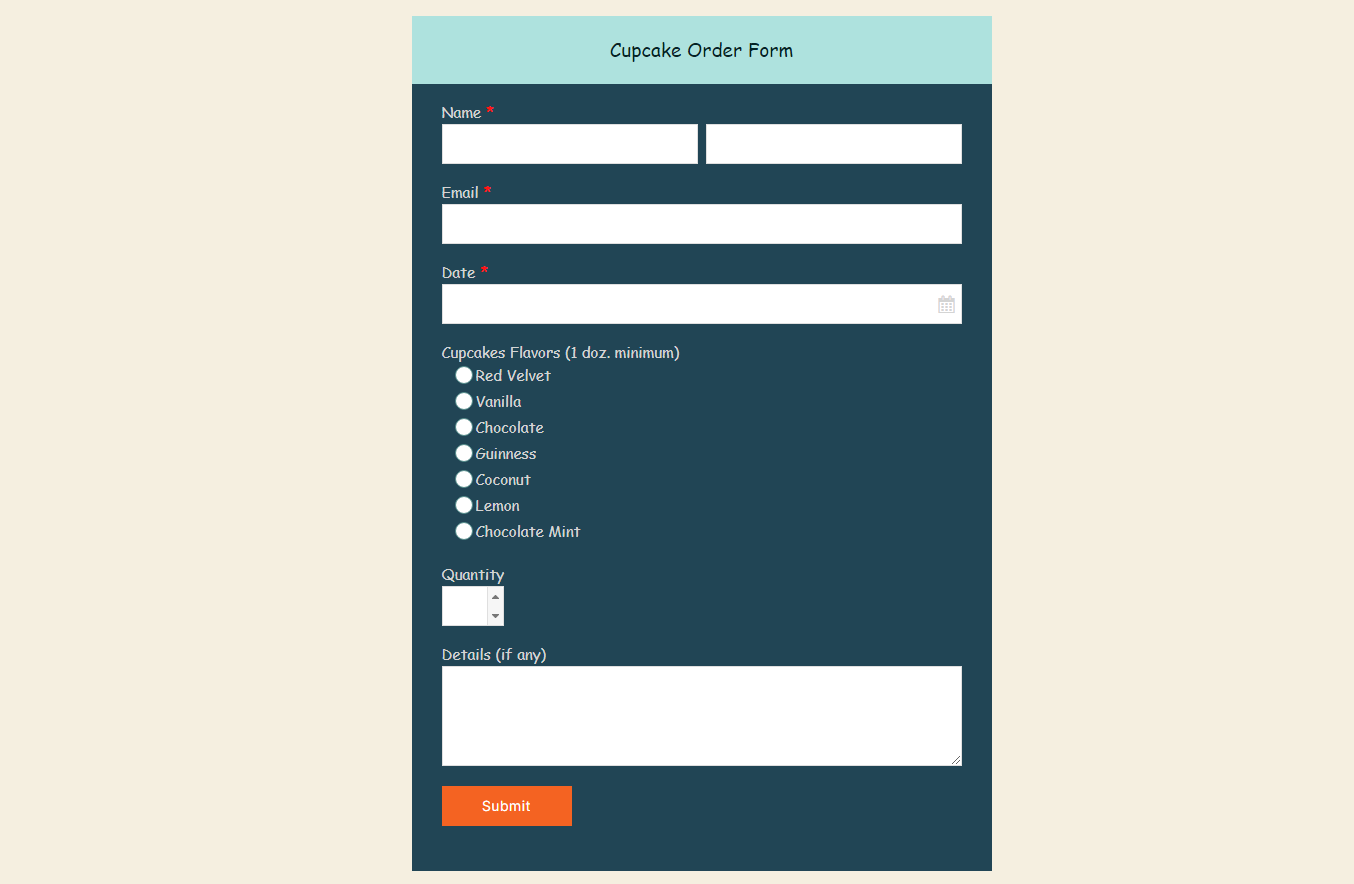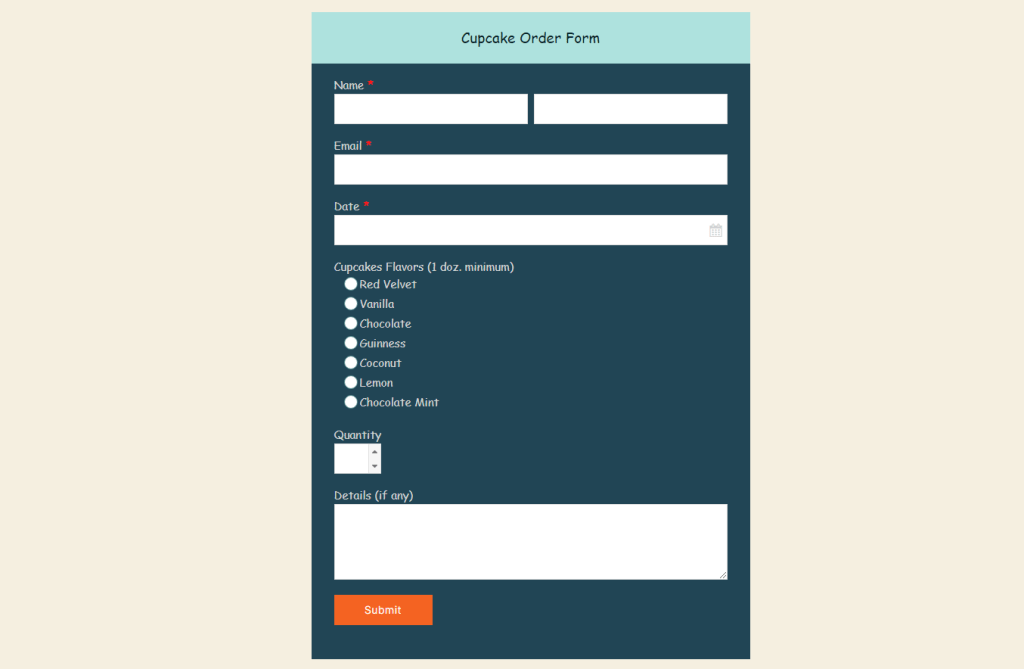 Nice and clean design. But more importantly, you get a lot of variety in input fields. This one specifically supports selecting the type of product but also quantity. Furthermore, you can add input fields to collect feedback from customers/users directly. And all of this is fully customizable from the actual form designer panel.
10Web: Features
Easy

to work with the user interface - go from building simple forms to more complex projects without feeling like you're going against the grain.
A little over 40 different fields you can choose from when creating forms.
Forms can be displayed in traditional format (normal embed), but also inside popups and on-display scroll boxes.
Spam protection through various methods, including custom captcha for each form.
A feature I thought was quite creative is the ability to select Form Type. In other words, you can select Embed (default) forms and display them as popups, topbars, and scroll boxes. And each display option has its own settings, too. You can apply all four display types and have them individually displayed on the exact pages where you want the forms to be shown.

Flo Forms: Summary
Users: 10,000
Publisher: Flothemes
Flo Forms was an absolute breeze to install and begin work with. It is specifically tailored toward users with no prior coding experience. The visual drag & drop builder provides an intuitive designing experience, letting you quickly create custom-made forms.
Overall, you'll be getting the same form-building experience as all the other plugins in this list, so rather than focusing on that - let's focus on some of the unique features in Flo Forms.
Mobile-friendly. Works and looks great on mobile and desktop devices alike.
Entries. All form submissions are stored in your WordPress dashboard for easy access.
GDPR. Supports custom checkboxes for Privacy Policy and user consent.
Conditional. You can enable conditional logic for each input field individually.
Confirmation. Users will get a confirmation email of successful form submission.
If you decide to upgrade, Flo Forms will open up with even more great features.
Such as custom templates and fonts, file management, saving your custom designs, and integrating with third-party tools.

Supsystic Contact Form: Summary
Users: 10,000
Publisher: Supsystic
The thing about WordPress is that for practically any plugin, there are always going to be 1, 3, or maybe even 10 different alternatives. So, in saying that, I think the plugins we have seen so far cover all the major scenarios and use cases in which you'd be looking to build a custom form.
Contact Form by Supsystic is built specifically for contact forms. However, this plugin packs a surprisingly diverse set of features despite being optimized for a single use case. For one, you will have access to 10 different form designs. Once you select a theme you like, the plugin will redirect you to the visual builder, which has over 100+ customization options.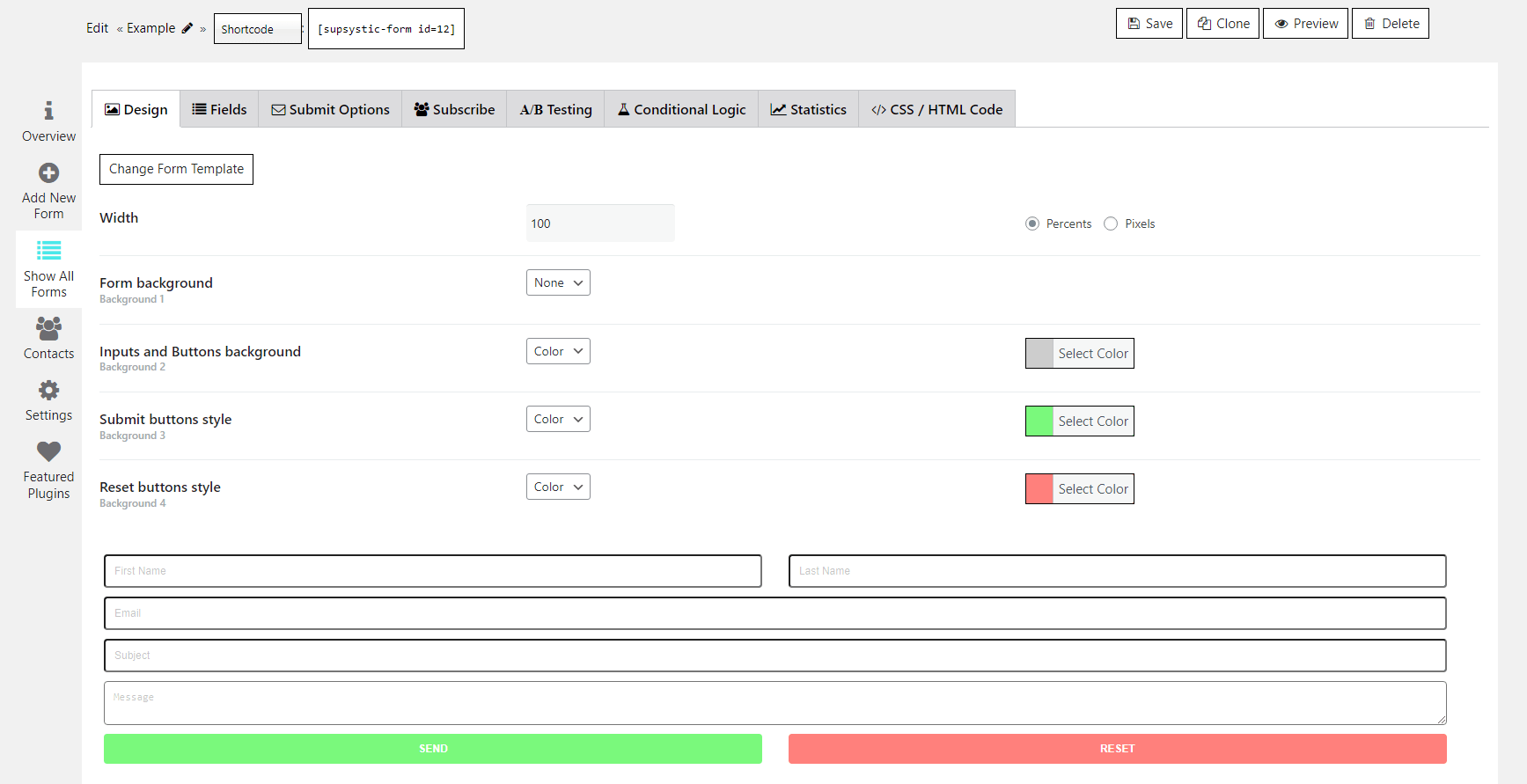 Sadly, because this is a freemium plugin, many intricate features are unavailable to free users. Though, I do think they deserve a mention. For example, a feature unique to this plugin is the ability to A/B test two different form variations. Additionally, you can integrate this plugin with external email services like MailChimp and others. Pro users can also implement conditional logic.
Supsystic: Features
You can enable front-end publishing through forms. In other words, guests can submit articles directly from a dedicated page.
Spam protection thanks to Google reCAPTCHA integration.
Track statistics, including successful and failed form submissions.
Optimized for performance, in ways such as asset offloading.
As you finish setting everything up, you'll be able to display the form you've created either as a widget (on sidebars, etc.) or through a shortcode. Last but not least, all customization happens through pre-determined settings. However, you can add or remove custom CSS & HTML code, letting you utilize CSS snippets you find elsewhere on the web.

Subscribe Forms: Summary
Users: 4,000
Publisher: Premio
As I pointed out earlier, subscription forms are among the leading types of online forms that you'll find on almost any website. The only plugin I could find that focuses strictly on subscription forms is this one from Premio. However, in my review process, I did find it quite limiting.
With the free plan, you get 1 pre-made template, and can only collect an email address. If you wanted to add a name/surname field - you'd need to get a pro account. Furthermore, you can only save subscriber data locally on your WordPress site. Although, it is possible to export that data and import it into your email marketing platform.
It's not all bad. You get a decent chunk of customization tools, including using Google Fonts and customizing the color appearance. It's also possible to enable a "Thank you!" screen after submitting a form. If you only care about your subscribers' email addresses, then I think this plugin is a solid fit.
Summary
WordPress form builders have come a long way from their initial iterations. Every single plugin in this collection provides some means of building forms with a visual interface. And, the possibilities for adding custom input fields are endless. So, ultimately, to pick the right plugin for your needs - you should know exactly what kind of a form you want to build.
I'll be keeping an eye out for any new plugins entering the market, but for the time being - these are easily the best solutions you can get your hands on.