With the increasing focus on privacy and data protection, cookie banners have become a common feature on websites and, in some places - even mandatory!
But, let's be real, creating a cookie banner from scratch can be a bit of a headache. That's where cookie banner generators come in! These handy tools make it quick and easy to create a professional-looking cookie banner that will keep you and your website's visitors happy.
In this blog, we'll take a closer look at the benefits of using a cookie banner generator and share some of the top options available.
So, grab a cup of coffee and let's dive in!
---
What are the regulations regarding cookies?
In the European Union (EU), the use of cookies is governed by the General Data Protection Regulation (GDPR) and the ePrivacy Directive. The GDPR requires websites to obtain the user's consent before setting cookies that collect personal data, such as information about the user's browsing behavior. The ePrivacy Directive (which is currently in the process of being replaced by the ePrivacy Regulation) requires websites to provide clear and comprehensive information about the use of cookies and to obtain the user's consent before setting any non-essential cookies.
In the United States, no federal law specifically regulates cookies. However, there are a number of state laws and regulations, such as the California Consumer Privacy Act (CCPA) and the Nevada Privacy Law, that require websites to disclose their use of cookies and provide users with certain rights, such as the right to opt out of the sale of their personal information.
In general, it is a good practice for websites to provide clear and comprehensive information about their use of cookies and to obtain the user's consent before setting any non-essential cookies. Many websites use cookie consent banners or pop-ups to provide this information and obtain user consent.
---
How does a cookie banner work?
A cookie banner is a notification that appears on a website to inform users about the use of cookies. It typically includes a brief message about the use of cookies, a link to the website's cookie policy, and an option for the user to accept or reject the use of cookies.
When a user visits a website for the first time, the cookie banner will appear on the screen, often at the top or bottom of the page. The banner will explain that the website uses cookies and will ask the user to either accept or reject the use of cookies. If the user clicks "accept," the website will store the user's cookie preferences and will set cookies as necessary to provide the requested functionality. If the user clicks "reject," the website will not set any cookies except for essential cookies that are necessary for the website to function properly.
It is important to note that cookie banners should be designed in a way that is clear, concise, and easy to understand for the user. Additionally, they should allow users to change their cookie preferences at any time. This helps to ensure that users have control over their data and can protect their online privacy.
---
How to generate a GDPR-compliant cookie banner?
To generate a GDPR-compliant cookie banner, you should consider the following steps:
Identify the types of cookies used on your website: Start by identifying the types of cookies used on your website, such as essential cookies, functional cookies, performance cookies, and targeting/advertising cookies. This will help you to provide accurate information about the use of cookies to your users.
Provide clear and comprehensive information about the use of cookies: Your cookie banner should provide clear and comprehensive information about the use of cookies on your website. This should include information about the types of cookies used, their purpose, the data that is collected, and how long the data is stored.
Obtain the user's consent: Your cookie banner should include an option for the user to provide explicit consent to the use of non-essential cookies. This could be a button that says "Accept" or "Agree." You should also provide an option for the user to reject the use of non-essential cookies, such as a button that says "Reject" or "Manage preferences."
Allow users to change their preferences: Your cookie banner should include a link to your cookie settings or preferences page, where users can change their cookie preferences at any time. This is important for GDPR compliance, as it allows users to exercise their right to withdraw their consent or object to the processing of their data.
Make the banner easy to read and understand: The cookie banner should be easy to read and understand for all users. It should be designed in a way that is not misleading, and should be easily dismissible. The language used should be clear, concise, and free of technical jargon.
Keep records of user consent: You should keep a record of user consent, including the date and time of consent, the type of cookies the user consented to, and how the user provided consent.
---
What are the best tools for generating cookie banners?
There are many tools available that can help you to generate a GDPR-compliant cookie banner, such as cookie consent management platforms or website plugins.
It is important to ensure that the tool you choose is GDPR-compliant and that the cookie banner meets all the requirements of the GDPR and ePrivacy Directive.
In other words, those are exactly the type of tools covered below.
---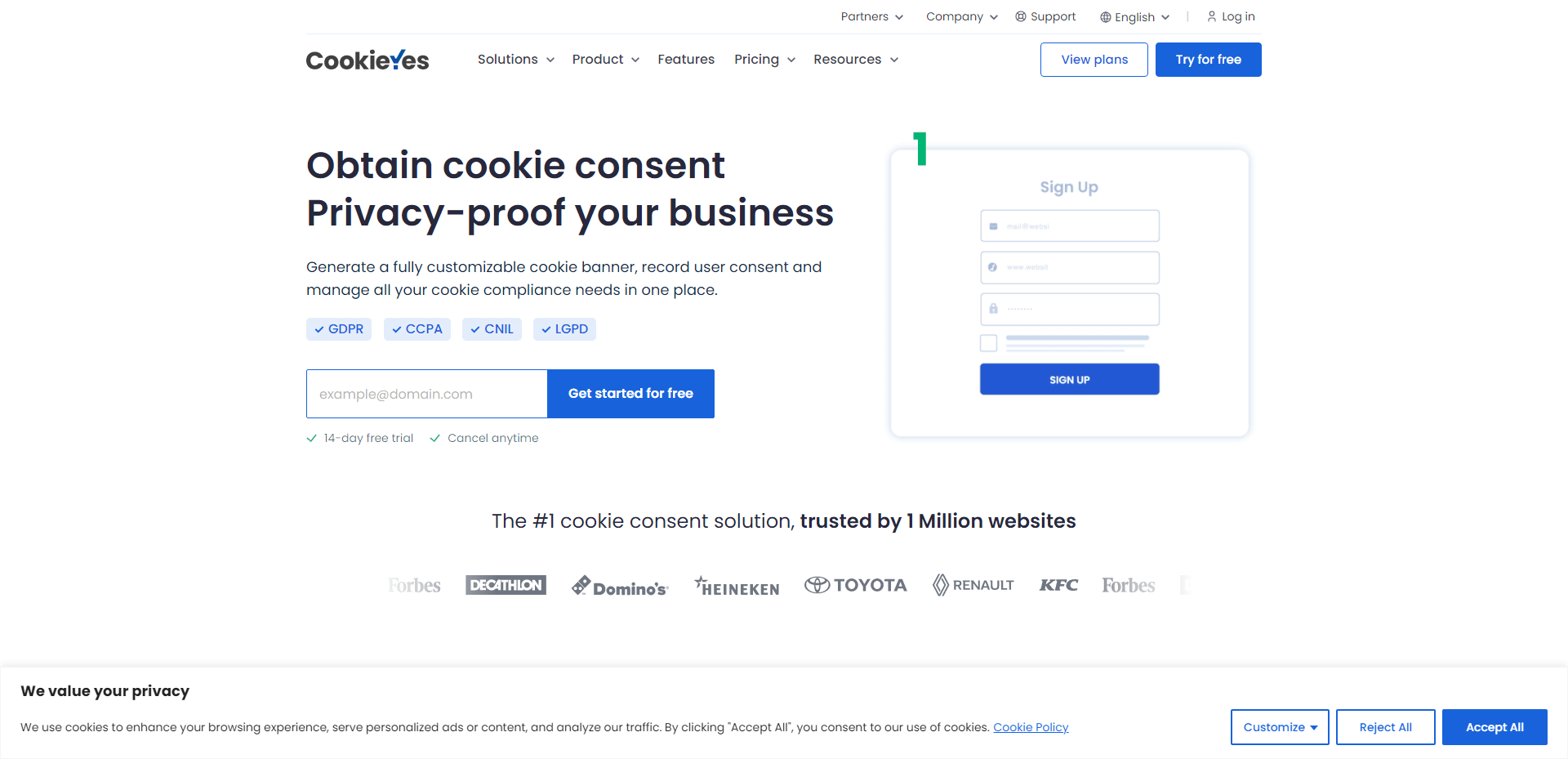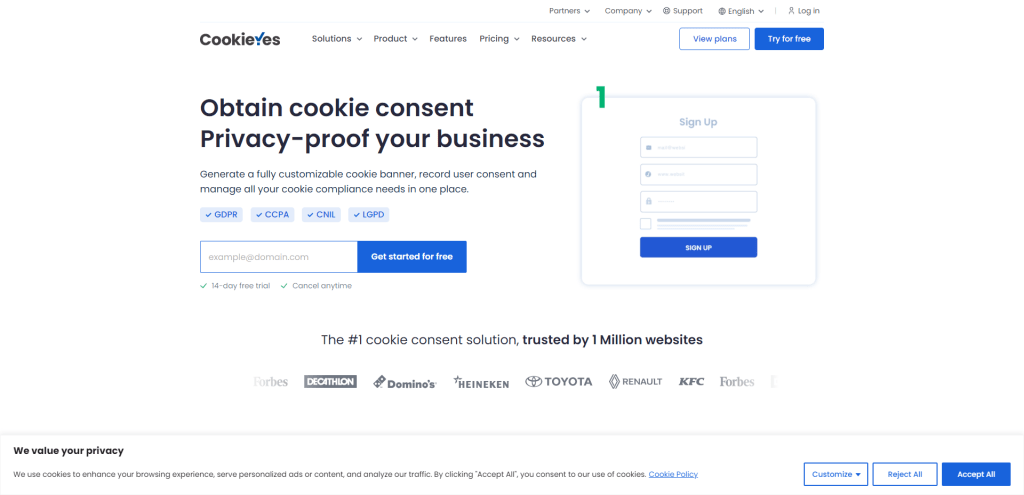 CookieYes is a cookie consent solution for website owners to comply with global privacy regulations like ePrivacy, GDPR, CCPA, CNIL, and more. The platform's features include a Cookie Scanner, Consent Banner, Cookie Auto-Blocking, Consent Log, Privacy Policy Generator, and a Cookie Policy Generator.
Here's a quick overview of what each feature does:
Cookie Scanner: Performs a deep scan of your website for cookies using its extensive database of 100,000+ pre-categorized cookies, auto-detects and categorizes them, generates a cookie audit report with a detailed description, and scans behind the login.
Consent Banner: Collects valid consent from users by displaying a GDPR compliant cookie consent banner or CCPA opt-out notice, customizes the banner layout, color, content, behavior, branding, and adds CSS customization, and displays a category preview, cookie audit table, and link cookie/privacy policy for informed consent.
Cookie Auto-Blocking: Automatically scans and blocks third-party scripts (such as Google Analytics, Facebook Pixel) until the user gives consent, supports the user's Do Not Track (DNT) browser settings, and integrates with Google Tag Manager.
Consent Log: Records and stores users' cookie consent for proof of compliance, builds a detailed trail of consent with the anonymized IP address, country, consent status, date, and time of consent, monitors the consent ratio, and exports the consent records as a CSV.
Privacy Policy Generator: Creates a custom privacy policy tailored for compliance with privacy regulations, answers preset questions, generates and previews the policy, and copies the privacy policy in HTML or plain text format.
Cookie Policy Generator: Creates an exclusive cookie policy for your website with up-to-date information, embeds your cookie audit report, and links the cookie policy in the consent banner.
The platform also offers Flexible Integrations, where you can integrate with Google Consent Mode to utilize data-driven marketing opportunities while respecting user privacy. You can implement the cookie banner on any Content Management System (CMS) or custom-coded website using their detailed documentation.
You can deploy a fully responsive and optimized consent banner for mobile, desktop, and tablet devices. You don't have to worry about time-consuming coding and integrations as you can leverage their pre-built templates, auto-blocking, and DNT support.
---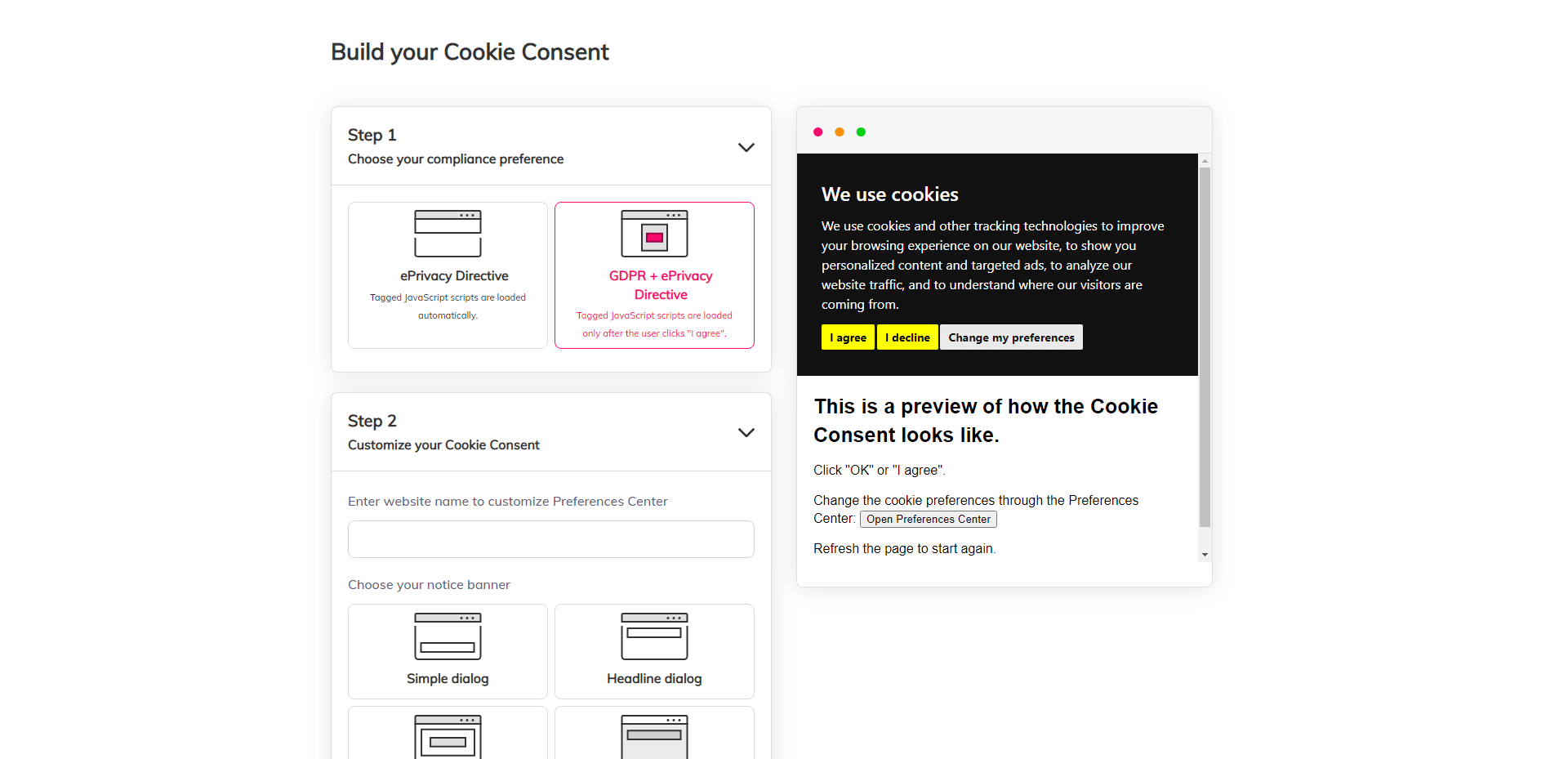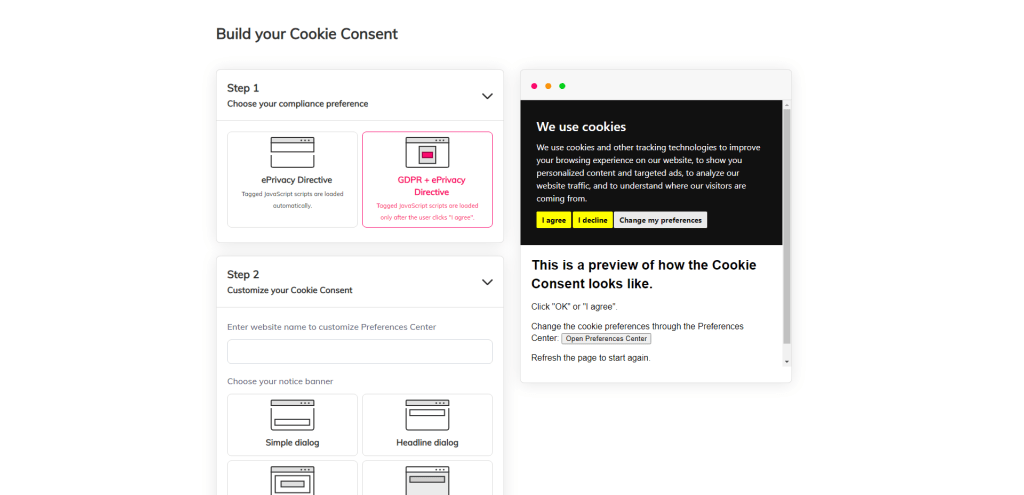 The first step to using the Cookie Consent platform is to choose your compliance preference. You can choose between the ePrivacy Directive or the GDPR + ePrivacy Directive. If you choose the ePrivacy Directive, tagged JavaScript scripts will be loaded automatically. If you choose the GDPR + ePrivacy Directive, tagged JavaScript scripts will only be loaded after the user clicks "I agree".
Next, you can customize your Cookie Consent notice banner by entering your website name, choosing your preferred color palette, and selecting your default language. You also have the option to include a link to your Privacy Policy or Cookies Policy.
The third step is to add your JavaScript scripts. You can enter a name for the script, select the cookie consent level (strictly necessary, functionality, tracking and performance, or targeting and advertising), and copy-paste the script code.
Once you've completed these steps, you can copy your generated Cookie Consent code and add it to your website in the <body> section.
In conclusion, the Cookie Consent platform is a great solution for managing cookies on your website and ensuring compliance with the EU Cookies Directive and GDPR.
---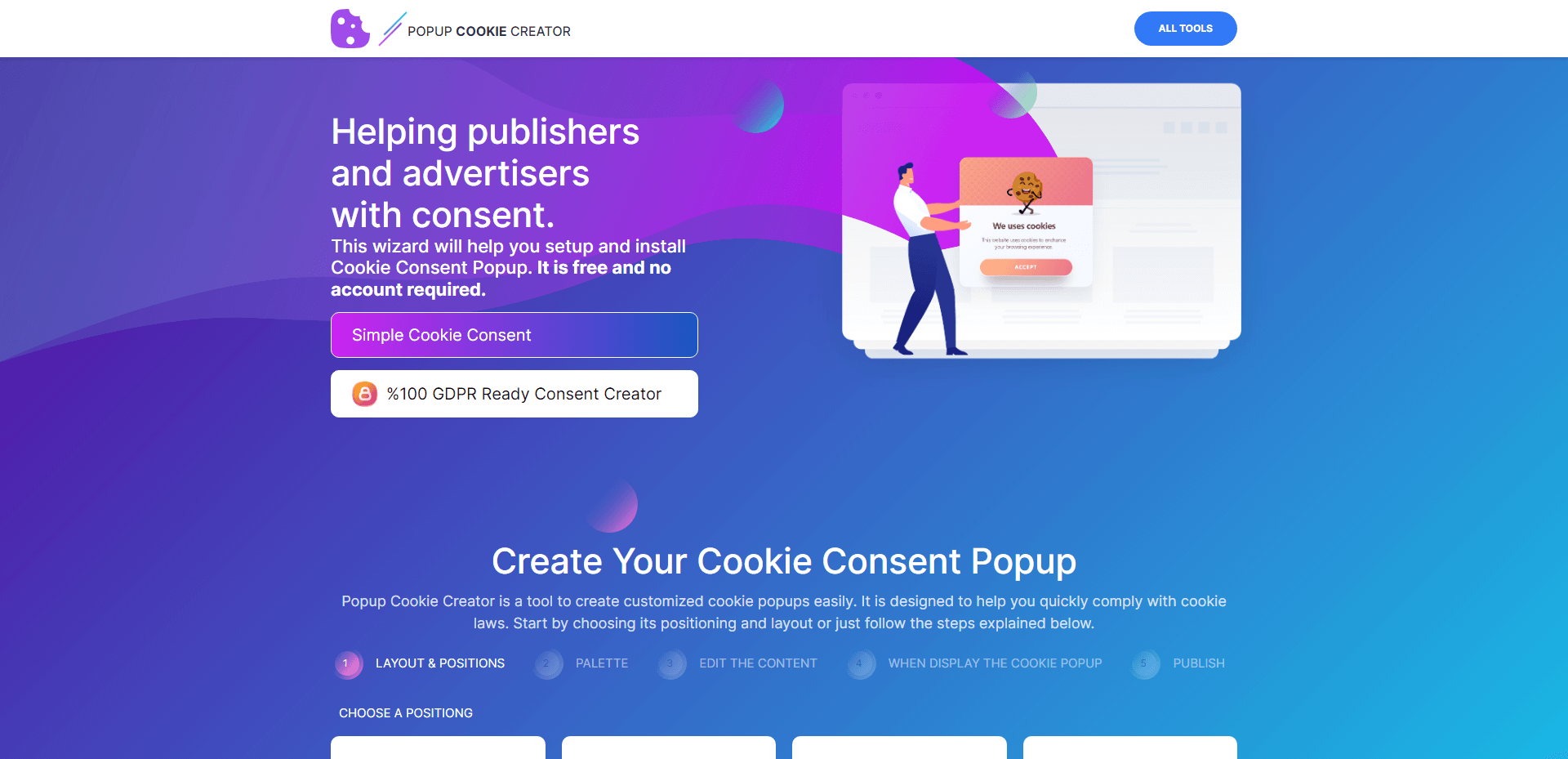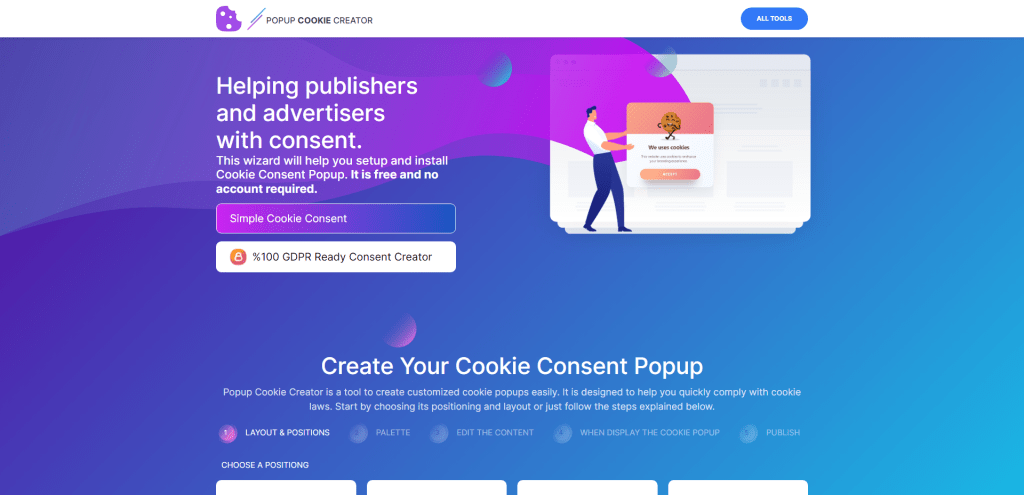 The Popup Cookie Creator from Popupsmart is an easy-to-use wizard that guides you through the process of creating a cookie consent popup. You can choose from different positions (Banner Top, Banner Bottom, Floating Right, or Floating Left) and layouts (Block, Edgeless, Classic, or Wire) to make your popup fit perfectly with your website's design.
Additionally, you can customize the colors and text of the popup, including the headline, call to action, and link to your company policy. You can also set the display time for the popup, so that it appears after a certain amount of time after the user visits your website.
---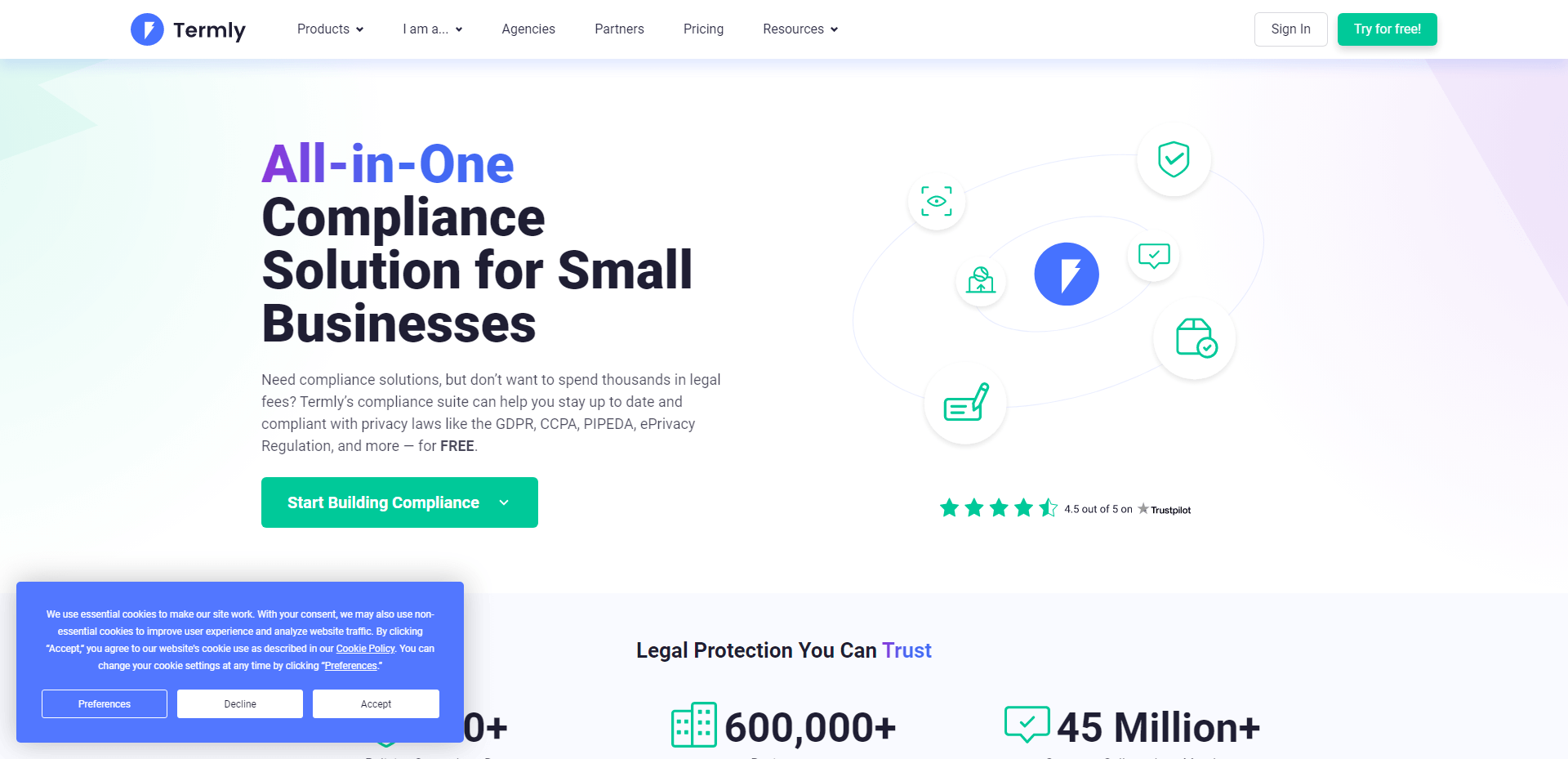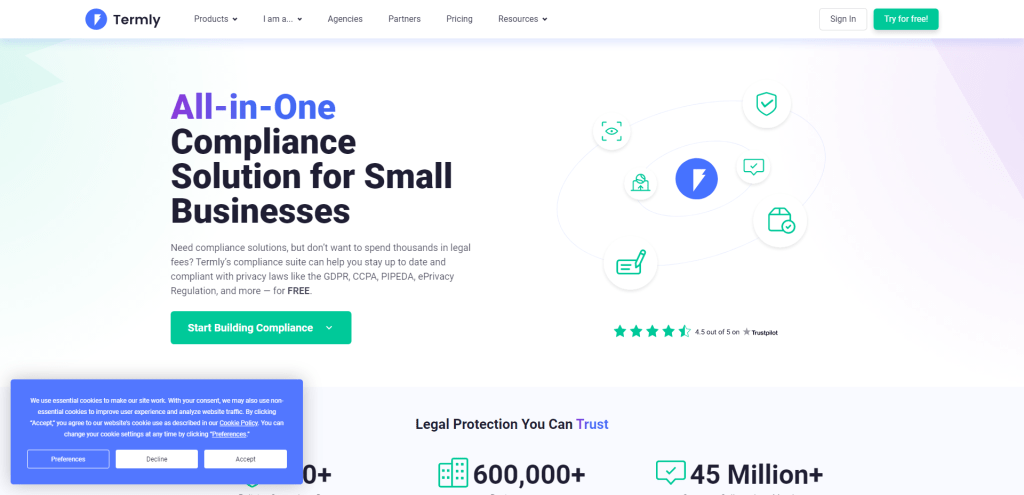 Termly is a fantastic all-in-one cookie and privacy management tool for websites. This platform is designed to help you create a cookie policy, build a cookie consent banner, and manage cookie consent, all while complying with global privacy laws like the GDPR, CCPA, and ePrivacy Directive.
One of the key features of Termly is its cookie auto-blocker, which detects and categorizes scripts, then blocks certain scripts based on the user's unique cookie settings.
The platform also provides you with a cookie policy that is perfectly tailored to your business, and a customizable cookie consent banner to help you easily collect user consent and comply with privacy laws.
The process of using Termly's cookie consent manager is straightforward and requires minimal input from you. You simply input your website's URL and start the scan. Termly will find, review, and compile a list of your website's cookies. You can then customize the cookie consent banner and install it onto your website. The platform will also provide you with a cookie policy, which you can add to your site using HTML, a code snippet, or a URL.
---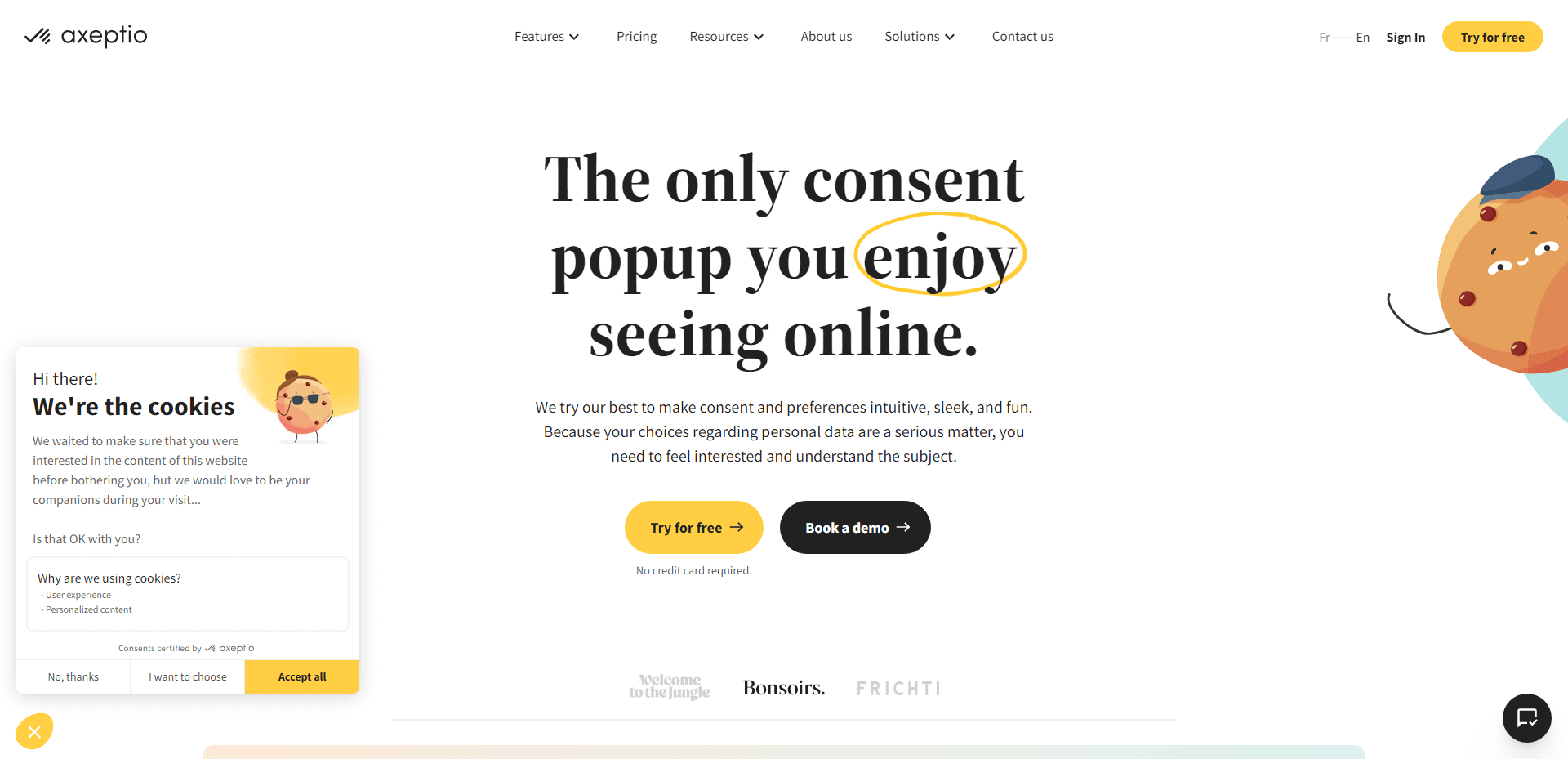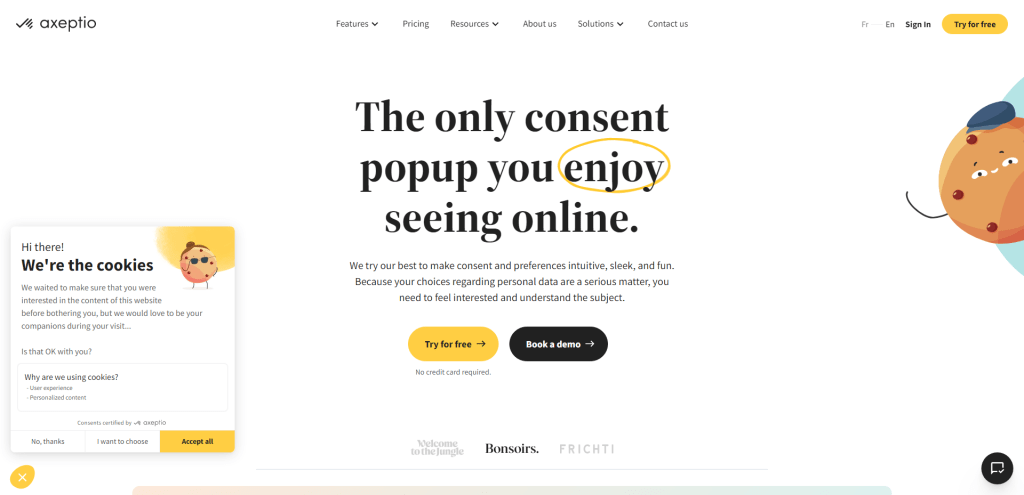 Axeptio is a Consent Management Platform that aims to provide a user-friendly and conversational experience to the visitors of a website. It's designed to help websites comply with privacy regulations, but also to make the first interaction between the website and its visitors a positive one.
One of the key features of Axeptio is its friendly and conversational UI. It has a cookie widget that uses illustrations and a direct and engaging tone to address visitors with honesty and transparency. The platform believes in the importance of creating empathy and good will with visitors, and the friendly characters help achieve that goal.
Axeptio also provides customization options to help the cookie widget integrate seamlessly into a website's design. The platform offers design options such as font, theme colors, padding, and box shadows to ensure that the cookie widget is pixel-perfect and in line with the website's overall design.
---
Frequently Asked Questions