Our content is supported by our readers. We may earn an affiliate commision from buying links on this site.
With a user-friendly User Interface and powerful plugins and themes, WordPress makes creating a new blog or website easy and fun. But before you build your site, you'll need to consider hosting. This is where things get tricky. There are lots of different hosting options out there, each with its own pros and cons. And each one adjusts its pricing based on the services it provides.
So the question is, which one is right for you?
In this article, we'll take an in-depth look at the best WordPress hosting solutions and help you figure out which one suits your needs as you build or rebuild your WordPress blog or business website. To make this review as comprehensive as possible, we analyzed hundreds of pre-sale questions from sites such as Quora, and Reddit, and decided to narrow our focus to six unique factors.
What to Expect from This Review
Below are the criteria we used to review each hosting platform individually.
Pros & Cons - This section is dedicated to understanding each hosting company's core advantages and drawbacks.
Plans - Do you need a hosting plan that is small and affordable, or perhaps you need a solution to host multiple websites? We do a deep dive into each platform's plans.
Customer Support - If you have no prior experience in website management, it goes a long way to have access to a support team that can help with technical tasks.
Security - Does the platform provide SSL, DDoS protection, and other security features?
Noteworthy Features - What makes the individual platform unique?
Pricing - How much does the said platform cost monthly/yearly?
We will conclude this review with a summary of where WordPress stands in the current year, and, finally - answer pressing questions submitted by readers.
All pricing and traffic reflect the most affordable plan. The load times were assessed using GTmetrix (Vancouver, Canada), and the final rating is based on the factors we've used to review these providers. Read the full review for more information!
WP Engine is a managed hosting solution that caters to high-performance websites. Part of their offering includes performance optimization, security features, daily backups, and other premium services as one of the most recognized managed WordPress hosting providers.
If you're looking for a hosting service that can give you peace of mind, handle traffic spikes without hiccups and improve your site speed simultaneously, this is the platform to consider.

WP Engine: Review & Highlights
World-class services & customer support.
👍Pros
WP Engine focuses strictly on WordPress solutions only.
Fantastic customer support, available any hour of the day.
Partnered with Google Cloud, HubSpot, Cloudflare, and AWS.
60-day money-back guarantee.
Certified and compliant with the most robust security requirements.
Supports team member access to hosting accounts.
👎 Cons
No business email (you need to use a 3rd-party service).
Significantly more expensive than some of the affordable alternatives.
🧑 Our impression - It's hard to compare WP Engine to any other hosting platform, given their explicit focus on WordPress. The managed services, combined with a focus on performance and security, make this a fantastic choice for both new and old websites. We're also impressed with their Automated Migration service, which has helped over 500,000 people migrate their sites to WP Engine.
🗒️ Plans - WP Engine is one of the most flexible hosting platforms on this list regarding its hosting plans. You can select from managed plans from entry-level to enterprise-grade levels. They're also able to accommodate eCommerce customers who wish to start an online store using WooCommerce.
👩‍💻 Customer support - Customer support at WP Engine is yet another area in which they blow the competition out of the water. Not only do they help you maintain and secure your WordPress site automatically (it is a managed service, after all) they have a dedicated 24/7 support team available at any time. Their support team can be contacted through live chat, email, and phone.
🔒 Security - WP Engine prides itself on its security features, and for good reason. All plans include dedicated threat-detection features that alert you whenever your site is attacked. Furthermore, each plan includes a free SSL certificate, activity logs, and two-factor authentication. In the unlikely event that your website gets hacked, WP Engine will provide a "clean up" service and reinstate your site to its original state as it does automated site backups for all its customers.
👉 Noteworthy features
Free CDN (Content Delivery Network) is included in all plans, or you can use your own.
Monitor website performance at the page level and get recommendations to improve!
Create a copy of your website if you plan to redesign or make drastic changes.
WordPress Multisite is available for Professional customers.
💰 Pricing
WP Engine offers flexible pricing which can be adjusted to your needs, all plans include the aforementioned features.
Managed WordPress - The cheapest plan starts at $23 a month (with a generous discount for annual plans), and includes 1 website with up to 25,000 visitors a month. This plan can be upgraded and configured to your specific requirements.
eCommerce (WooCommerce) - The eCommerce plan starts at $56 per month, and includes premium features such as better caching, premium eCommerce addons, and a custom Instant Search feature for your store.
Advanced - If you're an Agency or an Enterprise business, WP Engine can accommodate its most demanding customers, starting at $600 a month. Advanced Features include DDoS protection, a high uptime guarantee, improved security, and managed firewall protection.
To conclude, WP Engine is a fantastic choice for first-time WordPress users and experienced professionals looking to take their business to the next level. From features to ease of use to state-of-the-art security features. WP Engine understands the pain points of website management and delivers a service that doesn't leave you longing for more.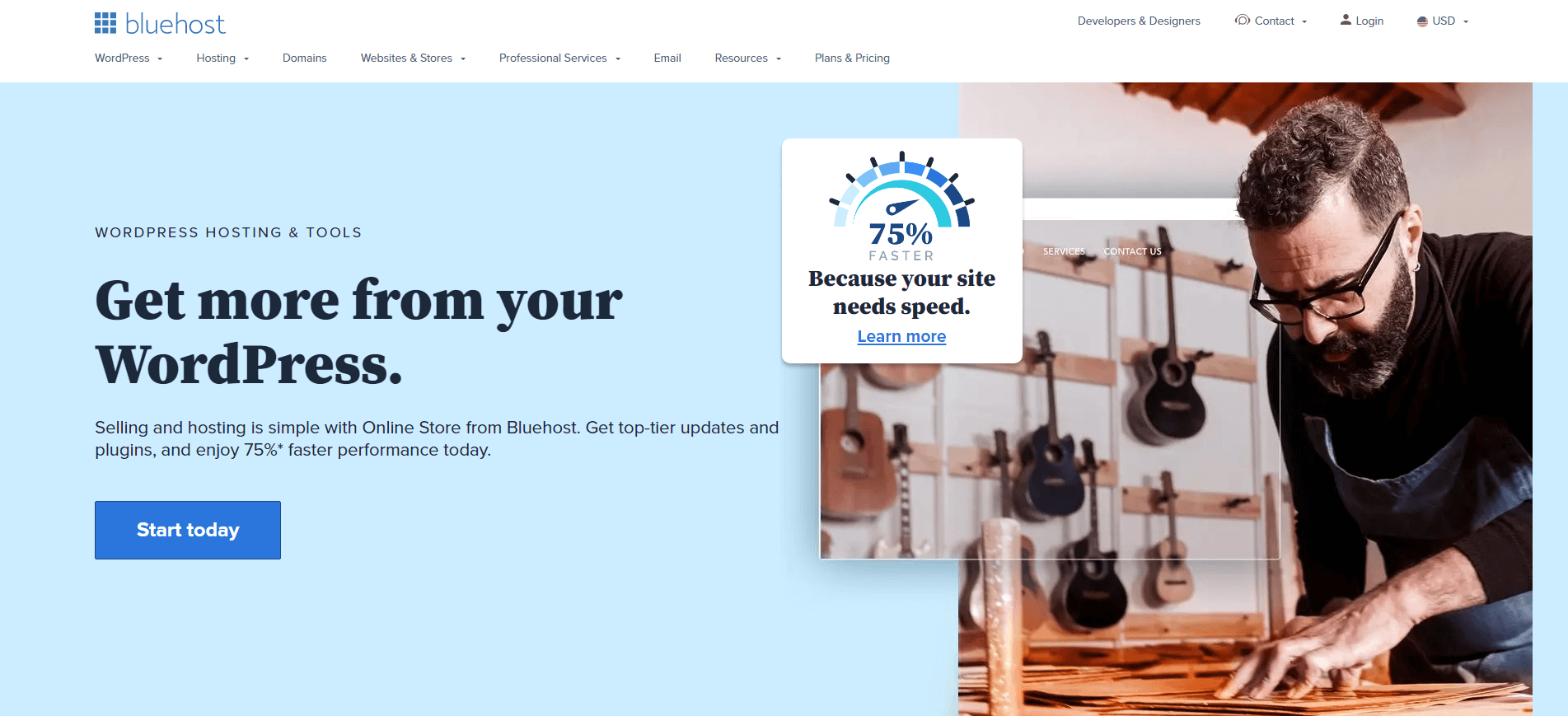 Small business and personal users may find Bluehost's fast and helpful support, feature-packed WordPress, and eCommerce hosting plans appealing.
The limited and not-very-customizable VPS and Dedicated plans of Bluehost indicate that it isn't suitable for the most demanding business customers. Still, Bluehost is a high-quality provider that provides faster, more dependable, and higher-quality web hosting than most competitors.
And it does so while maintaining the integrity of affordable rates.

Bluehost: Review & Highlights
Affordable WordPress hosting with discounts for first-time customers.
👍Pros
First-time signup fees are extremely affordable.
No bandwidth limits.
Custom WordPress themes.
$200 in marketing credits (Google/Bing) for Plus plan customers.
Great features and add-ons for eCommerce businesses.
👎Cons
The storage for the cheapest plan is a bit low (10GB).
The Basic and Plus plans don't provide automated backups.
No option to select a data center outside of North America.
🧑 Our impression - We've watched Bluehost grow from a small company specializing in everyday web hosting, to a platform that provides robust features and an affordable pricing range that will suit independent professionals and those looking to launch an online business.
Moreover, Bluehost is committed to helping new customers launch their perfect website, particularly if they have no experience in website management. They also offer various services, from Website Design to Marketing and feature implementation upon request.
🗒️ Plans - You can look at any WordPress hosting review for Bluehost, and you'll eventually stumble on the statement, "Bluehost is cheap yet packs a punch with its set of features.". And there is no other way to describe it; Bluehost offers a wide range of plans suitable for beginners and those looking to launch a full-scale online business with eCommerce capabilities.
👩‍💻 Customer support - It's possible to reach the Bluehost support team through Email, Phone, and Live Support.
However, we'd like to emphasize their Blue Sky service for anyone seeking access to Bluehost's team of WordPress experts. This service includes on-demand support through a ticketing system, and live chat, and the Pro plan goes as far as helping you with tasks such as marketing, search engine optimization, and designing your website.
Blue Sky is a paid, optional service, but we felt it must be highlighted because it might be exactly what you're looking for.
🔒 Security - If there's one thing we want to nitpick about Bluehost is that its automated backup feature is included in their later tiers of pricing plans. Nevertheless, plenty of free WordPress backup plugins help remedy that.
SSL is included free of charge, they also provide the option to utilize two-factor authentication so that no one can access your account without your approval. And lastly, Bluehost uses SiteLock to provide automated threat analysis but also helps to strengthen your general website security.
👉 Noteworthy features
Custom themes to give your site a fresh look.
Free CDN (Cloudflare) is included in all plans.
Bluehost Maestro dashboard, a unified interface to manage all your websites and domains.
Email for your domain is available from Bluehost directly.
💰 Pricing
Bluehost's pricing is categorized in multiple brackets, targeting not only beginners but also professionals needing managed eCommerce solutions.
WordPress - The first year for the cheapest plan at Bluehost starts at $2.95/month. This includes a free domain name.
WordPress Pro - The managed WordPress hosting plans start at $19.95 and include features like website analytics, a marketing center, and more than one hundred premium WordPress themes.
WooCommerce - The entry-level online store plan starts at $9.95 a month for eCommerce businesses. This plan also includes special plugins, such as bookings, gift cards, wishlists, and secure online payments.
It's easy to forget that even the cheapest WordPress hosting plans have a lot to offer, including a means to protect your online business and manage website-related tasks. That's exactly what Bluehost has to offer. From its free email service to its SiteLock security tools, Bluehost gives you the space to focus on building your website rather than having you tinker with technical tasks.
And while it might not be the best choice for the serious entrepreneur, it is great for anyone who needs a simple, affordable WordPress platform on which to launch a small business or blog.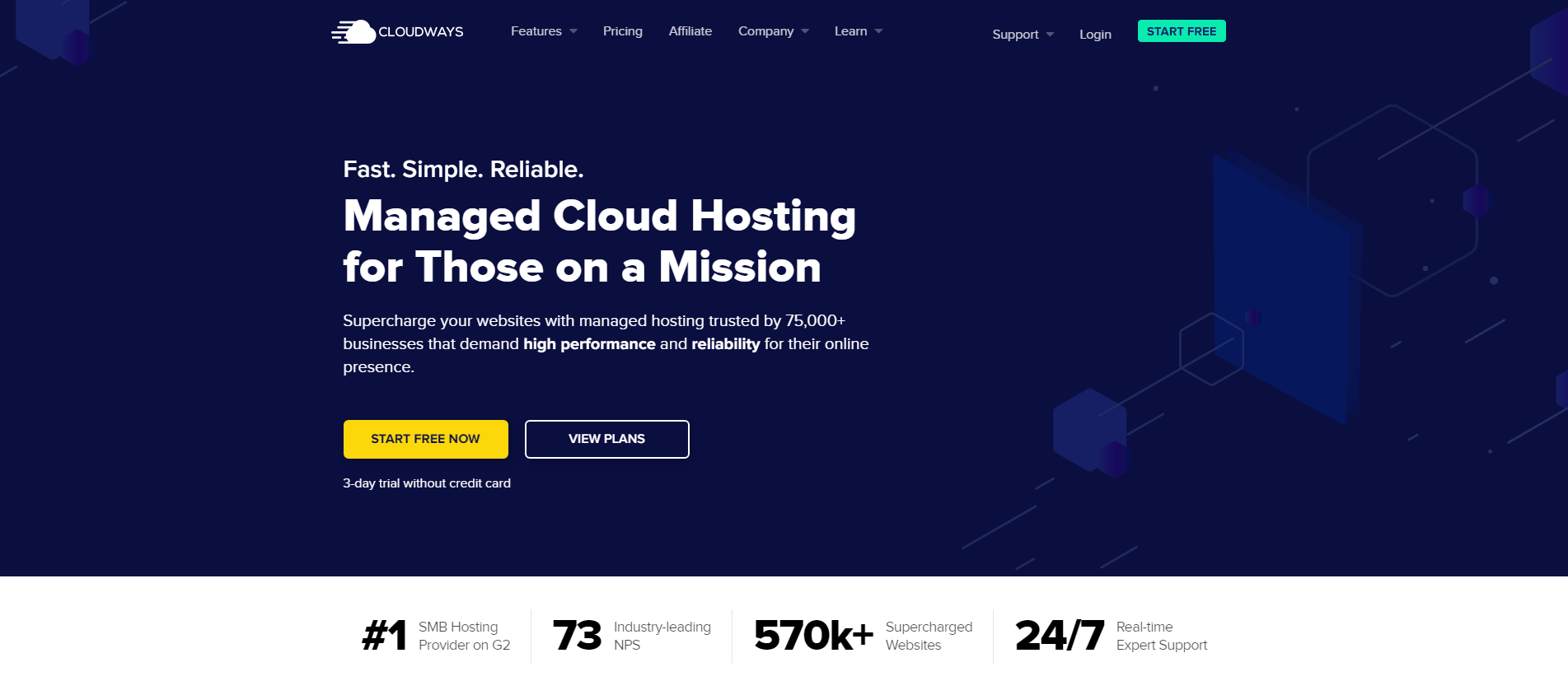 Cloudways offers a way for even the least technical people to tap into the potential of the world's most well-known cloud services. Rather than having its own data center, Cloudways specializes in using resources from world-class cloud providers such as Google Cloud, AWS, and others.
Cloudways: Review & Highlights
Managed cloud services for those in need of performance and reliability.
👍Pros
Fully managed website hosting on world-class cloud services.
You can install additional apps and software besides WordPress.
No limits to how many sites you can create or site visitors that you can serve.
You can choose a data center location from any region in the world.
All customers have a dedicated account manager. (Support)
👎Cons
So many plan options can be quite a handful for beginners.
Doesn't provide the means to register a domain.
No email service.
🧑 Our impression - Cloudways is a unique hosting service in the sense that it lets small business owners tap into the resources of world-class cloud providers such as DigitalOcean, Vultr, Linode, AWS, and Google Cloud. As a Cloudways customer, you can use these platforms and the resources they provide at scale, and as a managed service. This diverse set of provider choices also means that you have the option to choose from over 60 data center locations all over the world.
🗒️ Plans - The plans at Cloudwyas are designed for all-size businesses, and you have the option to choose from five different providers. All plans share the same features, while you have full autonomy over the technical specs such as how much RAM, storage, and bandwidth you need.
There are no hidden fees; whichever plan (cloud provider) you select, Cloudways covers the cost of hosting on that provider.
👩‍💻 Customer support - Cloudways offers arguably the best customer support experience of all the solutions we've reviewed in this article. Their 24/7 support package is divided into three tiers: Standard, Advanced, and Premium. All tiers include support for server management, backups, domain management, free SSL certificates, and total WordPress management.
The Standard plan is provided to all customers at no extra charge.
🔒 Security - Security is one of the frustrations of working with "unmanaged" cloud providers. There's a lot to learn, manage and optimize, and you can never be sure you've got it all right. This is where Cloudways steps up big time; as a managed service, they've partnered with Cloudflare to provide world-class firewall and DDoS protection.
But more than that, they implement several other features to ensure your website is safe from attacks. Those features include login security, bot protection, complete operating system security, and monitoring of suspicious activity, which helps prevent unauthorized access to your account.
👉 Noteworthy features
Access the cloud infrastructure that powers some of the world's most famous websites.
Access to Breeze, their custom-built WordPress cache plugin to make your site fast!
Free migration to Cloudways with the help of one of their WordPress experts.
Staging area so you can test changes to your website before making them live.
Automated and on-demand backups.
💰 Pricing
We highly recommend you check the full list of Cloudway's plans using the button below; we cannot list them all here since there are over 25 variations. That said, we'll list their three most affordable plans and the server specs for the said plans.
DigitalOcean - Starts at $12 a month. Specs are 1GB of Ram, single-core CPU, and 25GB storage with 1TB bandwidth.
Linode - Starts at $12 a month. Specs are 1GB of Ram, single-core CPU, and 25GB storage with 1TB bandwidth.
Vultr - Starts at $13 a month. Specs are 1GB of Ram, single-core CPU, and 32GB storage with 1TB bandwidth.
We feel Cloudways will suit any business or professional endeavor where you may eventually wish to upgrade to a more capable hosting plan. There's a bit of stuff you have to do on your own, like manage your email and domain name, but hosting services aren't exactly known for always providing those features. It's expected that most people will register their domain with an actual registrar anyway.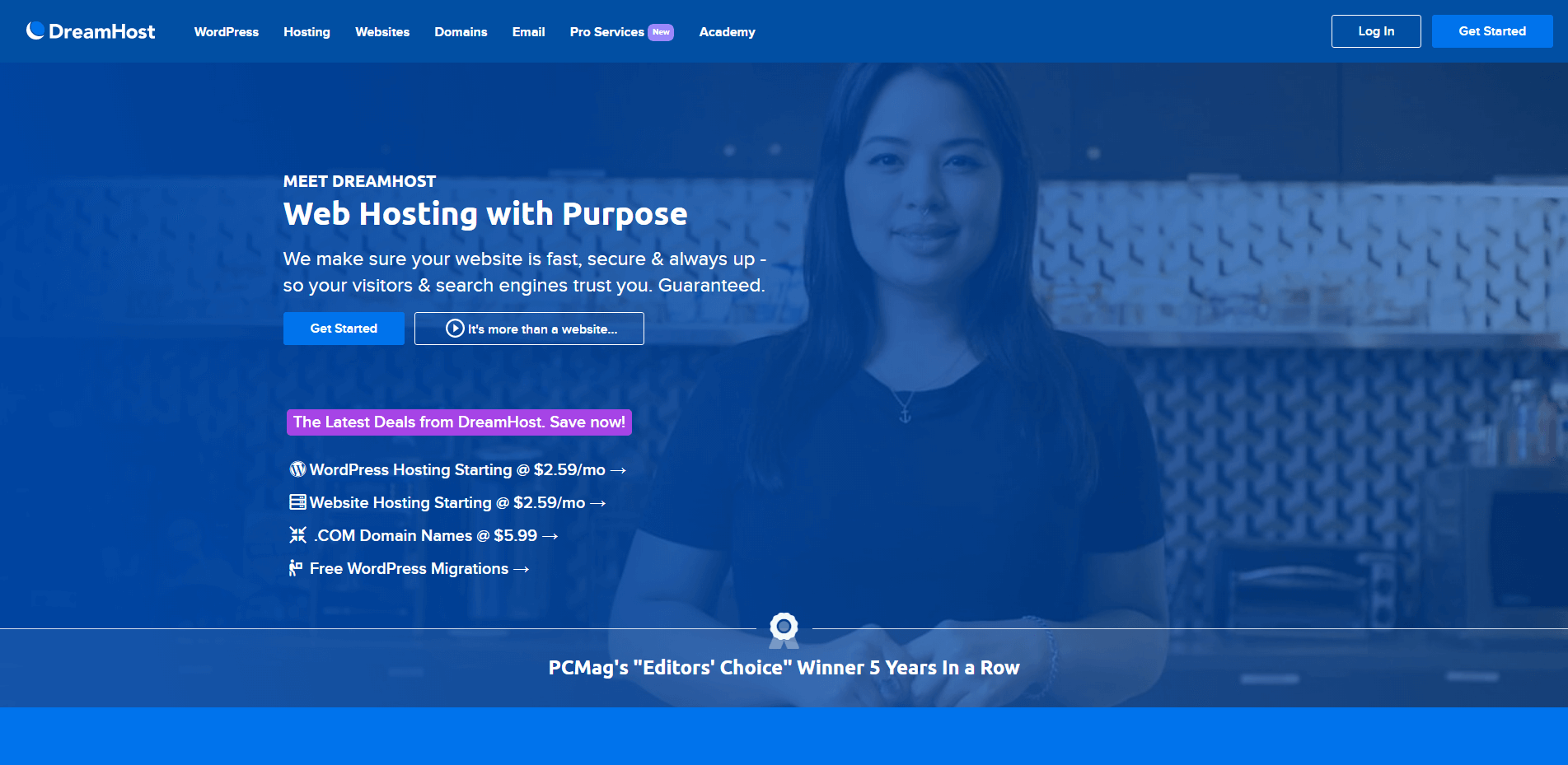 DreamHost is as old as the internet itself (well, almost), as their services date back to 1996. And while they were initially a company specializing in basic website hosting, these days, DreamHost offers managed Web and Cloud services for WordPress but also for Dedicated server customers.
Moreover, in recent years, DreamHost has expanded its service to include Pro services, targeting businesses, and professionals who need help kickstarting their online venture.

DreamHost: Review & Highlights
Affordable, with unlimited storage, free SSL, and email capabilities.
👍Pros
Unlimited traffic means you don't need to worry about monthly limits.
Free domain registration on all plans, must be used within 3 months.
A custom Website Builder to help you build your perfect WordPress site.
Custom-built website management dashboard with a modern design.
Money-back guarantee that extends to 3 months in total!
👎Cons
The starter plan requires additional payment for a custom email address.
Staging and backups only available on more expensive plans.
🧑 Our impression - We've been fortunate to work with the DreamHost team by contributing to their ever-growing list of resources. Not only are they committed to working with creators, but they've also taken a refined approach to provide their customers with a superb WordPress hosting solution.
As one of the hosting platforms recommended by the WordPress foundation itself, we feel DreamHost is a safe choice with a top-notch support team ready to assist even the least experienced webmasters. DreamHost does everything from a single platform from the website hosting to email and domain name management. And they can also help you kickstart your business growth through the unique Pro Services offering.
🗒️ Plans - DreamHost's plans utilize multiple tiers, ensuring that you won't be forced into a plan that might be too excessive as far as resources go. And, they also have upper-end plans available for demanding business, including Dedicated and VPS servers built specifically for handling WordPress.
👩‍💻 Customer support - Some of DreamHost's employees are active contributors to the WordPress core project. They can provide precise advice and help on anything related to WordPress. They'll go as far as listening to your issues specifically, and come up with a solution specific to your website/project.
Regular support channels such as email and live chat are available all day.
🔒 Security - How does DreamHost address security concerns for its customers?
For one, they have a custom malware scanner they built themselves, they call it the DreamShield. They also use the HTTP/2 protocol by default on all their hosting servers. This is great because data sent through this protocol is always encrypted.
Furthermore, they utilize numerous modules built specifically for their web servers. For Apache, it's mod_security, and for NGINX, it is lua-rest-waf. These are two extremely capable modules that help prevent brute-force attacks.
👉 Noteworthy features
The WordPress Jetpack plugin is included on all DreamPress plans.
A custom Website Builder so you can design a unique WordPress website!
Shared hosting has no limits to bandwidth or storage.
Exhaustive collection of tutorials in their Knowledge Base.
Actively involved with open-source WordPress development.
💰 Pricing
The hosting plans at DreamHost are designed to be flexible, particularly for individuals and businesses with varying requirements. They also provide VPS & Dedicated servers.
Basic - The WordPress Starter plan starts at $2.95/month. This plan includes a free domain name, up to 1 website, and unlimited traffic. Email can be added for $1.67/month.
DreamPress - These plans are provided as managed services. The cheapest one starts at $16.95/month and includes free migration, on-demand backups, and their custom Website Builder, and all websites on this plan are hosted on their high-performance cloud infrastructure.
WooCommerce - The eCommerce plans share the same pricing as their DreamPress plan ($16.95 a month) and come with WooCommerce pre-installed. Their support team is available 24/7 to help with setting your store up.
Despite having been a hosting company for over 2 decades, DreamHost remains an indepdendent company not controlled by any orginization. As such, everything from their products to their services is designed to help you, the customer, have the best experience possible.
They've done exceptional work by adding features like automated threat detection, a custom-built Website Builder, and recently, their Pro services for customers who simply want to focus on running their business.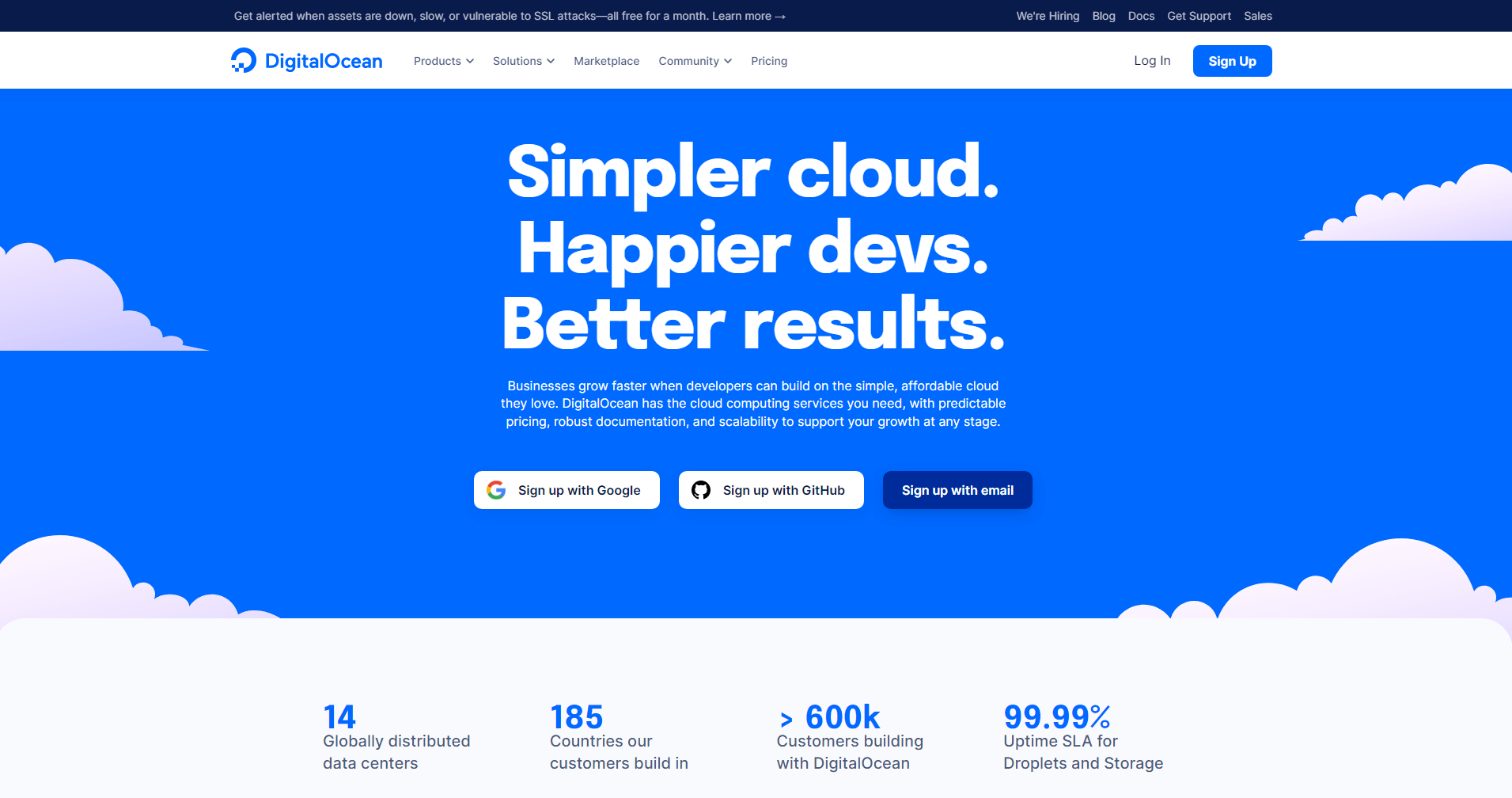 DigitalOcean hosts the website you're viewing right now. And while we would love to make DigitalOcean the number one solution in this list, we understand that it is an unmanaged platform which means it is not for everyone. That said, many people misunderstand the difficulty of managing a hosting server.
DigitalOcean helps tackle this misconception by providing easy 1-click solutions for WordPress and frequently writing tutorials and guides on learning server management. Furthermore, they're also an extremely affordable service, which can be scaled up or down whenever you require.
For the record, we've been DigitalOcean customers for 9 years now!

DigitalOcean: Review & Highlights
Affordable, self-managed VPS with 1-click installation for WordPress & more.
👍Pros
Cheap and doesn't impose limits on site visitors.
Great selection of services for growing businesses.
Simple to use dashboard with statistics and configuration options.
Domain management is available from the dashboard directly.
Easy to upgrade your server when your demands increase.
👎Cons
Unmanaged, not recommended for inexperienced users.
Backups cost extra but can be circumvented with manual setup on the server.
Not as many features/tools as counterparts that specialize in WordPress specifically.
🧑 Our impression - As DigitalOcean customers, there isn't much we can say other than the platform being one of the best hosting platforms for developers and people in the software development field. The single-click WordPress application available from the marketplace will spin up a VPS for you and configure it automatically with best security practices in mind.
The user dashboard is simple to understand, and you have full control over your servers (droplets), domain names, and many of DigitalOcean's unique features.
🗒️ Plans - DigitalOcean's plans are extremely dynamic and diversified. The most Basic plan is not only affordable but capable of handling busy websites, with no need to worry about transfer issues (up to 1,000GB included).
We also like that any Droplet you create with DigitalOcean, you have the option to upscale it whenever you like. Their plans include general purpose, CPU or Memory optimized categories, and plans for Storage-heavy websites. Their data centers are available in almost every region, including North America, Europe, and Asia.
👩‍💻 Customer support - In the 9 years that we have been customers at DigitalOcean (since 2013!), we have not had a single bad experience with their customer support. Even though servers are unmanaged and you're in charge of many of the technical tasks, the times we did have to reach out to DO support - they were both prompt with an answer and helpful at the same time.
Their primary support channel is a Cloud-based ticketing system.
🔒 Security - While creating a WordPress Droplet, DigitalOcean will automatically apply several security features to your new server. Those features include the UFW Firewall, removal of XML-RPC to prevent brute-force attacks, and you will also be able to set up SSH key authentication.
Inside your Droplet dashboard, you'll have the option to further strengthen your server by adding another layer of Firewall settings. And, they also have written dozens of in-depth guides on how to manage security for Linux-based servers.
👉 Noteworthy features
Over 6,000 community-written tutorials and guides.
Great performance at very affordable prices.
You can go from website hosting to hosting applications, and video streaming services.
High uptime across all its data centers. We have not gone out a single time ever!
💰 Pricing
DigitalOcean makes up for being an unmanaged service with its pricing.
Regular - The cheapest plan costs $6 a month and includes 1GB of RAM with 25 GB (SSD) storage and 1,000 GB transfer. This can be upgraded at any time!
Premium - The Premium plans start at $7 per month and are divided into Intel and AMD categories. The biggest difference between Regular and Premium is that Premium uses NVMe SSDs for storage, which translates to better performance!
Is DigitalOcean a platform we recommend for someone who has never built a website? Absolutely not.
But we recommend it for those who want a stable cloud hosting experience, affordable rates and a plethora of community resources.
Besides, learning to work with the command line might prove to be a fun experience!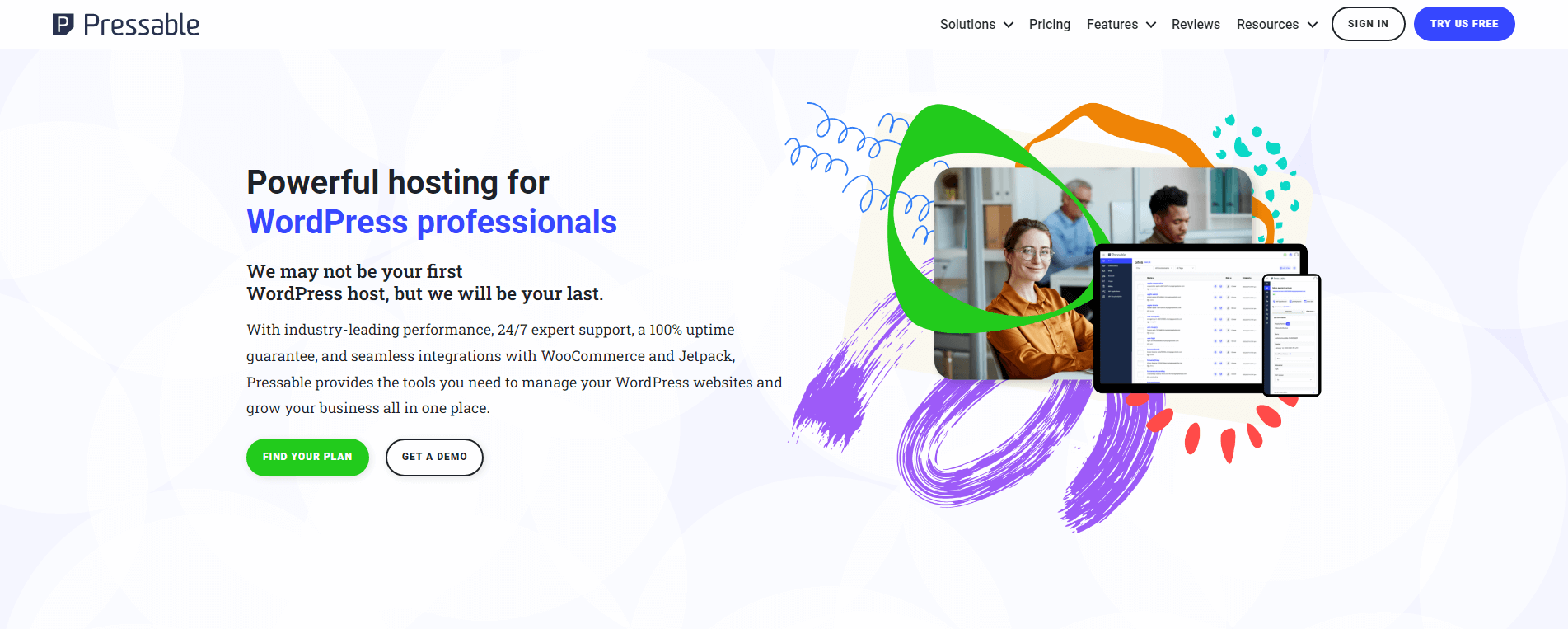 Automattic is the company behind WordPress (both their hosting service and the open-source CMS), and projects such as WooCommerce, Jetpack, Gravatar, and many others. In 2016, Automattic decided to expand its reach in the hosting space and acquired Pressable. The end result of this acquisition is that Pressable is now powered by the same infrastructure that WordPress.com and WordPress VIP use.
But more than that, Pressable is committed to providing a reliable, managed WordPress experience, with ambitious goals. Among those goals is guaranteeing 100% uptime, 24/7 access to a support team, and hundreds of tutorials to help you build a successful online business.

Pressable: Review & Highlights
Managed WordPress hosting brought to you by the very folks who built WordPress!
👍Pros
Automated updates for WordPress and the plugins you use.
Staging environment so you can test new features without breaking your live site.
Jetpack included free for all plans: backups, security, and marketing tools.
Very clean user dashboard to manage your site settings.
100% uptime guarantee.
Has a Slack group for technical support.
👎Cons
Professional email is free for 90 days only.
The cheapest plan feels limited with its 5,000 monthly visit cap.
🧑 Our impression - What sets Pressable apart from similar providers is its dedication to providing as many choices as possible. It doesn't matter if you're an agency or a small business owner; they even tailor their solutions specifically toward developers, the people who build WordPress themes and plugins.
Their three main focus areas as a brand are performance, security, and customer support. For example, they're so confident in their uptime guarantee - they will refund their customers unless that requirement is always met. It's not something you see every day.
Pressable achieves 100% uptime by using a cloud server configuration wherein if a certain server goes down due to a technical issue, another will take its place. This process has no effect on your website whatsoever, other than having it always be online.
🗒️ Plans - As a Pressable customer, you get a lot of choices for selecting a plan that fits your current website requirements. As we pointed out in the cons segment, the entry-level plan has a fairly hard limit on monthly visitors.
It's not a deal breaker per se, considering all their other plans provide a more supple amount of resources. You get unmetered bandwidth on all plans, and their core features are shared equally on all plans.
👩‍💻 Customer support - Customer support is one of the things that Pressabe does better than most. With a 24/7 team at your disposal (online tickets or email), you can rest assured that getting on top of technical issues will be available anytime. But it doesn't end there, either.
The support team at Pressable can do a full-site migration for you to ensure that if you transfer to their services, your site will be exactly the same way it is now. Furthermore, they have a dedicated team of support members who will monitor your site's performance!
To summarize, Pressable takes a down-to-earth approach to engaging its customers and providing help and feedback when they require it.
🔒 Security - Everything about Pressable sounds amazing so far, so what about security? Unsurprisingly, they share a similar attitude toward security as they do toward customer support. At the end of the day, unhappy customers are bad for business.
For starters, Pressable offers free SSL certificates on all of their plans. Additionally, the Pressable team will monitor WordPress updates and do them on your behalf to ensure your site doesn't suddenly break or become exposed to security threats.
They also perform automated malware/threat scans on all their customer accounts.
Should you ever experience being taken over by a malicious party, their team will assist you with restoring your WordPress website to its original state. And, share with you the details on how to prevent such an attack in the future.
👉 Noteworthy features
WP 101 is an entire course designed to help you learn about WordPress.
Pressable frequently publishes eBooks and Webinars around trending WordPress topics.
It's possible to upgrade your plan when the demand increases.
Various (paid) addons for people who want to operate more than one website.
Enterprise-friendly. Need to contact them for details.
💰 Pricing
Pressable lets you select a plan based on factors such as how many websites you wish to create, or however many website visitors you plan to receive in any given month. Pressable offer multiple tiers for their plans, so we will highlight the three most important ones rather than listing them all.
All plans include daily backups (30-day retention), a money-back guarantee, and free CDN.
Entry - The entry-level plan starts at $16/m for annual subscribers. This plan includes 1 WordPress website, 10GB of storage, and the capacity to serve 5,000 visitors every month. There are no limits to bandwidth, and a complementary SSL certificate is also provided.
Pro - The professional plan is for anyone looking to host a business website or open an online store. This plan provides Jetpack security features, WooCommerce integration, and the capacity to handle 150,000 visitors per month. Pricing starts at $75/m for annual subscribers.
Business - If you expect to receive over a million visitors a month, the business plan will ensure that those visitors have a fantastic experience on your site. This plan allows 50 websites and includes 200GB of storage, free site migrations are available if you plan to migrate an existing website network. Pricing starts at $291/m for annual subscribers.
Even though it might feel pricey, we think Pressable is a safe choice for anyone looking to work with a reputable brand. Besides, it is 100% guaranteed these guys will stay on top of things given their extensive experience as the people who develop the WordPress platform themselves.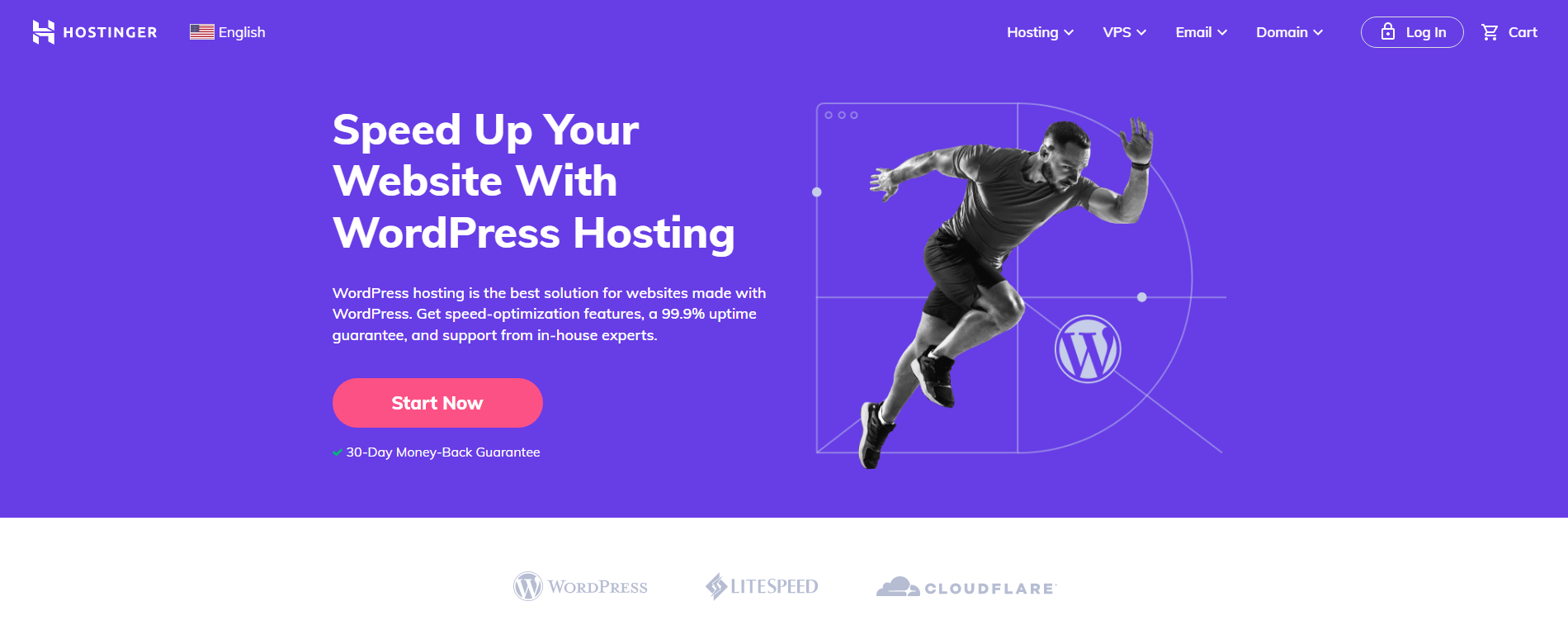 Hostinger has been building next-generation WordPress-optimized web hosting services since 2006 (rebranded in 2011), and currently serves customers in over 150 countries. Apart from the great value Hostinger provides, we feel they have earned a spot in our review due to their simplified approach to services, with a clear-cut focus on helping you get your website up and running quickly.


Hostinger: Review & Highlights
Fast and managed hosting solutions at affordable prices.
👍Pros
Great value for money.
Even the cheapest plan includes a highly optimized configuration for best performance.
Professional email is available on all plans.
Doesn't do upsells; what you see is what you get.
Frequently publishes tutorials, news, and WordPress insights.
Accepts crypto payments.
👎Cons
Daily backups are not enabled on entry-level accounts.
🧑 Our impression - Until a few years ago, Hostinger struggled with its identity in the hosting space. And yet, they have made steady strides to become one of the most reputable brands for affordable and managed hosting services. This has led to thousands of positive reviews on sites like Trustpilot, and our independent review leads us to believe that Hostinger's top priority is customer satisfaction. That, and their commitment to providing the best features at cheap prices.
🗒️ Plans - Hostinger offers plans in various brackets, including for entry-level customers just starting out and for professionals looking to host multiple websites with many monthly website visitors. Their plans also include options for Agencies specializing in client services and VPS plans for those looking to take their business to the next level. All plans include a user-friendly dashboard.
👩‍💻 Customer support - Hostinger's tech support and customer satisfaction teams are available 24/7, all year round. We were pleased to learn that Hostinger also offers its support in languages other than English. If you purchase a plan from one of their country-level specific domains, you'll be able to get support in Spanish, French, Chinese, Arabic, and many other languages.
Their support team can be reached through Email and Live Support.
🔒 Security - One of the ways Hostinger ensures world-class security is their Bug Bounty Program. This program invites security experts to pentest their hosting services, and if a vulnerability is found - the said experts are awarded a financial reward. Outside of that, Hostinger provides a free SSL certificate on all plans and DDoS protection through a partnership with Cloudflare.
👉 Noteworthy features
Separate WooCommerce (eCommerce) plans for businesses of all sizes.
Use your domain name with Hostinger's email services to get a professional email address.
In-built LiteSpeed Cache for all plans to greatly improve your website performance.
Completely free migration service if you plan to change your hosting provider.
💰 Pricing
Hostinger's pricing approach for its services ensures that customers have the flexibility to choose a plan that best suits their current plans for creating a WordPress site. All plans are managed.
Single - The Single WordPress plan starts at $1.99 a month. This includes hosting for 1 website, with 50GB of storage and 100GB of bandwidth. Hostinger estimates this is enough for websites with up to 10,000 monthly visitors.
Starter - The Starter plan ($2.99 a month) goes up to 100GB of storage and includes the WordPress Acceleration features for better performance.
Business - At $3.99 a month, the Business plan can handle up to 100,000 visitors, and you can create as many as 100 websites on this plan. Additionally, this plan includes daily backups of your website.
Pro - The Pro plan ($11.59/month) is a safe bet for serious business owners due to its generous 300 website limit and unlimited storage, bandwidth, and email resources.
Hostinger is a great place to start your WordPress site. It's easy to set up and fun to use, with plenty of features to help you manage your blog. The pricing is fair, and with the fact that there are no upsells or other marketing tricks, we think anyone should be able to put their trust in Hostinger's services.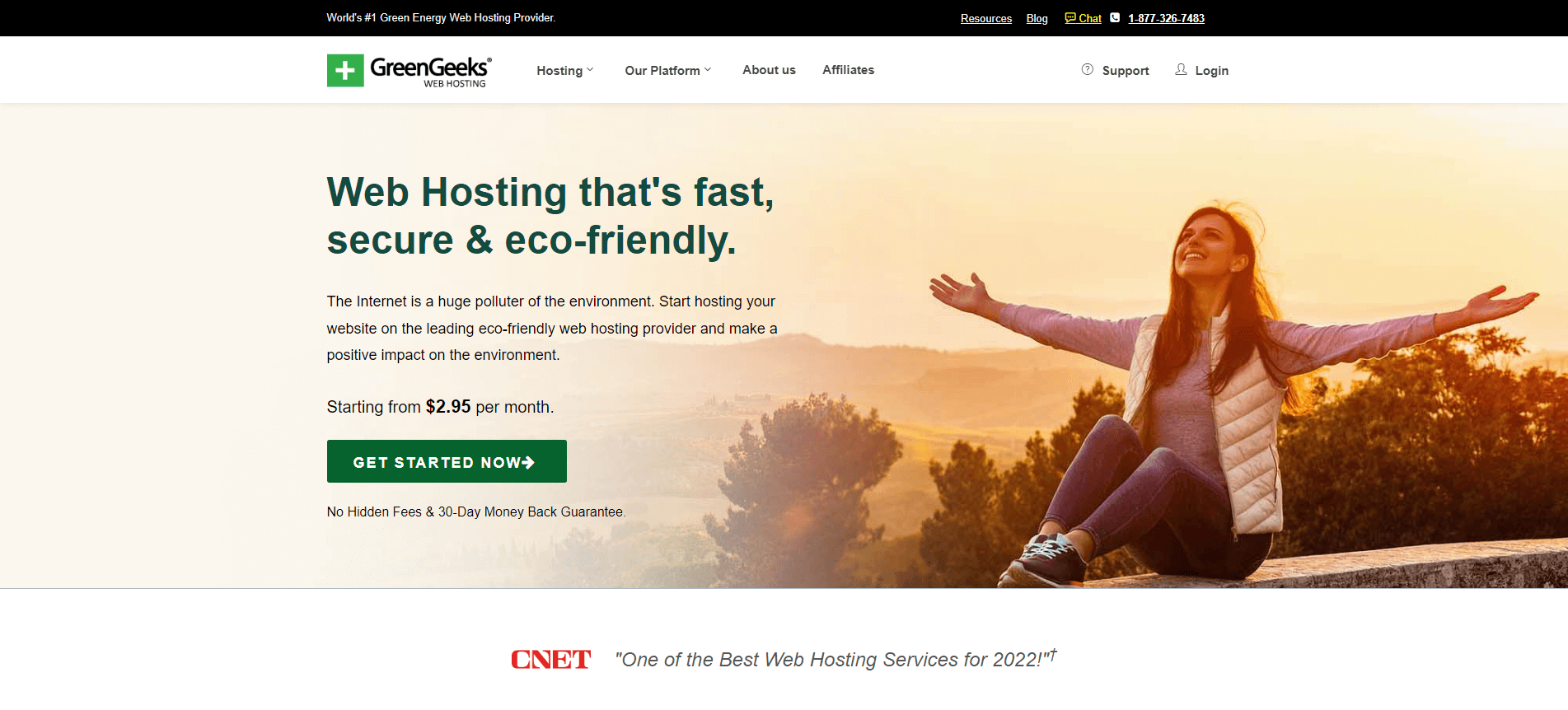 There's a lot to like about GreenGeeks, this company has fought through the thick and thin to establish itself as one of the leading WordPress (and general website) hosting companies. Their approach is as transparent as it gets: no extra fees for anything.
If it's available in the most expensive plan, it should also be available in the cheapest plan. The only exception we found to this statement is that the entry-level plans are hosted on a shared IP address, but it's not a downside or a thing to worry about.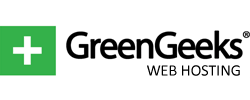 GreenGeeks: Review & Highlights
Eco-friendly website hosting with an emphasis on performance and security.
👍Pros
Environmentally-friendly hosting.
Great commitment to security.
Affordable, with generous resources on each plan.
Free SSL, backups, domain name, and CDN even on the cheaper plans.
High emphasis on performance.
👎Cons
Dedicated IP reserved for the priciest plan.
🧑 Our impression - With its Lite plan starting for as low as $2.95 a month, it's hard to discredit GreenGeeks as a prime choice for affordable WordPress hosting. Their offering of unmetered bandwidth, with free installation and migration services, makes it extremely appealing for first-time WordPress users.
And hey, GreenGeeks will even plant a tree on your behalf if you signup! We love that.
🗒️ Plans - The WordPress hosting plans at GreenGeeks are linear and straightforward. You have the option of plans for absolute beginners, and busy websites can choose one of their upgraded plans for better performance, and unlimited websites. They also specialize in VPS and Reseller hosting areas, should you be interested. The latter is priced separately from their WordPress offerings.
👩‍💻 Customer support - GreenGeeks emphasizes its customer support through its Service Guarantee model. They can guarantee 99.9% service uptime, including 24/7 support through email, phone, or live chat on their website. Furthermore, all customers are entitled to a 30-day money-back guarantee. You will be able to keep your domain name if you do decide to cancel.
🔒 Security - How does GreenGeeks tackle website security? By implementing a feature called Account Isolation, they can individually isolate your website from other websites on the same server. This means that if another website on the server is hacked, it will not affect you as your website is isolated from any neighboring websites. Furthermore, GreenGeeks performs real-time automated scans of its filesystem to monitor potential threats and malware.
👉 Noteworthy features
You can host your website in the United States, Canada, or Europe.
All plans include a free domain name (1 year) and come with free SSL protection (lifetime).
Automated updates for WordPress and any plugins you use.
All plans include daily backups.
💰 Pricing
GreenGeeks stands out with competitive pricing for all of its plans, not skimming on features or hard limits for bandwidth and email accounts.
Lite - Starts at $2.95 a month. Includes 50GB of storage, with unlimited bandwidth. Up to 50 email accounts and free migration/installation is included.
Pro - Starts at $4.95 a month. Unlimited storage and email accounts. This plan also includes on-demand backup services with a WordPress recovery feature.
Premium - Starts at $8.95 a month. The best performance settings, a dedicated IP address, and server-side caching are unique features of this plan.
With more than 14 years of experience in providing website hosting, GreenGeeks is also home to more than 600,000 websites! They're big favorites for those self-conscious about security, as their approach to ensuring peace of mind for their customers is well worth accolades. And we have to give them credit where it's due for their commitment to environmentally-friendly web hosting!
The Best WordPress Hosting in 2023: A Summary
As of February 2023, WordPress holds a staggering 63.4% market share over other popular CMS platforms. In a report from HubSpot, we can assess that WordPress is used on more than 450 million websites, given that it is used on 43% of all websites in the world.
WordPress offers some of the easiest-to-work-with tools for publishing not only blogs but creative and dynamic websites for business, eCommerce, photography, online learning, and much more.
As of 2023, over 10,000 free WordPress themes are listed in the official directory. Moreover, there are over 60,000 free plugins. No other platforms in the world offer this much flexibility and customization at no cost. Outside of needing to find a reliable WordPress hosting provider, of course.
Lastly, below this paragraph is a FAQ section with some of the questions people have submitted regarding the hosting solutions listed in this article. Have a question? Contact us.
Frequently Asked Questions
How much can a hosting provider help with performance?
We can vouch for every WordPress hosting service on this list for doing their best to provide great performance and fast load times. However, we cannot vouch for the plugins and themes you will use with your WordPress blog or website.
As is, plugins and themes tend to be the number one culprit relating to performance issues, so it is up to you to verify whether a specific addon is causing your site to be slow.
In a few care cases, a handful of the managed providers mentioned in this review can provide independent consultation to identify the plugins or themes slowing your site down.
What to do if you want to migrate to a new hosting company?
There are several options if you'd like to transfer to a new hosting service but are unsure how to do it. First, you can use the Duplicator plugin on your existing WordPress site. This lets you "copy" a site from one location to another.
The other option is to contact the hosting provider you want to sign up for directly and ask whether they would be inclined to help you transfer your existing website to their hosting platform. Many of the solutions in this article provide migration at no extra charge.
And if you're coming from a non-WordPress site, you should still follow the latter suggestion.
What is the difference between Managed and Unmanaged hosting?
If you're unfamiliar with either of the terms, the most simple way to explain it would be this:
Unmanaged hosting means that whenever you encounter a technical issue on the server side, you must fix it yourself. And Managed hosting means that the hosting provider will do it on your behalf.
So, whether it's updating the operating system, optimizing performance, or improving reliability - with a Managed hosting plan, you won't need to do all those things yourself.
How important is security, and how much can a hosting service help?
Security is very important! WordPress is arguably the most targeted & attacked Content Management System in the world due to its immense popularity. And that is also why we emphasized Security as one of the key factors for this entire review.
To answer the question, despite the security features provided by your hosting provider, you should always ensure you're following best practices regarding WordPress security. This includes hiding your Login page, doing regular backups, preventing new signups, and securing your server with SSH keys if you have opted for an Unmanaged service.