Our content is supported by our readers. We may earn an affiliate commision from buying links on this site.
As the demand for reliable and cost-effective web hosting continues to grow, so too does the number of options available to consumers. With so many options to choose from, it can be challenging to determine which web hosting solution is the right fit for your needs and budget.
This review article will closely examine some of the market's most affordable web hosting solutions, highlighting their key features and performance metrics. For each platform, we've added the exact specifications of the features included in the most affordable plan.
We'll also list the Pros and Cons and add for whom we think each hosting platform is best. Whether you're a small business owner, blogger, or just looking to build your first website, we've done extensive research by comparing these platforms against one another.
You can use the table below for a general overview and then check out the individual reviews for each platform. You can skip the review and go straight to the hosting platform's homepage by clicking on its name.
Host


platform name

Pricing


per month

Domain


free domain included?

Load Time


how fast is it?

Traffic


monthly visitors

Review


click to read

Hostinger
$1.99
❌
1.15s
100GB
→ read
Bluehost
$2.95
✅
1.02s
unlimited
→ read
DreamHost
$2.59
✅
1.04s
unlimited
→ read
GreenGeeks
$2.95
✅
1.08s
unlimited
→ read
HostGator
$2.75
✅
1.13s
unlimited
→ read
SiteGround
$3.99
❌
1.15s
unlimited
→ read
A2 Hosting
$2.99
❌
1.03s
10,000~
→ read
Hostwinds
$5.24
✅
1.11s
unlimited
→ read
Liquid Web
$13.30
❌
1.16s
2TB
→ read
Web.com
$2.95
✅
1.14s
unlimited
→ read
The load times in the table above are from the US; if you'd like to see the load time for the EU and Asia regions, make sure to check each review individually, as we have included that information.
---
1. Hostinger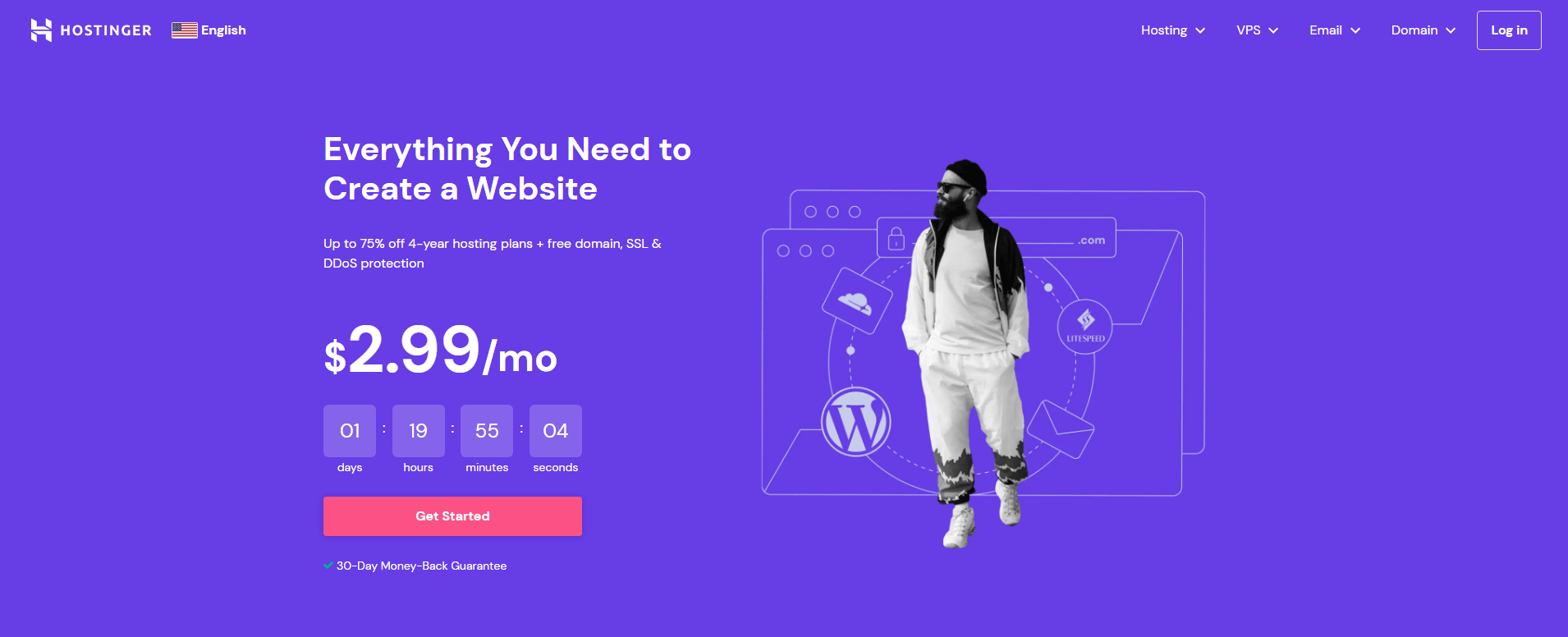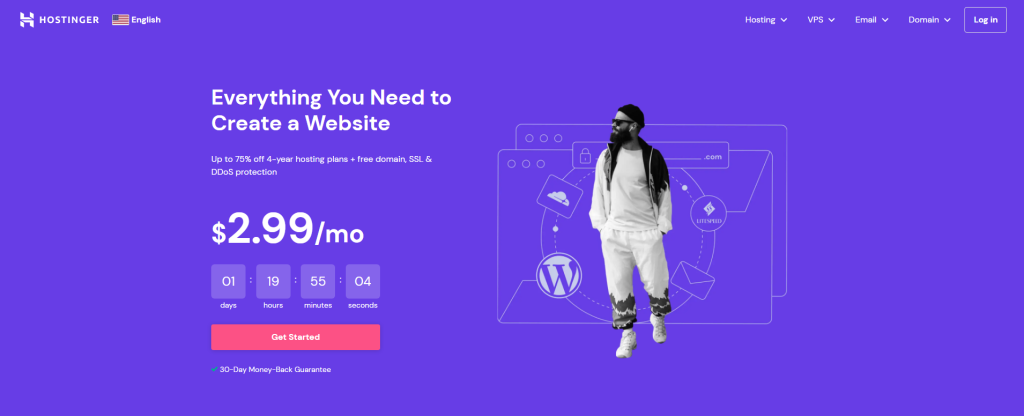 Everything you need to create a website
If you're looking for a cheap hosting platform, you should definitely check out Hostinger. They offer a range of hosting options to suit the needs of different users, and their user-friendly interface makes it easy to set up and manage your website. Plus, their customer support is available 24/7 to help you with any issues you may have.
One of the things I like about Hostinger is that they offer a generous amount of bandwidth (100GB on the cheapest plan), so you don't have to worry about your website slowing down if you get a lot of traffic. All their servers use cutting-edge technology like the HTTP/3 protocol, LiteSpeed, and every single plan also gets a free SSL certificate.
Overall, I think Hostinger is a great option for those looking for a reliable and affordable web hosting platform. Give them a try – I think you'll be happy with their service.
2. BlueHost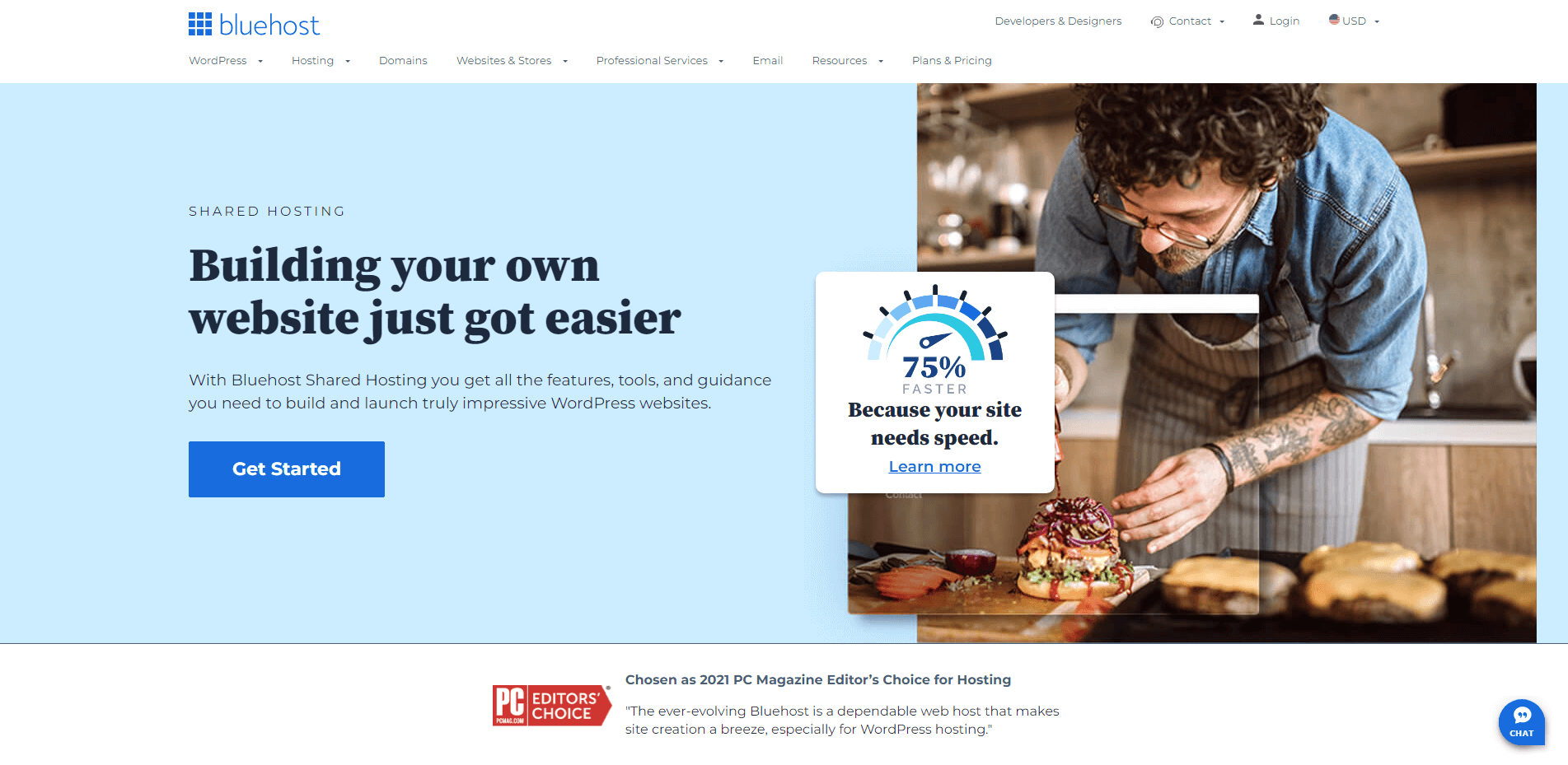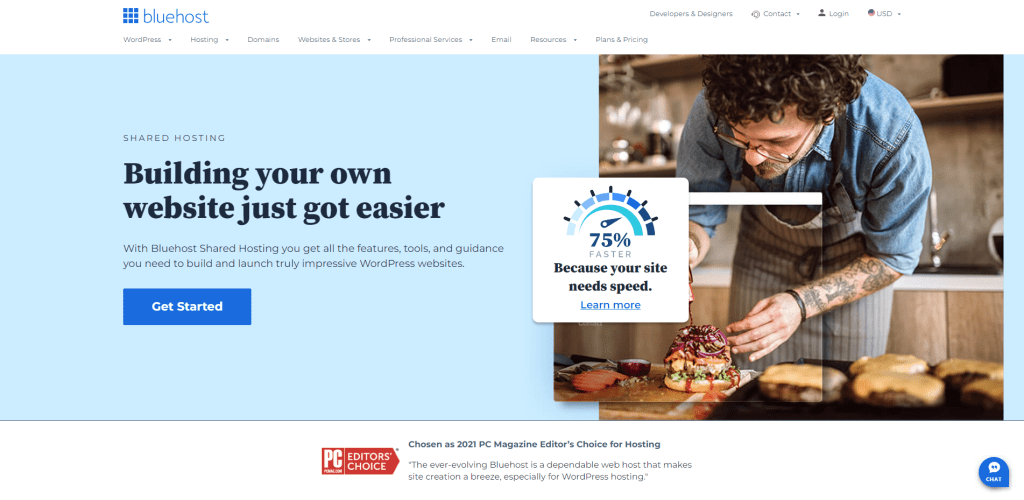 Fast, reliable and packed with features
BlueHost is a popular web hosting platform that is known for its user-friendly interface and powerful features. The platform offers various hosting plans to suit the needs of different websites, from small personal blogs to large e-commerce sites.
One of the standout features of BlueHost is its intuitive control panel, which makes it easy for even beginners to set up and manage their websites. The platform also offers a one-click installation for popular content management systems like WordPress, making it even easier to get started.
In terms of performance, BlueHost delivers reliable uptime and fast page-loading speeds. This is thanks to their unlimited bandwidth offering, as well as providing a complementary CDN service. This ensures that your website will always be available and responsive, even during peak traffic times.
BlueHost offers excellent customer support, with knowledgeable representatives available 24/7 to help with any issues or questions you may have. They also offer a range of helpful resources, including a knowledge base and video tutorials, to help you get the most out of the platform.
3. DreamHost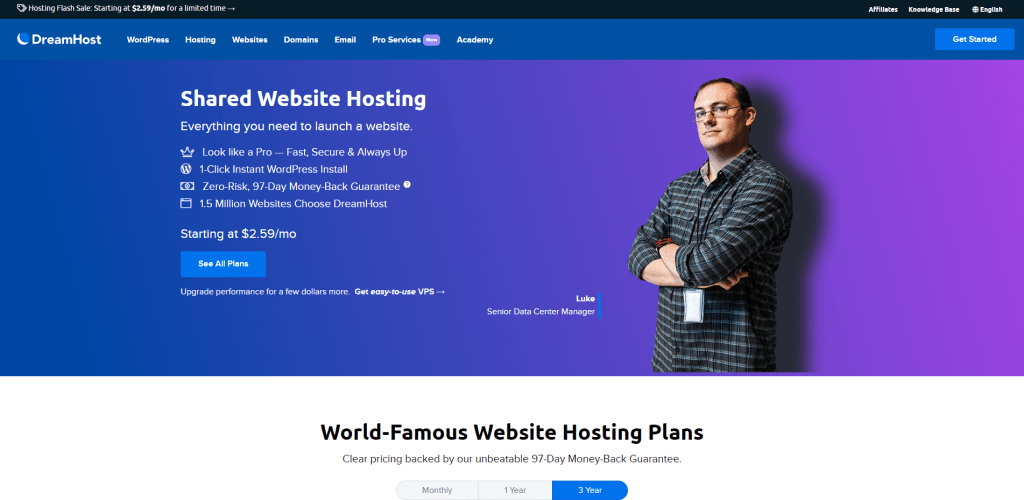 Helping people create a strong digital presence
DreamHost is a reliable and user-friendly web hosting platform that offers a wide range of services, including shared hosting, VPS hosting, and dedicated hosting. They also provide domain registration and website management tools to help you create and maintain your online presence in one place.
DreamHost is committed to providing excellent customer support like the previous two solutions. They offer 24/7 support via phone, email, and live chat, and their team is known for being knowledgeable and helpful.
Another great thing about DreamHost is its uptime guarantee. They promise to keep your website up and running 99.9% of the time, which means you can have confidence that your website will be available to your visitors when they need it.
In terms of pricing, DreamHost offers competitive rates and a variety of plans to choose from. They also offer a 97-day money-back guarantee, so you can try out their services without worrying about being locked into a long-term contract.
Overall, I would highly recommend DreamHost as a web hosting provider. They offer a great combination of reliability, customer support, and value for money.
4. GreenGeeks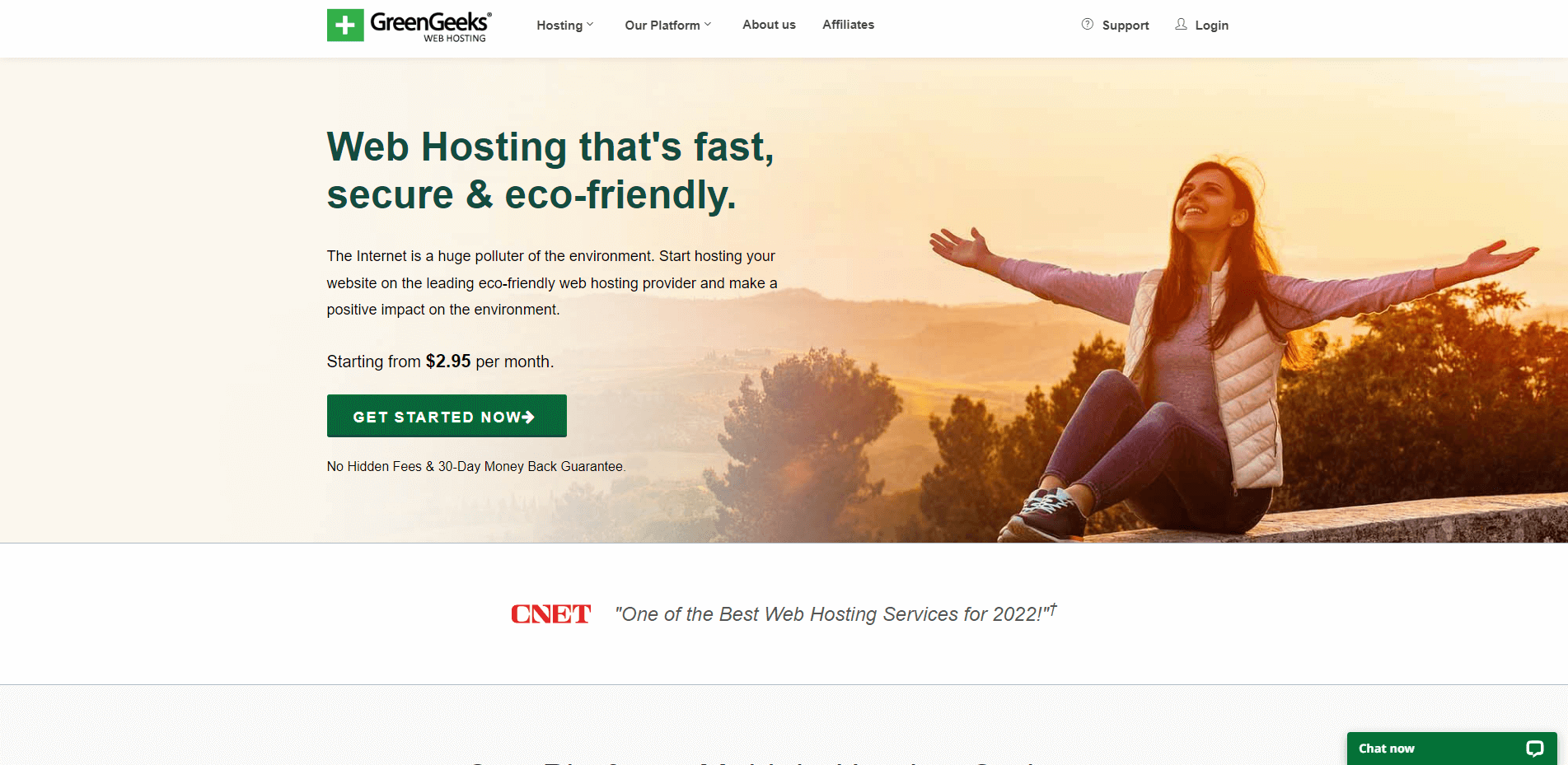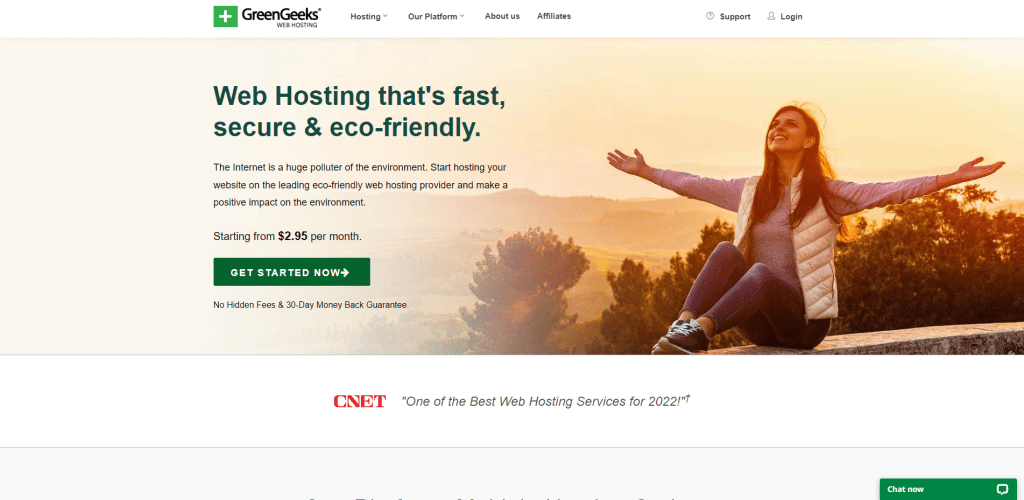 Eco-friendly hosting that's fast and secure
GreenGeeks is a web hosting company that prides itself on its commitment to the environment. They offset their energy use by purchasing renewable energy credits, which helps to reduce their carbon footprint. By using renewable energy, they can offer their services without contributing to the negative environmental effects often associated with the tech industry. Pretty neat, right?
Having worked with GreenGeeks in the past, I know their support team is also top-notch! Fast responses with all the necessary details to fix your problem or to answer a question. If you are interested, I did an in-depth dive into many of their features in my WordPress hosting review.
5. HostGator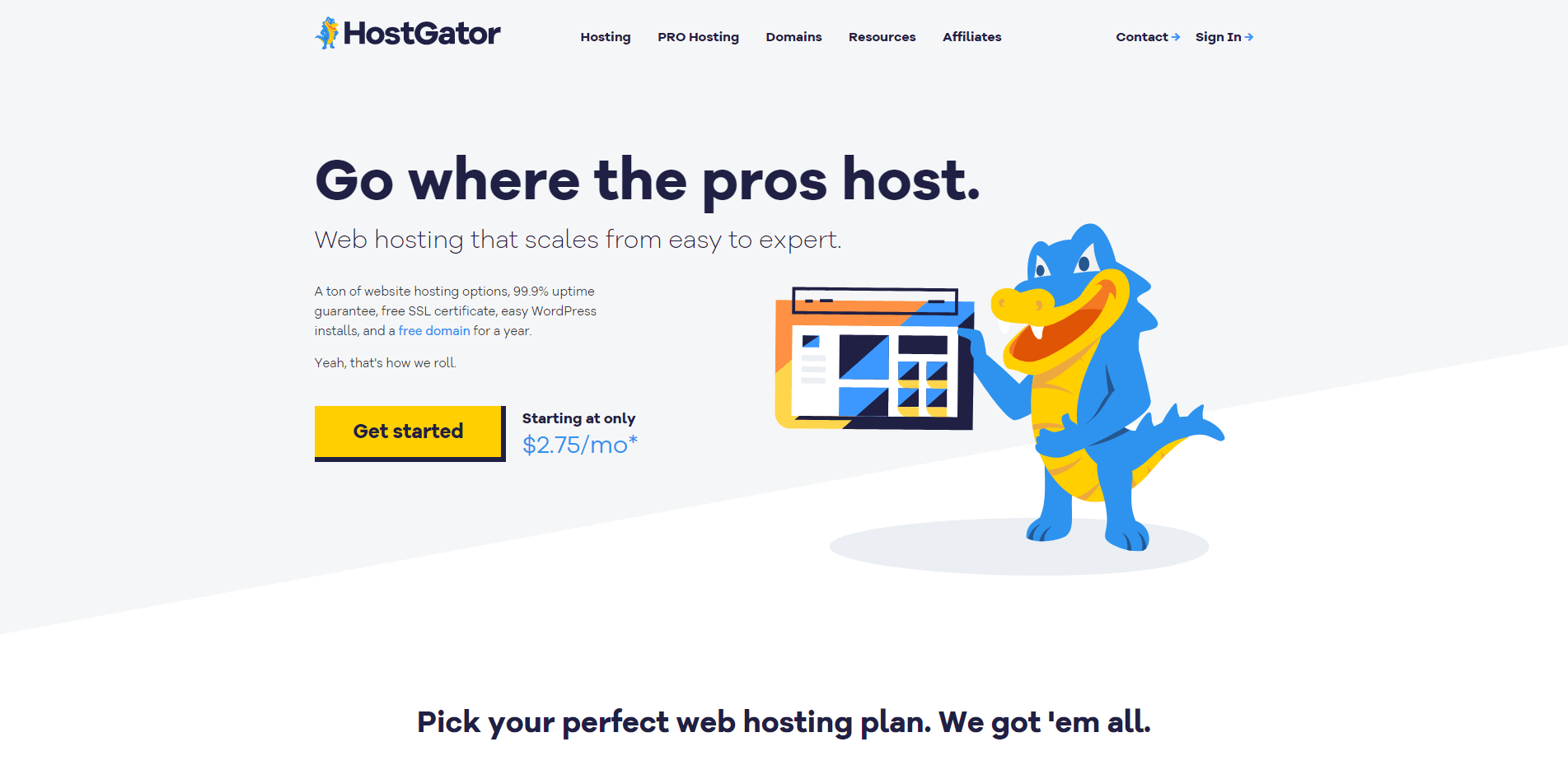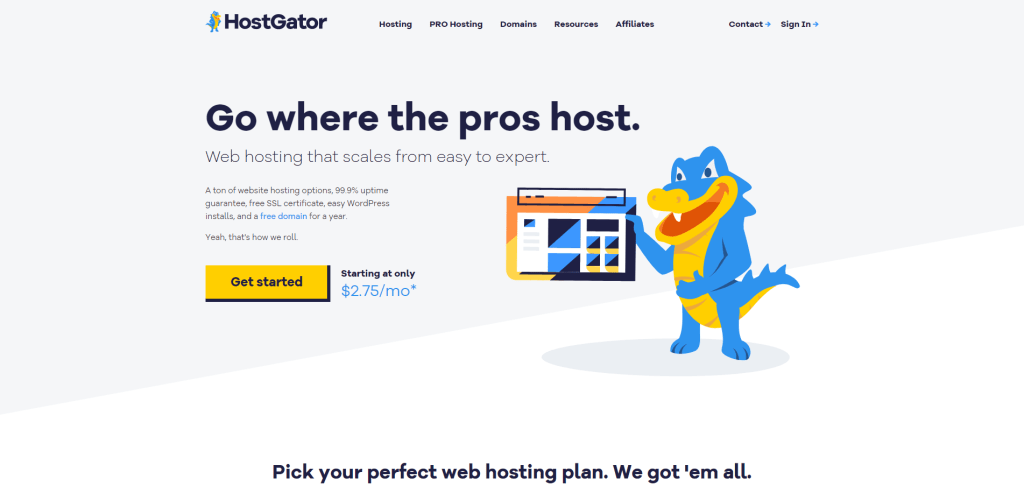 Web hosting that grows with your business
HostGator offers VPS and dedicated server options if your website has higher traffic and requires more power. These plans provide more resources and customizable options so that you can choose the right amount of power for your website.
In addition to their hosting plans, HostGator also offers some useful additional services. For example, their website builder makes it easy to create a professional-looking website without any coding experience. And their marketing tools can help you promote your website and attract more visitors.
Overall, I think HostGator is a great choice for web hosting. They offer a wide range of plans at affordable prices, and their customer support is available 24/7 to help with any questions or issues. Give them a try if you're looking for a reliable and feature-packed web host.
And much like with GreenGeeks, I can also vouch for HostGator. I used to write for their blog a couple of years ago and got to know the people really well. You'll be in good hands if you go with their hosting platform.
6. SiteGround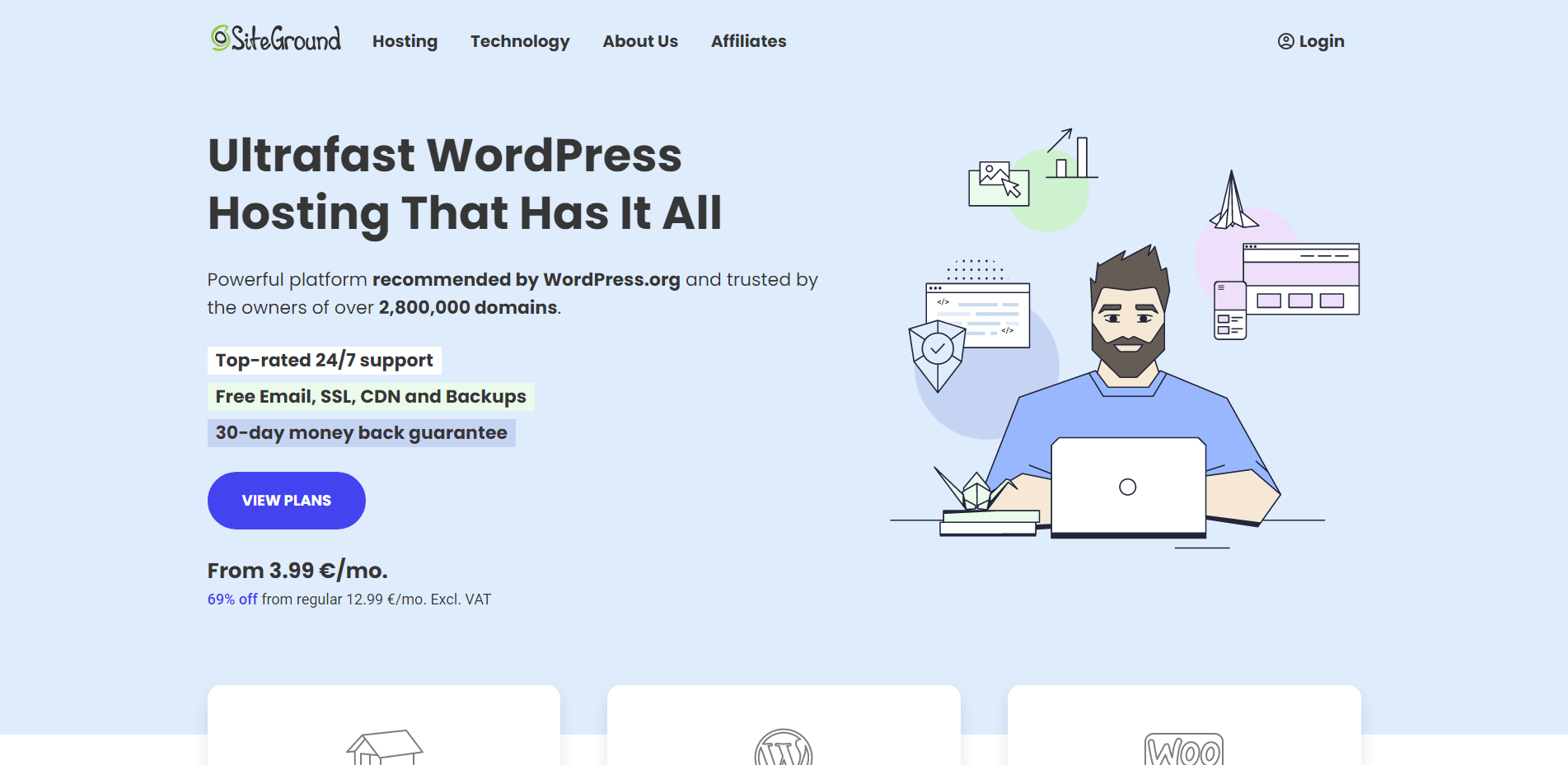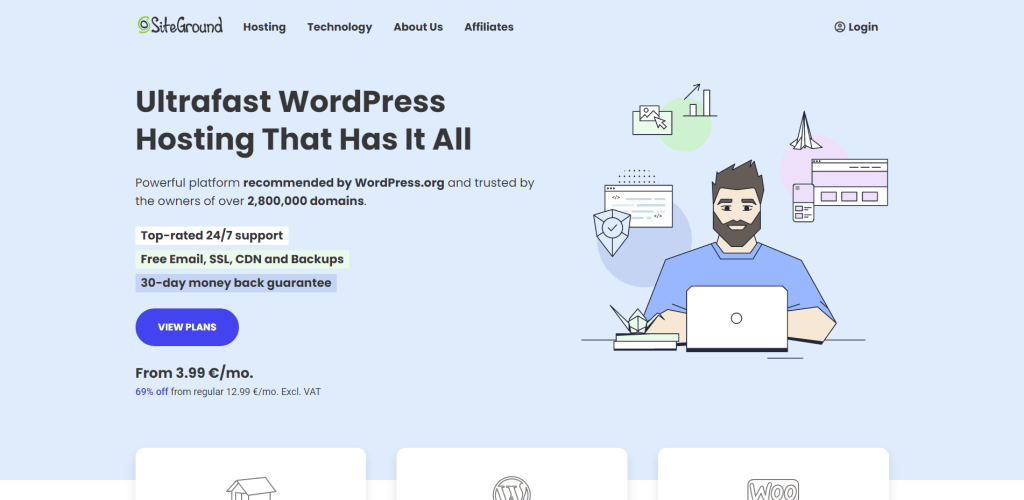 Superb security, ultrafast speed and 24/7 friendly support
First of all, SiteGround has a strong reputation for providing high-quality customer support. They have a team of knowledgeable and helpful customer service representatives who are available 24/7 to assist with any questions or issues you may have. This is especially important for those who are new to web hosting and may need extra guidance and support as they get started.
Additionally, they provide easy access to WordPress and Joomla content management systems, making creating and managing a professional-looking website easy.
Another major advantage of SiteGround is their commitment to security and performance. They use advanced security measures to protect your website and data. Their platform is optimized for fast loading times and high uptime, which is essential for providing a good user experience for your visitors.
Overall, they have a great reputation, a user-friendly platform, and a commitment to customer support and security. It's hard to go wrong with all these factors in one package.
7. A2 Hosting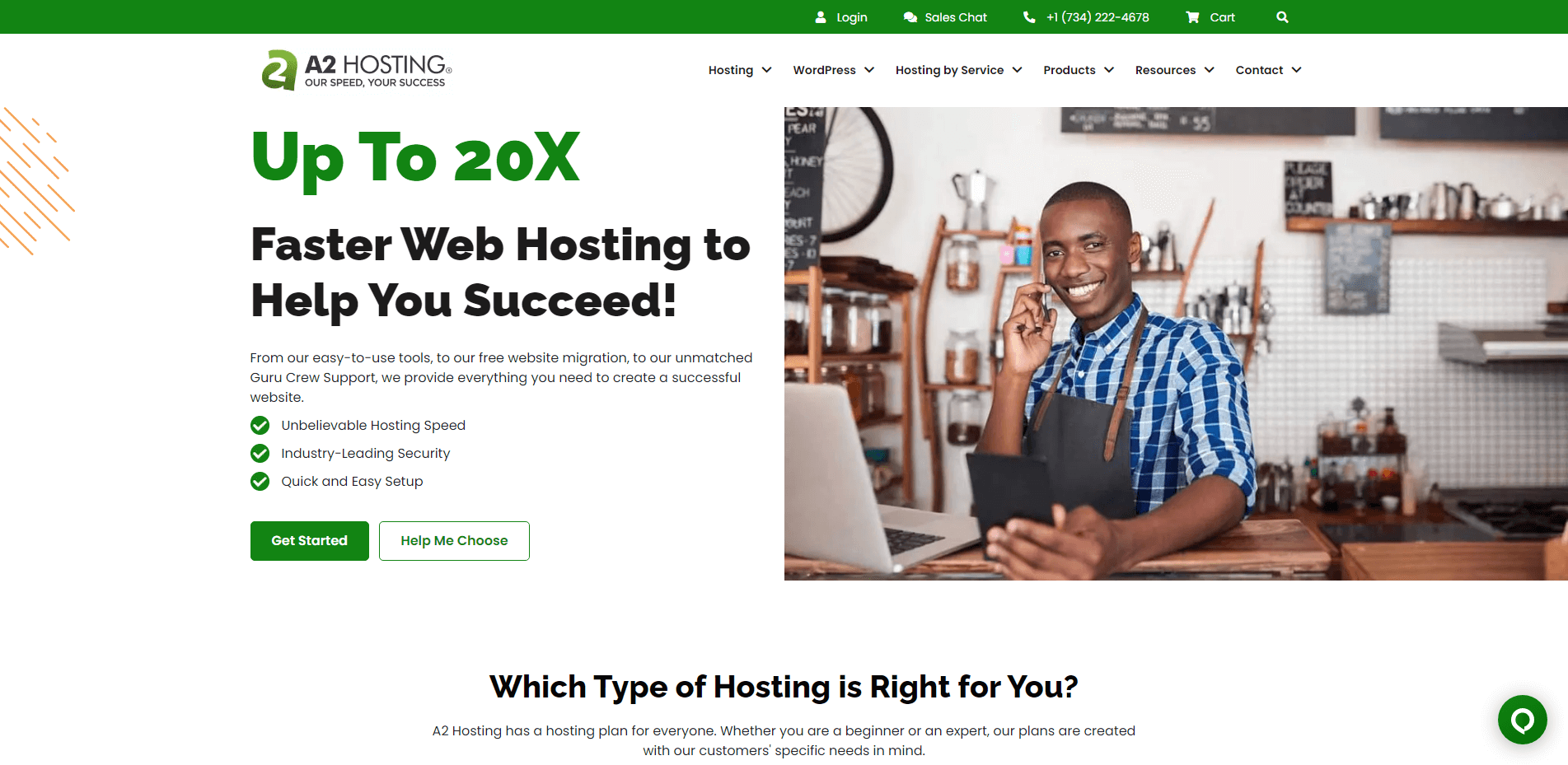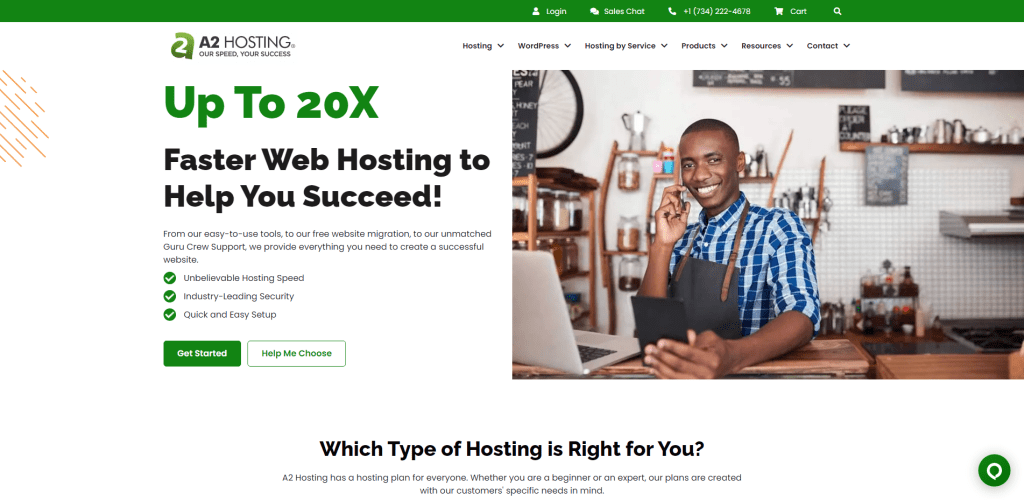 Easy-to-use with dozens of business tools
A2 Hosting offers a range of unique features that set them apart from other web hosting providers. For example, they offer a "turbo" option that can significantly increase your website's speed by combining caching and other performance-enhancing technologies. They also offer a free SSL certificate with all of their hosting plans, which is essential for securing your website and protecting your users' data.
In addition, A2 Hosting offers a 99.9% uptime guarantee, which means that you can be confident that your website will be available to your users most of the time. They also offer a 30-day money-back guarantee so that you can try their services risk-free.
One other feature that sets A2 Hosting apart is their commitment to security. They offer a variety of security measures to protect your website and your user's data, including automatic backups, firewalls, and malware scanning. They also have an in-house security team that works around the clock to monitor their servers and ensures that your website remains safe and secure.
In summary, A2 Hosting's commitment to security and their range of tools and resources make them a great choice for those looking for an affordable and reliable hosting provider.
8. Hostwinds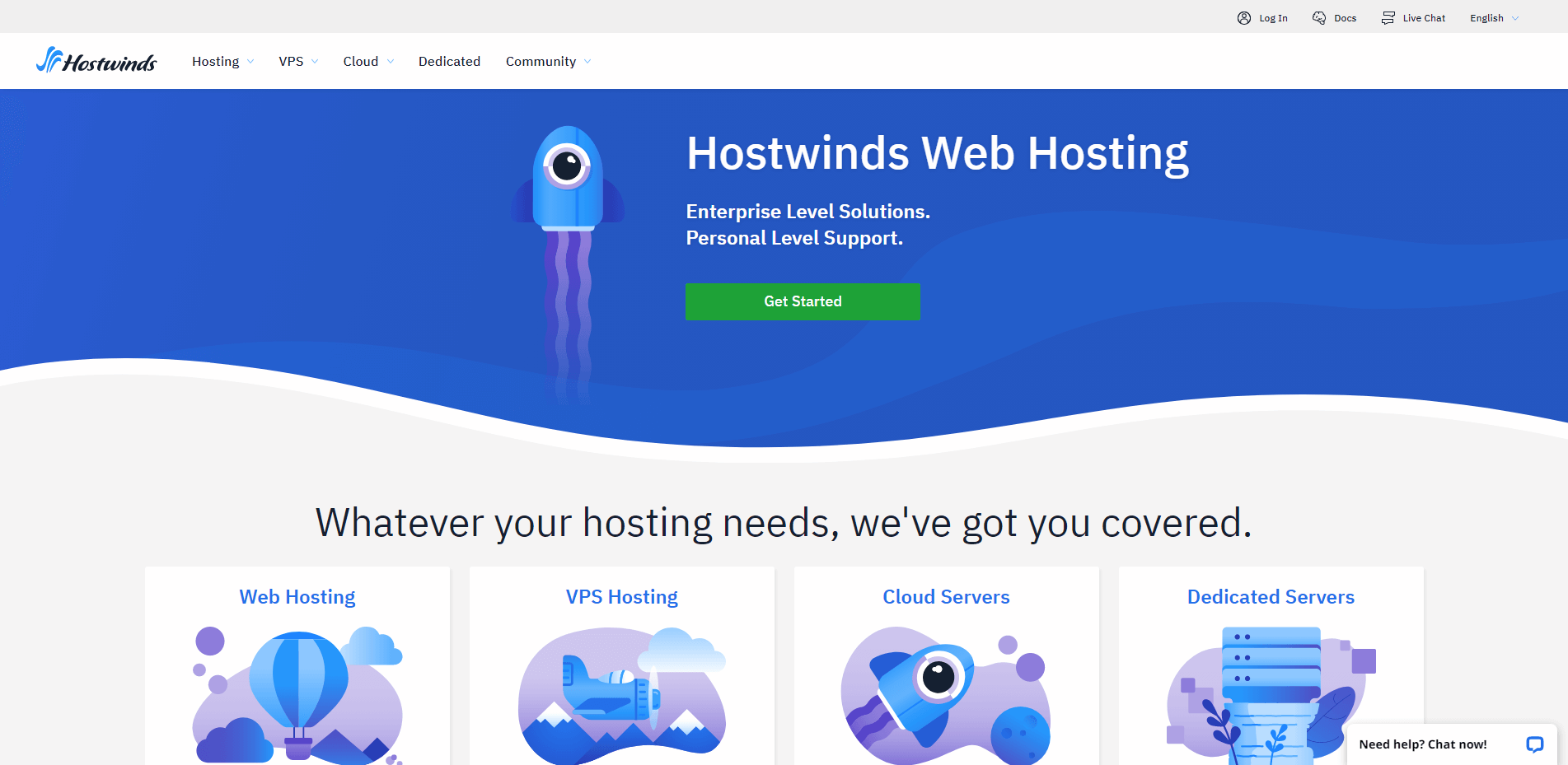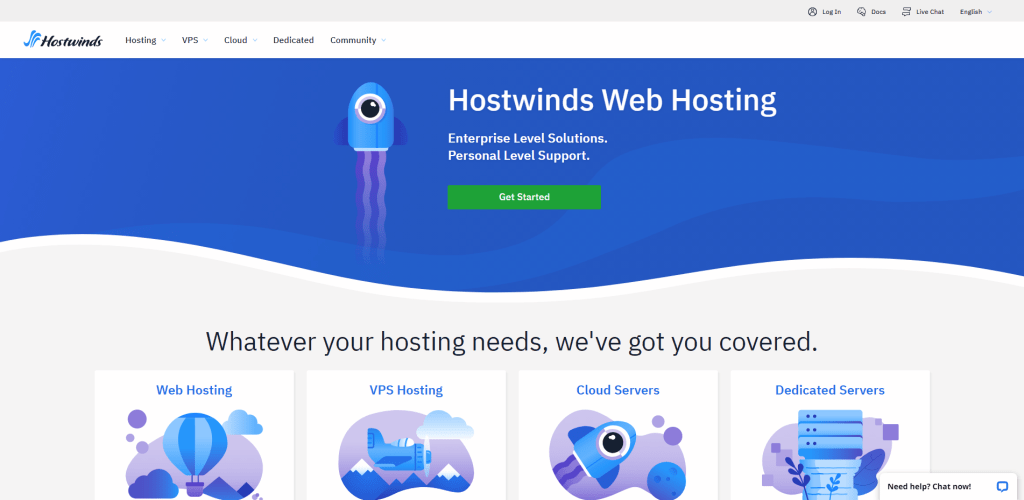 More than a decade of experience in reliable hosting
One unique feature of Hostwinds is their focus on providing scalable solutions. This means that as your website or business grows, you can easily upgrade your hosting plan to meet your increased demands. This can save you the hassle of migrating to a new hosting provider as your needs change. Additionally, they offer a variety of tools and features, such as website builders and SSL certificates, to help you easily create and manage your website.
They also offer several security measures, such as firewalls and regular backups, to help protect your website and data. On top of that, their regular updates to their systems ensure that they are always up to date and secure against the latest threats. This can give you peace of mind knowing that your website and data are in good hands.
Additionally, Hostwinds offers a 99.999% uptime guarantee, so you can be confident that your website will be available to your users whenever they need it.
On top of all that, Hostwinds includes the industry-leading cPanel and Softaculous control panels, as well as the Weebly website builder, which makes it a breeze to create a professional-looking website without any coding knowledge. All in all, I'd say Hostwinds is a top-notch web hosting platform that's definitely worth checking out.
9. Liquid Web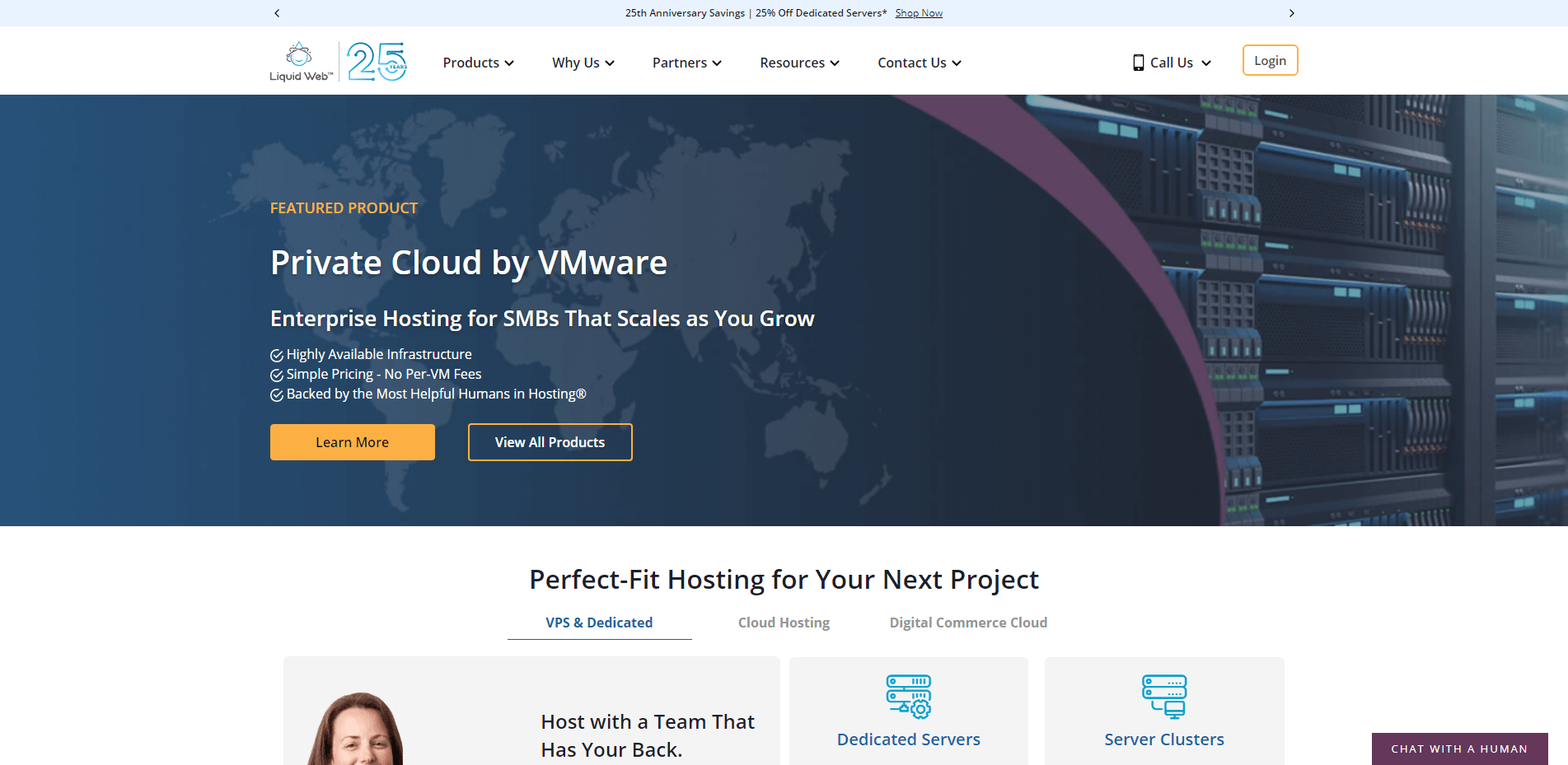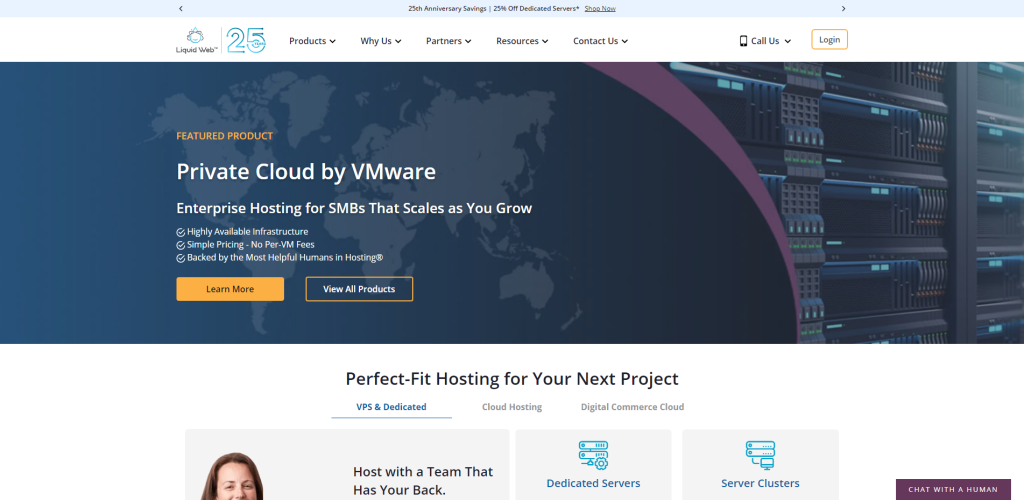 One of the leading brands in managed hosting
Liquid Web is a top-of-the-line hosting platform that offers a range of services for businesses and individuals alike. Their focus on reliability, speed, and security makes them a great choice for anyone needing a high-quality hosting solution at an affordable price.
One of the most talked about features of Liquid Web is their 24/7/365 support, which is provided by a team of highly trained and knowledgeable technicians. Whether you're a beginner or an experienced developer, you can count on them to help you get your website up and running quickly and smoothly.
One unique feature of Liquid Web is their redundant infrastructure. This means that your website is hosted in several locations at once (data centers), ensuring that your website remains online even if one of their servers goes down. This feature is not commonly found among hosting providers, which is another reason why Liquid Web is a great choice.
In conclusion, if you're looking for a reliable, fast, and secure hosting platform, Liquid Web is definitely worth considering. With their top-notch support and advanced security features, they're well-equipped to handle any challenge that comes their way.
10. Web.com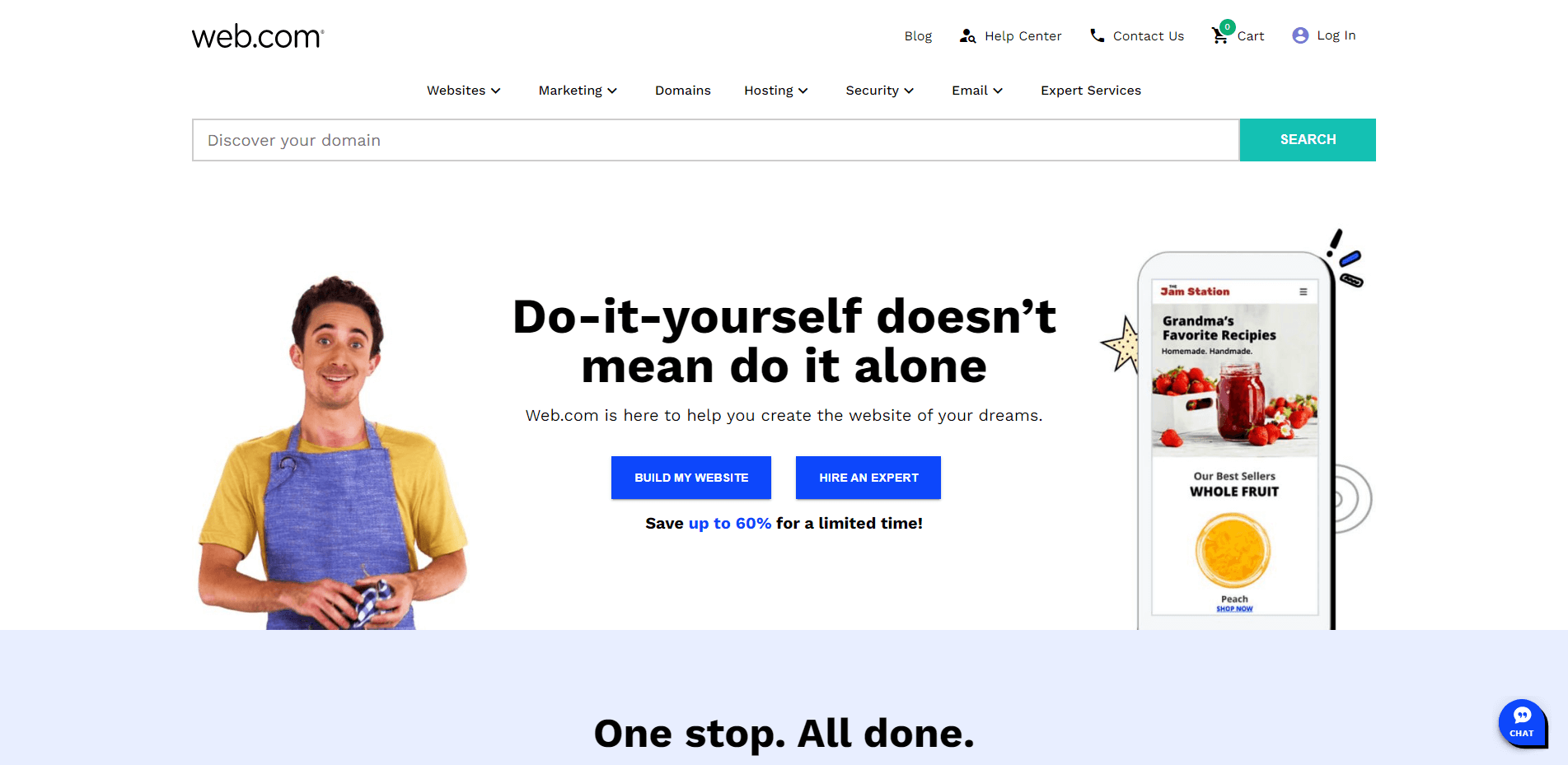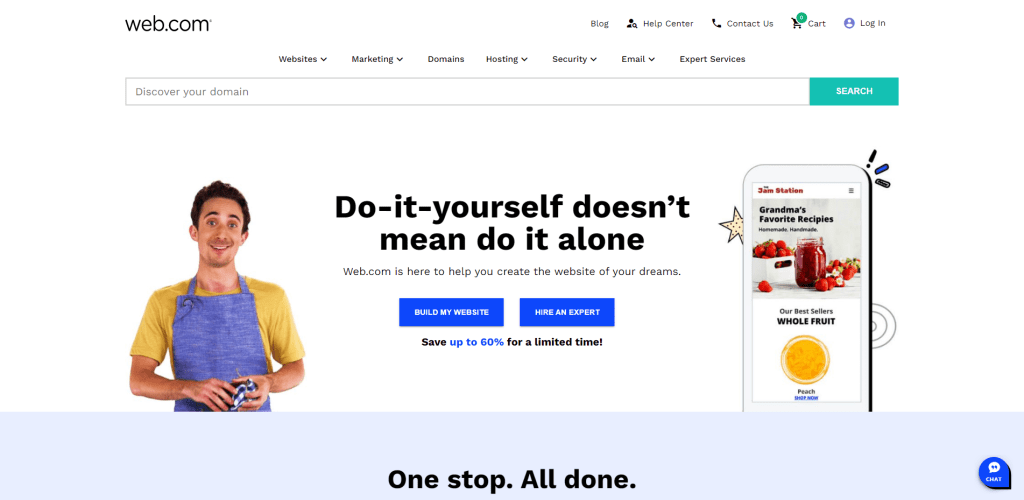 Website hosting and building services for professionals
Web.com is a website building and hosting platform that offers a wide range of tools for creating and managing a website. The platform has an easy-to-use drag-and-drop website builder and a variety of customizable templates to choose from, making it a great option for users with little to no coding experience. They also offer a range of e-commerce features, including accepting online payments and integrating with shipping and fulfillment services.
One unique feature of Web.com is that they offer a range of marketing and SEO tools to help you improve your search engine rankings and drive more traffic to your website. This includes tools for keyword research, on-page optimization, link building, and integration with Google Analytics for tracking website performance.
These features make Web.com a great platform for building a beautiful and functional website, driving traffic, and generating leads from one dashboard.
How to choose the right solution for you?
As you search for an affordable web hosting platform, it's important to remember that the cheapest option may not always be the best. While price is certainly a factor, it's also important to consider the features and level of support offered by the hosting provider.
So how do you find the right hosting platform for you? Here are a few tips:
Determine your needs: Determine what you need from your hosting platform, whether it's unlimited storage, a free domain name, or a particular type of hosting (like VPS or dedicated).
Compare prices: Don't just go with the cheapest option - compare the features and prices of several different hosting platforms to find the best value.
Don't skimp on support: Customer support is crucial, especially if you're new to web hosting. Ensure the hosting platform you choose has a good reputation for responsive and helpful support. This we already covered in this review anyway.
Overall, choosing the right platform is about finding a balance between price, features, and support. If you have specific questions about any of the solutions listed in this article or questions about web hosting in general - feel free to contact me, and I will gladly answer them.
---
Frequently Asked Questions
What is the difference between shared hosting, VPS hosting, and dedicated hosting?
Shared hosting is the most affordable option and means that multiple websites are hosted on the same server, sharing its resources. VPS hosting provides more resources, such as RAM and CPU, by partitioning a server into multiple virtual servers. Dedicated hosting means that you have an entire server to yourself.
How much storage and bandwidth do I need?
The amount of storage and bandwidth you need depends on the size and traffic of your website. As a rule of thumb, you should have at least 1GB of storage and 10GB of bandwidth for a basic website.
What is uptime, and why is it important?
Uptime refers to the amount of time that a server is online and accessible to visitors. It is essential for your website to be accessible at all times, and a high uptime percentage is critical to your website's success.