As you might already be aware, things in the SEO world are about to undergo a massive shift thanks to the introduction of AI conversational chatbots. First, it was ChatGPT, which is now being integrated into the Bing search engine, but also Bard - which is Google's take on a conversational chatbot for the search interface.
Google still holds a strong 84% market share over other search engines, but it's safe to assume that Bing (2.66%) and search engines like Brave, DuckDuckGo, and others will start to pick up pace as more of these AI tools get rolled out.
The most important factor is that SEOs are able to prepare themselves not only for the shift in how search works but also the ability to write content that these chatbots would then pick up. And to do that, there is no better way than to work with the right tools that are designed to keep your search engine optimization efforts at the cutting edge.
---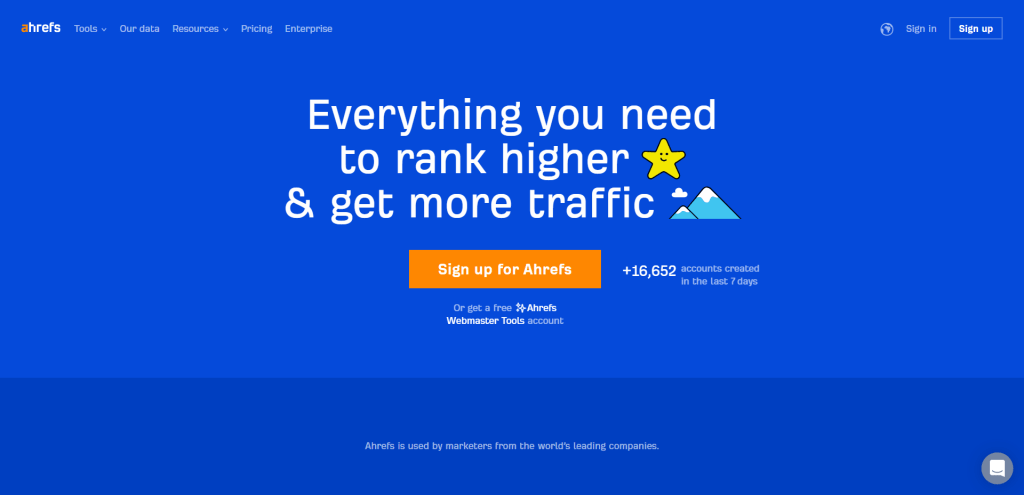 For the last couple of years, Ahrefs has been existing in a league of its own when it comes to SEO tools. Launched back in 2010, Ahrefs is not only my personal favorite, but it's also one of the most refined interfaces you can get your hands on. I liken Ahrefs to being able to see what is happening on the web behind closed doors.
It is (quite literally) an interface to understand why a website is ranking well on search engines like Google. From keyword research to backlink audits - Ahrefs handles SEO analysis extremely well, and it does so almost in real time. New backlinks, for example, are picked up and indexed by Ahrefs within 2-3 hours.
Key features:
Get keyword suggestions and analysis from single phrases.
Learn about keywords that are easy to rank for using the Keyword Difficulty tool.
Do a complete SEO audit of any website in a matter of seconds.
Content Explorer lets you find the best content for any keyword or niche.
Track keyword positions with historical data.
Quickly export any data to a format of your choice.
Plans and pricing:
Lite - $99 a month. Audit up to 5 competitors. Up to 2,500 data rows per single report, with the ability to export 500,000 rows each month. Track up to 750 keywords.
Standard - $199 a month. Audit up to 20 competitors. Up to 30,000 data rows per single report, with the ability to export 1.5M rows each month. Track up to 2,000 keywords.
Advanced - $399 a month. Audit up to 50 competitors. Up to 75,000 data rows per single report, with the ability to export 4M rows each month. Track up to 5,000 keywords.
Audit competitors mean you can add these sites as your own without needing to verify ownership.
Pros
Arguably the cleanest UI (User Interface) of any SEO tool in this category.
Quickly find new content ideas.
Analyze broken links of your competitors.
Historical data means you can create predictive SEO strategies.
Compare content gaps between your content and that of your competitors.
Cons
The free trial feature was recently removed.
It is relatively expensive. However, you can use it once every few months and do incremental SEO auditing for your main competitors.
Even as a paid user, there are "token" limits (500 per power user) which can be expended quickly if you're not careful.
---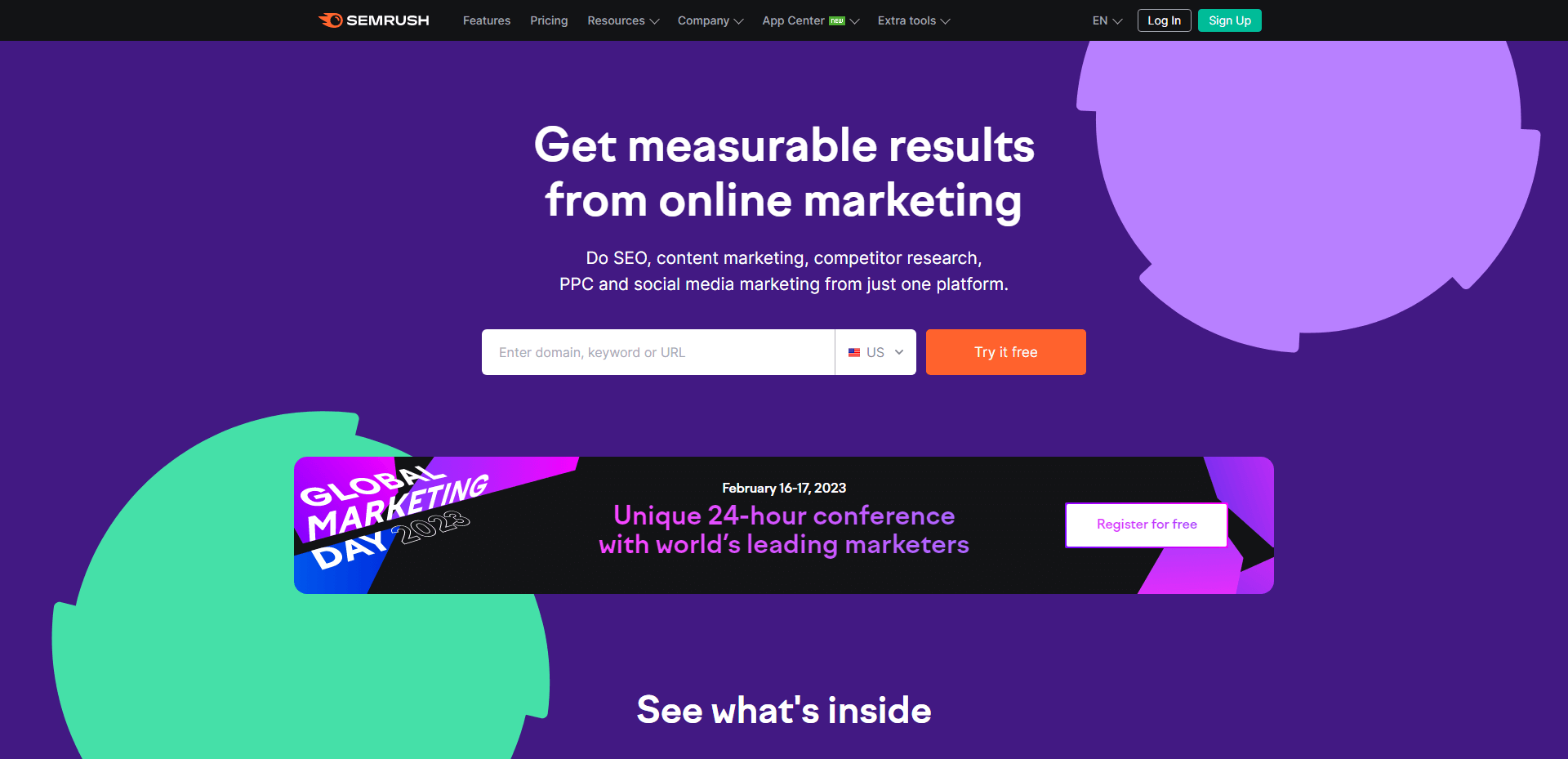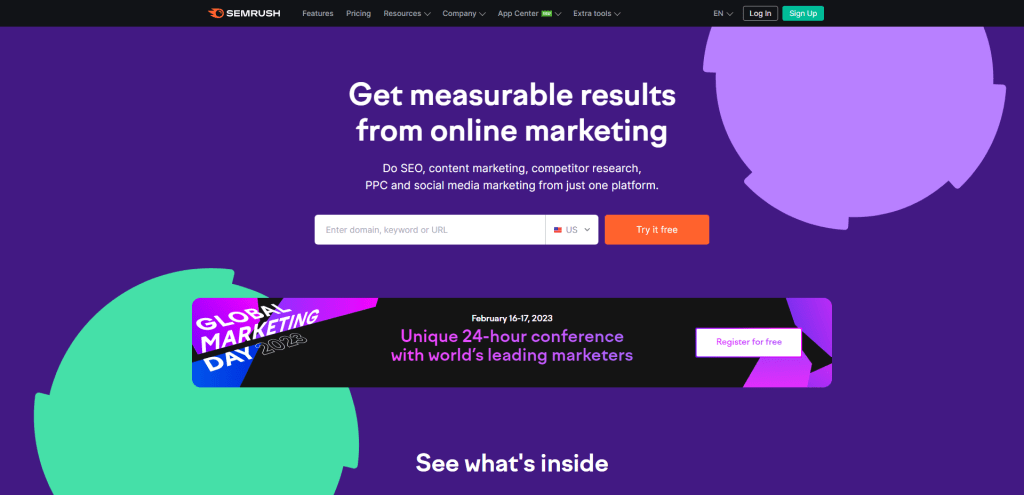 Semrush is a digital marketing toolkit that provides businesses and marketing professionals with data and insights to improve their online presence and visibility. It is a comprehensive suite of tools designed to help businesses with search engine optimization (SEO), pay-per-click (PPC) advertising, content marketing, social media, and competitor research.
With Semrush, you can track keywords, monitor backlinks, research competitor websites, and identify areas for improvement in your own online marketing efforts. It provides detailed analytics and reports, helping you make strategic decisions about your online marketing goals and make the most of your efforts to drive traffic and improve your online visibility.
Key features:
The keywords database is updated extremely quickly.
Semrush Sensor lets you monitor whenever Google makes algorithm updates.
You can monitor the quality of your links on a "toxicity" scale.
A custom Toolbox plugin to let you monitor SEO while you browse the Web.
Plans and pricing:
Pro - $120 a month. 5 projects, 500 keywords you can track, and up to 10,000 results per report.
Guru - $230 a month. 15 projects, 1500 keywords you can track. Also includes the ability to look at historical data.
Business - $450 a month. 40 projects, 5000 keywords you can track. Includes every single other feature that Semrush has to offer.
Pros
Generator custom reports to understand how to rank for certain keywords.
In-depth position tracker (SERP monitor) with historical data.
Fantastic blog resources around the topics of SEO, Marketing, and Growth Hacking.
Almost all Semrush features have graphs to make it easier to digest data.
Cons
Not the most user-friendly UI but it is workable with a bit of learning.
The pricing is quite steep, but is made up for with the selection of tools Semrush provides.
I'm not a fan of the emails that Semrush sends. E.g., "You are at risk of a Google penalty because of bad links.".
---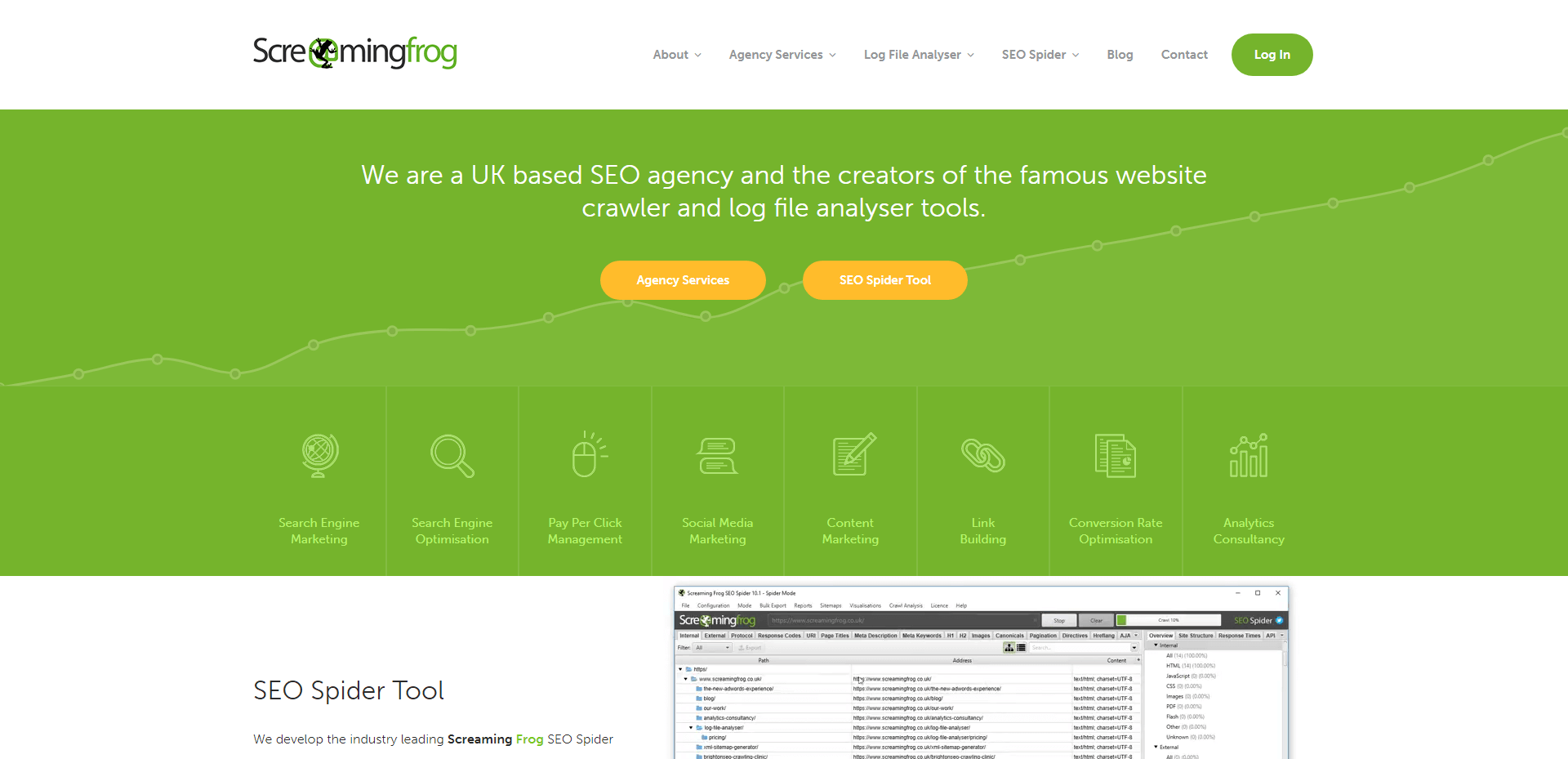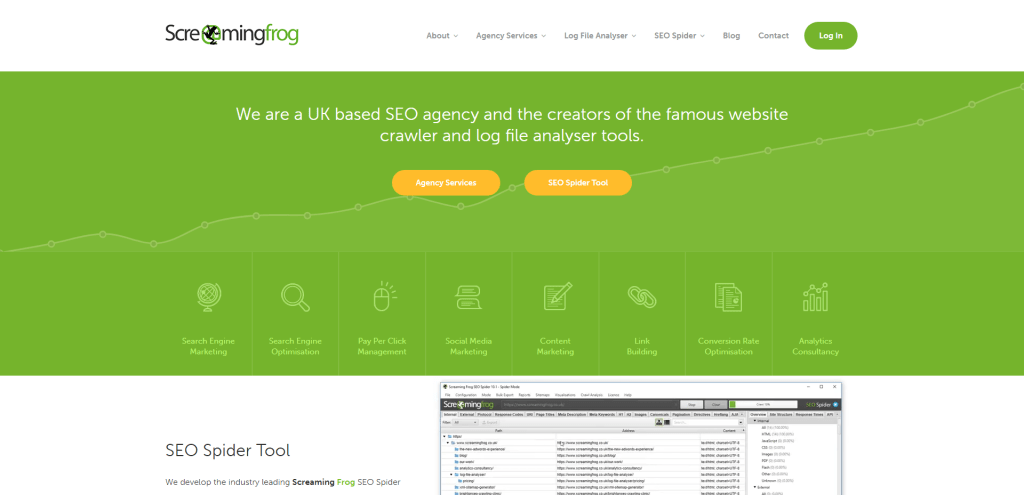 Screaming Frog is a website crawler tool that enables marketers and SEO professionals to analyze the structure and content of their websites. It is used to gather information about a website's technical SEO, such as broken links, missing metadata, and redirects, which can help improve the website's search engine visibility and user experience.
The tool crawls a website like a search engine spider and generates an in-depth analysis of the website's structure and content, allowing you to quickly identify any technical SEO issues that may be impacting the site's search engine ranking.
Screaming Frog also provides detailed reports and visualizations of the data it collects, making it a great tool for website analysis and optimization.
Key features:
Create full reports on broken links and any server-related errors for any given website.
Create visual representations of a website's architecture, letting you evaluate relationships such as internal and external links.
Third-party integrations for various Google APIs to import performance metrics.
Analyze metadata such as blog post titles and descriptions.
Generate XML sitemaps on the fly.
Plans and pricing:
Free - Free version is limited to 500 URLs for crawling. Broken link and error scanning is still possible, as is the ability to analyze titles and metadata.
Pro - $259 per year. Includes unlimited scans and features like JavaScript rendering, comparisons, spelling checks, and structure data validation.
Pros
Relatively affordable for the capabilities that it provides.
A superb tool to quickly find broken links across an entire site.
Helps fix issues like duplicate content.
You can crawl both small and big websites, with custom scan settings.
Cons
As expected, the free plan has severe limitations.
The UI is a bit dated to say the least, but performance makes up for it.
Not the most beginner-friendly SEO tool out there.
---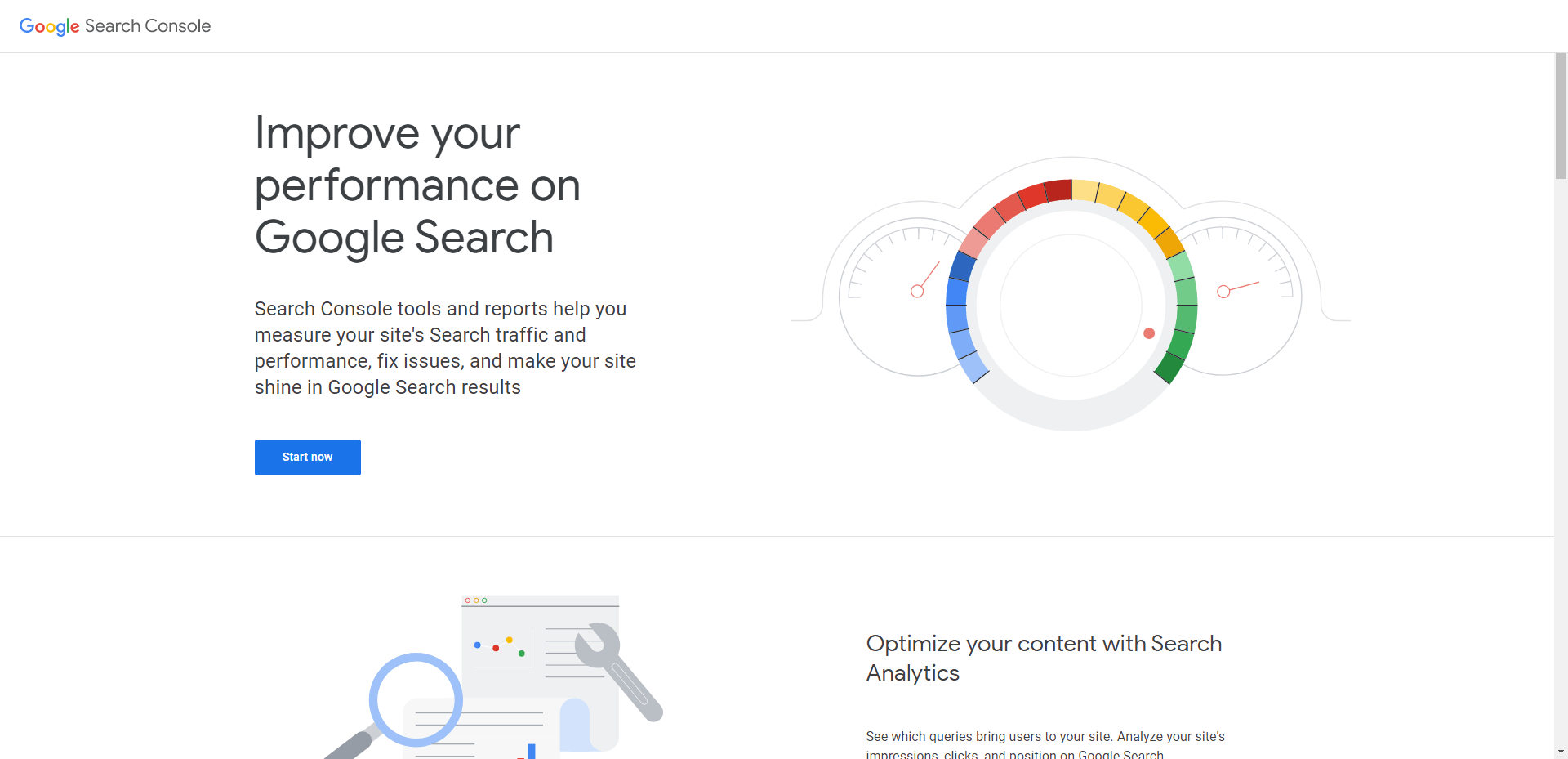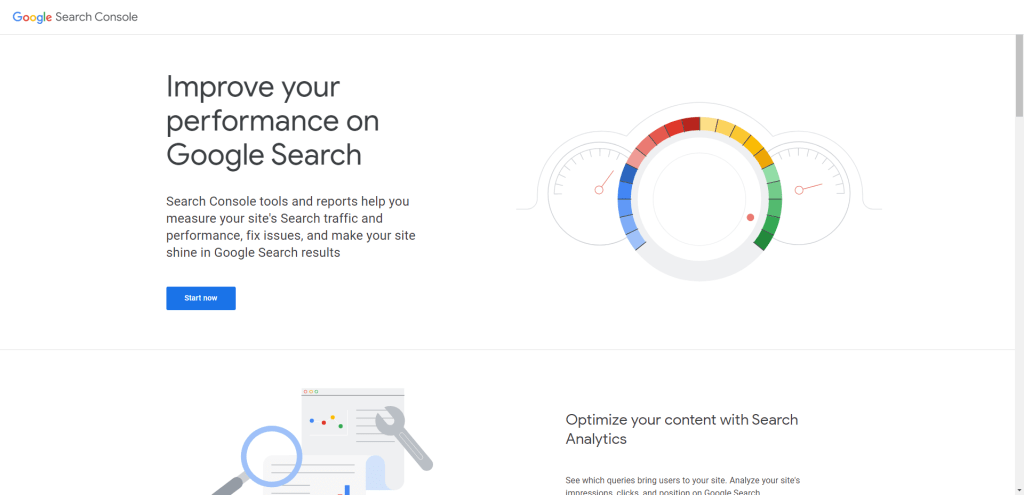 Google Search Console is a free tool offered by Google that provides website owners and webmasters with data and insights about their website's visibility on Google. The tool helps you monitor and maintain your site's presence in Google search results by providing information about search traffic, crawl errors, security issues, and indexing status.
Google Search Console also enables you to submit sitemaps and monitor how Google crawls your website and provides insights into the keywords that drive traffic to the site. By using this tool, you can identify any technical issues that may be impacting your website's search engine ranking and take steps to address them to improve your website's visibility in search results.
Key features:
Quickly identify any potential Indexing problems your site might have.
Get nearly real-time data on the keywords that send you the most visitors.
You can evaluate the page experience of every single page on your site.
Monitor your backlinks (not updated very frequently).
Get Insights on the content that is performing the best on your site.
Plans and pricing:
The GSC is entirely free. It's provided to Webmasters by Google to help you better understand how your content performs in Search.
Pros
Monitor SEO performance but also performance in Discover.
Clean interface with the ability to quickly switch between all websites you own.
You can see your performance metrics for the previous day at any given time.
Suggestions for fixing problems related to performance.
Cons
Jumping between page analysis and keywords can feel a bit clunky at times.
---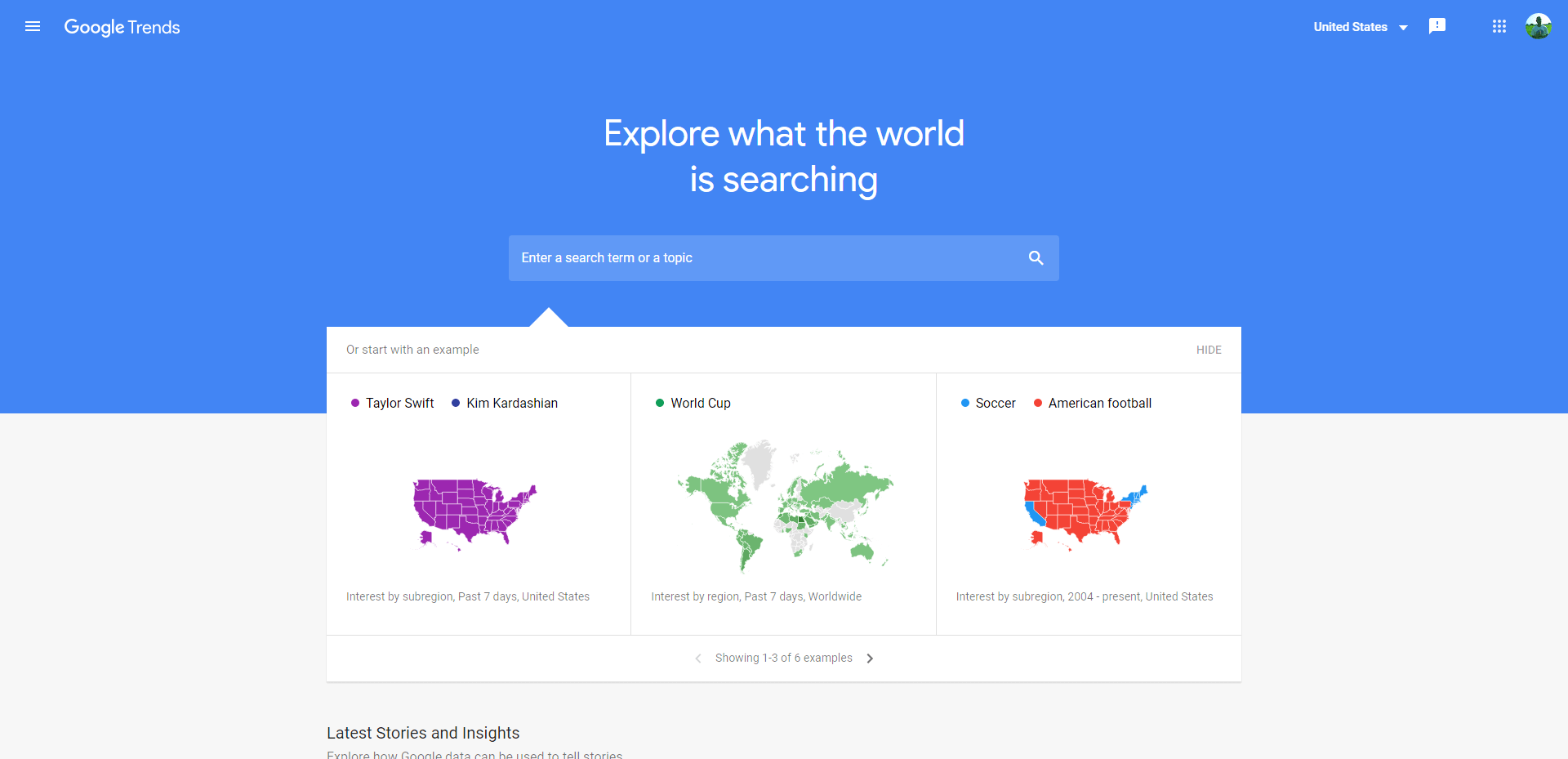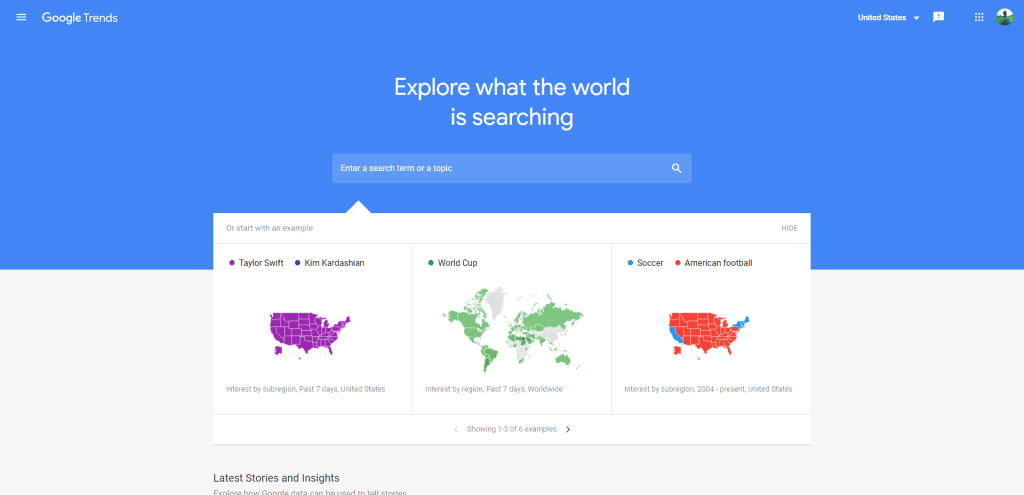 Google Trends is a free online tool provided by Google that allows you to see how frequently a particular search term or phrase has been entered into Google's search engine over time. It provides a visual representation of the popularity of a particular search term and can help you understand the trends and patterns in the use of specific keywords and phrases.
In the context of SEO, Google Trends can be a useful tool for keyword research and strategy development. By analyzing the popularity of certain keywords over time, you can get a clear overview of which keywords to target in your content and marketing campaigns. For example, if a particular keyword has been consistently popular over time, it may be worth pursuing in your articles or targeting in a paid advertising campaign.
Additionally, Google Trends can help you understand the geographic and demographic distribution of search traffic for specific keywords. This information can be valuable for local SEO as it gives you concrete insight into the topics trending in a specific area.
Key features:
Keyword trends for countries, regions, and the entire world.
You can compare various keywords to see their popularity.
Get a historical view of any keyword trend.
Understand how keyword trends change over time.
Plans and pricing:
Google Trends is free to use.
Pros
Fantastic resource for news sites who're looking for trending topics to write about.
Find geo-based keyword data.
Compare how various keywords fare against each other, great to include in statistical reports.
Evaluate the "seasonal" performance of keywords and topics.
Cons
Google Trends has limitations, and getting data for more intricate keywords can be challenging.
---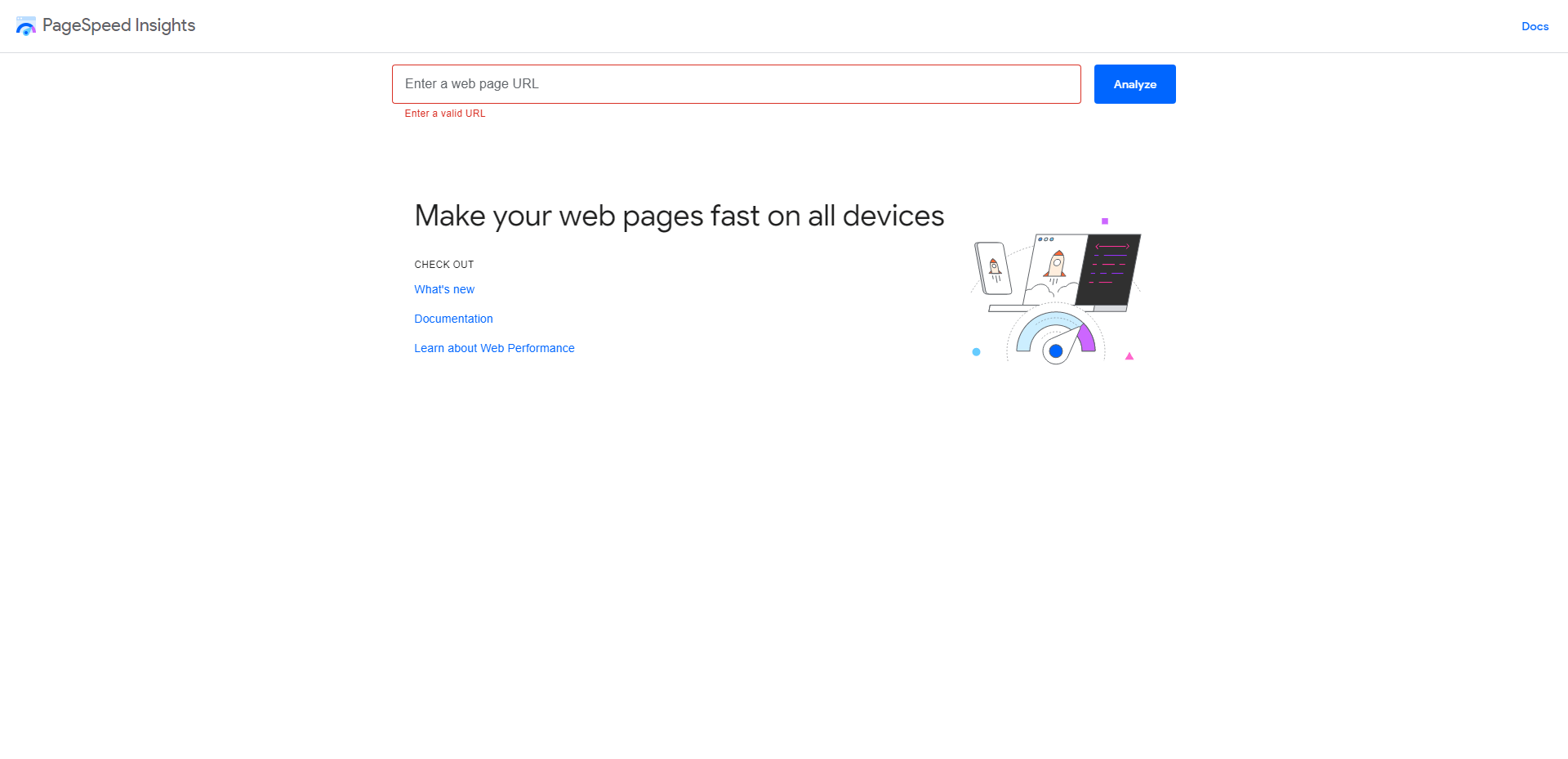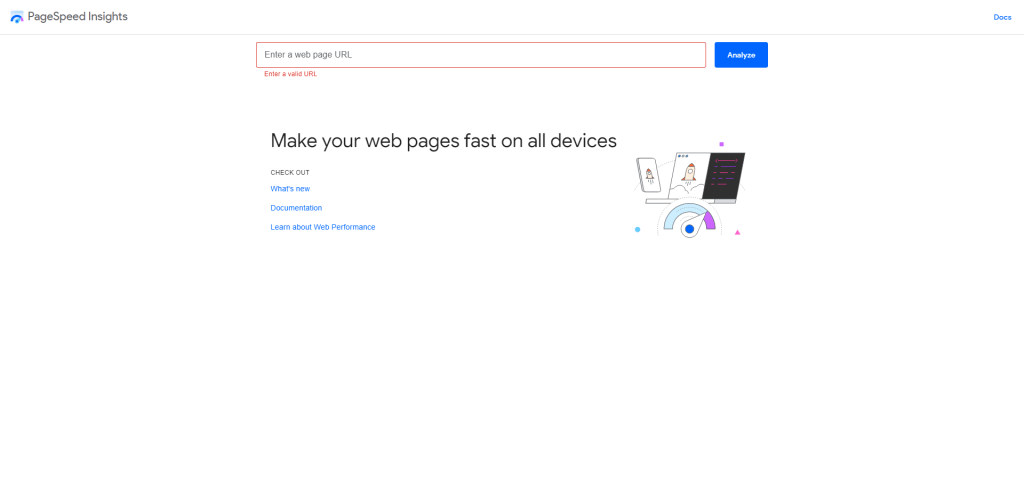 PageSpeed Insights analyzes the performance of a website and provides recommendations for improving its speed and user experience. The tool provides scores for both the mobile and desktop versions of a website, along with specific recommendations for how to improve the website's performance, such as reducing the size of images, minifying CSS and JavaScript files, and optimizing the website's structure and content.
As for SEO, PageSpeed Insights is important because website speed is a key ranking factor for search engines, including Google. A website that loads quickly provides a better user experience and is more likely to rank higher in search results. Additionally, a fast-loading website can improve the chances of a user visiting multiple pages on a site, which can lead to increased engagement and conversions.
By using PageSpeed Insights, you can identify areas for improvement in your website's performance and take steps to optimize your site for both search engines and users. This can help to improve the website's search engine ranking, increase traffic, and provide a better user experience for visitors.
Key features:
Analyze the load time for Desktop and Mobile versions of any website.
Compare performance data against the global average in the world.
Get specifics on how well your site fares against Core Web Vitals regulations.
Plans and pricing:
PageSpeed Insights is free to use. It's also available from the Chrome DevTools panel.
Pros
Simple to use.
Detailed reports on things like Largest Contentful Paint, First Input Delay, and Cumulative Layout Shift.
Recommendations on what you can improve to make your website load faster.
Cons
Focused strictly on performance and not other SEO metrics.
You need some technical prowess to interpret some of the recommendations.
---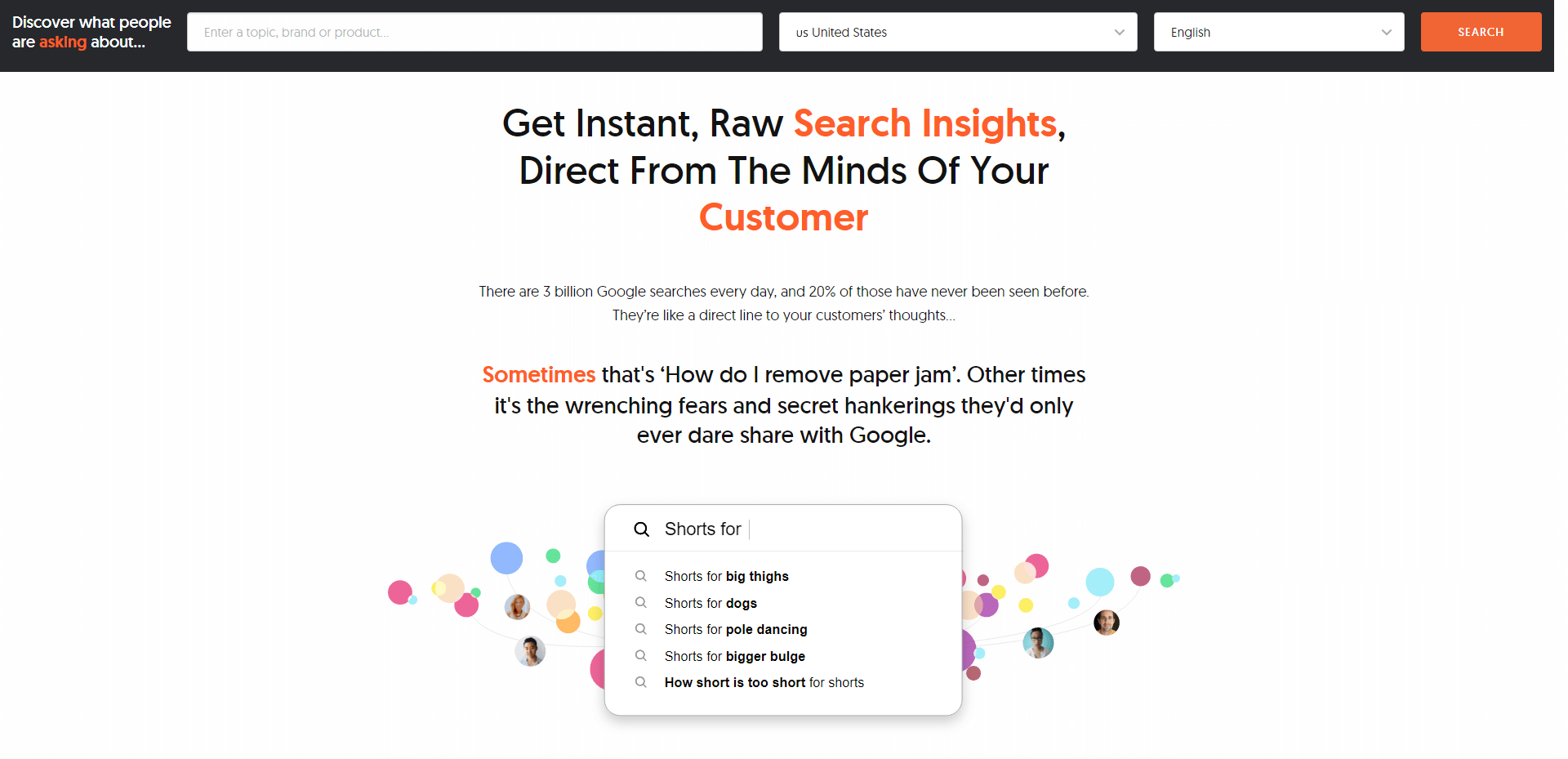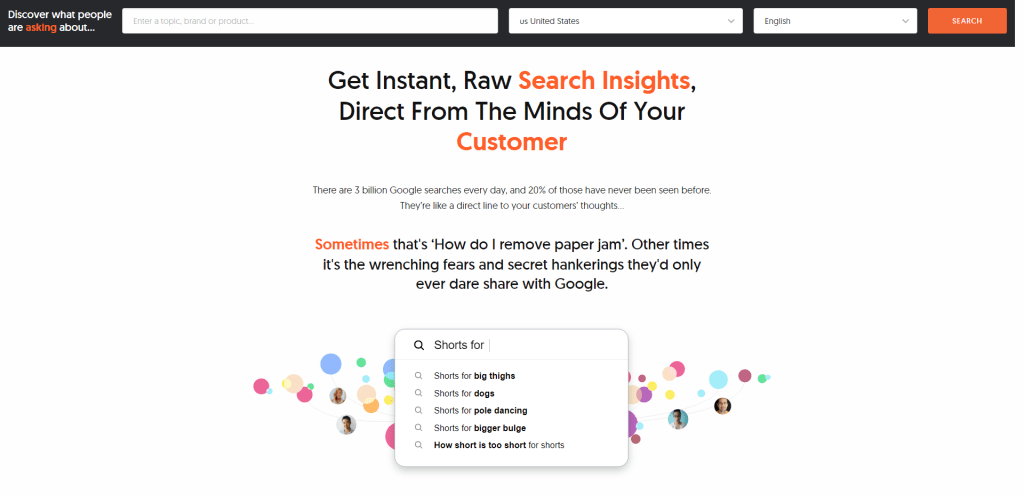 AnswerThePublic is a keyword research tool that provides users with a visual representation of the questions and queries people are searching for on Google and other search engines. The tool generates a list of questions, prepositions, and comparisons related to a particular keyword, which can be useful for developing content ideas and optimizing website content for search engines.
The tool provides insights into the questions and topics people are searching for and can help identify opportunities for creating valuable and relevant content for a target audience. By understanding the questions and queries that people are searching for, you can tailor your content to address those needs and provide value to your audience, which can improve their website's search engine ranking and visibility.
In addition to generating a list of questions, AnswerThePublic also provides a visual representation of the data in the form of a "Question Cloud," which can help you quickly identify common themes and trends in the questions people are searching for.
Key features:
Analyze keywords to get their long-tail variations.
Find out what kind of questions people are asking relating to a specific keyword.
Get recommendations for questions, comparisons, and things like prepositions.
Plans and pricing:
Free - 1 free search per day. You can register to get additional 3 searches.
Pro - $99 a month. Up to 3 users with unlimited searches. Also includes data such as search volume and CPC (Cost-per-Click).
Pros
Fantastic tool for understanding keywords and questions surrounding them.
All keyword data is presented as a visualization for easier interpretation.
You can export keyword data.
Cons
The free plan is severely limited.
It's known to go in circles for some keywords.
---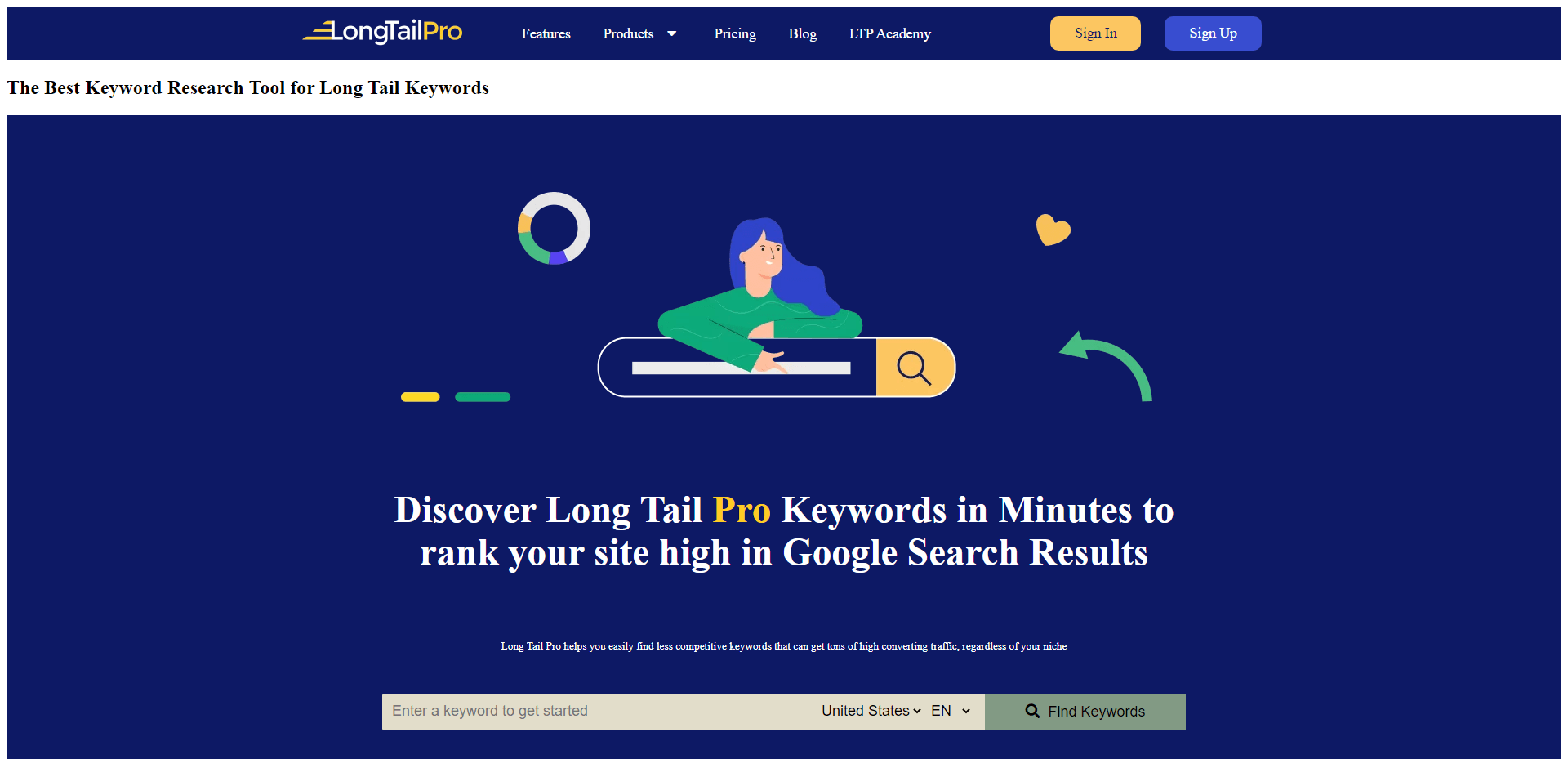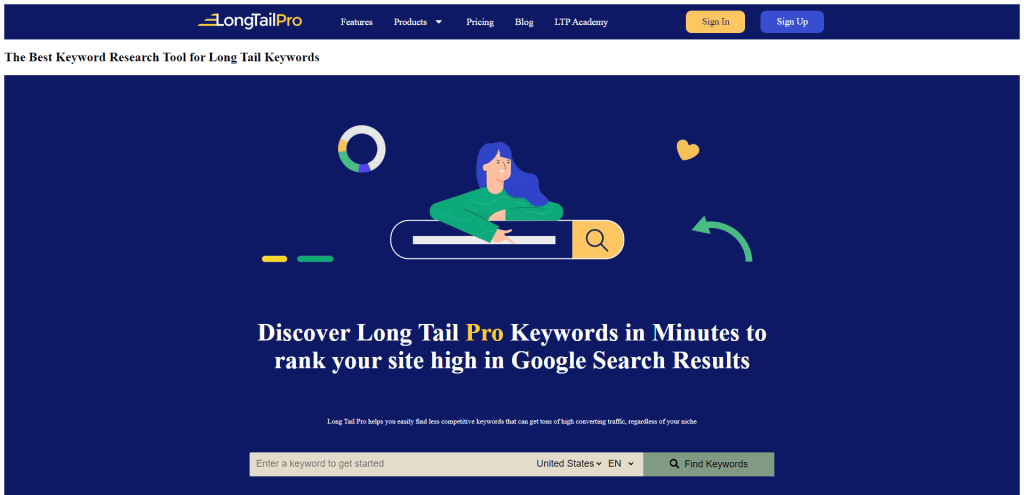 LongTailPro is a powerful keyword research tool that is a must-have for website owners and marketers looking to drive targeted traffic and boost their search engine ranking. As someone who does SEO on a daily basis, I have come to appreciate the value that LongTailPro brings to the table.
The main purpose of LongTailPro is its ability to generate long-tail keyword lists. These are specific, longer phrases that are less competitive and easier to rank for in search engines. By targeting these long-tail keywords, you can more easily drive targeted traffic to your site.
But LongTailPro isn't just about generating keyword lists. It also provides in-depth keyword analysis, including an analysis of the top 10 results in Google for a particular keyword. This analysis gives you a clear understanding of the level of competition for a particular keyword, so in the event that you want to compete for those keywords - you know what you're up against.
Key features:
Find long-tail keywords with low competition. These reports also include metrics like search volume and competitive ratio.
Monitor keyword cost, including bid prices and level of competition.
Analyze SERP results to see who's ranking on the first page.
Monitor keyword performance over time.
Plans and pricing:
Starter - $37 a month. Up to 800 keyword results per day with the same amount of SERP lookups. Keyword tracking is limited to 30 with daily rank updates.
Pro - $67 a month. 2500 keyword & SERP lookups per day. Track up to 200 keywords, and get 3 extra seats you can share with friends or team members.
Pros
Clean UI that's easy to work with.
Understand the behavior of long-tail keywords.
Great for getting in-depth topic ideas for low-hanging fruit.
Cons
Has limits on how many daily searches you can do.
Doesn't seem to be run as an established brand, so support can feel lacking.
---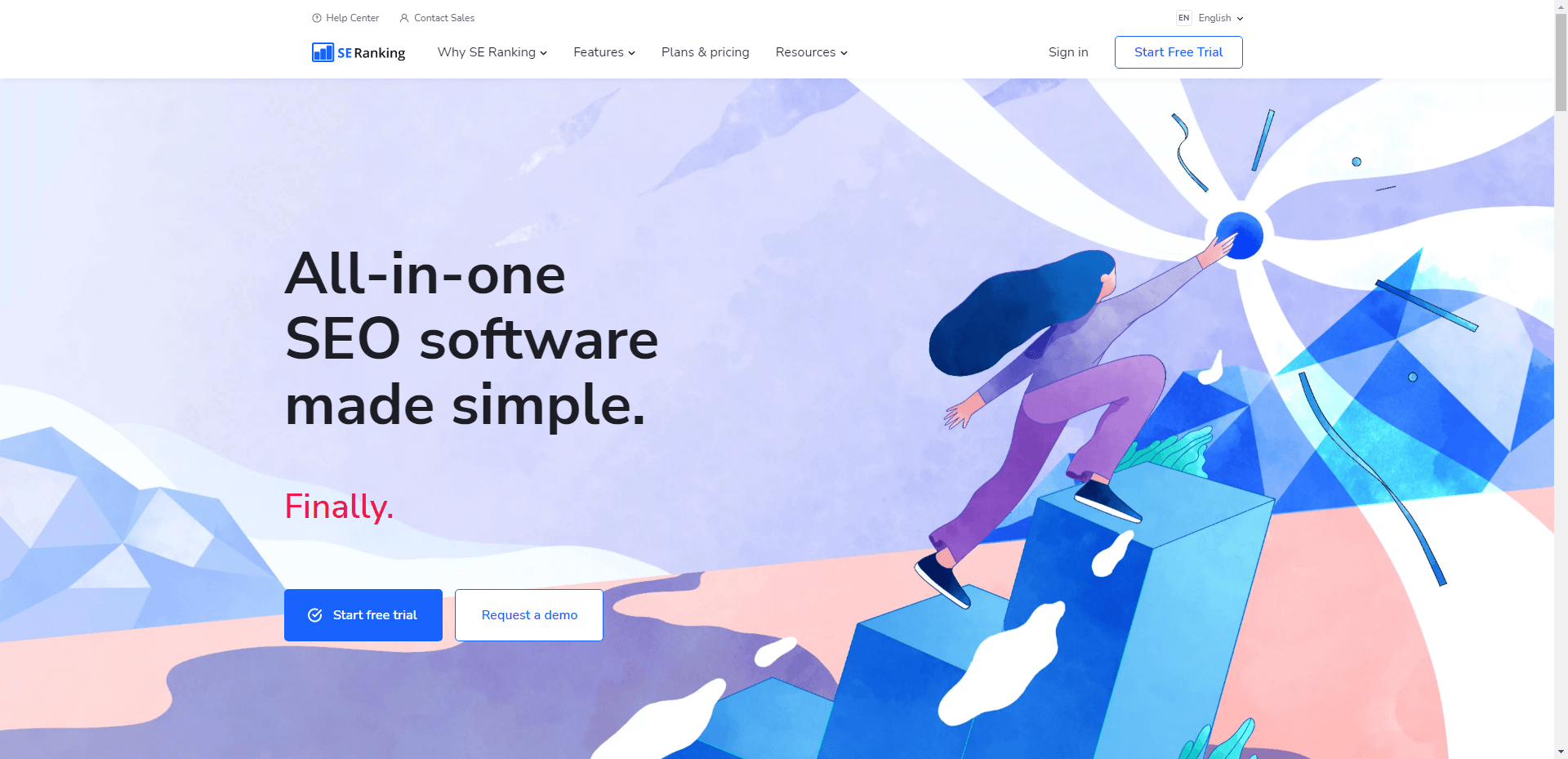 SE Ranking offers a range of keyword tools, including a Keyword Rank Tracker that shows the ranking of your pages for target queries in any location, search engine, and device. The Keyword Research tool provides useful information and insights to help you expand your keyword list with related, similar, and long-tail keywords.
SE Ranking also offers a comprehensive set of backlink tools, including a Backlink Checker and Backlink Monitor. The Backlink Checker allows you to dive deep into any site's backlink profile and analyze referring domains, linking pages, and anchor texts. The Backlink Monitor helps you keep track of the status of every backlink related to your site, quickly identify bad links, and get automated notifications if the status of any of your backlinks changes.
Competitive research is a key feature of SE Ranking, with the Competitive Research tool allowing you to stay ahead of your competitors by viewing their website traffic dynamics, analyzing their target search queries, and researching their PPC competition.
Key features:
Sitewide analysis of any website, letting you understand the keywords that drive the most organic traffic.
Respectable size of data on keywords, links, and other SEO metrics.
Backlink analysis, including the ability to monitor lost backlinks.
Do a complete website audit to understand SEO issues.
Plans and pricing:
Essential - $31.20 a month. Up to 10 projects with the ability to track 250 keywords. You can also monitor up to 6,000 backlinks with this plan.
Pro - $71.20 a month. Unlimited projects with 3 extra user sets. Monitor up to 30,000 backlinks and track up to 1,000 keywords.
Pros
Has similar functionality to tools like Ahrefs but with a more forgiving entry cost.
Generate white-label reports, which is fantastic if you work with clients.
Find out backlink opportunities by doing deep link scans.
Cons
It takes a bit of time to learn the platform and its features.
Reports are mostly pre-determined.
---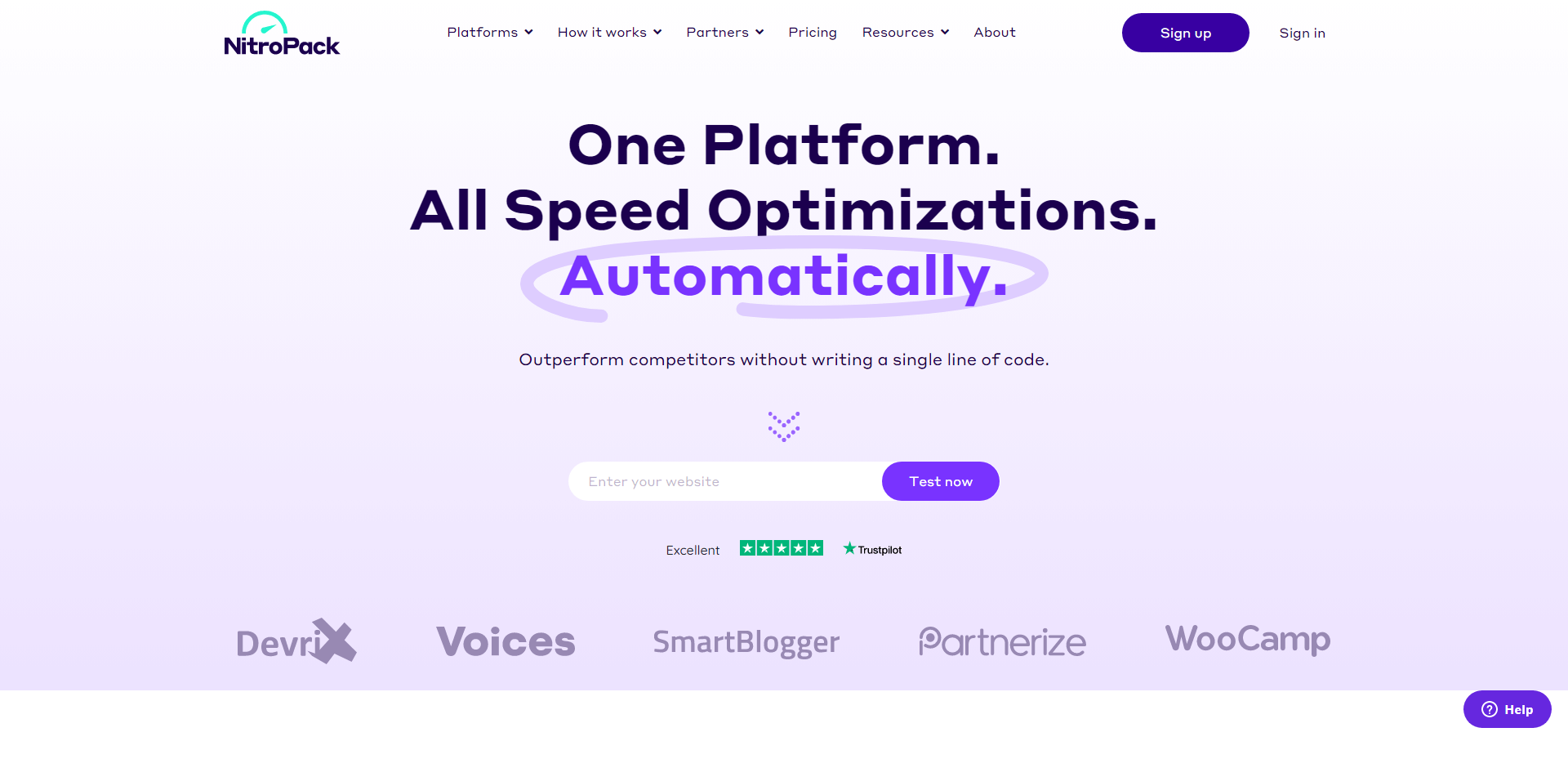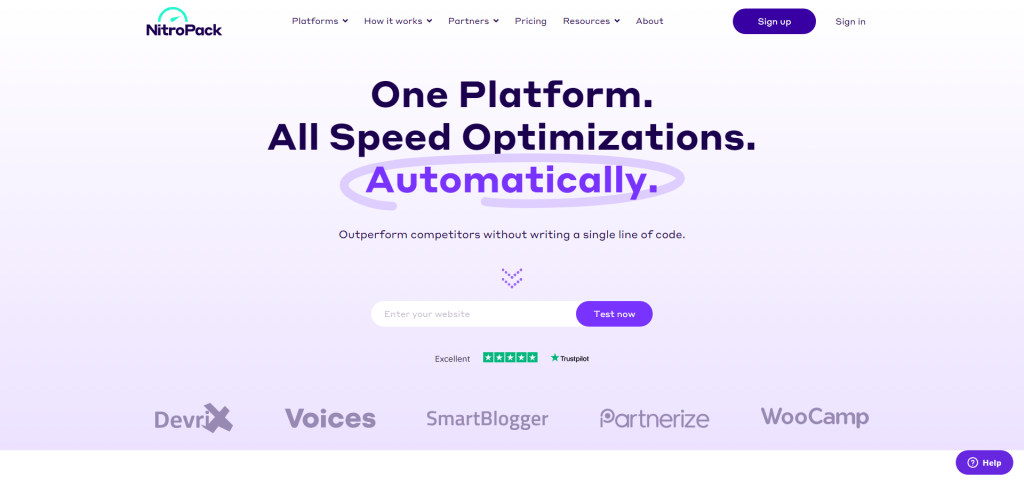 NitroPack is a powerful website optimization platform that offers an easy-to-use solution for businesses and website owners who want to optimize their website performance. With NitroPack, you can increase the speed and efficiency of your website in just a few clicks without the need for technical knowledge or expertise.
The platform is designed to optimize your website's loading time, reduce the size of your website files, and improve the overall performance of your website. NitroPack uses advanced optimization techniques, such as code minification, image compression, and browser caching, to ensure that your website loads quickly and efficiently, even under heavy traffic conditions.
In addition to its optimization features, NitroPack also offers a suite of tools and features to help you analyze and monitor your website's performance. You can access real-time data and analytics on your website's speed, performance, and user engagement, which can help you make data-driven decisions to improve your website's performance even further.
Key features:
World-class caching to ensure your pages are blazing-fast!
Image optimization as well as file compression built-in.
Auto-optimize your CSS, HTML, and JavaScript files.
In-built CDN to greatly increase your load times.
Plans and pricing:
Free - This plan includes optimization for 1 website with up to 5,000 pageviews. The bandwidth is limited to 1GB.
Business - $17.50 a month. 50,000 pageviews and up to 25GB of bandwidth.
Growth - $42.50 a month. 200,000 pageviews and up to 100GB bandwidth. Also includes the Adaptive Image Sizing feature.
Pros
Custom-built caching system.
Easy to get started and integrate with an existing website.
Works with popular CMS platforms like WordPress and WooCommerce.
Exceptional image optimization tools.
Cons
Relatively expensive and arguably a bad choice if you already using a reliable hosting provider.
---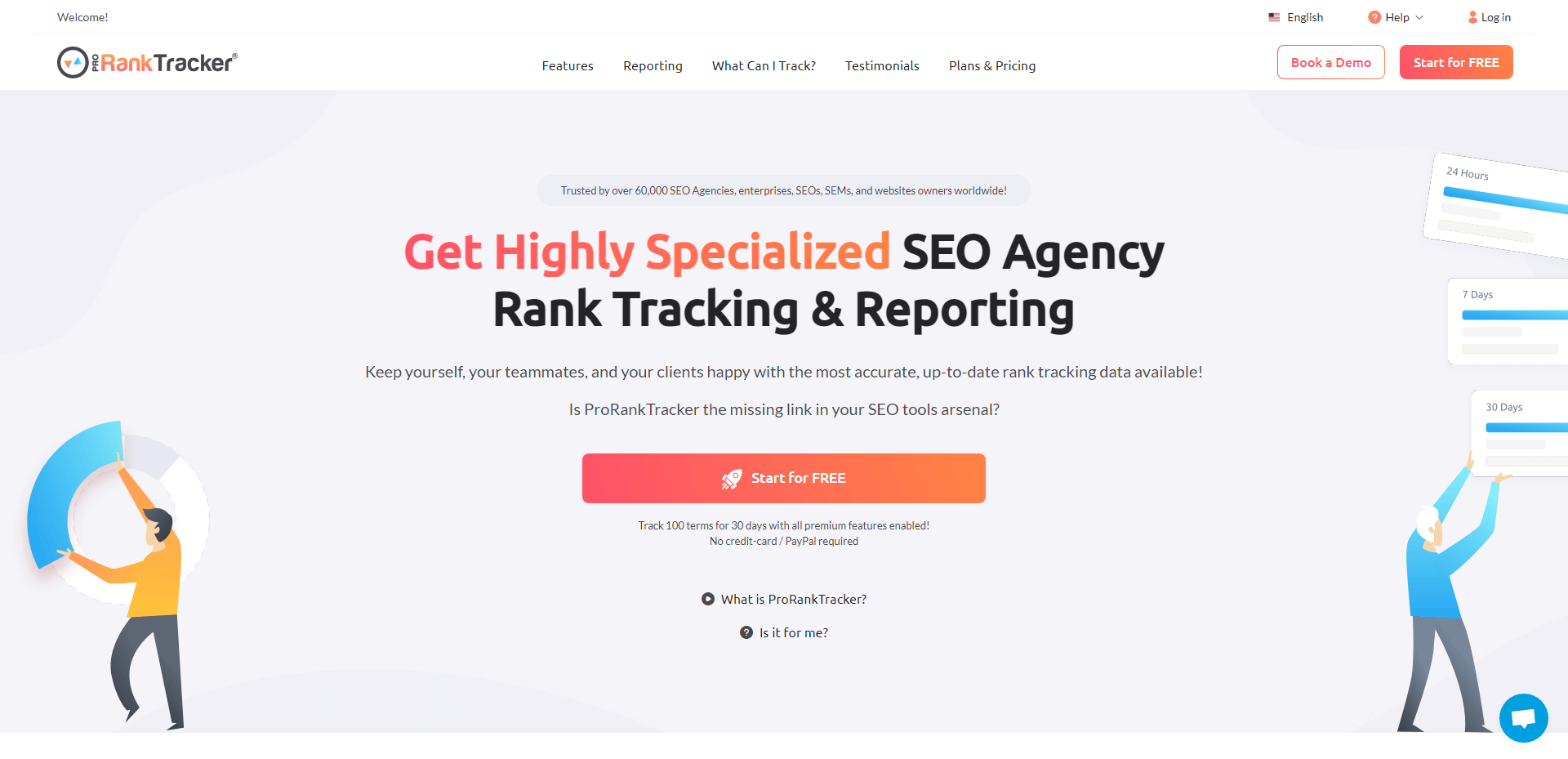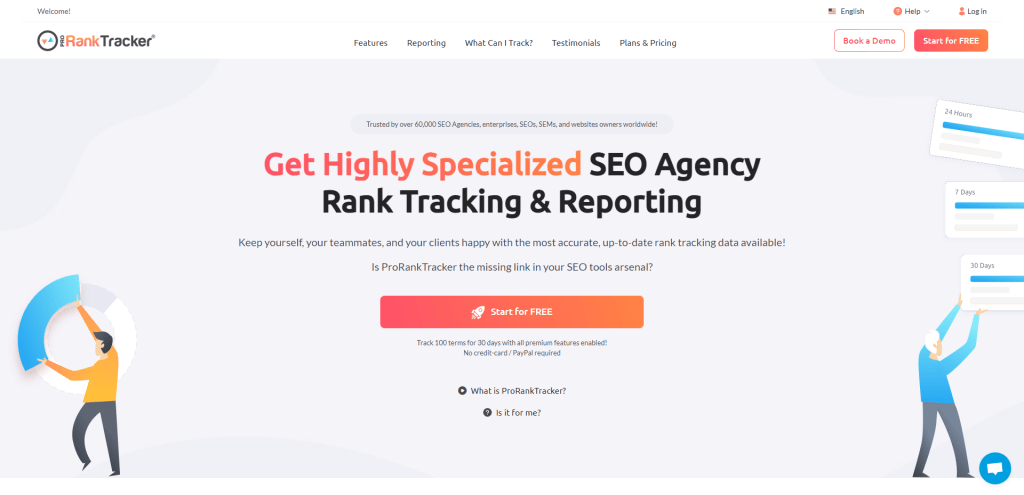 Pro Rank Tracker is a comprehensive solution designed to help individuals and businesses track and analyze their online visibility with ease. At its core, this tool is a web-based platform that provides real-time data on website rankings across multiple search engines, including Google, Bing, and Yahoo.
The platform provides a user-friendly interface that allows users to easily monitor the visibility of their websites and track their progress over time. In addition to its comprehensive tracking and analysis features, Pro Rank Tracker also offers a number of other tools and features designed to help users optimize their online presence. These include the ability to set up custom reports, track local search rankings, and monitor the visibility of competitor websites.
Key features:
Track keyword positions in any language and in real time.
Keyword analysis and suggestions.
Generate in-depth reports that you can pass on to clients.
All premium customers get access to 24/7 support.
Plans and pricing:
Free - The trial period (30 days) offers full access to the platform. Afterward, you can track up to 20 terms with basic features.
Starter - $13.50 a month. Includes daily rank updates and unlimited URL and Report generation.
Pro - $89 a month. Extra features in this plan include 10 extra seats and on-demand updates for rank monitoring.
Pros
You can try the tool out for 30 days with no limitations.
You can monitor keyword rankings for Google, Bing, and even YouTube.
Monitor even the slightest movements in keyword position change.
Get recommendations to improve your content from an SEO standpoint.
Cons
The tool is prone to doing some false reports on keyword positions.
---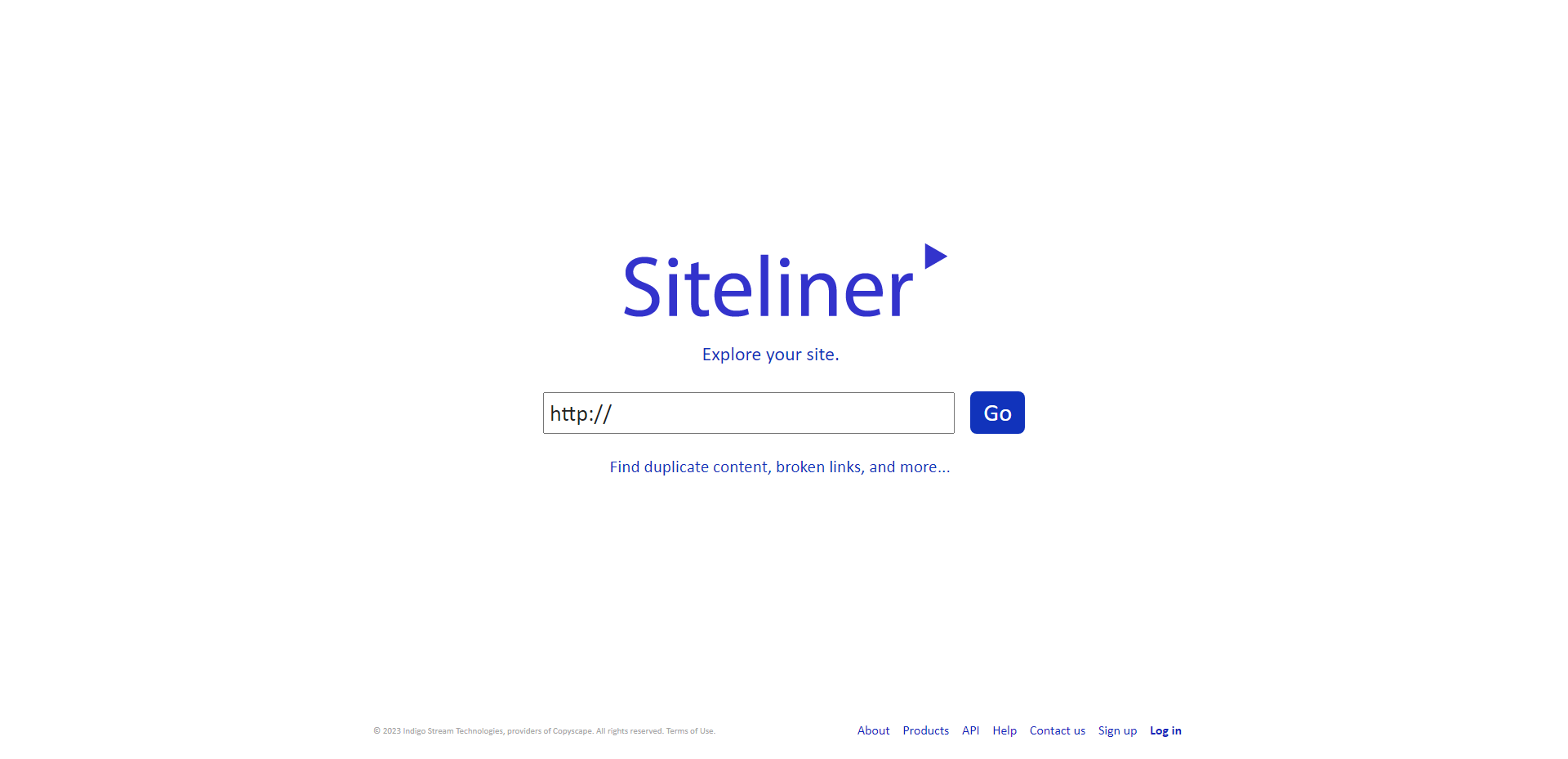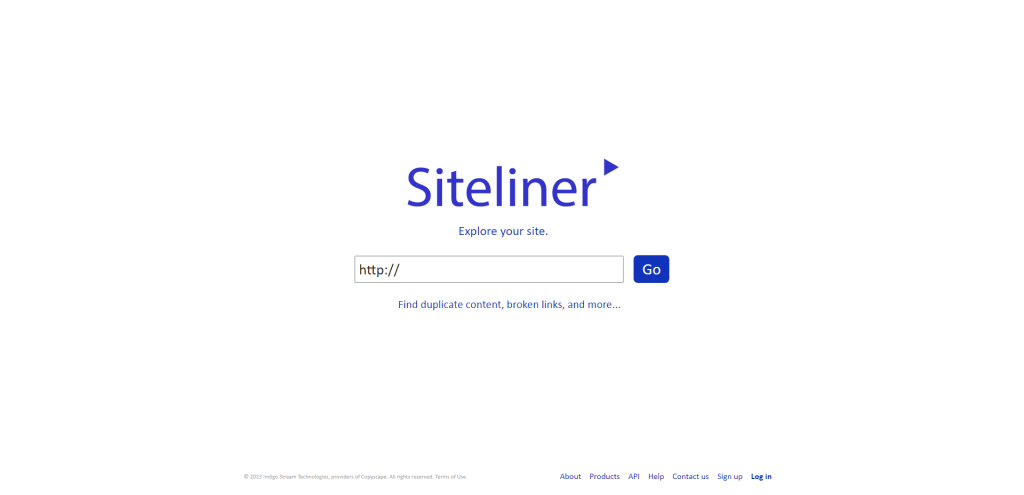 Siteliner is a comprehensive website analysis tool that helps website owners and marketers optimize their online presence. It provides in-depth insights into various aspects of a website, such as content, links, performance, and technical issues. The tool scans a website and provides a comprehensive report that highlights any potential issues that could be affecting the website's ranking and user experience.
Key features:
Find pages that have duplicate content.
Identify broken links.
Generate custom reports.
Plans and pricing:
Free - Analyze up to 250 pages.
Pro - Each page above the 250 limit costs $0.01.
Pros
You can compare two different sites.
Fast and can scan an entire website in minutes.
Highlights duplicate content and on which pages it exists.
Easily accessible from your favorite web browser.
Cons
The free version is limited to a single domain.
The pro plan is based on per-page pricing.
---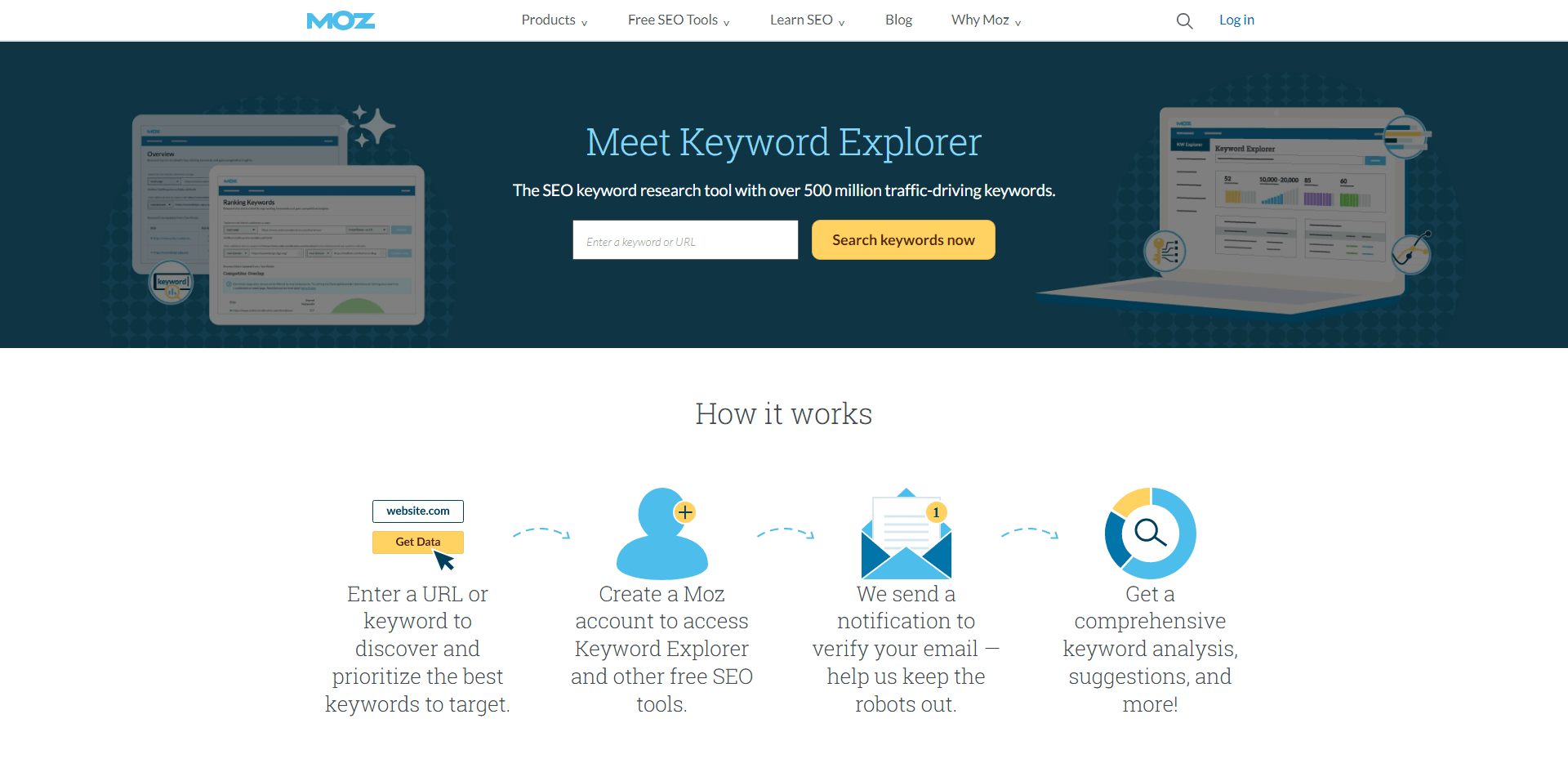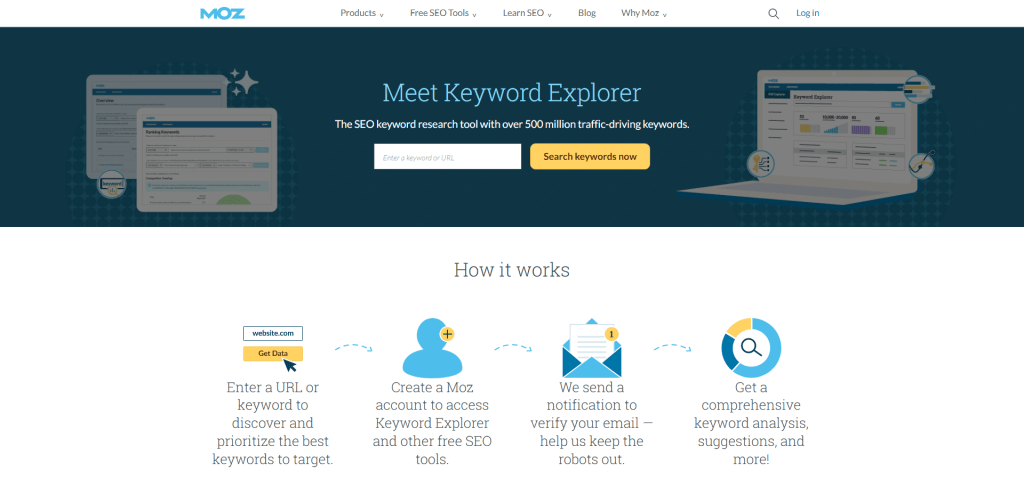 Moz Keyword Explorer is a powerful keyword research tool that provides insights into the search behavior of users and the performance of keywords in search engines. With this tool, users can access a wealth of data, including keyword search volume, difficulty scores, and estimated cost per click.
This data can be filtered and analyzed to help you make the best possible decision about which keywords to target in your SEO and PPC campaigns. One of the most exciting features of Moz Keyword Explorer is its ability to provide users with keyword suggestions based on their seed keywords. This not only saves time and effort but also helps you discover new keyword opportunities that you may not have considered otherwise.
Key features:
Generates entire reports from URLs or standalone keywords.
Hundreds of millions of keyword suggestions based on real-life data.
Gives you recommendations based on Search Volume.
Plans and pricing:
Free - 10 queries per month. You have to create an account.
Standard - $99 a month. Includes 3 campaigns, 300 keyword ratings, and up to 100,00 page crawls per week.
Medium - $179 a month. Includes 10 campaigns, 1,500 keyword rankings, and up to 500,000 page crawls per week.
Pros
You can analyze SERPs to understand why a particular page is ranking well.
Compare your keywords and their ranking against your competitors.
Its simple and optimized interface is a pleasure to work with.
Cons
Definitely on the expensive side. This is offset by the fact that paid plans grant you access to all Moz tools.
---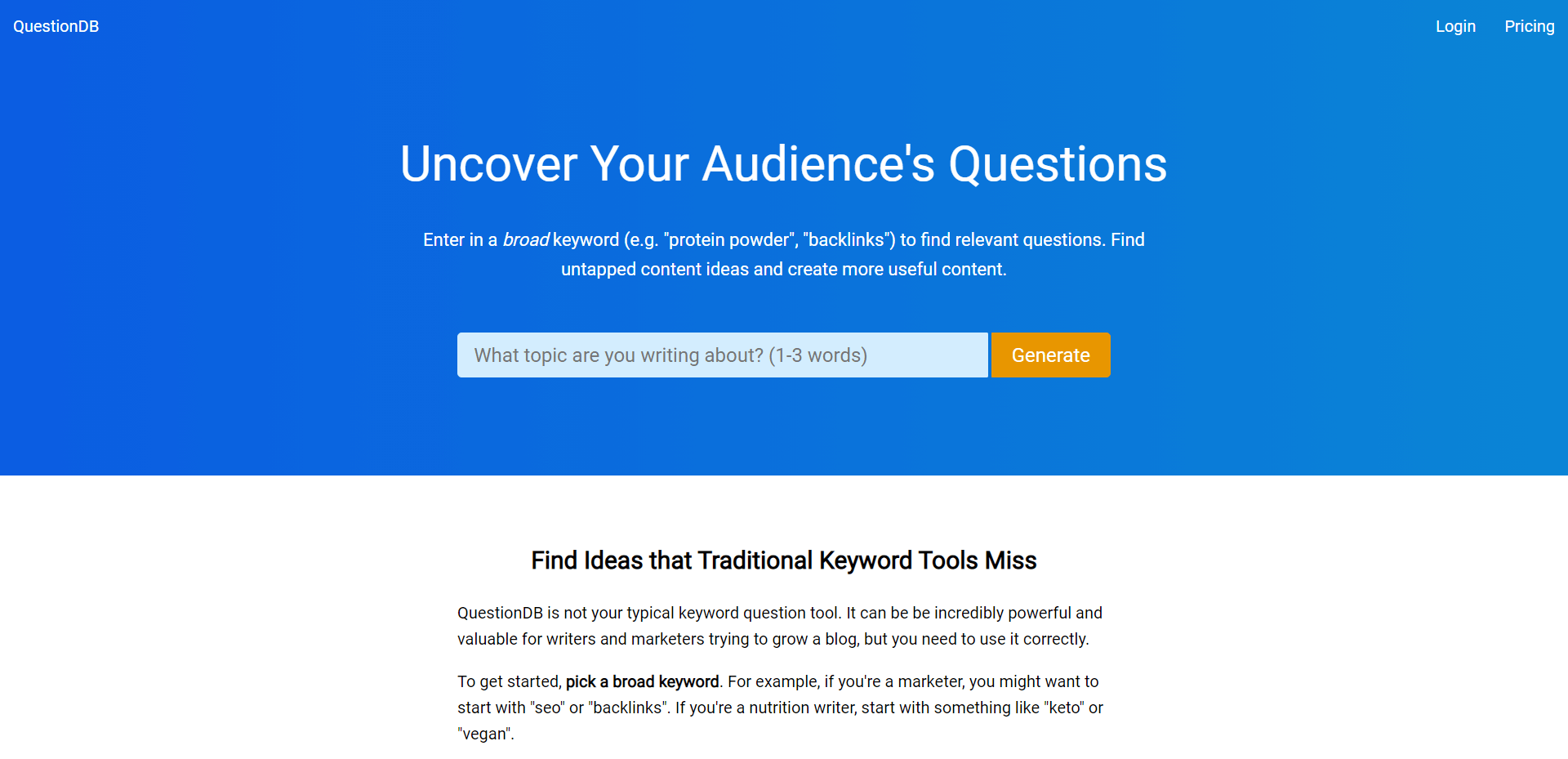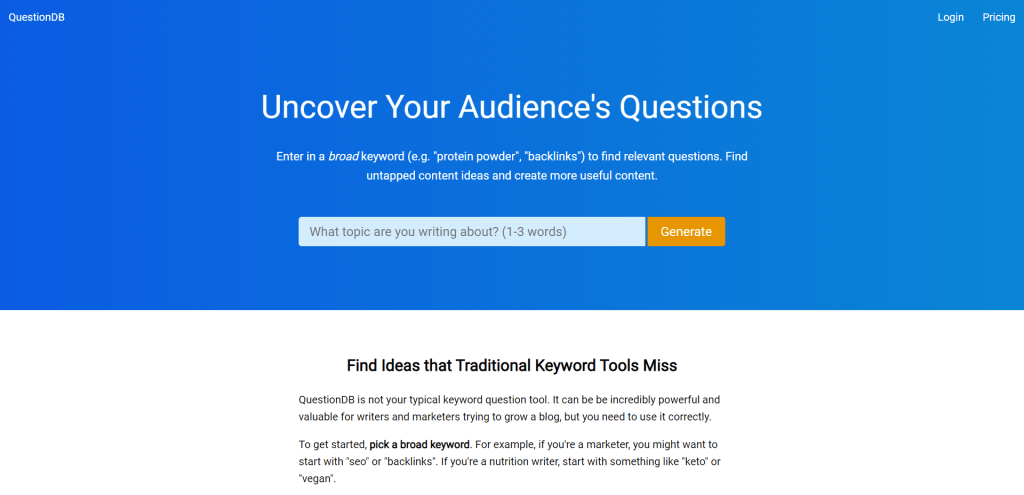 True to its name, QuestionDB, simply entering a keyword or a broader topic into the platform will generate a list of related questions asked online.
What sets QuestionDB apart is its comprehensive sourcing approach. Unlike other tools that merely showcase question-based keywords obtained from Google or Bing, QuestionDB goes the extra mile by scouring the entire web, including sites such as Reddit, Quora, and Stack Exchange.
Take, for instance, the topic of "best smartphone android." QuestionDB will scour the web to uncover the most frequently asked questions regarding the said topic. This not only allows you to understand the nature of discussions around the topic but also provides valuable insights into the why and where of the conversations, enabling you to craft content that resonates with your audience.
With QuestionDB, you can go beyond the confines of a Google search bar and delve into a more nuanced understanding of your topic.
Key features:
Get suggestions for related questions/keywords on a single keyword/topic you enter.
Questions are sourced from Google, Bing, Reddit, Stack Exchange, and even Quora.
Gives you context on the questions people have around a certain topic.
Plans and pricing:
Free - Up to 50 results for each query you make.
Pro - $15 a month. 500 searches with complete results.
Agency - $50 a month. 5,000 searches with complete results.
Pros
Easy to use. Enter your keywords and get a direct preview of the questions.
Cons
Doesn't provide any data outside of the suggestions themselves.
---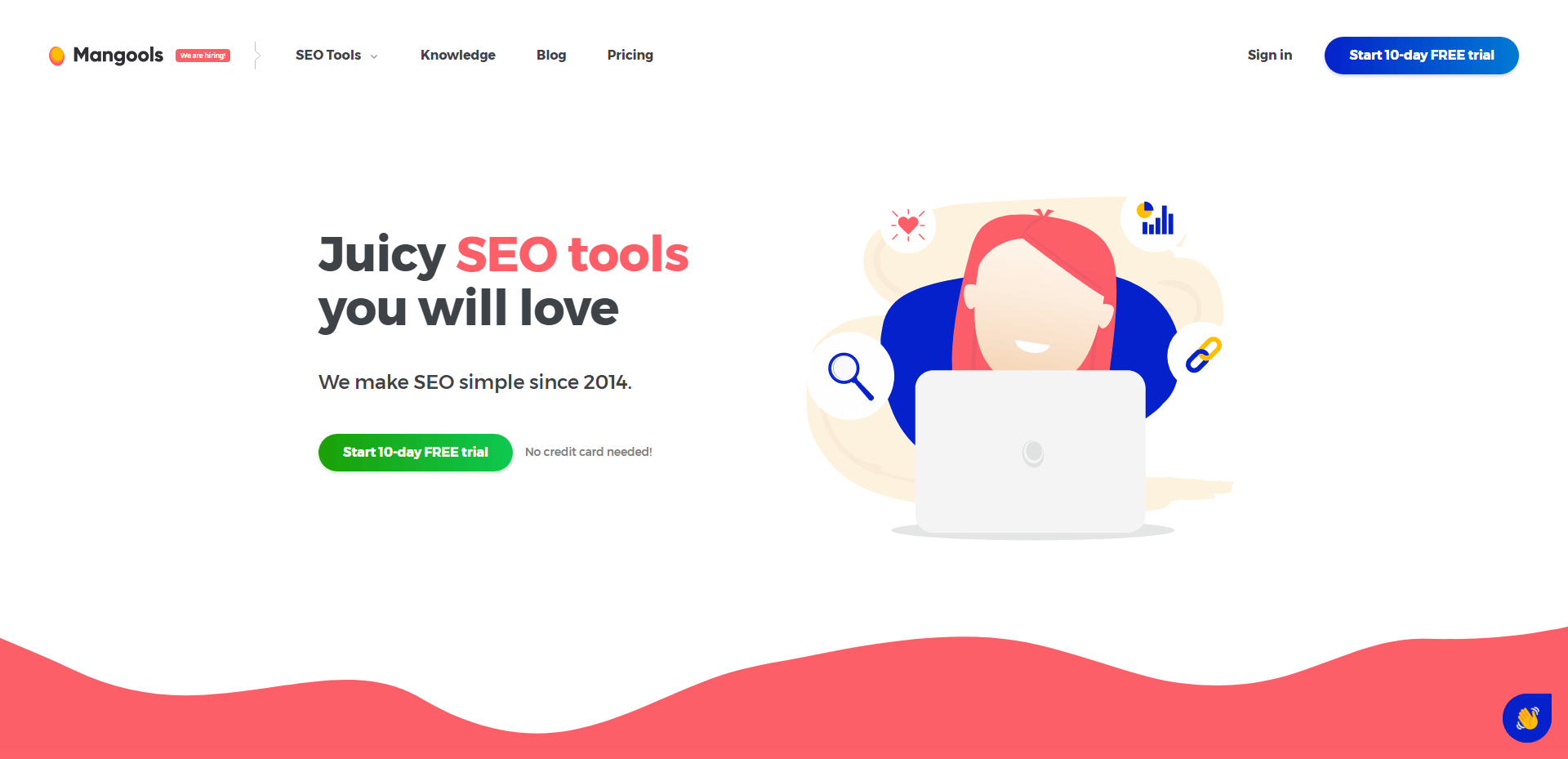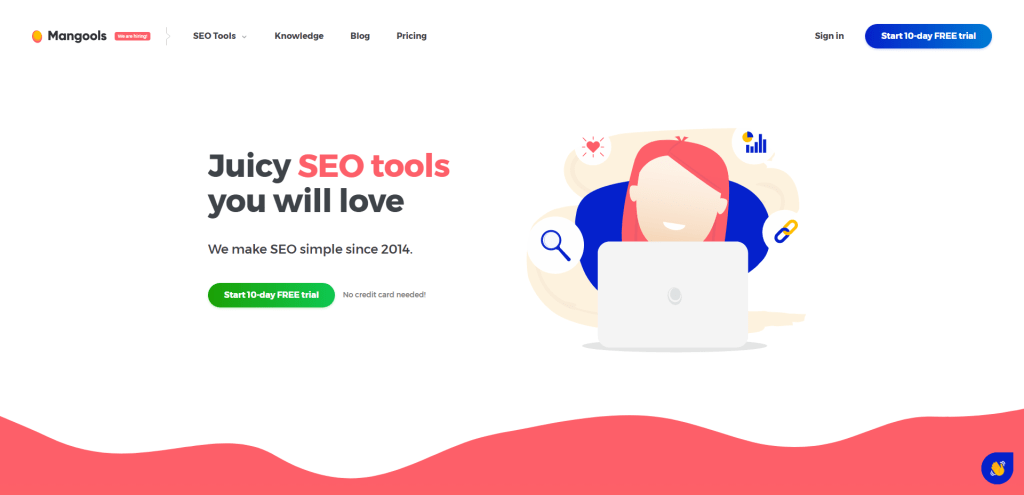 Mangools is a one-stop shop for all your SEO needs, offering a range of tools that cater to different aspects of search engine optimization. From keyword research and site analysis to backlink analysis and rank tracking, Mangools has got you covered.
One of the best features of Mangools is its user-friendly interface, which makes it accessible even to those who are new to the world of SEO. The tools are easy to use and provide actionable insights that can be used to improve your search engine rankings or that of your clients.
Key features:
Custom keyword finder to help you identify long-tail keywords.
Analyze SERP positions in any language/country.
Monitor SERP performance for specific keywords.
Get a custom overview for any website with the SiteProfiler feature.
Plans and pricing:
Basic - $29.90 a month. 100 keyword lookups per day. 200 keyword suggestions per search.
Premium - $44.90 a month. 500 keyword lookups per day. Unlimited keyword suggestions per search. Also includes 3 extra seats for your team members.
Pros
A complete SEO suite.
Affordable, particularly for the features it provides.
Great keyword research capabilities, including in-depth suggestions.
Backlink analysis of your site or that of your competitors.
Cons
Some features related to SERP monitoring and tracking take time to update.
---
Summary
Using the right SEO tools can make a significant impact on how well your content ranks in search engines. The current landscape of search marketing is extremely competitive, particularly because of AI tools that are going to challenge some markets more than others.
So, if you plan on staying on top of things - it's important to use tools that can give you a competitive edge over your competitors.
The good news is that even paid tools often provide generous trial periods, which you can use to try out the tools and understand the impact they can have on your SEO strategy. And it goes without saying that real success in SEO comes from your content.
Informative and detailed content is far more effective than any tool out there.