Picture this: You finally launch your website after months of hard work, but the excitement is short-lived as you soon realize that your website is experiencing frequent downtime, slow page loads, and broken links.
Nothing can be more frustrating than having potential customers abandon your website because it's not performing optimally. This is where website monitoring tools come into play - they help you track your website's performance, detect issues before they snowball into bigger problems, and ultimately keep your website running smoothly.
Why is uptime monitoring important?
Imagine you're a customer looking for a product or service online, and you stumble upon a website that seems to fit the bill. But as soon as you click on the link, you're greeted with a "404 Page Not Found" error or a slow-loading page that takes forever to display. Frustrating, right? As a business owner, you never want your customers to have that experience on your website.
Uptime monitoring detects and alerts you to any issues that may cause your website to go down, such as server outages or DNS problems. With uptime monitoring, you can take proactive steps to prevent downtime, maintain your website's reputation, and keep your customers happy.
So, if you want to stay ahead of the game and ensure your website is always up and running, uptime monitoring is a crucial tool that you can't afford to ignore.
🚀 Interested in reliable website hosting? Check out our reviews:
---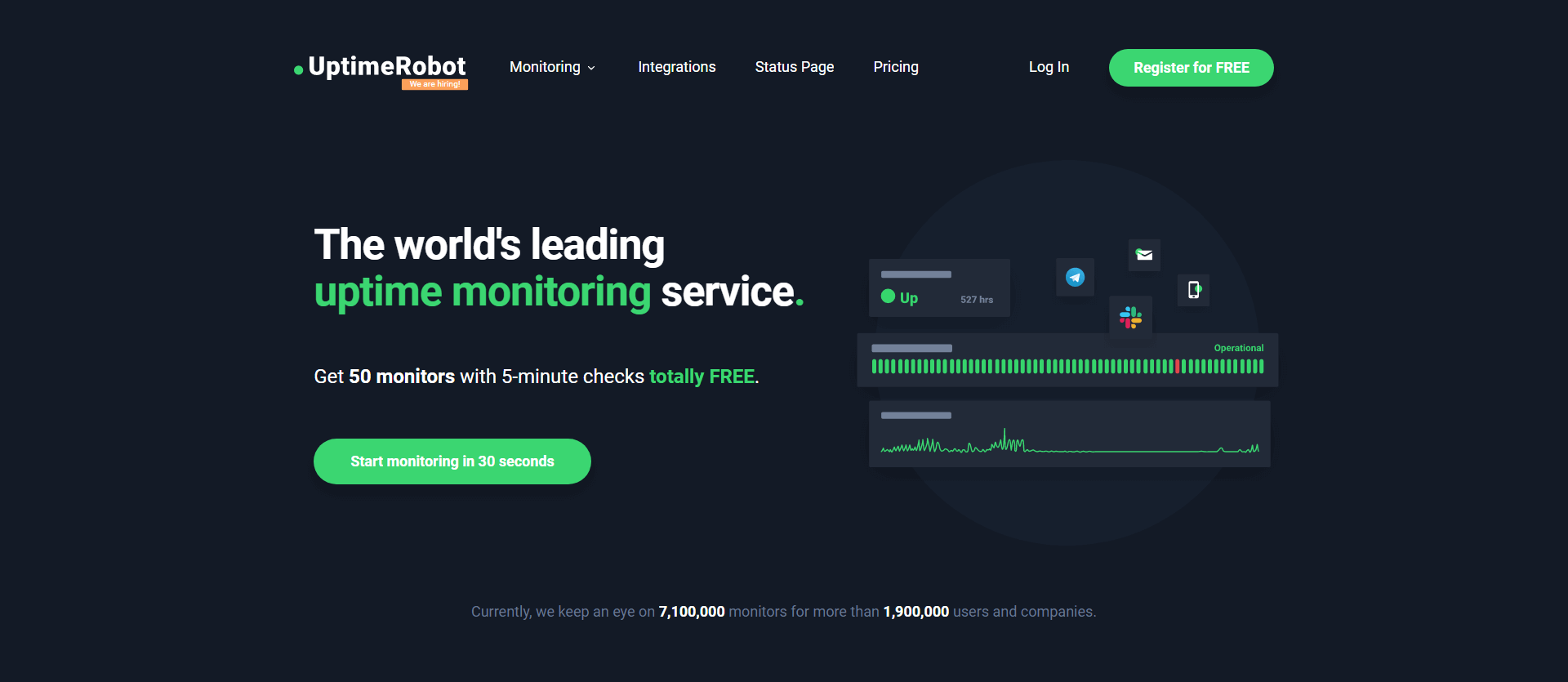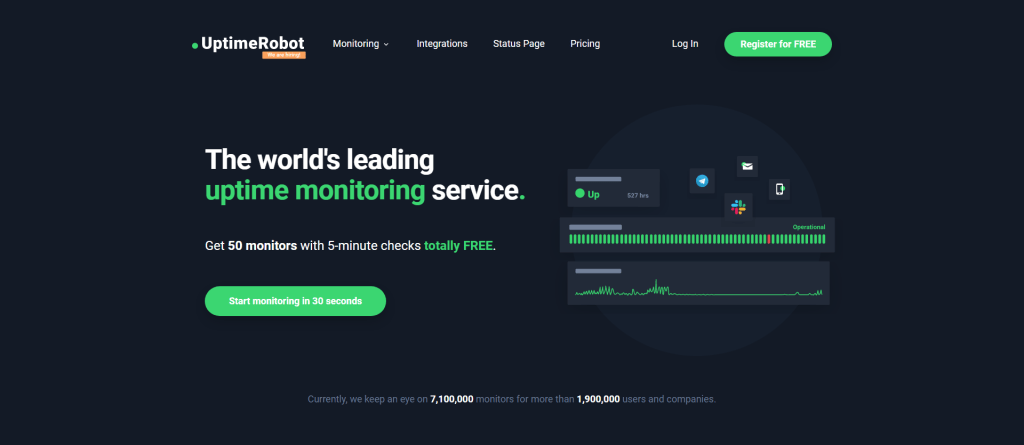 UptimeRobot is a popular website monitoring tool that allows you to keep an eye on up to 50 different site URLs for free. The setup process is quick and straightforward, and you can start monitoring your sites within minutes of signing up.
One of the standout features of UptimeRobot is its ability to send you alerts when your website goes down or becomes temporarily unavailable. It can also monitor your SSL certificates and let you know when they are about to expire (30, 14, and 7 days before). Additionally, the tool can perform port and ping monitoring, Cron job monitoring, and track different keywords to give you an all-encompassing view of your website's performance.
One unique feature of UptimeRobot is its ability to create status pages that can be used to communicate with your users during scheduled maintenance or other incidents. You can choose what information to display on the page, such as availability status, response time, and other metrics, and you can protect access with a password.
---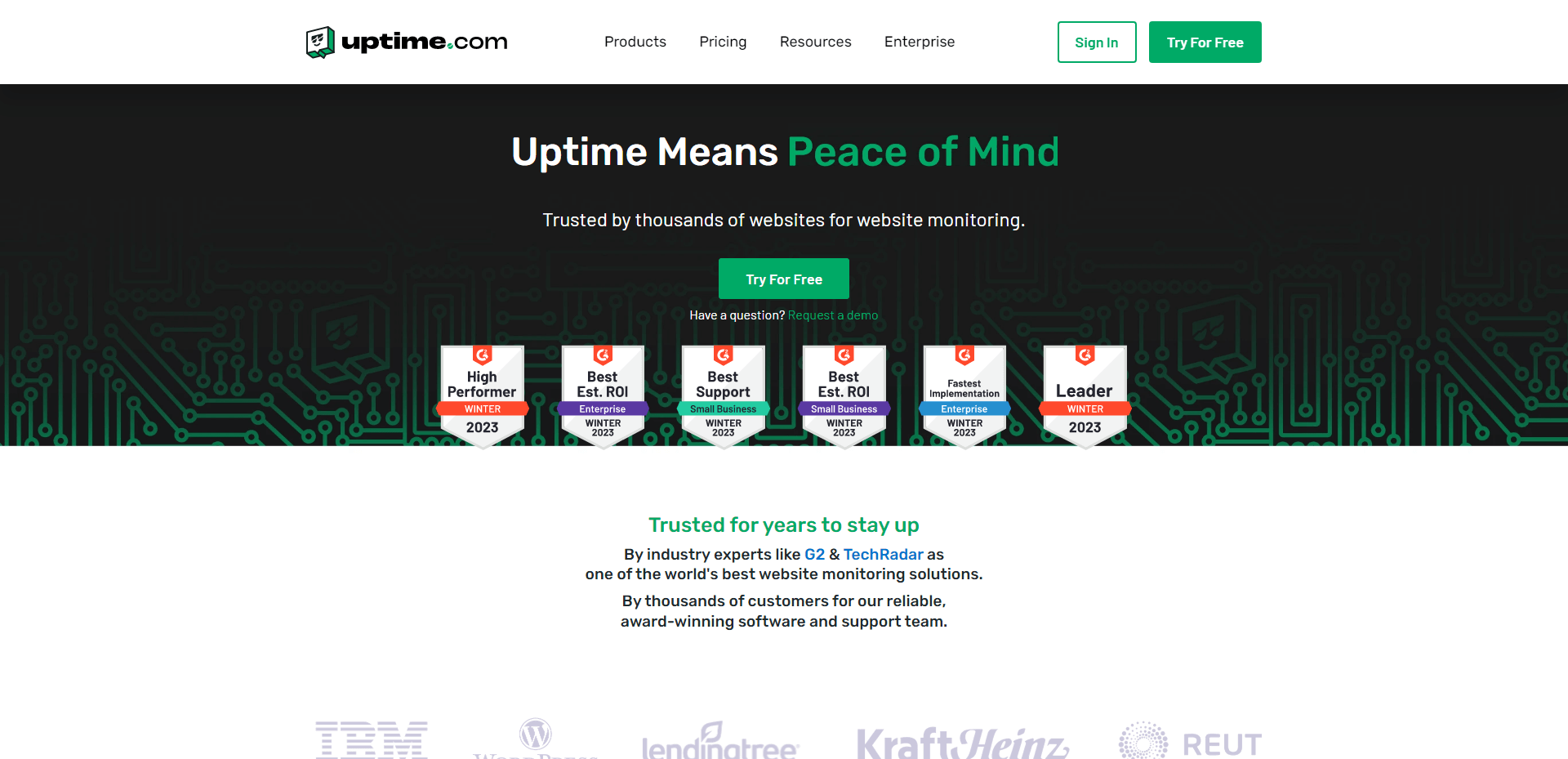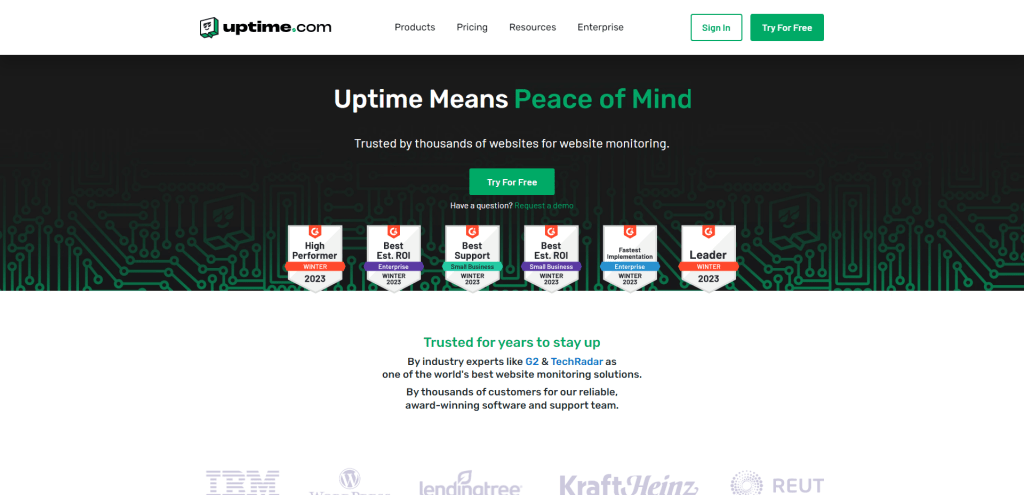 Uptime is a reliable monitoring tool that can oversee your websites, domains, and servers from over 30 locations around the globe, providing round-the-clock support.
With Uptime, you can benefit from a comprehensive monitoring solution that enables you to:
Monitor all critical aspects of your domain, including web, DNS, email, and blacklist issues.
Track your page loading times, inspecting HTML, CSS, JavaScript, and plugins to identify the content that slows down your site.
Keep an eye on your transactions and detect failed transactions on your e-commerce site.
Receive instant alerts via email, SMS, Twitter, webhooks, or push notifications in case of any incidents.
Monitor real users and utilize detailed analytics to improve their overall experience.
Uptime allows you to launch an unlimited number of monitoring tests, such as HTTP(s), transaction, real user monitoring, API, Ping, SSH, DNS, TCP, and email. Moreover, you can create private dashboards, public status pages, and LSA reports, and obtain detailed availability reports for any given period.
The tool also provides seamless integrations with several platforms, such as Cachet, Datadog, OpsGenie, Klipfolio, Librato, Slack, Twitter, and others.
The pricing packages are as follows:
$16 per month: 10 monitors, available in the US only.
$50 per month: 60 monitors, available in the US and Europe.
$95 per month: 100 monitors, available worldwide.
Tailored pricing is available for more specific requirements.
You can also take advantage of a 21-day free trial with no credit card required.
---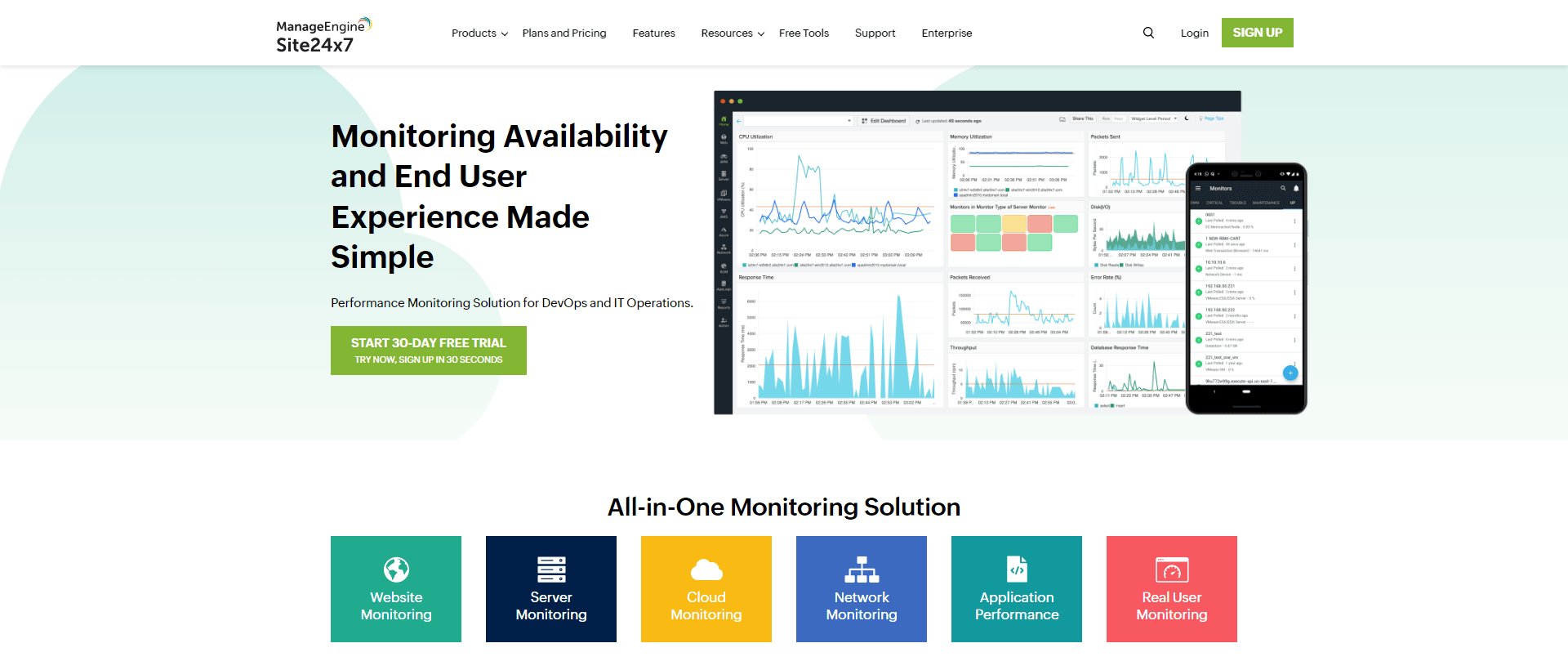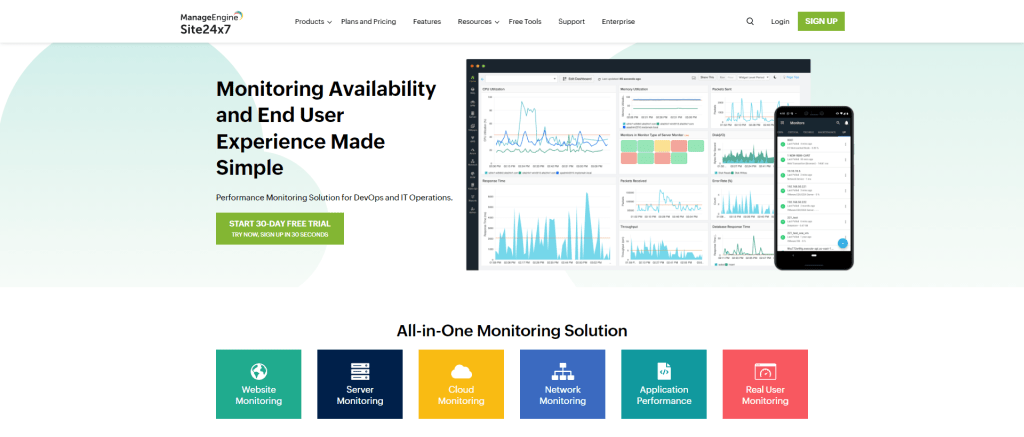 Site24x7 is a comprehensive website monitoring tool that provides analysis of website status, DNS, FTP, SMPT, API, and risk detection. With more than 110 locations worldwide, including Paris, Singapore, Sao Paulo, San Francisco, and others, the tool can quickly detect any potential website failure. The tool also offers the ability to send alert notifications via SMS, email, push notification, and voice calls.
In addition to website status monitoring, Site24x7 offers analysis of page loading time, SSL/TLS monitoring, domain name expiration notification, and 4G monitoring. With the latter feature, you can analyze your website's performance when it's being accessed from a 3G or 4G network.
Site24x7 also provides server, cloud, and network monitoring to offer a comprehensive analysis of your infrastructure. The software has several pricing plans, including a free version that allows you to monitor up to five URLs and receive alerts by email only.
The paid plans start at €9 per month and include the analysis of 10 websites or servers, while the highest-priced plan costs €89 per month and provides analysis for up to 100 websites or servers. Additionally, each plan comes with a 30-day free trial.
---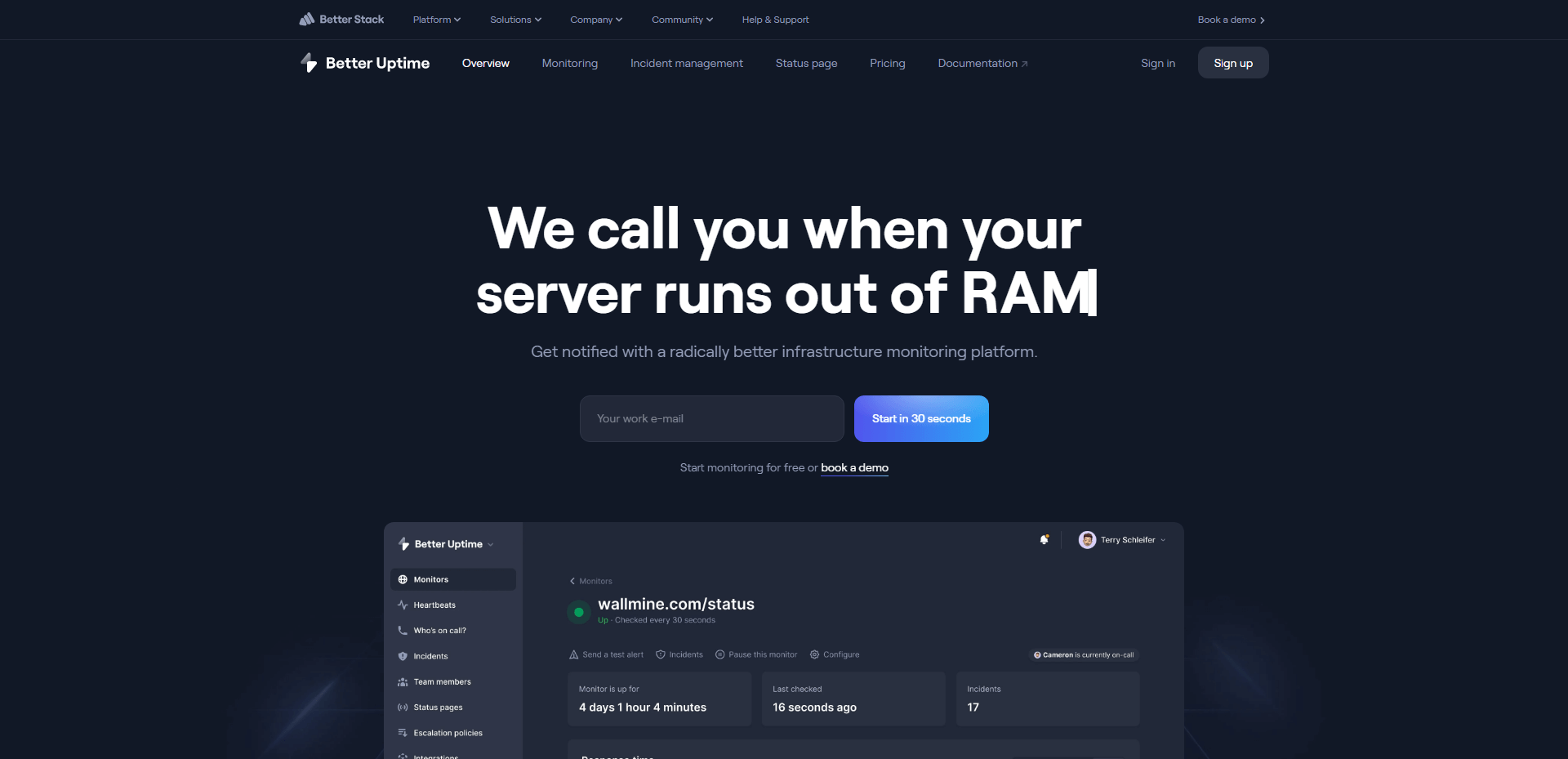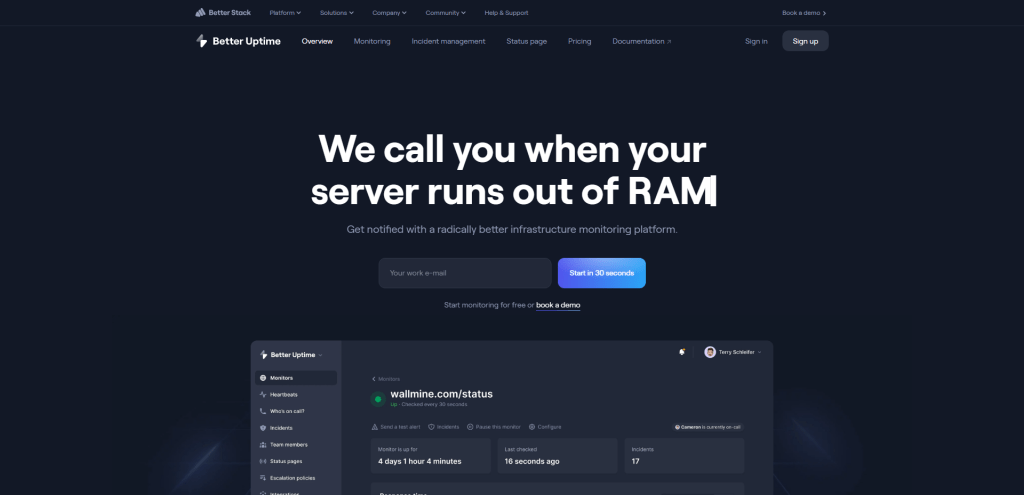 Better Uptime is a powerful and comprehensive site monitoring tool that allows you to keep an eye on your website in real-time. Its monitoring services are designed to keep you informed of any incident as soon as they occur, with detailed alerts that include screen captures and real-time situation monitoring.
Better Uptime offers a variety of services to help you manage and monitor incidents, including unlimited alerts via calls, SMS, emails, notifications, Slack or Teams. You can also schedule alerts to be sent to the right person at the right time. To avoid false alerts, Better Uptime conducts incident checks from at least three different locations for each HTTP and Ping incident.
Additionally, the platform can be integrated with more than 100 applications, such as DataDog, New Relic, Grafana, and Google Cloud, allowing you to connect all your services in one place.
The platform offers a free version, which is more suitable for personal and leisure projects. However, for businesses of all sizes, Better Uptime offers a range of pricing plans that cater to different team sizes and needs. The pricing options are as follows:
$30 per month for 50 monitors (1 user)
$80 per month for 100 monitors (5 users)
$150 per month for an unlimited number of monitors (5 users), and $30 per additional user.
If you have greater needs, Better Uptime also offers tailor-made rates to meet your requirements.
---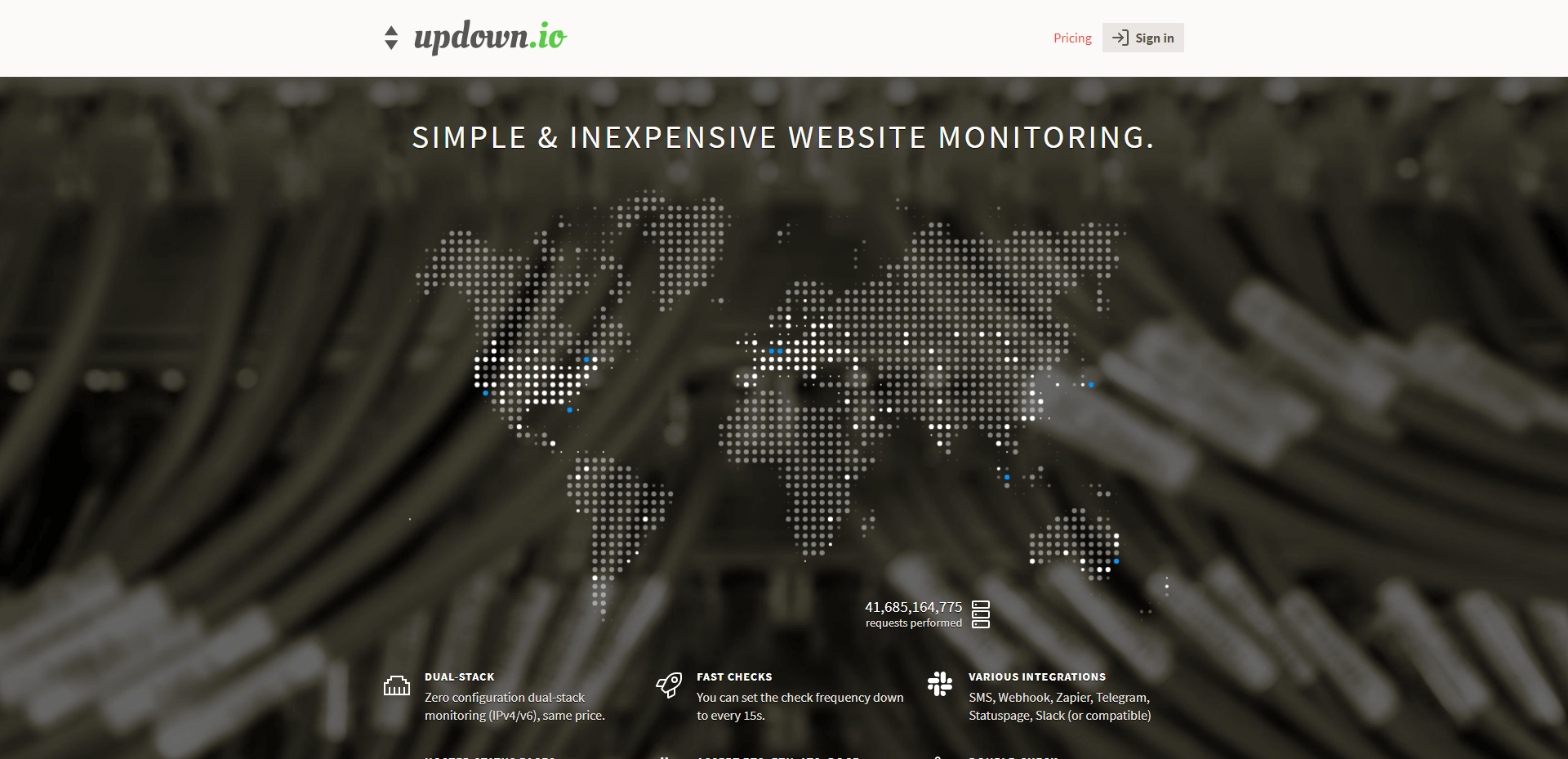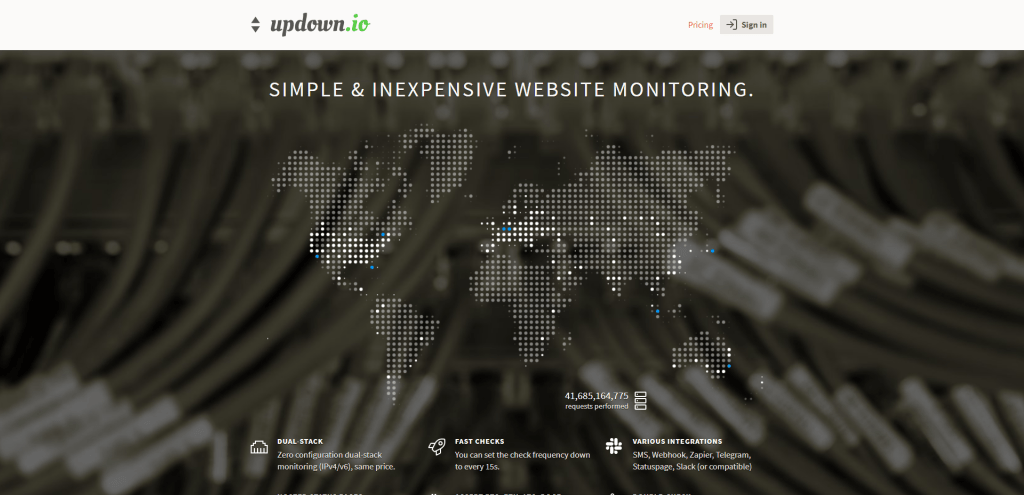 Updown.io is a website monitoring solution that provides an easy-to-use platform to help you keep track of all your websites. To get started, simply add the URL of the website you want to monitor and choose how often you want it to be checked, ranging from every 15 seconds to once an hour. Instead of monitoring a specific HTTP status, you can use a request for greater flexibility.
For more comprehensive monitoring, updown.io allows you to test your websites from 8 different locations across the globe, including Los Angeles, Montreal, Tokyo, Sydney, and Roubaix. Additionally, you can monitor the expiration date of your SSL certificates and receive a notification when it approaches.
Updown.io offers several integrations with other tools such as SMS, Webhook, Zapier, Telegram, Statuspages, and Slack. In terms of pricing, the solution is quite affordable, and the price varies based on the number of websites you wish to monitor and the monitoring frequency. For example, monitoring one website every 30 seconds costs €1.17 per month.
---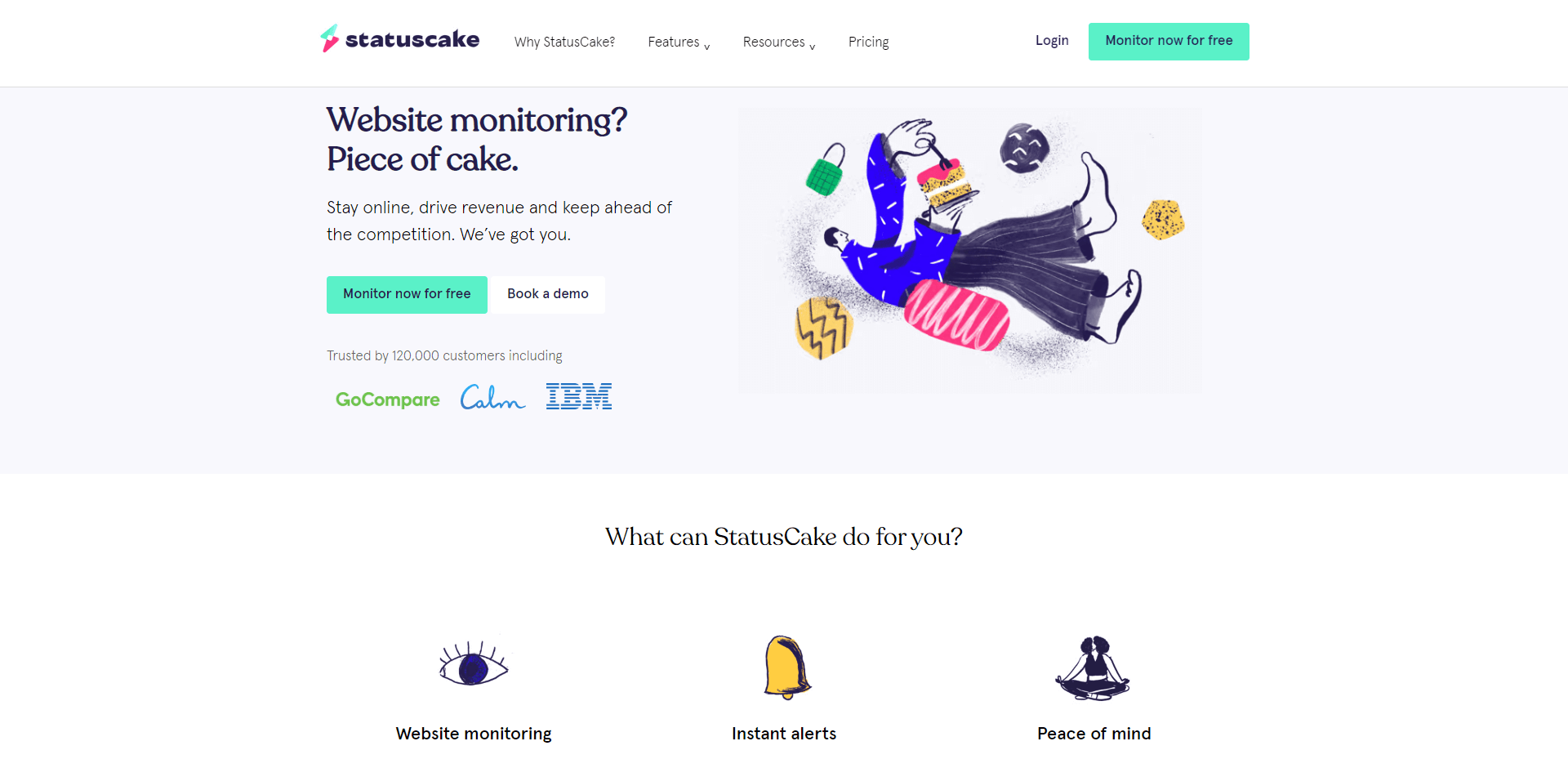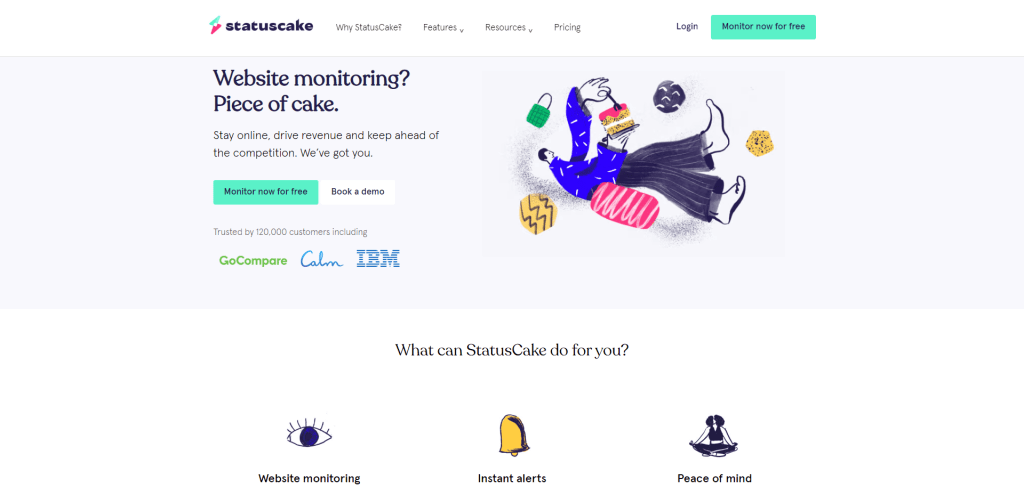 StatusCake is a website monitoring solution that automatically watches and alerts you in case of any anomaly detected. It offers comprehensive monitoring of various elements, including site status, page speed, domain name status, server status, and SSL monitoring.
With StatusCake, you can monitor your website's accessibility and prevent failures with analyses performed every minute (or up to 24-hour intervals) across more than 30 countries using protocols like HTTP, HEAD, TCP, DNS, SMTP, SSH, PING, or PUSH.
You can also analyze the speed of your web pages to identify their overall impact on your site. Receive an alert when your domain name is about to expire, and be alerted when your RAM, processor, or disk usage is excessive. Additionally, you can be notified when one of your SSL certificates expires, and the tool offers an algorithm that indicates a score according to your SSL configuration.
StatusCake offers multiple integrations to configure sending alerts on Datadog, Discord, MatterMost, Teams, Slack, Twitter, or Telegram, and you can receive detailed reports by email.
StatusCake offers different pricing plans, with the basic plan costing €19.99 per month, which authorizes the analysis of 100 URLs (with an interval of 1 minute), 50 domain names, 50 SSL certificates, and 3 servers. It also offers a collaborative mode and a more extensive plan at €69.99 for larger needs.
A 7-day trial version is available, with no credit card required. There is also a free version that allows you to monitor ten URLs (with an interval of 5 minutes), a domain name, and an SSL certificate.
---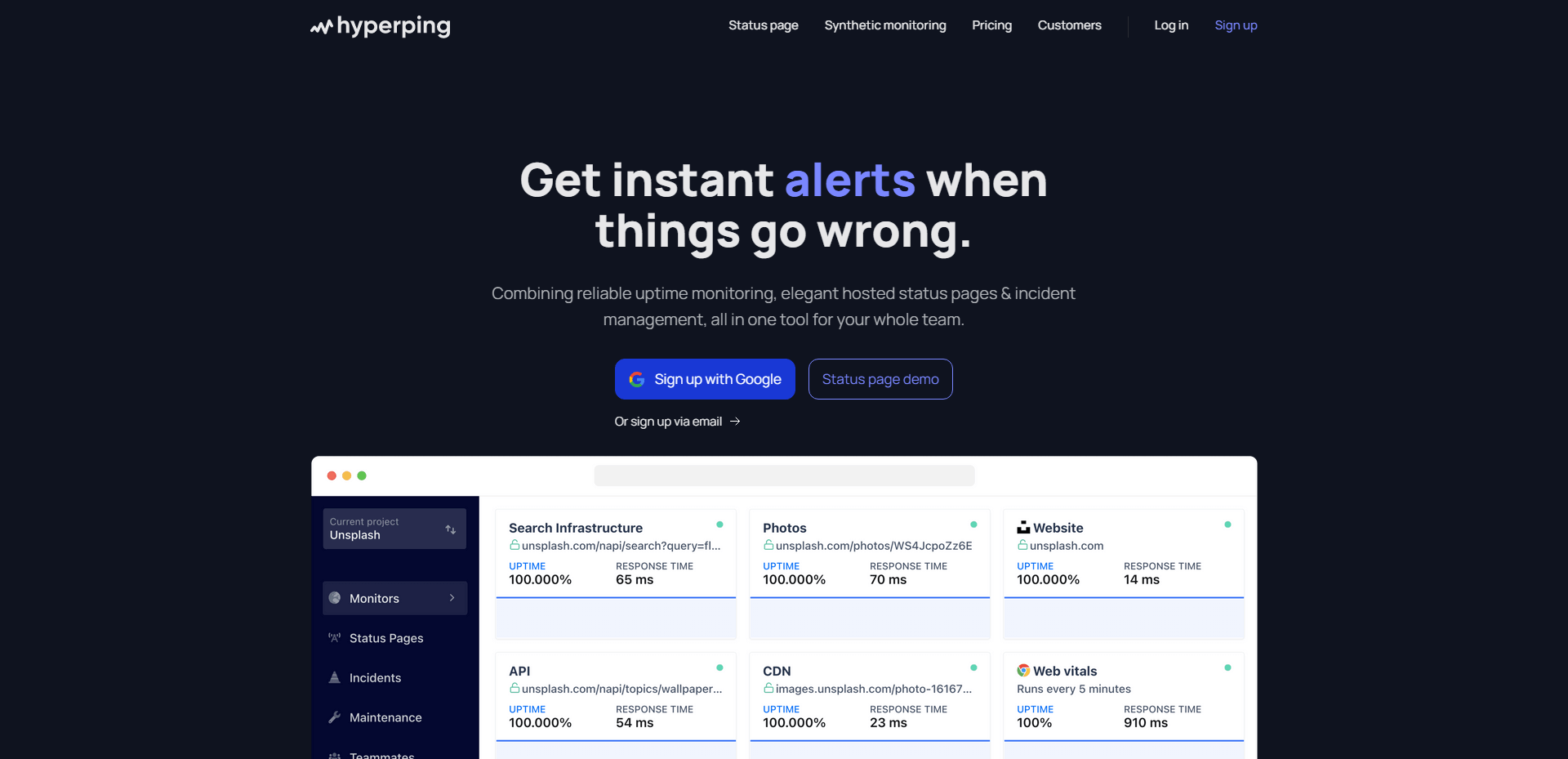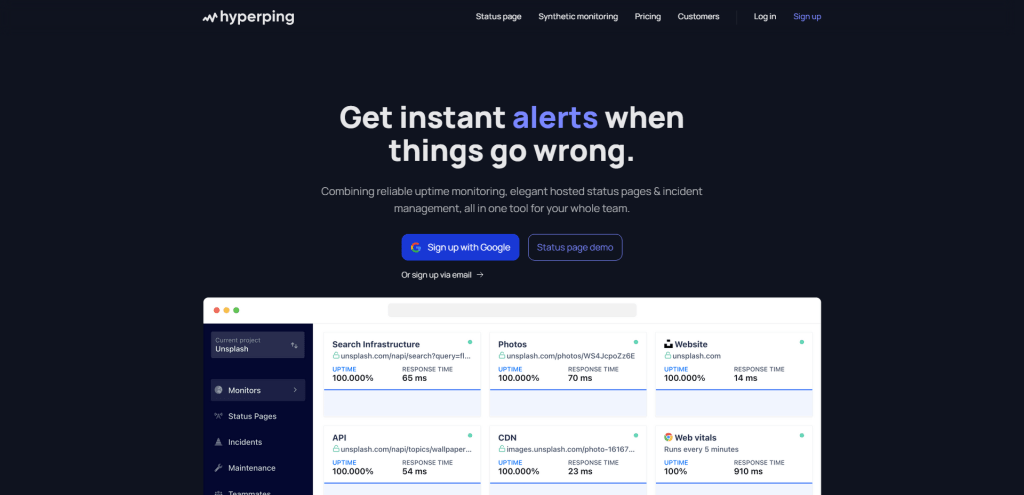 Hyperping is a powerful monitoring tool that enables you to stay on top of your website's performance and quickly respond to any issues that arise.
With Hyperping, you can access a range of services, including instant alerts for downtime, SSL monitoring, HTTP error logs, and weekly reports. You can receive these alerts via email, SMS, or even on Slack.
Hyperping's status pages are an excellent way to communicate any incidents or maintenance to your users. You can secure these pages with a password, and each page gets HTTPS with a custom subdomain.
Hyperping's incident management feature also allows you to collaborate with your team to resolve any issues that occur.
As a collaborative service, you can share dashboards and alerts with your colleagues, and Hyperping integrates seamlessly with tools like Slack, Telegram, Twilio, Google SSO, PagerDuty, and HelpDocs.
Hyperping offers three pricing plans to fit your needs, starting from $29 per month for 15 monitors with one user, up to $199 per month for 250 monitors with 15 users. If you have more significant requirements, you can reach out for a custom quote.
Finally, you can try Hyperping for free for 15 days without providing your credit card information.
---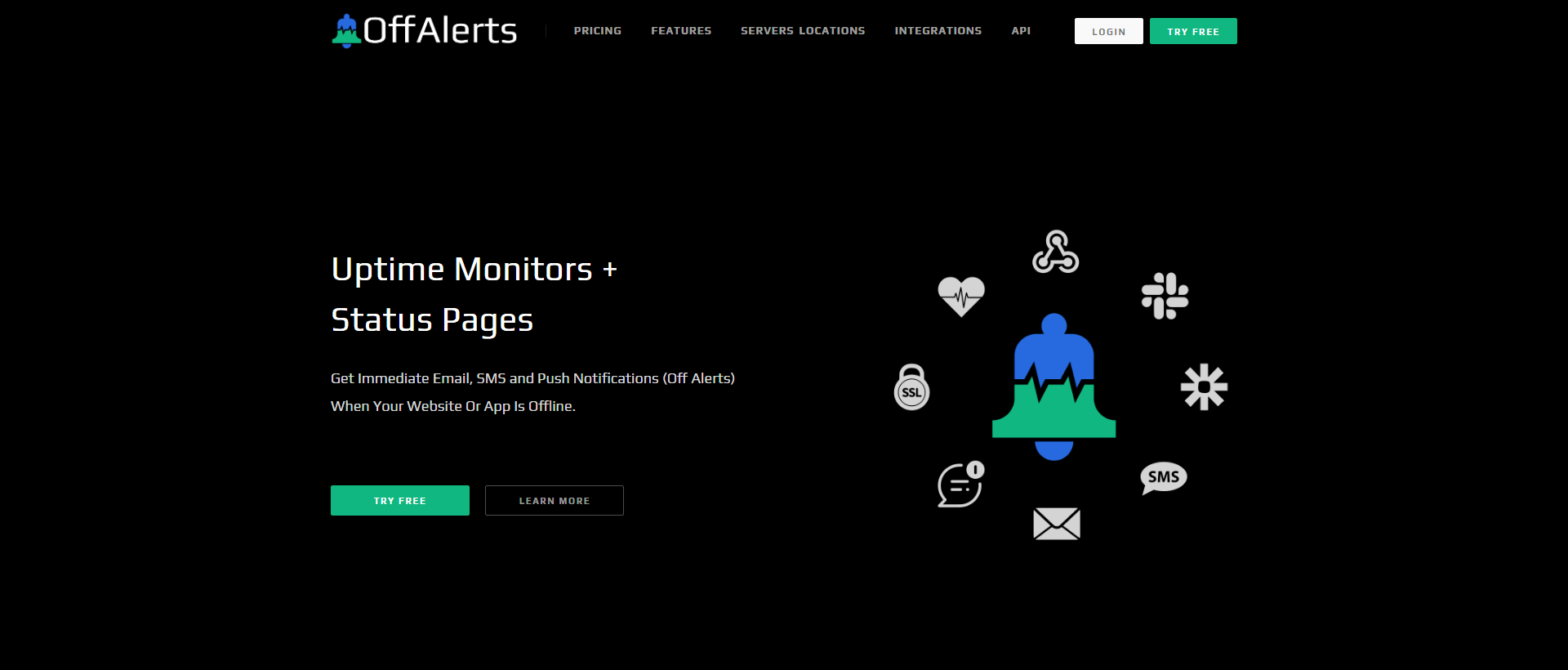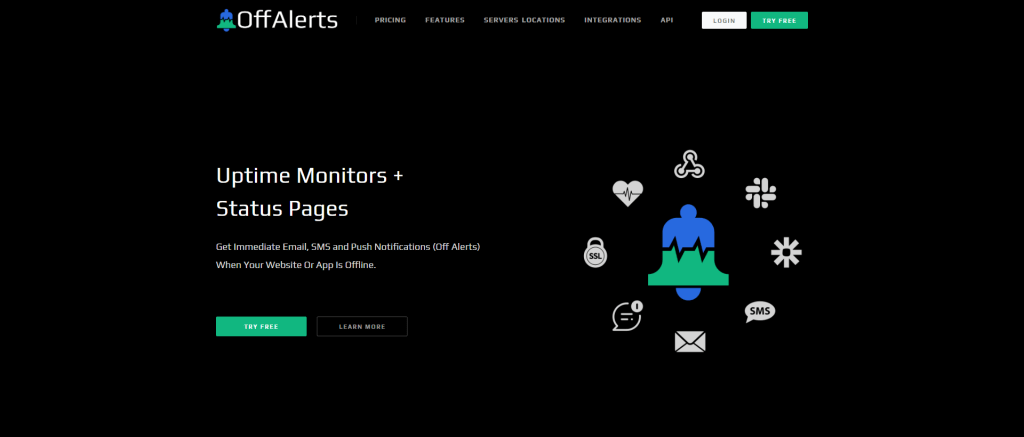 OffAlerts is a powerful tool that provides website and application monitoring services. It uses automated processes to keep track of any anomalies that may occur on your site or application, and sends alerts to notify you of any issues.
The solution offers a range of features, including constant monitoring of the availability of your website and apps, with servers located across the globe to ensure expanded monitoring capabilities. You can also create custom landing pages to notify your users when your site or app is down, ensuring that they are informed about any issues.
OffAlerts also offers SSL monitoring, which will notify you if your SSL certificate is about to expire, allowing you to take action before any problems occur.
You can receive notifications of errors on your website or application through SMS or email, and can add an unlimited number of recipients to receive alert emails.
OffAlerts offers multiple integrations with other platforms, including Zapier, Slack, and WordPress, to ensure that you stay informed of any anomalies via multiple channels.
There are several subscription options available to suit different needs, including a $12 per month plan for 10 monitors, 10 status pages, 10 project analyses, and all types of notifications. The $60 per month plan offers 60 monitors, 60 status pages, and 60 project analyses, while the $180 per month plan offers 200 monitors, 200 status pages, and 200 project analyses.
OffAlerts also offers a free, non-binding trial version, allowing you to test out the features and functionality before committing to a paid subscription.
---
Summary
In the fast-paced world of the internet, having a reliable website monitoring tool is essential for any business or individual. These tools can help you stay ahead of the game by providing real-time insights into website performance, uptime, and user experience.
From simple uptime monitoring to advanced analytics and reporting, website monitoring tools come in all shapes and sizes. Whether you're a beginner or an experienced webmaster, there is a tool out there that can help you optimize your website for peak performance.
But the benefits of website monitoring tools go beyond just keeping your website running smoothly. They can also help you identify potential security threats, stay on top of search engine optimization, and even improve your website's overall user experience.
So, if you're looking to take your website to the next level, don't underestimate the power of a good website monitoring tool. With the right tool in your arsenal, you can stay one step ahead of the competition and ensure that your website is always performing at its best.