I think it's a fair assessment to say that modern web design has been taken over by vector art, particularly flashy illustrations, and oftentimes entire sets that serve as part of brand identity.
It's also a lucrative "career" path for designers who enjoy expressing their creativity in digital format.
Even the big players like Microsoft, Google, and Apple have adapted their design ideology around vector-based graphics, rather than straight-up photographs. From a design perspective, vector graphics make it easier to create a fluid design experience at the fraction of the cost.
So, depending on the type of project you're working on – you can either hire a designer to do all the illustrations for you or as an alternative – you can use any one of the free vector illustration platforms listed in this article. I think a lot of people are already familiar with the "old-timers" like unDraw and DrawKit, but there has been plenty of alternatives popping up over the years.
Let's take a closer look.
---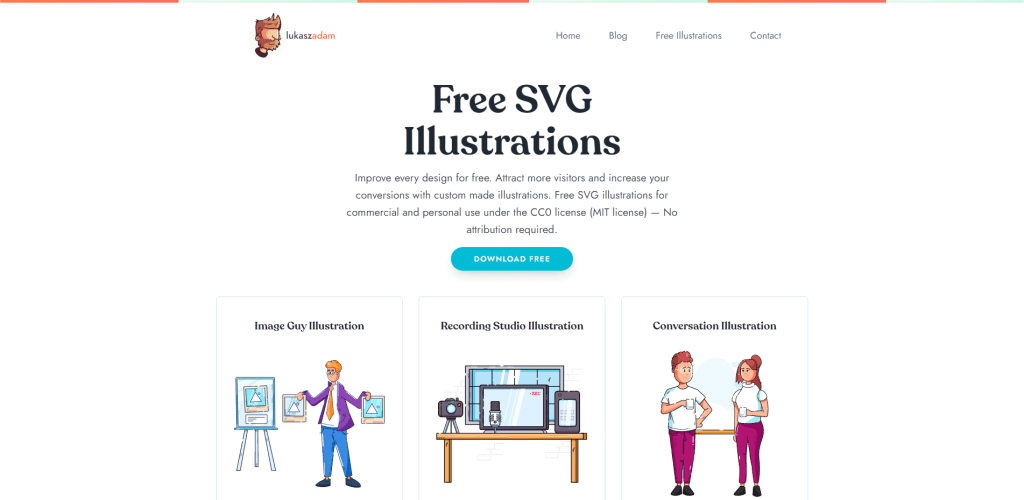 Lukasz is a self-made developer/designer who has built an enormous library of free SVG illustrations as a means to give back to the community. Outside of designing, Lukasz also loves to write and provides reviews for products and courses he has taken part in.
Other than producing topical illustrations, Lukasz has also done a number of icon packs, relating to trendy tech topics, but also niche-specific things like fitness, crypto, and more. You can grab his entire collection of illustrations at Gumroad for free. In fact, because his work is licensed under a CC0 license – you don't need to worry about attribution either. Though it's a nice gesture, of course.
Mind you, this collection has thousands upon thousands of vector layers. And that means you can mix and match various layers together to create even more unique outcomes!
---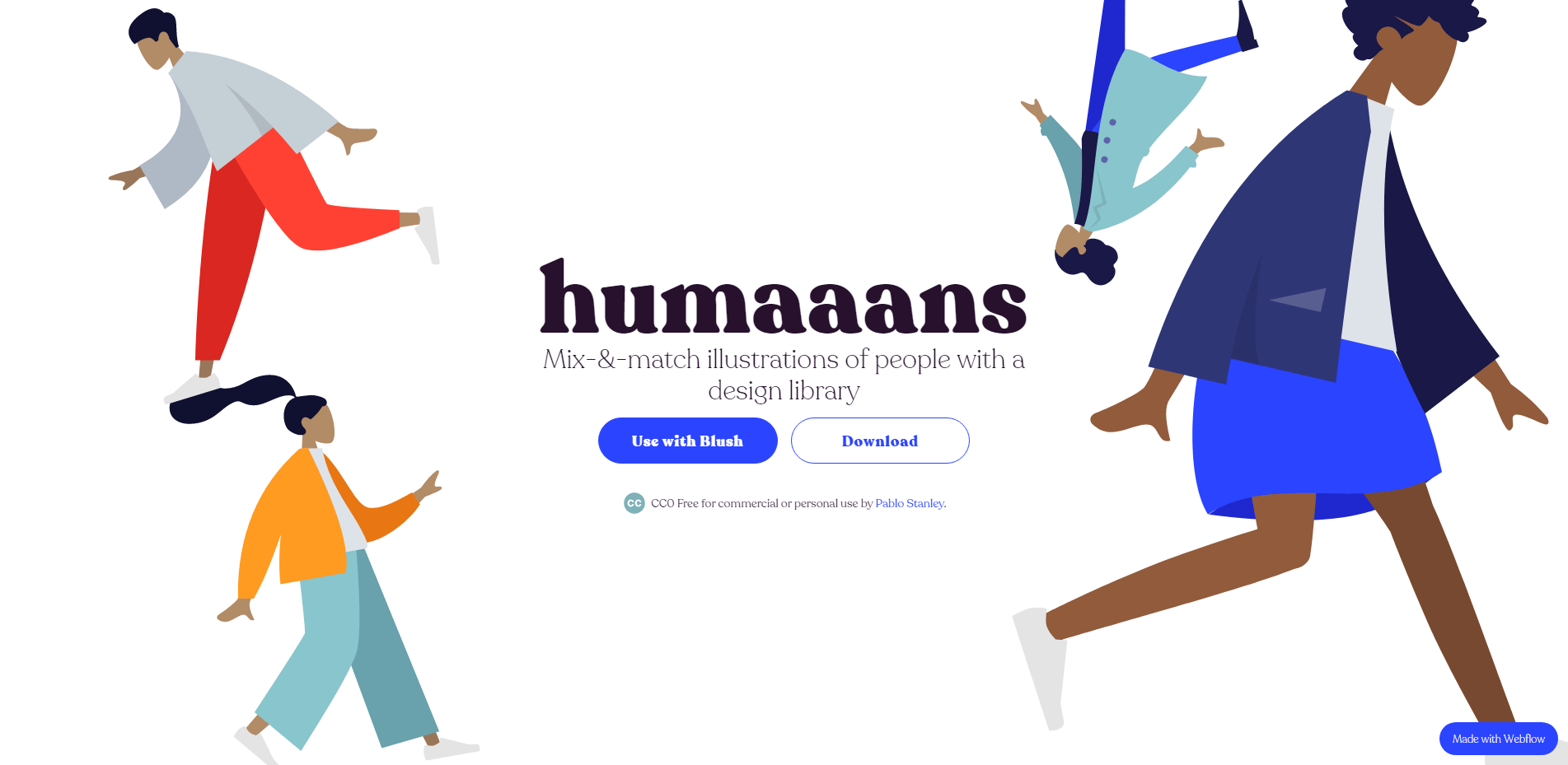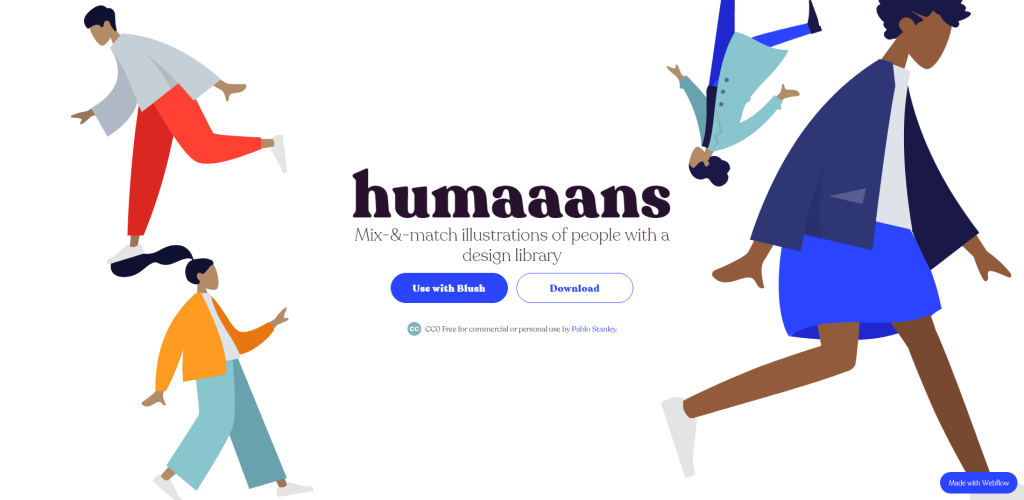 Speaking of mix and match – Humaaans is a character (people) based library of illustrations that you can use to create unique outcomes by mixing together different styles. As with our first listing, this collection is also under the CC0 license. Use it for personal or commercial projects completely free.
Includes the correct format files for Sketch, Figma, InVision Studio, and Adobe XD.
---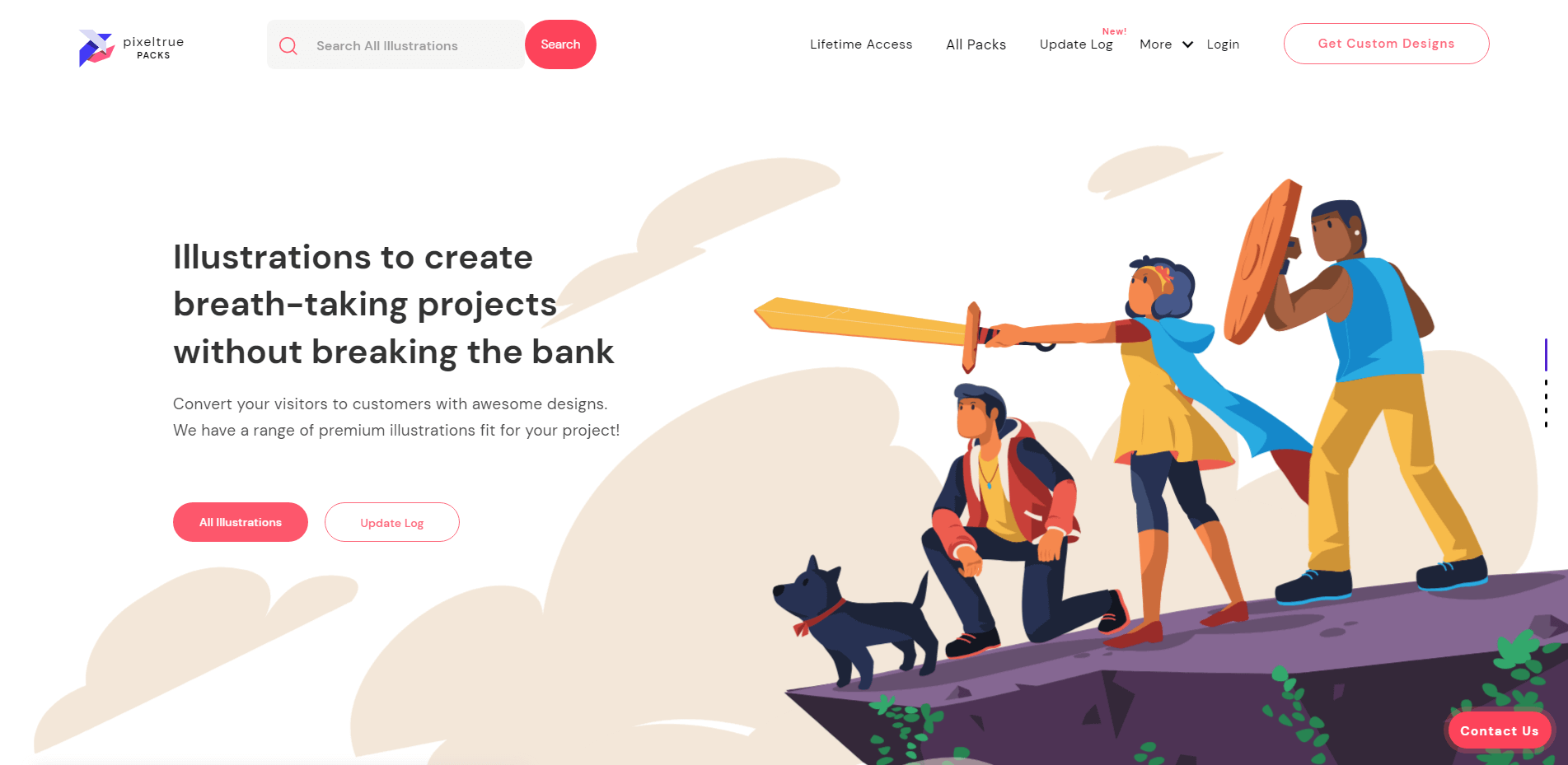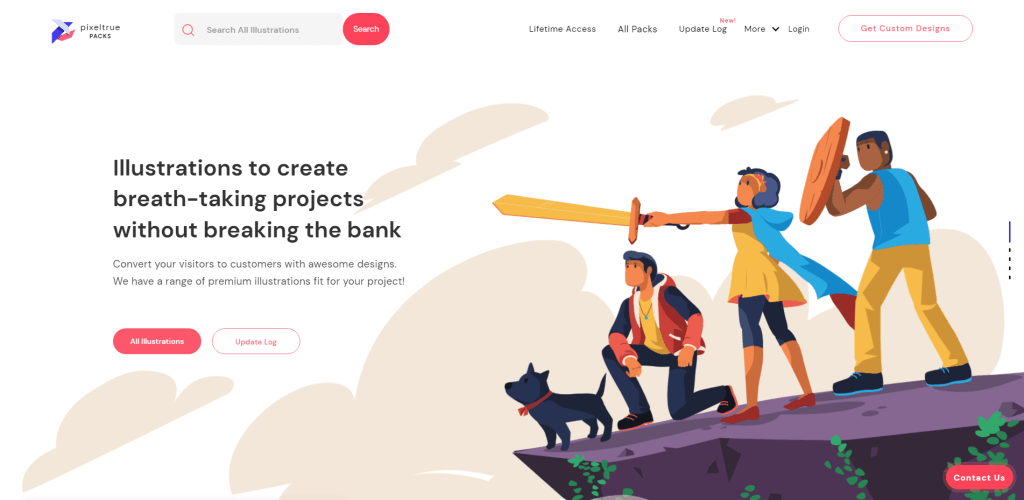 Pixel True operates as a business that specializes in both standalone but also animated illustration design. And, as part of their marketing strategy – they also offer various free packs.
Now, unfortunately, the only way I was able to "find" the free packs was by using CTRL+F on the page and searching for "free".
In total, there are several hundred such free illustrations and icons spread throughout various packs.
You might see that on the page where illustrations are offered for free it says $1, but this doesn't seem to be an issue. You can just go to Gumroad and enter $0 to download the pack anyway.
---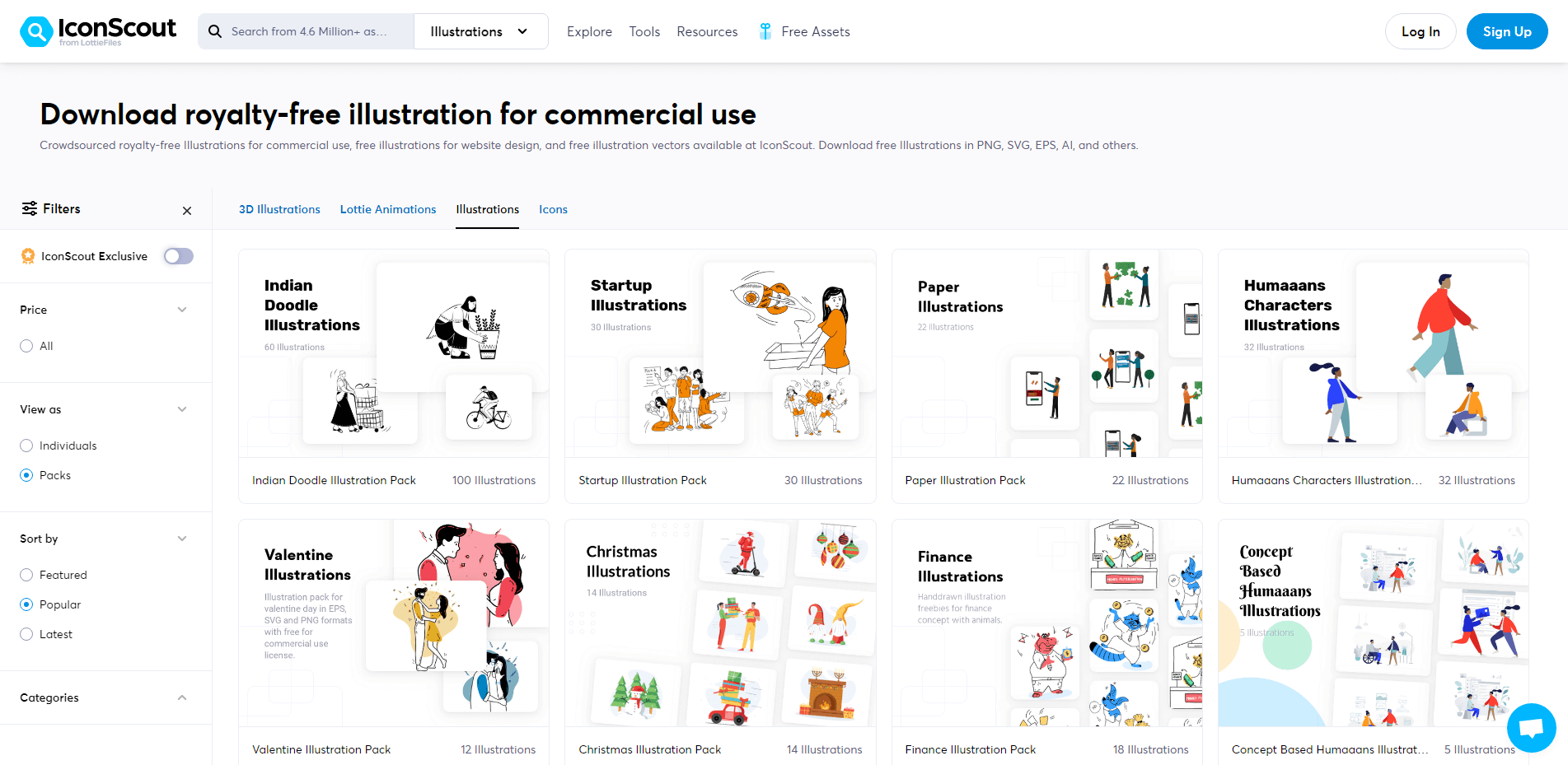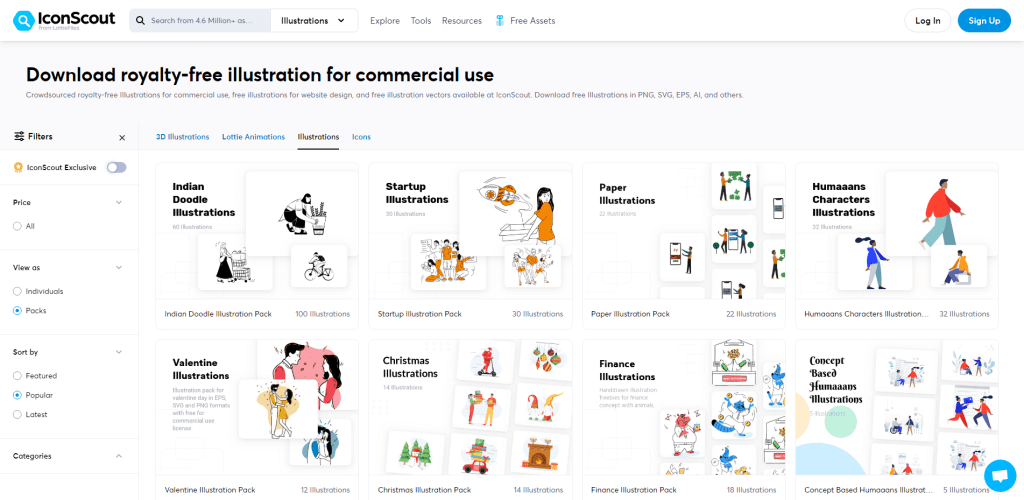 IconScout provides a diverse range of illustration packs, whilst also pooling together illustrations from other websites/platforms. I also like that they have a neat filters sidebar where you can sort results based on packs or standalone illustrations.
You can also sort by the newest arrivals, and then apply specific filters for categories.
And while IconScout does say their entire catalog is royalty-free and ready for commercial projects, you are still required to attribute the usage of their works. Agreeing to that lets you download the illustrations in SVG format, but also many other popular file formats.
---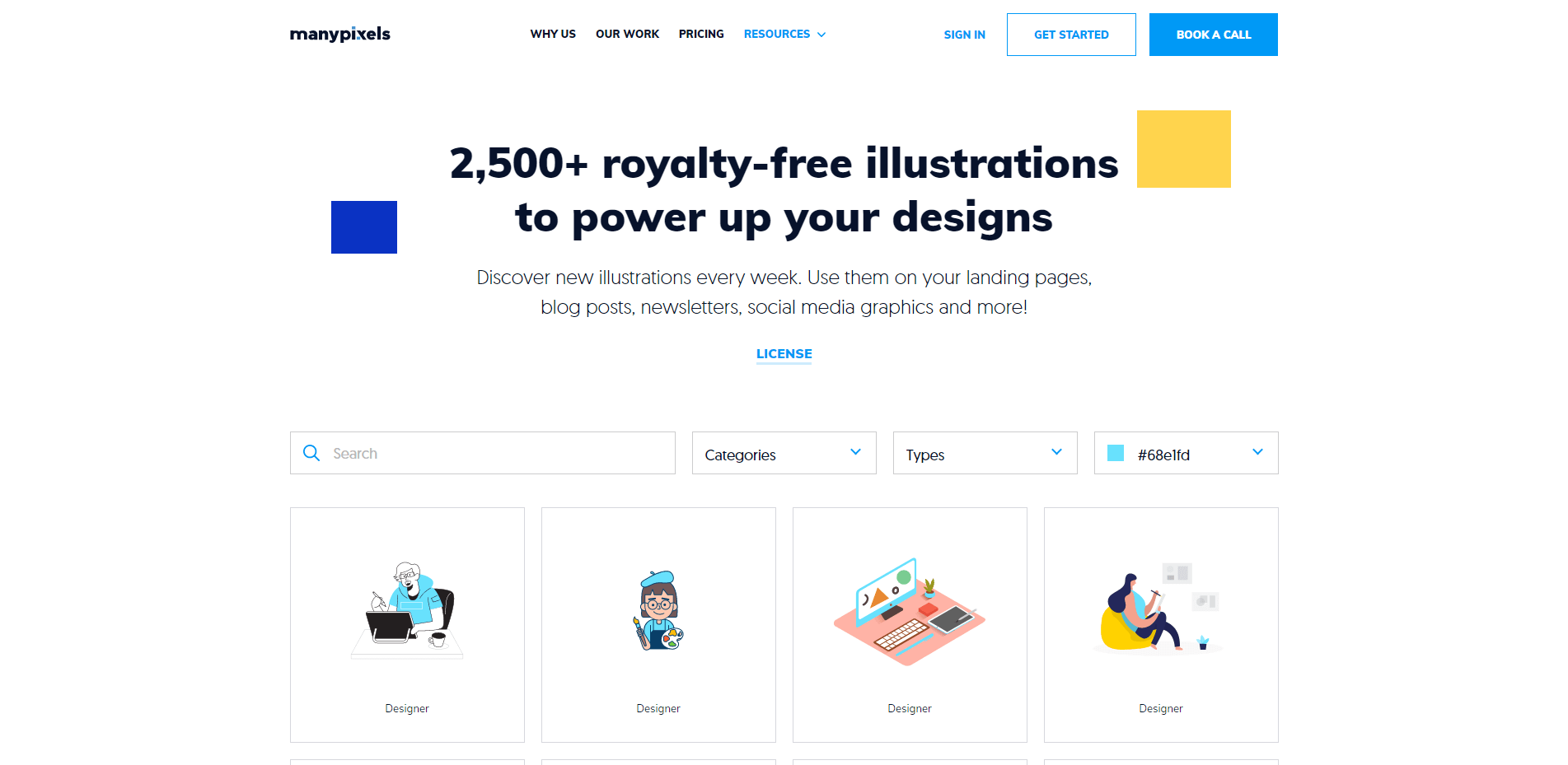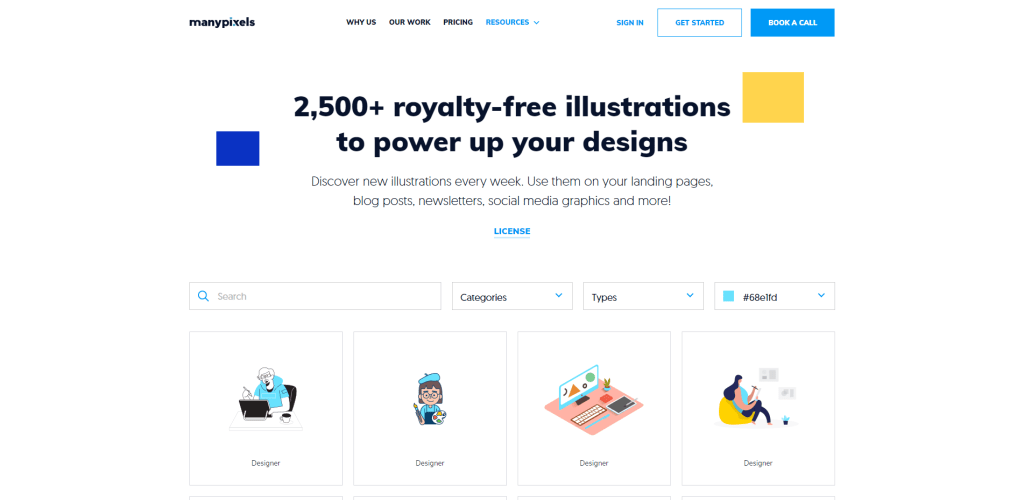 ManyPixels is a subscription-based graphic design agency that specializes in branding, but also specific design tasks. And, similar to others, one of the ways they market their services is by offering free illustrations. It goes without saying that their library of vector art is massive.
You can sort results based on keywords, categories, and types. Types in this context are the style of the illustration itself, such as Isometric, Flatline, etc. Best of all, you can also set a specific color scheme for all illustrations before downloading the final SVG or PNG file.
---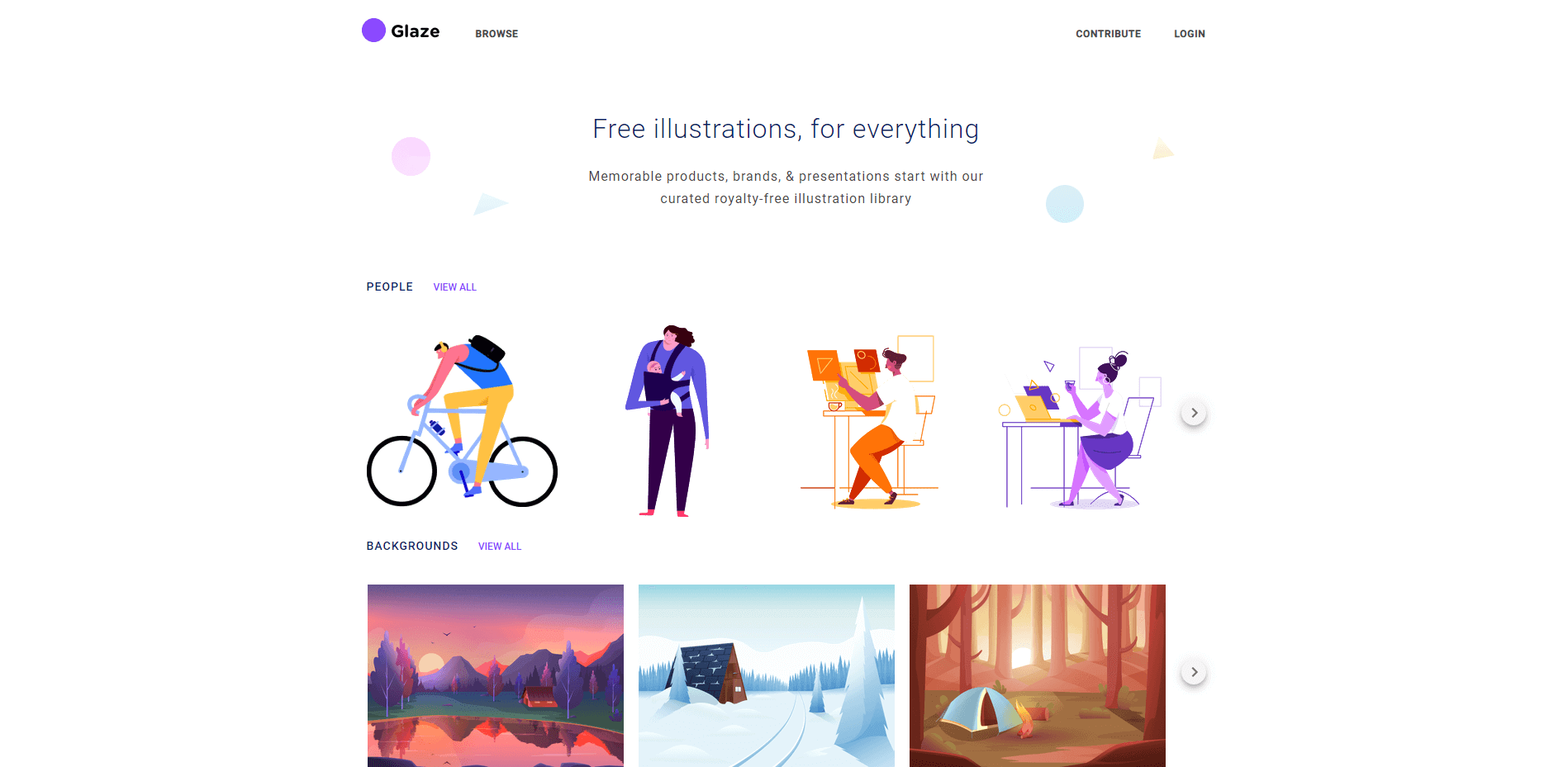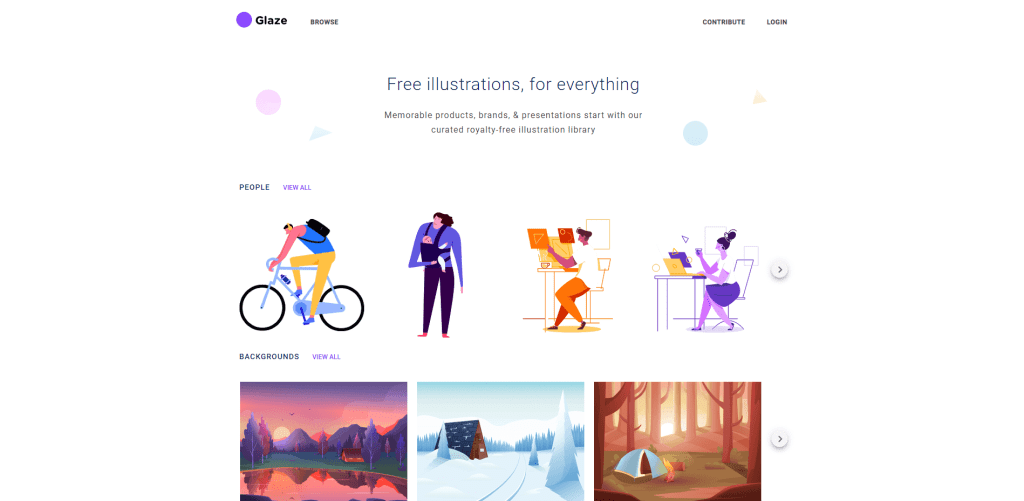 Glaze provides the means for graphic designers to share their work, and then earn commissions whenever someone purchases the full license for any given illustration.
Every illustration published on Glaze has a free version available. However, from what I gather – that illustration will be limited in dimensions (450-500px range) and only come in PNG format.
I still think it's super useful for personal projects such as presentations. Their library is enormous and sorted through categories and individual publishers.
---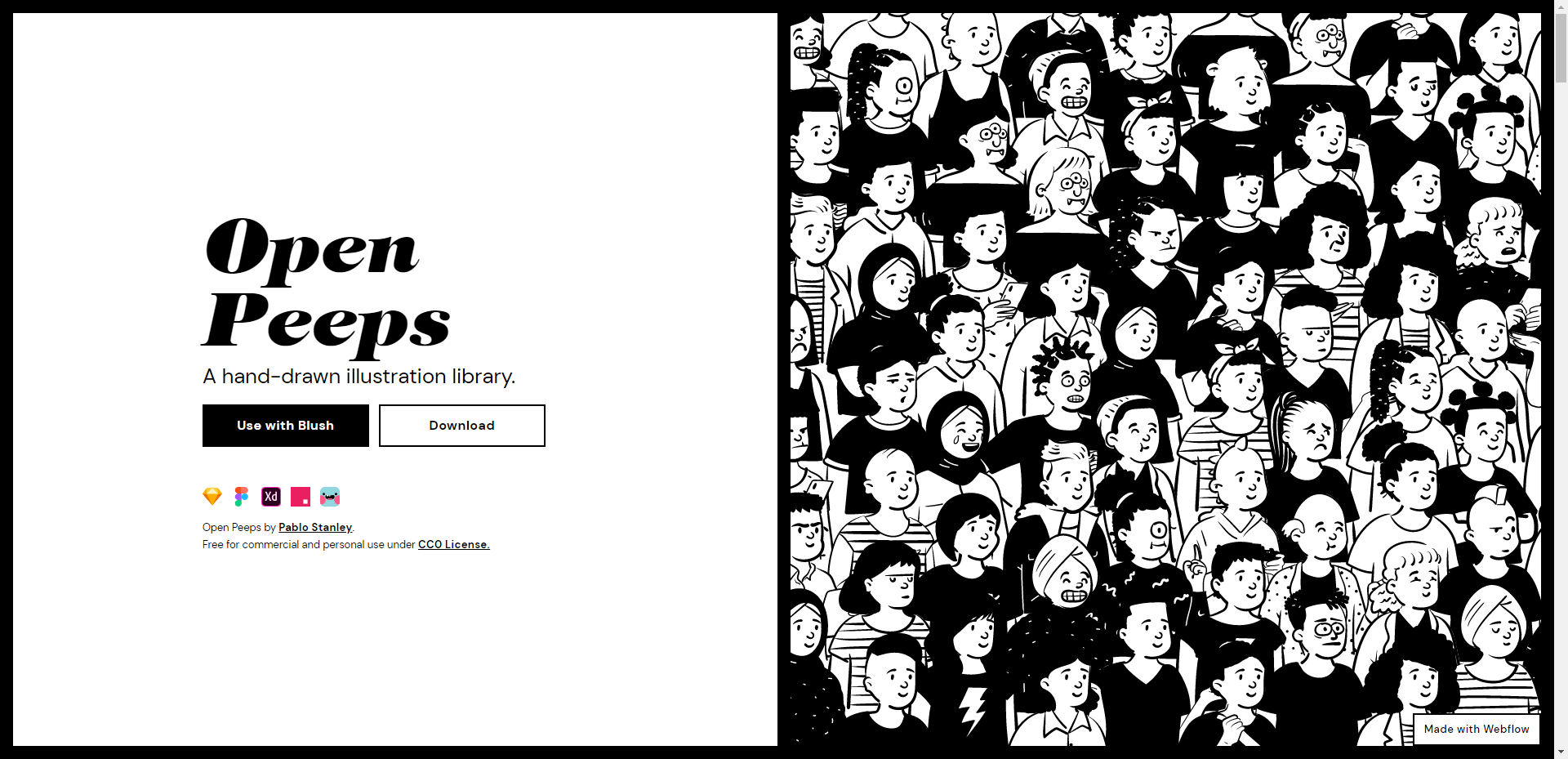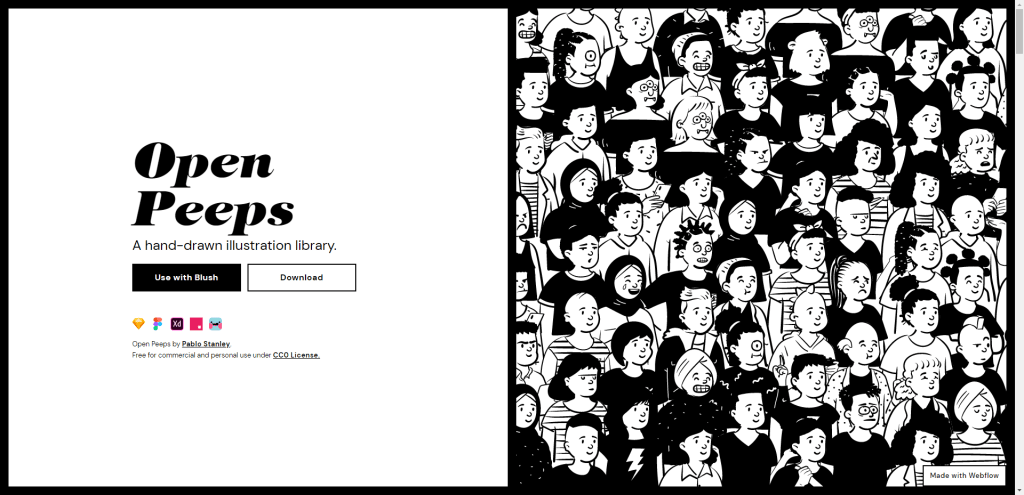 Open Peeps is an open-source illustration library that specializes in hand-drawn art. It has a bit of Notion-esque style to it. Similar to some projects we saw already – Open Peeps encourages everyone to mix and match the various vectors to create even more unique variations.
You can either download the entire library or select some pre-made designs on the homepage.
---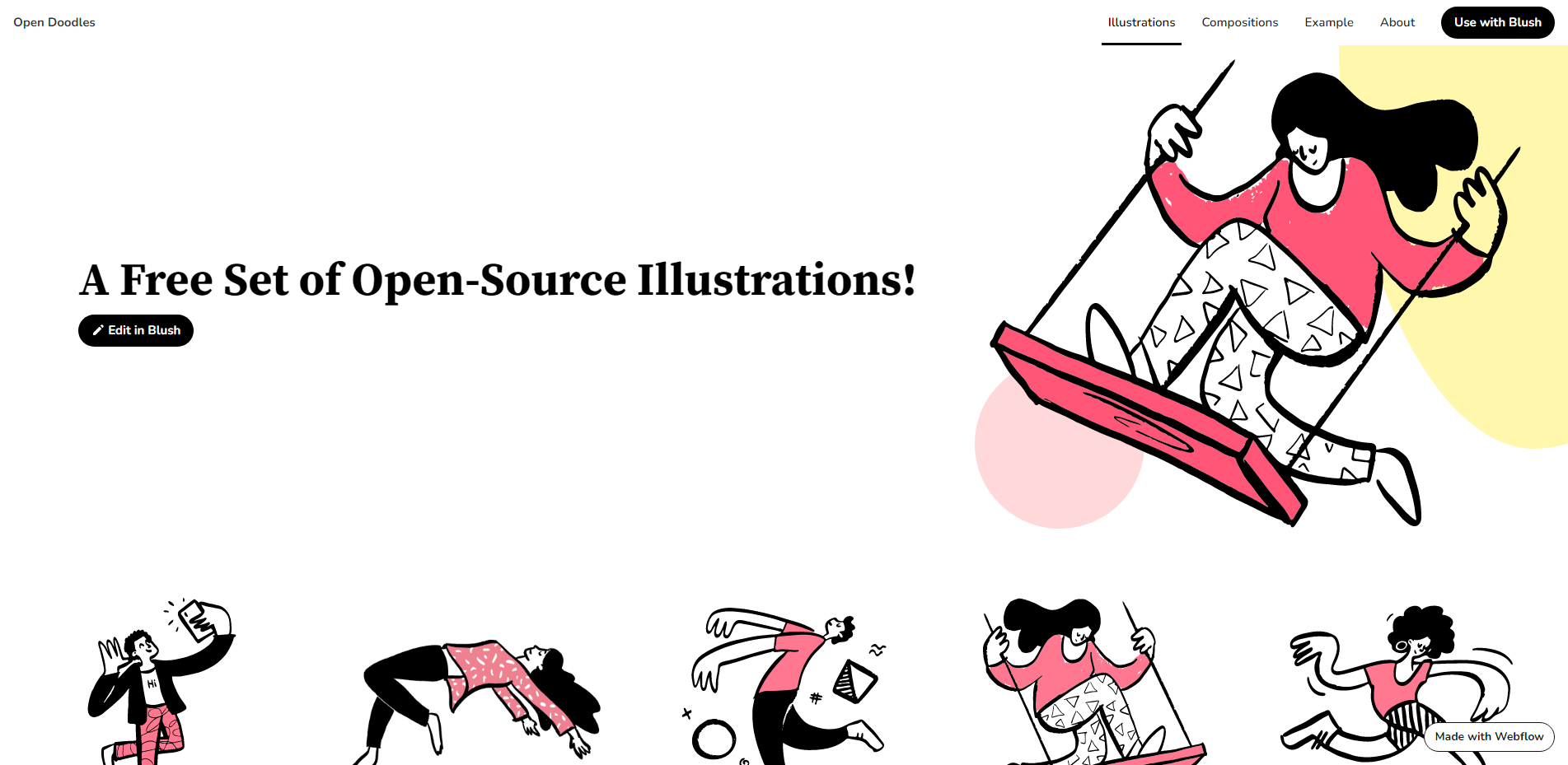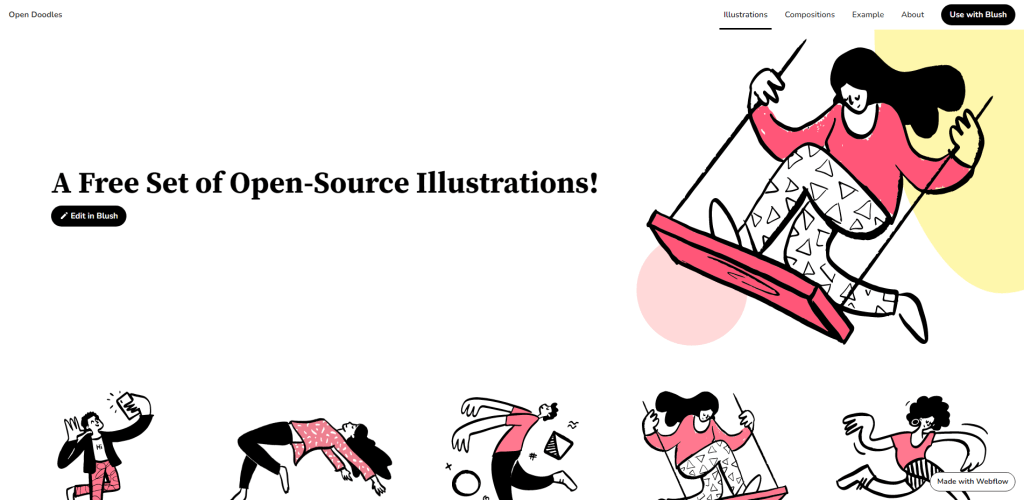 Both Peeps and Doodles are works by Pablo Stanley. On the homepage, you'll find the raw doodles, available in SVG and PNG format, as well as links to Blush. You can also check out some demo Compositions that Pablo has prepared from the link in the top menu bar.
---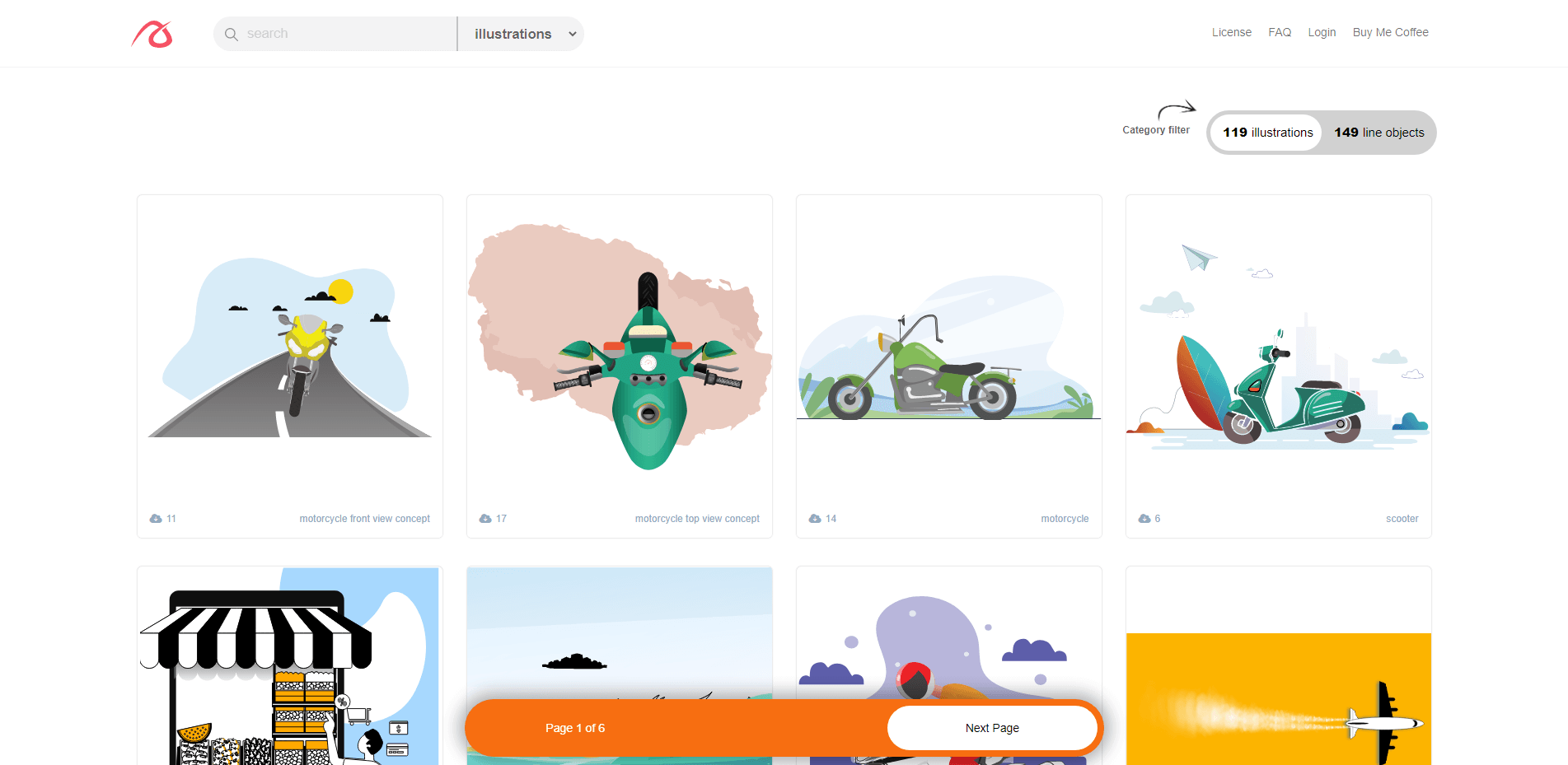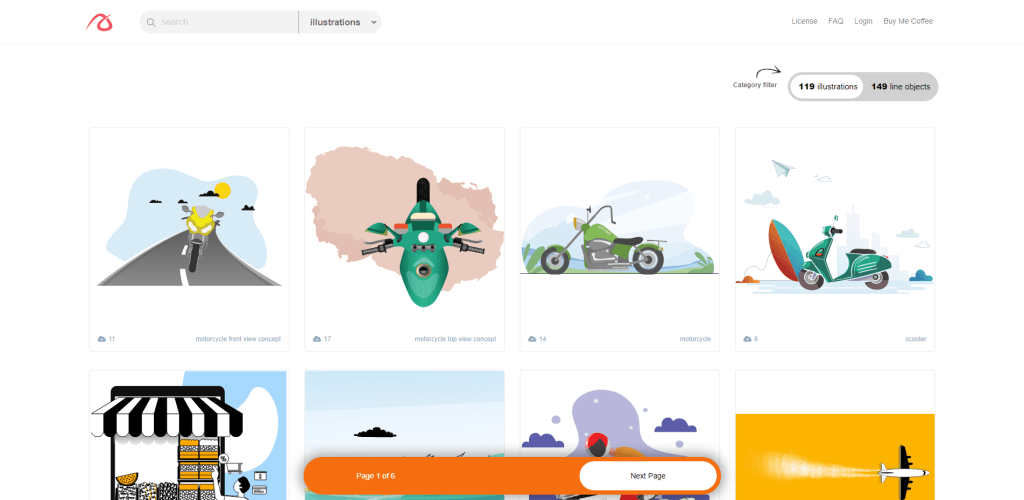 I couldn't find any information on who the person/brand running this project is, but they do seem to have a knack for graphic design. There are some 260 vector graphics (illustrations and icons) – all of which can be downloaded in SVG format.
You are required to add attribution, and then for commercial projects, you'll have to grab a license.
One interesting thing about their pricing model is that they use pay what you can. I tried putting in $1 to test it and it seemed to work. All transactions are processed through Gumroad.
---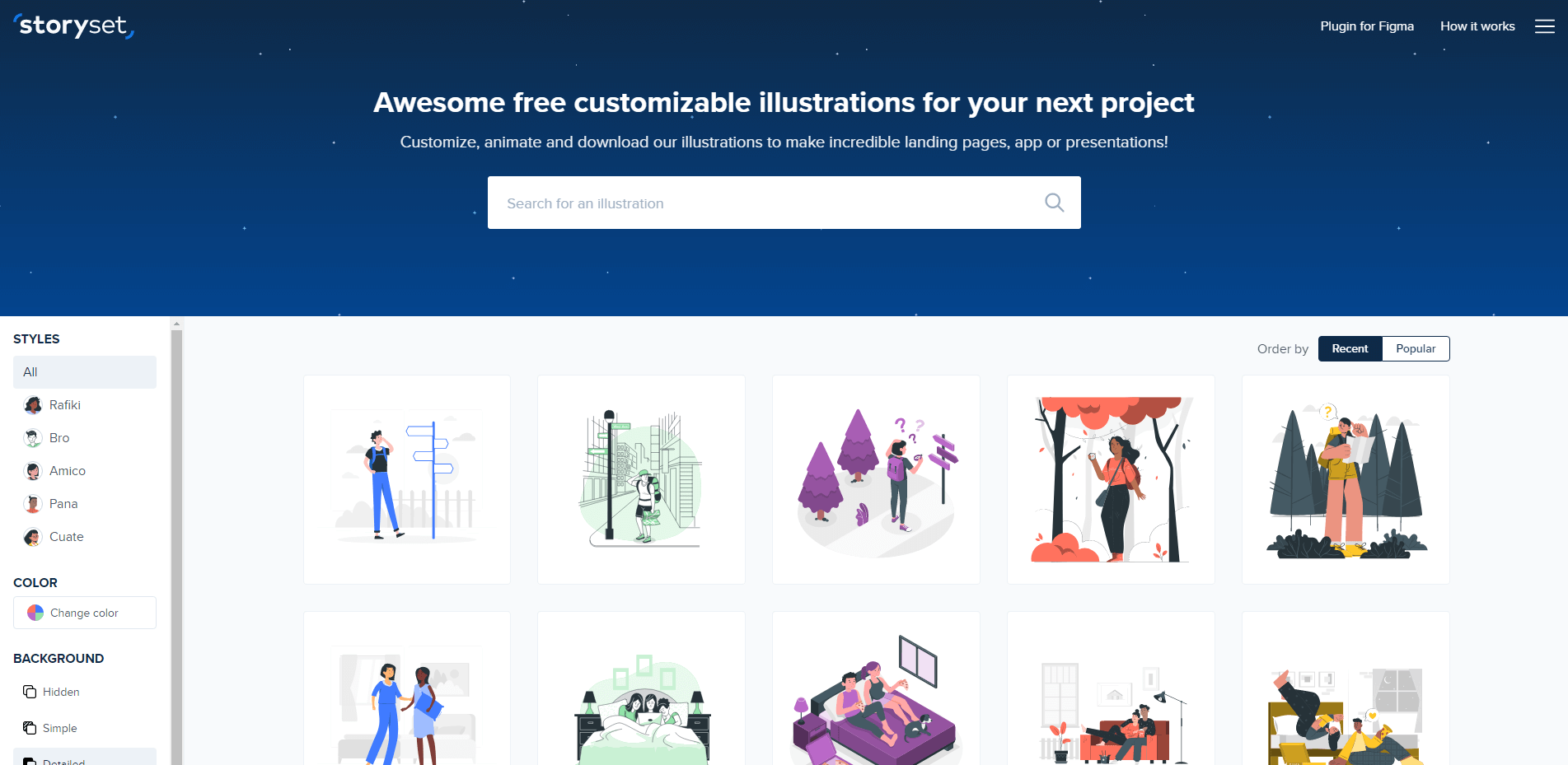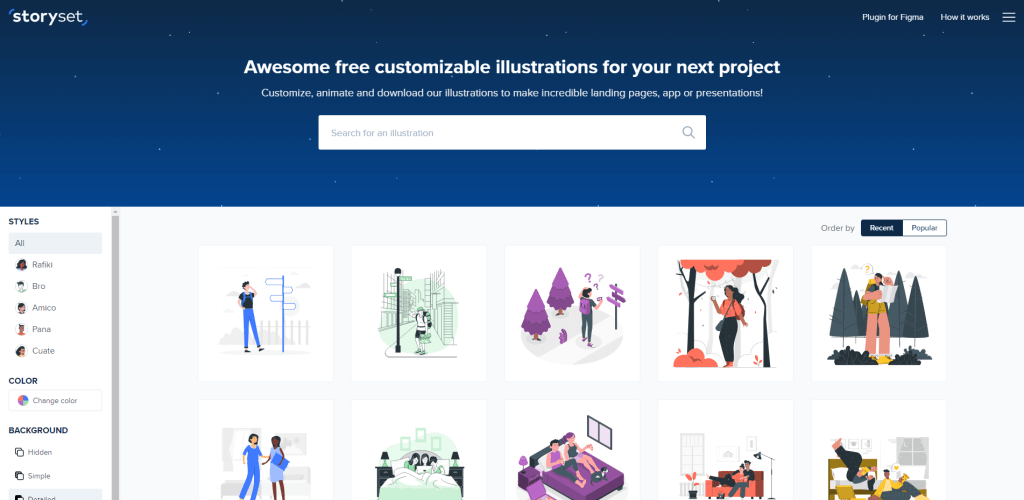 Storyset (which is run by Freepik) is one of my favorite places to get vector graphics. I mean, this is not just world-class graphic design at your disposal, but also the ability to use these designs with nothing but attribution as part of the license. That goes for commercial projects, too.
And the reason this is one of my favorite sites is because of the following features.
All graphics have several styles.
You can change color, and add or remove objects prior to downloading.
You can use their animation engine (yup!) to animate individual objects in the vector itself.
They also have a custom-made plugin available for Figma users. Incredible stuff.
---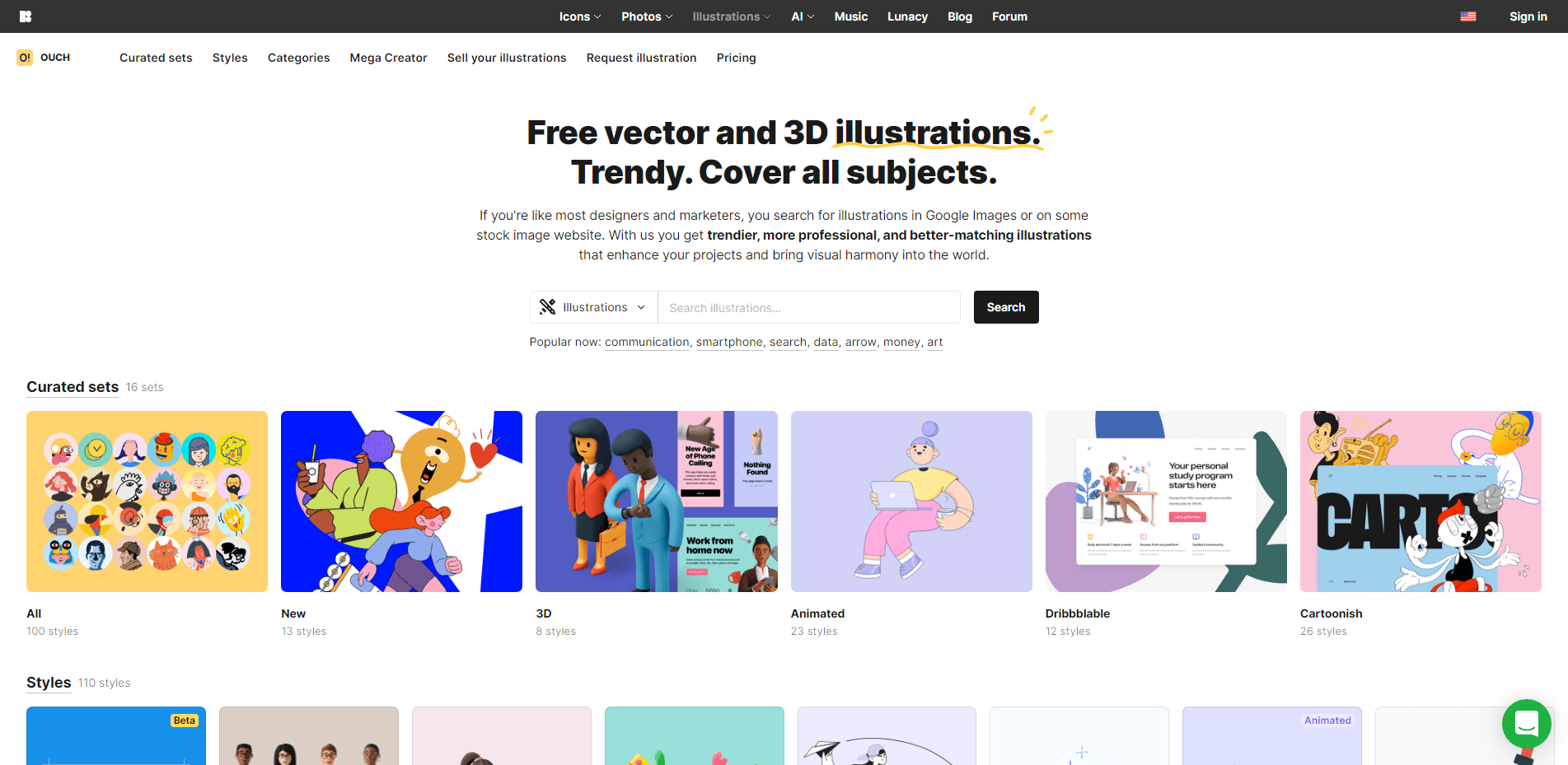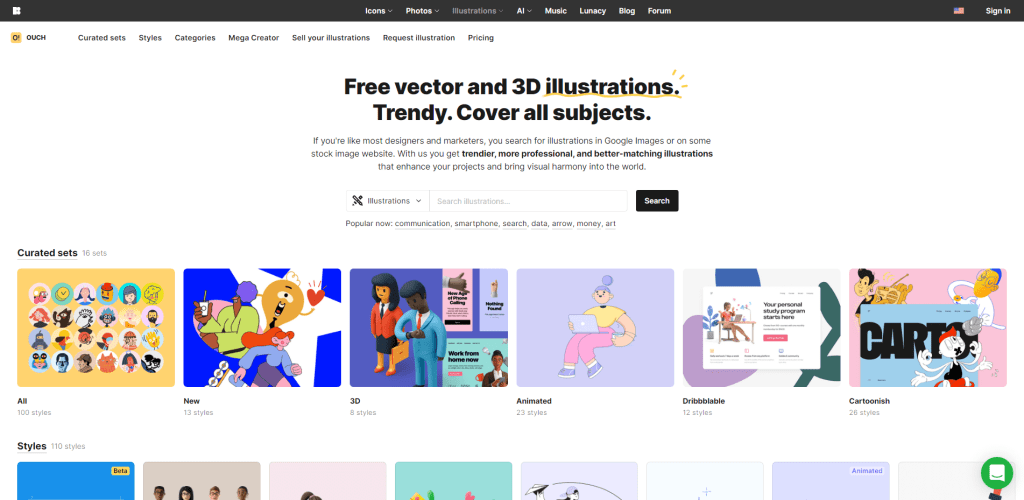 I was there when Icons8 first started out, and I have also been fortunate enough to work with them in the past to publish articles for their blog. It's been amazing to watch this brand go from a small graphic design company to a full-blown vector platform.
The easiest way I found to sort through free stuff is to simply search for "free" in the search bar.
They do offer quite a lot of unique designs at no charge. Having said that, their premium library is one of the best out there. I do believe that some of that has to do with the fact that they have opened doors for other graphic designers to publish their work on the Icons8 platform.
---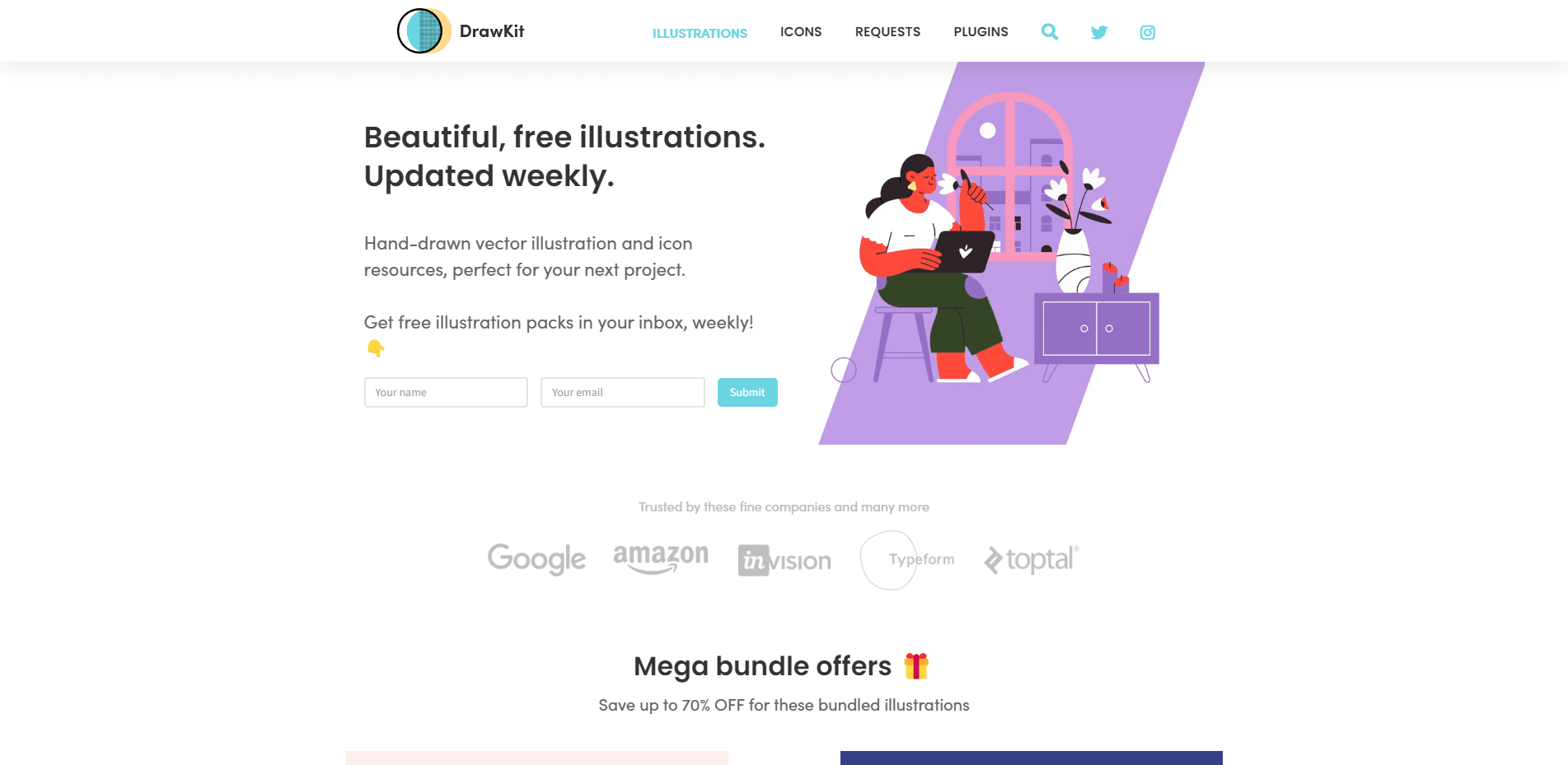 DrawKit is part of the Designstripe family. If you visit the DrawKit website, you can sort out results by Free using the filter on the homepage. In total, there are around 50 different collections, and most of them have anywhere from 10 to 30 illustrations as part of the collection.
The style, I'd say, is in line with modern trends in web design.
---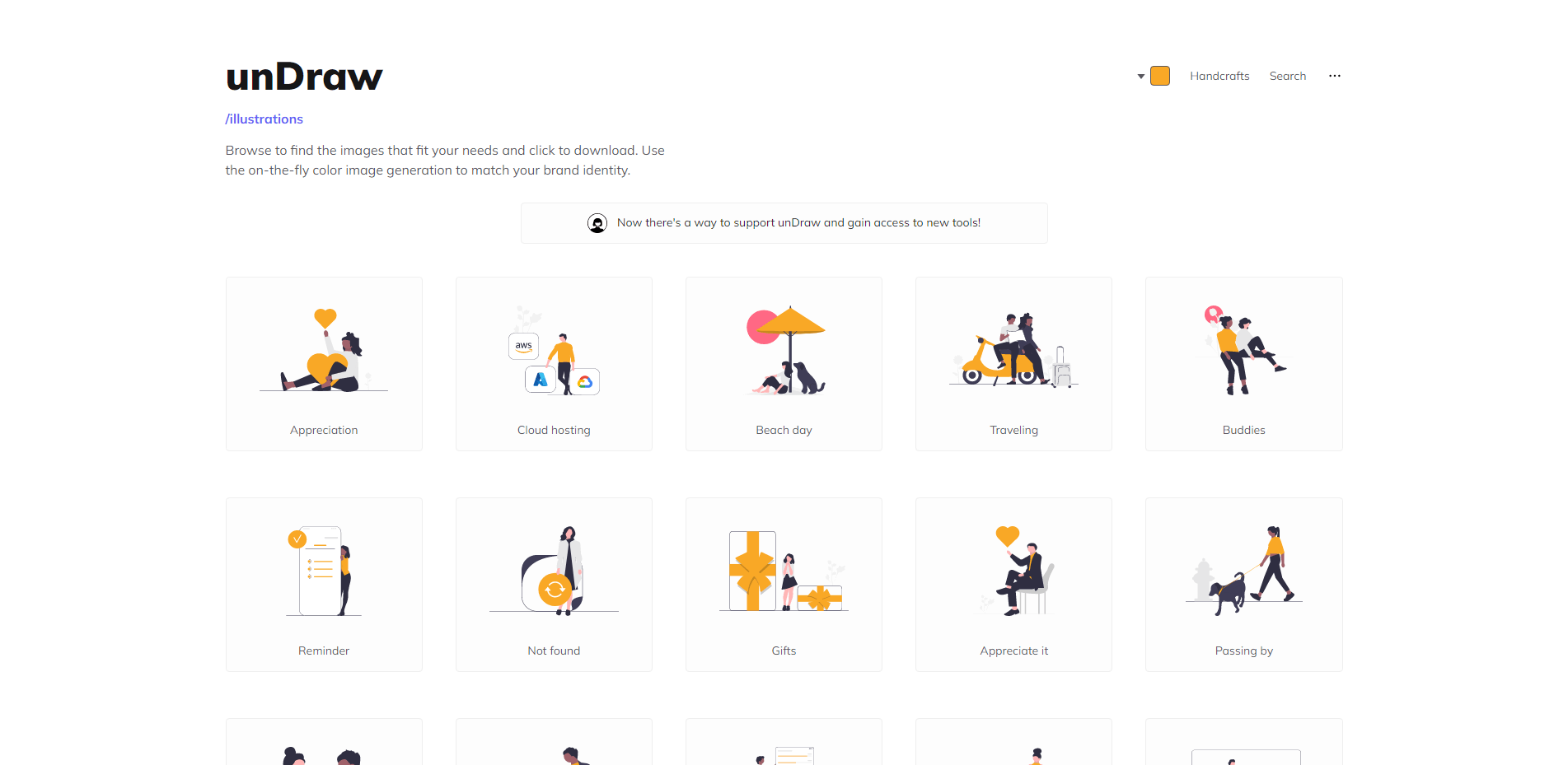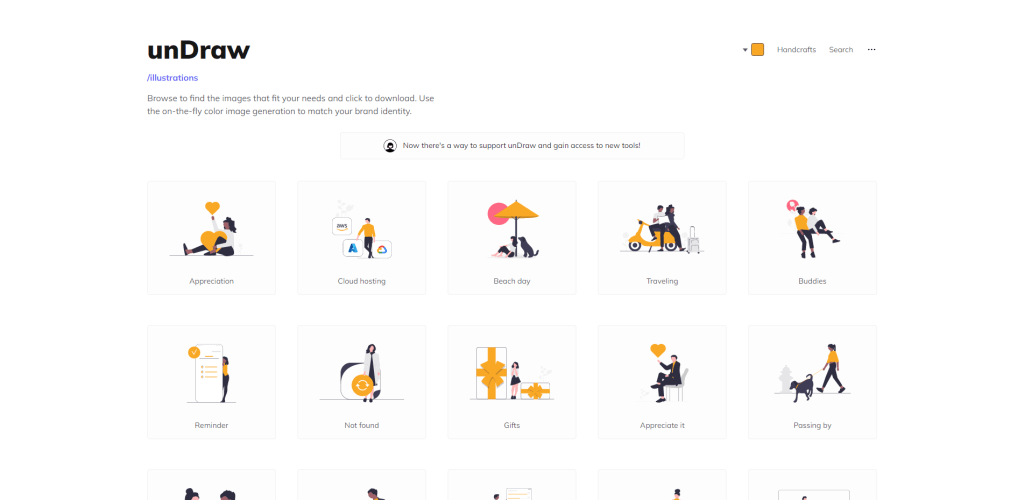 Katerina Limpitsouni launched unDraw back in 2017, and since then the platform has been a staple for offering free vector illustrations. No attribution is required for personal and commercial projects.
The platform has kept growing over the years also. Katerina has kept illustrations updated on a regular basis, but also added a Handcrafts section. And, recently, she has also made it possible for people to support her project through the unDraw+ platform.
---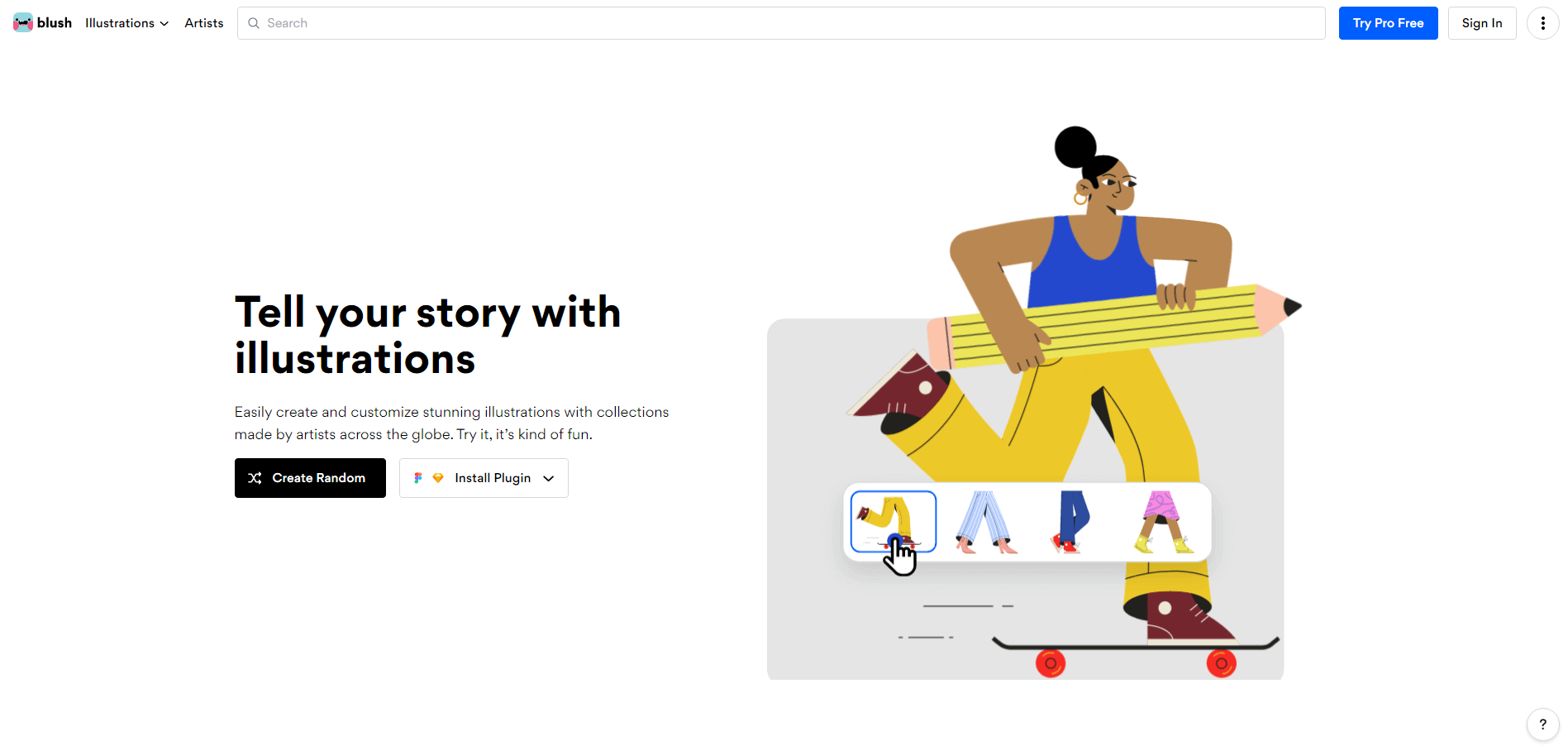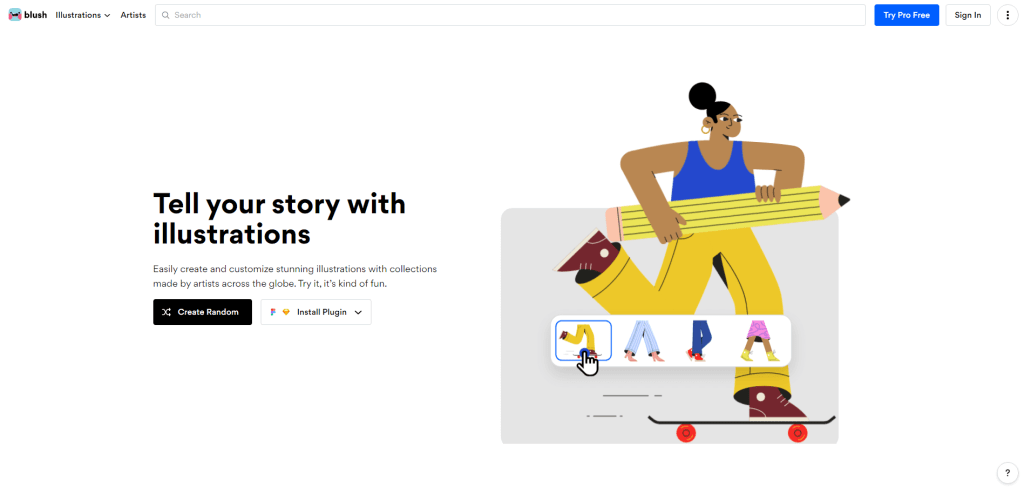 Blush lets you create illustrations on your own, in your own style. It is most commonly used by brands who'd like to use vectors as part of brand identity. It's also frequently used to create illustrations for interactive user experiences, such as onboarding or landing page presentation.
Sadly, while there is a free plan, getting the graphics in vector (SVG) format requires a Pro plan. That said, you can still use the platform for free and download your illustrations in PNG format. That should be plenty for personal projects and presentations. Maybe even demo mockups.
---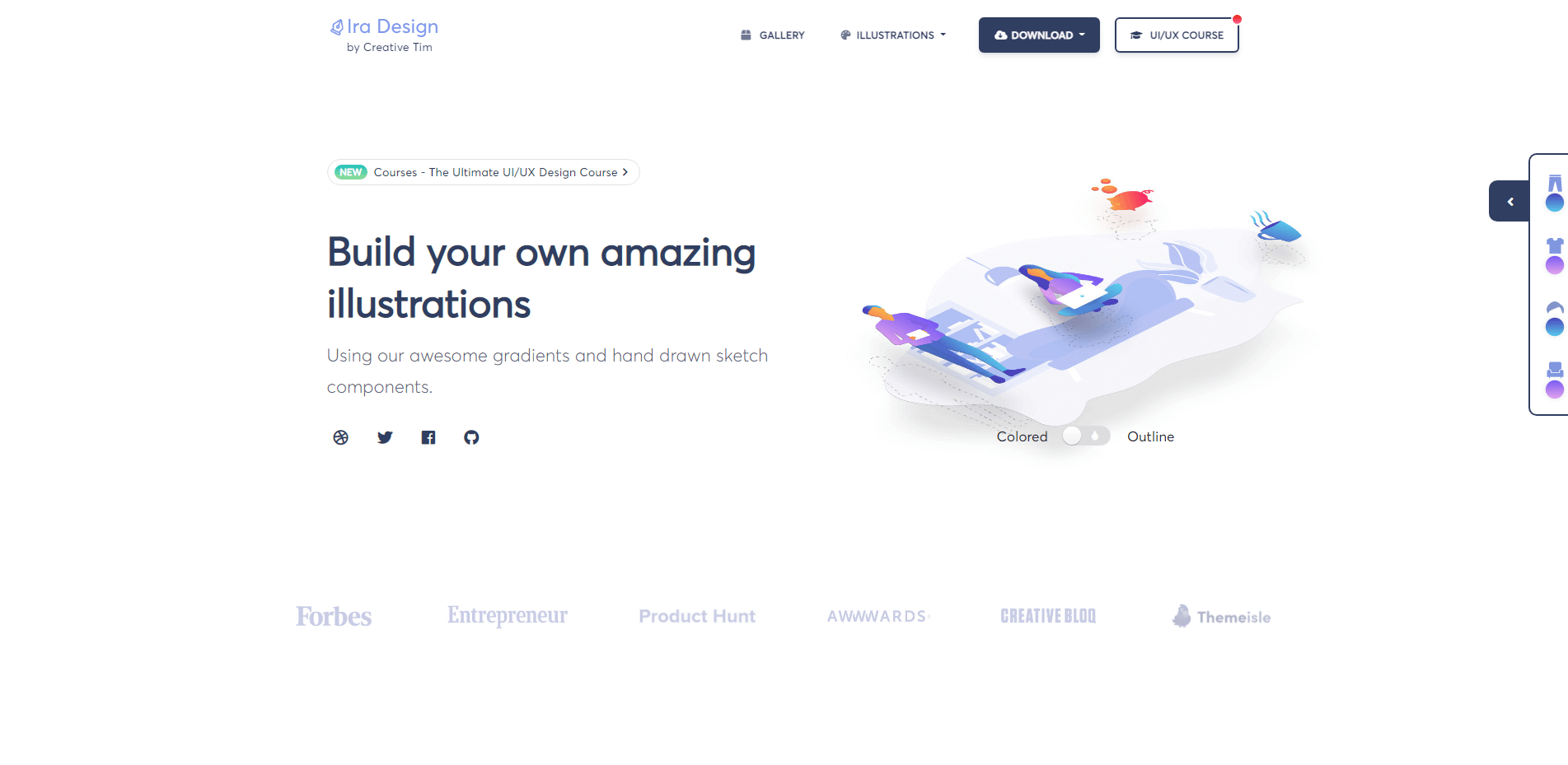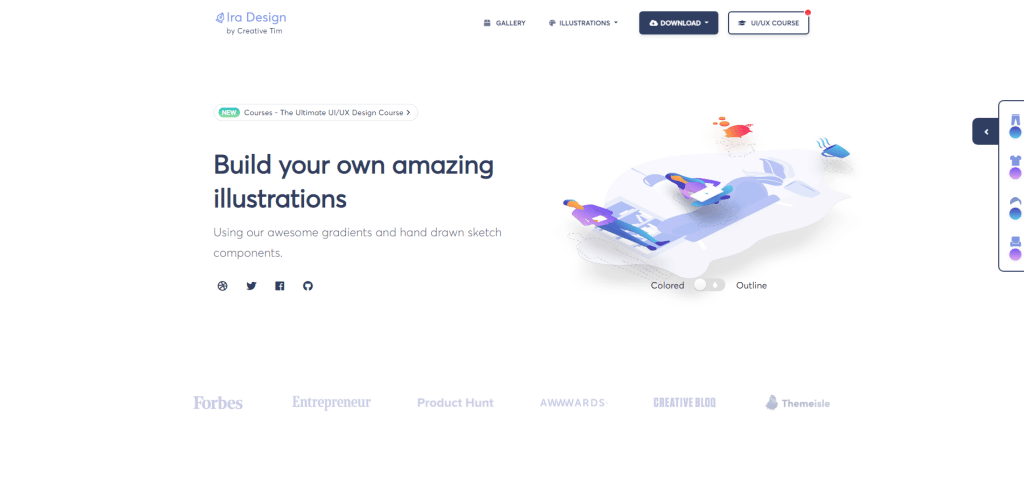 IRA Design from Creative Tim is yet another interactive platform for designing vector illustrations by using pre-determined tools. In this case, it's the sidebar widget on the site itself.
You also have the option to either download all of their illustrations as a full SVG pack or style them individually, and then download them one by one.
As far as I know, these illustrations in particular are very popular with template developers who will often use IRA Designs as placeholders for their templates.
---