If you're looking for a powerful team collaboration tool, you may be wondering what options are out there other than Slack. While Slack is incredibly popular, offering a range of features to help teams communicate in real-time and manage their workloads effectively, there are several alternatives that can offer similar benefits.
In this article, we'll be taking a closer look at some of the best Slack alternatives available today. We'll compare the features and pricing of each platform to help you decide which one is right for your team.
Whether you're an entrepreneur looking to streamline your workflow or a large enterprise needing to manage multiple teams across different locations, this comprehensive guide has got you covered.
---
Microsoft Teams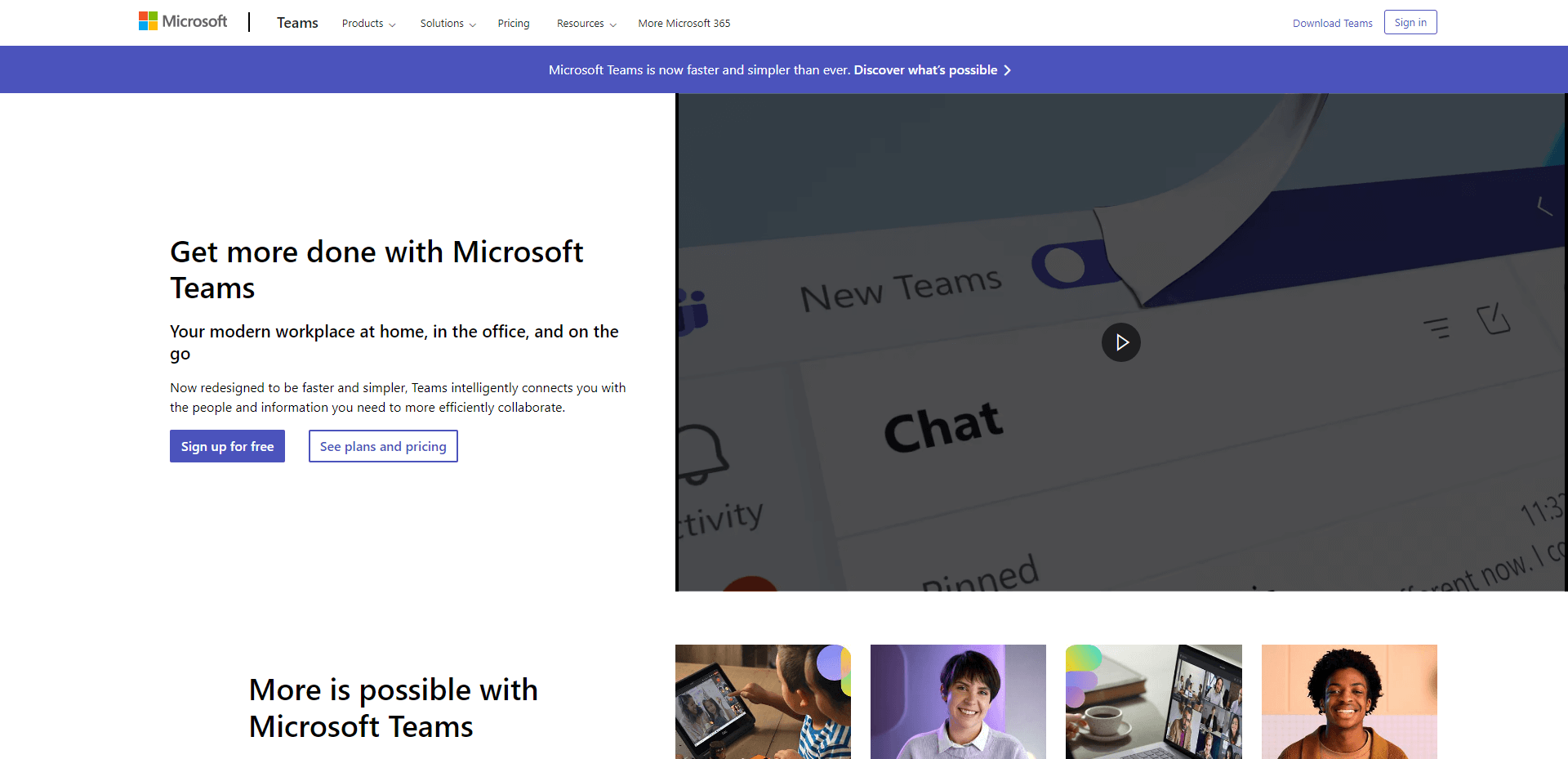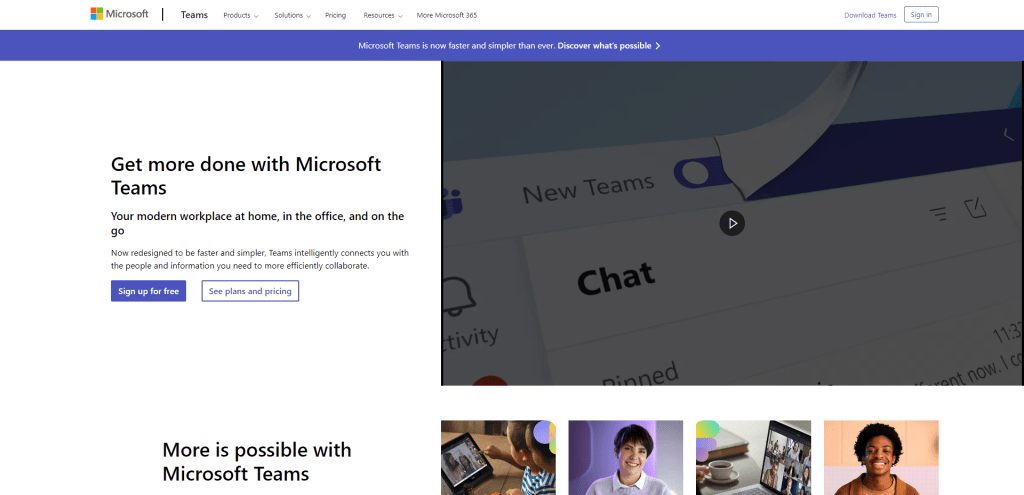 Microsoft Teams is a collaboration platform that is included in the Microsoft 365 suite of productivity tools. It is designed to help teams communicate and collaborate more efficiently by providing a centralized platform for messaging, file sharing, video conferencing, and much more.
One of the key benefits of Microsoft Teams is its integration with other Microsoft apps and services such as OneDrive, SharePoint, and Outlook. This integration allows users to seamlessly access and share files from within the Teams interface, making it easier to collaborate on projects.
Teams also offers a wide range of customization options, allowing users to tailor their workspace to fit their specific needs. For example, you can create custom tabs that link to frequently used apps or services or set up automations using Microsoft Power Automate.
How it Compares to Slack
While Slack has long been considered one of the leading team communication platforms, Microsoft Teams offers several advantages over Slack. One of the biggest advantages is its tight integration with other Microsoft apps and services. Additionally, Teams offers a wider range of features than Slack including real-time collaboration on documents within the platform.
Some notable features of Microsoft Teams include:
Video conferencing: Teams supports video calls with up to 10,000 participants.
Screen sharing: Users can share their screens during meetings for easy collaboration.
File sharing: Easily share files with your team members via OneDrive or SharePoint.
Customizable workspace: Tailor your workspace with custom tabs and integrations.
External guest access: Invite guests outside your organization to join specific channels or meetings.
Bots and integrations: Connect with other apps using pre-built connectors or develop custom integrations using APIs.
Pros and Cons
Pros:
Tight integration with other Microsoft apps
A wide range of customization options
Real-time collaboration on documents
High-quality video conferencing
Cons:
Steep learning curve for new users
Limited integrations with third-party apps
Pricing
Microsoft Teams is included in the Microsoft 365 suite of productivity tools, which starts at $5 per user per month for the Business Basic plan. The more advanced plans, such as Business Standard and Premium, offer additional features and capabilities.
---
Google Hangouts Chat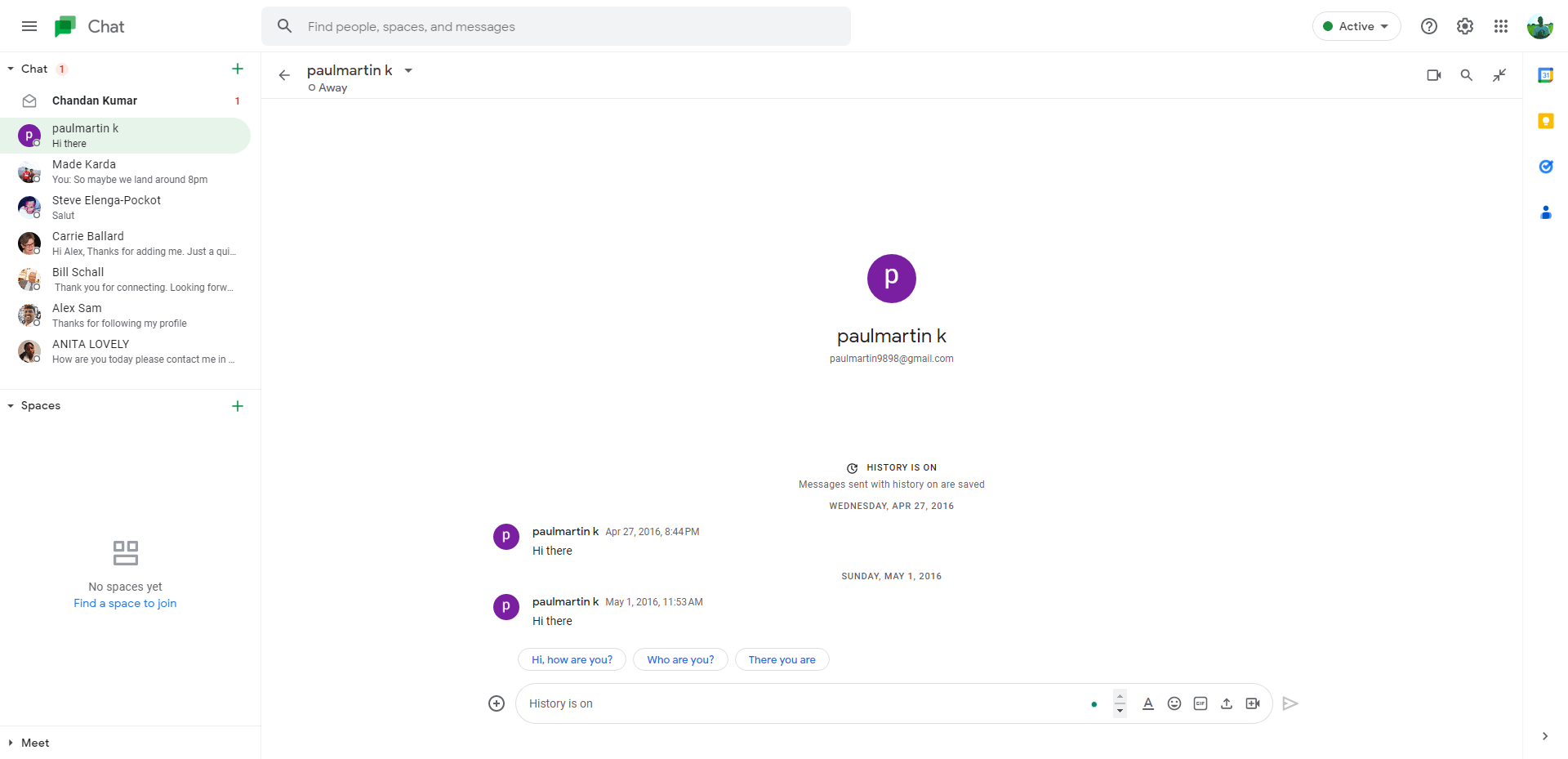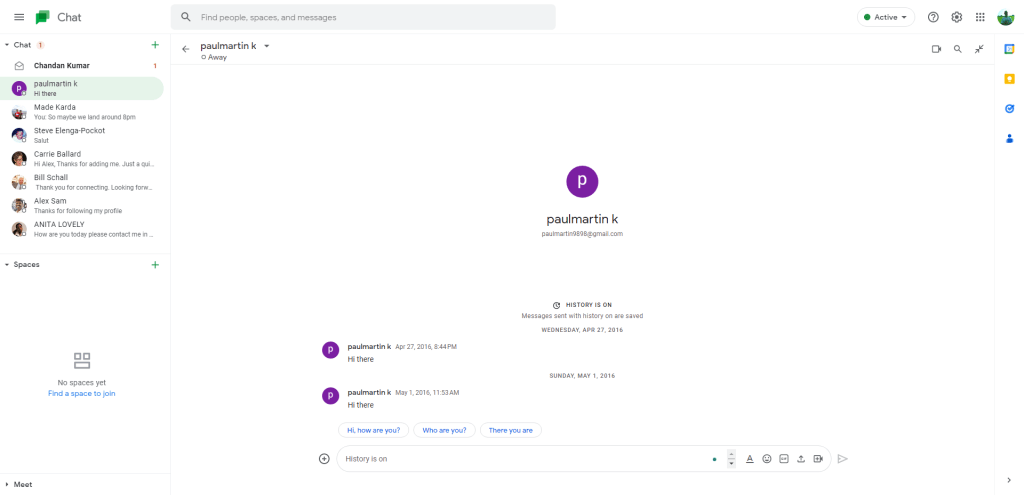 Google Hangouts Chat is a team collaboration tool that enables you to communicate with your colleagues in real-time. Like Slack, it offers various features to enhance productivity and streamline communication within your team.
One of the benefits of using Hangouts Chat is that it's integrated into the G Suite, which includes other essential tools like Google Drive, Docs, and Calendar. This means that you can easily share documents and set up meetings without leaving the chat window.
Hangouts Chat also offers robust security features to ensure that your conversations remain private and secure. For example, all chats are encrypted in transit and at rest, and admins have full control over user access.
In terms of functionality, Hangouts Chat has many similarities to Slack. You can create channels for different teams or projects, send direct messages to individuals or groups, and even integrate third-party apps like Trello and Asana.
Features of Google Hangouts Chat
Google Hangouts Chat offers a variety of features that make it a worthy alternative to Slack:
Virtual Rooms: One of the most useful features of Google Hangouts Chat is the ability to create virtual rooms for specific projects or teams. This makes it easier to organize conversations and keep track of important information.
Direct Messaging: Google Hangouts Chat also allows for direct messaging between team members, making it easy to have private conversations without cluttering up group chat channels.
Integration with G Suite: Since Google Hangouts Chat is part of G Suite, it integrates seamlessly with other Google apps such as Gmail and Drive, allowing for easy sharing of files and collaboration.
Search Functionality: The platform also has a powerful search feature which allows you to find specific messages or files quickly and easily.
Bots and Integrations: Like Slack, Google Hangouts Chat supports bots and integrations, allowing you to customize your experience by adding third-party apps.
Overall, Google Hangouts Chat offers many similar features to Slack but with the added benefit of being part of the G Suite ecosystem. It's perfect for teams who are already using other Google apps for collaboration and file sharing as it seamlessly integrates with those tools.
Pricing
Google Hangouts Chat is included in G Suite plans, which start at $6 per user per month.
---
Discord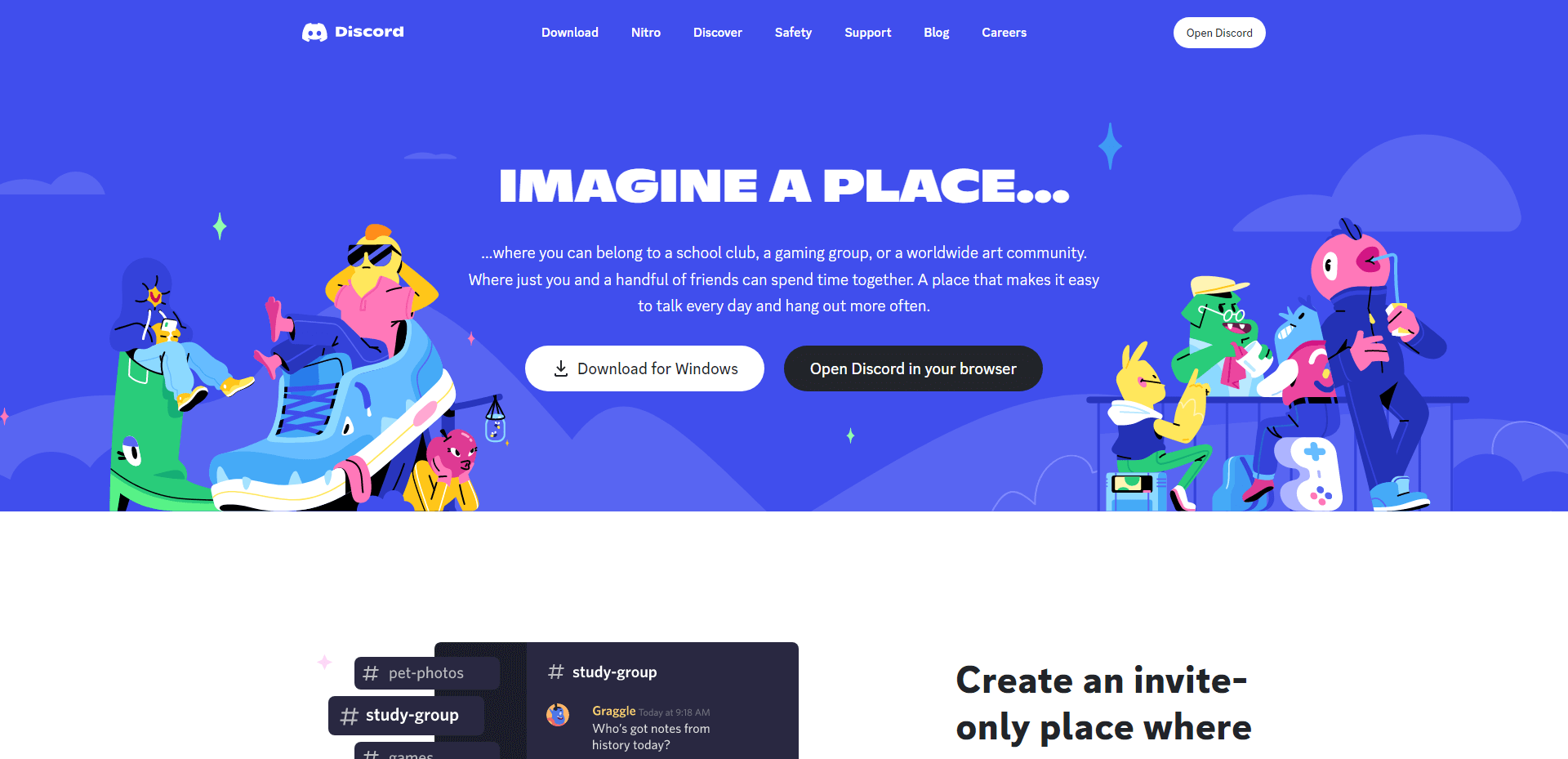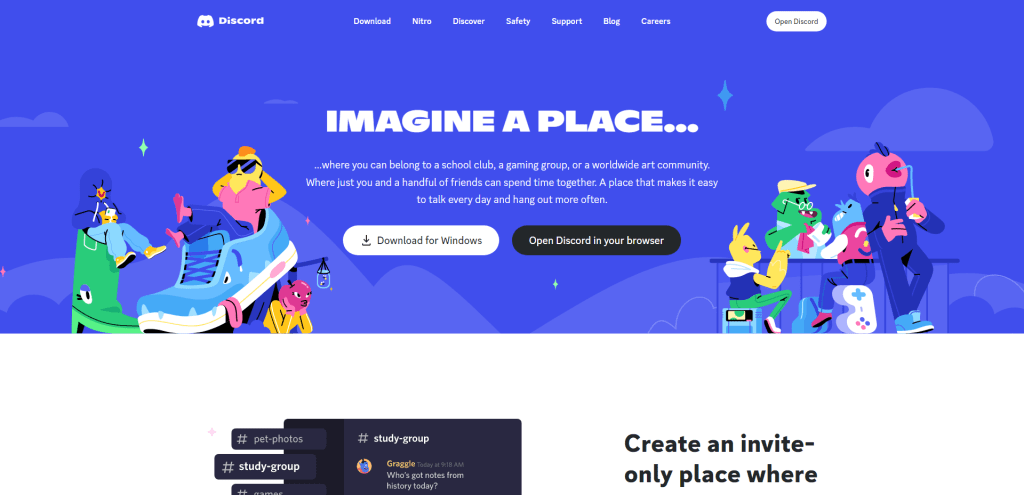 Discord is a free, voice and text chat app designed for gamers that has become a popular communication tool for all kinds of online communities. It's available on desktop and mobile devices, making it easy to keep up with conversations on the go.
Discord allows users to create and join servers, which are essentially chat rooms where people can communicate with each other through text or voice channels. Each server has its own set of rules and moderators, making it easy to keep conversations organized and on-topic.
One unique feature of Discord is its ability to support both voice and text channels in the same server. This makes it a great choice for remote teams who need to communicate quickly or for online communities that want to host events like live streams or gaming sessions.
Discord also supports file uploads, making it easy to share documents, images, and videos with other people in your server. It also has a built-in search function that lets you find messages quickly.
Features of Discord
Discord has become a popular communication tool for gamers and communities, but it's also a solid Slack alternative:
Communication – Discord offers both text and voice chat options, making it easy for teams to communicate in real-time. Users can create channels for specific topics or projects, and even use @mentions to notify specific team members.
Integrations – Discord integrates with a variety of third-party apps, including Trello, GitHub, and YouTube, allowing teams to easily share information and collaborate on projects.
Customization – Users can customize their profiles with avatars, status updates, and even custom emojis. Server owners also have the ability to customize their servers with different roles and permissions.
Security – Discord takes security seriously and offers two-factor authentication as well as encryption for voice channels.
How it compares to Slack
Compared to Slack, Discord offers a more comprehensive feature set with built-in voice and video chat capabilities, screen sharing functionality, and server customization options. Additionally, the platform has a vast collection of free and paid add-ons called "bots" that can perform various functions such as scheduling or event management.
However, one significant disadvantage of Discord compared to Slack is that it lacks some of the administrative features found in other platforms like user permission management or audit logging.
Pricing
Discord is free to use with unlimited messaging and storage. However, its "Nitro" subscription service offers additional features such as higher quality audio and video streaming, custom emojis, and larger file uploads.
---
Twist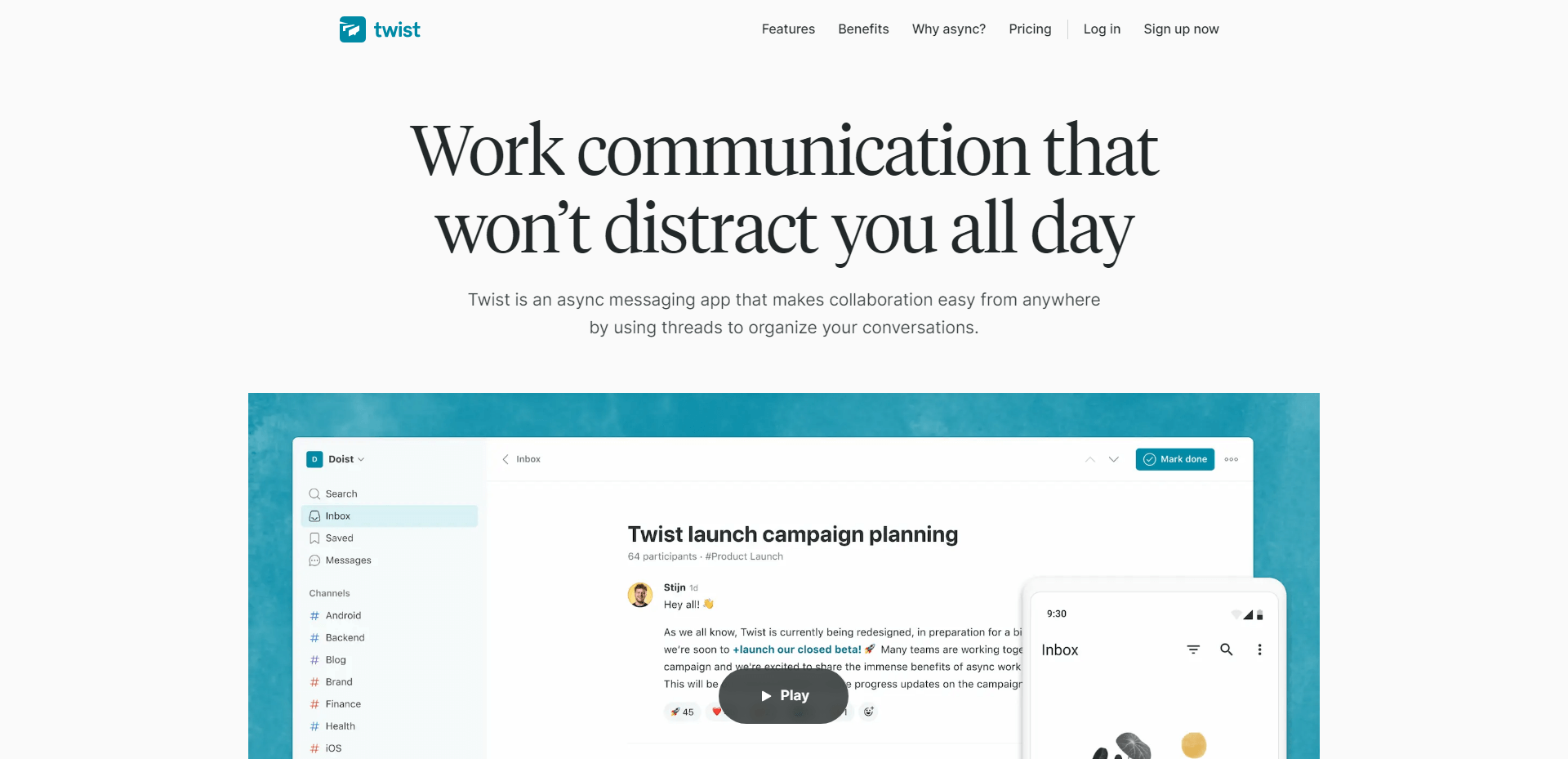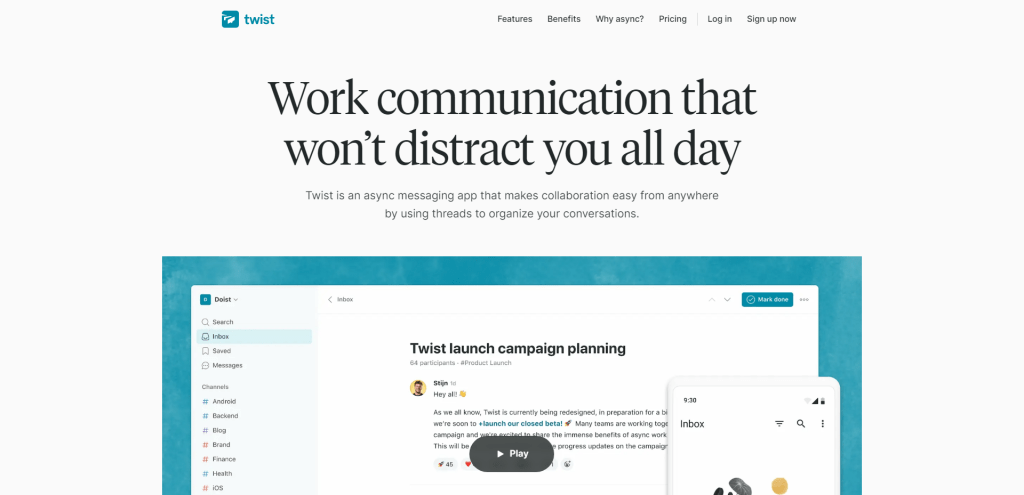 Twist is a team communication tool that emphasizes organized and threaded conversations. The platform is designed to help teams communicate and collaborate in a more focused and structured manner. Twist's unique selling point is that it differentiates itself from the traditional chat-based communication system by promoting asynchronous communication rather than real-time chat.
With its clean and intuitive interface, Twist allows team members to have threaded conversations based on specific topics or projects, making it easier for teams to stay organized and productive. Users can access their conversations from anywhere using the desktop or mobile app, making it easy to stay connected with their team on-the-go.
Features of Twist
Some of the notable features of Twist include:
Threaded conversation system: This allows users to create focused discussions around specific topics or projects, keeping all related messages organized in one place.
Asynchronous communication: Instead of real-time chat, users can communicate at their own pace without interrupting each other's workflow.
Channels and direct messaging: Like Slack, Twist offers both public channels for team-wide discussions and private direct messaging for one-on-one conversations.
Integrations: Twist integrates with a variety of third-party tools like GitHub, Trello, Google Drive, and more.
How it compares to Slack
While both Twist and Slack are team communication tools designed to improve collaboration among teams, there are some key differences between the two platforms. Perhaps the main difference is that Twist promotes asynchronous communication with its threaded conversation system while Slack emphasizes real-time chat. This makes Twist better suited for teams who prefer a more structured approach to their communication style.
Additionally, while Slack offers a comprehensive suite of integrations with third-party tools, many users find the platform overwhelming due to its plethora of features. In contrast, Twist offers a more streamlined user experience that may appeal to those who want a simpler yet still powerful platform for their team communications.
Pros and cons
Here are some of the main pros and cons of using Twist:
Pros
Threaded conversations promote organization and productivity
Asynchronous communication reduces interruptions and improves focus
Clean and intuitive interface promotes ease of use
Offers a more focused feature set than Slack
Cons
May not be ideal for teams who prefer real-time chat
Limited integrations when compared to Slack
Not as popular or widely used as Slack, which may make it harder to convince team members to switch platforms
Pricing
Twist offers both free and paid plans. The free plan includes access to all basic features, but with some limitations on message history and integrations. Paid plans start at $6 per user per month and offer additional features like unlimited message history, custom branding, priority support, and more.
---
Mattermost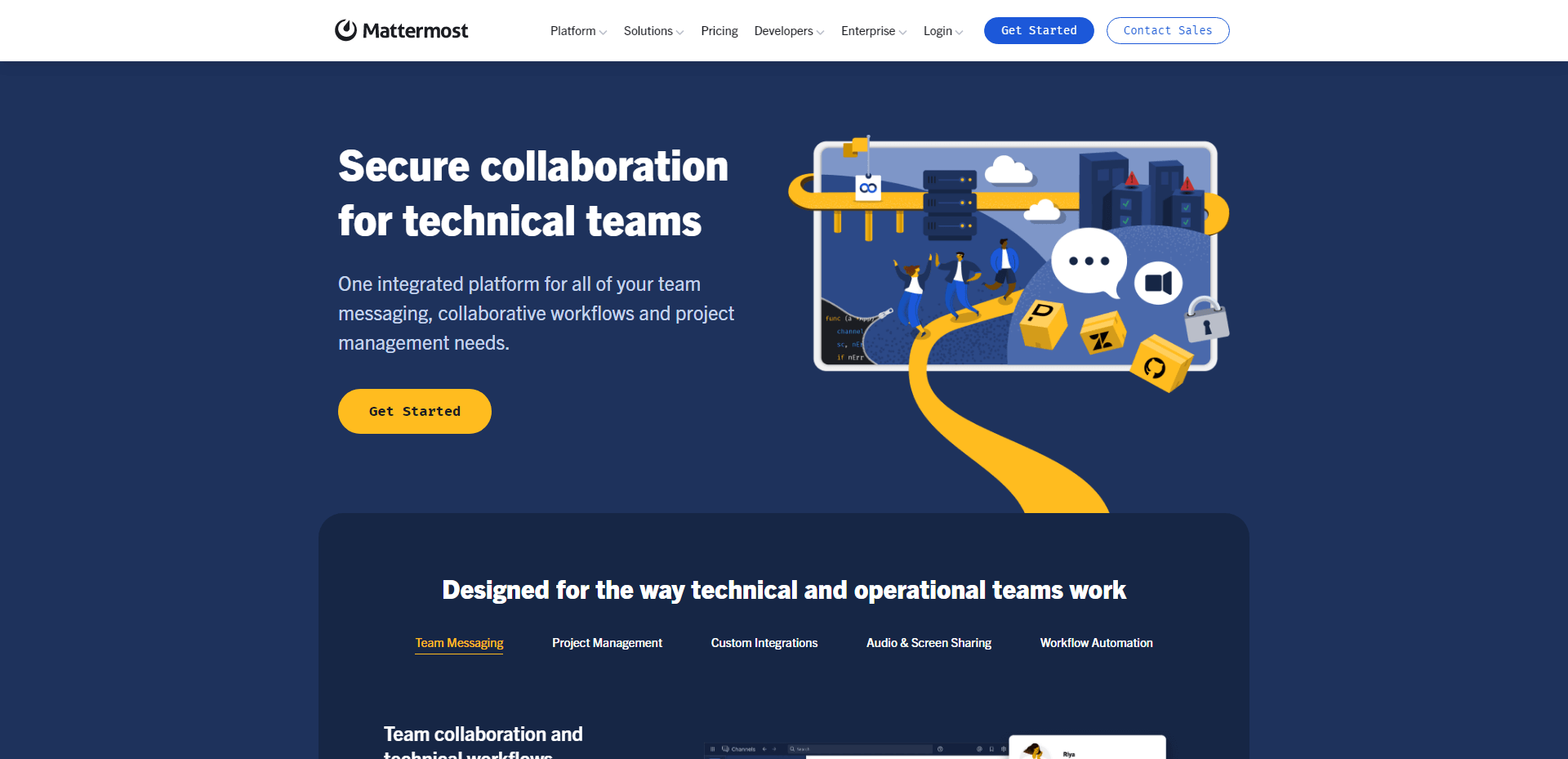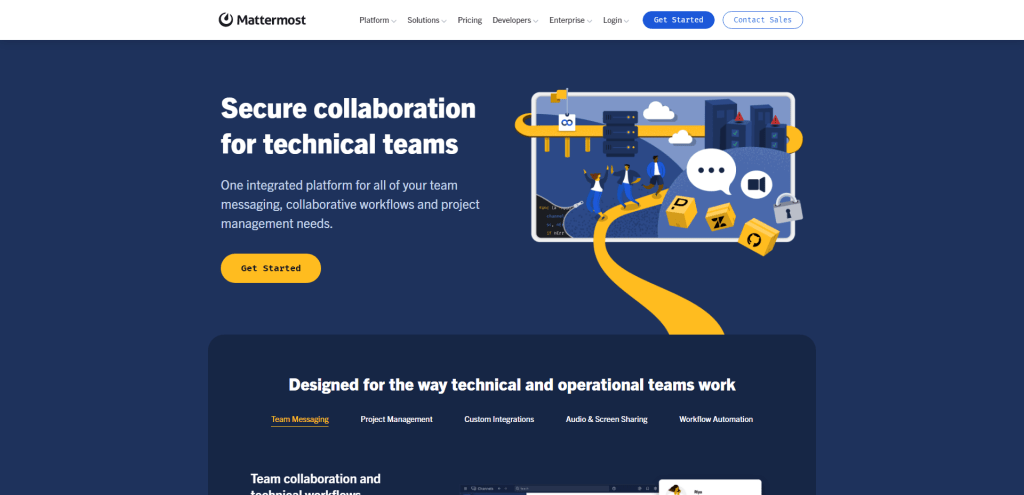 Mattermost is an open-source, self-hosted messaging platform that was designed with security in mind. It offers users a secure and private way to communicate with their team while keeping everything organized in one place.
With Mattermost, you can create specific channels for different teams or projects, and customize notifications to ensure you're only receiving alerts for the conversations that matter most to you. You can also integrate Mattermost with other tools that you're already using, such as Jira or GitLab, to streamline workflows and improve collaboration.
One of the key benefits of Mattermost is its emphasis on security. All communications are encrypted end-to-end, ensuring that sensitive information remains protected. Additionally, because it's self-hosted, organizations have complete control over their data and can ensure compliance with their own security policies.
Mattermost also offers a variety of features designed to improve productivity and collaboration, including threaded messaging, file sharing, and video conferencing. Users have the ability to search past conversations easily and quickly, making it easier to find important information without having to scroll through endless chat logs.
Features of Mattermost
Here are some of the key features:
Channels and Direct Messages – Like Slack, Mattermost allows you to create channels for group discussions and direct messages for one-on-one conversations. You can also join public channels that are open to all team members.
Integrations and Plugins – Mattermost supports a wide range of integrations with third-party tools such as GitHub, GitLab, Jira, Trello, and more. In addition, there are numerous plugins available that extend its functionality.
Customization – Mattermost allows you to customize your messaging experience with advanced features such as custom emojis, themes, and branding options. You can also create your own bot integrations using the Mattermost API.
Security and Compliance – As an open-source platform, Mattermost provides transparency into its security practices and codebase. It also offers enterprise-grade security features such as end-to-end encryption, compliance certifications (such as HIPAA), and data retention policies.
Mobile Apps – Mattermost offers mobile apps for iOS and Android devices that allow you to stay connected on the go. The apps offer real-time notifications, file sharing, and access to all your channels and direct messages.
Pricing
Mattermost offers both self-hosted open-source options for free or a cloud-hosted option starting at $10 per user per month, which includes support from Mattermost's team.
---
Conclusion
In conclusion, the search for the perfect Slack alternative boils down to identifying the unique needs and priorities of your organization. Microsoft Teams and Google Hangouts Chat offer robust integration with their respective ecosystems, making them suitable choices for those heavily invested in Microsoft Office Suite or Google Workspace.
Discord, though designed primarily for gamers, offers a more casual atmosphere with voice chat functionality that could appeal to specific industries or small teams. Twist stands out for its focus on asynchronous communication and built-in task management, catering to teams striving for productivity and a distraction-free environment.
Finally, Mattermost provides a secure, self-hosted option for those willing to invest time and technical expertise, granting unparalleled control over data and customization.
Ultimately, the decision should be guided by the desired features, collaboration style, and budget constraints within your organization. By evaluating each platform's pros and cons, you can make a well-informed choice that best aligns with your team's communication and productivity goals.