Our content is supported by our readers. We may earn an affiliate commision from buying links on this site.
A strong online presence is essential for anyone looking to showcase their work and attract potential clients or employers. A portfolio website is a perfect platform for artists, photographers, designers, and other creative professionals to showcase their skills and accomplishments.
This review article will take a closer look at some of the best portfolio website builders on the market and compare their features, pricing, and ease of use to help you find the right one for your needs. Whether you're a beginner looking to build your first portfolio website or a seasoned professional looking to upgrade your existing site, this article have you covered.
Website builders vs. Portfolio builders
When it comes to building a website to showcase your work, you might be wondering whether to use a general-purpose website builder or a portfolio-specific website builder. While both types of builders can be used to create a portfolio website, you should consider some key differences before deciding.
Website builders are general-purpose tools that can be used to create any website, including a portfolio website. These builders are usually easy to use, even for beginners, and they often come with a wide range of templates and features to choose from. The downside is that they may not have as many portfolio-specific features and customization options.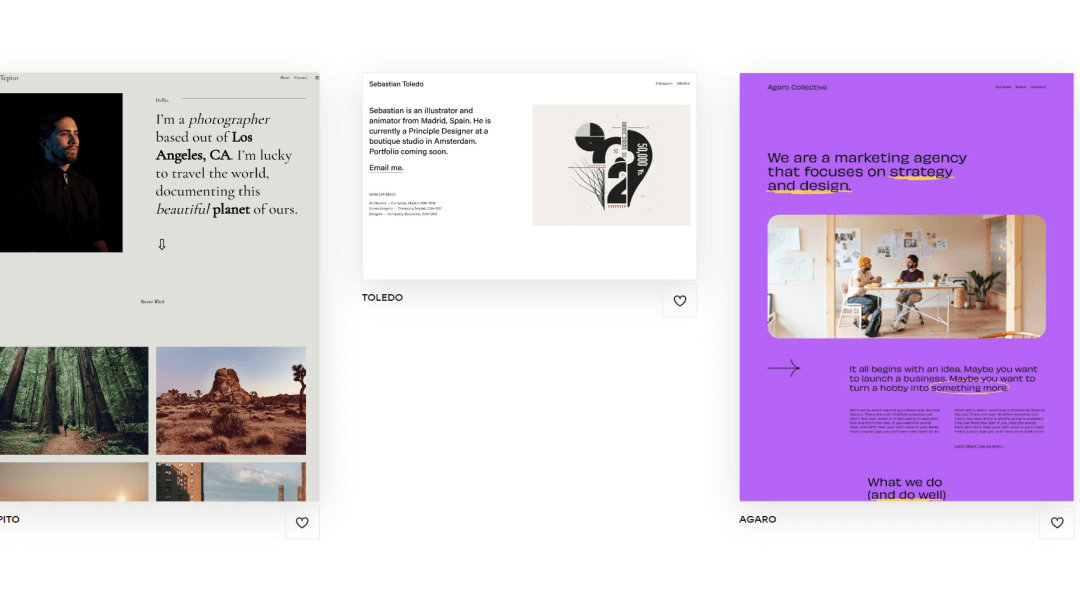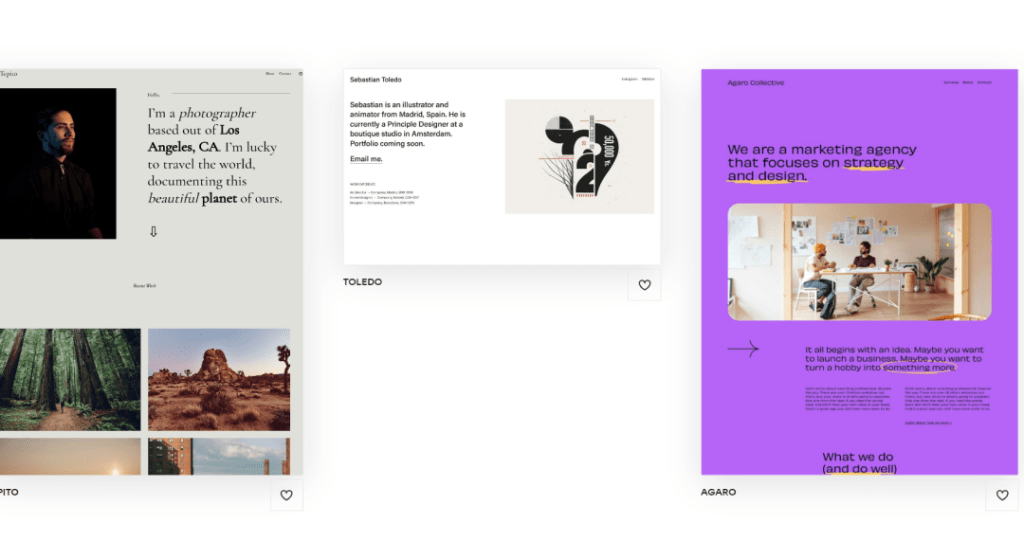 On the other hand, portfolio builders are specifically designed for building portfolio websites. They often come with a wide range of portfolio-specific templates and features, such as galleries and slideshows, that make it easy to showcase your work. They may also offer more customization options and the ability to integrate with other platforms, such as social media.
You must consider your specific needs and preferences when choosing between the two. This article focuses specifically on portfolio builders, but some of the solutions listed also offer website-building capabilities. This is great if you plan to expand your website and/or business.
The Best Portfolio Website Builders
Name


app name

Price


per year

Free


has a free plan?

Templates


how many?

Blog


can write blogs?

eCommerce


can sell services/products?

Rating


average on G2 & TrustPilot

Webflow
$168
yes
100+
yes
yes

Squarespace
$192
no
50+
yes
yes

Zyro
$144
trial only
45+
yes
yes

Tilda
$120
yes
100+
yes
yes

8b
$47
yes
20+
yes
yes

Format
$42
no
100+
yes
yes

Framer
$60
yes
20+
yes
yes

Carbonmade
$108
trial only
100+
yes
yes

Dunked
$96
no
18
yes
yes

Carrd
$108
yes
14
no
no
The table above gives a general overview of each tool's features, pricing, and rating. You can navigate the article normally or click on the app name to read the full review to jump to that specific review!
---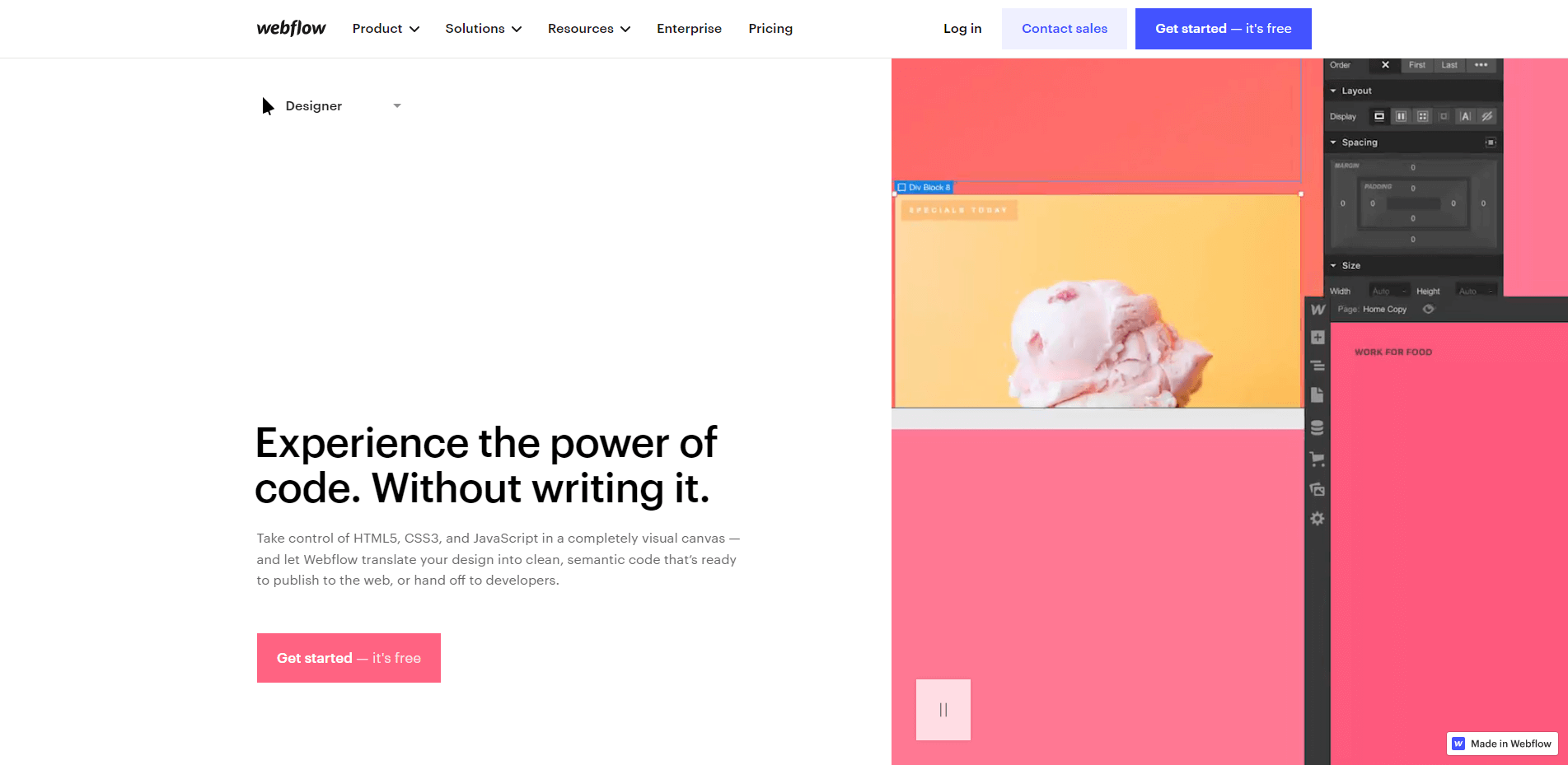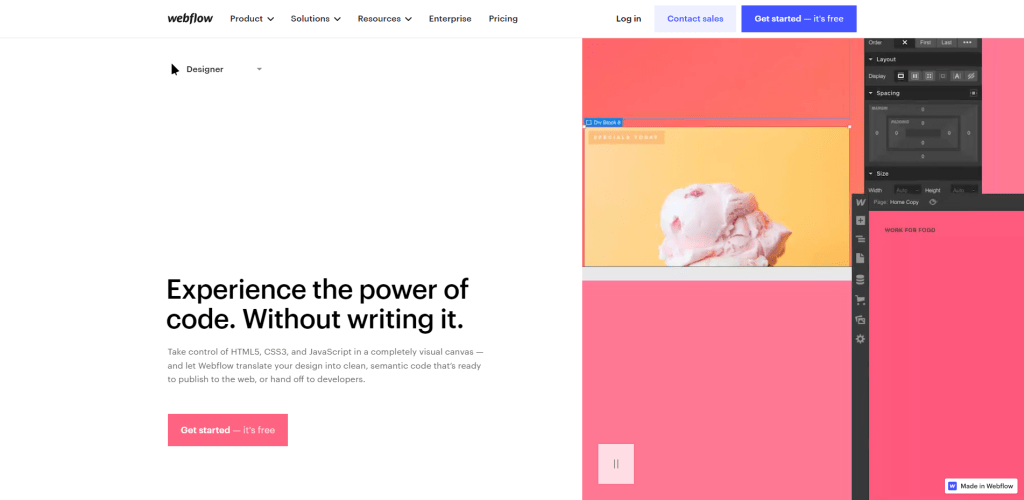 One of the best no-code website-building solutions in the world
I've been a huge fan of the work that Webflow does for many years now, and I have previously covered their platform in prototyping and landing page contexts. And as far as portfolio building goes - if you're after creative freedom and a smooth page-building experience, very few platforms can compete with Webflow's tools.
For starters, Webflow offers two types of portfolio-building approaches. One, you can create your portfolio using a pre-made template, which you can customize to your liking. And second, you can build an entire website from scratch using nothing but their visual website editor.
Personally, I found the editor to be easy to work with, and it should be even easier if you have some technical experience, but for the most part - all settings and options are documented to a great extent directly from the editor's dashboard. Alternatively, you can enroll in Webflow's 21-day portfolio course free of charge.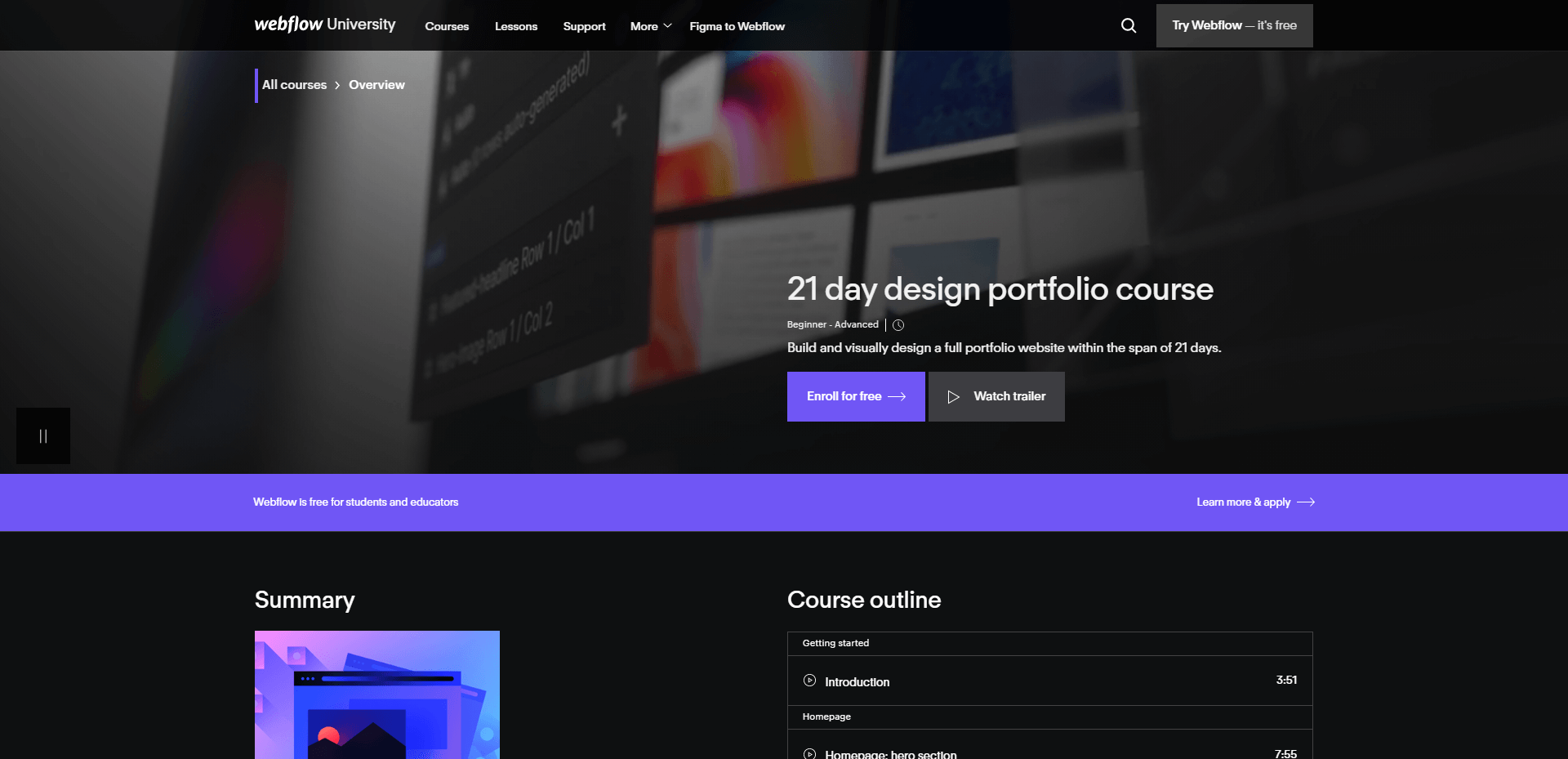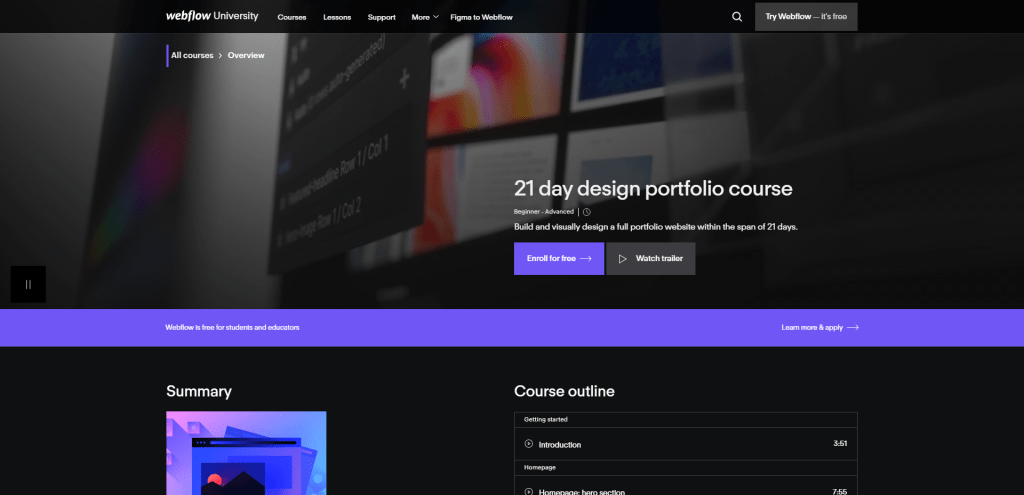 Another thing that sets Webflow apart from other similar products is that the Webflow team is heavily invested in pushing their product to meet future demands. In other words, they're actively developing new features that provide access to tools such as dynamic content and third-party integrations (for payments, for example) and focusing on areas like Memberships, SEO, and Accessibility.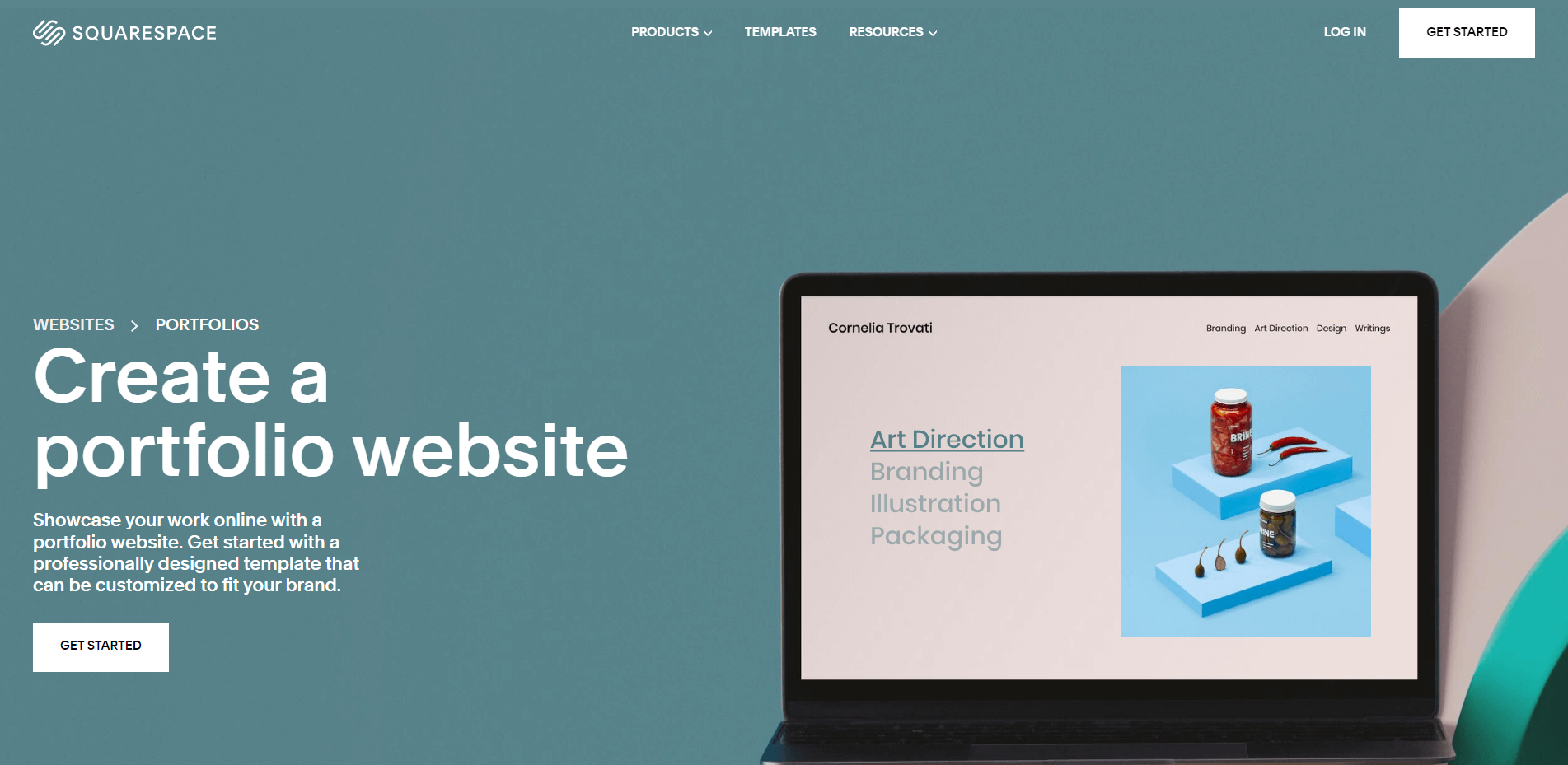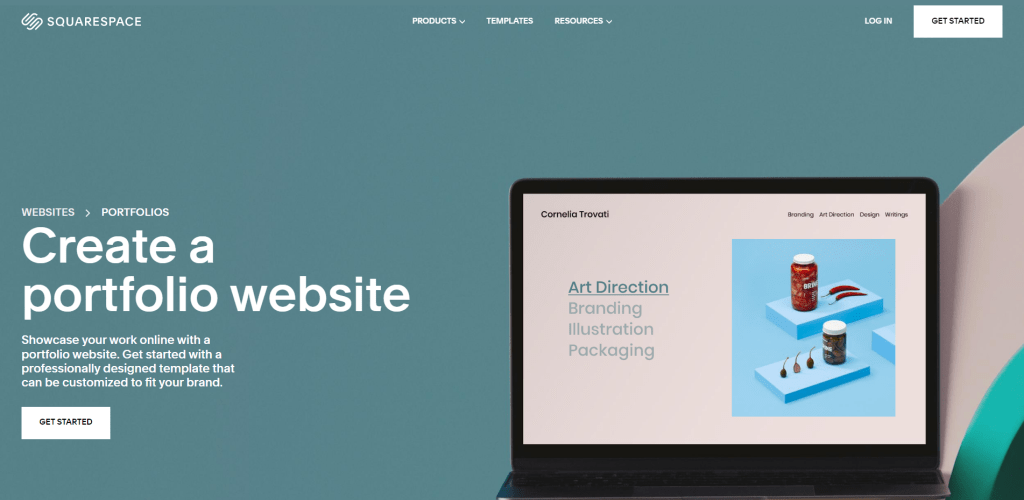 World-class platform with high-profile customers
If you had asked me five years ago what I think about Squarespace and whether I recommend it, I think my answer would have been a clear "no". As to why, Squarespace (and similar platforms like Wix) didn't have a great reputation in areas like search engine optimization or reliable solutions for eCommerce.
But a lot of that has changed because to stay competitive in a space like website builders, you need to give customers the right tools so they don't feel like they need to delegate certain features to external products. And as for Squarespace specifically, they have improved a lot over the years.


These days Squarespace offers several solutions for creating websites and online stores, but also solutions for building your brand. All are part of their general offering. But the best part is that all of these features are bundled into a single interface, often requiring as little as three steps to get started.
For example, if you wish to create a portfolio website with Squarespace, you start by selecting a website template you like. Then, you can customize this template to add or remove pages or add elements such as a calendar and a scheduler and hit publish. Your website is live and ready to go!
Squarespace doesn't try to market itself as the all-in-one solution; instead - their marketing messages are often tailored towards businesses needing an online presence without all the hassle involved in maintaining it. They specialize in portfolio websites, online stores, blogs, local businesses, and specific niches like services and restaurants.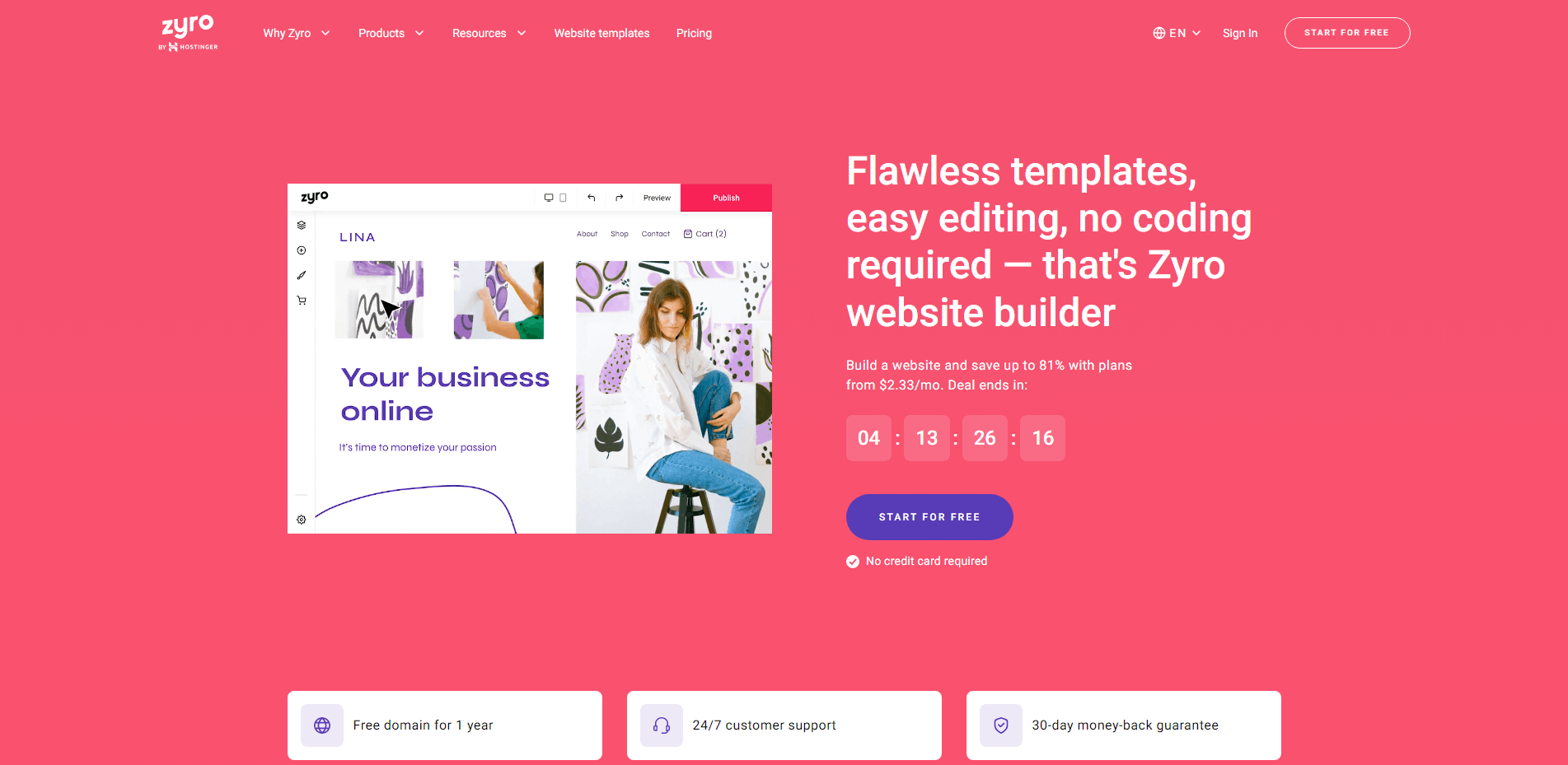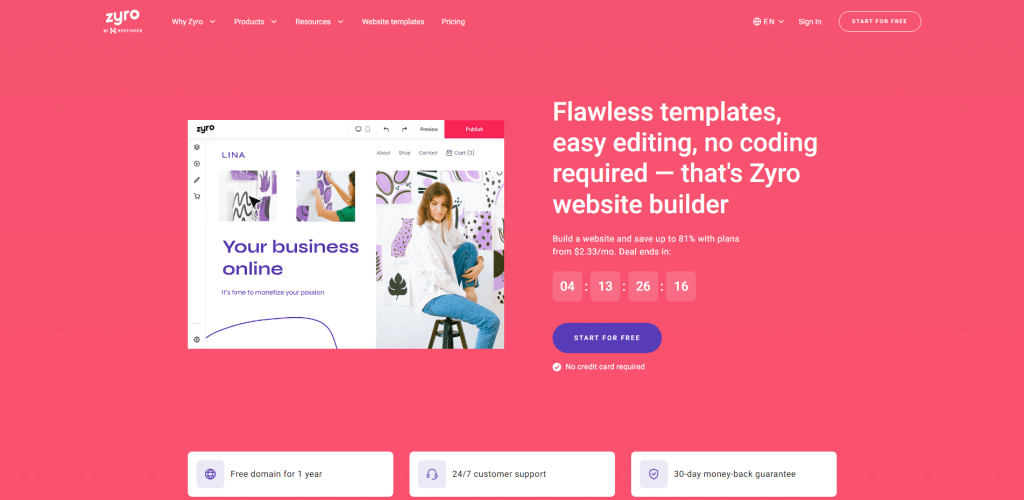 Brought to you by one of the leading hosting companies
Zyro is a no-code website builder that's run by Hostinger, one of the world's leading web hosting companies. If you'd like to learn more about Hostinger's services, I've reviewed what they offer in my WordPress hosting article and my recent article on affordable web hosting solutions.
One of my favorite things about Zyro is how much they offer, even on their most affordable plans. For example, the entry-level plan includes a free domain name (1 year), marketing tools (Google, Facebook), website hosting, and a complimentary SSL certificate.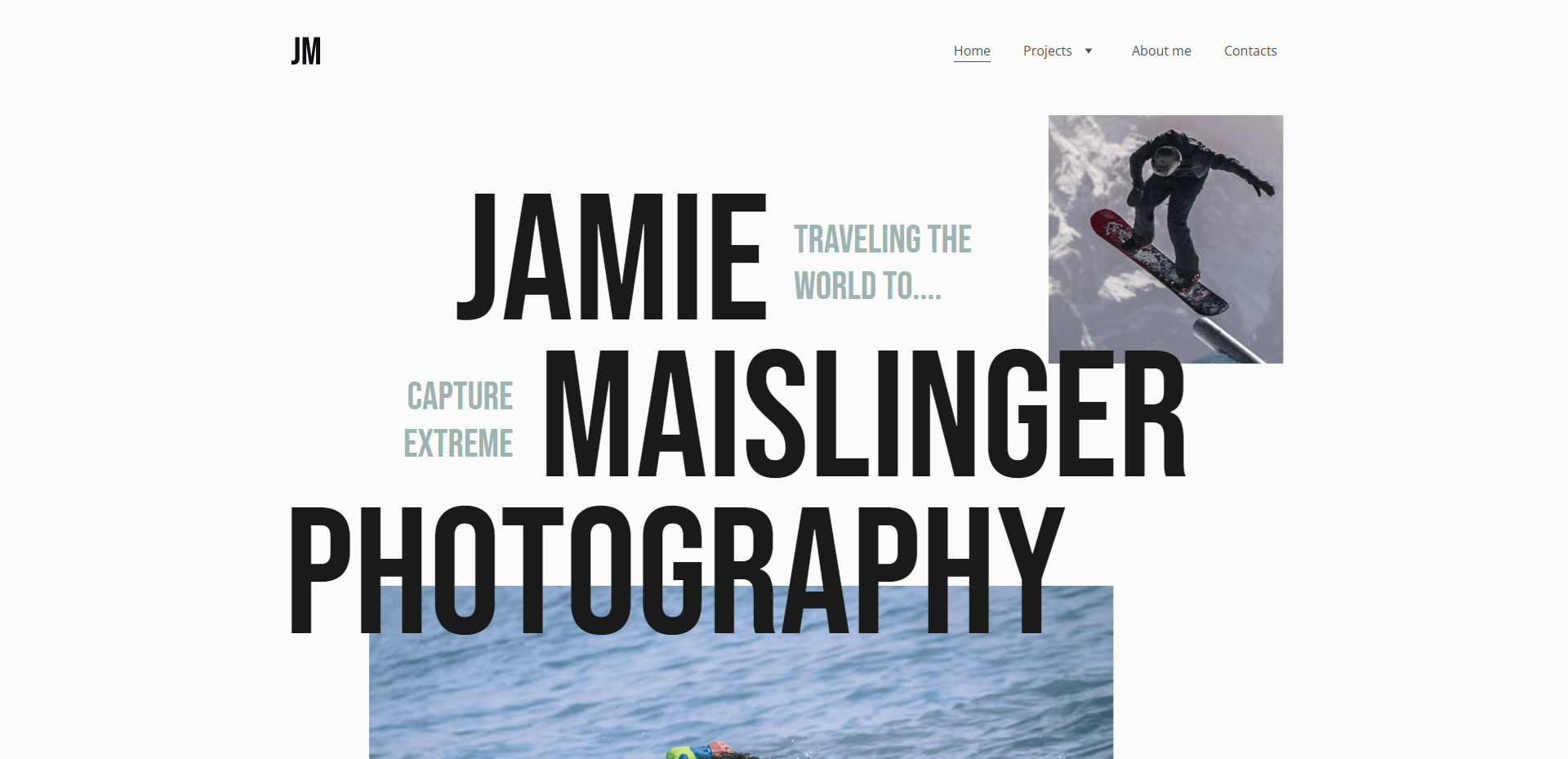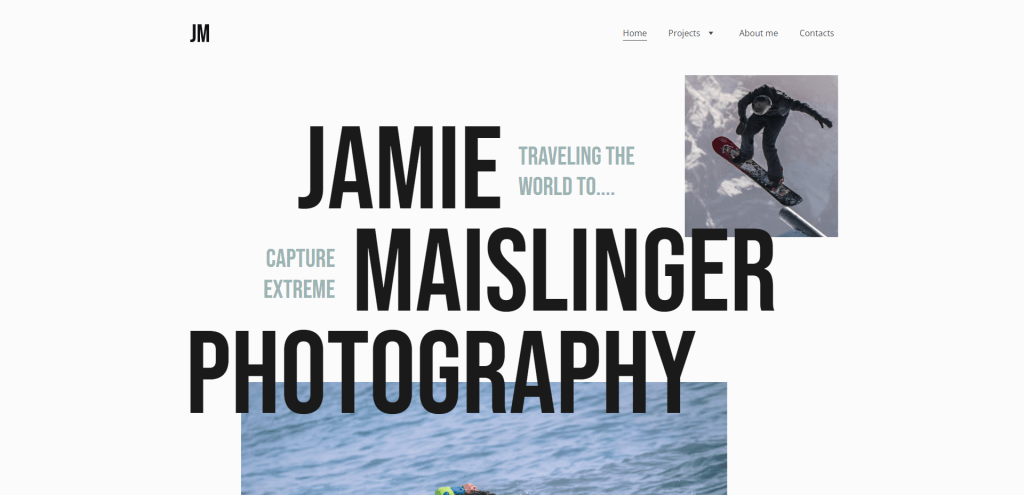 They also offer a fairly generous selection of portfolio-specific templates. And I found these templates to implement many modern design features, like the ones you see in the example above. If you love the idea of making your website pop - Zyro has a lot of interesting templates to explore!
What stood out for me the most is that Zyro specializes in AI (Artificial Intelligence) tools to help you accelerate the pace at which you build your website and also your brand. Their AI tools include a logo maker, a business name generator, and several tools for writing content using AI. So, if you ever feel stuck with coming up with a good catchphrase, all you have to do is use one of these tools for automated suggestions.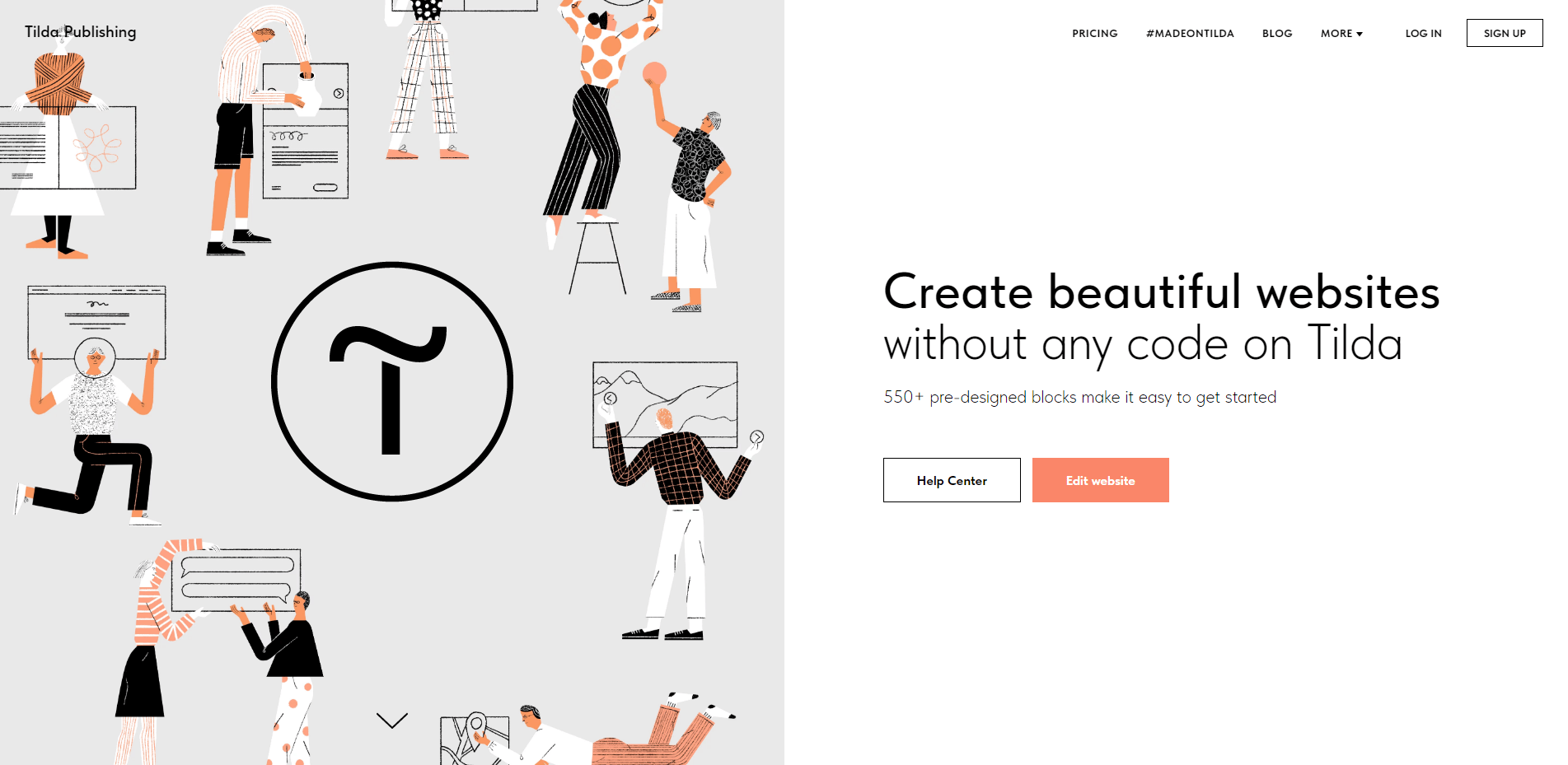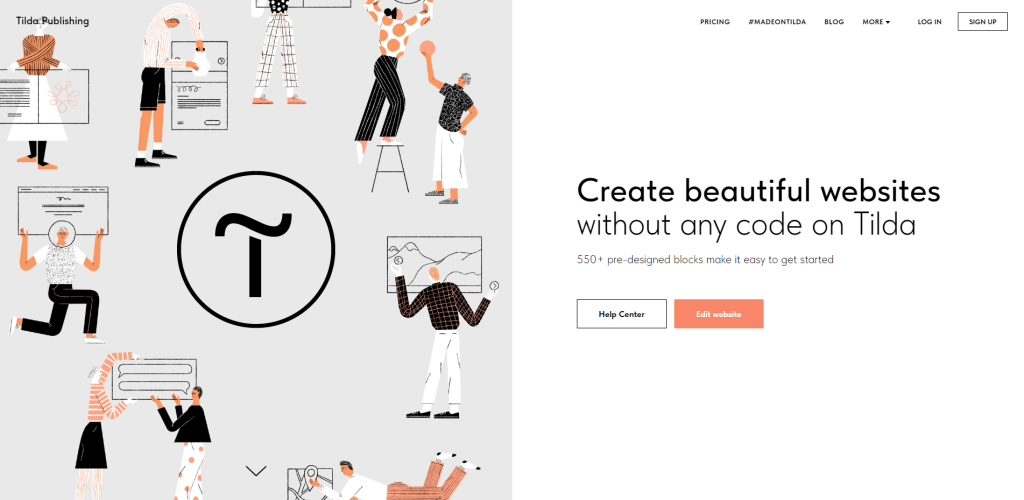 Lesser-known platform with amazing features and performance
If you've never heard of Tilda before, you're in for a treat. I hadn't heard of them either until late last year, but once I tried the platform for myself, I was completely blown away by the capabilities of their website builder, and I couldn't help but send out a tweet saying that Tilda's interface is what WordPress should have been a long time ago.
So, what makes Tilda so good? The number one thing that stood out for me is Tilda's creative approach for its blocks. The blocks in this context are the elements that make up your pages, either individual or part of a bigger project such as a blog post.


You can start from scratch, or you can use a pre-built template (of which they have over a hundred), and then make the customizations you desire. I found that their templates are kept fairly minimal, and structured so that you can tell the world who you are and what your resume is like. And everything else is up to you to design and customize.
Tilda emphasizes building your website from a blank canvas. And on this canvas, you can experiment with more than 500 custom blocks that can be customized, edited, and tailored specifically to your needs. For my next publishing-based project, I will likely commit to Tilda myself because I saw firsthand how productive it is to use their platform.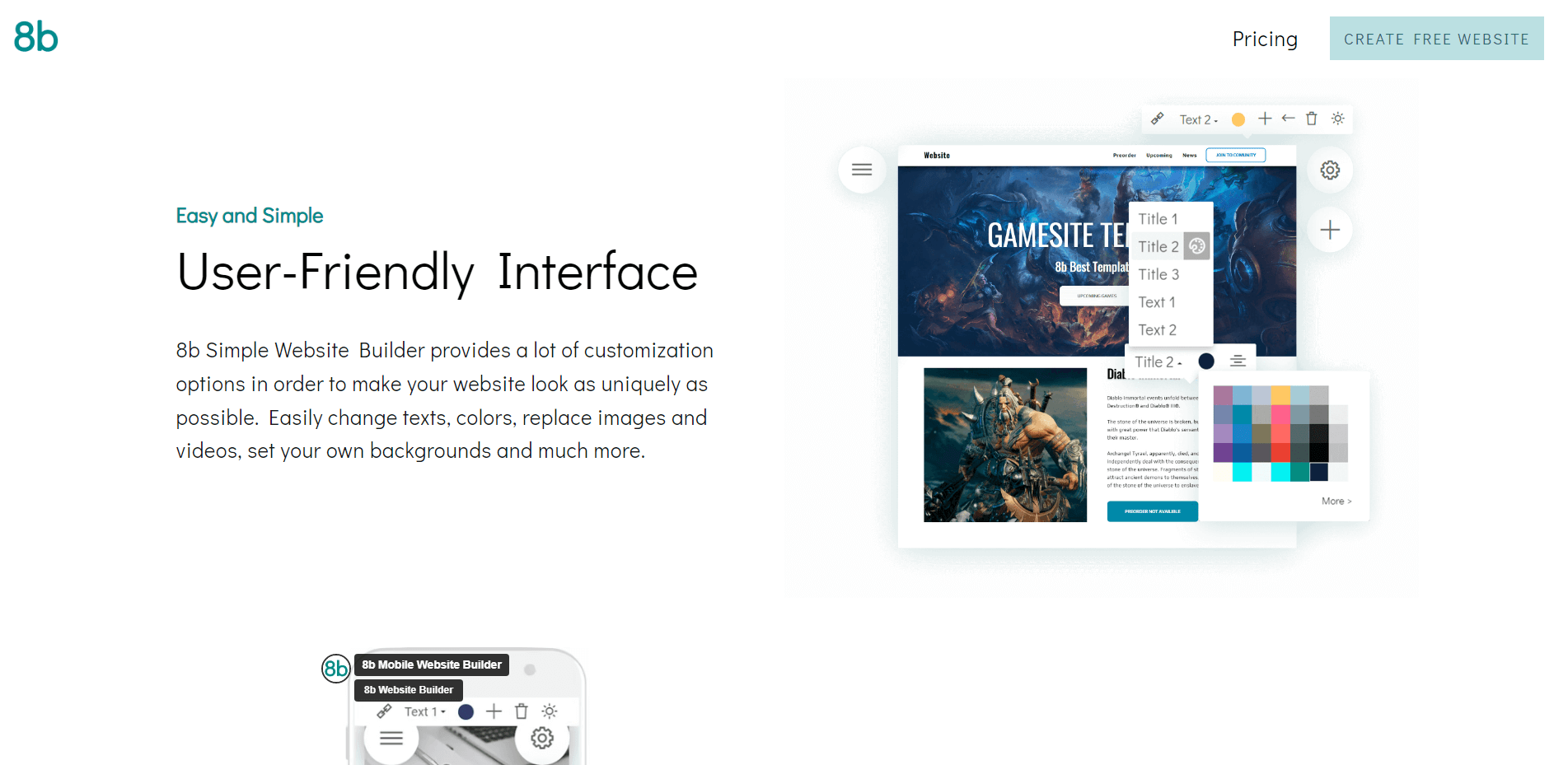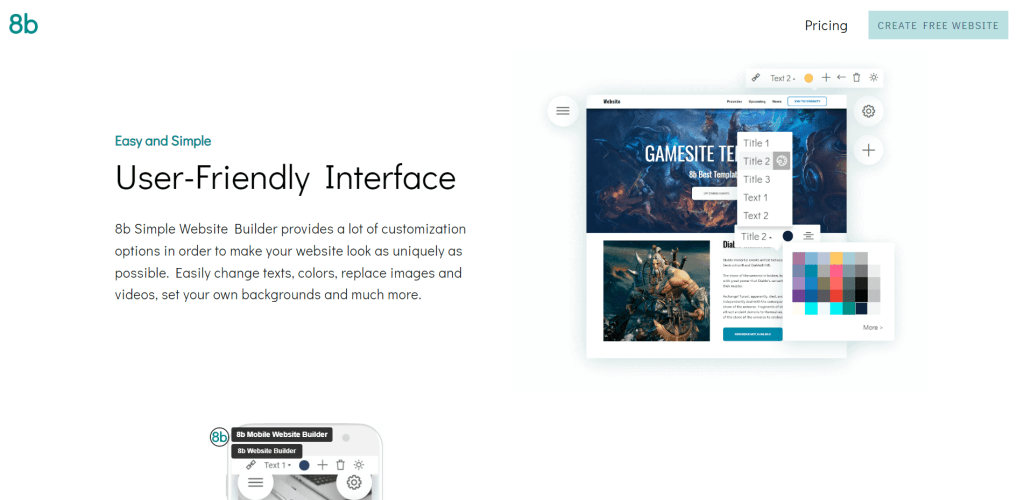 Simple yet effective portfolio-building interface
8b is a free and user-friendly website builder that lets you create fast, mobile-optimized, and Google-friendly websites in minutes without any coding knowledge required. With various beautiful templates to choose from and flexible editing options, you can easily create a unique website that showcases who you are as a person or as a brand entity.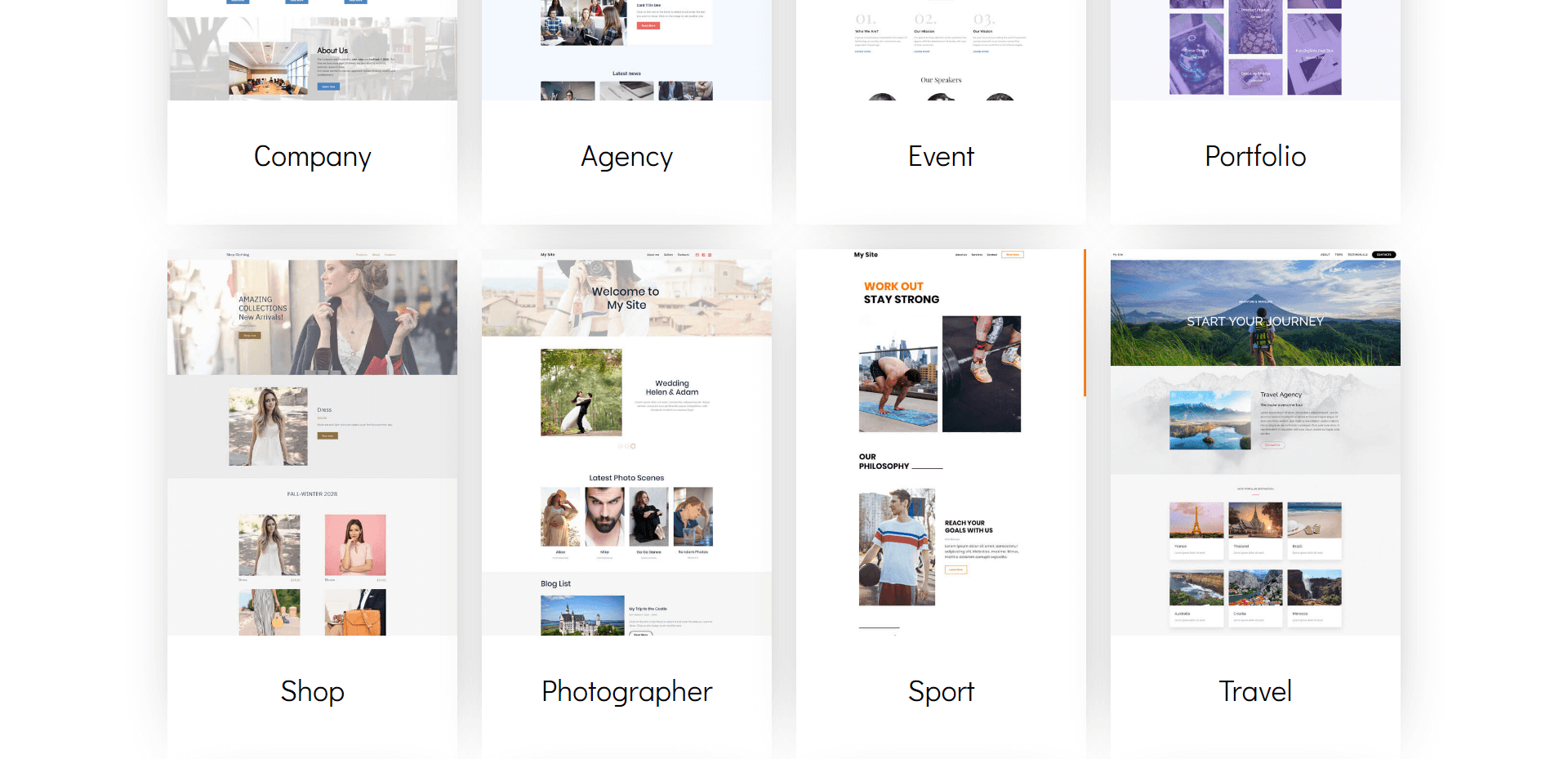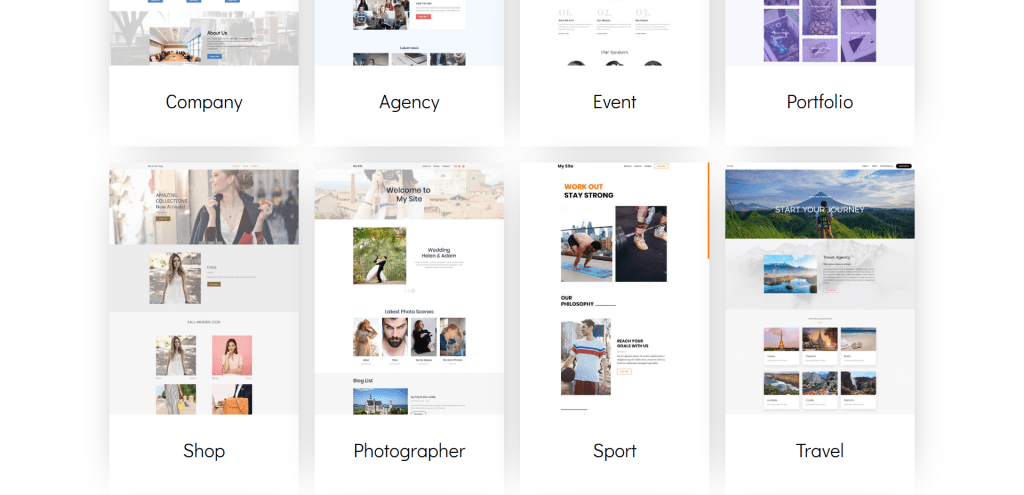 As an 8b customer, you get access to unlimited hosting, domain registration, and a free SSL certificate. They also specialize in areas like AMP and PWA, the former being a mobile-optimized browsing experience for mobile users, and the latter letting you convert your portfolio website into a mobile application!
The difference between the free and pro plans is quite nominal, albeit significant. As a free user, you cannot connect a custom domain, and neither can you export your site to be transferred elsewhere. And on top of that, free users also have ads added to their websites. That said, it's a great choice for personal (school or otherwise) projects where you simply need to have a digital presence for a select few people.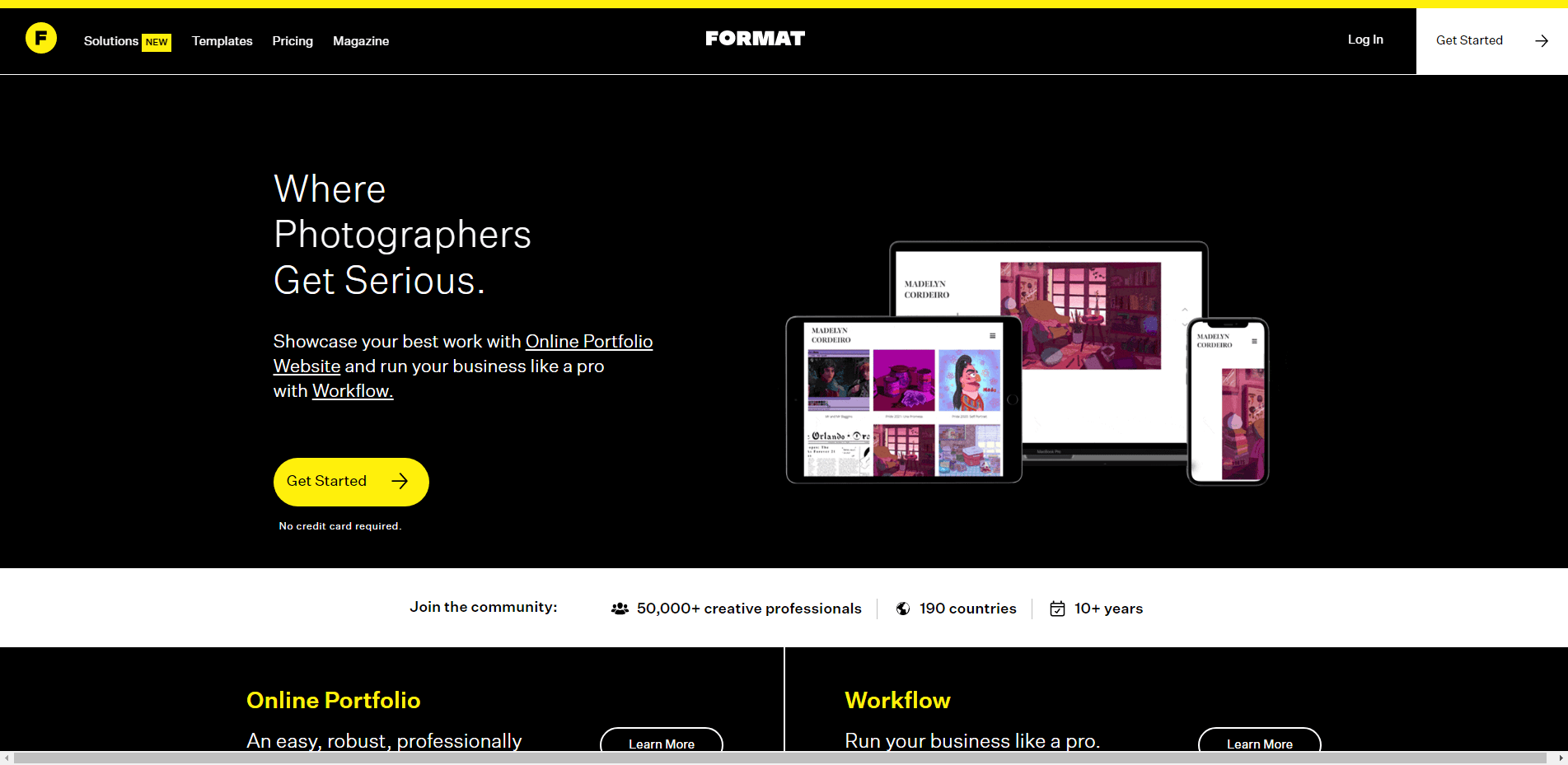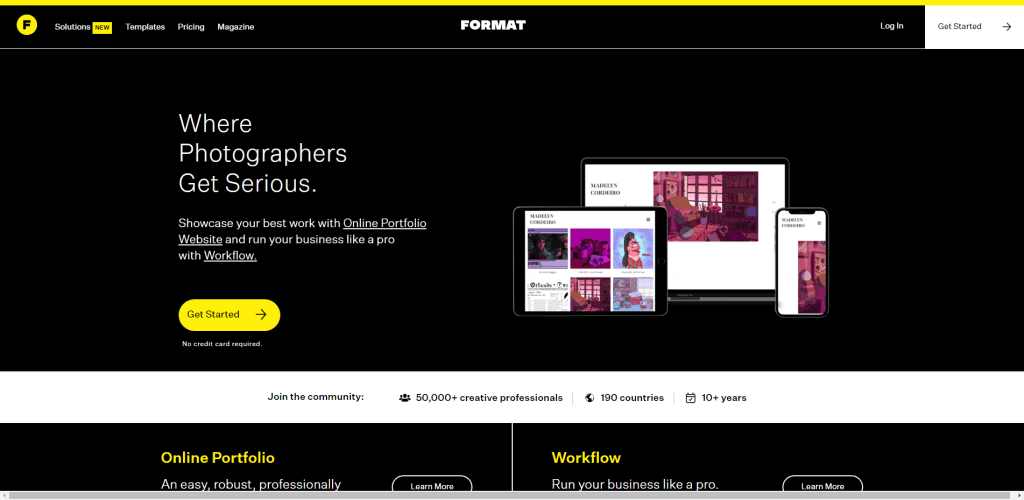 A solid platform for all-purpose portfolio needs
Format is one of the new-generation website-building platforms that specialize not only in solutions but also education. The Format Magazine has hundreds of published articles about Format as a platform and how to grow your digital business as an individual. However, one of the major features of Format is its Workflow service.


Workflow is a dedicated solution specifically for photographers, and if you are one, you'll love what Format has to offer. Rather than managing your photo files through file sharing services, with Format's Workflow, you can create a functional portfolio website and engage your clients directly through your website and share photos with them in real time!
This also includes creating entire galleries, writing up contracts, saving notes, and archiving client data over time. As a platform, Format takes care of things like fast hosting and image optimization so that your clients can access images quickly and effortlessly.
Format is a great option for those looking for a cheap and easy-to-use website builder for creative professionals. With a 14-day free trial and a money-back guarantee, you can get started with Format now with no risk.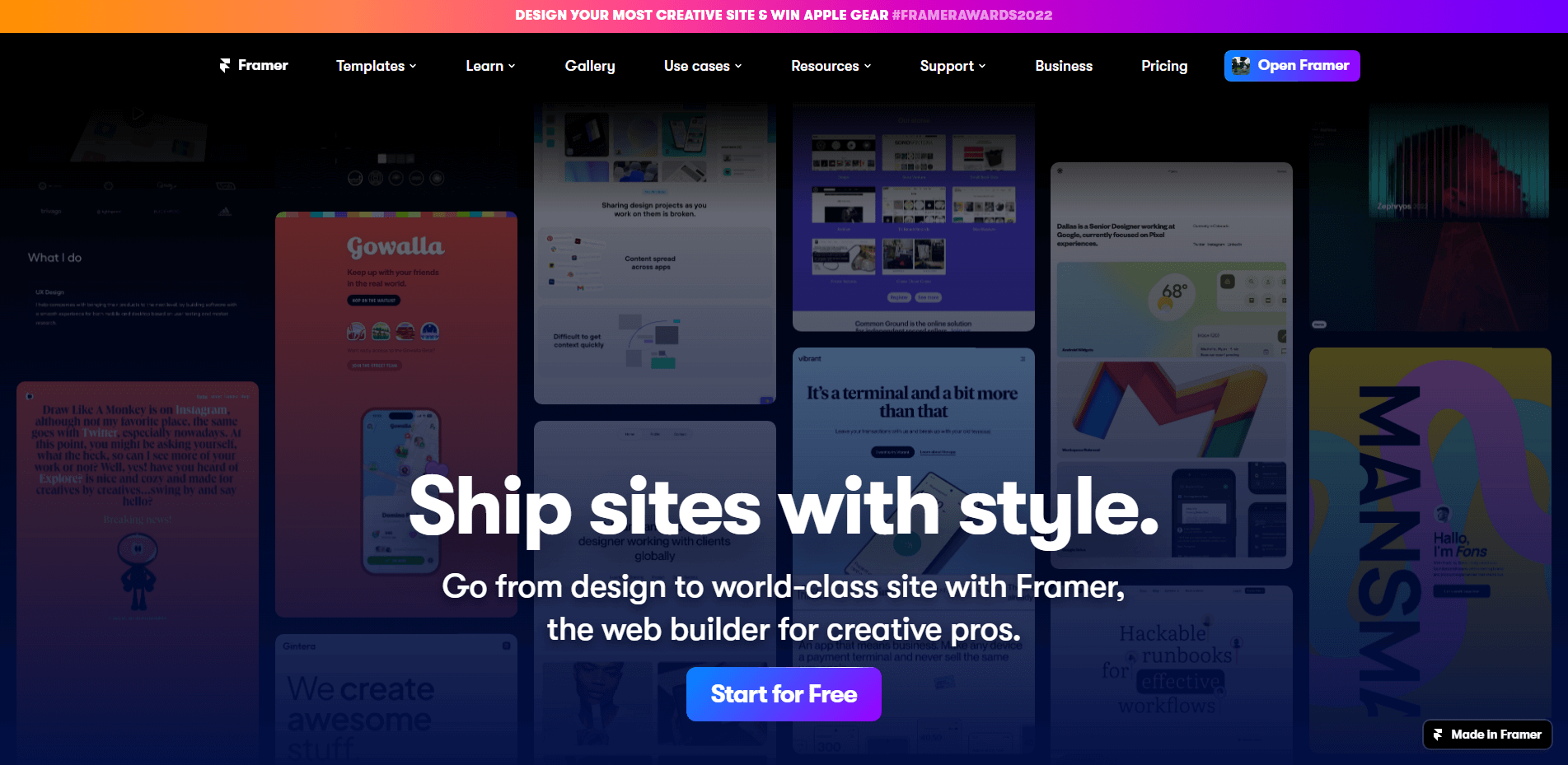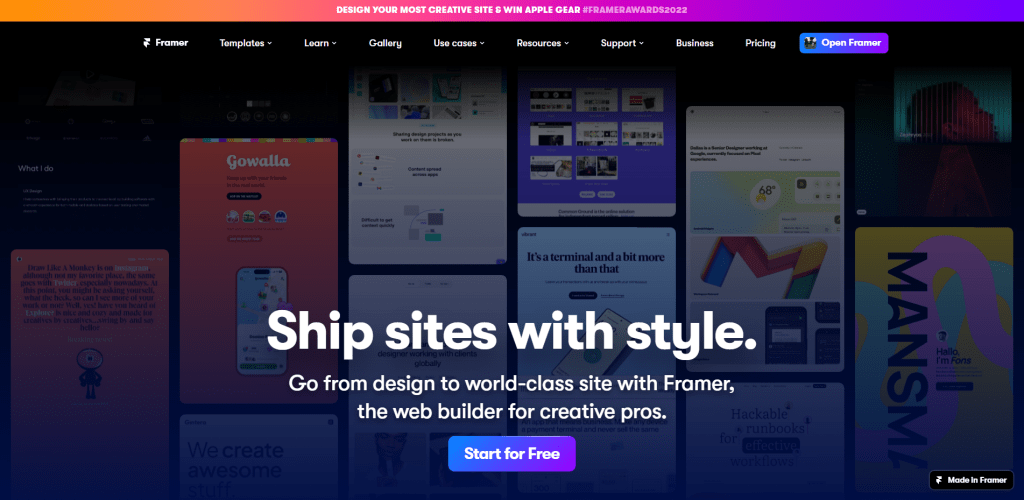 Modern features for creative professionals
Framer was initially a solution for programmers (designers with coding chops), but over the years, the platform has shifted its focus toward website building and prototyping. And these days, Framer is one of the leading solutions for creative professionals who wish to build websites, portfolios, or marketing sites without any coding knowledge at all.
Unlike similar solutions, Framer also provides a desktop application for Windows and Mac users.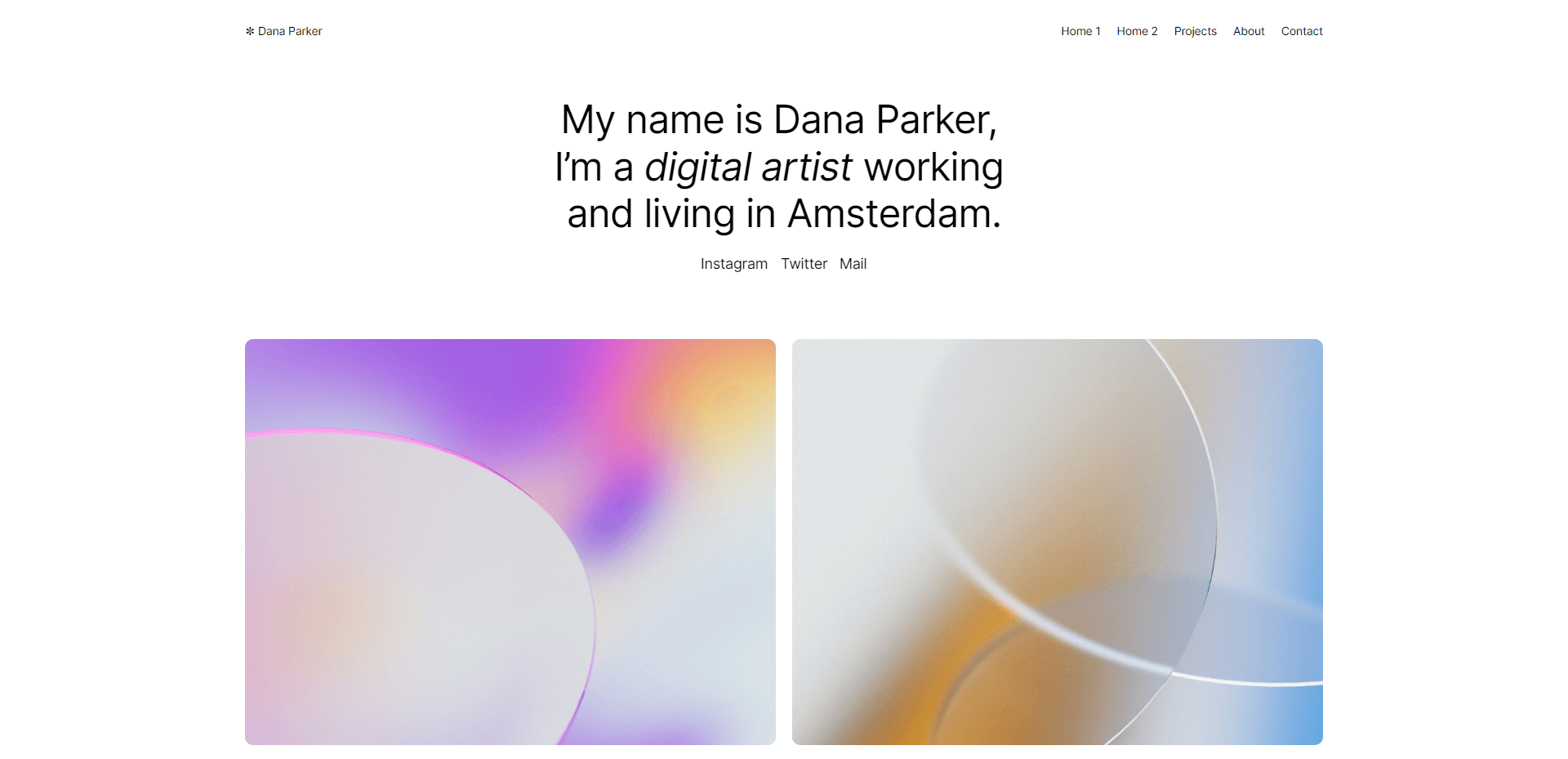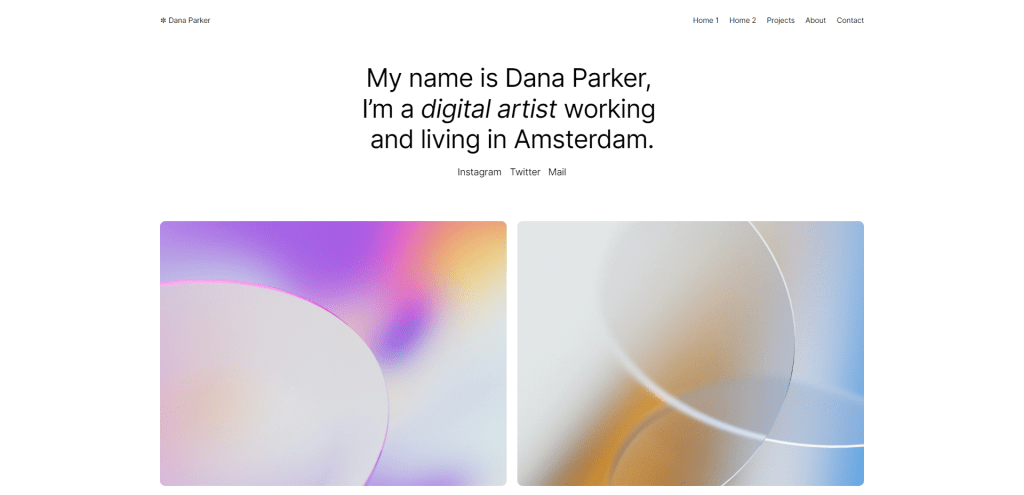 As a developer/designer myself - I love Framer because it does a fantastic job of keeping up with modern trends in website development. In other words, there are practically no limits to the creative expression you can achieve with Framer's website editor.
Everything from animation effects to page transitions to stunning visuals that captivate your site visitors is provided out of the box. And as with most of these tools, Framer lets you either build from scratch or select from one of the many pre-made templates they provide.
Worth noting that Framer also supports CMS functionality. In other words, if you're looking to add dynamic content to your portfolio website, Framer has the tools to streamline that process. In fact, I'd compare it to platforms like WordPress; from what I have seen, many others feel the same way. Framer delivers much of what WordPress does but without all the clutter and endless plugins and themes to deal with.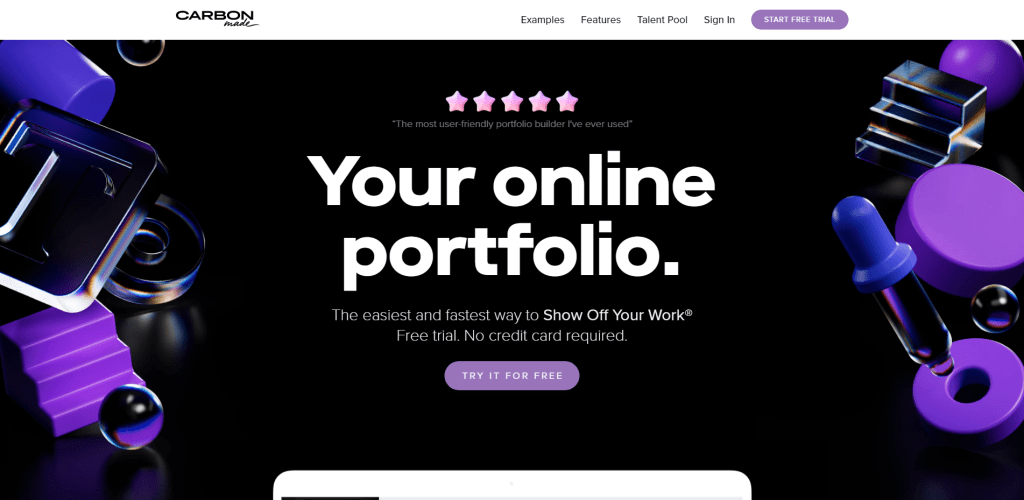 A strictly portfolio-only platform
Even though Carbonmade does not have a free plan, they offer the ability to use the platform completely free until you wish to publish your website. This means you can experience their product, see what it is all about, and become a paying customer if you like it.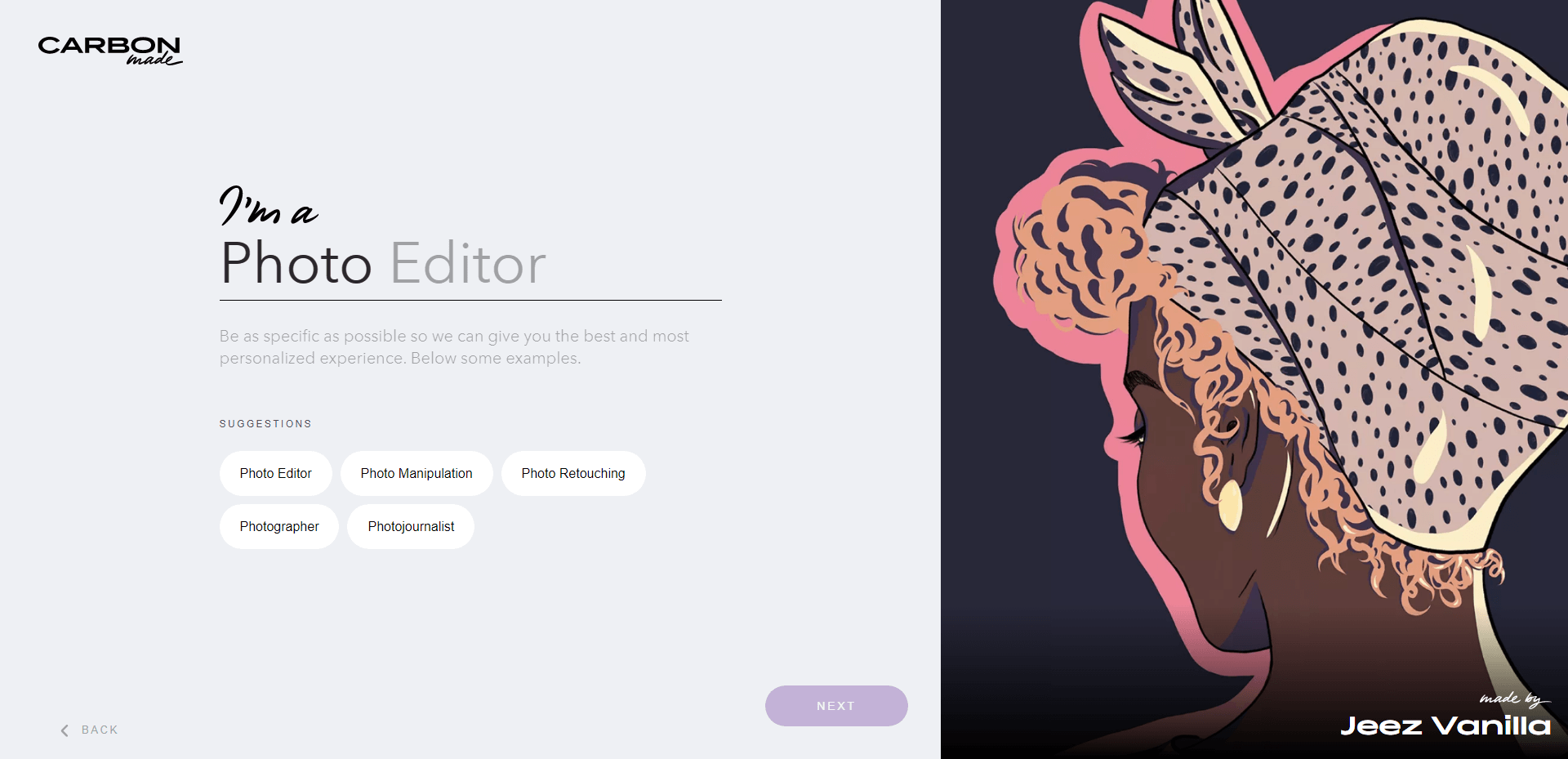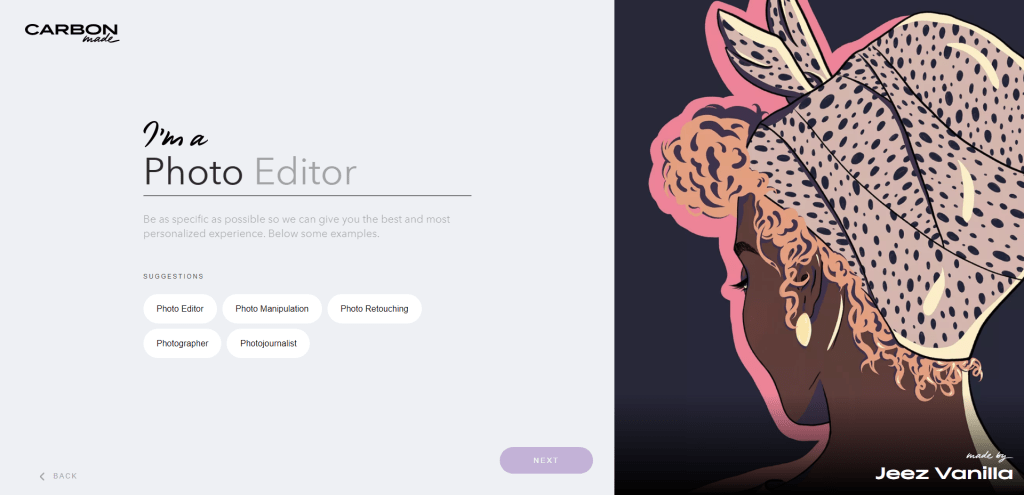 So, one of the key differences between Carbonmade and similar platforms is that this platform is specifically for portfolio-based projects. You start by using the onboarding process, during which you can specify your name and profession. Carbonmade will automatically generate several pre-made website designs you can preview and ultimately pick as your starting template.
I found the designs to be simple, to the point, and from within the Carbonmade Editor - you can further improve those pre-made templates with custom design options in the form of blocks and layout elements. And you can, of course, simply stick with the pre-made layout and then change all the information to reflect your needs. The important thing is that you do have the ability to customize each design further.
As a creative professional, you will likely be dealing with various file formats, whether to showcase your work or allow others to download your materials. Carbonmade offers numerous solutions in this area, such as photo galleries, sliders, audio and video playback, and custom image management tools. Having access to these features means you don't need to jump to other software whenever you want to make changes to your website.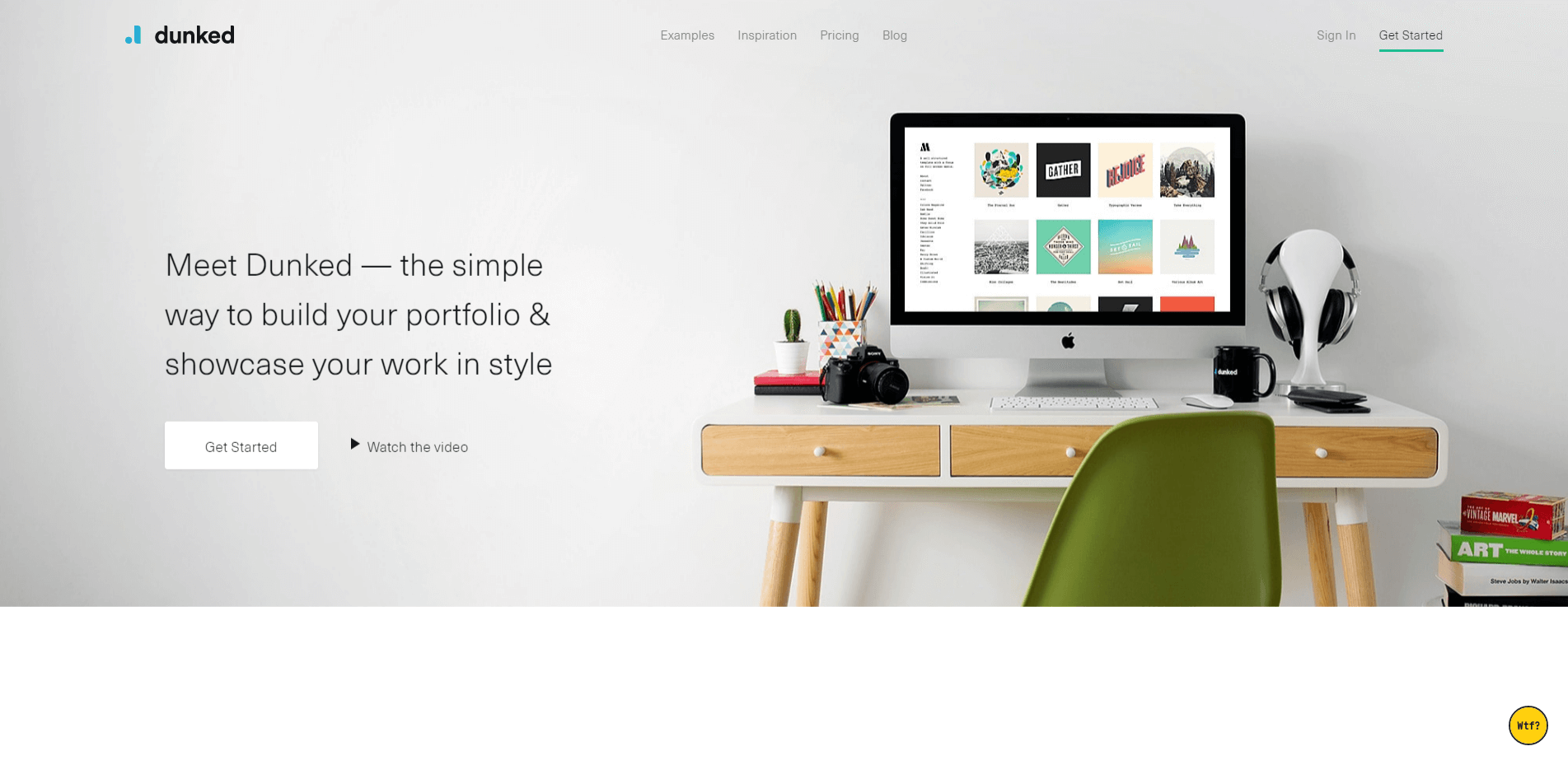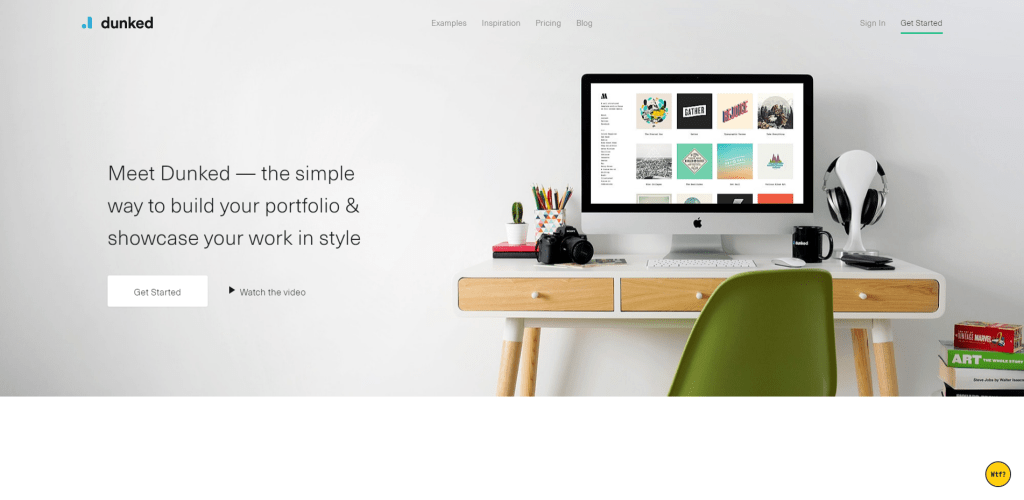 Build and showcase your portfolio with ease
The Dunked platform is part of the Make Lemonade agency, which is best known for its projects such as Iconic, Premium Pixels, and Lemon Squeezy. In other words, these guys have been living and breathing web design for over a decade, with a tremendous reputation in the designer community. And Dunked is their take on what a portfolio website-building experience should be like.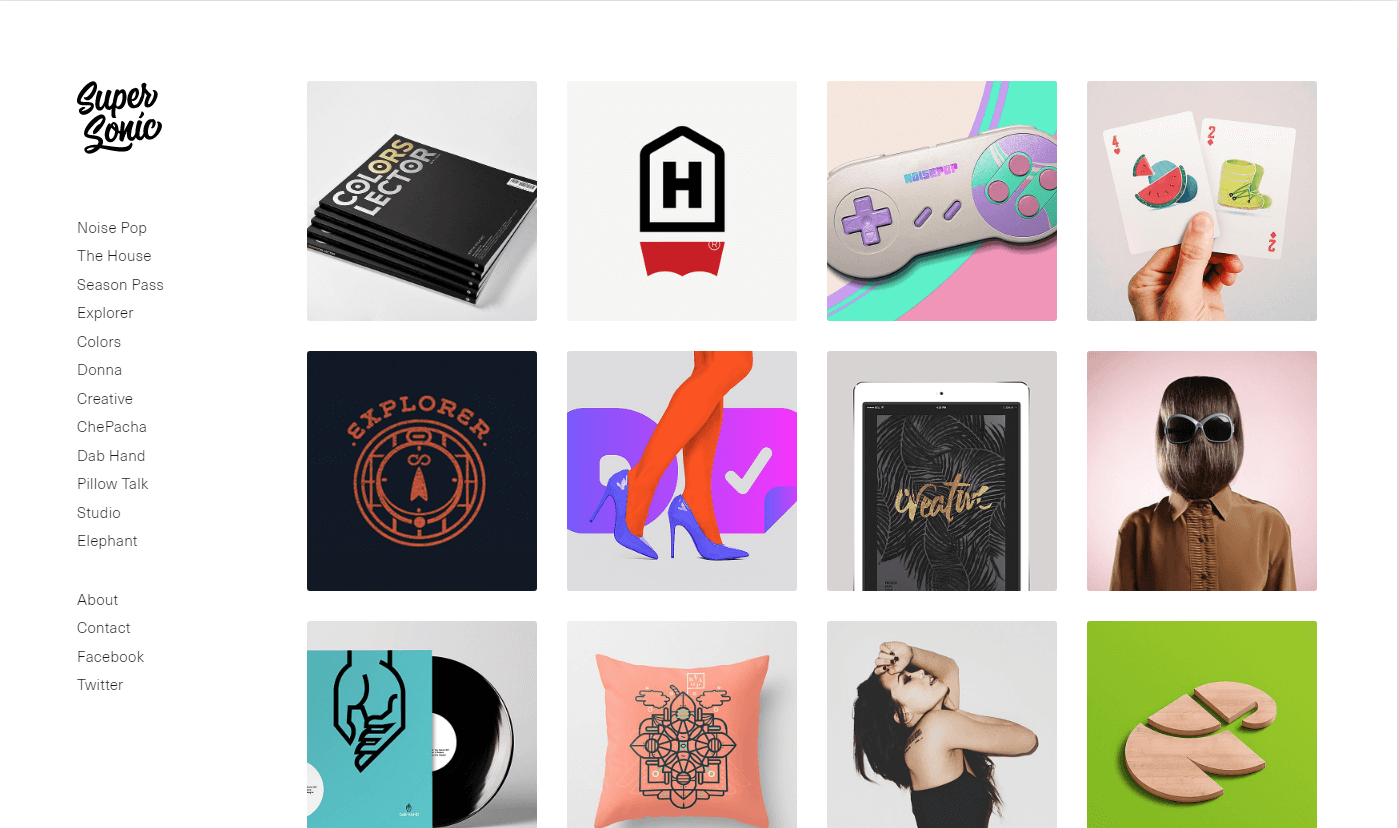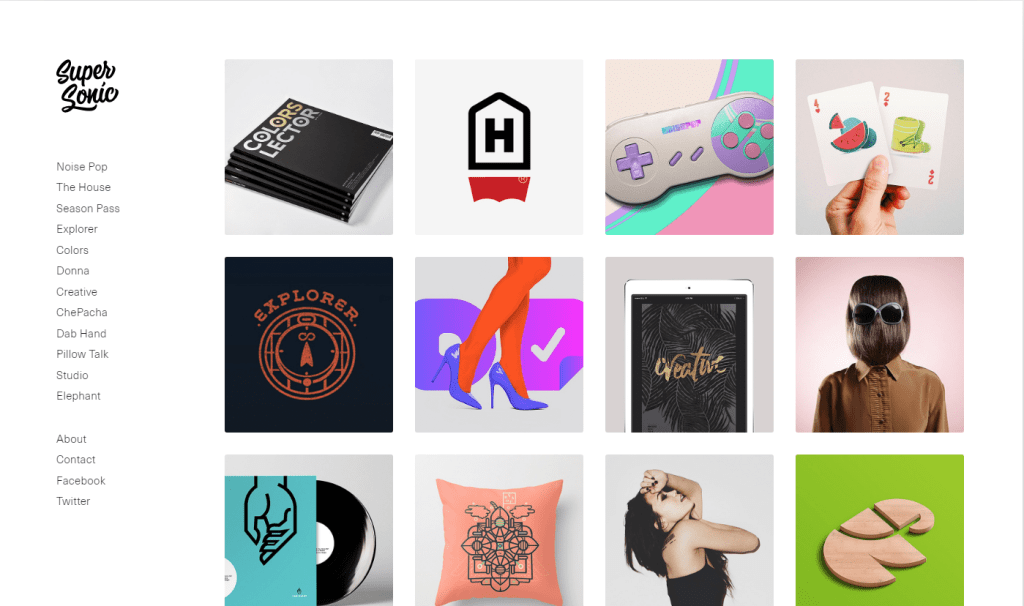 Having tried the majority of templates that Dunked offers, I can comfortably say this platform would be ideal for anyone working in graphics design, photography, filmmaking, and similar creative endeavors. The focus for most of their templates is specifically on the visual presentation of images, videos, and graphics.
The navigation in each design is kept to a minimum, but you do have the option to create pages such as your About page, a Contact page, but also any outgoing links to your social media profiles such as Instagram and Facebook.
Besides needing to register a domain name with an external registrar (they have explained how to do this on their Help page), Dunked is an excellent choice with great pricing and a straightforward publishing experience.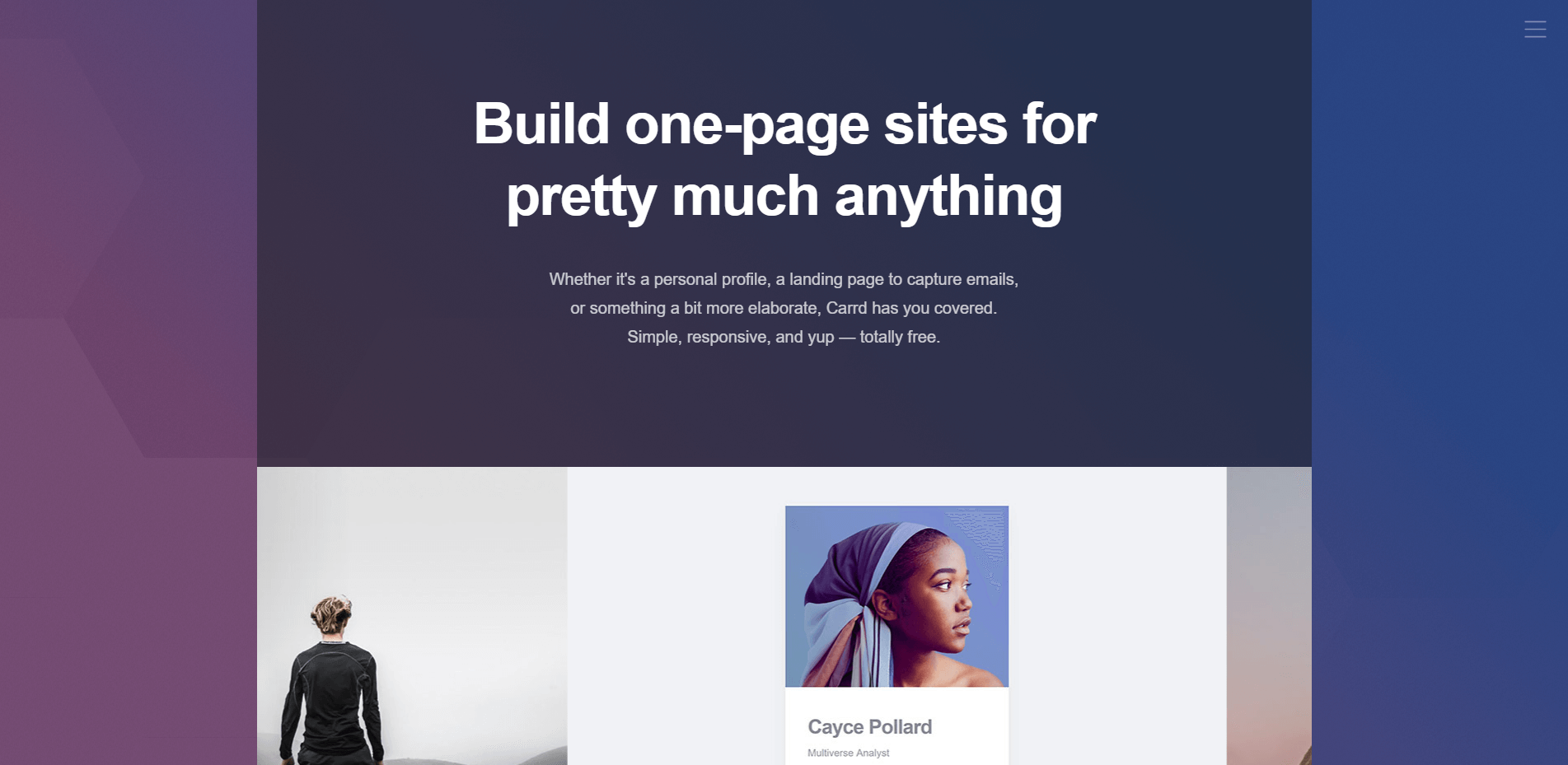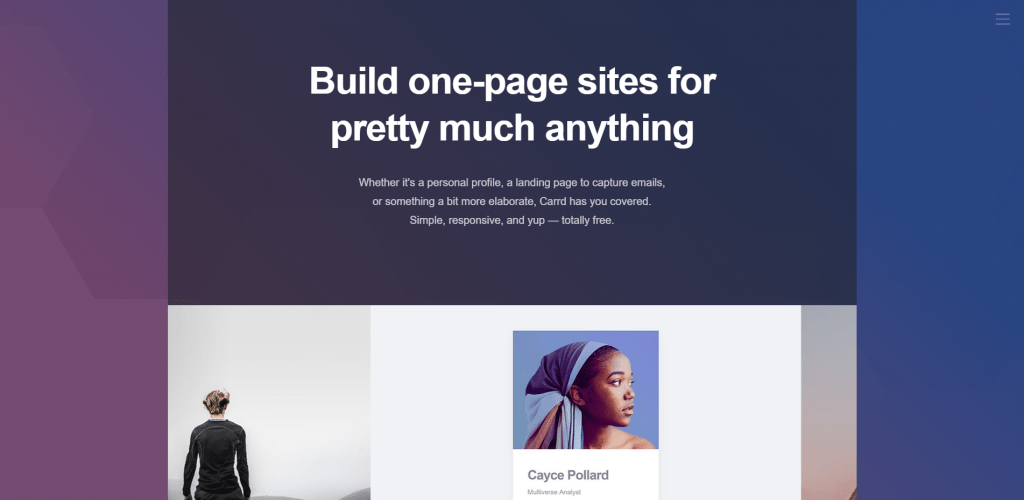 Simple portfolio builder with many third-party integrations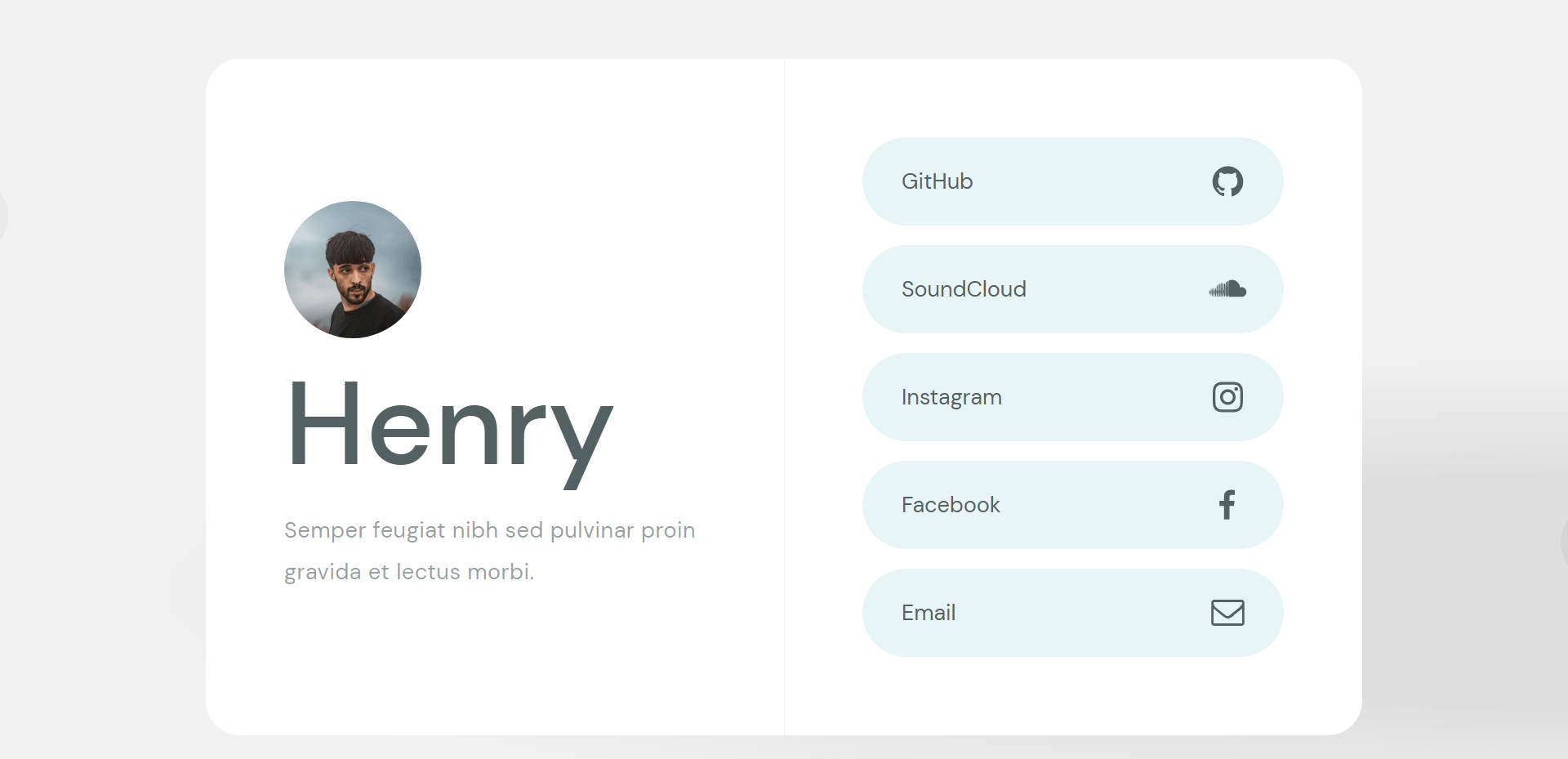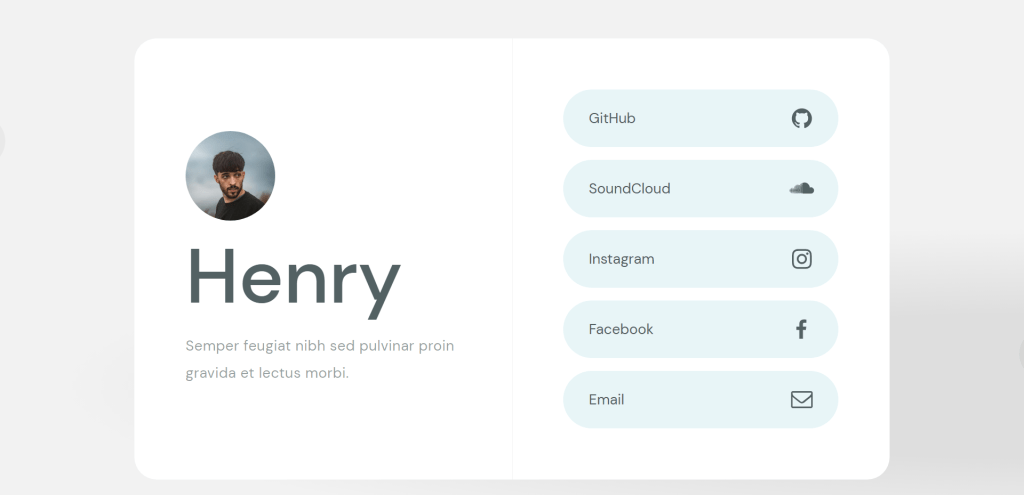 At the beginning of this article, I outlined that Carrd only has 14 free templates. While this is true, as a premium user, you get access to more than 170 templates in total. These templates are custom-designed and often stick to a minimalist theme that resembles bio-link websites.
That said, it is possible to use Carrd for blogging and eCommerce purposes, too, through third-party integrations that come with a premium plan.
Signing up for the Pro plan is completely optional. But if you do, it gives you access to features like using a custom domain, adding Google Analytics, and embedding forms and widgets from third-party websites.
Summary
Building a personal portfolio used to be, at the very least, a technical task, though this changed drastically over the years. The majority of platforms we reviewed throughout this article can help you set up a portfolio website in less than 5 minutes, with minimal editing and customization required on your part.
And to top it off, we also looked at several niche-specific solutions, such as platforms specializing in photography, professional services, and beginner-friendly website solutions.
As with all my review articles, I do a monthly check-up to ensure that any changes in pricing or features are also reflected in the article. If you need help deciding on the best platform for you - feel free to hit me up by email or social media!