The days of using static HTML templates for creating landing pages are slowly but surely fading away. These days, the capabilities of website builders are so powerful that you can design a professional-looking landing page at minimal cost, but even free if your requirements are low.
This article is structured as a one-stop shop for the best landing page builders, ranging from solutions for solo entrepreneurs to businesses and agencies that need to create landing pages for their clients.
We will review everything from cost to template quality and whether or not a specific builder provides marketing features. And we've also gathered feedback from sites like G2 and TrustPilot to give you an idea of how popular a certain builder is among its users.
How to choose the right landing page builder for you?
When it comes to landing page builders, they range from simple for individuals to more advanced for businesses that work as a team. And when it comes to landing pages specifically, there are a few factors to consider to make it easier for you to find the right tool for the job.
Templates or starting from scratch? Not everyone likes to start from scratch, so how many templates/choices for designing a specific tool provides can go a long way in helping you make a sound decision. We've covered this for each builder separately.
All-in-one or design only? Do you need more than just the landing page design and basic functionality? If yes, several tools on this list specialize in full-scale marketing and branding features to kickstart your business idea.
Need the ability to export your pages? Chances are, you might need a way to export your final designs to use on your own hosting platform or to give to your clients/friends – almost all platforms mentioned in this article provide this feature.
What's your budget? There are plenty of free landing page builders covered in this article; with their respective limitations. That said, some of the more expensive tools tend to provide features that are tailored specifically for the purpose of building business-like pages.
Throughout this review, we've tried our best to answer as many questions as possible about each builder. Furthermore, we've also outlined the major features you can expect to give you an idea of each tool's strengths. You can use the comparison table below as a starting point.
the best landing page website builders
Name


app name

Price


per year

Free


has a free plan?

Templates


how many?

Marketing


popups, funnels, etc?

Custom code


can add custom scripts?

Rating


average on G2 & TrustPilot

Webflow
$168
yes
1,000+
yes
yes

Elementor
$49
yes
2,000+
yes
yes

Divi
$89
no
1,500+
yes
yes

Launchrock
$249
no
7
yes
yes

Wishpond
$528
trial only
100+
yes
yes

Leadpages
$444
trial only
100+
yes
yes

Unicorn
$96
yes
16
yes
yes

Carrd
$108
yes
35+
yes
yes

Typedream
$144
yes
100+
yes
yes

Popsy
$96
trial only
14
yes
no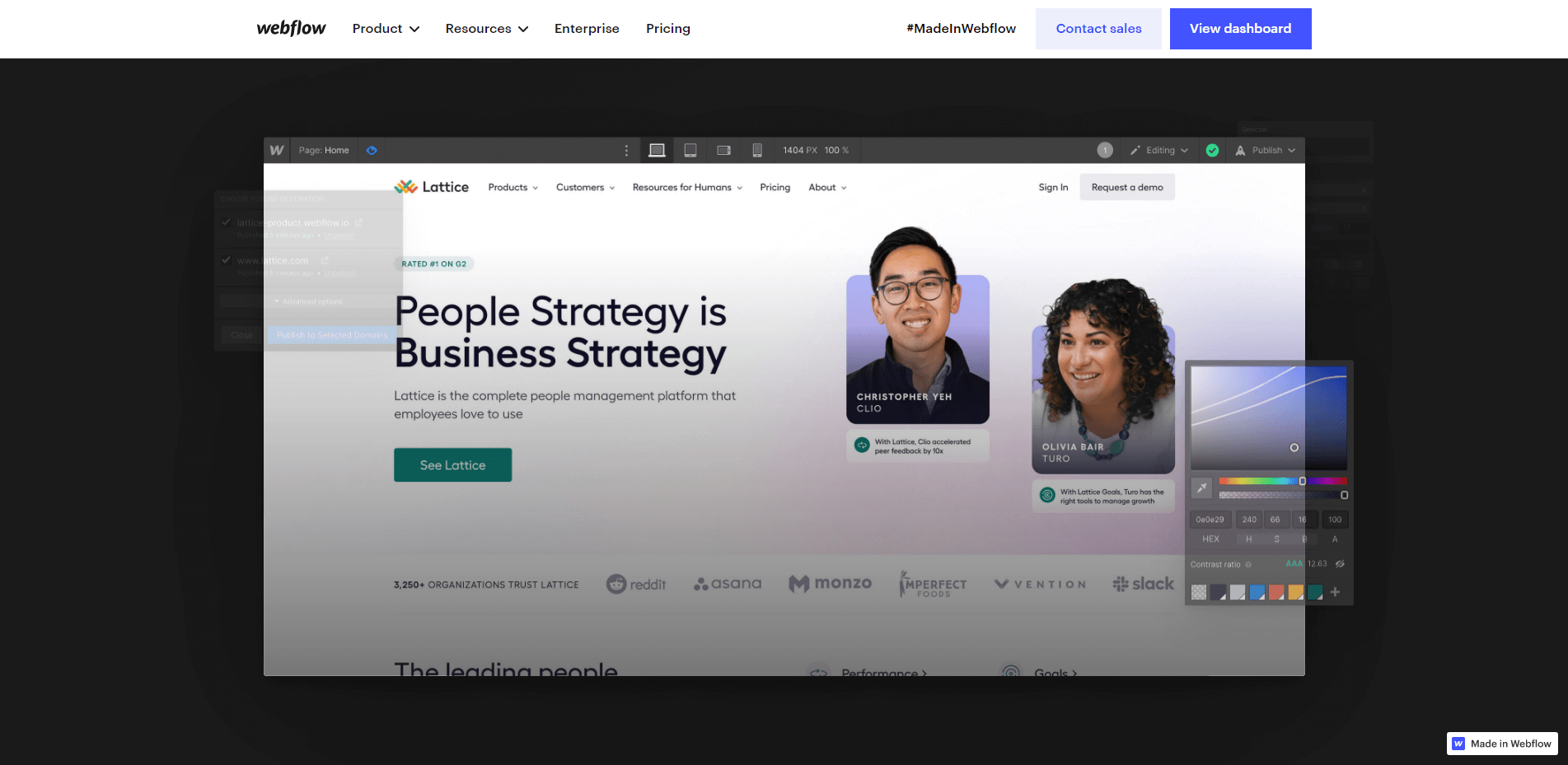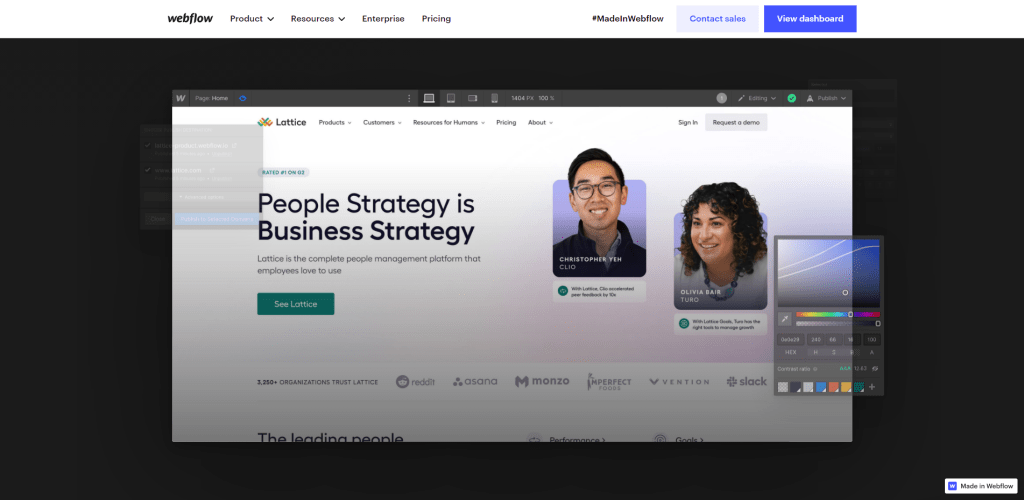 I've just covered Webflow in my article on prototyping tools, and I'm bringing Webflow in this one, too, because it offers exceptional features specifically for landing page projects. If you're unfamiliar, Webflow is a visual website builder (released in 2013) that is slowly but surely growing more and more capable of letting anyone build truly modern (developer-level) websites.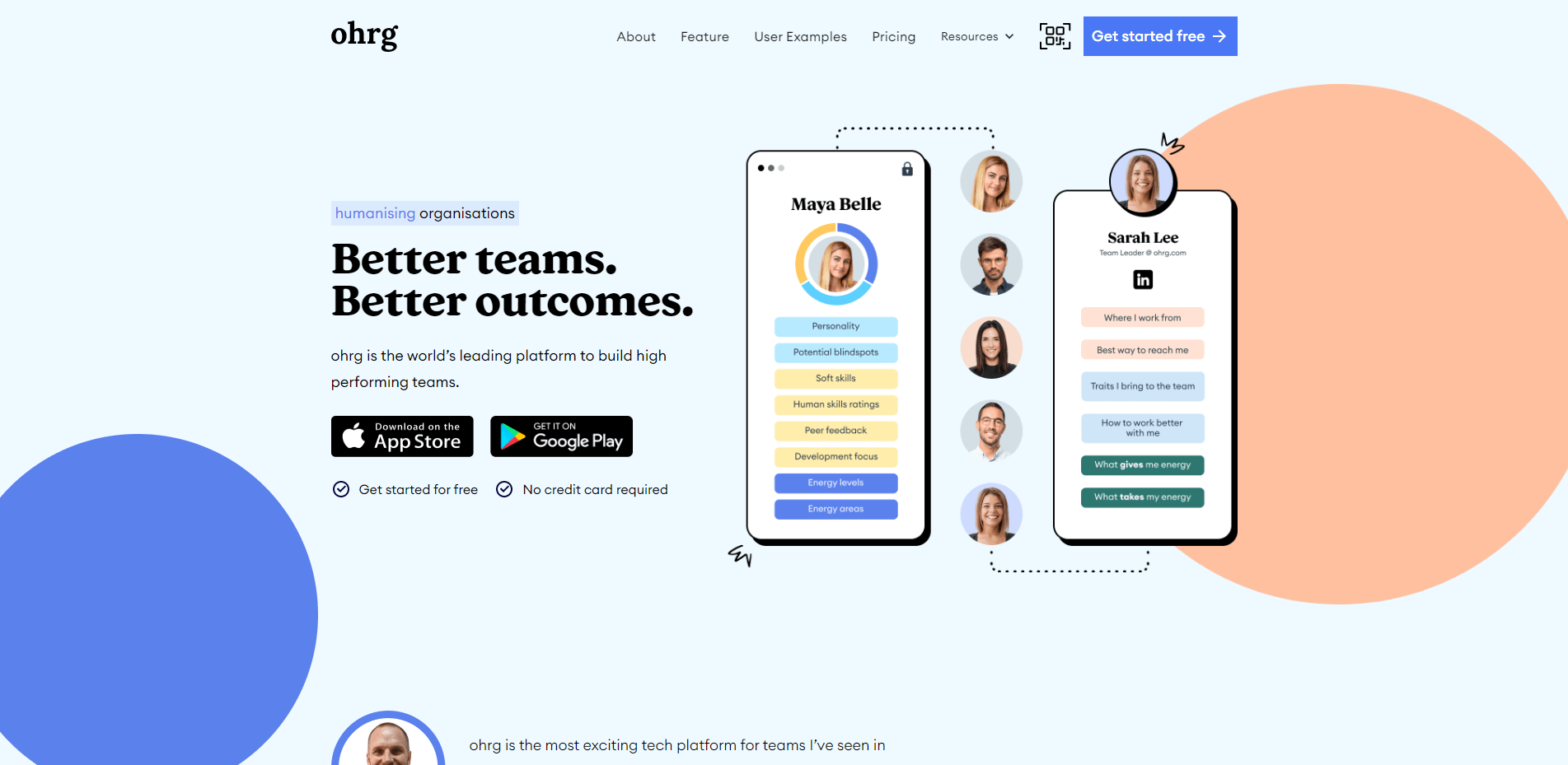 Take a look at the most popular web design inspiration sites. You can see that the current trends in design include bright visuals, creative product displays, animations, and motion effects. And Webflow can handle these extremely well. But design is only half the battle.
To ensure that you're not just designing your landing page but building it – Webflow offers specific eCommerce features which will give you the necessary tools to sell your products directly from your pages. This includes the ability to sell physical and digital goods, and you can also integrate with popular third-party services like Printful, MailChimp, Shippo, and others.
✨ What are Webflow's best features?
Custom templates. Webflow's template quality is unparalleled, not only for landing pages but also for portfolios and personal websites. They also have a Community directory, where other Webflow users share their creations, many of which are free and can be copied as a starting template for your own project.
Visual product page design. Gone are the days when a landing page would be full of text and images alone. Creative design has become a form of social proof, letting your customers and site visitors know that you mean business through your product or service and your effort to create aesthetically pleasing landing pages.
Mobile-friendly. When you design your landing pages with the Webflow Editor – you can see in real-time what your page will look like on mobile devices. This ensures you never have to backpedal your design because you always know how it will look for mobile users. All Webflow templates are responsive by default!
Webflow is the best overall solution for people who like modern features, an easy-to-use interface, and a lot of resources to get started with.
And if you ever decide to move away from Webflow, you get to keep your design as they offer the ability to export templates. This is also useful if you're designing landing pages for your clients, and need a way to give them their template so that they can host it elsewhere.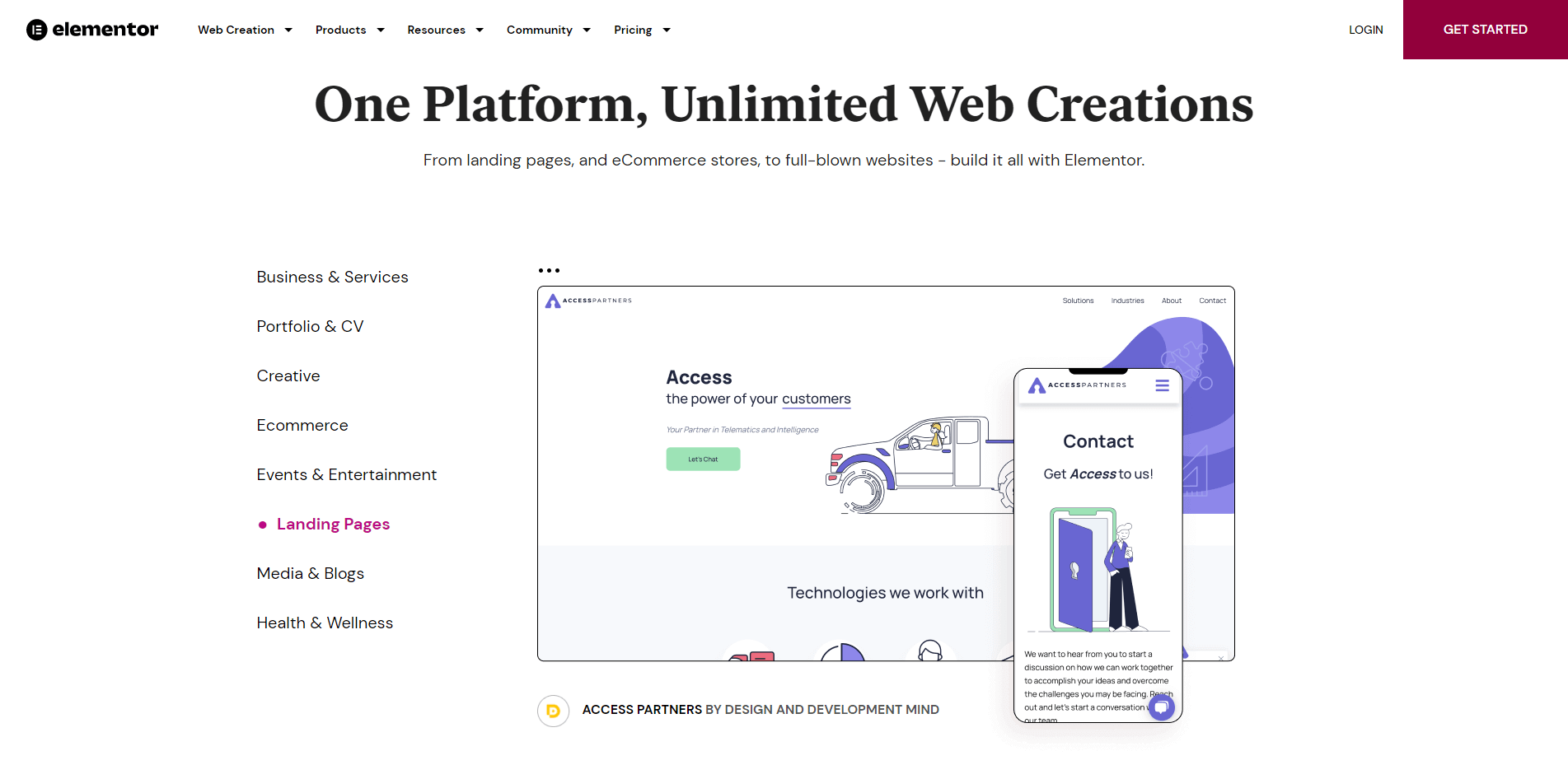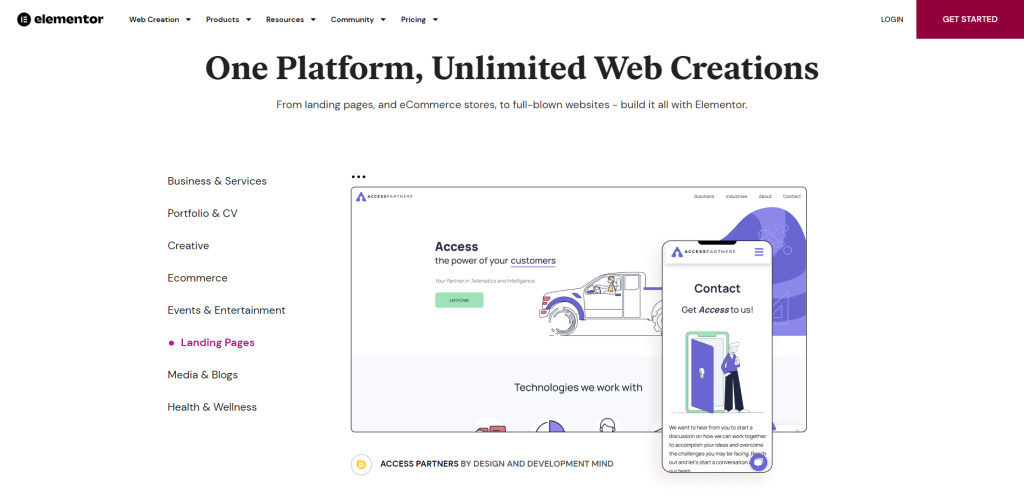 I have already talked about Elementor as one of the best WordPress website builders, and I do stand by it still for this guide, also. If you don't mind working with WordPress* – Elementor is one of the best choices for use cases like building landing pages. And these days, Elementor can handle necessities like dynamic content, native eCommerce, and marketing tools like a custom form builder, personalization, and A/B testing, without ever needing another tool.
* It is possible to use the Elementor Landing Page Builder without a WordPress website if you sign up for their Cloud Service.
The capabilities of the Elementor Builder have also continued to grow year over year, and you can expect to be able to create modern designs that feel fresh and are completely responsive.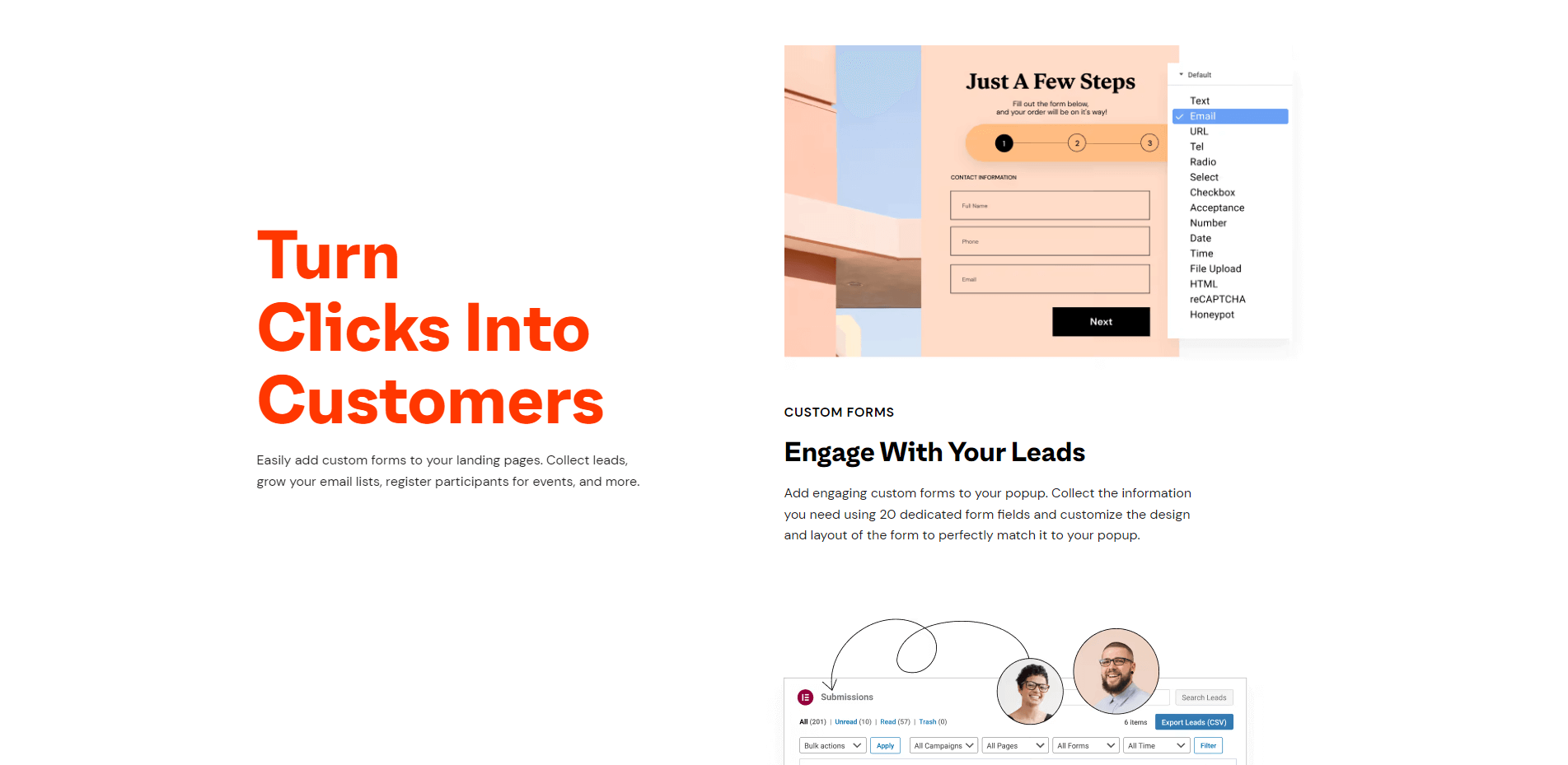 If you're going to use one of Elementor's pre-built templates for your new landing page, you can expect optimized code that leads to lightning-fast performance. All of their templates in the Kits library are optimized for SEO (including the necessary meta tags). You can then start using Elementor's marketing features to finalize your landing page in preparation for customer arrival.
✨ What are the top features of Elementor?
All in one. Elementor isn't just for building pages; it's also for managing them. This solution offers ways to design, build, and improve your pages with plugins like a custom form builder, popups, onboarding campaigns, and integrations with leading third-party marketing software.
Hosting. As mentioned above, Elementor provides its own Cloud Hosting service, which means you don't need to manage the WordPress part at all, and you can focus on building your landing pages and websites.
Resources. Elementor has some of the richest resources available of any software in this category, particularly regarding plugins and templates.
Elementor is both easy to use but also highly customizable when it comes to large-scale projects. And it's a fantastic choice for people who love working with WordPress.
For advanced users or those with prior website building experience – Elementor offers features like custom code (CSS, JS), version management (update your site gradually), and role management if you're working as a team.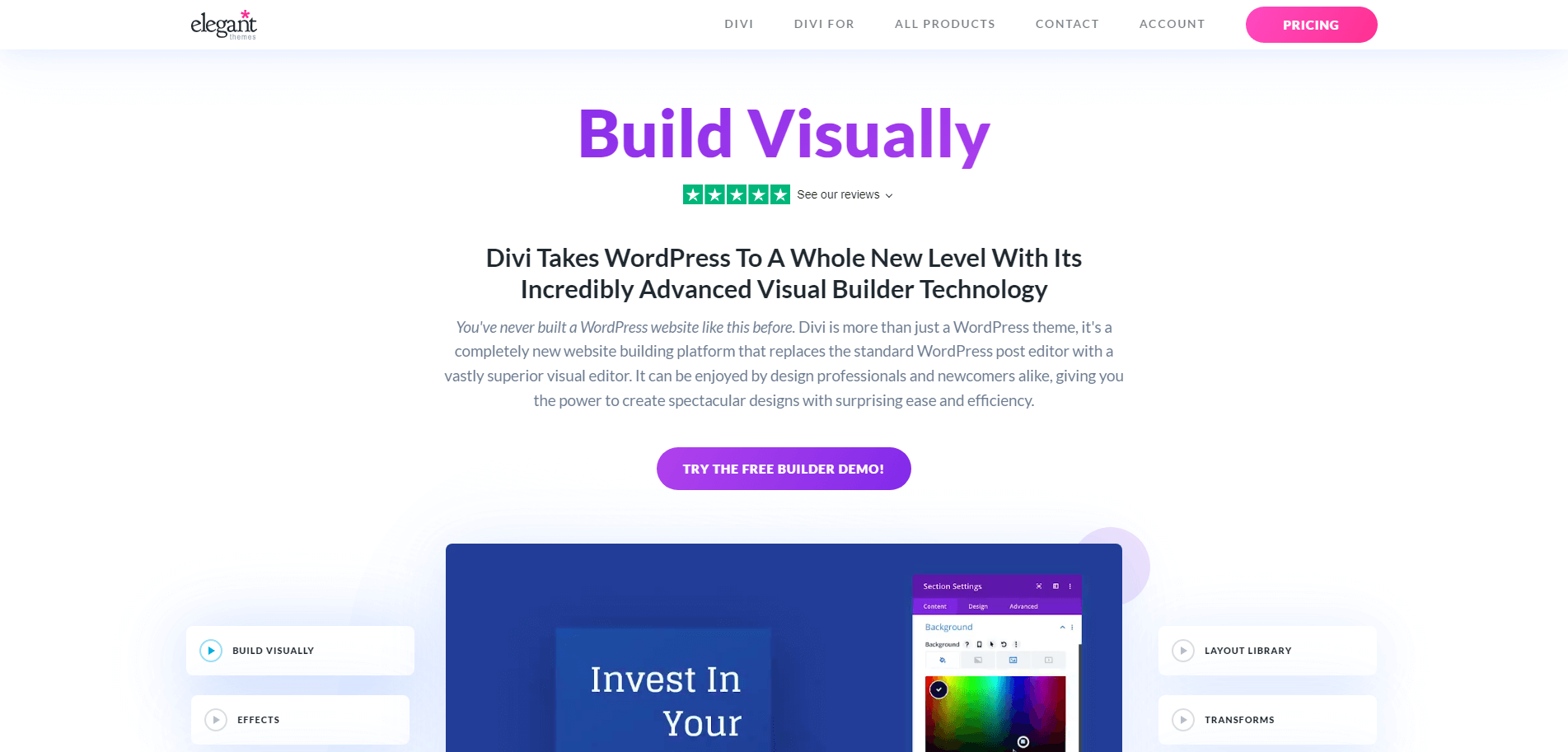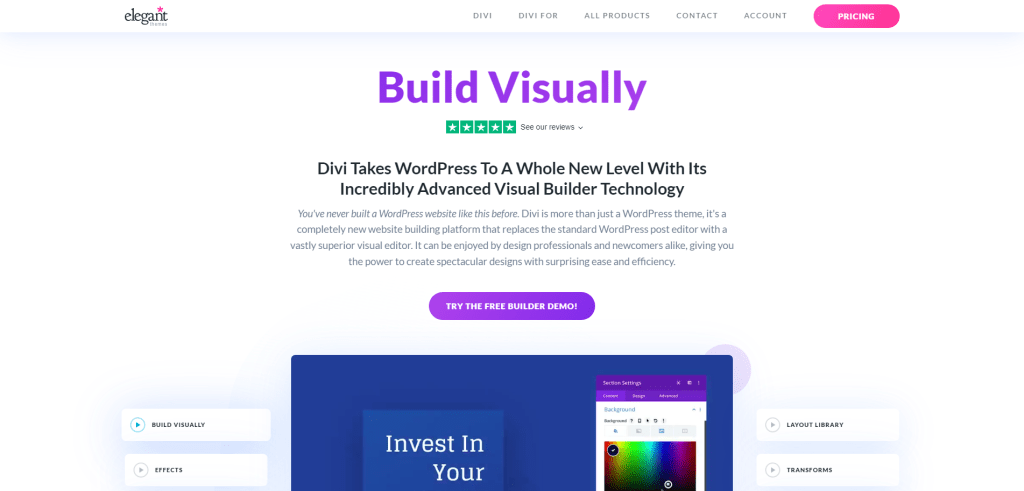 Divi is also WordPress-based, and much like Elementor, it is also possible to use Divi through one of their hosting provider partners, which practically eliminates the whole setup part. But the real reason for including Divi in this list (outside of the fact that it is a fantastic website builder) is how well-received it is by its users. On Trustpilot – Elegant Themes (the company that owns Divi) has a staggering 4.9 rating with over 21,000 reviews!

Divi offers over 2,000+ custom layouts and hundreds of website elements that can be reused every time you start a new design. In addition to that, there's absolutely no need to know any programming since the entire builder is built on the concept of no-code.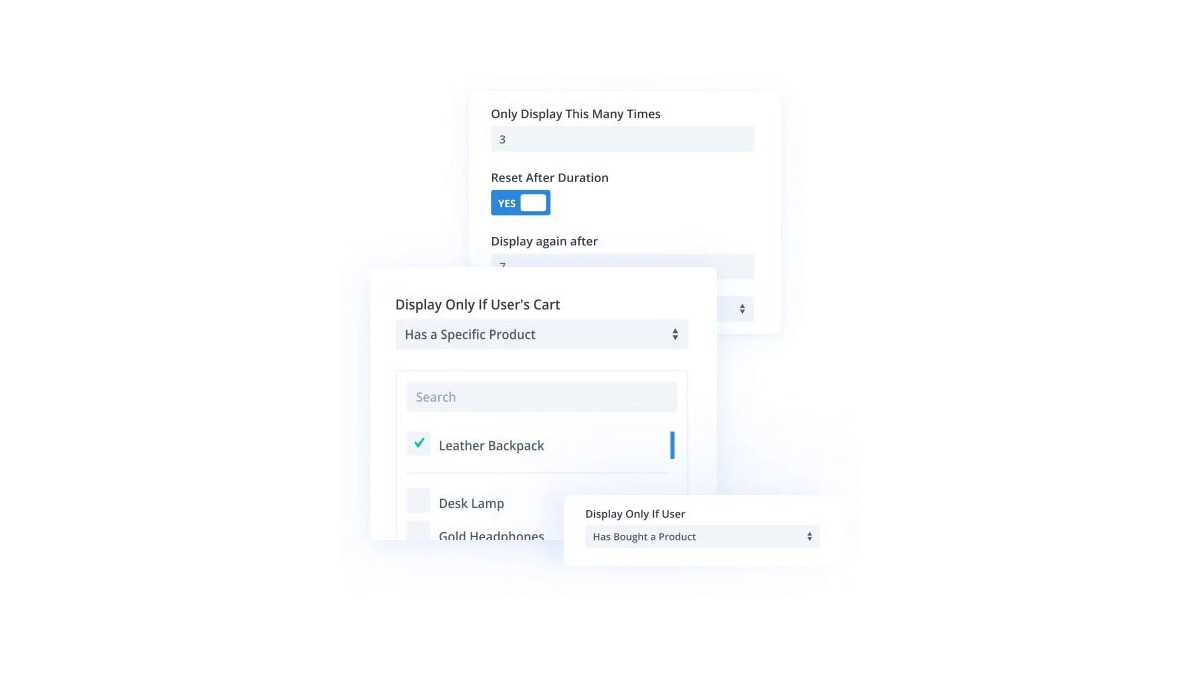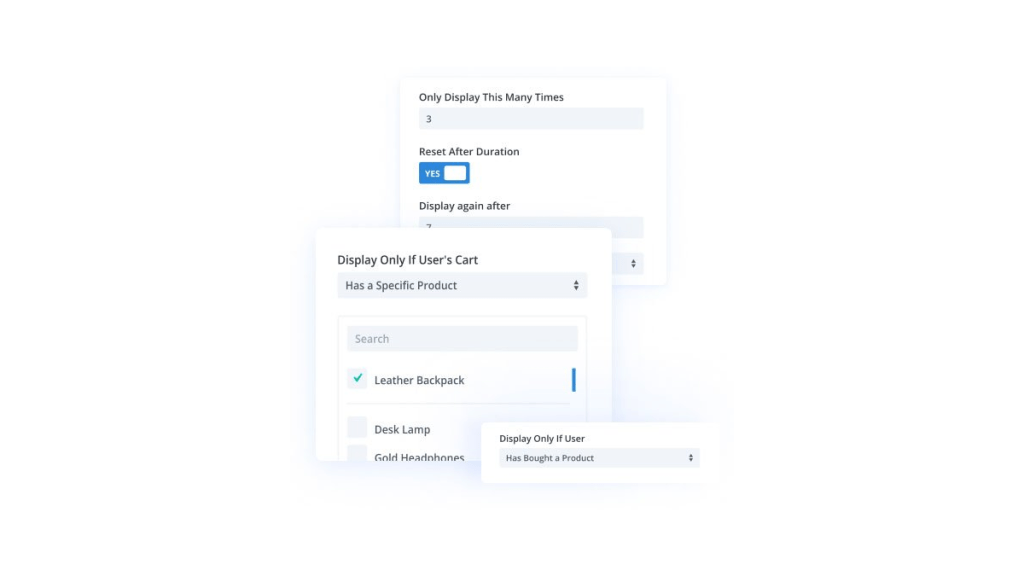 When it comes to marketing – you can take advantage of Divi's unique features to ensure that you maximize your potential to convert visitors into paying customers. Divi does this through features like Conditional Options, and Divi Leads – a unique split testing feature that lets you serve different page variations to a portion of your visitors. This way, you can narrow down which of your landing pages are converting the most and focus on that specific design.
✨ Why do users love Divi so much?
Built for everyone. It doesn't matter if you've never built a website or are a professional agency with hundreds of clients. Divi is built for everyone, including small business owners, aspiring eCommerce sellers, and digital entrepreneurs.
Integrations. There are very few features that Divi doesn't provide as part of the full package. Still, if you, for example, use services like HubSpot, or ConvertKit, or you want to use Stripe payments – there are hundreds of these types of integrations pre-built, ready to be activated whenever you need them.
Documentation. This is something that Divi does better than anyone, hands down. Every little element, page section, feature, and example has a dedicated page explaining what it does, how to use it, and what are the customization options. It's also one of the most talked about positive things on the review sites we looked at.
Divi offers phenomenal resources combined with great value for money. Despite not having a free plan, it is the most highly-rated builder on this entire list!
Last but not least, Elegant Themes has been in the business for more than a decade, with extensive experience in WordPress, and for the last several years – website building.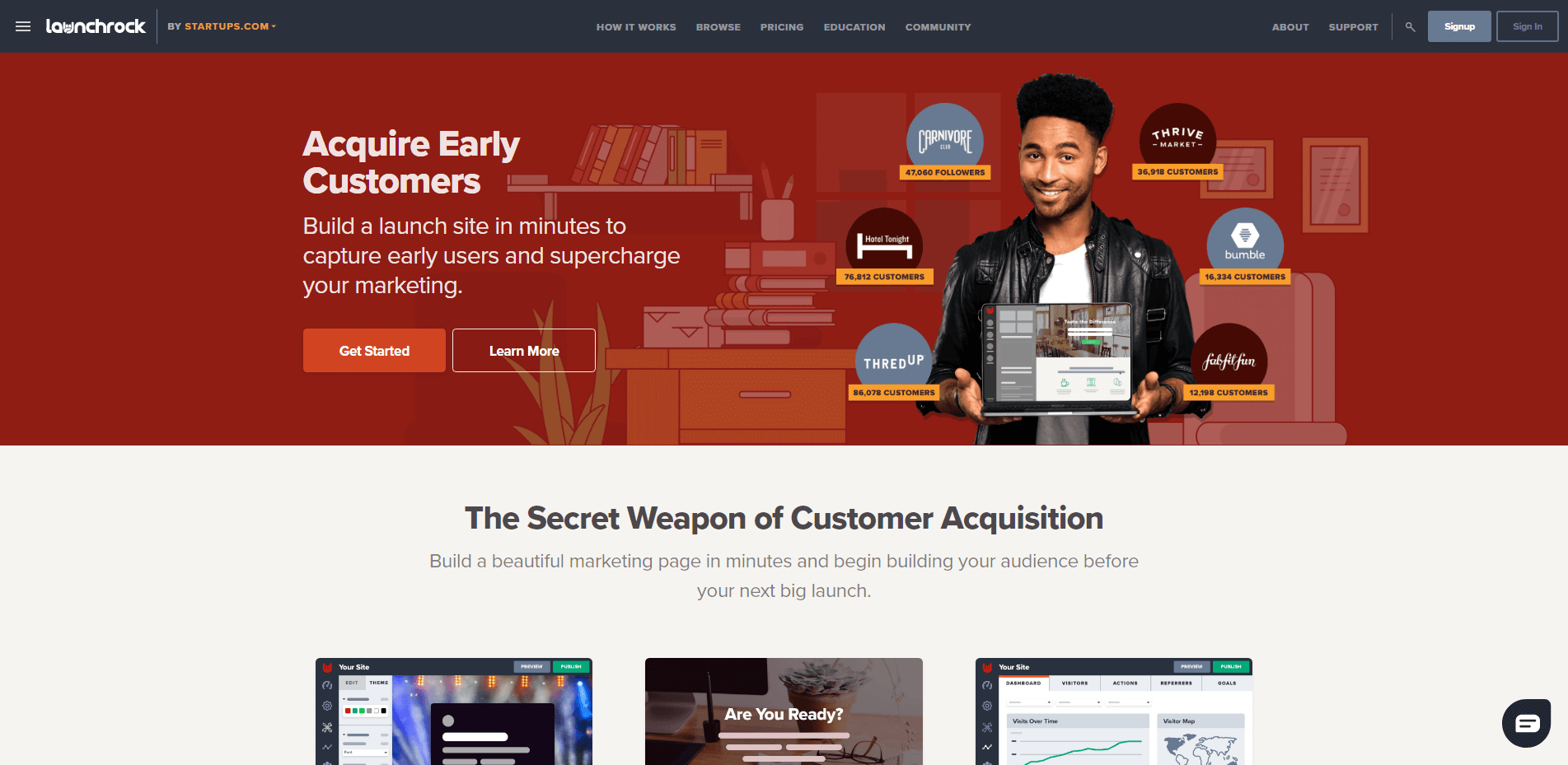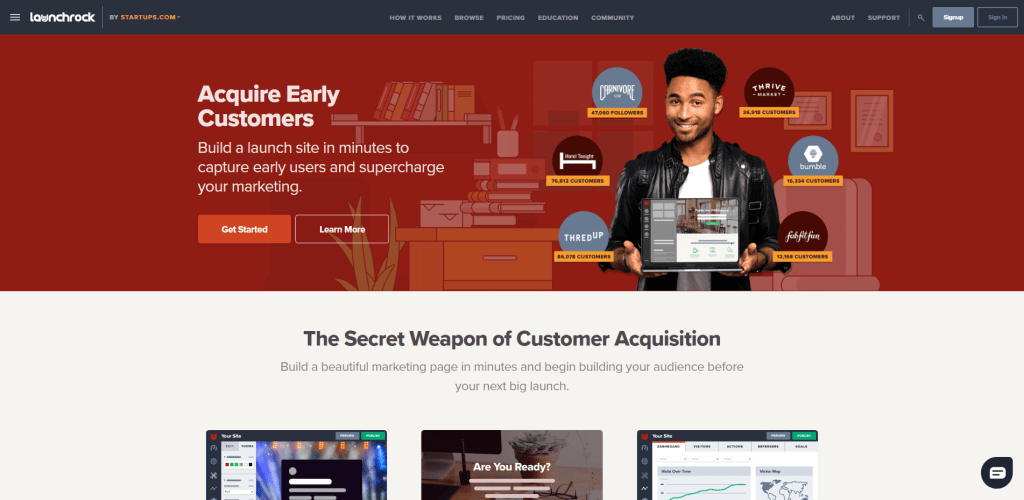 Launchrock is one of the most popular solutions for startups and entrepreneurs who want to build launch sites. A launch site in this context is a landing page designed to introduce the audience to your product, and, ultimately, convert them into paying customers or subscribers.
These are also the features that Launchrock emphasizes the most. You start out by designing your page (from scratch or using a template), and during this process, you can also enable email-capturing tools to start building your email list from day one.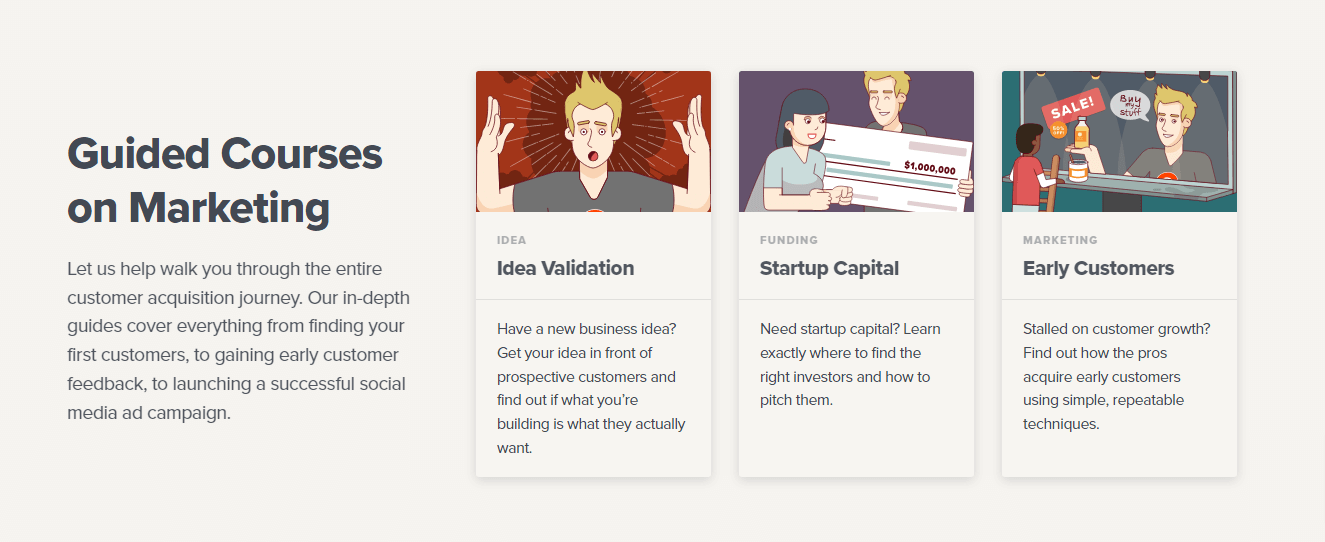 Because Launchrock is part of the Startups.com network, their platform doesn't just focus on giving you the tools to build your product pages. They're also specialists in marketing courses and other useful information in that niche.
There are more than 1,000 tutorials, guides, and walkthroughs in their Marketing Library.
✨ What's unique about Launchrock?
Testing ideas. One of the things Launchrock lets you do is test your ideas without committing to the said idea completely. They do this by giving you the tools to create temporary landing pages, which you can use to collect subscribers, and then gradually see what these subscribers say about your product idea. All of this is done from the Launchrock dashboard.
Marketing platform. With Launchrock, you never need to leave their suite because all customer data and other analytics-related information is accessed directly from your profile dashboard. This gives you one unified solution to monitor everything happening with your landing pages, including real-time insights whenever you perform actions like a complete site redesign.
Community. Launchrock has a Community section full of people who have already done successful product and startup launches. This gives you a unique opportunity to connect with like-minded individuals who can share advice on using Launchrock and offer insights on ensuring your launch is successful.
Launchrock has helped brands like Vevo, Thrive Market, Bumble, Instacart, and countless others launch multi-million companies with their platform!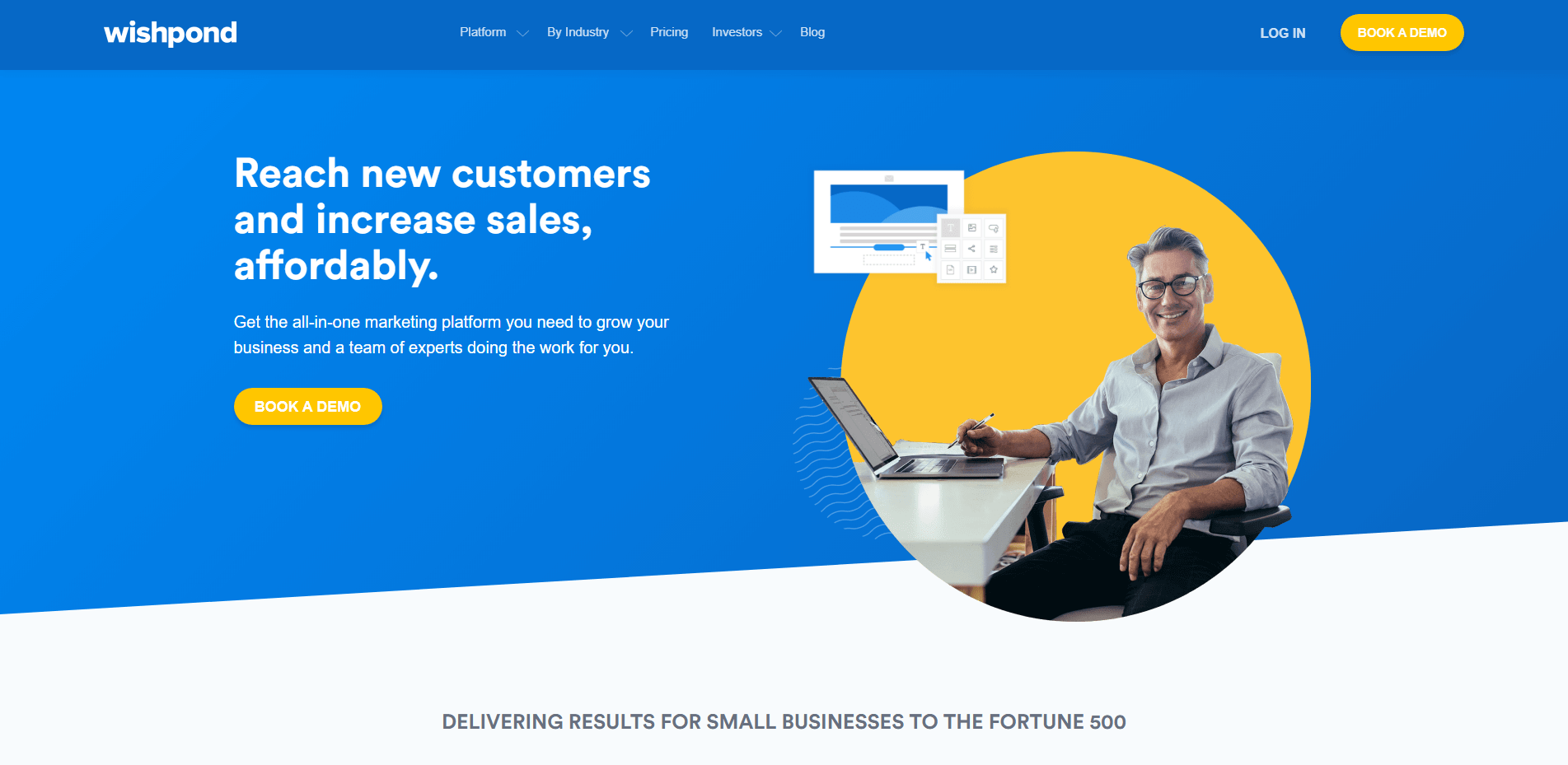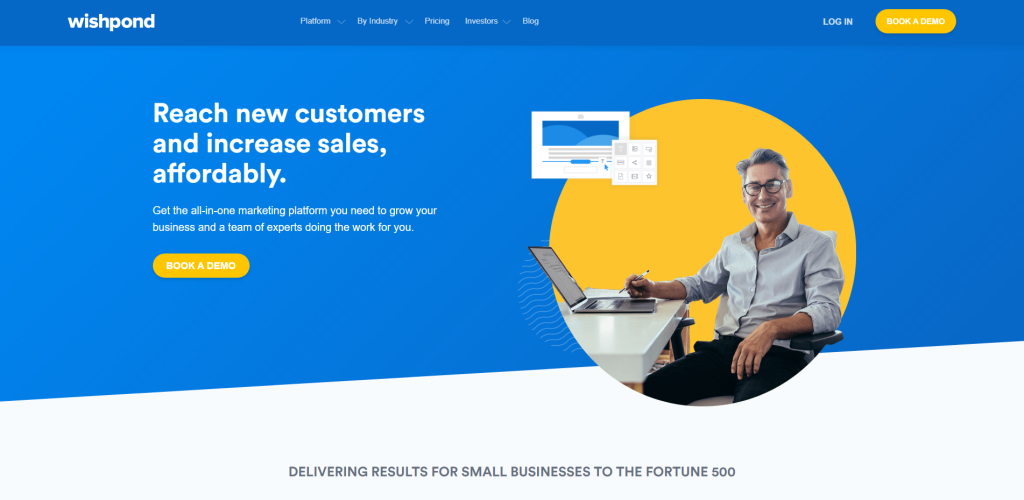 Wishpond is the priciest solution on this entire list. So, how do they go about justifying the high cost? For one, Wishpond offers page-building features and full-fledged marketing solutions across a dozen categories. This includes solutions for eCommerce, Marketing, Agencies, Hotels, Financial, B2B, and many other industries.
Unlike similar tools that we've already covered, Wishpond stands out with its laser-focused approach to lead generation. They can offer cutting-edge product solutions that take you from having visitors land on your page to becoming paying customers. Their entire product catalog extends to categories like email marketing, appointments, marketing funnels, social promotions, and numerous solutions for newsletter management.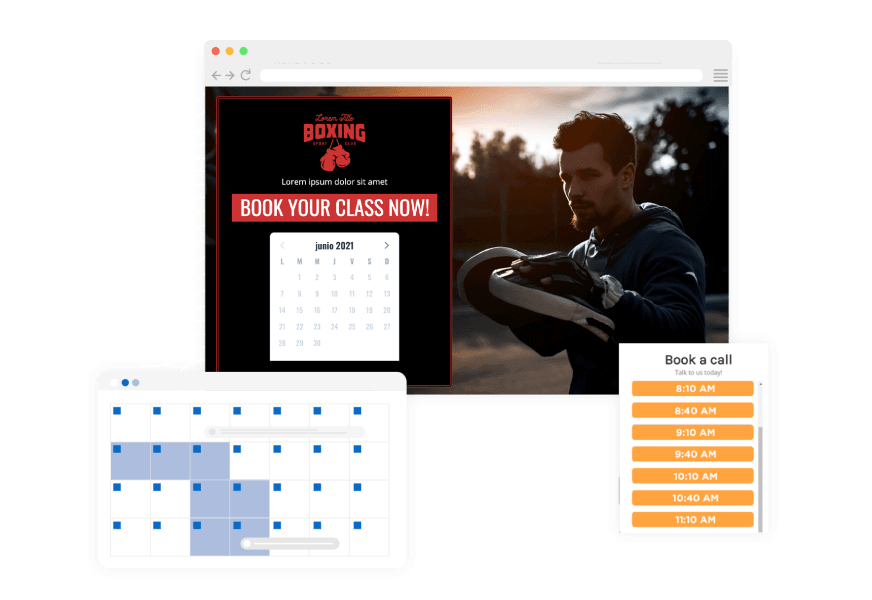 The only real drawback is that Wishpond requires you to book a preview session with them if you'd like to preview their full product. It's our understanding that this is to weed out people for whom the platform would be overwhelming in the first place. In other words, Wishpond is focused on medium to large-scale business clients.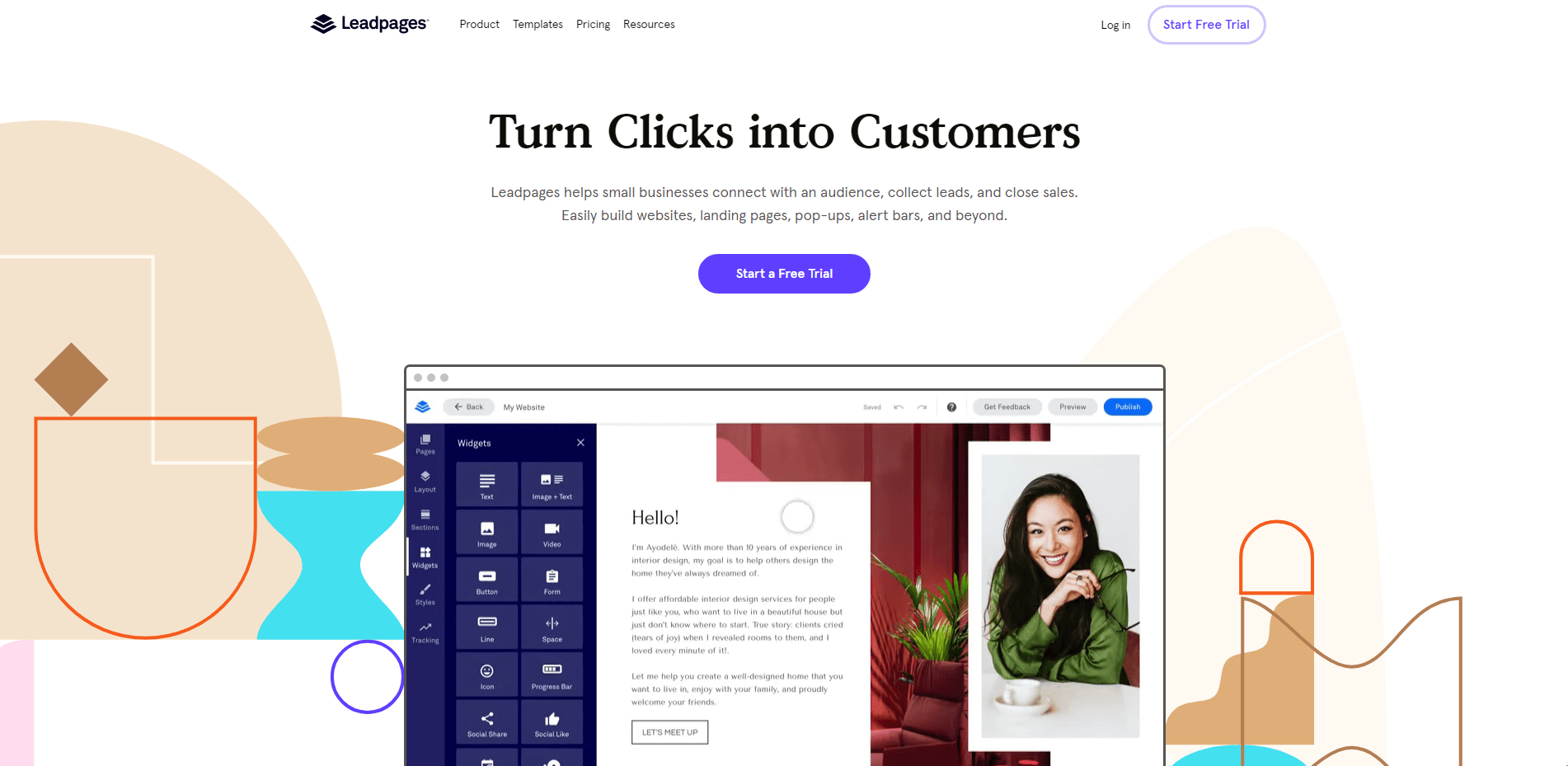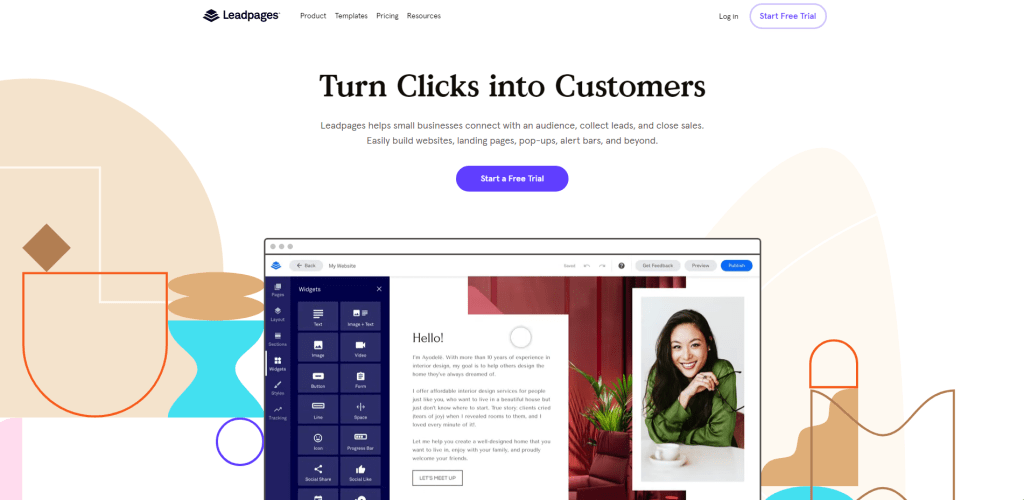 Leadpages is a website and landing page-building platform for small business owners and individuals seeking to get acquainted with eCommerce. Their platform works on a 4-step approach. The first step is to give you the tools to design and build your lead-capturing page.
After, you can enable features like opt-ins, file downloads, and conditional-logic content to start collecting customer data. Once this is done, Leadpages allows you to sell your products and services, with additional features like custom shopping carts, and payment processing.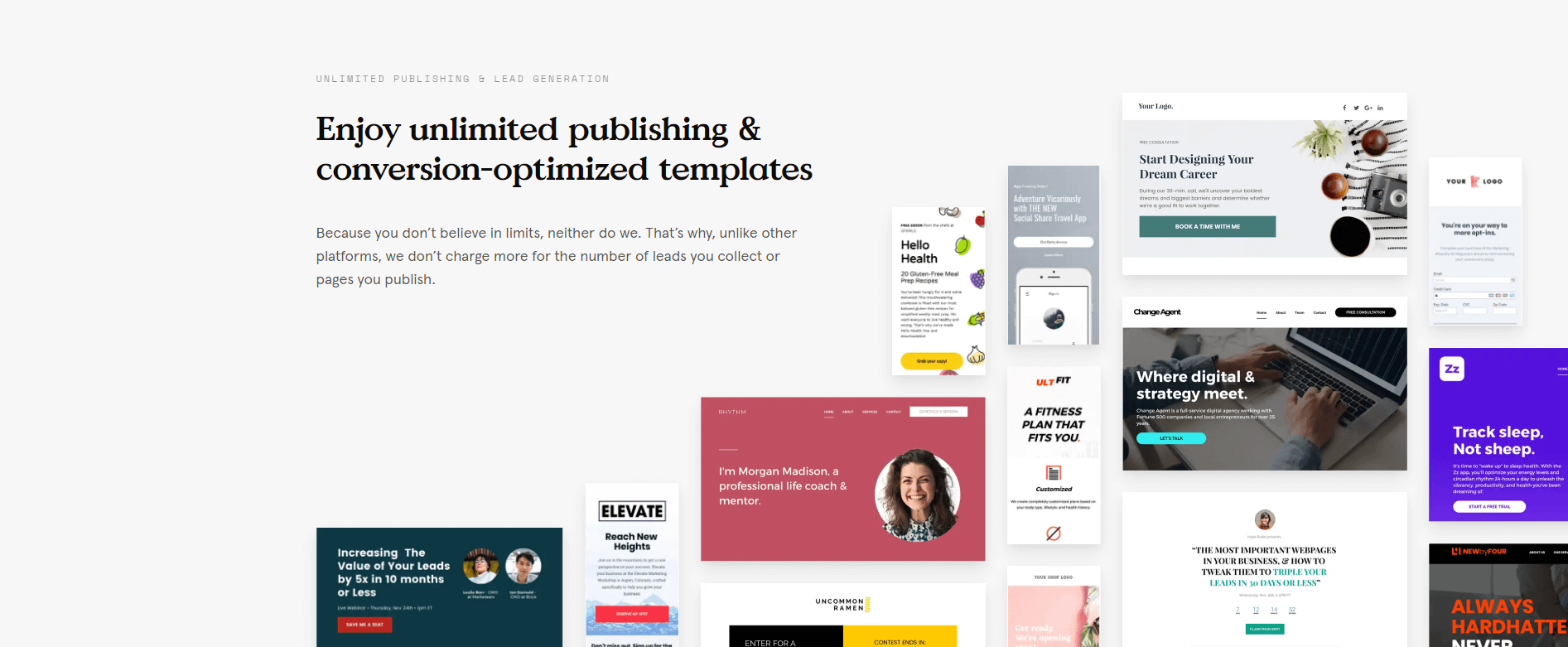 With Leadpages, you can skip worrying about technical things like hosting or uptime management, instead – you can focus on building your product or growing your business. They offer a way to monitor everything from daily visitors to more intricate metrics like how many visitors turned into paying leads, and which pages led to the most conversions.
✨ Here are the features Leadpages executes well.
Leadmeter. Leadpages is so committed to ensuring your traffic is converting that they built an entire system called Leadmeter. With Leadmeter, you can automatically analyze your website design and get recommendations for things you might have missed. For example, call-to-action banners, readability checks, and much more.
SEO. If you plan on attracting organic search traffic visitors, you'll be glad to know Leadpages optimizes its templates according to industry standards. This includes setting up the appropriate meta tags, images, and performance optimization.
Integrations. Leadpages can be integrated with world-class business software like HubSpot, Stripe & PayPal, ActiveCampaign, Drift, and many other services.
Overall, Leadpages is fairly expensive, but we believe this cost is justified by their rigid approach to ensuring that all of their customers have access to the best tools in one single platform.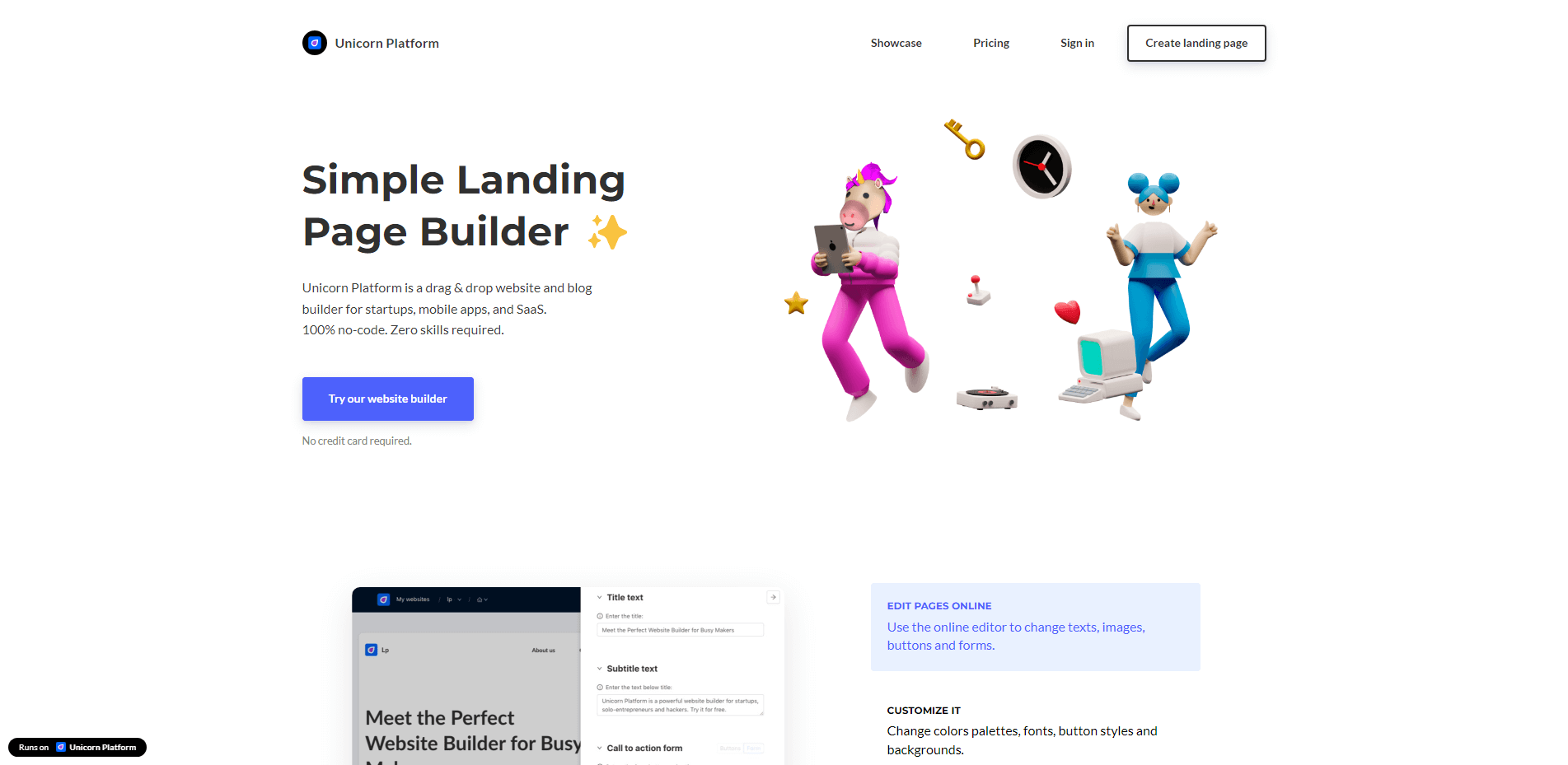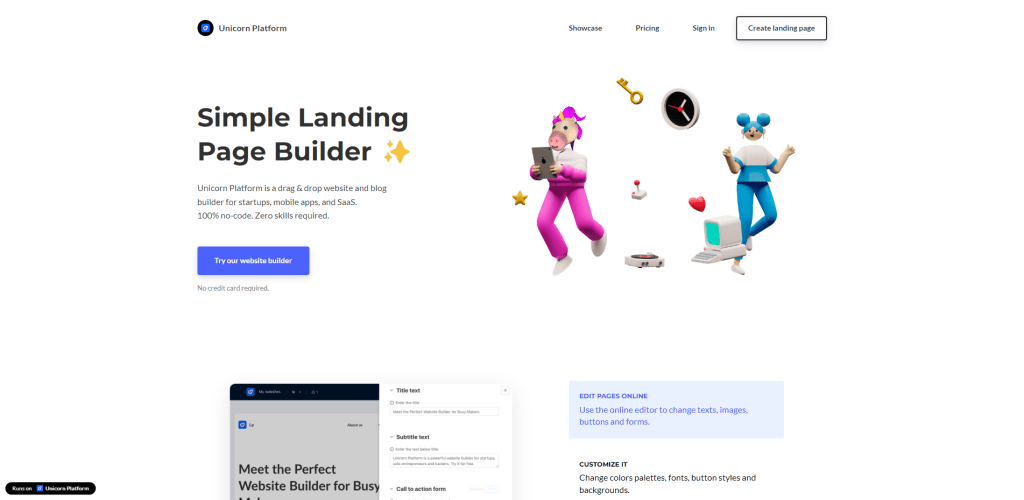 Unicorn Platform is a new but fast-growing startup specializing in modern and simple website building. They also offer a free plan, which is a great way to test their service out for yourself.
One of the best features of Unicorn is its online editor for building pages. It's user-friendly and designed to be simple and easy to understand. And you can go to great lengths to customize even the tiniest of details on your pages.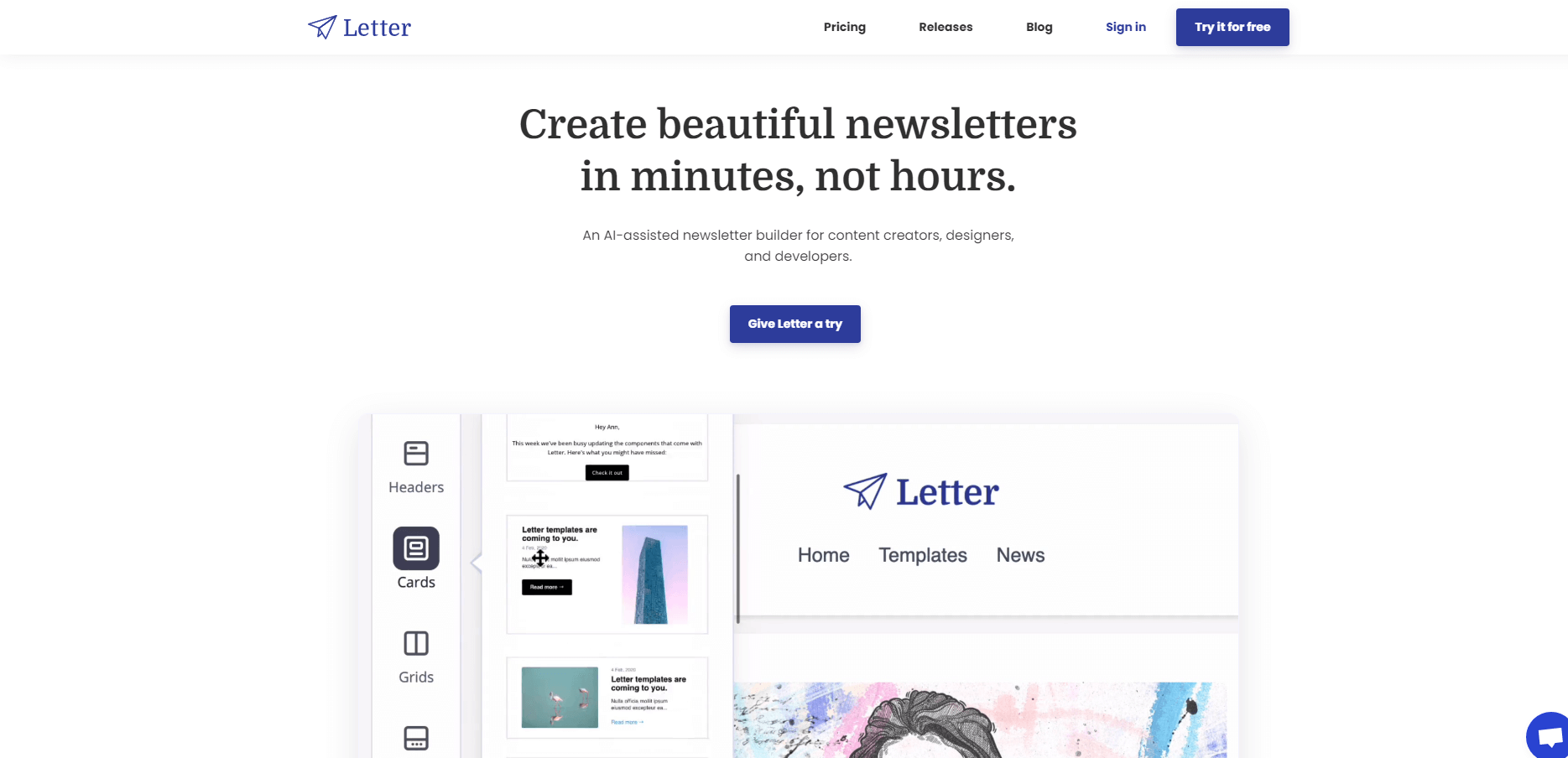 They also have a strong community backing, with sites like G2 and TrustPilot showcasing extremely good reviews.
✨ What features does Unicorn provide?
Startup-friendly. Unicorn is built in part for startups, so their features and integrations reflect the requirements of a startup website. E.g. Design examples, buttons, and payment processing.
SSL & CDN. All websites built with Unicorn's platform are protected with SSL, and content is served through their CDN service. Great speed and security for the price of one!
HTML Export. Any design you finish building on this platform can be exported as an HTML file, with all the assets included. This is fantastic if you're looking for a way to build landing pages for your clients and then have the means to give them the full design.
Unicorn Platform is a new player in this niche, but they're growing fast and offer fantastic value. They also have a public roadmap of all the features they still plan to implement!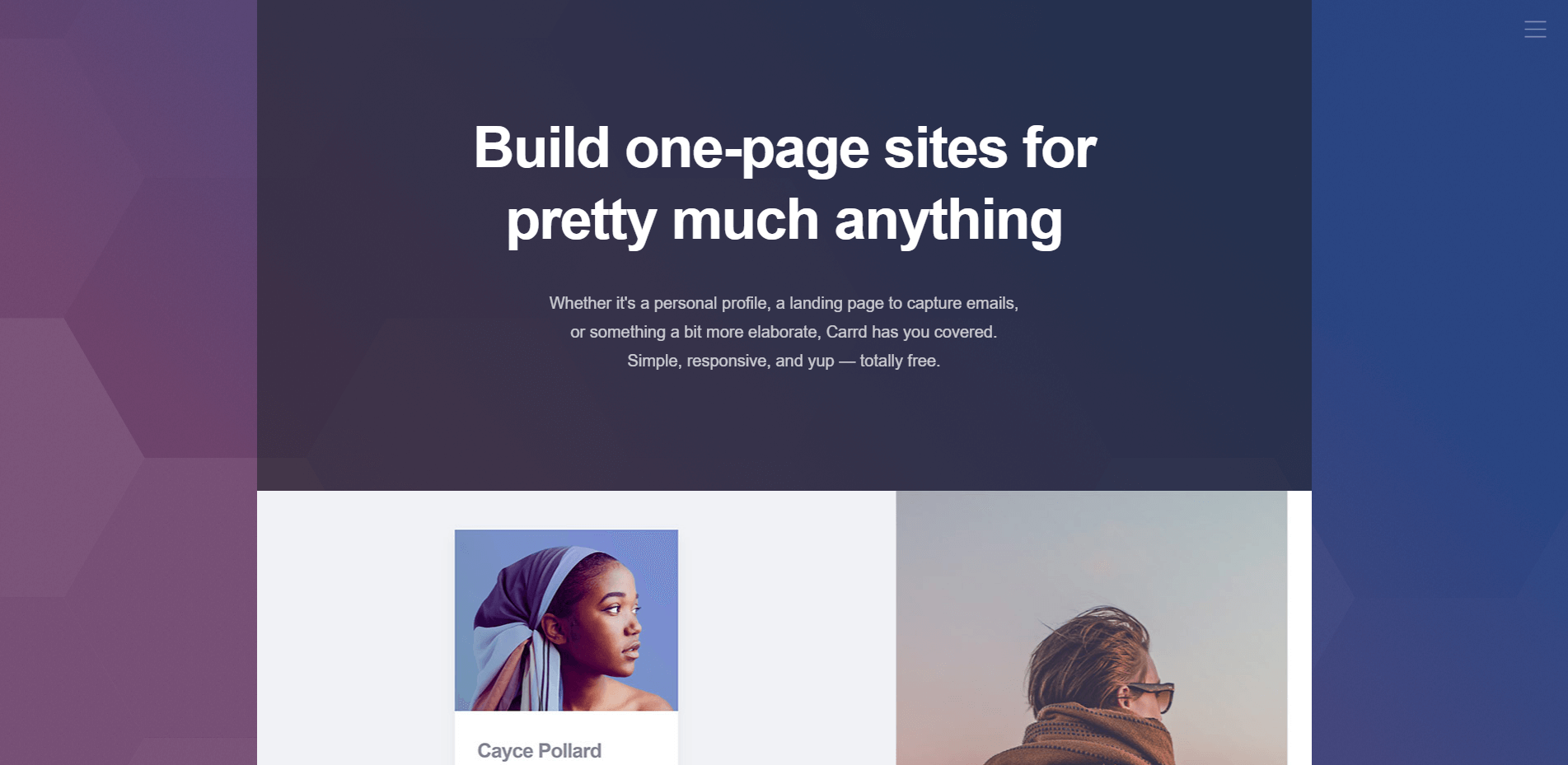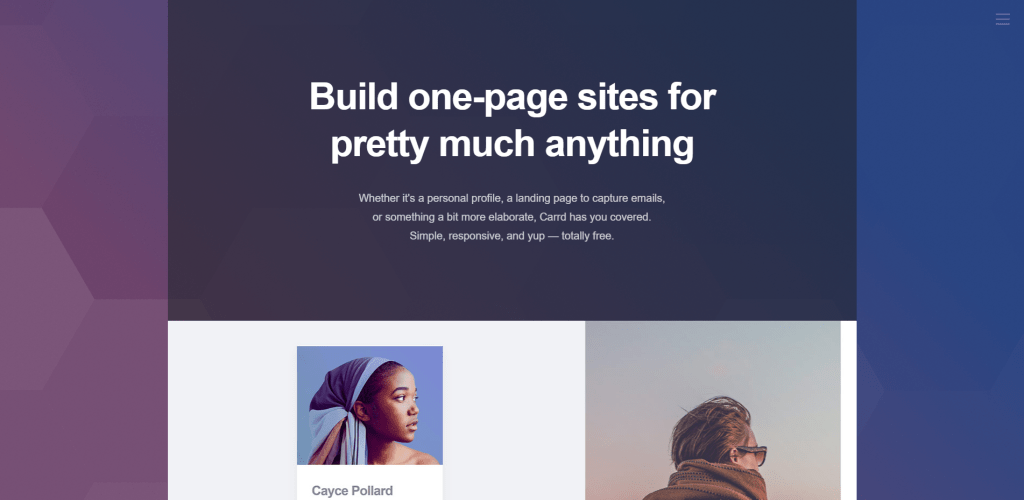 AJ released Carrd back in 2016 with a clear goal to provide people with an easy way to create landing pages for personal projects, products, and use cases like email capture. AJ is also the person behind HTML5 UP! – an extremely popular site for free HTML templates.
Getting started with Carrd is super easy. You first need to "choose your starting point", which is a collection of templates in various categories, including landing.

You can either preview each one live, or begin working on them immediately.
No account is needed to experiment with Carrd, but once you want to save your design, you'll need to create an account. It's free to use with some limitations, such as no custom domain name, and free accounts also can't remove the Carrd branding badge.
✨ Some noteworthy features for Carrd.
Simplistic yet stylish. All Carrd templates follow a similar style guide, with many new templates adding modern elements and transition effects.
Widgets. You can embed custom scripts but also take advantage of third-party embeds that Carrd provides. These embeds include "Buy Now" buttons for PayPal, Stripe, and other payment gateways.
Forms. For those with marketing needs, Carrd offers more than a dozen forms from many of the world's leading email marketing services.
Carrd offers great templates, has an easy-to-learn editor, and once you sign up for the Pro plan, your ability to customize your landing pages increases drastically.
Everything you need to know about all of Carrd's features and possibilities has been explained in detail on their documentation page.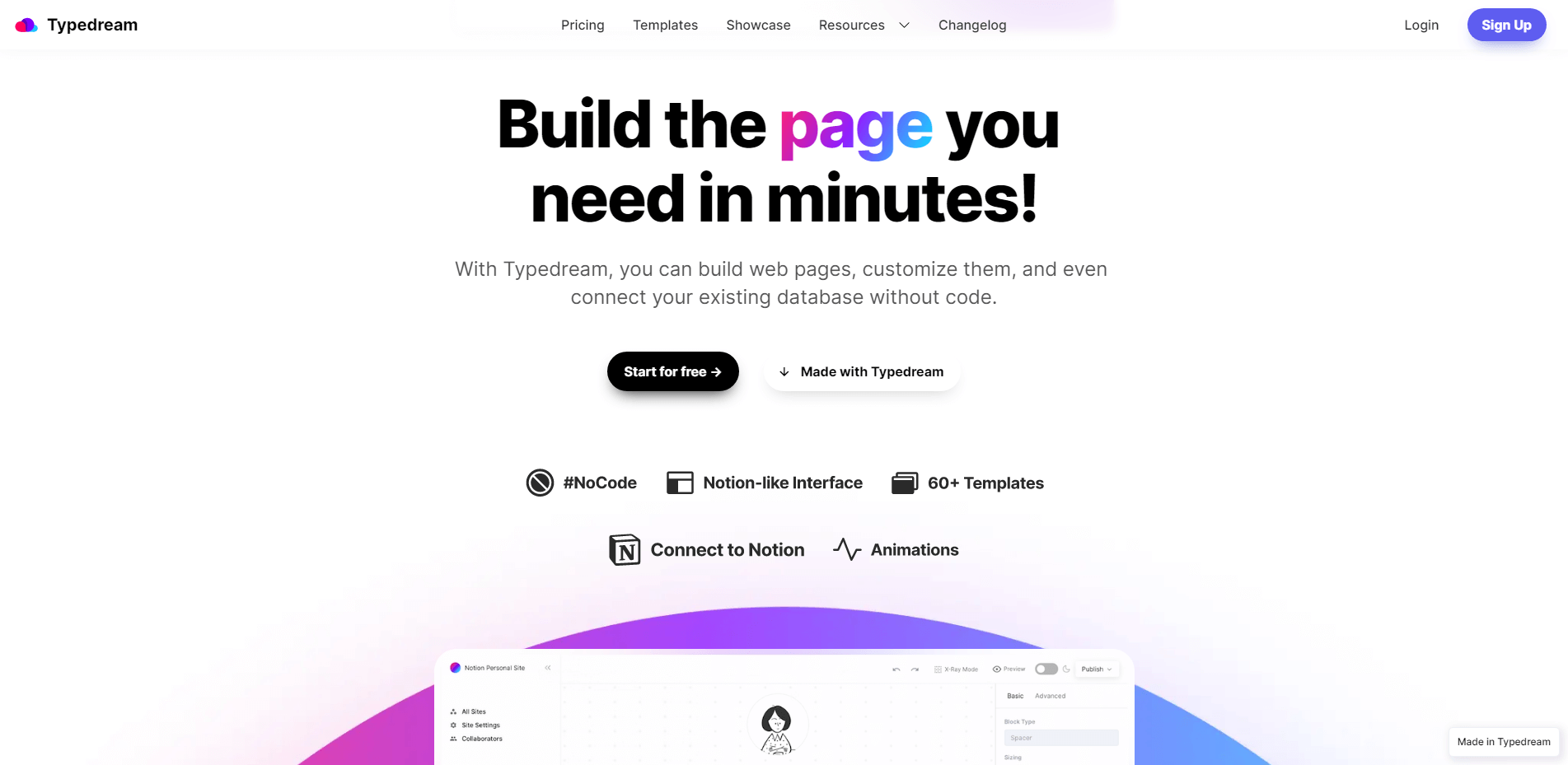 Typedream is a Y Combinator backed no-code website building platform that borrows a lot of inspiration from the Notion Design System. This platform provides an easy-to-work-with user interface, including more than 60 pre-made templates.
The team at Typedream is focused on simplicity to ensure that you can quickly create beautiful landing pages with little to no effort. Additionally, because Typedream uses the Next.js framework for its back-end, you can enjoy features like high-performance, image optimization, and semantic SEO tags out of the box.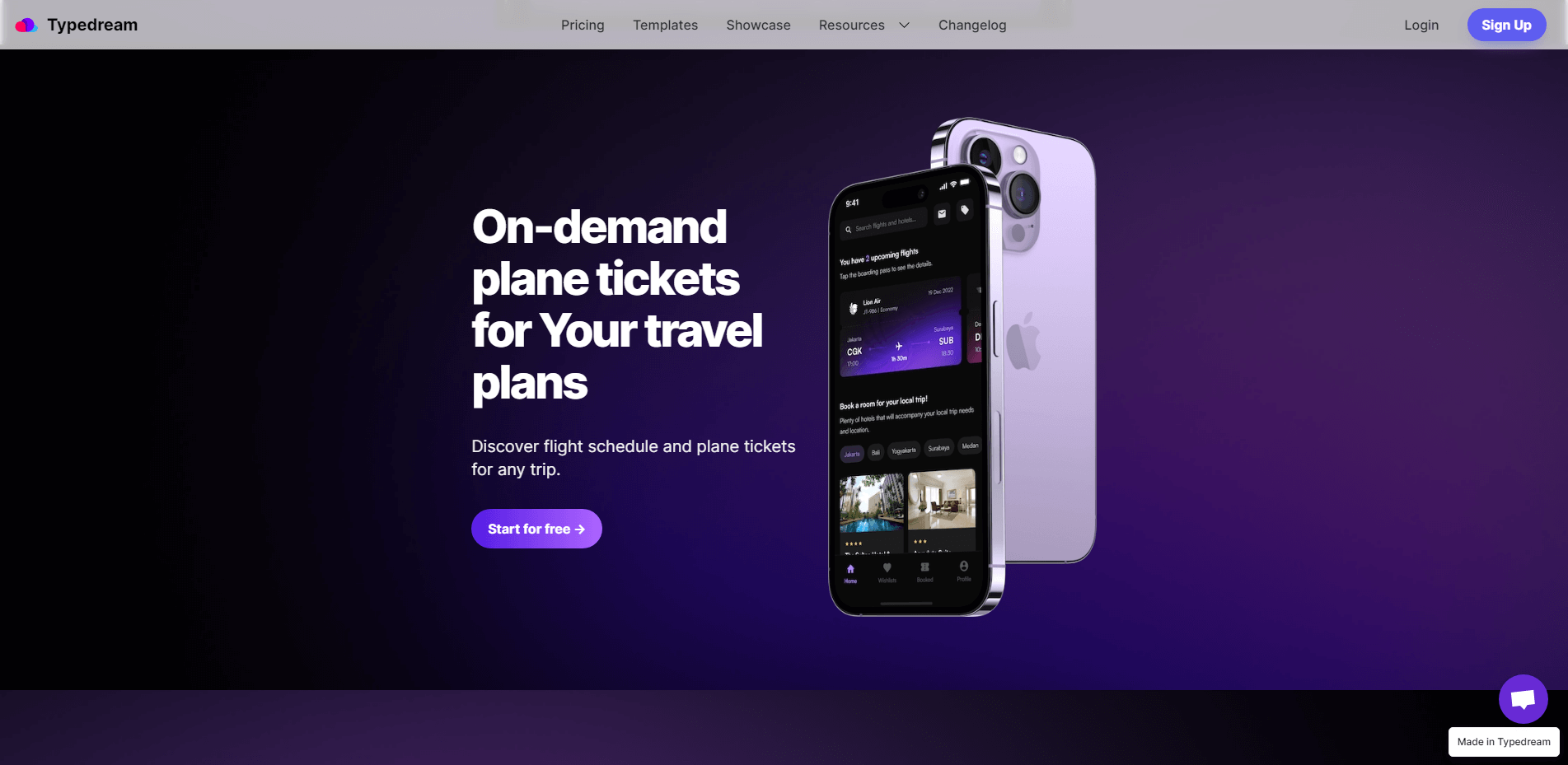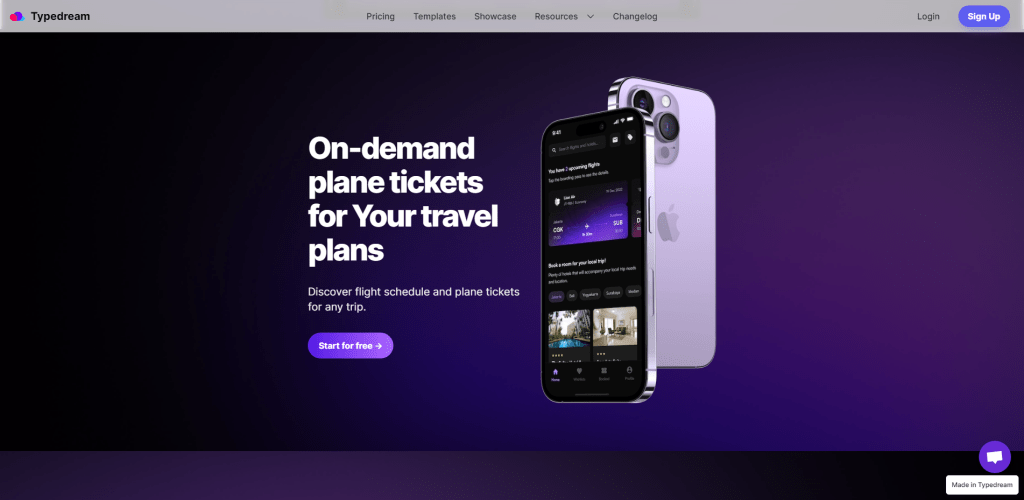 Thousands of people use Typedream already, and they have built a dedicated Showcase section on their site where you can explore all the possible creations and design variations.
✨ What features does Typedream have to offer?
Notion data. You can connect your Typedream account with Notion, import real-time data, and display it on your landing pages.
Web3. Typedream supports creating minting sites for NFT collections.
Animations. Inside the Typedream editor, you can animate individual site elements, including text, photos, and sections.
Typedream is a modern no-code tool built with cutting-edge technology. They also offer fantastic resources, such as visual assets across dozens of categories.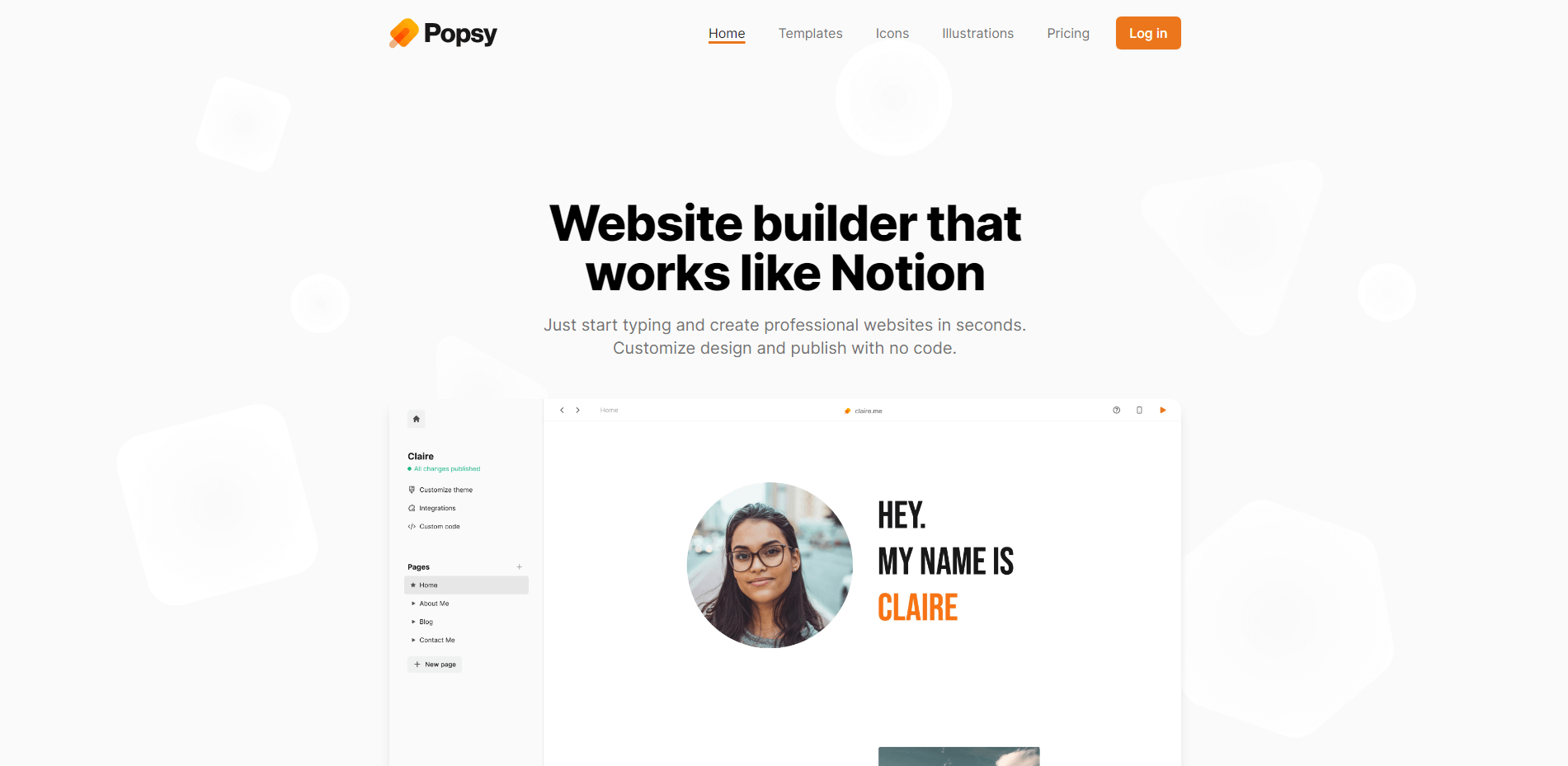 If you love Notion, you're going to love Popsy! It's designed to be simple yet effective at building portfolio pages for individuals and small businesses. So, if you're looking to build a landing page for your yoga studio – Popsy makes the process fun and easy. You can actually try it out for free by clicking the link on the homepage.
This will take you to the Popsy Editor, where you can get acquainted with its features and the process involved in designing your landing page and publishing it.

I love that Popsy feels like a journal where you can go and add new things, and in the process of doing so, it also turns into a real functional website. There are many great features you can take advantage of, too, including the likes of SEO optimization, setting up color palettes, and adding third-party integrations like Google Analytics.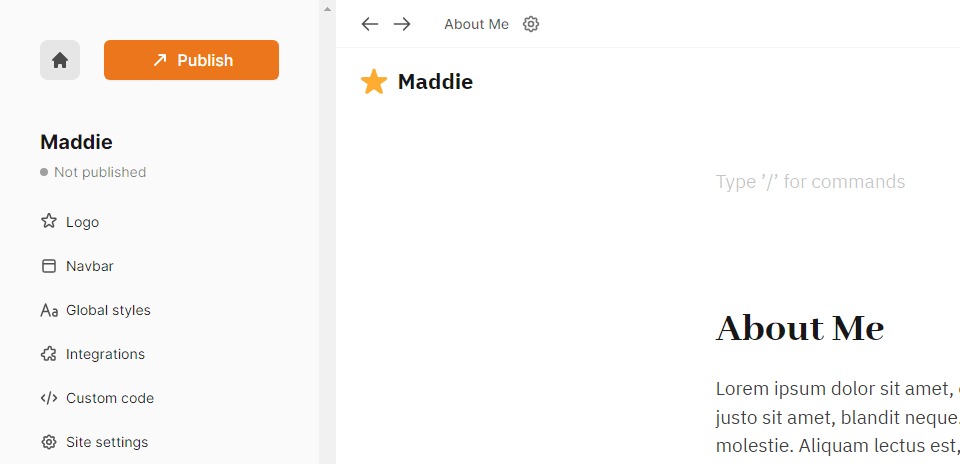 ✨ Any other features Popsy provides?
Icons. Popsy offers a Notion-style icon pack, though other than a few sample icons, the entire pack costs $19. I'm guessing this is to protect the hard work that has gone into it.
Illustrations. Make your landing page stylish using Popsy's illustrations (free!). Attribution is required.
Templates. You can skip building from scratch by using one of the pre-made templates; these include styles like Personal Website, Yoga Instructor, and Graphic Designer Portfolio.
Popsy is our top pick for creating mini-websites, be it landing pages or portfolio sites where you talk about your projects and everything else going on in your life.
It goes without saying that Popsy isn't your all-in-one, full-blown marketing powerhouse, but it has its place. It's fast, easy to use, and lets you focus on the content that goes onto your landing page rather than crazy animations or transition effects
Summary
Click here to go back to the top!
Creating a landing page doesn't have to be a slug of a process. As this article showcases, there are so many great options, each with its strengths and weaknesses. And if you don't mind working with platforms like WordPress, then those options increase tenfold.
The most important thing is knowing what you want your landing page to look like and what you expect the user experience to be like. If you narrow these factors down, finding a landing page builder that's the perfect fit for you becomes increasingly easier.