Are you tired of YouTube's ever-changing algorithms and content restrictions? Look no further! There are a variety of video sharing and hosting alternatives to YouTube that offer unique features and benefits. In this article, we'll explore the top five YouTube alternatives, including Vimeo, Dailymotion, Twitch, Wistia, and BitChute.
Each platform has its own strengths and weaknesses, so it's important to understand what each one offers before deciding which one is the best fit for your needs. Whether you're a content creator or just looking for a new platform to watch videos on, this guide will help you find the perfect alternative to YouTube.
---
Vimeo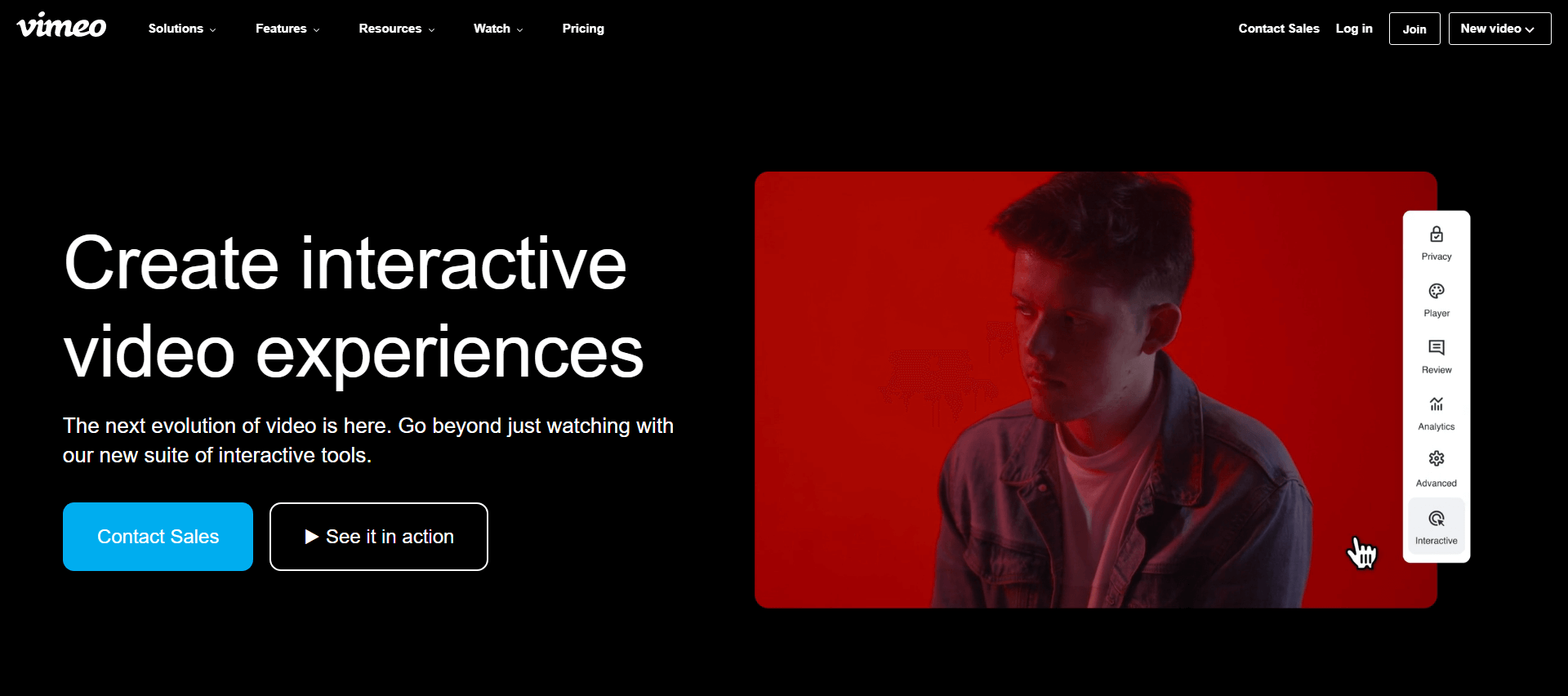 Vimeo is a popular video hosting platform that's widely known for its high-quality and professional content. The platform boasts over 175 million users worldwide, making it a great alternative to YouTube. Vimeo was founded in 2004, and since then, it has grown into one of the most reliable video-sharing websites on the internet.
Key Features
High-quality video playback – Vimeo offers high-quality video playback up to 8K resolution with HDR support.
No ads – Vimeo is ad-free, meaning your videos aren't interrupted by unwanted ads.
Customizable player – You can customize the player's appearance to match your brand or website.
Advanced privacy controls – You have complete control over who can view and share your videos on Vimeo.
Video collaboration tools – You can collaborate with other users on the platform to create and edit videos.
Analytics – Vimeo provides detailed analytics so you can track your views, engagement, and audience demographics.
Vimeo provides several monetization options for content creators including selling videos on demand or through subscriptions, renting videos for a limited time, and accepting donations from viewers.
Pros 👍
Ad-free video hosting
High-quality video playback
Customizable player
Advanced privacy controls
Video collaboration tools
Detailed analytics
Cons 👎
Limited free plan features
Higher cost compared to other video hosting platforms
Vimeo is suitable for all types of creators, whether you're an amateur or professional filmmaker, animator, or musician. One of the best things about Vimeo is that it allows you to host and share your videos without any ads or distractions. This means that your content is more likely to be appreciated by your audience.
---
Dailymotion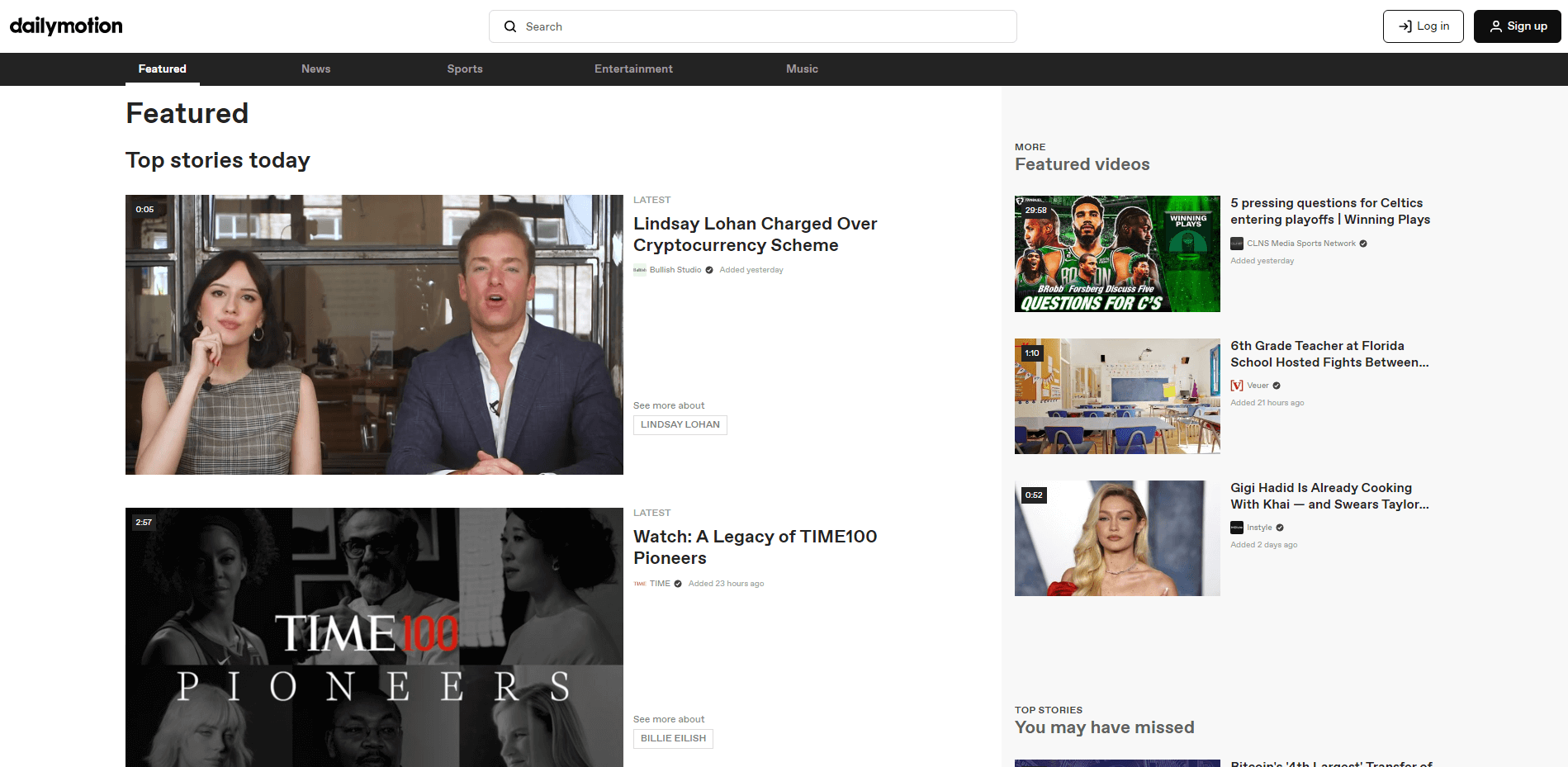 Dailymotion is a popular video-sharing platform that's known for its easy-to-use interface and wide range of content. With over 300 million unique monthly visitors, it's the second-largest video-sharing site after YouTube.
The platform was launched in France in 2005 and has since grown to become one of the most successful video-sharing platforms globally, with a presence in over 180 countries. Dailymotion allows users to upload, share, and view videos on its website and mobile app.
The platform attracts a diverse range of users from music enthusiasts to travel bloggers, vloggers, and more. It's an excellent alternative to YouTube for content creators looking for a more niche audience that appreciates high-quality user-generated content.
Key Features
User-friendly interface – Dailymotion's interface is easy to use, making it simple for users to upload videos or search for relevant content.
Wide range of content – The platform attracts a diverse range of content creators who upload high-quality videos in various categories such as travel, music, gaming, sports, news & politics.
Customizable player – Dailymotion provides customizable players that allow users to embed their videos on their websites or blogs.
Advanced analytics – Creators can access advanced analytics such as views, watch time, engagement rate and other metrics that help them track the performance of their videos.
Monetization options – Creators can monetize their content by running ads on their videos or partnering with brands through the Dailymotion Partner Program.
Dailymotion offers content creators a variety of tools to help them create and edit high-quality videos. The platform provides an intuitive video editor that allows users to trim, cut, and crop their videos easily. It also has some advanced editing tools like color correction, filters, and effects.
Pros 👍
Provides high-quality user-generated content
Customizable player
Wide range of categories and genres
Advanced analytics
Monetization options
Cons 👎
May not have as large an audience as YouTube
Restricted upload limits for non-partnered creators
Limited marketing tools and support
Overall, Dailymotion can be an excellent alternative to YouTube with its large user base and easy-to-use interface along with monetization options for creators. However, it may not be suitable for everyone due to its limited reach in some regions and fewer features for creators compared to YouTube.
---
Twitch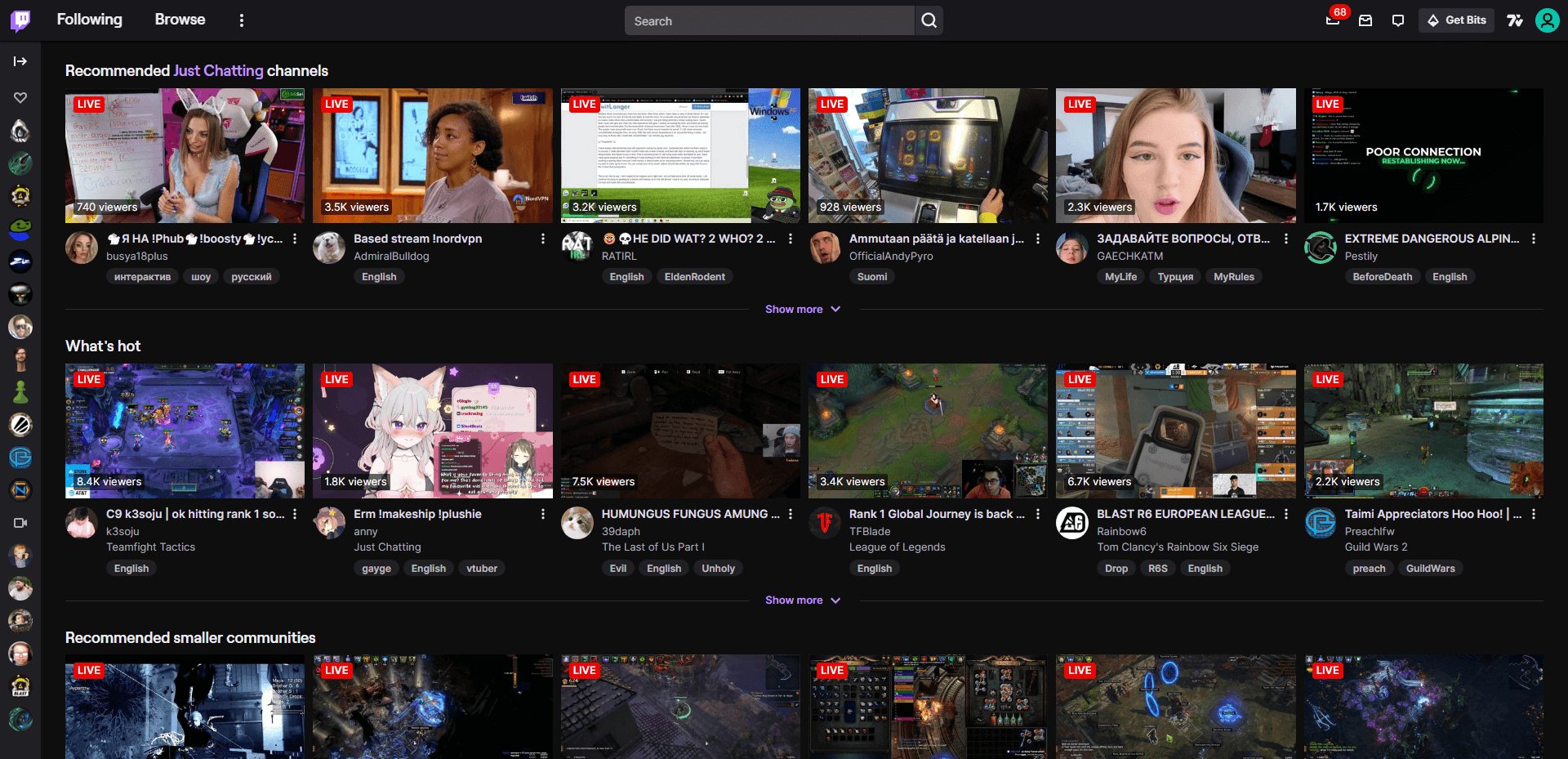 Twitch is a live streaming video platform that allows users to stream their content in real-time. The platform was first launched in 2011 and has since become one of the leading video-sharing platforms on the internet. Twitch primarily focuses on live video game streaming, but it also offers other types of content such as music, talk shows, and creative content.
Key Features
Live Streaming – One of the biggest reasons why Twitch has become so popular is because it allows users to live stream their content to a large audience. This means that users can broadcast their gameplay, podcasts, music performances, talk shows, or any other type of content in real-time.
Gaming Focused – Twitch was initially designed for gamers, so it's no surprise that it's still one of the best platforms for gaming content. The platform offers various tools and features tailored specifically for gaming streams such as chat integration, emotes, game overlays, and more.
Community Interaction – Twitch places a lot of emphasis on community interaction and engagement. Users can interact with each other through live chat during streams or through private messaging. Additionally, Twitch offers various community features such as groups, forums and even monetization options.
Monetization Options – For those who want to monetize their content, Twitch offers several options such as subscriptions from viewership on channels, donations from fans or sponsorships from brands.
Mobile App – Twitch also has a mobile app which makes it easy for users to stream or watch content on-the-go using their mobile devices.
With over 140 million monthly active users worldwide, Twitch has become a powerful tool for creators to reach their audience through live streaming. The platform's popularity has also attracted major brands that use it for marketing purposes or to connect with their fans.
Pros 👍
Twitch has established itself as the go-to platform for live streaming, primarily for gaming content. This means that there is a dedicated audience that is more likely to engage with your content on the platform.
Twitch offers several ways to monetize your content, including subscriptions, donations, sponsorships, and ad revenue. This can be a great way to earn money from your content.
Twitch allows viewers to interact with streamers through chat, emojis, and other features. This creates a more engaging experience for viewers and can help build a community around your channel.
Twitch has a user-friendly interface that makes it easy to start streaming or upload videos.
Twitch can be integrated with other platforms like Discord and Twitter, making it easier to promote your content across multiple channels.
Cons 👎
While Twitch's primary focus is on live streaming gaming content, it may not be the best option for creators who want to share other types of videos like tutorials or vlogs.
With so many people using Twitch to stream gaming content, it can be hard for new creators to get noticed among the competition.
As with any platform that allows user-generated content, moderation can be challenging on Twitch. Streamers may face issues with trolls or inappropriate comments in their chat.
Unlike YouTube, where users can store unlimited videos on their channel, Twitch only allows you to store past broadcasts for 14 days unless you have a subscription.
While Twitch does offer ad revenue sharing, it can be difficult for smaller channels to earn significant revenue from ads due to the platform's policies.
In conclusion, Twitch can be a great alternative to YouTube for creators who focus on live streaming and want to build a dedicated audience. However, it may not be the best option for creators who want to share other types of videos or struggle with moderation challenges.
Wistia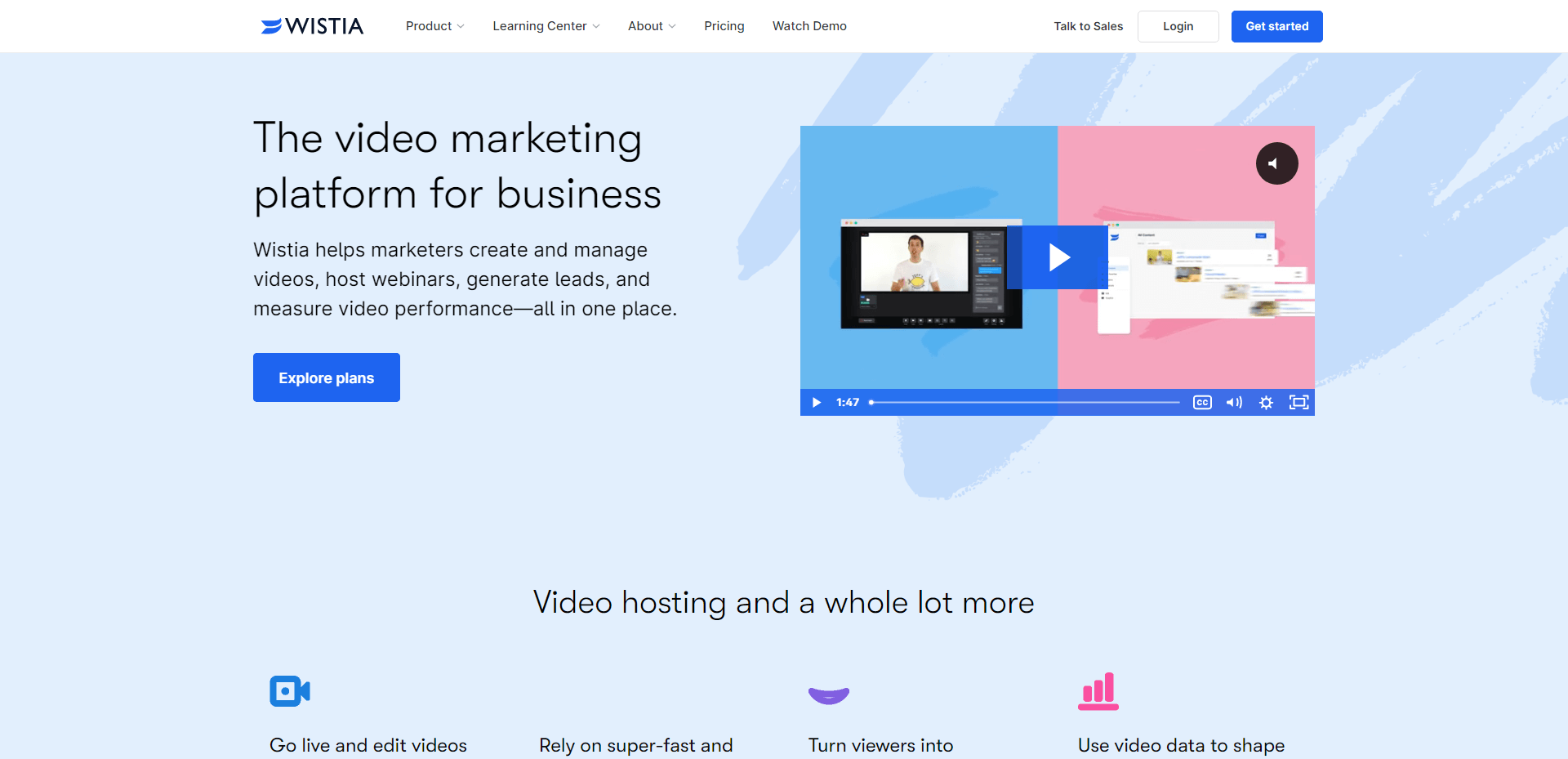 Wistia is a video hosting and marketing platform that aims to help businesses create, host, and share videos with their audience. Unlike YouTube, which is primarily a social media platform for user-generated content, Wistia focuses on helping businesses create professional-quality videos for marketing purposes.
Key Features
Customizable Player – One of the best features of Wistia is its customizable player. With Wistia, you can easily customize your video player to match your brand. You can change the color scheme, add your logo, and even add custom calls-to-action to your videos.
Detailed Analytics – Wistia provides detailed analytics for all of your videos. You can see how many people have watched your videos, where they are located, and even how much of the video they have watched. This information can help you optimize your videos for better engagement.
Lead Generation – Wistia allows you to collect leads directly from your videos. You can add forms directly into your videos and collect contact information from viewers who are interested in learning more about your products or services.
Integration with Marketing Tools – Wistia integrates seamlessly with popular marketing tools like HubSpot, Marketo, and MailChimp. This allows you to use the data collected from Wistia to create more targeted marketing campaigns.
Secure Video Hosting – Wistia provides secure video hosting, which means that all of your videos are stored on their servers and protected by industry-standard security measures. This ensures that only authorized users can access your content.
Since Wistia is geared toward businesses, it may not be the best option if you're looking to reach a wider audience. It's not as well known as platforms like YouTube, which means you may have to work harder to promote your videos and grow your audience.
Pros 👍
One of the biggest advantages of using Wistia is that it allows for greater customization than some other platforms. You can customize everything from the player colors to video thumbnails, which can help your videos stand out.
Wistia provides detailed analytics that can help you track how well your videos are performing. You can even see which parts of your video are being watched the most and where viewers are dropping off.
Wistia has built-in SEO features such as automatic sitemaps, social sharing buttons, and customizable metadata. This makes it easier for your videos to be discovered by search engines and shared on social media.
Wistia has advanced security features that help protect your videos from being stolen or downloaded without your permission. You can also password protect your videos or restrict access to specific domains.
Cons 👎
While Wistia offers a free plan, it comes with limited features and branding on your videos. To access all of their features, you'll need to upgrade to one of their paid plans which can be expensive compared to other platforms.
Unlike YouTube, there's a limit on how much storage you have on Wistia. If you're planning on uploading a lot of videos, you may need to upgrade to a higher plan or pay extra fees for additional storage.
Overall, Wistia is a great choice for businesses that want more control over their video content and analytics. However, if you're looking for a platform with unlimited storage and a wider audience reach, then it may not be the best choice for you.
---
BitChute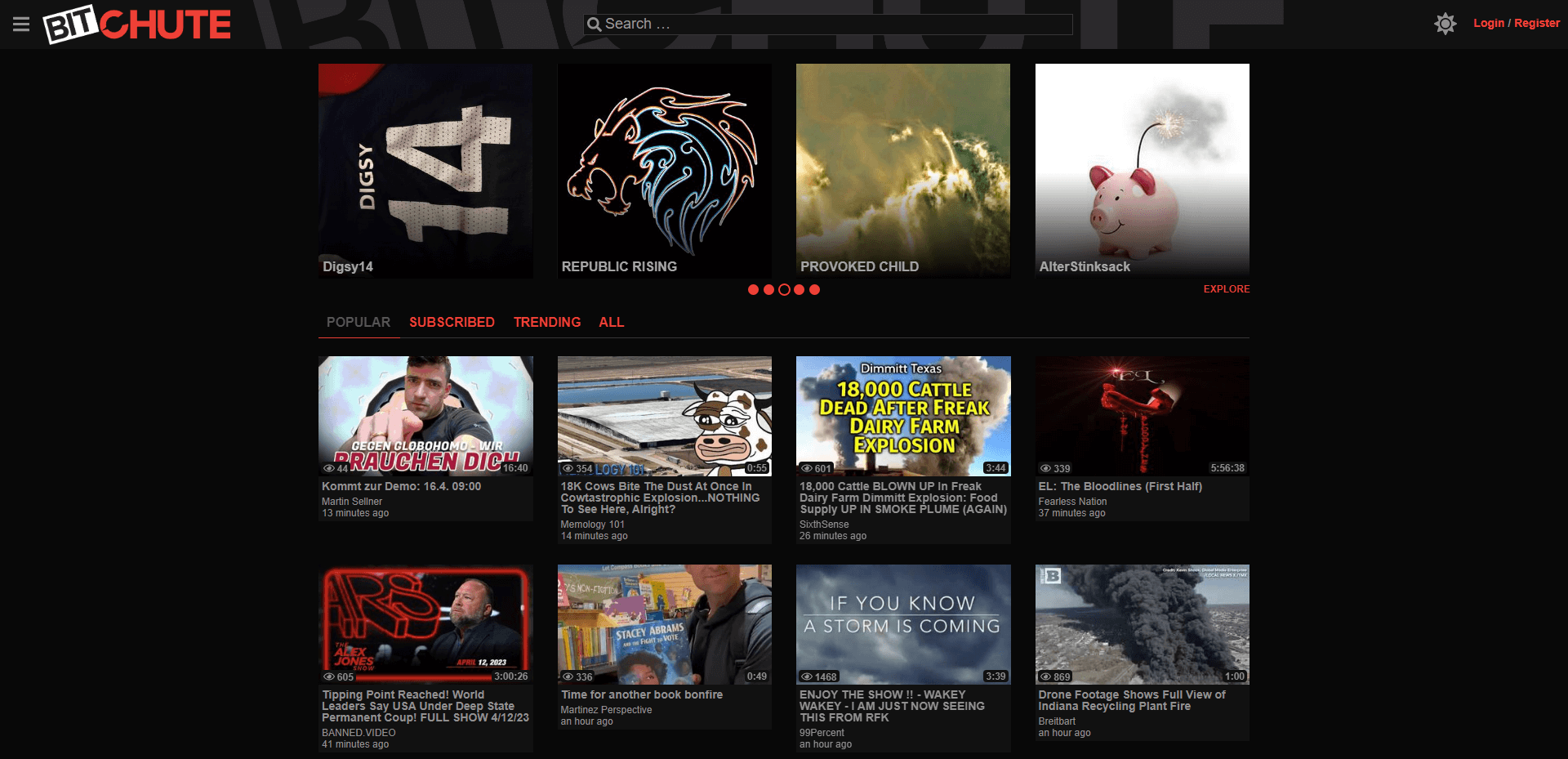 BitChute is a video hosting platform that has been gaining popularity as a viable alternative to YouTube. It was created in 2017 and is known for its stance on free speech and decentralization. BitChute uses peer-to-peer technology to distribute video content, making it a unique platform in the world of video hosting.
One of the key features of BitChute is its emphasis on freedom of speech. The platform allows users to upload content without fear of censorship or removal due to political or controversial views. Additionally, BitChute does not restrict monetization or demonetize channels based on their content, making it an attractive alternative for creators looking for more control over their revenue streams.
BitChute also offers users the ability to create and join channels, subscribe to favorite creators, and share videos across social media platforms easily. The interface is straightforward and easy to use, with a design that focuses on the video and not on cluttered menus or ads.
Key Features
Decentralized content distribution – BitChute uses peer-to-peer technology to distribute video content without relying on centralized servers. This means no single entity can control or censor the content on the platform.
Free speech – Unlike YouTube, BitChute does not remove videos or ban users based on their political views or opinions. It allows for a wide range of content, including controversial topics and alternative viewpoints.
Privacy – BitChute respects its users' privacy and does not track their activity or collect personal information. It also allows users to upload videos anonymously.
Monetization options – BitChute offers monetization options for content creators, including ad revenue sharing and direct donations from viewers.
User-friendly interface – The platform is easy to use and navigate, with a clean interface that resembles YouTube's layout.
Large user base – Despite being a relatively new platform, BitChute has gained a large user base due to its unique features and commitment to free speech.
While some users may find BitChute's peer-to-peer technology appealing due to its decentralization, others may find it challenging because it can make streaming videos slower at times. However, this has not prevented many from choosing BitChute as their preferred video hosting platform.
Pros 👍
BitChute allows creators to upload content without fear of censorship, provided it doesn't violate the platform's terms of service.
Unlike YouTube, BitChute doesn't run ads on videos. This means that creators can focus on making content without worrying about pleasing advertisers.
BitChute uses peer-to-peer technology, which means that videos are distributed across the network rather than being stored on a central server. This makes it more difficult for the platform to be shut down or censored.
Cons 👎
Despite having over 2 million registered users, BitChute still lags behind YouTube in terms of audience size. This means that creators may have trouble reaching as many people as they would on other platforms.
Because BitChute allows free speech, there is some concern that the platform may attract extremist or hateful content.
Because BitChute uses peer-to-peer technology, it can sometimes be slower or less reliable than traditional video hosting platforms.
In conclusion, while BitChute offers an appealing alternative for those who value free speech and dislike ads, it may not be the best choice for everyone due to its limited audience and potential for questionable content. However, for those who value decentralization and are willing to accept some technical issues, BitChute could be a worthwhile option to explore.
---
Summary
While YouTube may be the most popular and widely recognized option, numerous alternatives offer unique features, tailored experiences, and niche communities to cater to different needs and preferences.
By exploring these alternatives, creators can diversify their content distribution, reach new audiences, and find the perfect platform to showcase their work. As the digital world continues to advance, there is no doubt that video content will continue to be an influential medium for communication, education, and entertainment.
So, take the time to research and select the ideal platform that aligns with your goals and aspirations, and embrace the boundless opportunities that await in the realm of online video sharing and hosting.