As seasoned writers, we all know that good grammar and spelling are crucial to producing high-quality writing. Whether it's a captivating blog post, a persuasive email, or a thought-provoking essay, you know that flawless grammar and spelling are crucial to engage and impress your readers.
But let's face it, we're only human, and mistakes happen. That's where grammar and spell checking tools come in. You've probably heard of Grammarly, and sure, it's a great tool.
But have you ever wondered what else is out there, just waiting to help you up your writing game?
That's what we're here to talk about today! We've found five Grammarly alternatives that might just become your new go-to tools. We're going to dig into what makes each of these options unique, and break down their features and pricing plans, so you can decide which one is the best fit for you.
---
ProWritingAid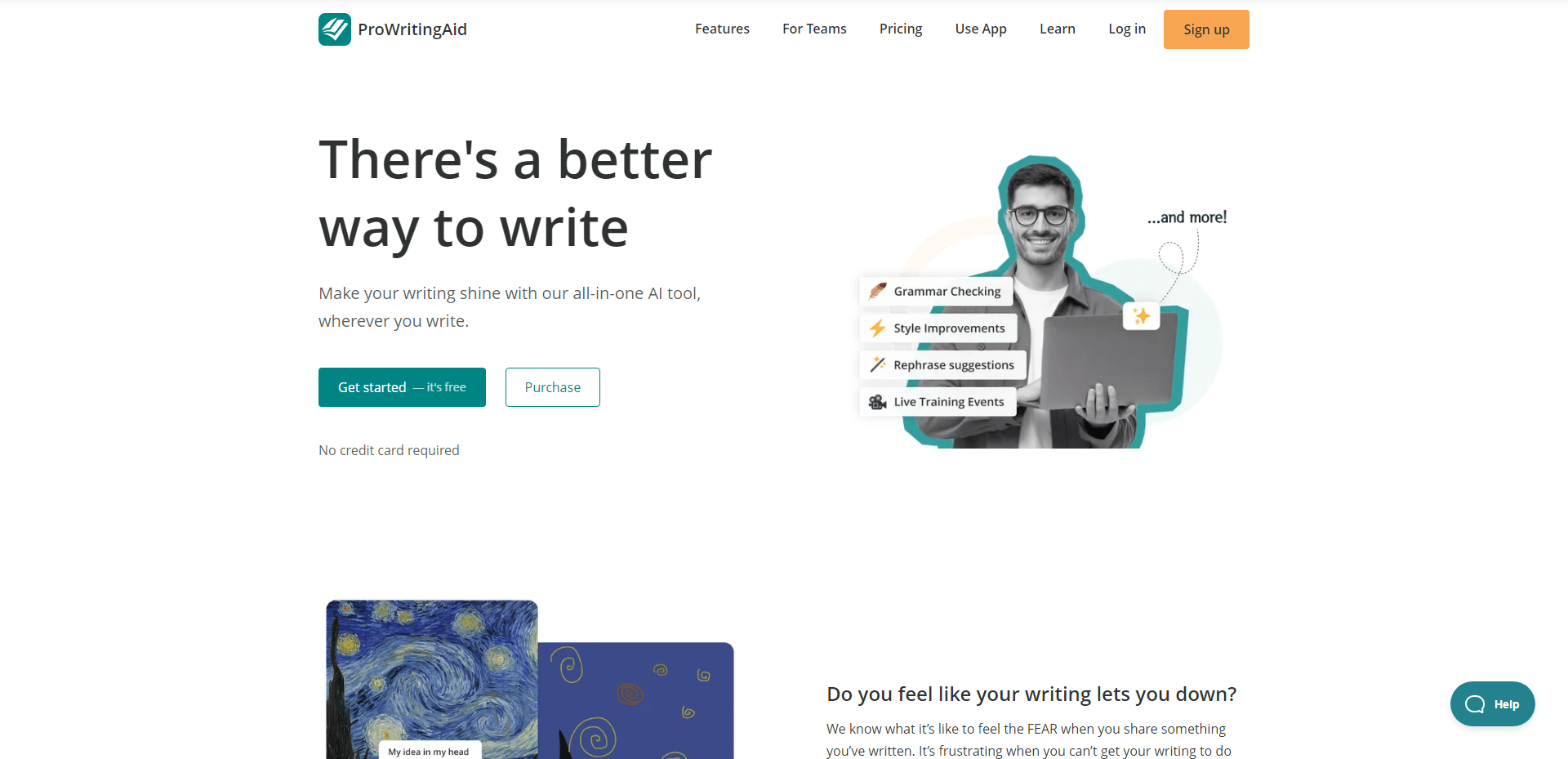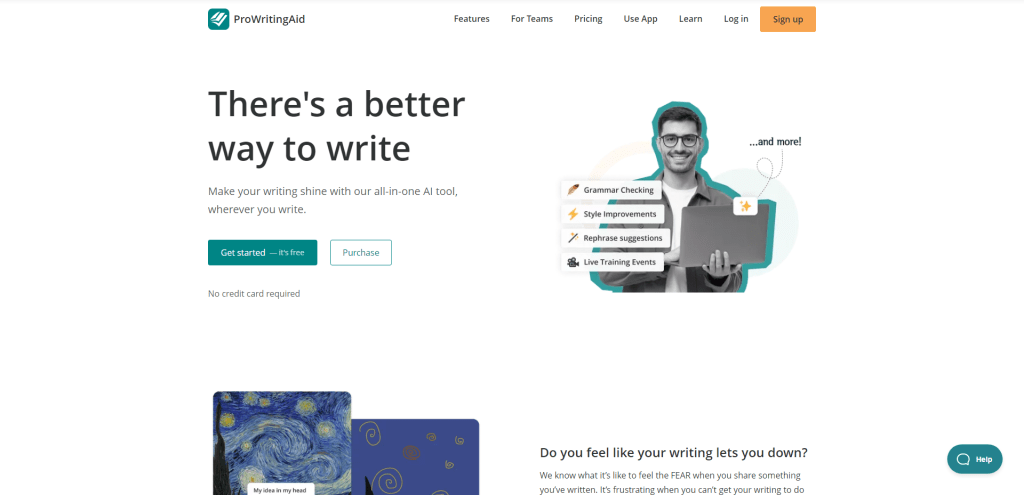 Are you tired of being dependent on Grammarly for your writing needs? If so, ProWritingAid could be the perfect alternative for you. This web-based writing assistant is designed to help writers improve their work by identifying grammatical errors, spelling mistakes, and other issues.
ProWritingAid is not just limited to correcting grammar and spelling. It also offers a range of features to enhance your writing such as style improvements, contextual thesaurus suggestions, overused words identification, and consistency checks. This tool is great if you want to elevate your writing game and take your work to the next level.
Features of ProWritingAid
Firstly, ProWritingAid has a contextual thesaurus that suggests synonyms based on the context of your writing. This feature ensures that you use the most appropriate words and avoid repetition. Additionally, it has a style checker that highlights areas where you can simplify your sentences or make them more concise.
ProWritingAid also has a grammar checker that analyzes your text for common grammatical errors such as punctuation mistakes, subject-verb agreement issues, and others. The software also checks for potential grammar issues such as vague pronoun references and misuse of passive voice.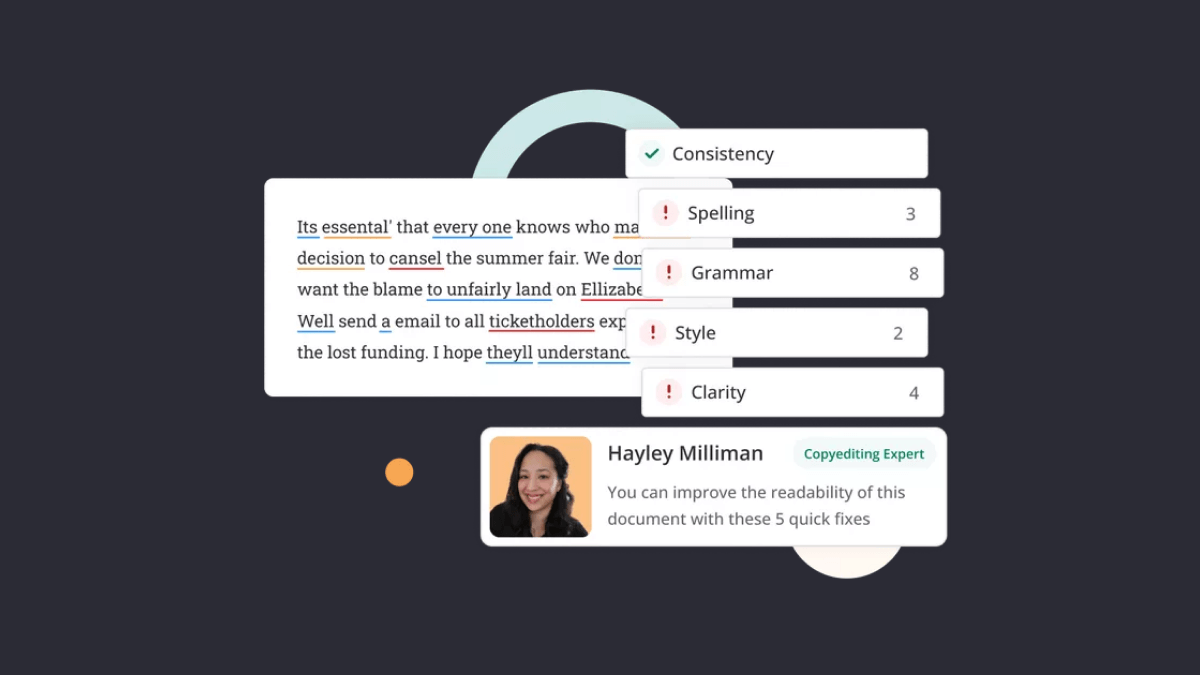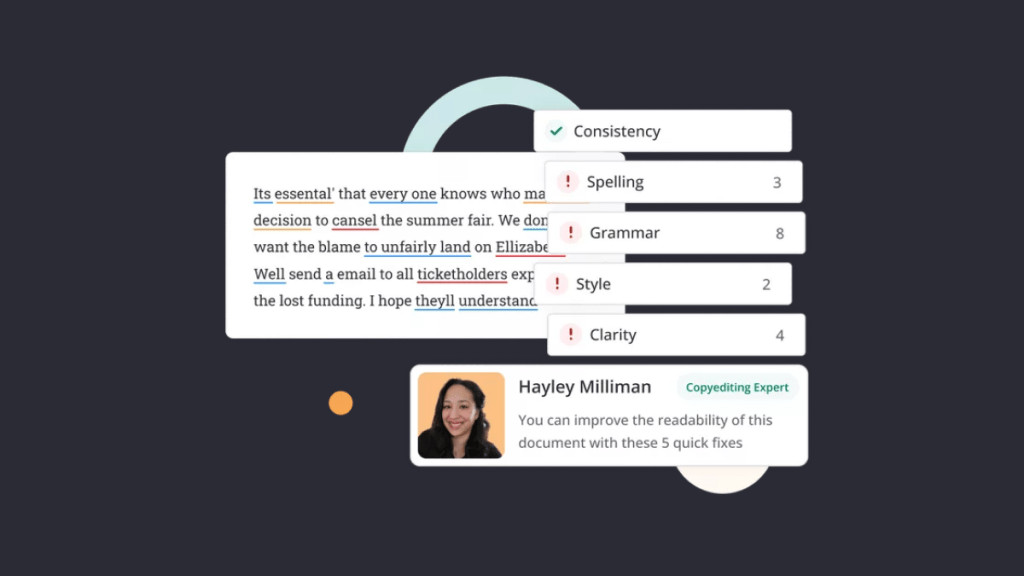 Another unique feature of ProWritingAid is its readability analyzer, which checks how easy it is to read your text. The software calculates the Flesch Reading Ease Score and the Flesch-Kincaid Grade Level Score, which are commonly used metrics to measure readability.
Lastly, you can generate in-depth reports on various aspects of your writing such as overused words and phrases, sentence length variation, pacing, and more. These reports help you identify areas where you can improve your writing style.
Pricing plans of ProWritingAid
The pricing plans include the Free plan, which offers limited features but is a good option for those on a tight budget. The Premium plan ($10 a month), which is the most popular, offers more comprehensive features such as advanced grammar checking, contextual thesaurus suggestions, and integration with Google Docs and Microsoft Word. The Premium Plus plan adds features like plagiarism checking and access to the desktop app.
---
Hemingway Editor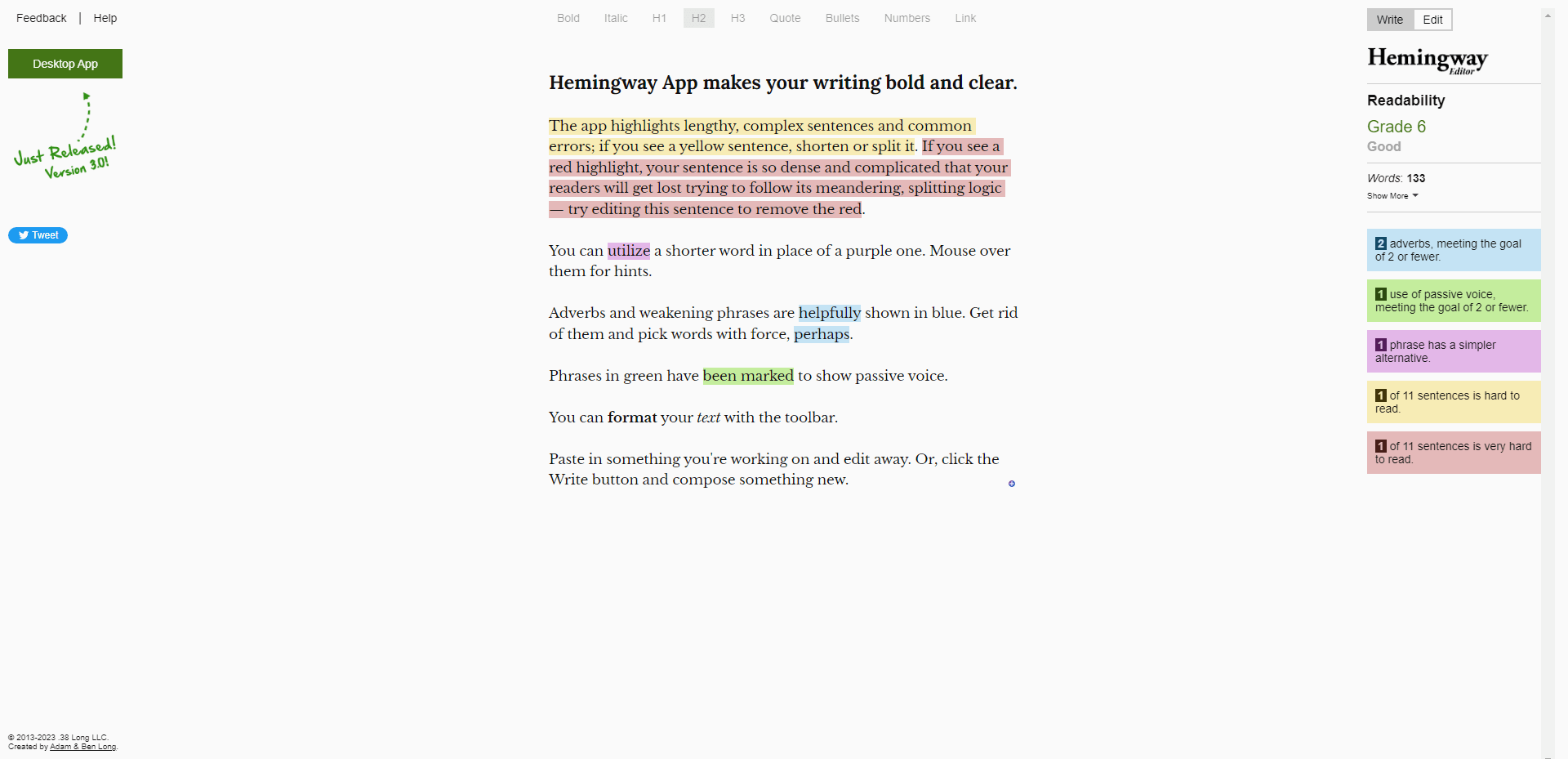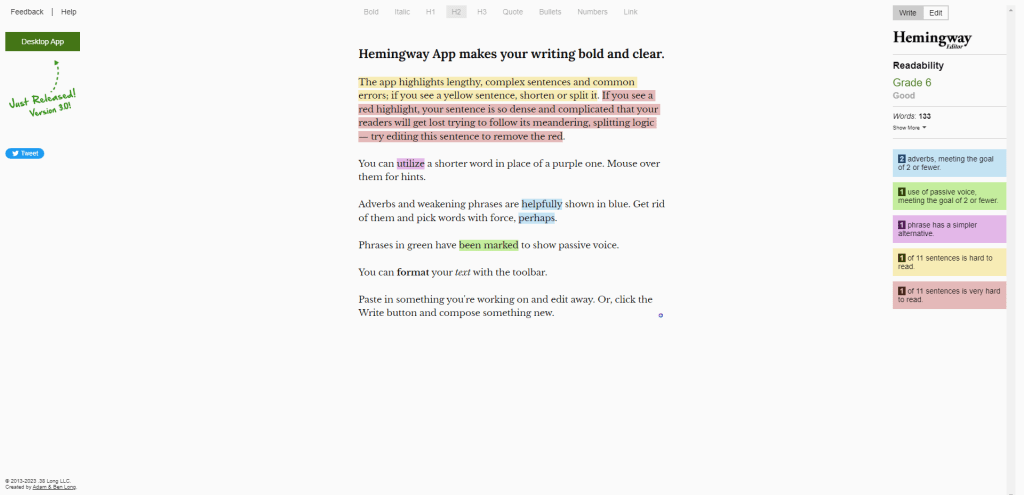 If you're looking for a tool that goes beyond basic grammar and spelling checks, the Hemingway Editor is worth considering. It's a writing app that helps you to craft clear and concise sentences.
Named after the famous writer Ernest Hemingway, this app is designed to help writers simplify their work by highlighting long or complex sentences, adverbs, and other elements that can make text difficult to read.
The interface is clean and easy to use, with color-coding that identifies different types of issues in your writing. You can paste your text into the editor, or write directly within it. The app also provides readability scores based on the Flesch-Kincaid scale.
Features of Hemingway Editor
One of the key features of Hemingway Editor is its ability to highlight complex sentences, making it easy for users to identify and simplify them. The app also highlights weak adverbs, which can be replaced with stronger verbs or adjectives. In addition, it identifies instances of passive voice and suggests active alternatives.
Another great feature of Hemingway Editor is its readability score. The app calculates a readability score based on the complexity of sentences and the use of adverbs and passive voice. This score helps users to identify areas where their writing may be too complex or difficult to read.
Hemingway Editor also offers a formatting feature that allows users to format their text easily. This feature includes options such as bold, italicize, or underline.
The app also provides users with suggestions for alternative word choices that can help improve the flow and clarity of their writing. It also includes a built-in dictionary for quick reference.
In terms of usability, Hemingway Editor has a simple interface that is easy to navigate. It is available as both a desktop app and an online tool that can be accessed from any device with an internet connection.
Pricing plans of Hemingway Editor
Hemingway App offers a free online version, which allows users to edit their text directly in the browser without downloading any software. The online version is limited, but it is still useful for basic grammar and spelling checks.
For more advanced features, Hemingway Editor offers a desktop app that can be downloaded for a one-time fee of $19.99. The desktop app includes features such as writing suggestions for sentence structure, readability, and word choice, in addition to the basic grammar and spelling checks.
---
Ginger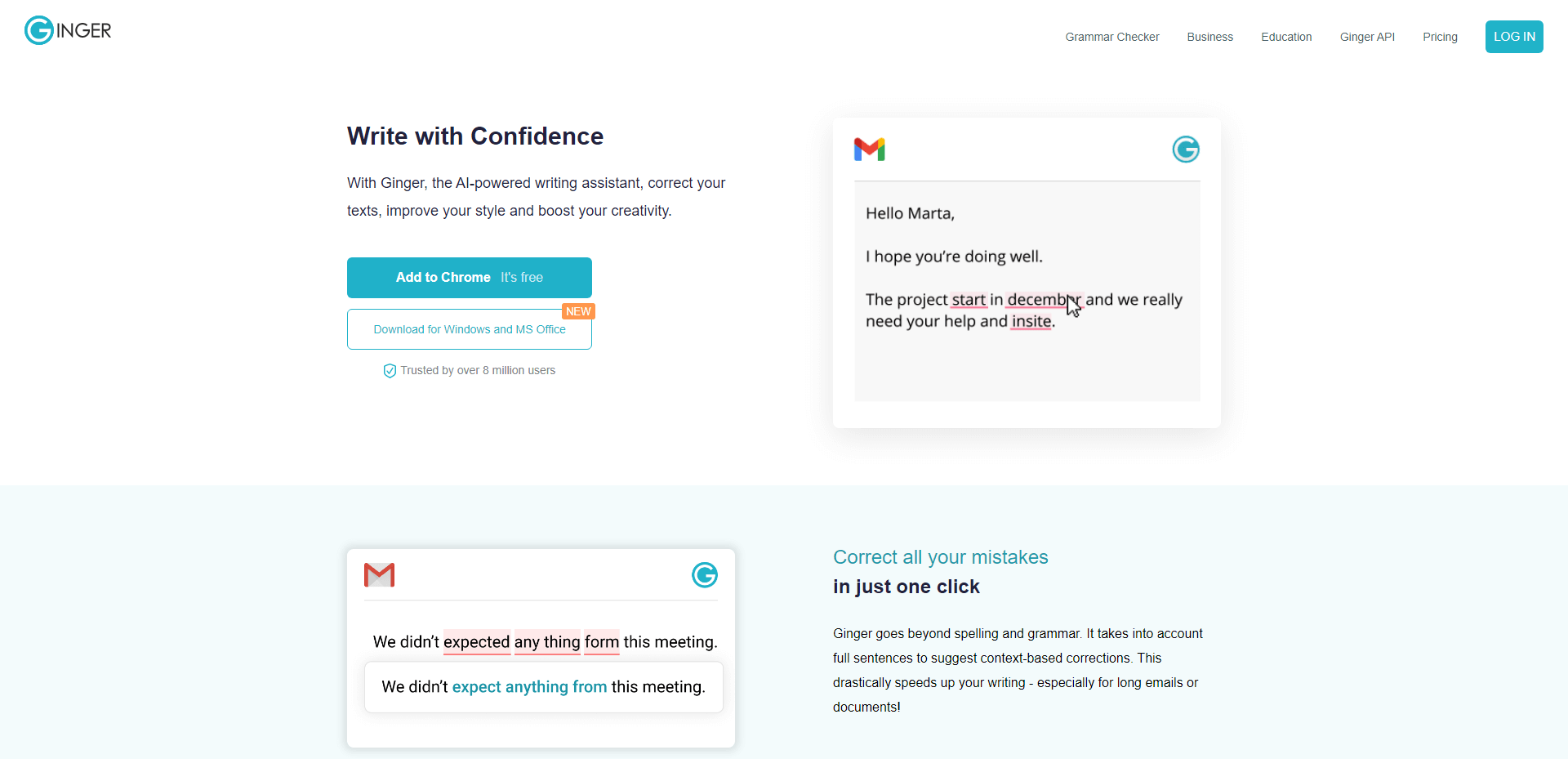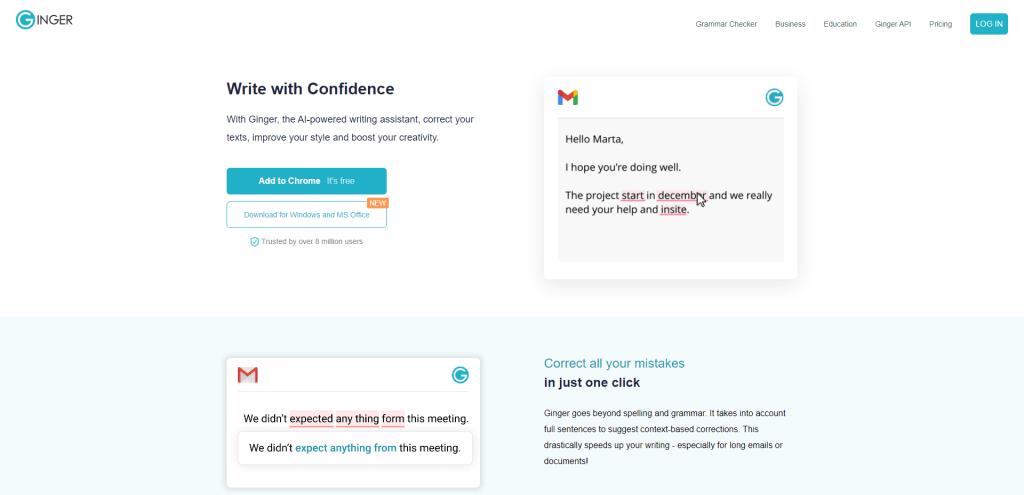 Ginger is a powerful grammar and spell checker tool that offers an excellent alternative to Grammarly. It provides numerous features to help users improve their writing skills, including text-to-speech, translation tools, and personalized writing insights.
It can understand the context of the sentence and suggest corrections that are appropriate for the specific scenario. This is particularly useful for detecting errors such as homonyms, which are words with different meanings but identical spellings.
Ginger also has a robust translation tool that allows users to translate their content into over 40 different languages. Whether you are communicating with clients in a different language or creating content for an international audience, this feature will come in handy.
Features of Ginger
Here are some notable features of Ginger Software:
Grammar Checker: Ginger scans your text for grammatical errors and suggests corrections based on the context. The software uses advanced AI algorithms to analyze your writing style and provide suggestions accordingly.
Spelling Checker: The spelling checker feature of Ginger helps you avoid misspelled words in your text. The software automatically detects any typos or misspelled words and provides suggestions for correction.
Sentence Rephraser: If you have trouble with sentence structure or wording, the sentence rephraser feature can come in handy. This feature analyzes your sentence structure and suggests alternative phrasing to improve readability.
Translator: Ginger also has a built-in translator that supports more than 60 languages. This feature lets you translate your content into multiple languages without leaving the app.
Text Reader: If you want to hear your text read out loud, the text reader feature can come in handy. Ginger uses advanced TTS technology to read your text aloud, which can help improve pronunciation and fluency.
Personal Dictionary: With Ginger's personal dictionary, you can add frequently used words to a custom dictionary and avoid repeated corrections.
Overall, Ginger is an excellent alternative to Grammarly that offers a comprehensive set of features for grammar and spell checking.
Pricing plans of Ginger
When it comes to pricing, Ginger offers both free and paid plans.
The free version of Ginger Software provides basic grammar and spell checking, as well as limited access to the text-to-speech feature. The premium version, on the other hand, includes advanced sentence rephrasing and plagiarism detection capabilities, as well as unlimited access to the text-to-speech feature.
Ginger's pricing plans are reasonable and offer great value for money. The monthly plan costs $19.99 per month, while the annual plan costs $12.48 per month. Additionally, Ginger offers a two-year plan that costs $9.99 per month.
---
WhiteSmoke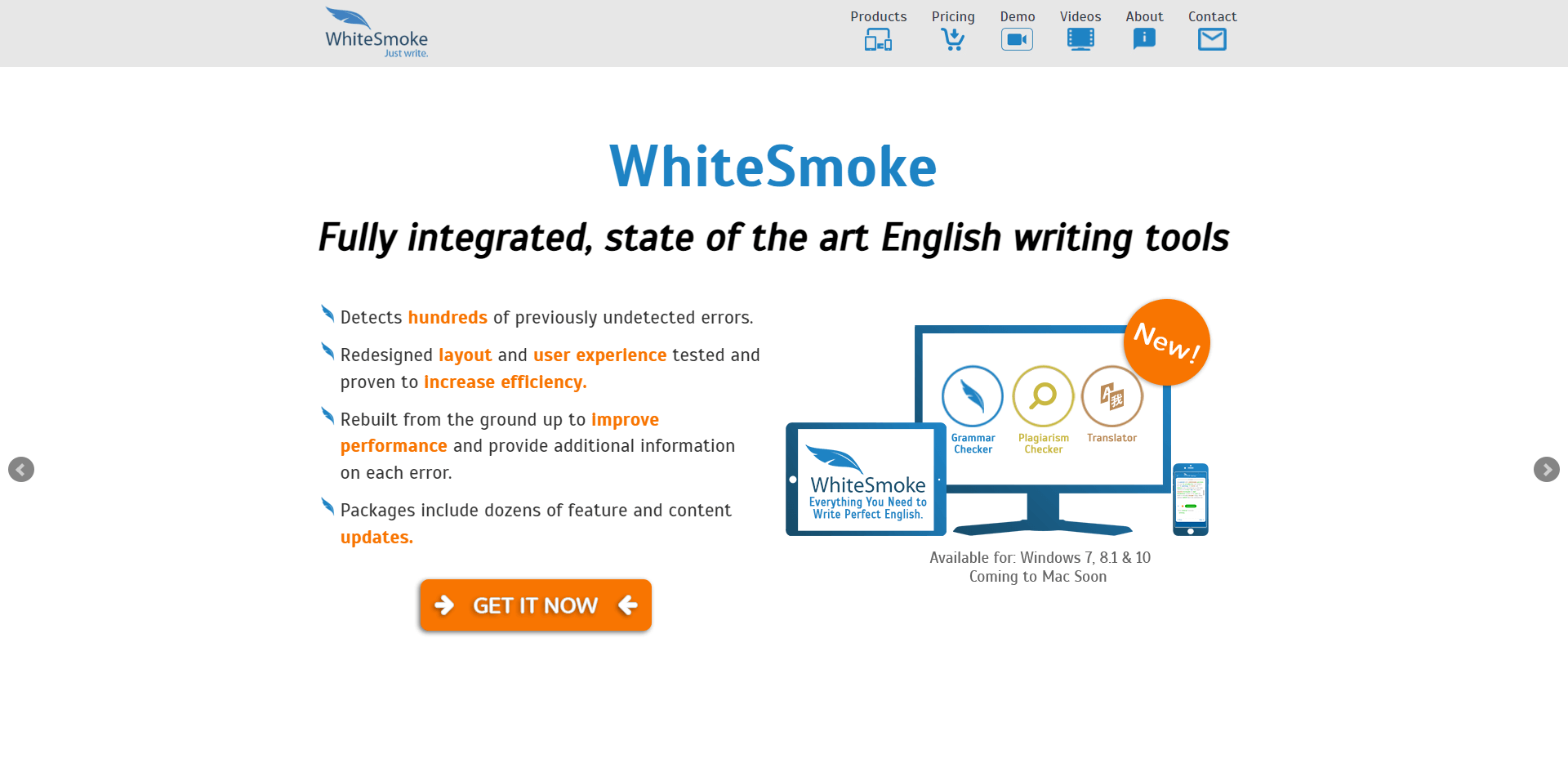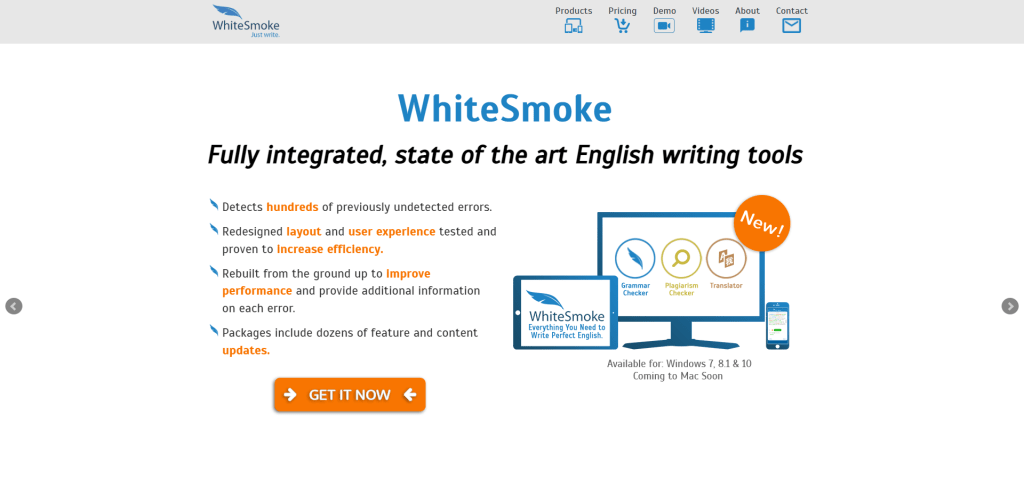 WhiteSmoke is a popular writing tool that offers comprehensive grammar and spell checking services. It is an excellent Grammarly alternative that provides users with suggestions and corrections to improve their writing skills.
WhiteSmoke uses advanced AI technology to analyze text and offers suggestions for improving it. This software can detect errors in grammar, punctuation, spelling, and style, among others.
This tool is user-friendly and can be integrated with several web browsers such as Google Chrome, Firefox, and Safari. It also offers a desktop version that is compatible with macOS and Windows operating systems.
Features of WhiteSmoke
WhiteSmoke has several features that make it stand out from other grammar-checking tools.
Some of these features include:
Advanced grammar checking: The software scans your text for grammatical errors and suggests corrections.
Spell checking: WhiteSmoke can detect spelling mistakes in your text and suggest correct spellings.
Plagiarism checker: It has a built-in plagiarism checker that scans your text against millions of websites to ensure its originality.
Style suggestions: The software recommends style improvements to make sure your writing flows well.
Translator: WhiteSmoke offers a translator service that translates your text into over 50 languages.
Pricing Plans of WhiteSmoke
WhiteSmoke offers different pricing plans depending on the type of user. Its plans include:
Web Plan: This plan costs $10.00 per month or $120.00 per year. It includes grammar and spelling checking services.
Premium Plan: This plan costs $13.33 per month or $159.95 per year. It includes all the features of the Essential Plan plus style suggestions, plagiarism checking, translator services, and more.
Business Plan: This plan costs $29.99 per month or $359 per year. It includes all the features of the Premium Plan plus team management tools.
In conclusion, WhiteSmoke is an excellent Grammarly alternative that offers users comprehensive grammar and spell-checking services. Its advanced AI technology and style improvement suggestions make it an ideal tool for writers, students, and professionals who want to improve their writing skills.
---
LanguageTool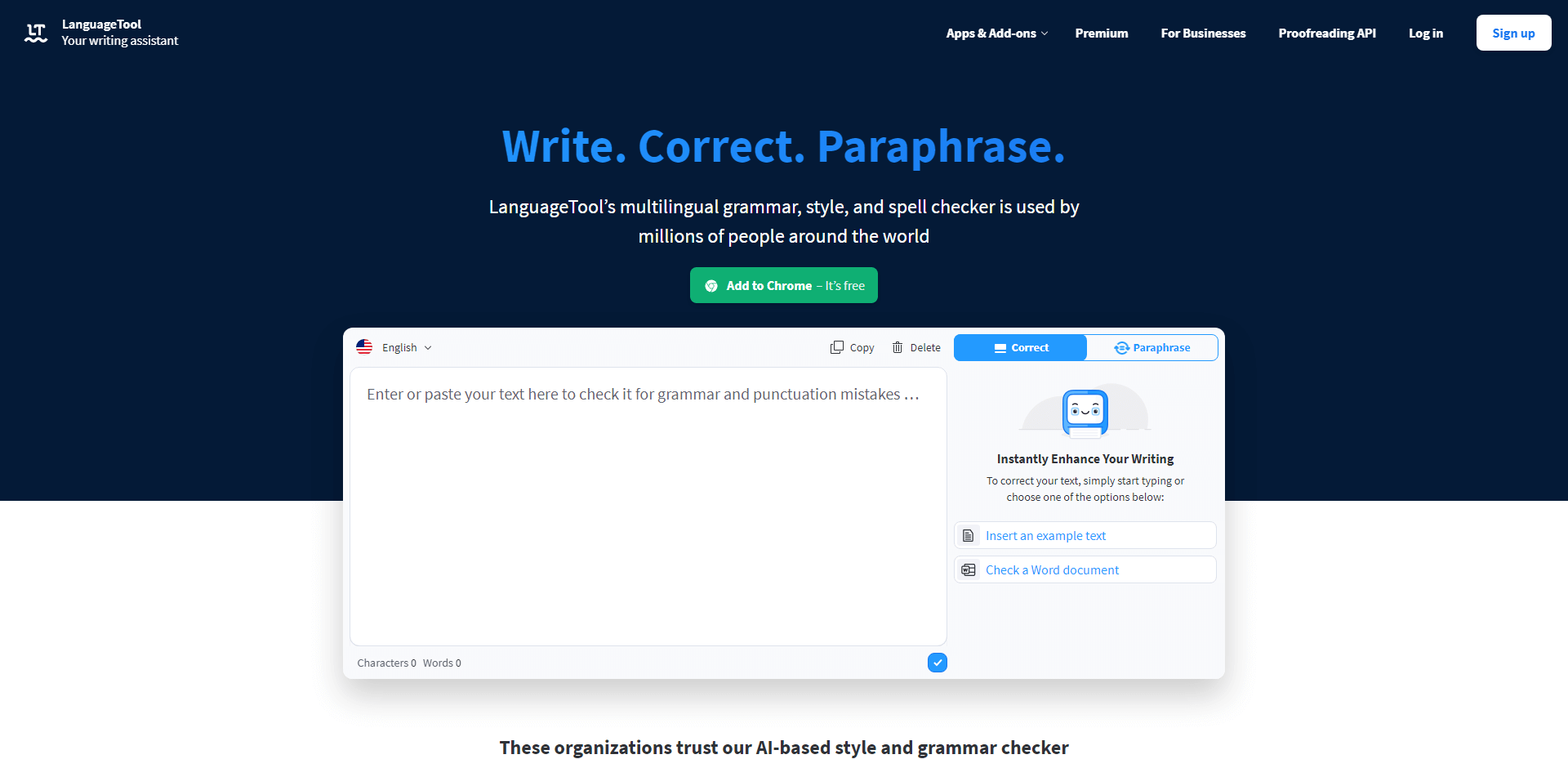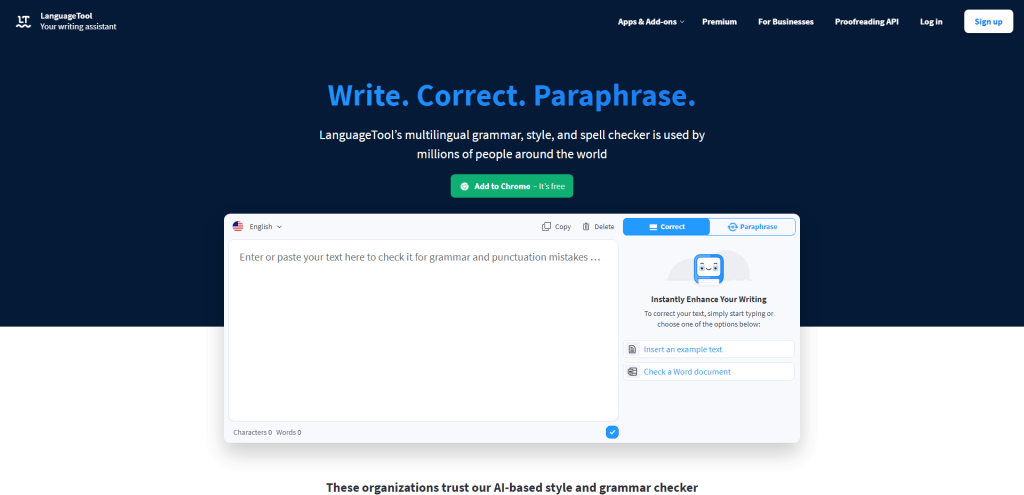 LanguageTool is a powerful grammar and spell checking tool that provides exceptional writing assistance for bloggers, writers, and other content creators. It has been designed to help users improve their writing skills by identifying grammatical errors and suggesting corrections in real-time. LanguageTool's advanced algorithms can analyze lengthy sentences, catch common errors, and suggest appropriate synonyms for overused words.
Features of LanguageTool
LanguageTool is packed with amazing features that make it an excellent alternative to Grammarly. It supports over 20 languages and can check your content for spelling errors, grammar mistakes, style issues, punctuation errors, and more. The tool highlights every error in your text with suggestions for correction alongside it. It also provides explanations for each error detected as well as a link where you can read more about the rule behind the detected error.
Pricing plans of LanguageTool
LanguageTool offers both free and premium versions. The free version allows you to check up to 20,000 characters at a time but does not support integration with Microsoft Word or Google Docs.
The premium version offers unlimited checks with integration support for Microsoft Word & Google Docs plus other advanced features such as the ability to detect plagiarism.
Overall, LanguageTool is an excellent alternative to Grammarly thanks to its comprehensive range of features that are both easy-to-use and effective in improving your writing skills.
Conclusion
Well, there you have it. We've journeyed together through the world of Grammarly alternatives, exploring the ins and outs of these five fantastic writing tools. From ProWritingAid's in-depth analysis to Hemingway Editor's focus on readability, Ginger Software's user-friendly interface, WhiteSmoke's language versatility, and LanguageTool's support for multiple platforms, each of these options brings something unique to the table.
As we wrap this up, it's important to remember that finding the perfect grammar and spell checker is all about figuring out what works best for you and your writing needs.
So take a moment to reflect on the features and pricing plans we've discussed, and see which tool resonates with you. At the end of the day, it's all about making sure your writing shines, and we're confident that one of these Grammarly alternatives will help you achieve just that. Happy writing!