Text-to-Speech (TTS) has been around for a long time, but only in the recent couple of years has the tech started to advance to a level where it's possible to train a model on your own voice, or that of any other person.
In this article, we'll take a closer look at the best AI-based tools for converting Text to Speech/Audio. I'll be including simple tools that you can use for your personal projects and more nuanced options that offer hundreds of voiceovers and cutting-edge features, such as emotional implementations and more!
---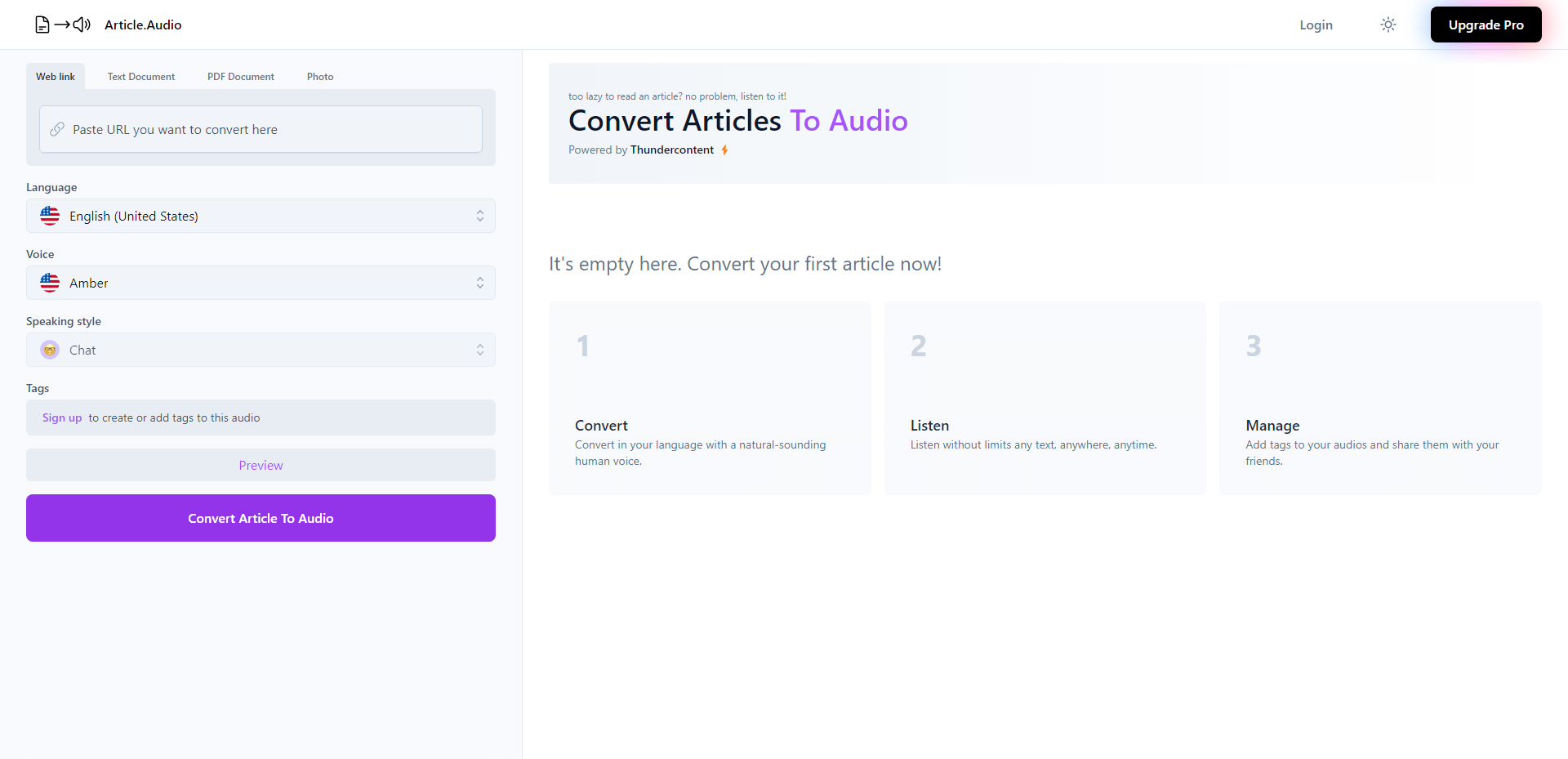 This platform allows you to convert text-based content into audio format, making it easier to consume content on the go.
Article.Audio's interface is clean, user-friendly, and easy to navigate. Converting content requires only a few simple steps: paste the URL of the desired article, choose a language and voice, and opt for a speaking style. The platform even allows you to add tags to your audio files for improved organization and sharing capabilities.
In my experience, the platform's performance has been top-notch. Conversions are quick, and the final output is a high-quality audio file that can be easily accessed anytime. The ability to listen to content without limits adds to the convenience.
Pricing: It's free with limitations. The monthly plan is €19/month with unlimited conversions, downloads, 145 languages, 270+ voices, and 31 speaking styles.
---

This AI speech software claims to provide the most realistic and versatile voices, making it the ultimate tool for storytelling. After trying it out, I can confidently say that it lives up to the hype.
Prime Voice AI enables you to voice any length of text in top quality, automatically matching the content with the appropriate tone and style. From news articles to audiobooks, the software provides a range of applications for creators and publishers. I was particularly impressed with its ability to handle long-form content and generate lifelike speech synthesis.
The deep learning model behind Prime Voice AI renders human intonation and inflections with unprecedented fidelity. This breakthrough allows creators to develop compelling audio content across various fields, from storytelling to video game development. One remarkable feature is the AI's ability to laugh, adding emotional depth to audio content.
The platform also offers a Voice Lab, where you can clone voices from samples or even your own voice. It allows you to create entirely new synthetic voices from scratch. I found this feature incredibly useful for crafting unique audio experiences for my projects.
Pricing: The plans range from free to $22/month for content creators, offering various options for hobbyists and professionals alike. The plans include long-form speech synthesis, custom voice creation, and API access.
---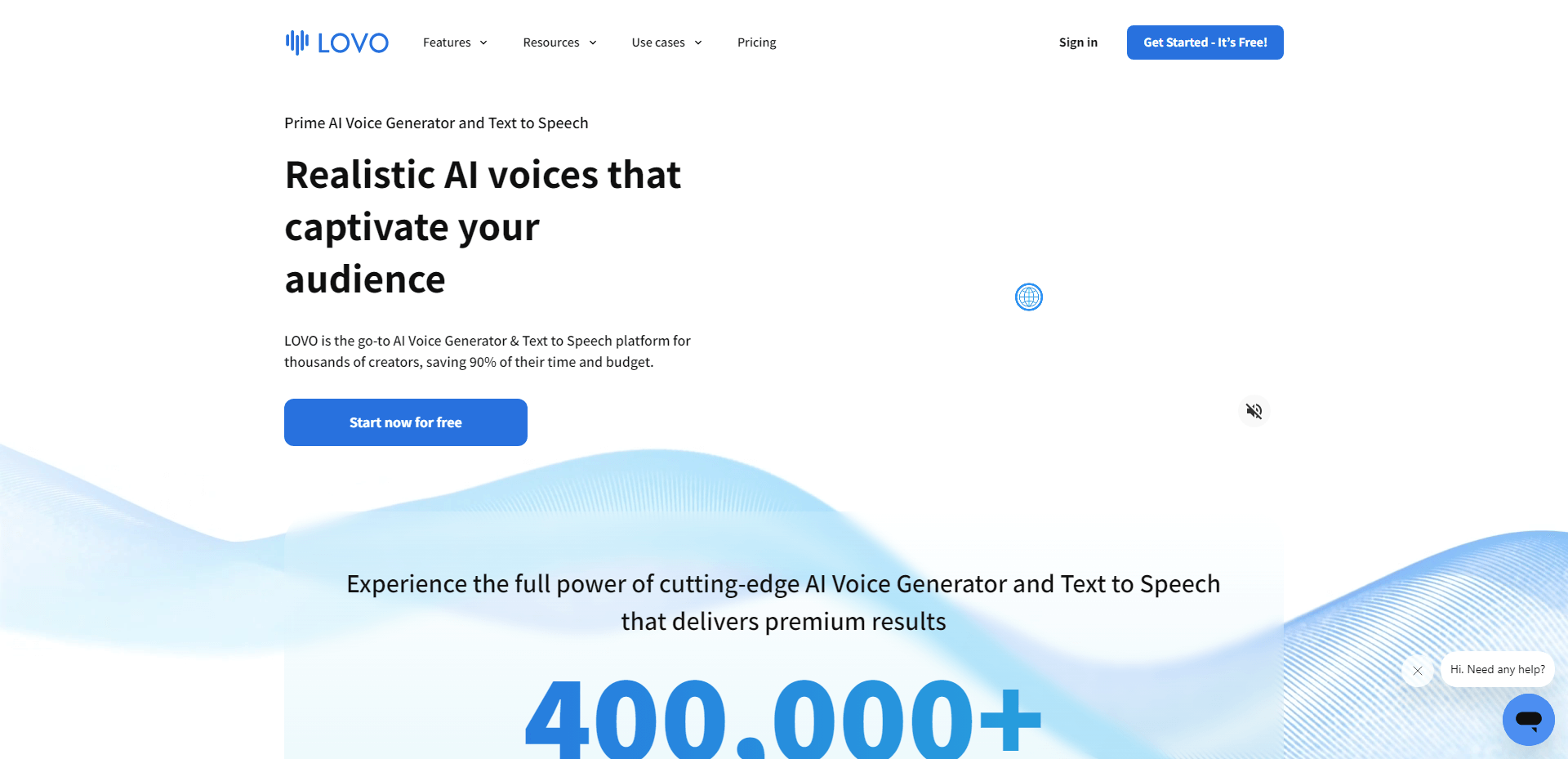 Looking for a way to make your content more engaging? LOVO AI Voice Generator is the answer! It's an easy-to-use platform that provides realistic and expressive AI voices, giving your content the edge it needs to stand out.
LOVO's user-friendly interface makes it a breeze to create lifelike voices. With over 400 options in various styles and languages, you're sure to find the perfect match for your content.
Some of the use cases of this platform include:
Advertisements – create engaging and persuasive ads using AI-powered voiceovers optimized for digital platforms.
Educational Content – generate immersive and engaging educational materials with AI voices tailored for effective learning experiences.
Explainer Videos – deliver clear and dynamic explanations with AI voices optimized for explainer videos and online content.
YouTube Videos – produce professional-grade YouTube content with AI voiceovers, streamlining the content creation process.
Genny, the AI behind LOVO, brings emotions to life, adding depth and character to your content. Plus, the platform's customization options let you fine-tune every aspect of the voice, from emphasis to speed, and even pronunciation.
Pricing: Free: 14-day trial, 20 min voice generation, watermarked video, 1GB storage, 10 downloads, commercial rights. Basic: $19/mo, 2 hrs voice, 20+ premium voices, 3 emotional voices, 1080p video, global voices, unlimited downloads, 30GB storage, priority support. Pro: $36/mo, 5 hrs voice, 100GB storage.
---

Play.ht is an amazing tool for instantly generating natural-sounding speech in various languages and accents. The platform offers over 900 AI voices and a powerful text-to-audio online editor, allowing you to fine-tune speech styles and pronunciations.
You can securely store and manage your audio files in the cloud and collaborate with team members. Play.ht offers commercial and broadcast rights, making it suitable for professional use.
Their audio player widgets help increase accessibility and engagement on websites, while their podcasting solution allows you to distribute your content on popular platforms.
Pricing: Free Plan: 5,000 free words, voice cloning trial, non-commercial use, attribution required. Professional: $29.25/month, 600,000 words/year, commercial license, unlimited projects.
---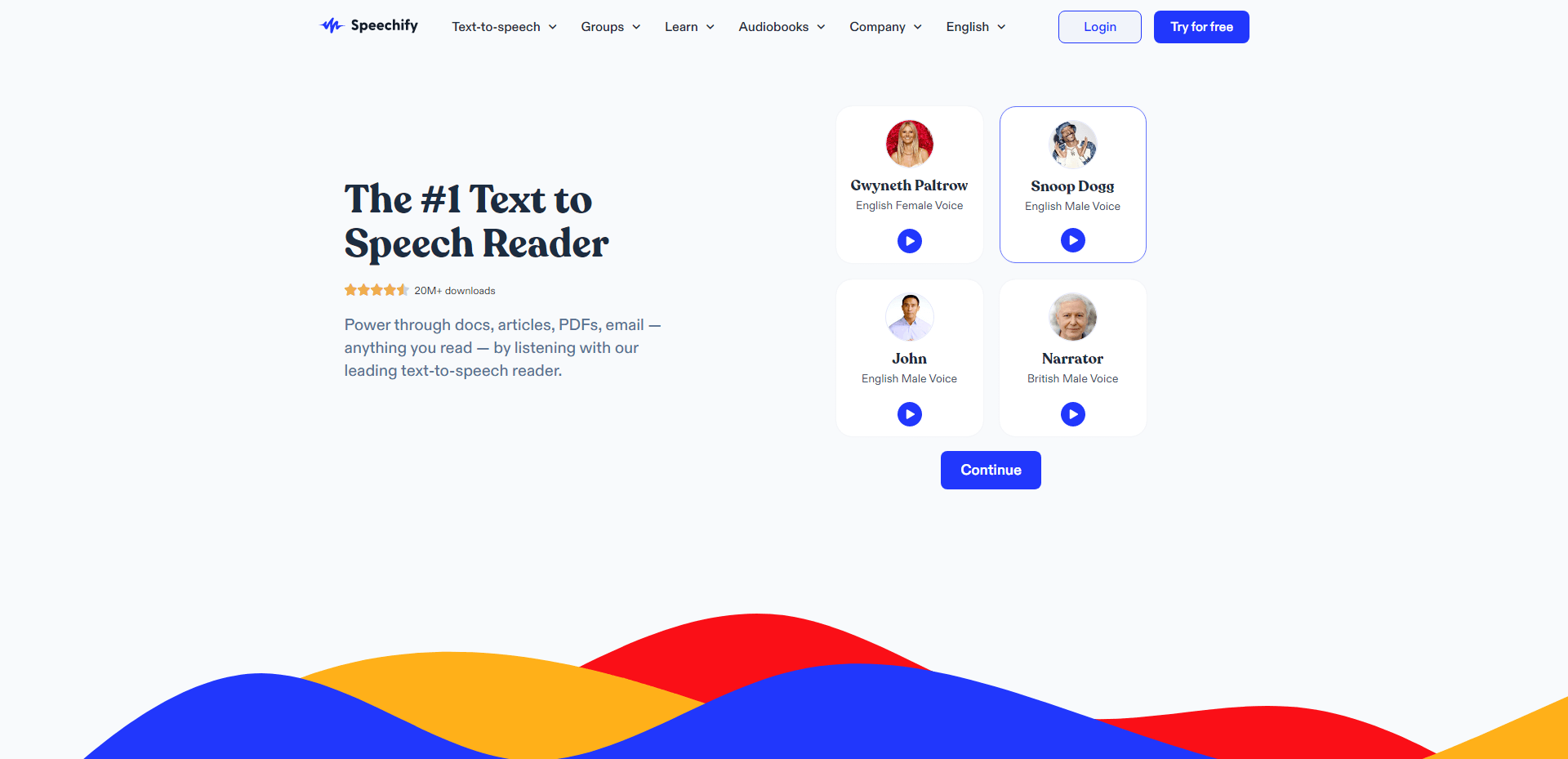 Speechify is an innovative text-to-speech app that converts any written content into natural-sounding audio. With an easy-to-use interface and compatibility across multiple platforms, including Chrome, Android, iOS, and Mac, Speechify has made it incredibly simple to transform text from various sources into an enjoyable listening experience.
The app features an array of AI voices (including a number of celebrities, even Snoop Dogg!), enabling you to tailor your listening experience. Its text-to-speech software can read aloud at speeds up to 9x faster than average, facilitating efficient learning. This functionality promotes productivity by allowing you to multitask as you listen to emails, extensive documents, and various other content.
Speechify can also convert printed material into audio by simply snapping a picture of a page in a book. The app supports over 30 languages and multiple voices for each, allowing you to deliver content to your users in the language they prefer.
Pricing: Speechify Limited: Free, 10 standard voices, 1x speed, basic features. Speechify Premium: $139/yr, 30+ voices, 20+ languages, 5x speed, advanced tools. Audiobooks: $199/yr, 12 credits, 60,000+ titles.
---

WellSaid is an impressive AI voice platform, trusted by companies worldwide for creating engaging content and experiences. With a diverse range of captivating voice avatars, it delivers a high-quality audio output that fits seamlessly into modern designs and production cycles.
The platform enables you to create voiceovers directly from pre-written scripts, using one or multiple voices, while allowing for easy collaboration among team members.
As a comprehensive voice infrastructure solution, WellSaid supports the creation of branded voice avatars, integration with internal production tools, and adding voice to apps and products.
Catering to both large and small enterprises, WellSaid emphasizes ethics, consent, and transparency in data usage, ensuring secure systems that protect user privacy. The platform is highly regarded as a leader in AI text-to-speech technology, revolutionizing accessibility in various industries, from audiobooks to marketing.
Pricing: Try the platform for free, then choose: Maker ($49/mo) with 24 Avatars, 250 downloads, or Creative ($99/mo) with all Avatars, 750 downloads, or Producer ($199/mo) with 2,500 downloads, or custom Team plan. Yearly plans get 10% off.
---
Summary
In conclusion, AI text-to-speech technology has come a long way in recent years and is rapidly advancing. It has the potential to revolutionize the way businesses engage with their customers, create voiceovers, and streamline their operations.
By using advanced machine learning algorithms, AI text-to-speech technology can create more natural and authentic-sounding voices, enhancing the overall customer experience. As the technology continues to evolve, we can expect to see even more exciting applications and possibilities for AI text-to-speech in the future.