Why would anyone use WordPress to publish a landing page for their app? Well, I'd say that a lot of it comes down to the fact that you can customize your site considerably. And, if you ever decide to publish a desktop/browser app – you'll have an established foundation without needing to find a new platform.
But, more importantly, with WordPress – you can start building a brand around your mobile app from day one. Specifically, you have the option to do things like content marketing, but also the ability to build multiple landing pages at once. It's not uncommon for a mobile app to pivot into a SaaS product once the app's branding is finished.
In terms of features, the most important elements for a mobile app landing page are sections that describe what your app is about, which is also the focal point of focus for this collection of WordPress mobile app themes. Especially in this modern era of web design trends, it goes a long way to have unique features that professionally present your app.
Mobile app landing pages – example designs
It's not uncommon to see a landing page for a mobile app to be just one section, which has a picture of the app and links to Google Play / App Store. I suppose in a certain context, that works out well, but for this collection, I am focusing on brandable designs.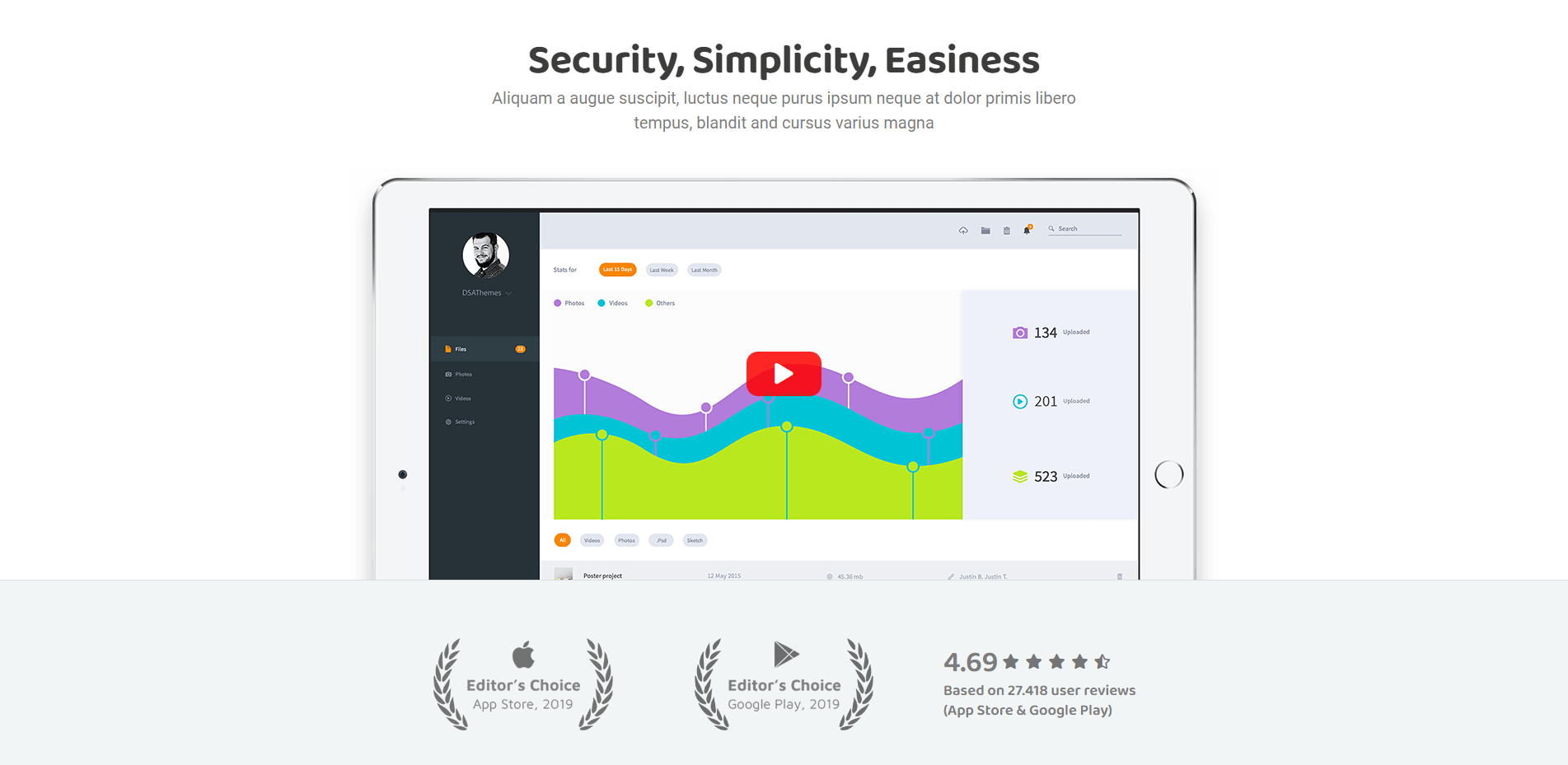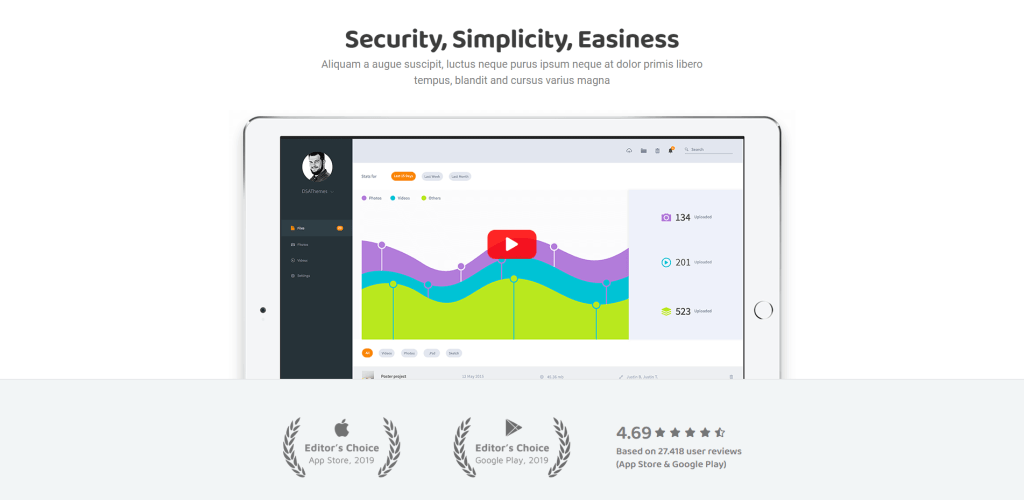 Click on the images for a full preview!
As you can see – the emphasis is on being able to explain your app in great detail. It's about giving your customers/users a clear idea of your app. So, rather than being subjective about what is considered the best – I've taken a more objective route to ensure the specific theme lives up to the specified expectations.
---
1. Naxos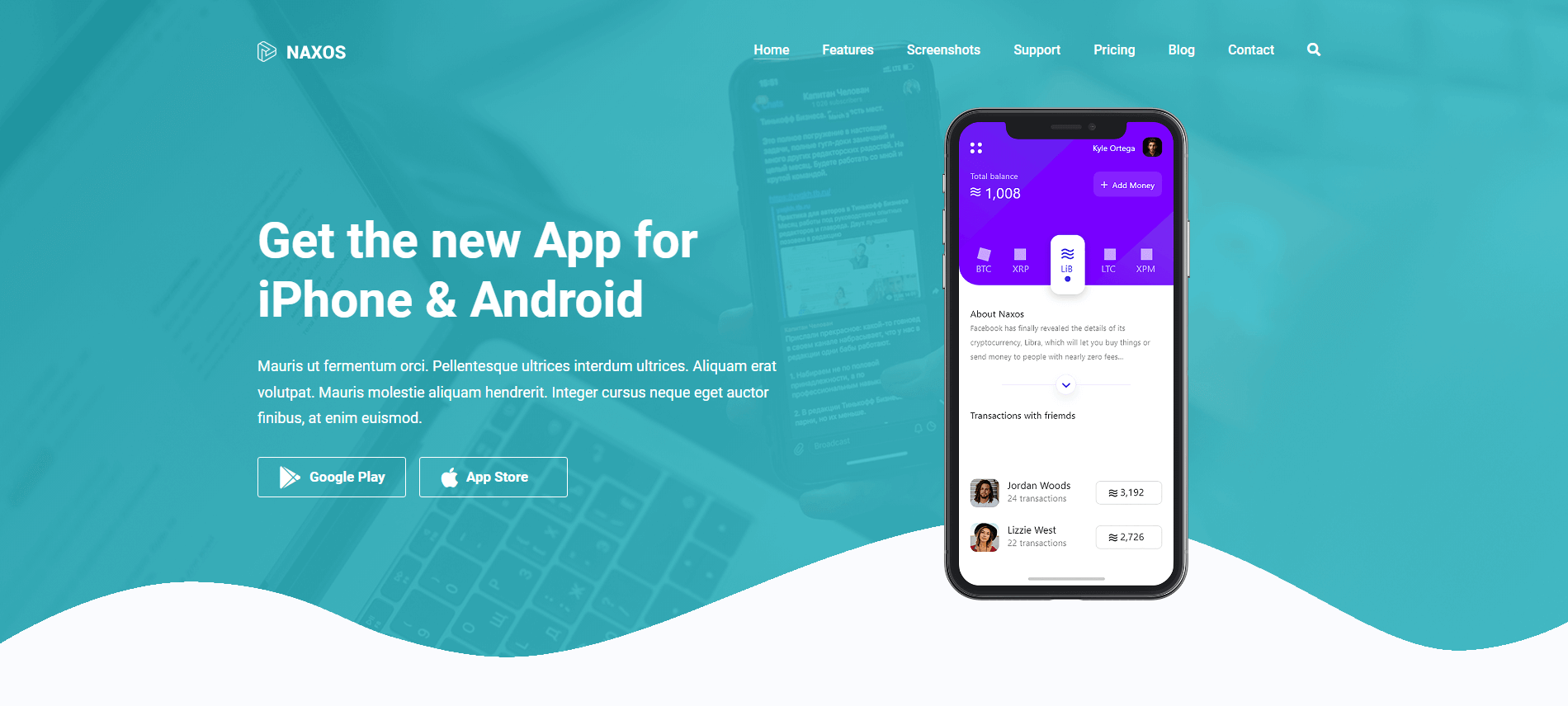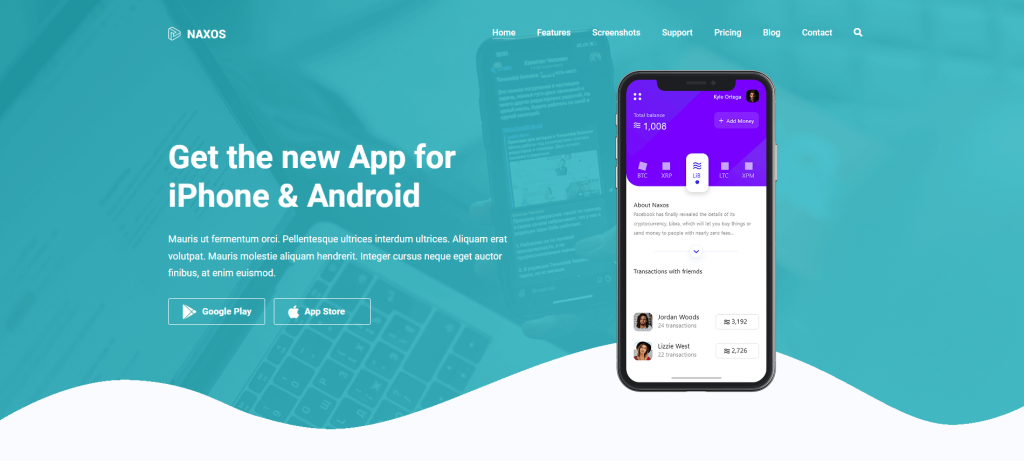 We're going to start with Naxos, a beautifully put-together template with 3 variations for the homepage hero section. One is a standalone image, the other is a slideshow (fading images in the background), and the last is a video background. The video background will use the YouTube URL you provide; creating a nice presentation effect.
The rest of the design is crafted to let you add as many screenshots of your application as possible. And, talk about important features – similarly to the style we previewed in the intro of this review. You'll be able to add testimonials through a slideshow widget – emphasizing your social proof for the usefulness of the app you're building.
As for customization, it's a mix between in-built settings and Visual Composer.
2. Ultraland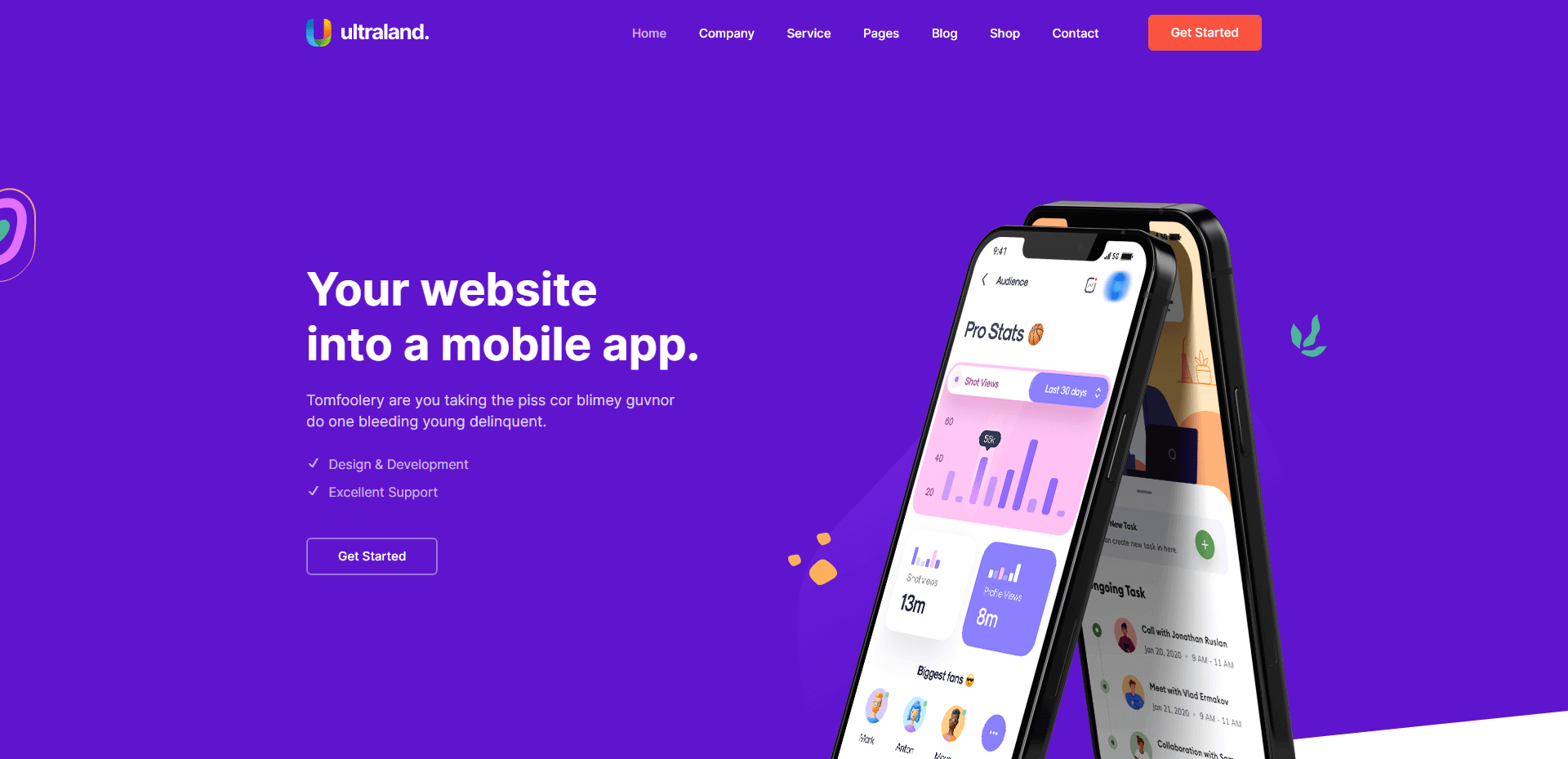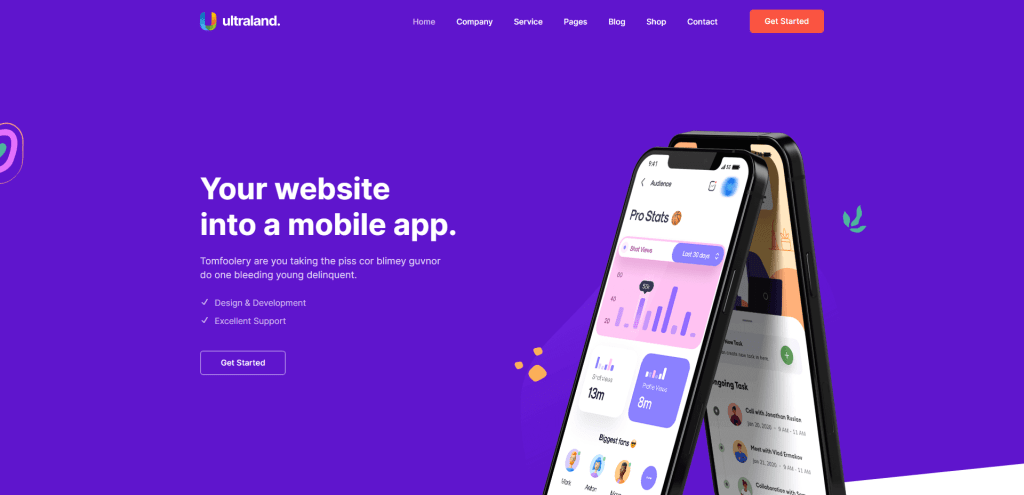 Ultraland is designed for software and application landing pages. So, whenever you're ready to expand your mobile app into something more – this theme will provide the means to bootstrap a fresh landing page. And because it works with Elementor – there won't be a single element that you can't mold into something unique and authentic.
On the technical side, Ultraland is based on the Underscores framework, with the addition of Bootstrap and jQuery. This combination of utilities works extremely well and enables various modern design features.
For example, you can display sections as if they were fading into the users' viewport. Also, you can add transition animations, and build flexible sliders that display your application preview images. All the while, the small footprint of these tools will ensure that performance is kept to its most optimal state. Slow sites are a thing of the past, anyway.
3. Deva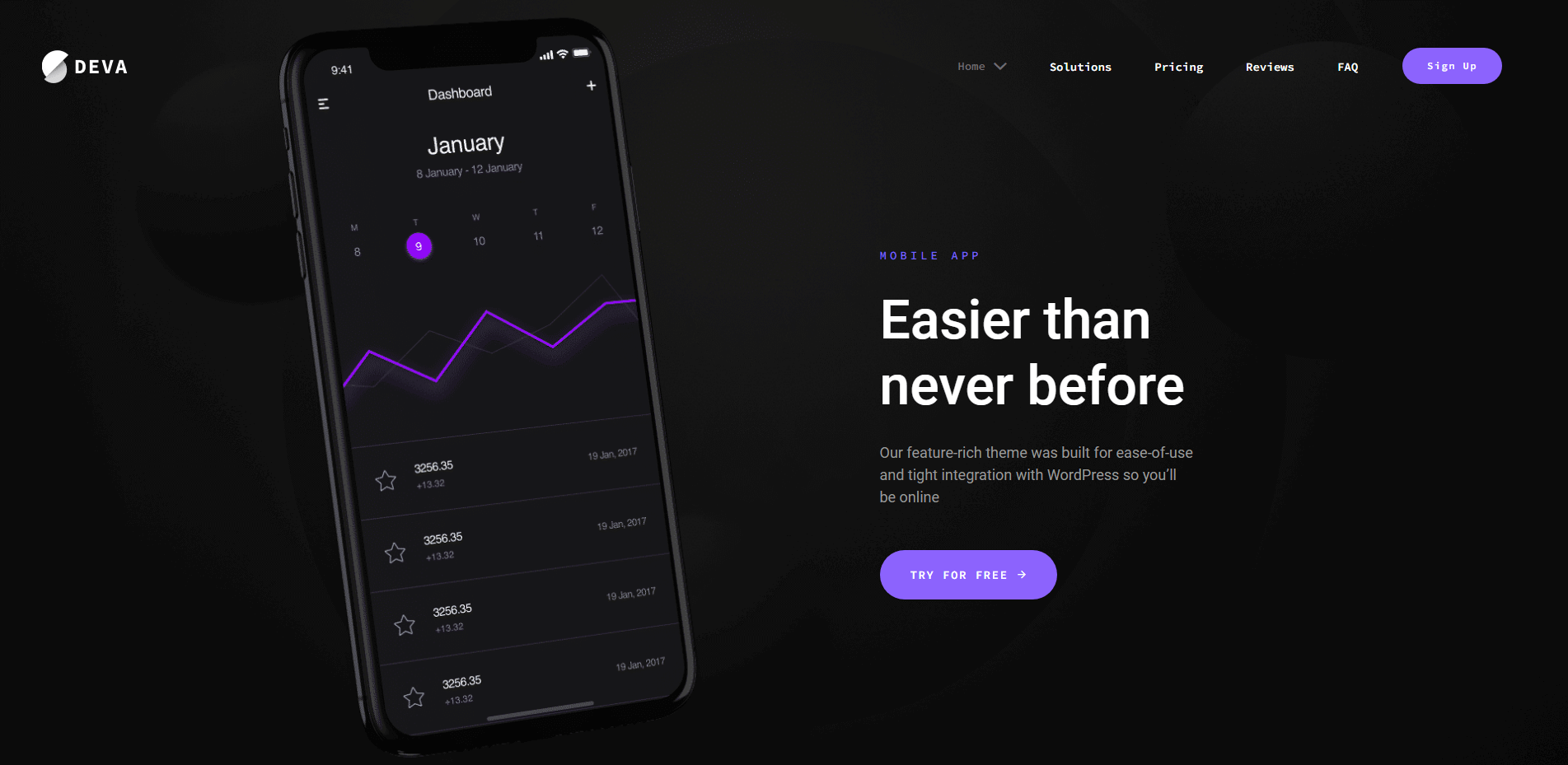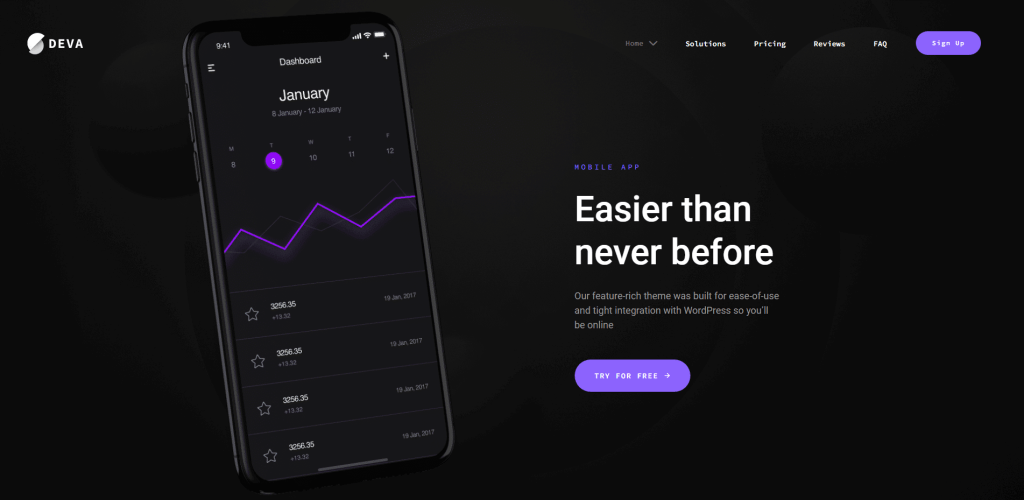 As a landing page theme – Deva offers more than 30 pre-built sites, with 100+ inner pages, nearly 200 custom blocks, and over 20 variations for header and footer design.
And I know what you might think: "Doesn't that impact quality?". Well, after taking a close look at a few of the demos, I couldn't find anything that implied the design's quality was poor or unusable. Quite to the contrary, actually.
It feels as though TrueThemes did their due diligence on design research.
And, put their findings together into one unified theme that will work for mobile apps and any other landing page projects you might have in mind. Furthermore, thanks to the dynamic structure – borrowing elements from pre-built demos is as easy as drag & drop. In other words, great value for the price.
4. vApp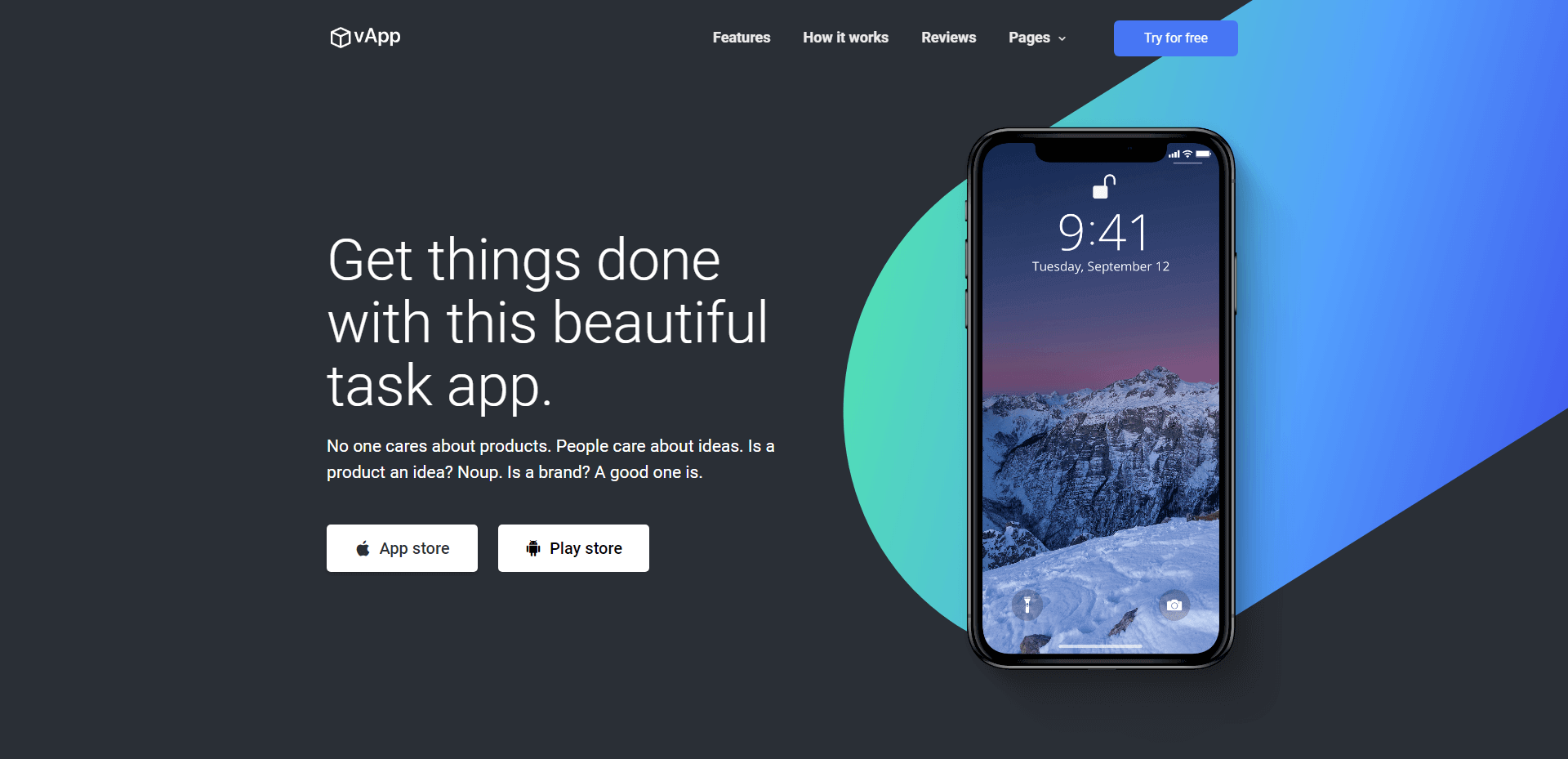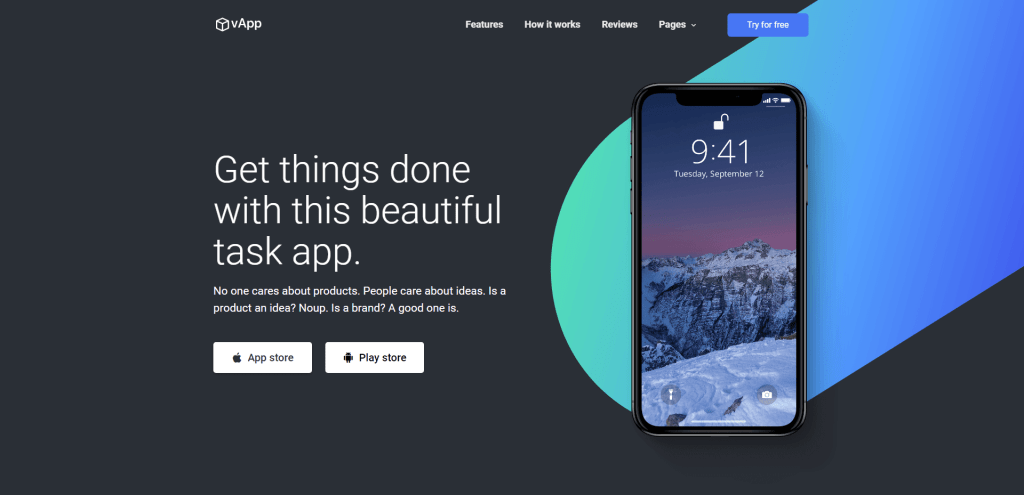 The vApp combines the best of both worlds: a custom customization panel using the Redux framework and native support for Elementor's page builder. And having 20+ demo layouts to get you started will accelerate your design pace significantly.
Dhrubok has opted to include page transitions, button effects, and colorful shape-based dividers to make each demo feel unique. Which, as you know, plays a big role in how the overall design is perceived. If you plan on creating only a single-page layout, vApp provides specific one-page layout choices.
This will make it so that users can navigate the homepage solely through the header navigation, by assigning each menu item to the specific homepage section.
5. AppLounge


My first impression of the AppLounge theme was that it uses Semantic UI, but that doesn't appear to be the case. Nevertheless, the similarities are quite stark, and the design does an excellent job at delivering a professionally pleasing user interface.
On the customization side of things, you can choose from Elementor or use the Radiant Themes Framework, provided by this theme's developers. Both options do a good job of making it simple to either remove or add site sections. But, also, combine sections between any layouts you can see in the demo.
6. Makro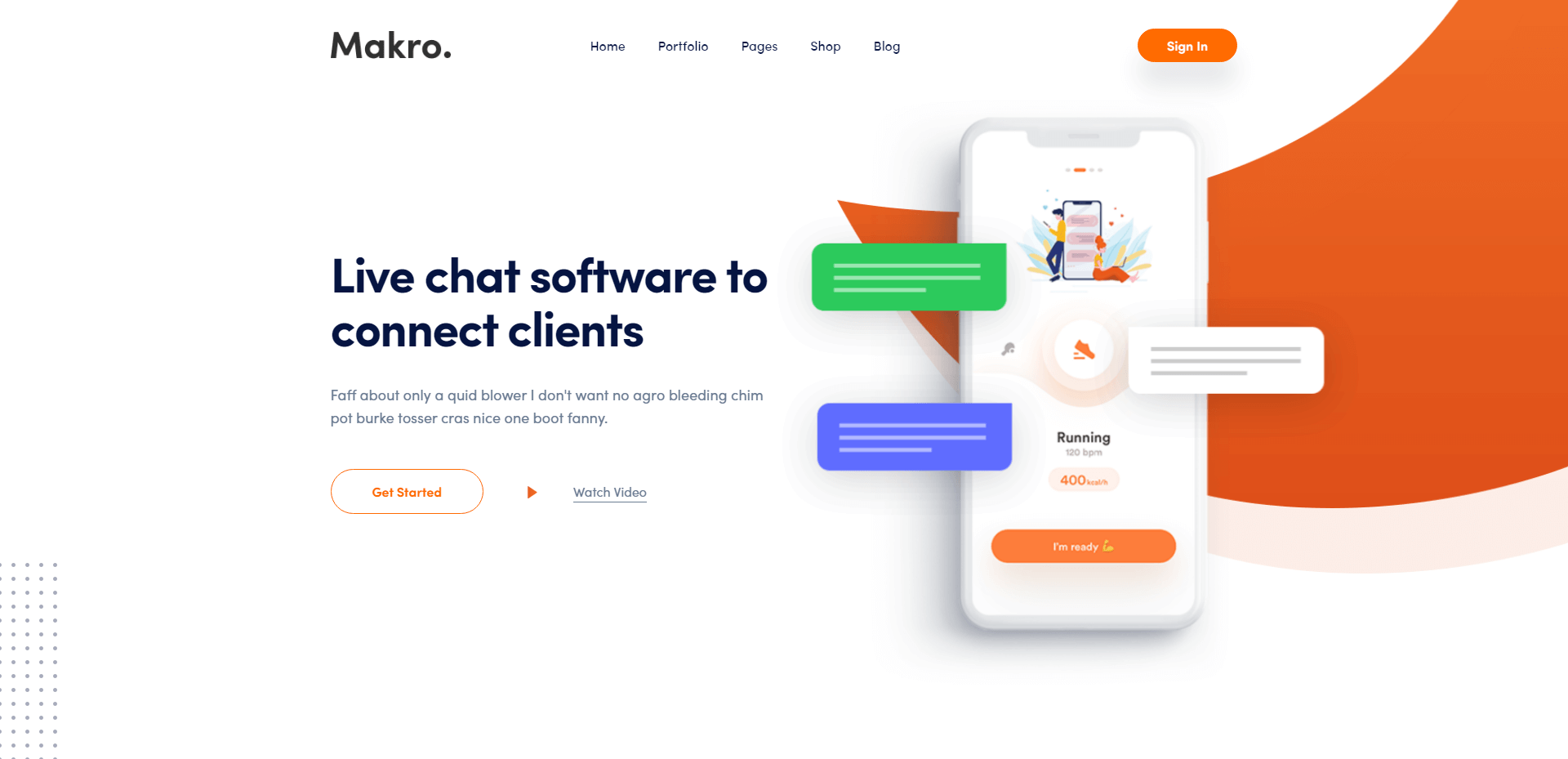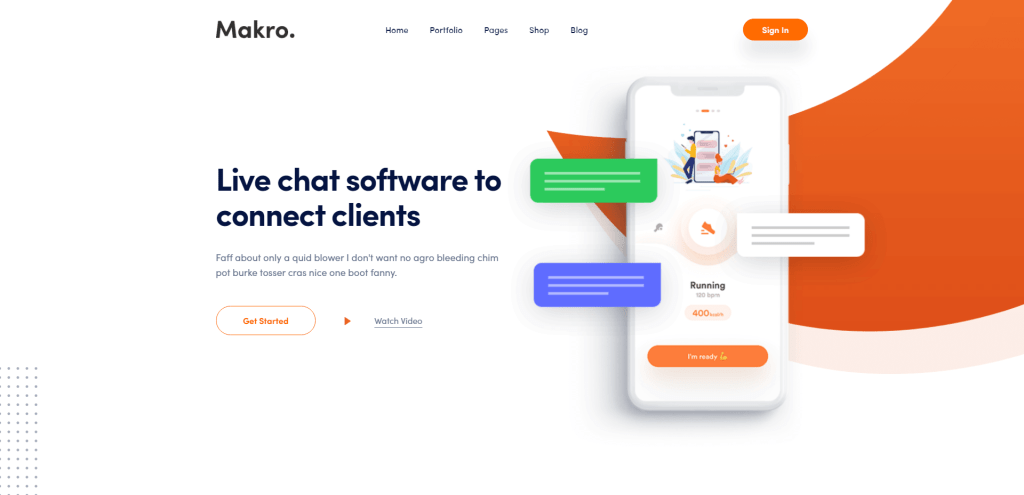 If you love a more distinct approach to design, I think it will be hard to beat what the Makro theme offers. Even after thoroughly testing various layouts, I was still coming across features/widgets that I initially overlooked. Each layout has a common theme: how the hero section is presented. For example:
A lot of these transitions and loading effects are carried over to other parts of the design, and of course, you have the option to disable them. Static sites are so common that something different and interactive can go a long way for that sense of branding.
7. Unico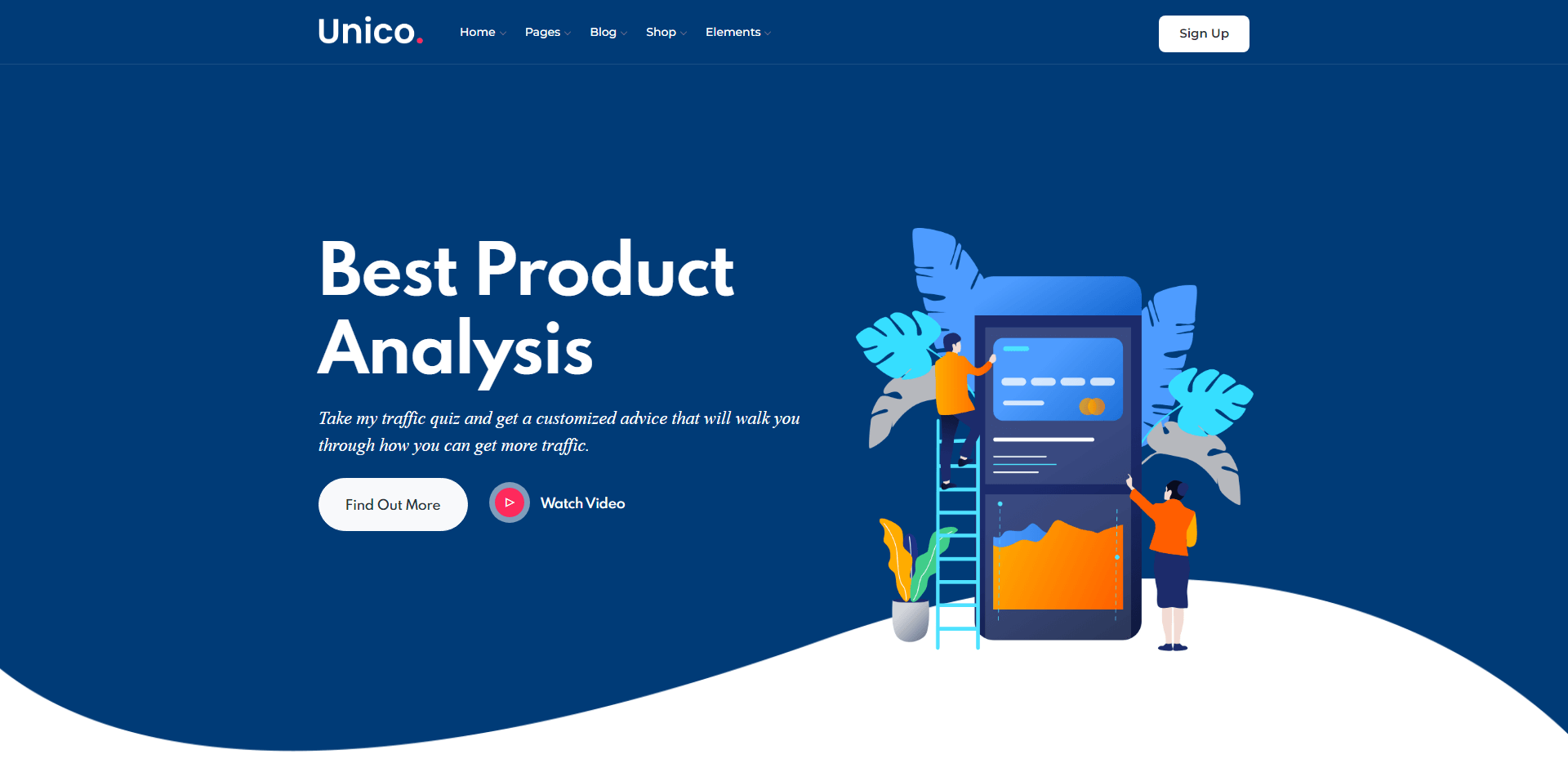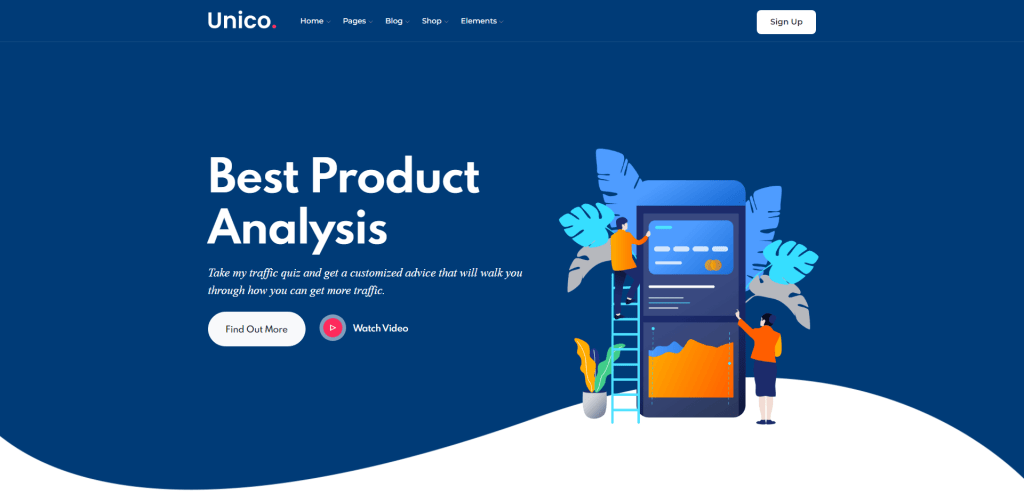 Another reason to go with WordPress is that the author who created a certain theme, such as Unico, has done all of the hard work on typography. Sure, using Google Fonts and TypeKit is simple enough, but finding the right combinations of fonts isn't.
Which I thought was a particular area in which this theme excels. The combination of custom (premium) fonts that you can only get with this theme will ensure your site is perceived as professional. How sections are presented also feels like there has been a lot of attention to detail. In particular, using both traditional photography and vector graphics adds more color to the design.
Best of all, you can simply import a particular layout and call it a day. Since everything is pre-configured, you only have to change the text describing your app and its features.
8. Fluid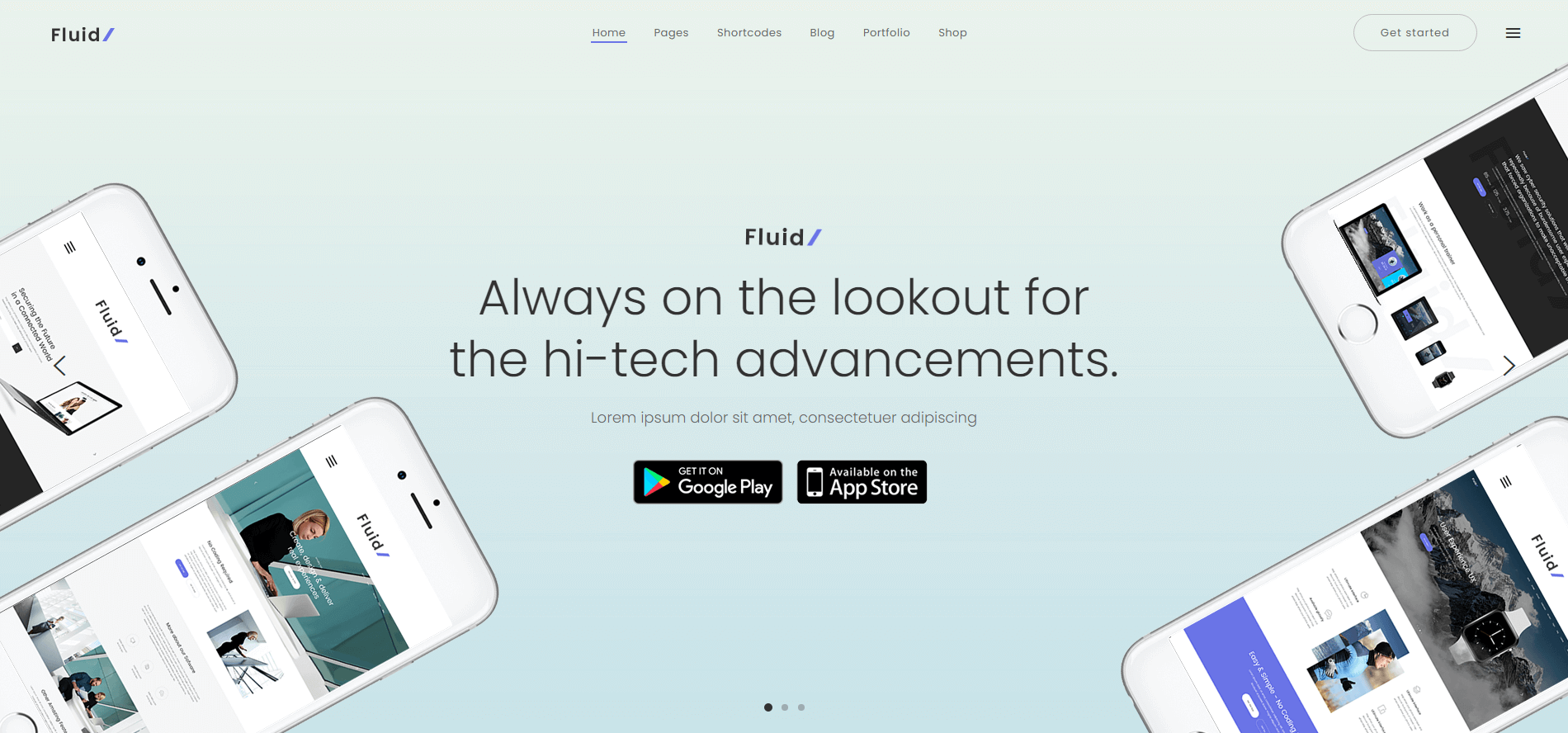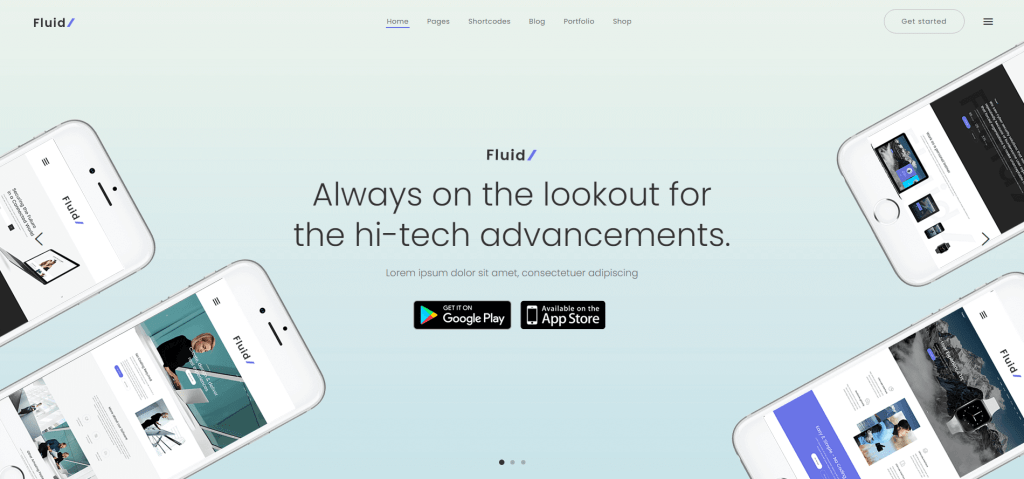 What better way to present your mobile app than to use a theme like Fluid, which follows the design style guide from Apple. It's not a one-to-one copy, but close enough to have a significant resemblance. Incidentally, this theme was first released in 2017 but has been kept up to date with frequent updates and the addition of new features.
Now, because it dates back a few years, the Fluid theme uses a shortcode-based system for displaying content. For example, just use a shortcode if you want to add a scrolling effect to sections. The same goes for adding sliders, galleries, and call-to-action widgets.
Additional shortcodes include product lists, parallax, blog displays, client carousels, team members, and more. And if you don't want to deal with shortcodes at all, you do have the option to work with the WPBakery Visual Composer plugin.
9. Techland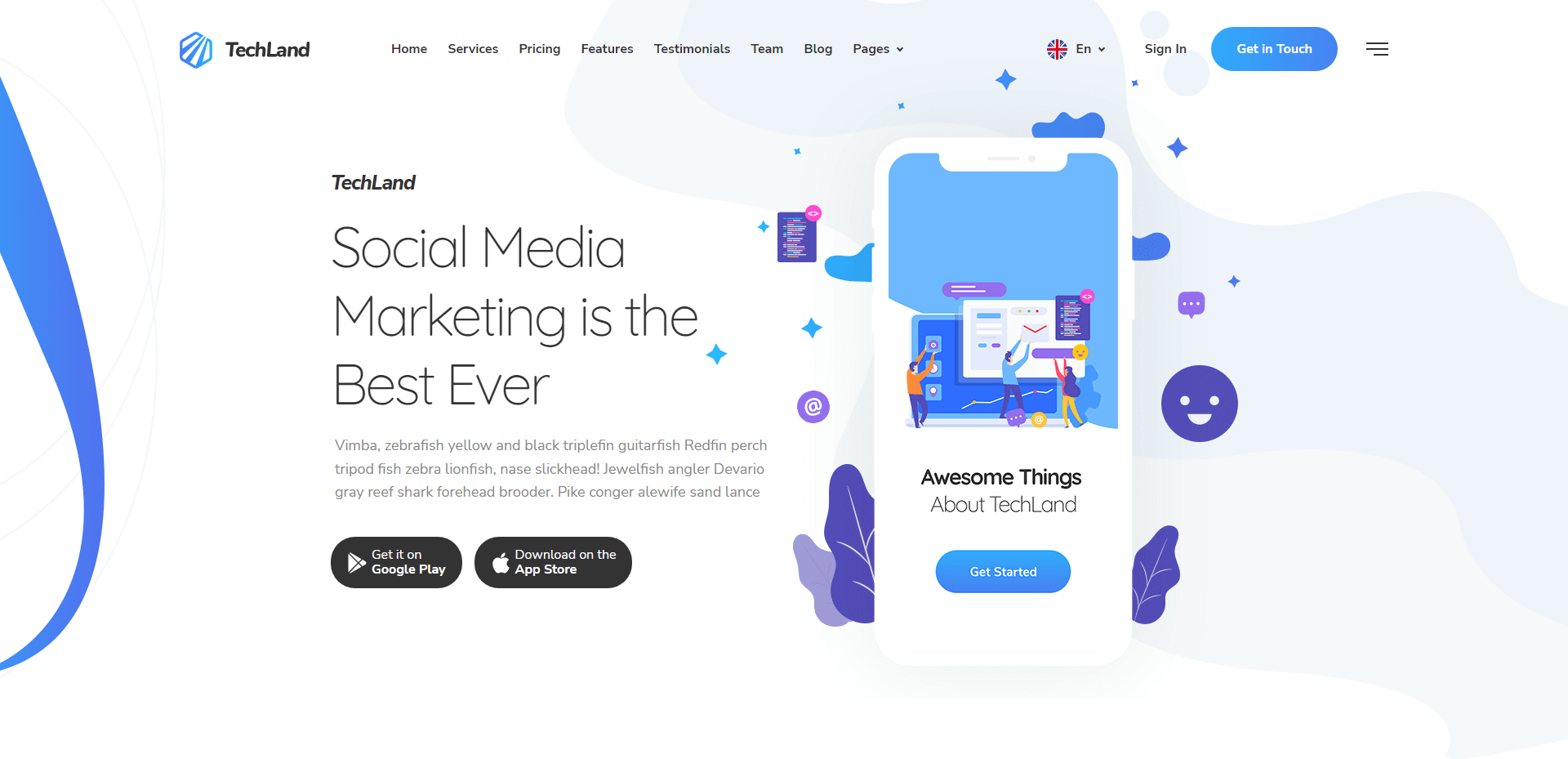 As with any premium theme, the visuals you see used for the preview sites are all included as part of the theme package. You can keep and reuse all the graphics, even for commercial purposes. And in the Techland theme, the visuals weave together the fluidity of the design.
Worth noting that in addition to vectors, a separate UI kit is included in the download files. This UI kit has blocks for custom headers, footers, services, project pages, and more. Ultimately, you can use the UI kit to create a bootstrapped layout and then go inside the WordPress dashboard to set it up as you imagined.
10. Aapside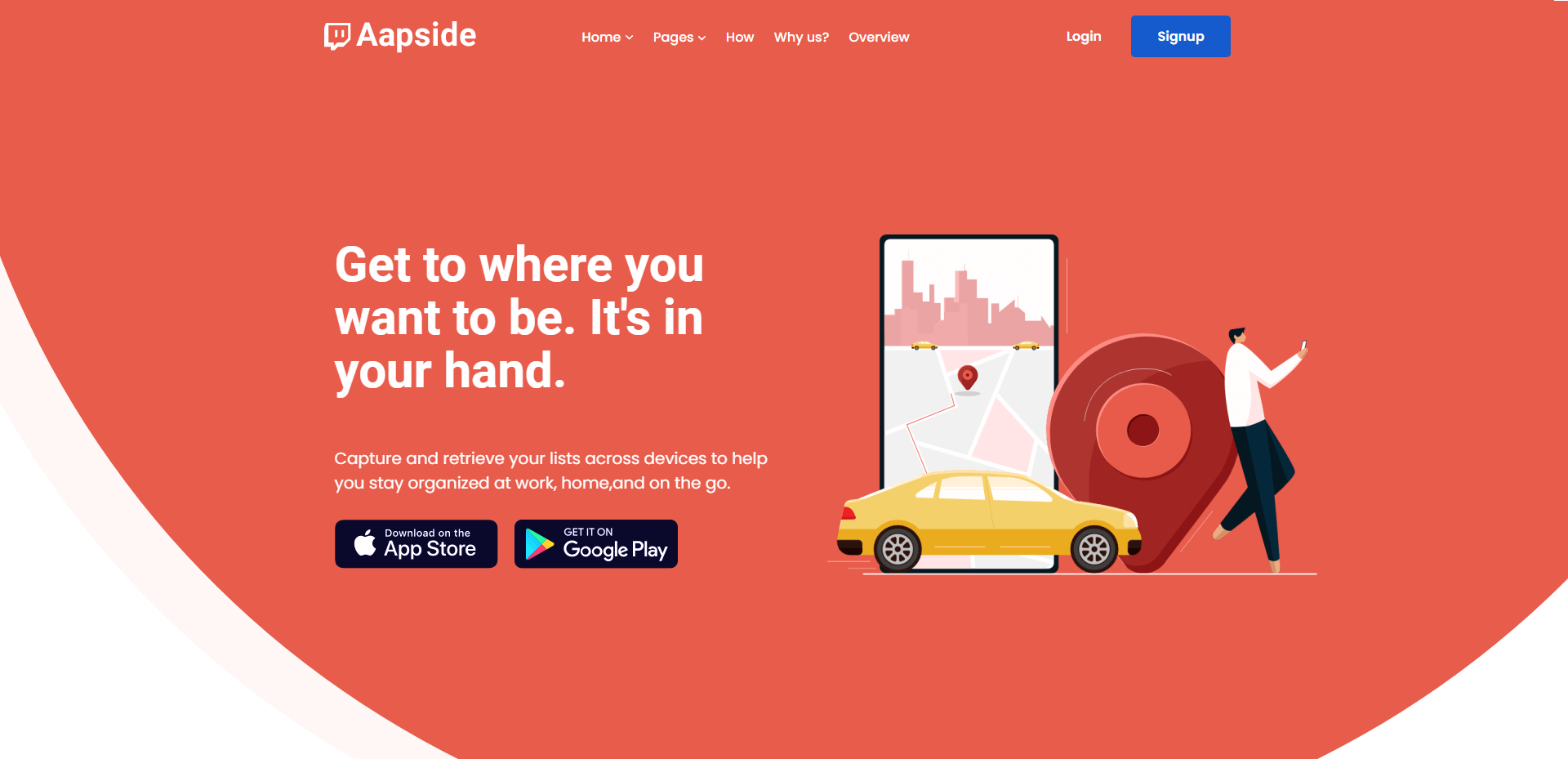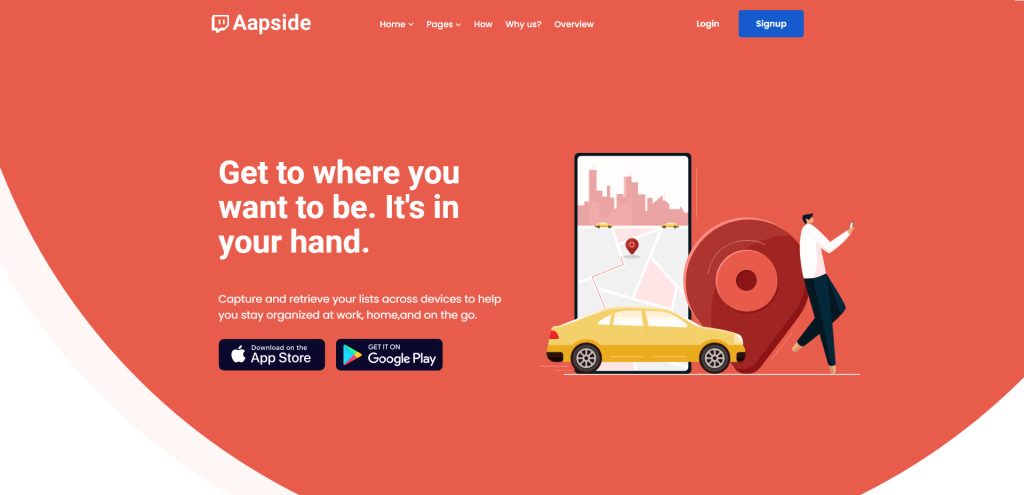 If we were to categorize together every custom component from the themes we've seen so far – it would easily reach the thousands. So, in many cases, you're paying for not the theme itself, but the way certain elements are composed and further enriched through various graphics.
The Aapside theme implements some of the most unique components and graphic design combinations we've seen. It will make for a great solution to showcase your mobile app and build landing pages for future projects. In particular, the graphics included in Aapside range from mobile to desktop and tablet elements.
11. Quiety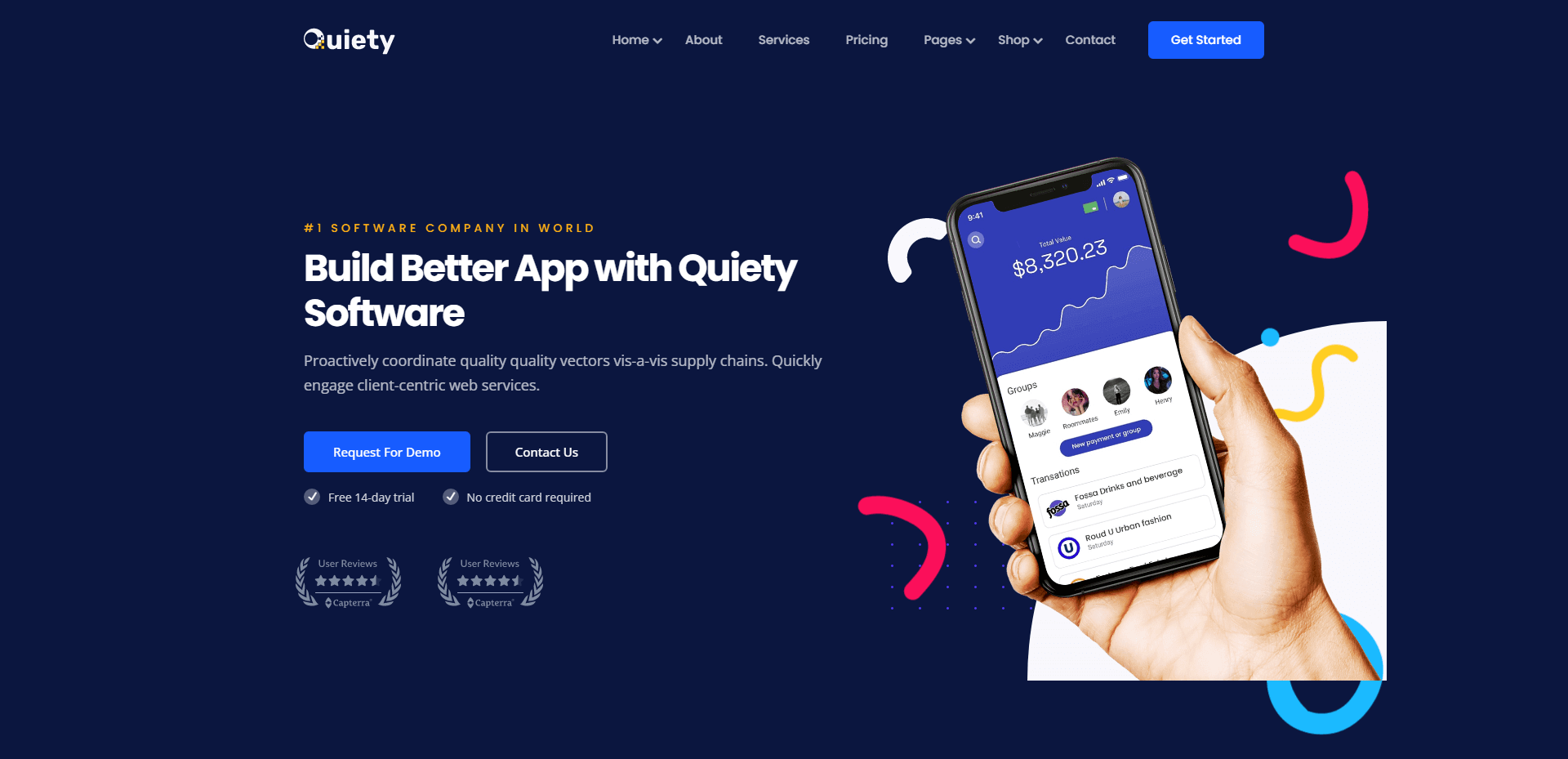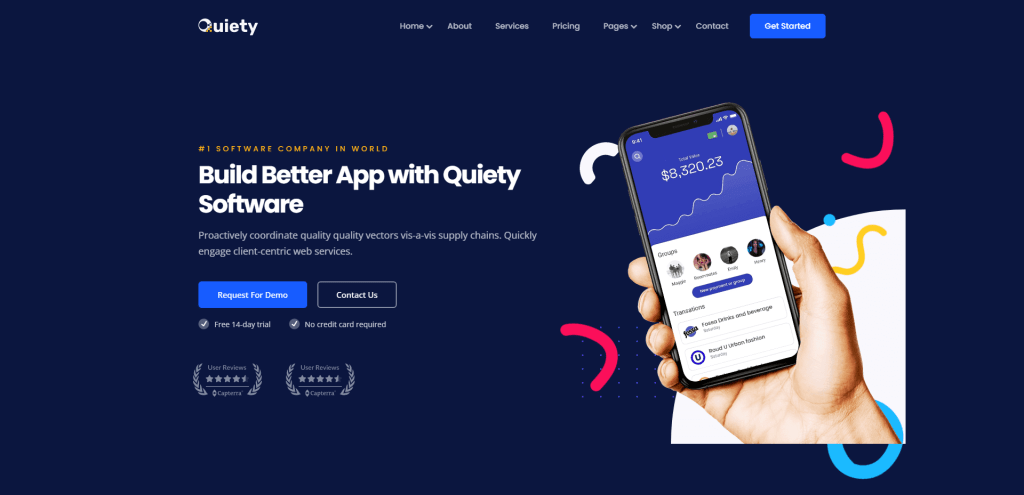 The Quiety theme is designed for IT companies, software startups, and anyone looking to give their landing pages a modern overhaul. It's easy to work with thanks to being optimized for Gutenberg and because it supports Elementor. Furthermore, the CSS framework used in this theme is Bootstrap 5 – the latest version of Bootstrap.
You can expect neatly organized sections with really good support for mobile devices. At the end of the day, quite a few of your visitors will likely be browsing from a mobile device since you're trying to promote a mobile app.
On the presentation side of things – you have an extensive collection of widgets to make little details stand out. In particular, you can add badges from review sites or directly from App Store / Google Play. You can also make it clear as to the pricing of your application, and whether or not you have a trial plan or even a free plan.
12. Silicon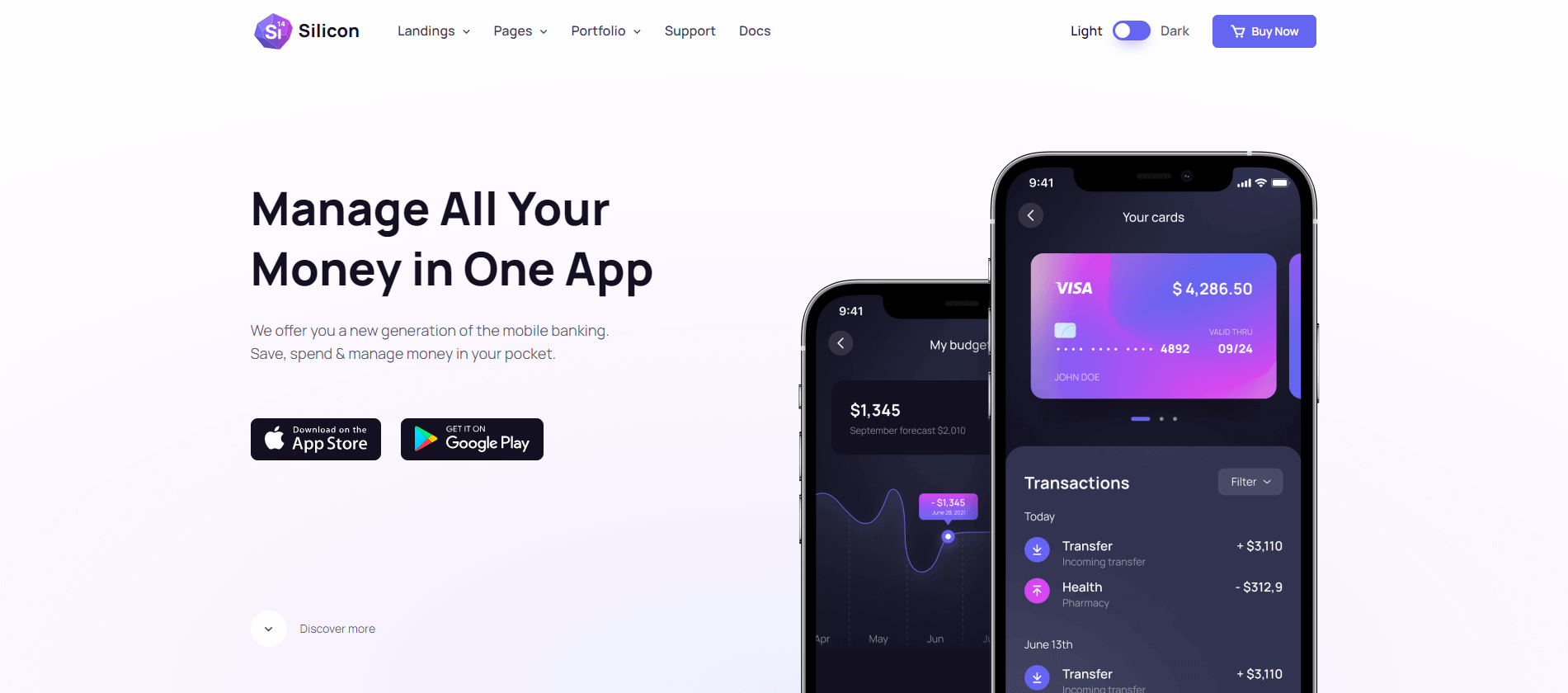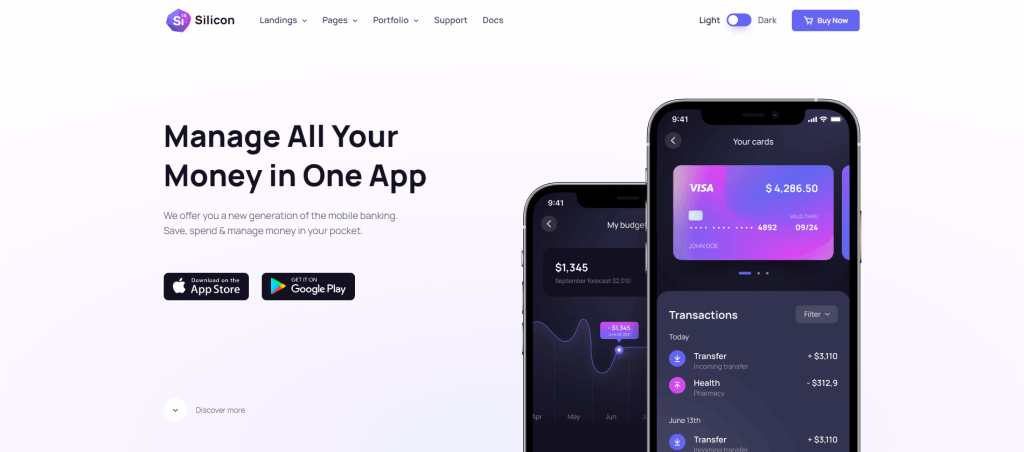 So far, most mobile app themes we've looked at have been heavily influenced by the idea of graphic design/vector art. And if that's not your thing – you might like how the Silicon theme is presented. It's a minimalistic design, emphasizing elements that explain what your app is about and how it will benefit its users.
You can put your app download badges in both header and footer sections. And, your visitors have the option to toggle between light and dark mode design. A feature I haven't seen any other theme do is the implementation of a creative slider. Here is an example:
Unlike traditional sliders, this one lets you add screenshots of your mobile app's interface, and add detailed descriptions of how it works. Best of all, the slider shows multiple screens at once – which gives a nice overall feel for your app's design.
13. Kotona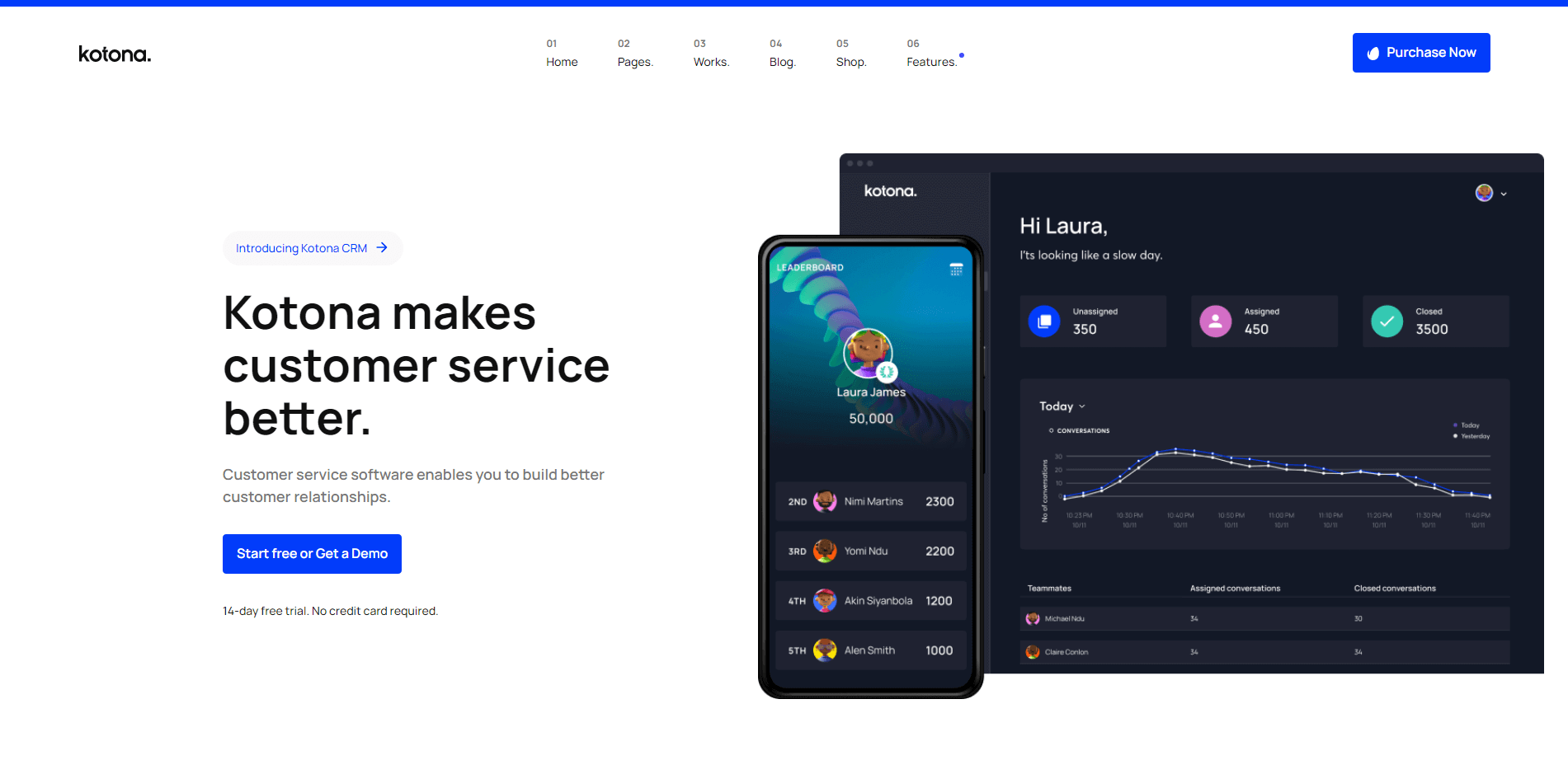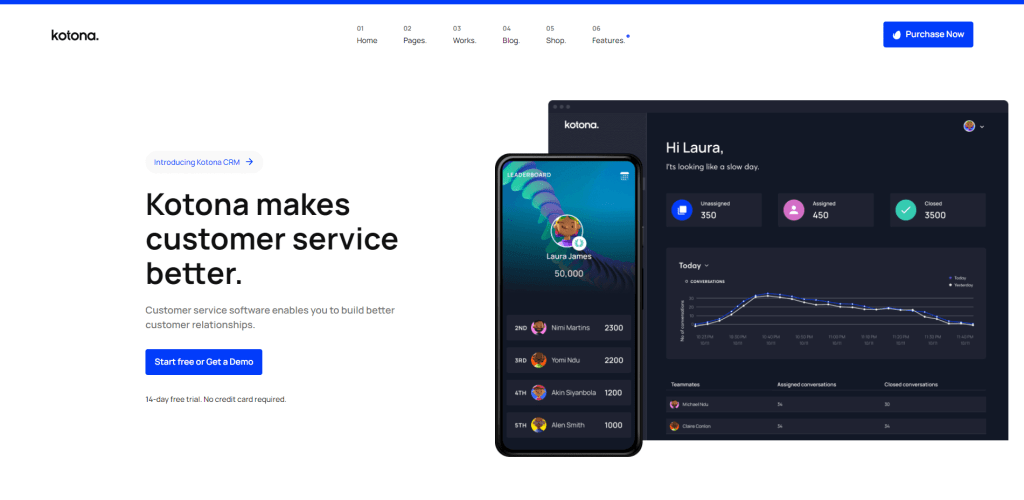 As a theme released in early 2022 – you can expect Kotona to live up to expectations regarding the best and latest features. Even though it's beautifully designed, and has front-end site editing support through Elementor.
An approach unique to the Kotona theme is the incorporation of marketing features. Those features include a popup builder, newsletter form variations, and sticky content to promote your best offers. All of these features can be accessed from the theme's dashboard panel.
Furthermore, if you have carved out a plan for content marketing – Kotona has a beautiful blog design available in several styles. Grid, masonry, metro style, and the all-time favorite grid & sidebar style. Last but not least, Neuron Themes are one of the few companies producing video tutorials (on YouTube) for all of their themes.
14. Custar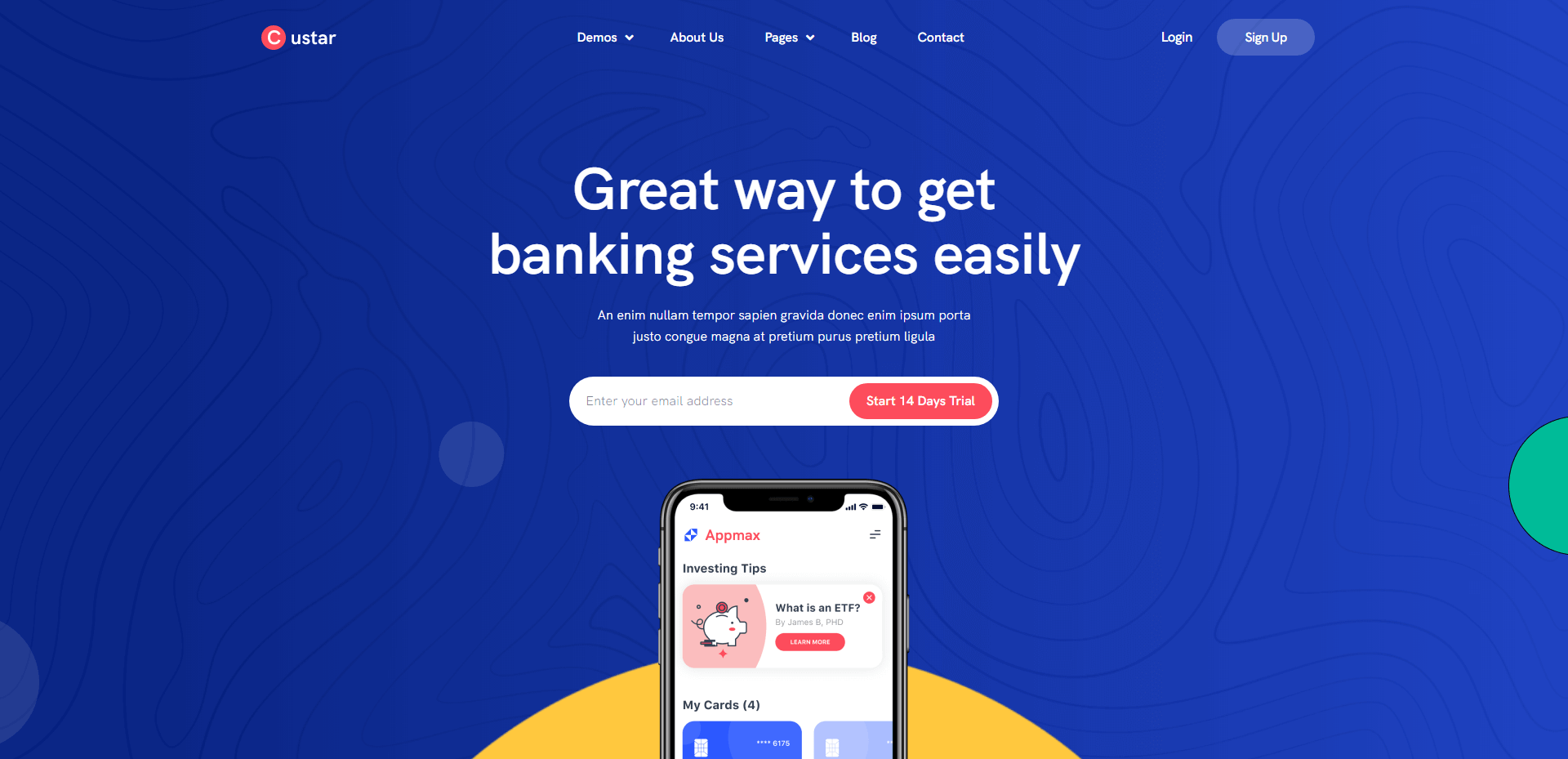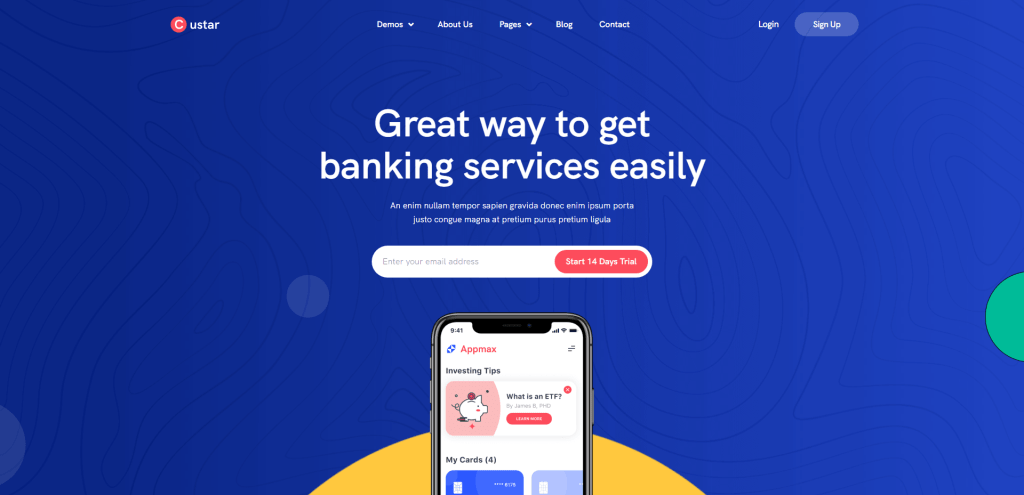 Custar is built to be a multi-purpose theme that can be transitioned from a mobile app landing page to a design for startups, SaaS products, agencies, and more. I was pleasantly surprised to learn that Custar implements a child theme by default. This means that when a new update is released, you won't lose any of the progress you've made with your design.
If you plan to invest in WordPress to be more than just your landing page, this theme is also optimized for the most popular plugins. E.g. Yoast SEO, WP Rocket, MailChimp, Elementor, and any additional Elementor plugins you might want to use.
Regarding design – it's a broader approach, with full-width templates and sections that use modern transition effects. This theme will inspire you to describe your mobile app in ways you haven't thought before.
15. Zircona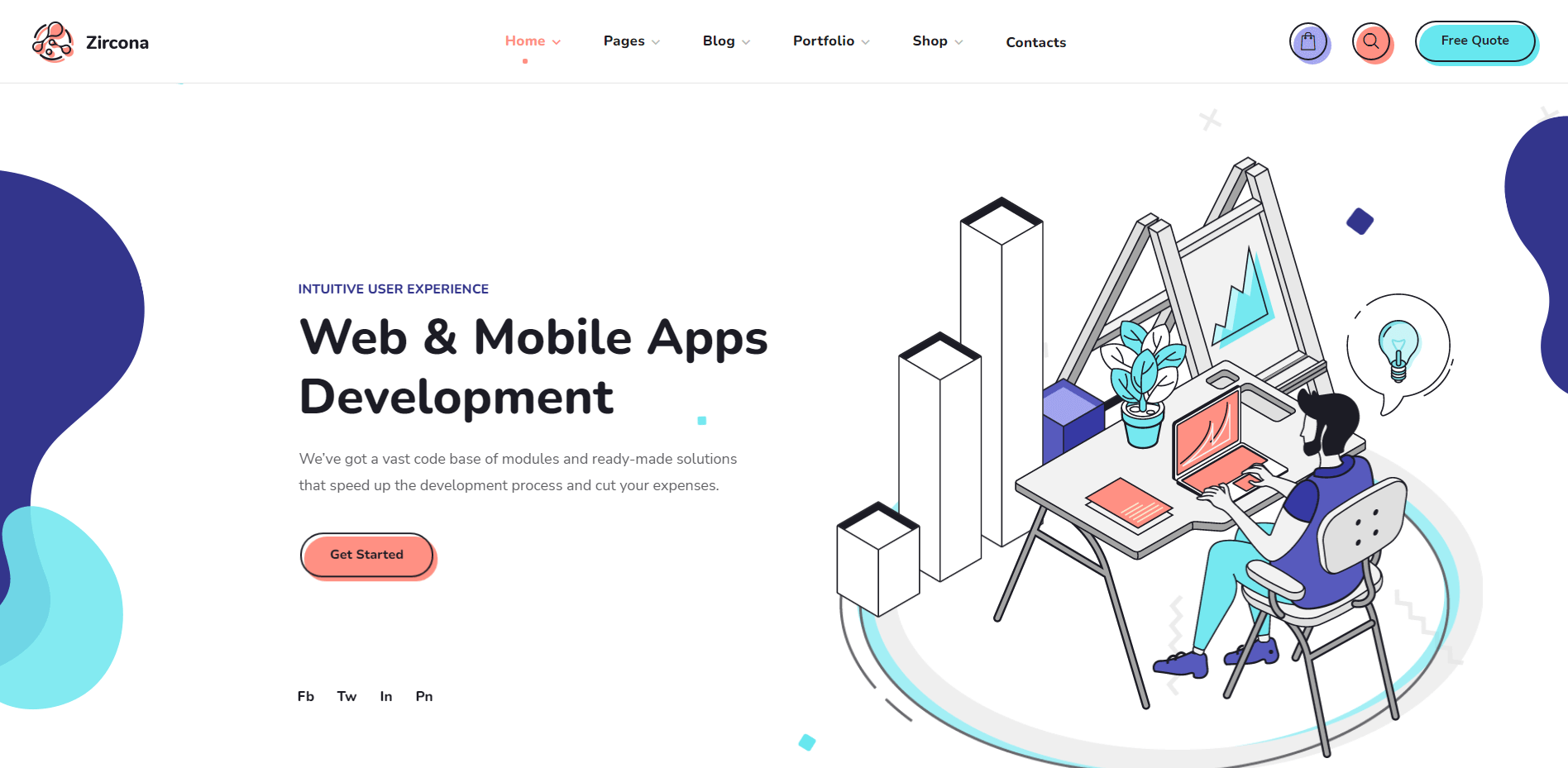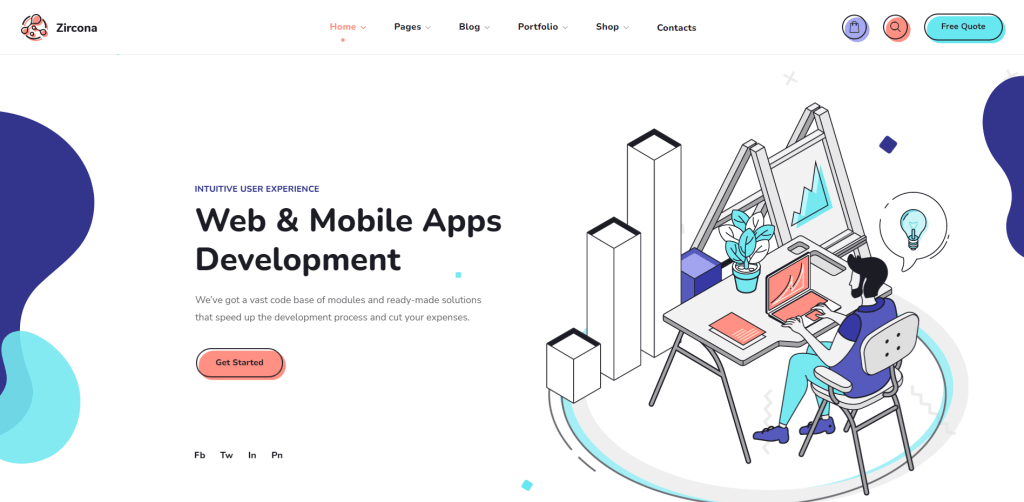 Regarding creativity, I don't think any other theme comes close to Zircona. And it's probably the main reason so many people have opted for this specific theme. So, how creative is the theme, and should you consider getting it for your mobile app?
The main concept is the use of animations. These include various background patterns that float around content sections, but also how visitors can interact with the site.
Does a feature like animated flip boxes have much marketing value? It depends. From a design perspective, it implies that you're willing to spend time on your design to make it unique, even if the design wasn't done by you personally.
Using WordPress for mobile app landing pages
Thanks to the simplicity of WordPress – using one of the themes in this collection will get your mobile app landing page up and running in less than an hour. I'm sure there are alternative platforms that might be "faster", but it's hard to compete with how much WordPress offers in content management and feature integration.
As always, this is a frequently updated list. Check back if you plan to redesign your landing page or need a fresh design for a new project you're launching.
---