If we look purely at statistics, there are over 2 million active podcasts online, which produce up to 50 million shows per year. In the US alone, more than 25% of consumers listen to podcasts weekly. A number that has doubled in the last decade.
But these stats aren't all that surprising. At one point, podcasting became a more efficient way of managing large communities. And, in many ways, it's also a lucrative business opportunity for people with large followings. Podcast sponsorships can snag anywhere from a few hundred dollars to tens of thousands per episode.
It would be much harder to achieve those returns with a traditional blog, especially in this fast-paced social media timeline. And thanks to improvements in smartphone audio capabilities, anyone can start their podcast from the comfort of their living room.
Using WordPress as a podcast platform
We'd be stuck here for days on end if we did a deep dive on all the podcasting platforms. If you have a podcast show, you will publish it with iTunes, Google Podcasts, and similar syndication platforms. But, that's all they really are at the end of the day. A website for your podcast gives you more control over structuring and optimizing your brand. And WordPress is a solid choice for a platform.
Here is why:
Branding. A pre-made podcast theme will give you all the tools required to build a brand around your podcast show. Those tools include creating series, managing seasons, making blog posts, and building custom pages.
Advertising. It's much easier to manage sponsorships and advertising if you have an existing platform where agencies/brands can contact you.
Archives. While platforms like iTunes provide the means to archive your episodes, it's not the most user-friendly interface. With WordPress – you can manage your episodes like a blog or a magazine.
And on top of all that, you also get to plug yourself into the WordPress plugin ecosystem.
And that ecosystem lets you use plugins to manage email lists, add new features, and optimize your podcast website for things like organic search. That said, let's take a look at some of the best WordPress themes for podcasts. The following themes are custom-built specifically for hosting and managing your entire podcast.
Let's get to it.
---
1. Livecast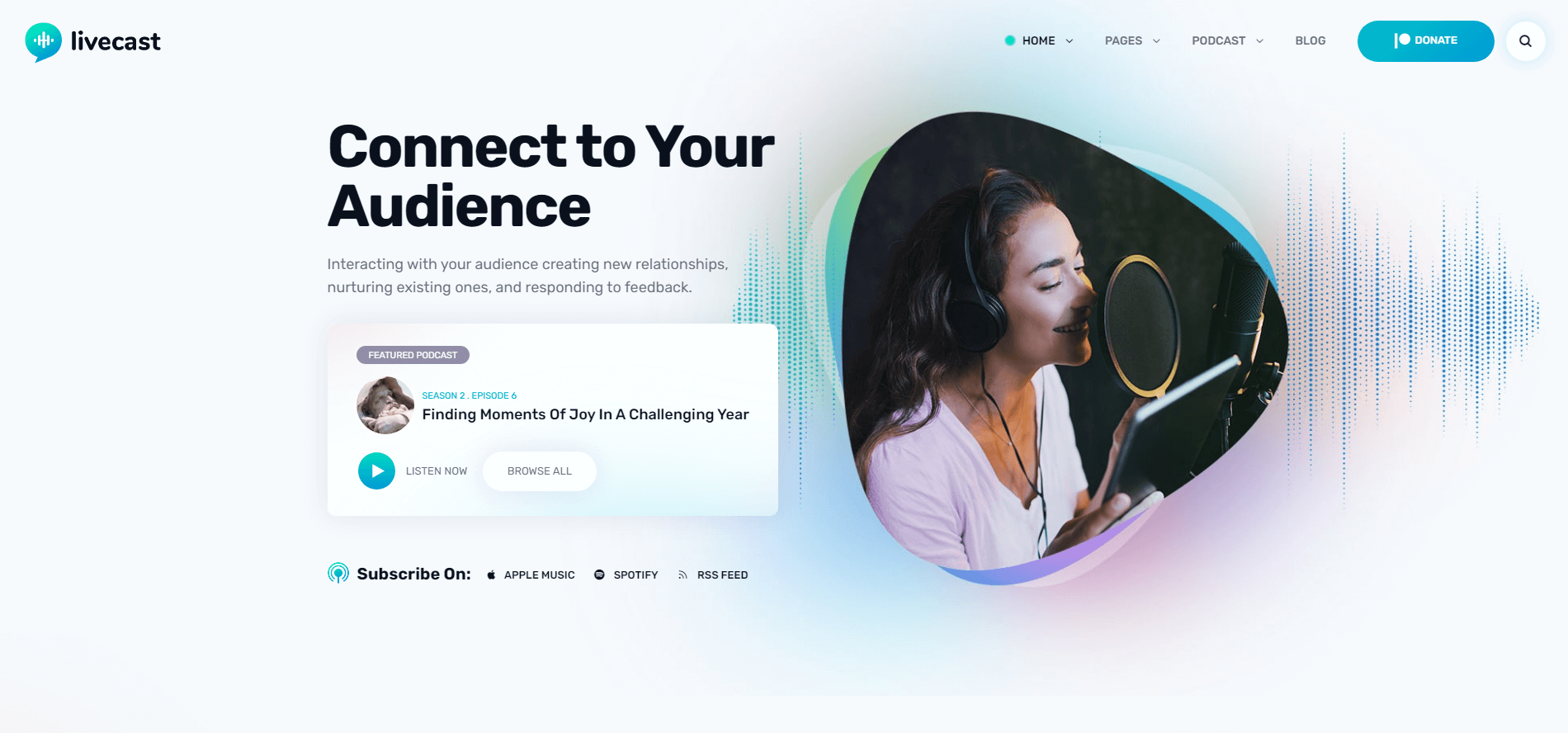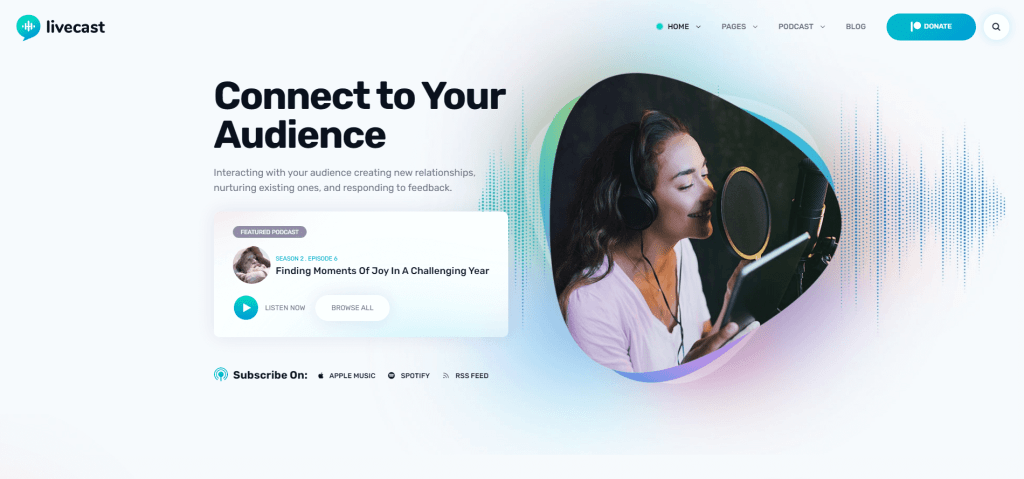 The Livecast theme has a friendly, hip/trendy vibe to it. I first think it would be suitable for solo podcasters and multi-host teams. You can self-host all your episodes, but you have the option to embed your episodes from other platforms.
On the other hand, if you self-host – you can add the appropriate buttons to your episodes that go out to Spotify, iTunes, etc. In this theme, you will find five uniquely designed layouts. These layouts also have custom variations for displaying podcast episodes. You can choose from creating an entire series or listing out individual shows as you publish them. Each method has at least three different styles.
I feel like, more than anything – the Livecast theme stands out with its ability to provide multiple unique designs and have each of those designs be completely different from one another. So, if you ever felt the need to redesign your podcast site in the future, you might just be able to select any of the other designs already included in the theme itself. Just a thought, of course.
2. Resonator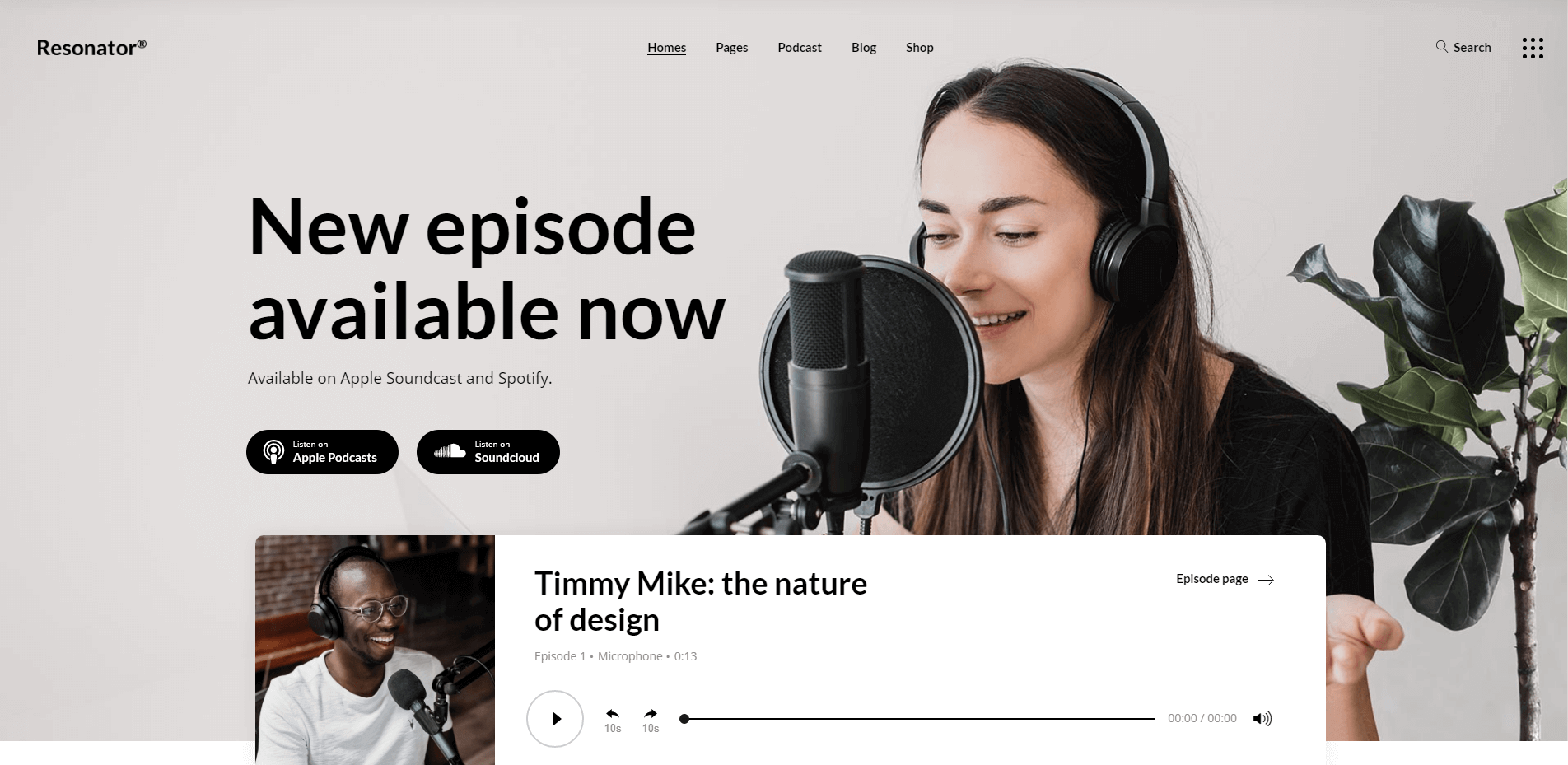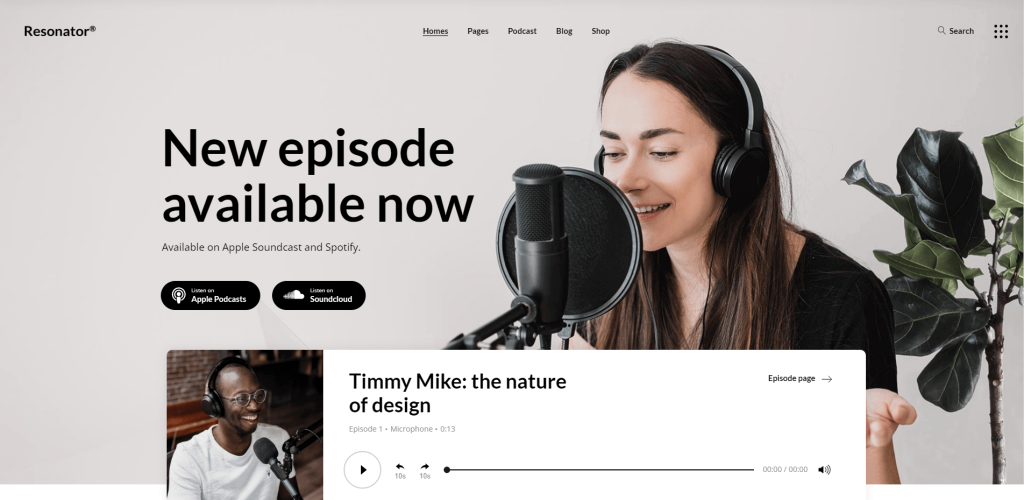 One of the first things I noted from a design perspective is how spacious the episode pages are in the Resonator theme. There's quite a lot of emphasis on going into detail about your episode, whether it's through a transcript or other design elements. You can, for example, add a separate widget to let listeners jump to a specific part of the podcast. Super practical.
You can also choose to display the transcript as full-page text or embed it behind a scrollbar, so it doesn't overwhelm the user experience. And finally, you can embed a custom profile widget of the podcast hosts/guests who were on the show. It's also a nice way for your guests to have a bit of a spotlight on their work and social media profiles.
The last thing I'll add is that this theme does have a blog design, also. And, on top of that, a separate design for an eCommerce store. So, this gives you the tools to do both content marketing but also to sell merchandise or sponsorships. All from within WordPress.
3. WpCast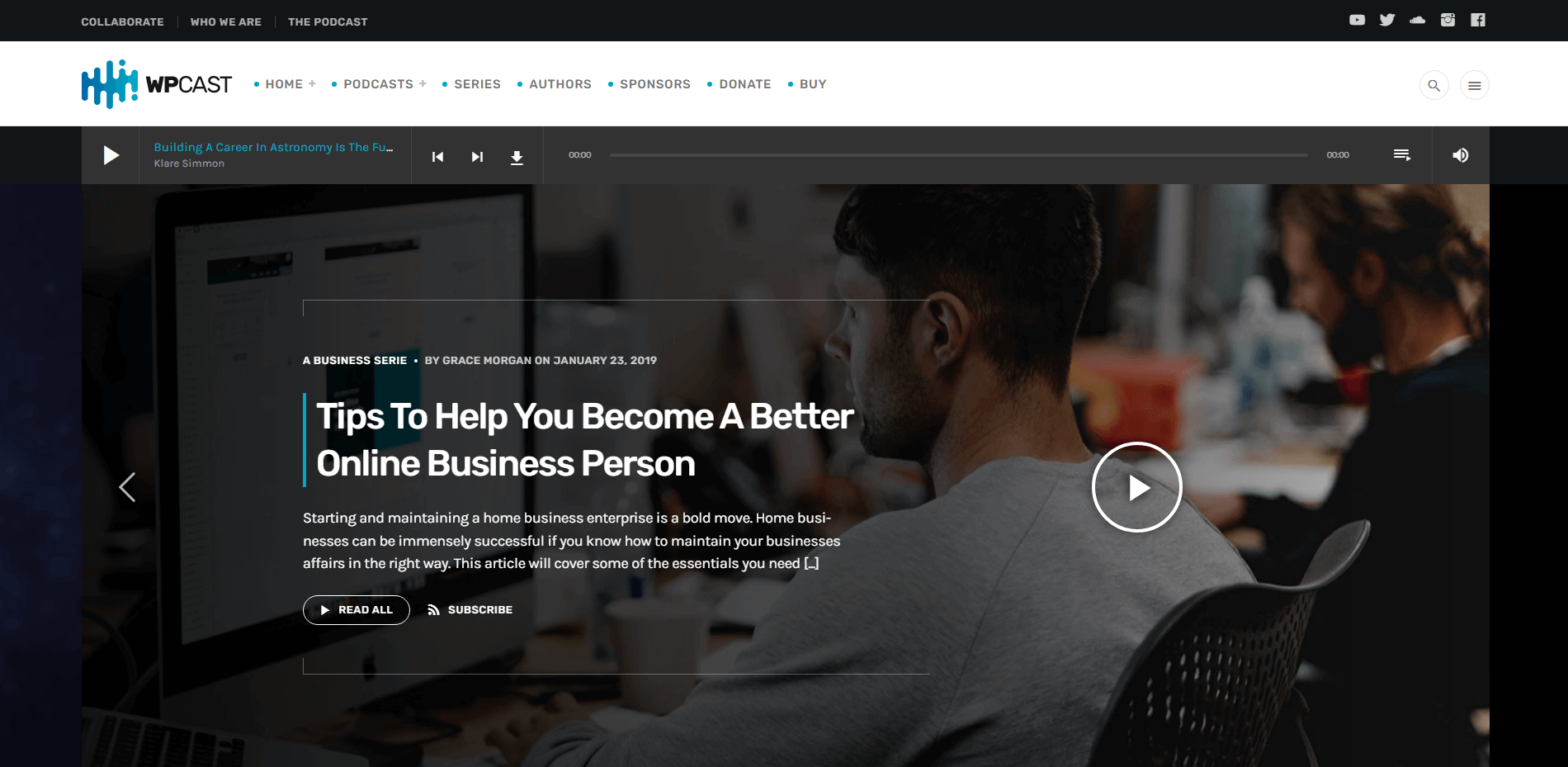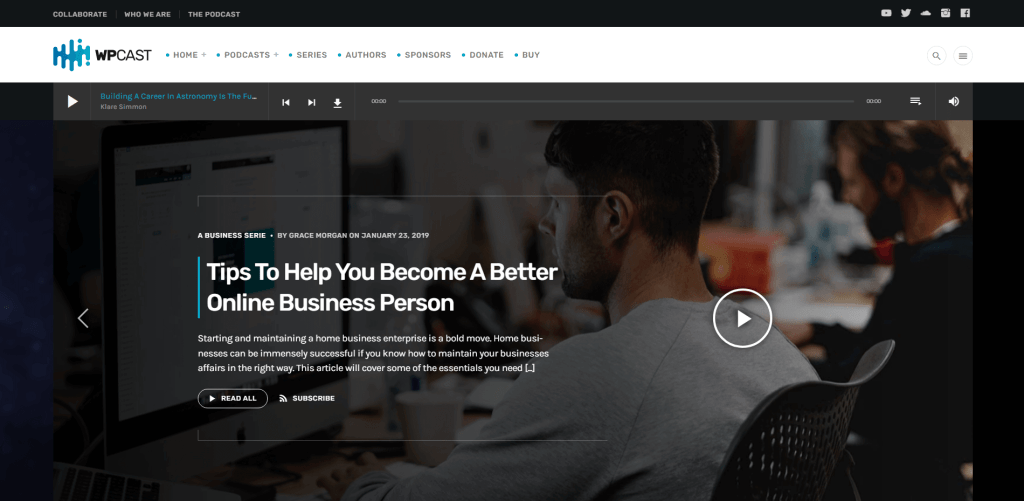 I feel like the WpCast theme is going to be best suited for large-scale podcasting projects, so think education, courses, business series, and the like. This is largely in part due to how the theme is structured, wherein the main area of focus is put on publishing series.
Each series landing page has a custom layout populated with all the episodes within that series. And then, you have the option to further improve those pages by providing details, specific descriptions, and more.
This approach extends to the authors (hosts) and sponsorship pages. When a user clicks on a specific host, it will take listeners to their page and list out all the episodes they have appeared in. I think more than anything; this theme excels in presenting a podcast show in the form of a blog. And thus rendering a similar blog-like user experience.
4. Castora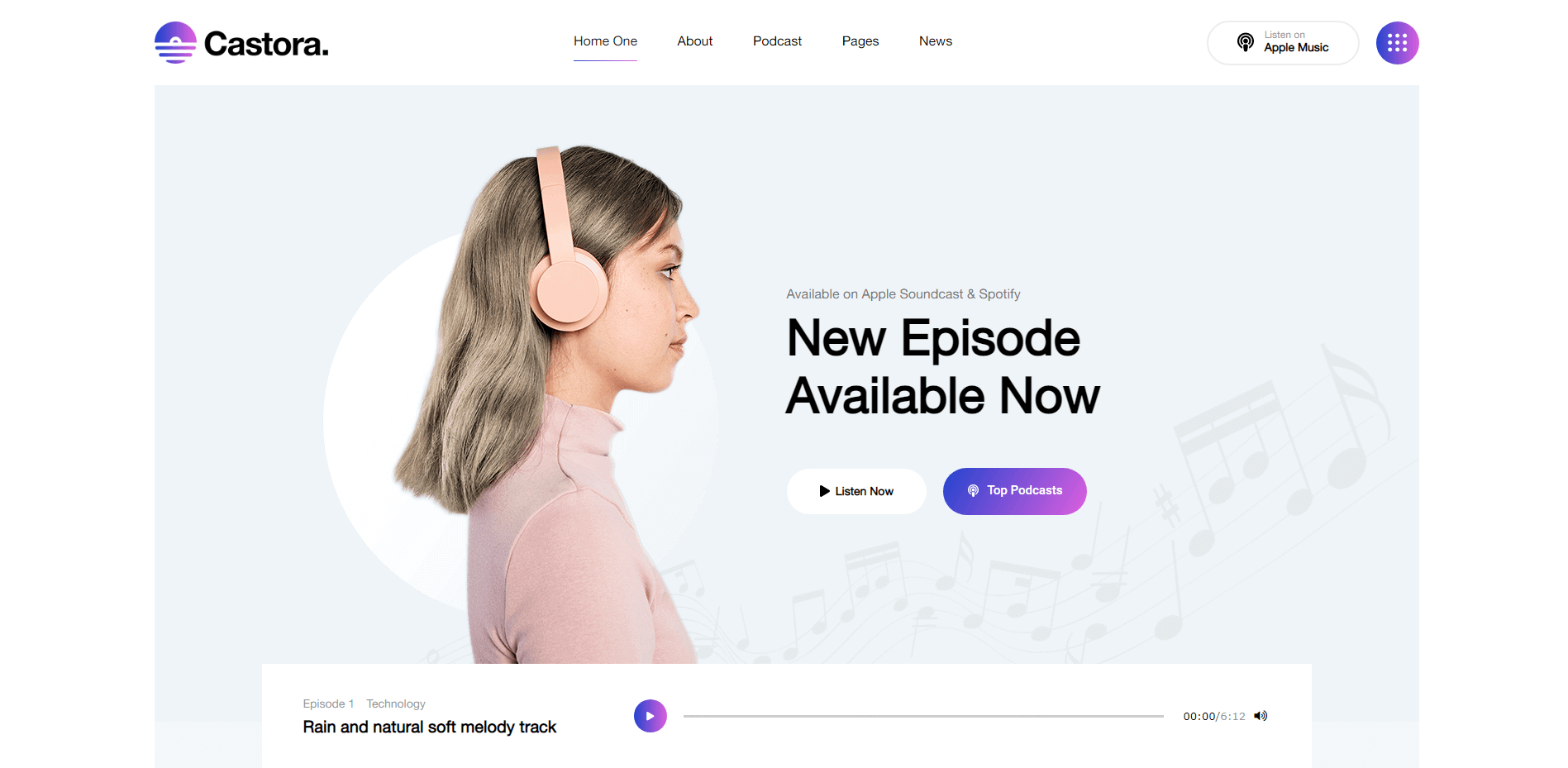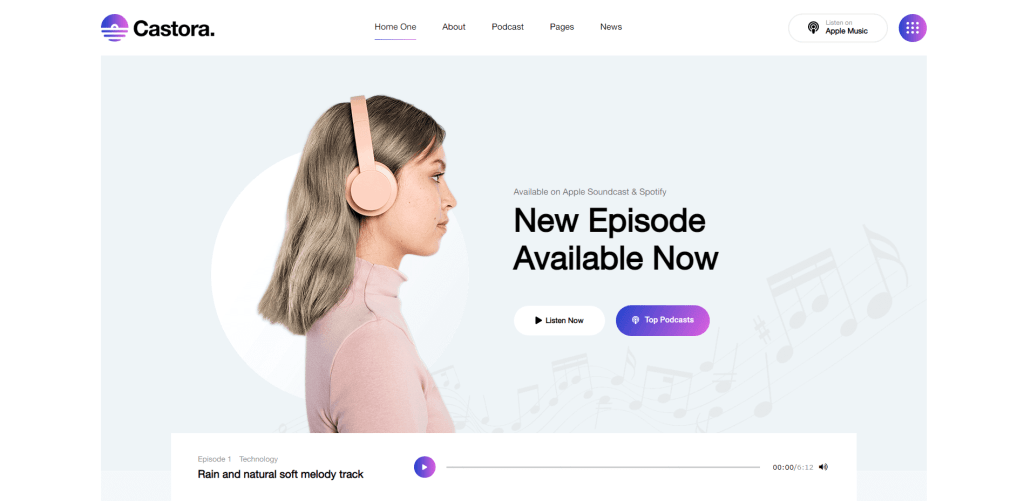 As someone who loves minimal design (take my blog as an example) – I really love the crystal clear layout in the Castora theme. With the addition of trendy design elements, the theme bridges the gap between professional and simplistic-like. My favorite design is probably the Homepage 2 variant. You get a nice hero introduction that covers your latest episode and has button links out to other listening platforms.
After that, it's a nice minimalistic list of episodes in chronological order. Moving on, in this theme, you also get that blogging-like design structure. Each episode's layout includes ways for you to describe the topic and what was discussed in detail. Additionally, you can set markers for the specific timeframe in the episode, and give a small description of the topic at hand – which your listeners can use to jump to a specific part quickly.
5. Megabyte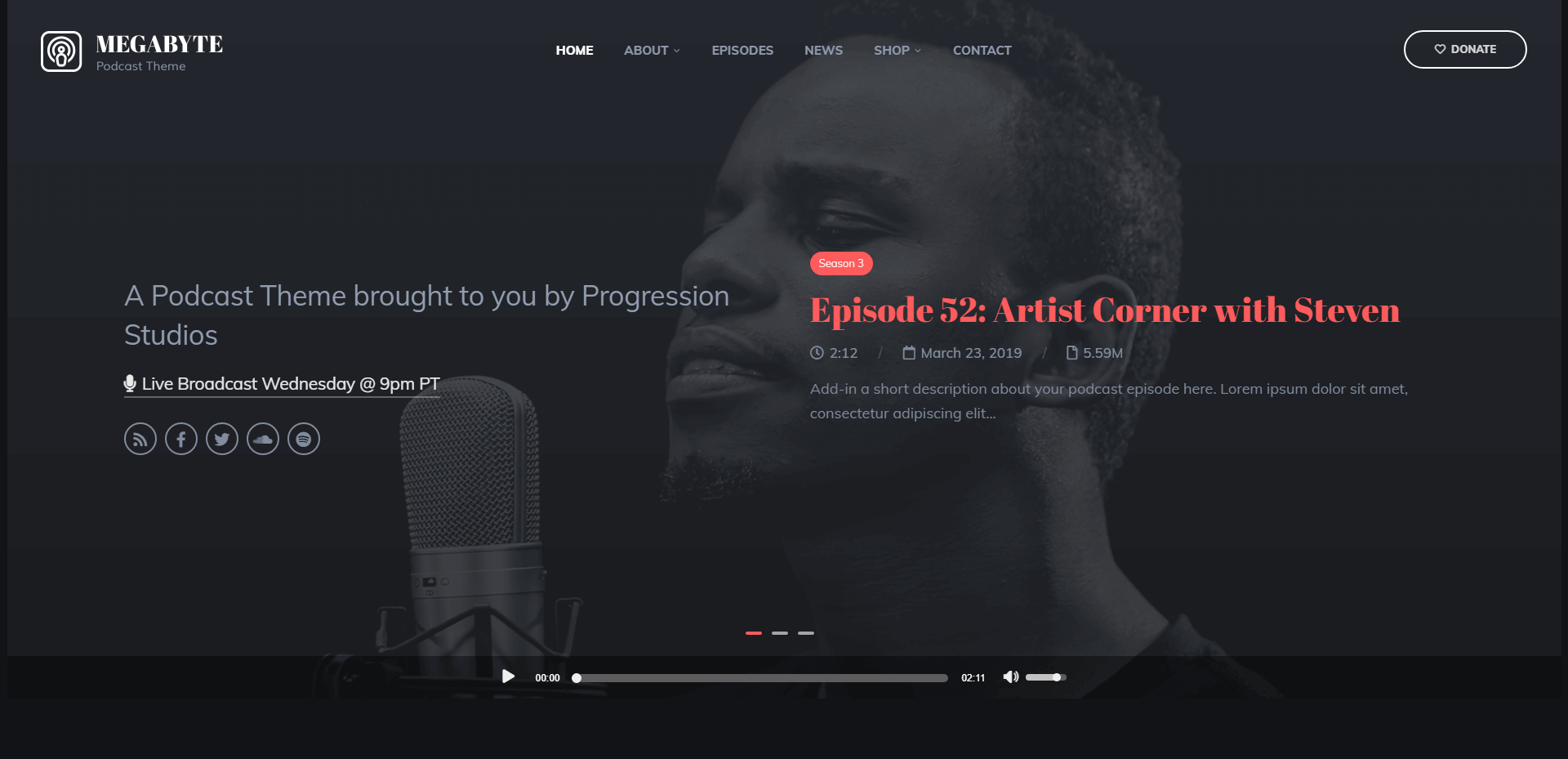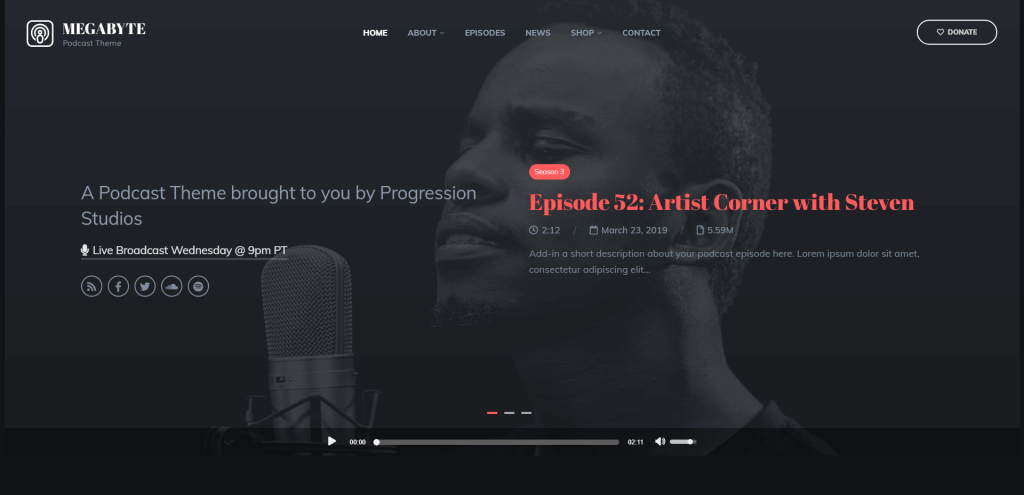 I don't know what it is about dark-mode designs, but they just happen to feel so easy to work with as far as the user experience goes. And the Megabyte theme really puts it all together.
I'd say this is a theme that would work best for single-host podcasts. This means, it's well-rounded and has a strong personal feel to it. A few key features this theme provides are the ability to create podcast series and list them on the homepage. If you ou do video podcasting, you can upload videos to your WordPress site and host them directly.
You can create an RSS feed which you can use to auto-publish your new episodes on iTunes or on Google Podcasts. And there is a separate design for WooCommerce, also.
6. Soundbyte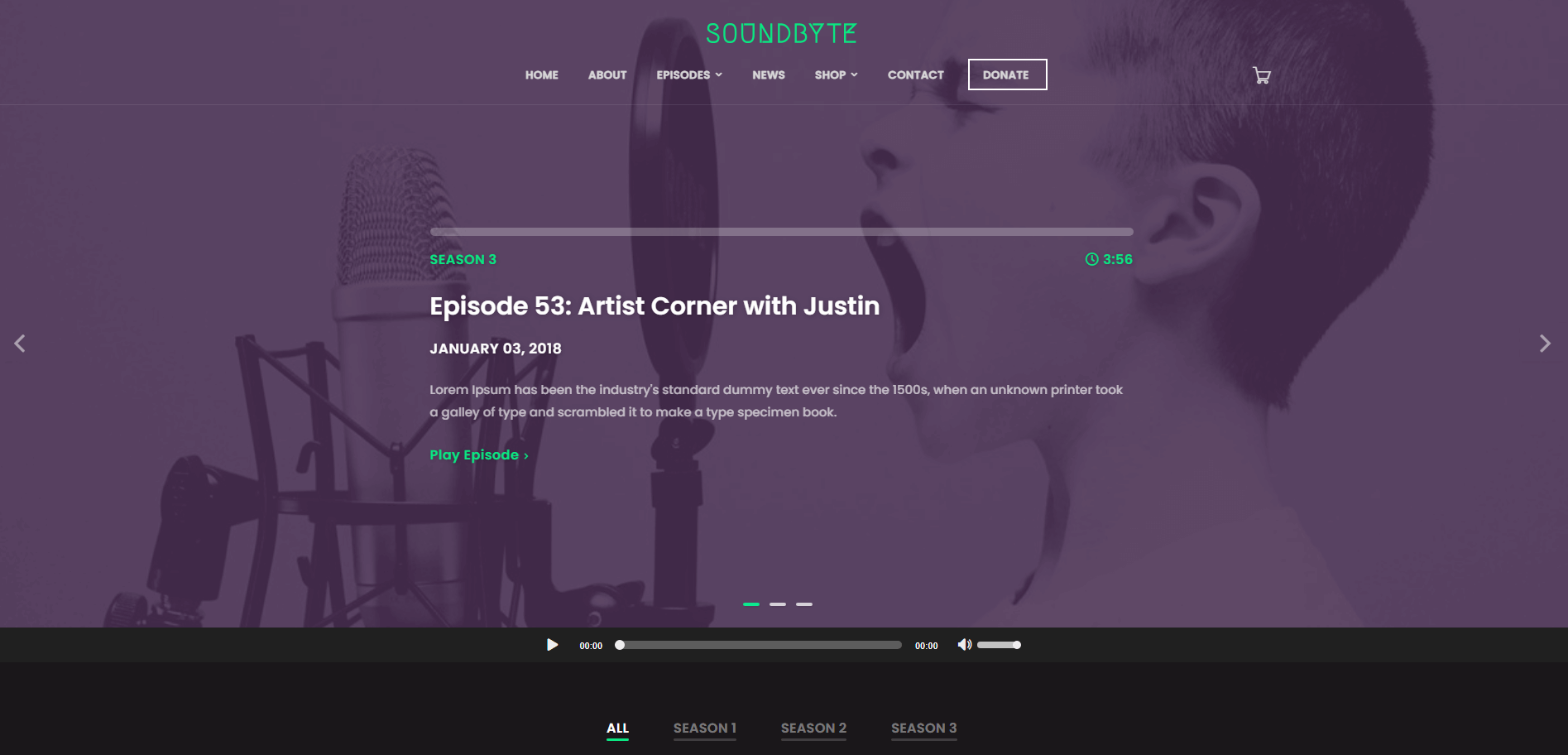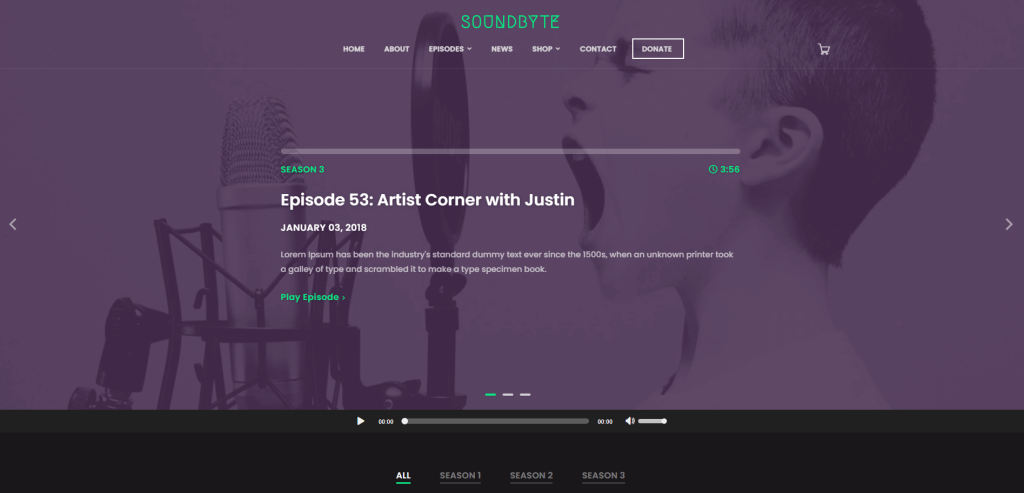 So, this is actually a theme by the same creator as the previous one. In all fairness, both themes don't have any differences in the set of features they provide. Rather, the fundamental difference between them both is the design style.
They're still both oriented around a darker color scheme. But with Soundbyte, the color tones are a little darker in certain sections. It's kind of like, if you don't want to mess around with custom styling – you can just get a different color scheme with the same features.
7. Castilo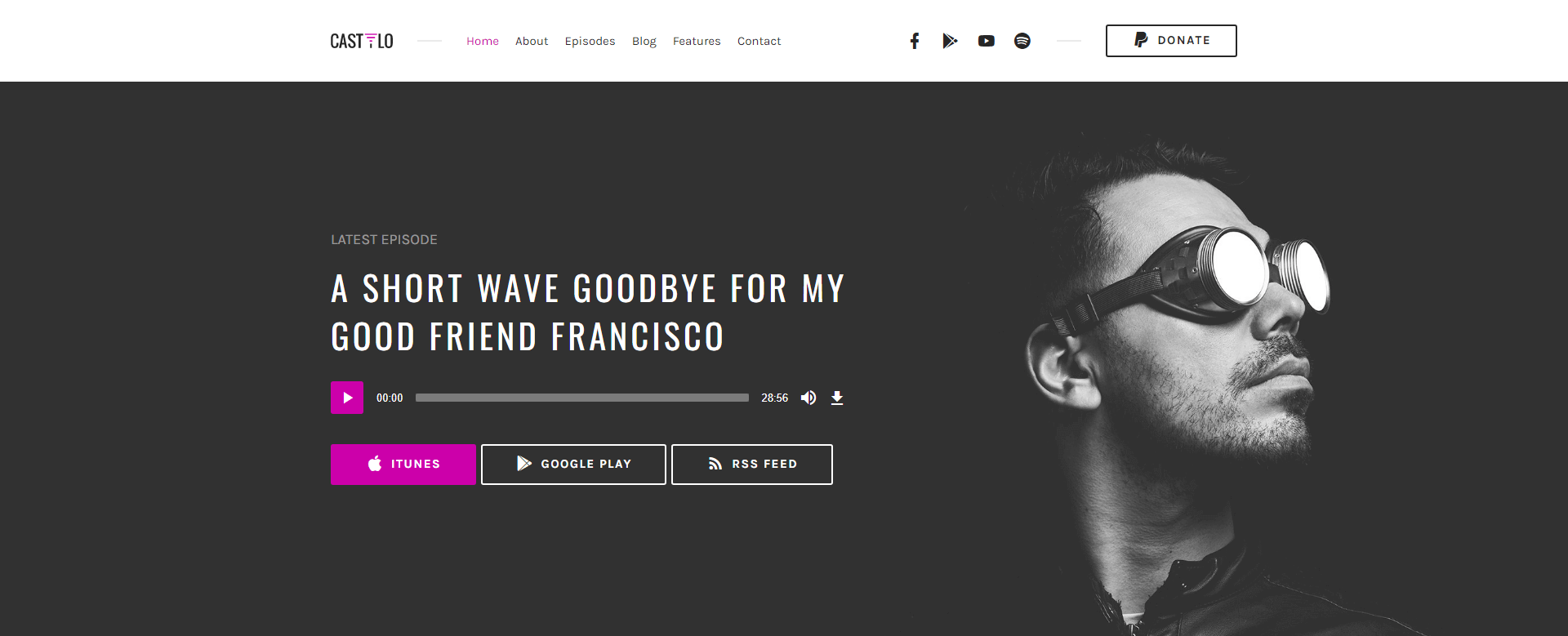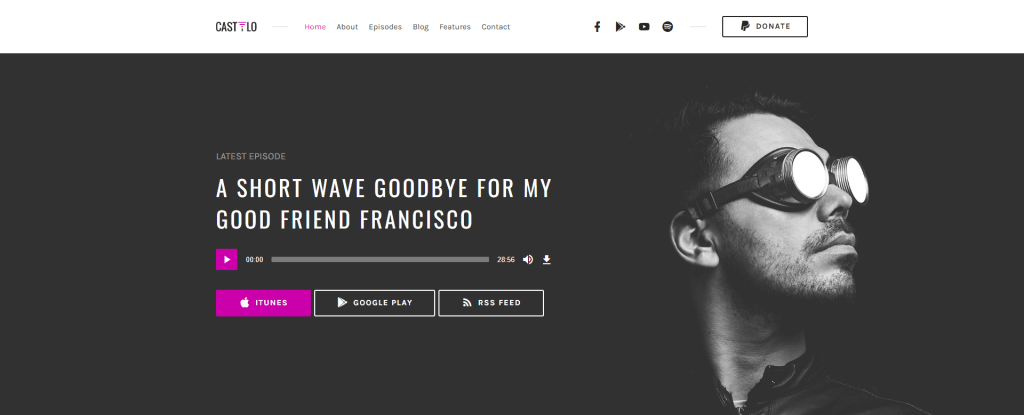 If you subscribe to a lot of podcasts, there's a good chance you've run into the Castilo theme already since it's definitely one of the more popular ones on this list. Liviu Cerchez has been publishing audio-based themes for over 6 years. So, during this time – he has had the ability to listen to real user feedback and optimize this theme to the best of his ability.
For me, this theme feels like it would be a great fit for a set podcast show or to be used for independent publishing in your own unique niche. The combination of a clean layout with added funk through button styles and parallax-scrolling is what makes this design a bit of eye candy.
You have the option to divide your series into seasons, but also amplify the discoverability through custom tags and categories.
8. Viseo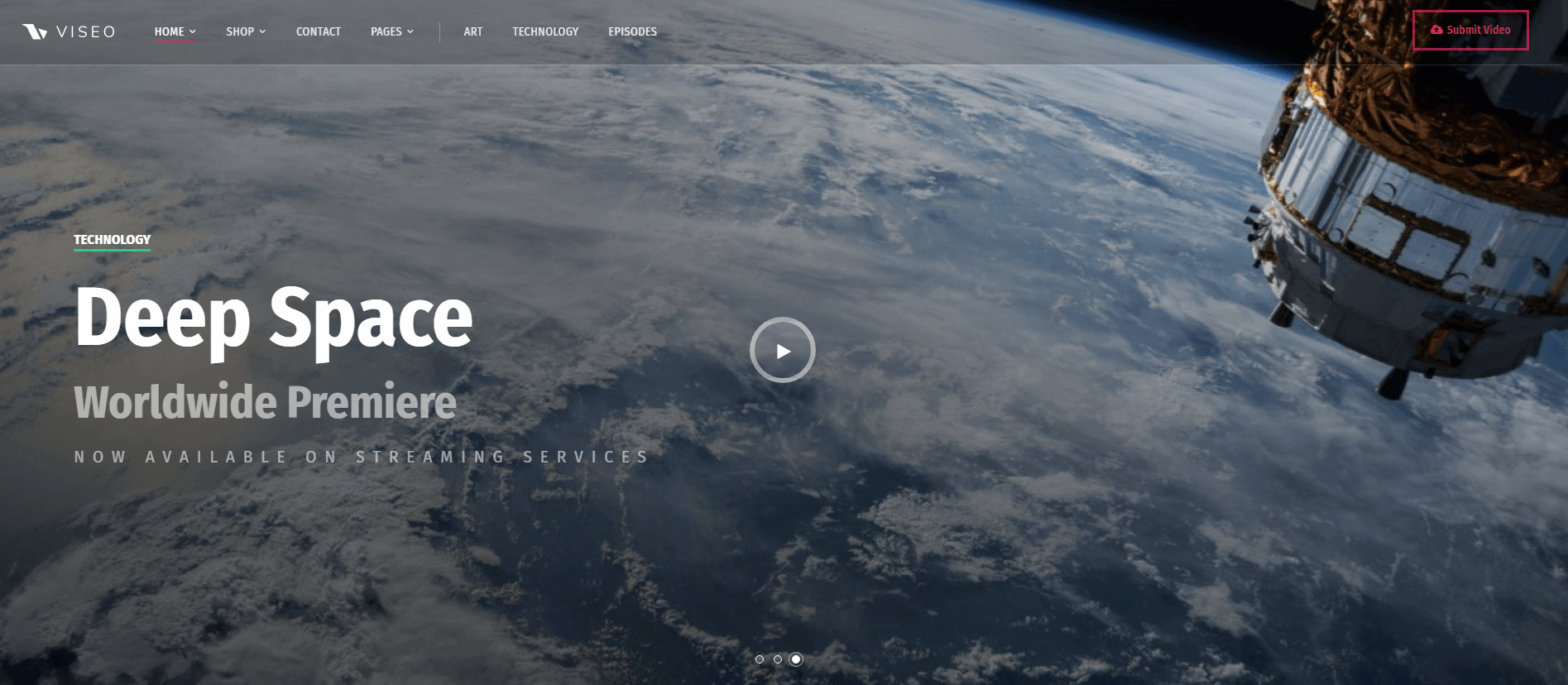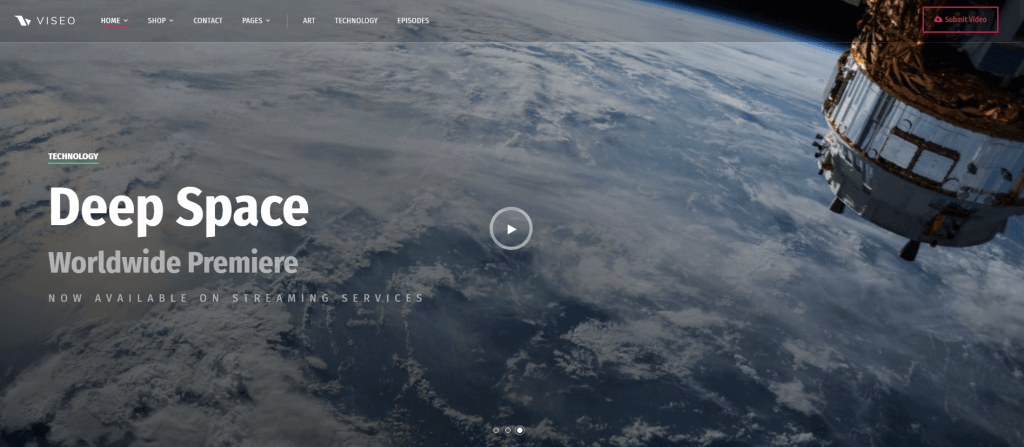 Audio podcasting is kind of the gold standard. But, I wouldn't sleep on the potential of video podcasting, either. I mean, a prime example of that is someone like Joe Rogan – imagine what his podcast would be like without video. There's clearly demand for it.
And the Viseo theme is optimized specifically for video podcasters. In a sense, it reminds me of how Spotify lists out its video episodes. You get a nice full-screen section to embed the podcast, and then have the space to include all other details. In this theme, you get social sharing buttons, total episode views, comments, and a nice space allocation for including the episode transcript, among other details.
9. Vlog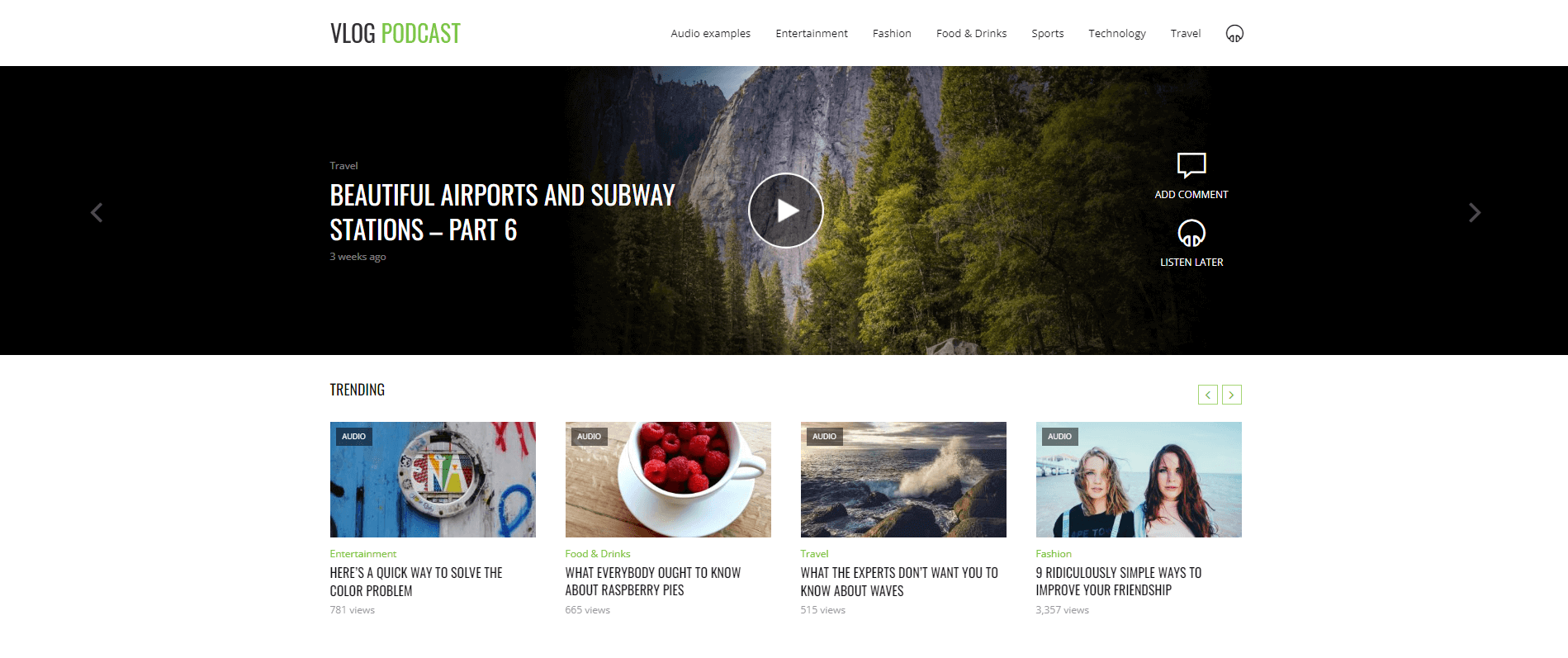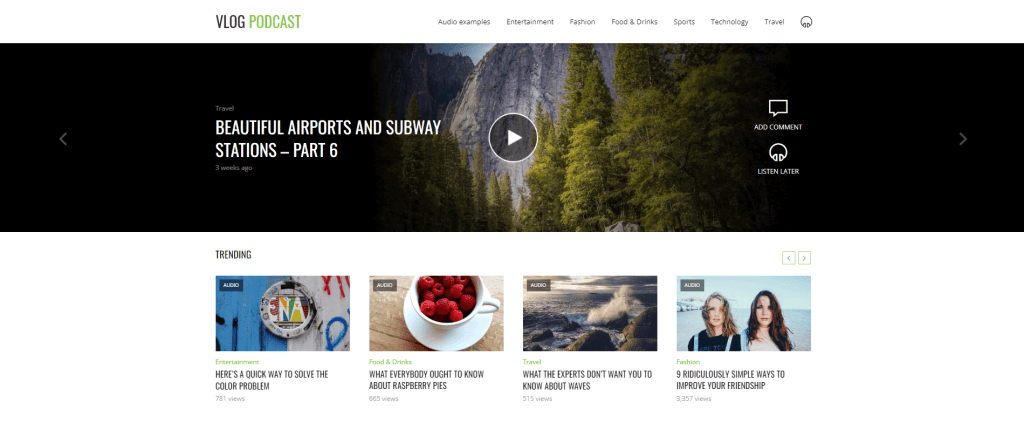 Speaking of video, here's a nice all-in-one video/audio theme: Vlog. How simple. Unlike the designs we've seen so far, this choice differs from all others by adding 4 unique style concepts in one unified theme. You can choose from the default (video blogging), personal, magazine, and finally, the Vlog Podcasts style. For this article, we're interested in the last style only.
The first thing that will stand out is that Vlog structures the podcast very much like you would a traditional blog. So, each episode is listed out as you publish them. And the episode pages feel like blog posts but are optimized for displaying podcast episodes.
It does have support for RTL, and translation is also going to be a breeze since you're already using WordPress, and the theme works well with plugins like WPML.
10. Voiceful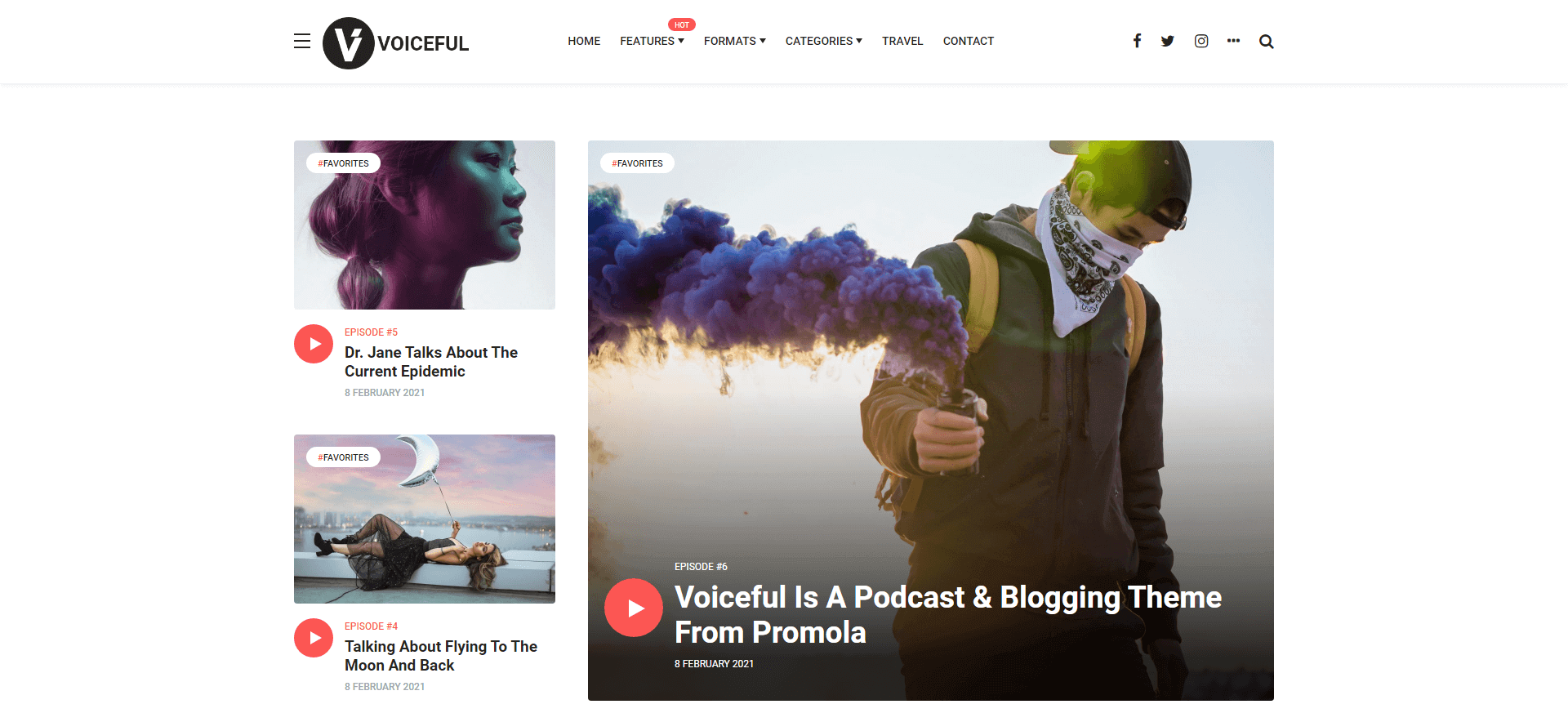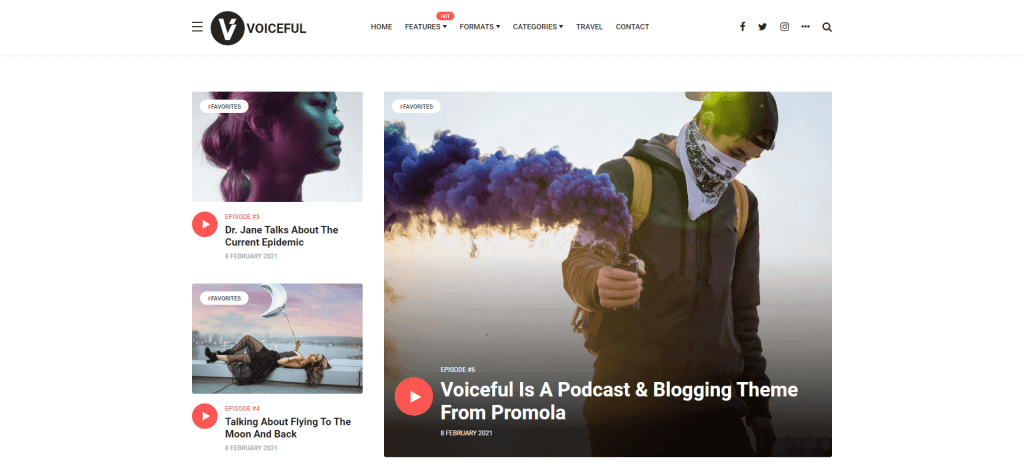 The Voiceful theme, much like others, tries to combine both podcasting and blogging in the same theme. Which, in all fairness, is a pretty good deal if you plan to do both. The page design in particular, for blogs and podcasts, is quite modern-looking. And you can display the podcast player either on the top of the page or as a separate slide-out widget.
Other features you will find in this theme are 3 individual layout choices for the homepage and single posts. It has a custom comments system with threads enabled.
Furthermore, Voiceful is fully widgetized so you can actually promote your internal content and outgoing links to social media platforms. Above all, if you ever get tired of podcasting – you can just whip out blog posts without needing to change the style.
11. Episody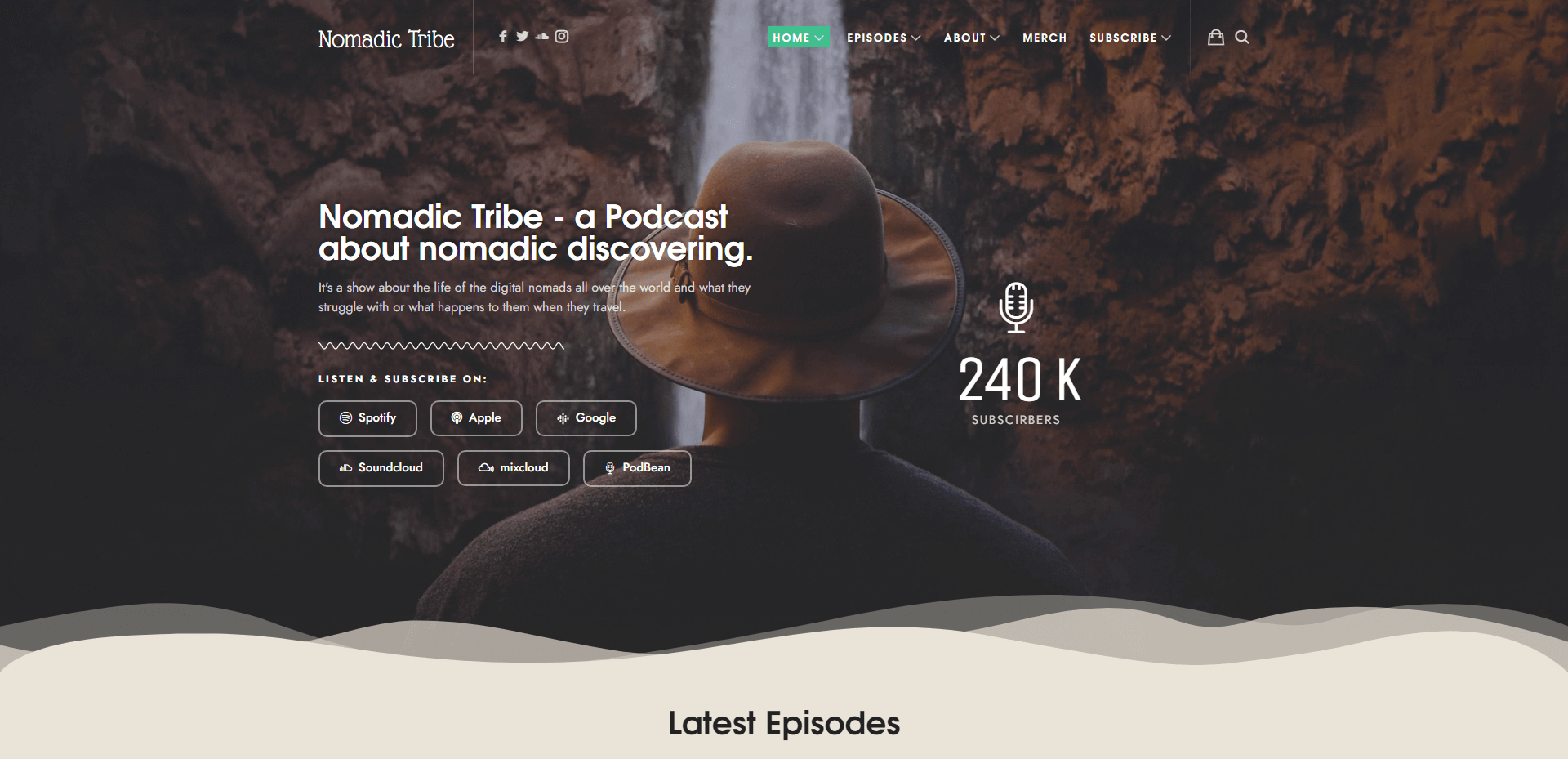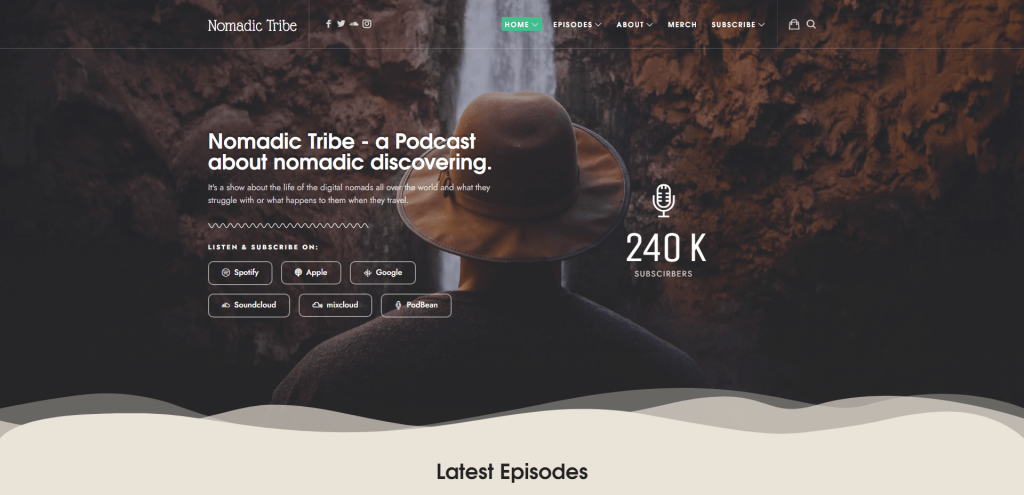 The Episody theme is just so well put together and boasts an unbelievably stylish approach to designing a website. I love it. And what's more, this theme actually has the exact opposite design, too – a super minimal black-on-white style perfect for practical podcasting.
I think one of the reasons why people look for different themes in the first place is because they understand a design does do quite a bit of the talking. So, my immediate description for this theme is that it's ideal for established brands or individuals who wish to build a business around their podcast show.
You get all the familiar WordPress features, but with a little extra.
In particular, this theme has a custom-built media player which includes the ability to tag specific timeframes. Sure, listeners might skip sponsorship messages, but at least it's easy to navigate the context of your show. Alternatively, it is possible to embed your episodes from other sources: Podbean, Soundcloud, and the like.
12. Artemiz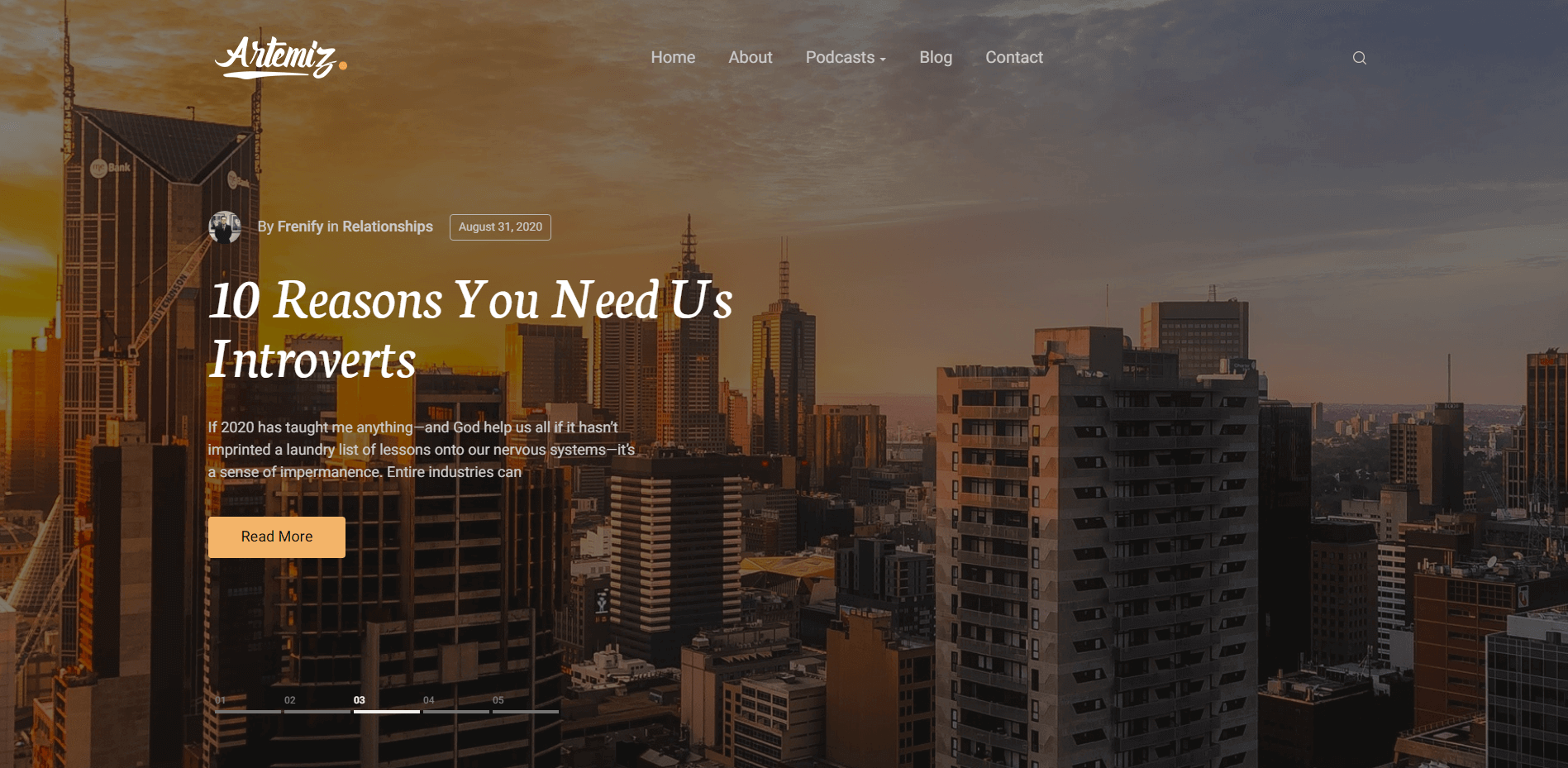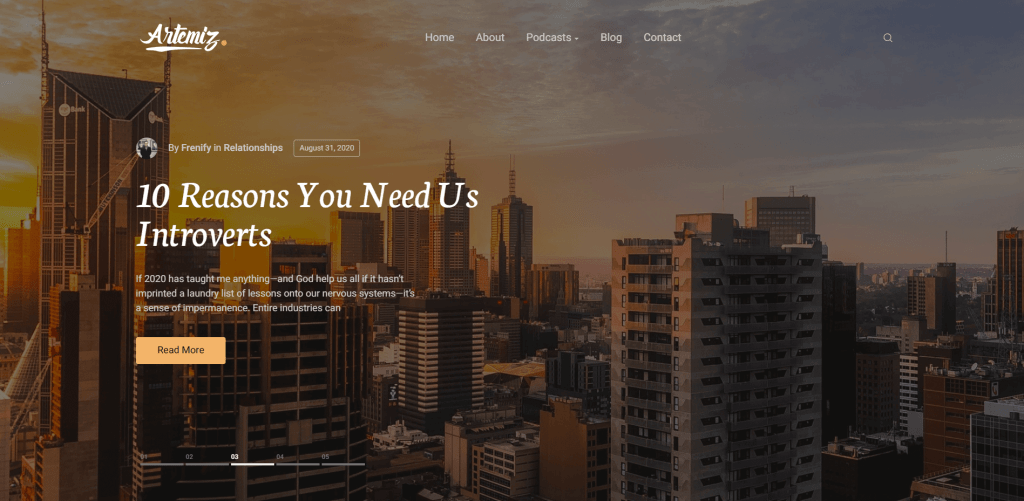 I'm a huge fan of large typography and boxed elements. So, a theme like Artemiz hits home for me from a design perspective. In particular, I love the full-page layout for each individual post/episode. You get to add a clear and succinct description of what your episode is about, and then go all out with the transcript and other elements.
In fact, I didn't mention it yet, but by using WordPress for your podcast website – you get to take full advantage of the WordPress Blocks system. So, think of custom design elements and a plethora of plugins to keep you busy with your choices. I think on a theme like this; you'll have ample opportunity to make some creative design choices.
13. Rare Radio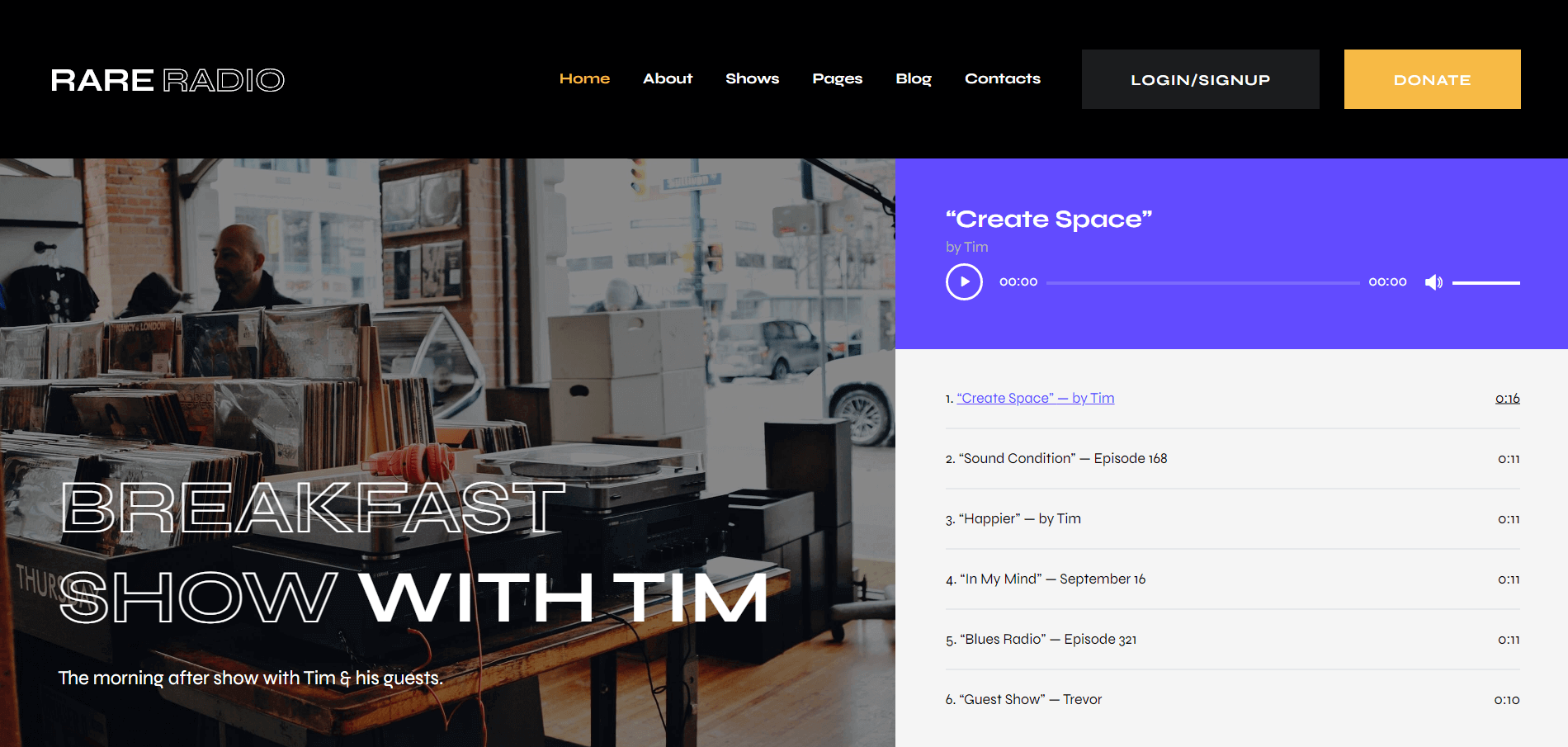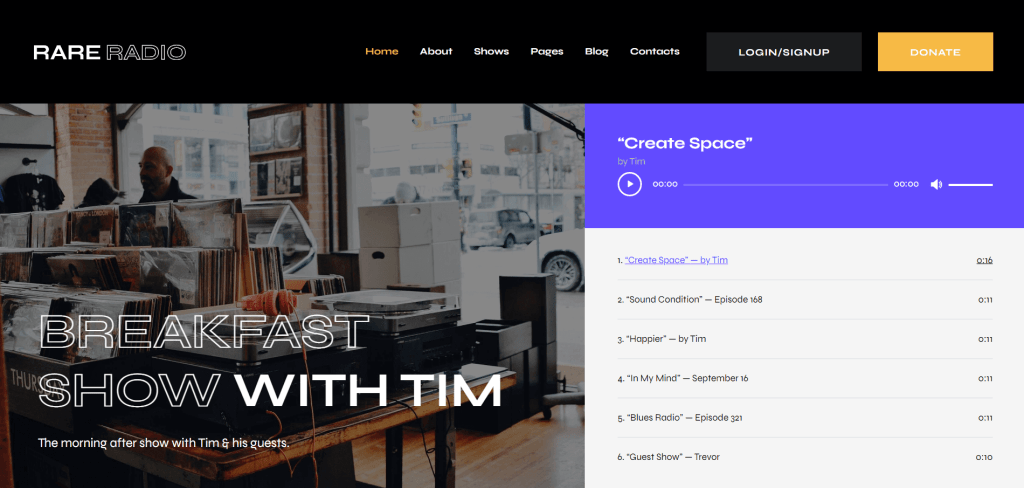 This is quite an interesting theme in the sense that it's the only podcast theme in this list that emphasizes charging money for content. Of course, you can still use it just for hosting your episodes and writing about them. But the idea that you can create a series around specific topics and then have people enroll in that series is quite enticing.
In terms of the ready-made layouts, it's a mix of a full-on brand impression and an archives layout to list the latest shows simply. As the name implies, the authors of this theme were going for a kind of radio-like approach with their design. In other words, it might be an option if you wish to host not only podcasts but also real-time radio stations.
14. MaxCast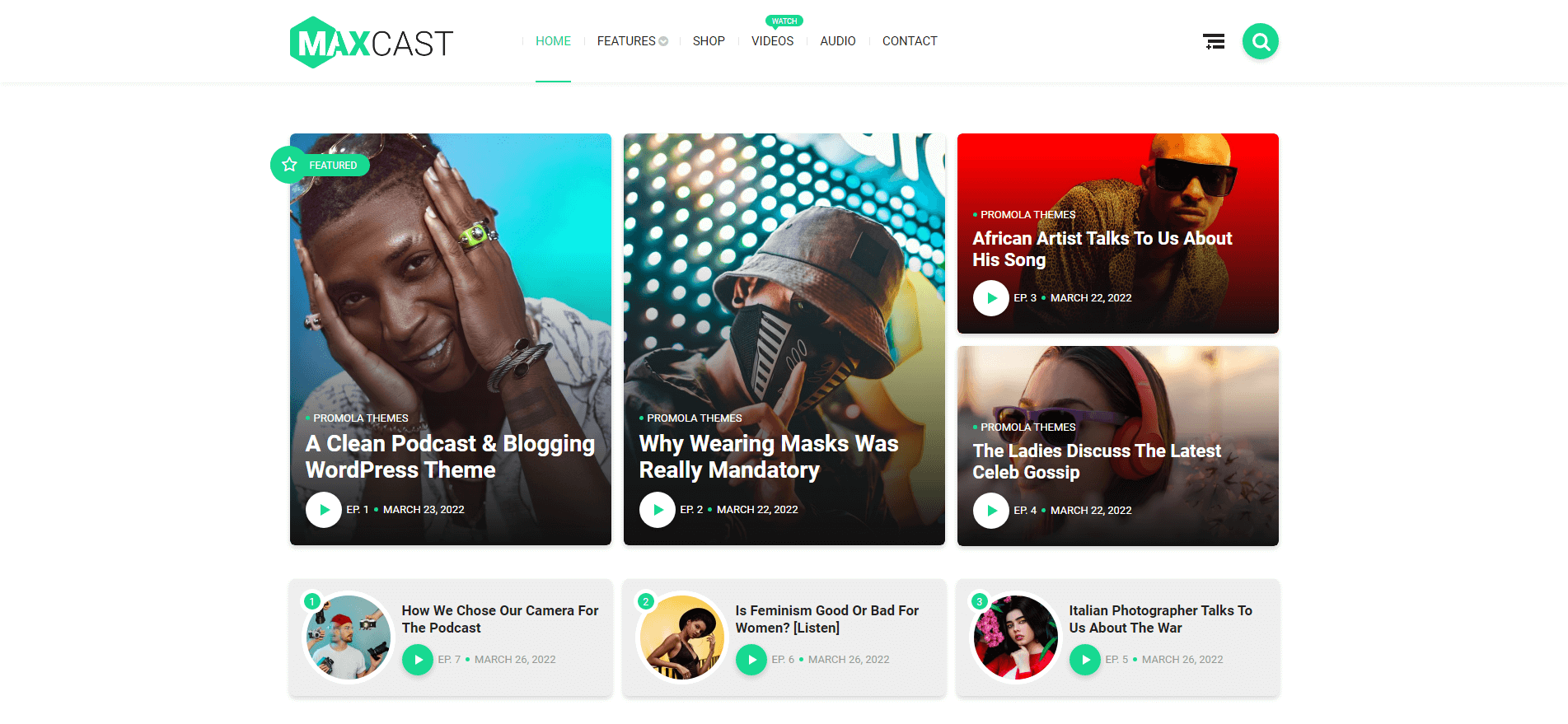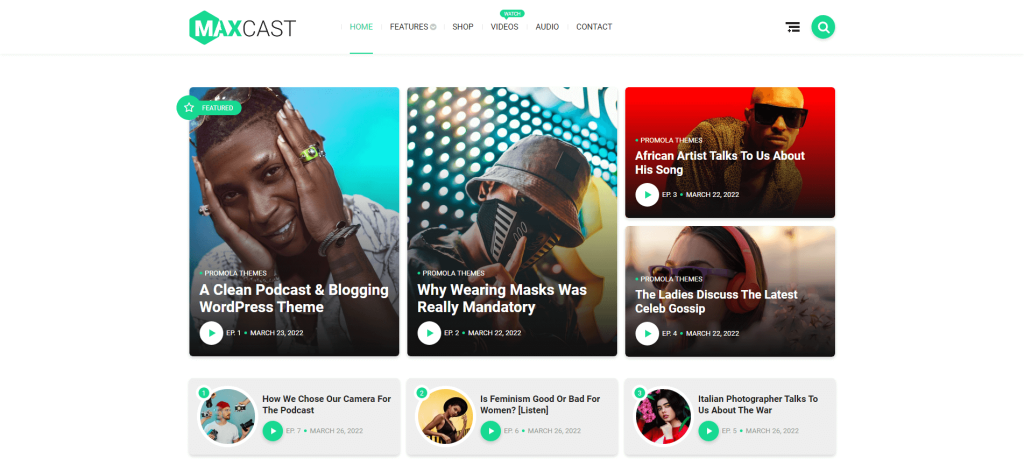 MaxCast is a freshly released WordPress podcasting theme by Thapelo Molangeni. One of the cool things about this theme is that it functions both as a blog and also a podcast repository. There's definitely the potential to use this theme for creating a podcast aggregator, where you fetch new podcast episodes from RSS feeds and then combine them in one place.
But, naturally, if you want to use it to host your own podcasts – it is just as good. The design implements features like rounded corners for many of the site elements, the ability to tag certain episodes as featured, but also video archives.
In-built features include a color scheme picker, WooCommerce support, custom layouts for homepage and blog posts, and a built-in media player so you can self-host podcast episodes yourself. Customizing is possible through Customizer, but should work just as well with modern page builders since the theme doesn't depend on any frameworks.
15. Podover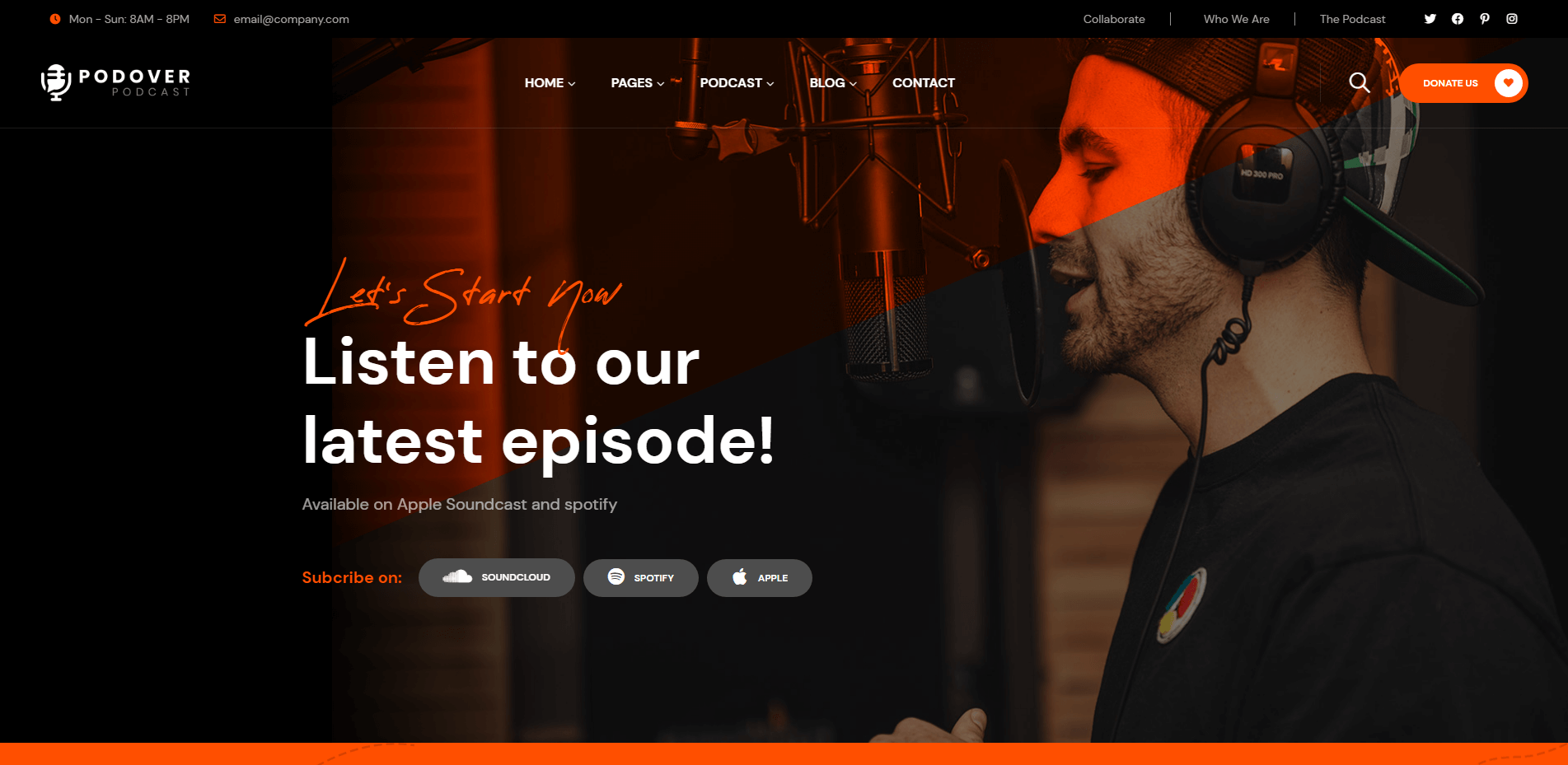 If you plan on doing nothing else but publishing podcast episodes – the Podover theme might suit your needs as it is focused on being a full-scale podcasting kit. The creative visuals combined with an easy-to-use transcript interface means you can quickly add new episodes, but also dash out transcripts for listeners who prefer to have a written reference point.
A nice touch in this theme is the podcast listings page. This one has multiple styles and an option to filter episodes based on a specific topic or host. Whether or not you plan to use this theme for your own personal show or together with your friends – the number of customization options available to you will make it easy to adapt this theme to your liking.
Getting your podcast website up and running
So, to conclude – I think this collection of themes covers a wide range of characteristics and traits and will give you a good headstart to get your podcast site established.
However, if you're looking for a little more control over the initial design – you can also try working with a WordPress website builder. It might be a little bit more work on the design side, but at least you can do it 100% your way.
If you ever feel like redesigning your podcast website in the future – make sure to check back on this collection. I'll do my best to keep it frequently updated, but also weed out any themes that perhaps are no longer being updated regularly.
---