Tech blogging is one of those rare niches where it's practically impossible to run out of ideas for content. And this is particularly amplified if your tech blog is based on covering the latest news and trends on technology, gadgets, etc. It's also a lucrative niche if you plan to monetize your brand or tech blog in the long term.
I'd say in the early 2010s – most tech blogs were running fairly unembellished designs, with a primary focus on content. Whereas these days, it's not uncommon for large tech sites to combine both a good-looking design but also readability-optimized content pages.
So, in other words, that's the premise for this collection of themes. I'm going to be focusing on designs that have that modern funk to them, but also keep it honest when it comes to making content easy to read. E.g. No overly saturated design elements.
Tech blog designs: editorial, minimal, professional
If you look at publishers like TheNextWeb, Fast Company, or the likes of Ars Technica – one thing all these editorial sites have in common is design. A professional/established tech blog should provide plenty of means to find relevant content quickly. But also to engage the reader through elements like images, typography, and page navigation.
As such, expect a lot of the following tech blog themes to be focused on those elements in particular. And, lastly, I'm also going to include a handful of simplistic designs – especially if you're someone (like me) who likes to keep it simple. Above all, if I was to build a new tech blog with WordPress – these are the themes I'd consider first.
Let's dive in.
---
1. Blueprint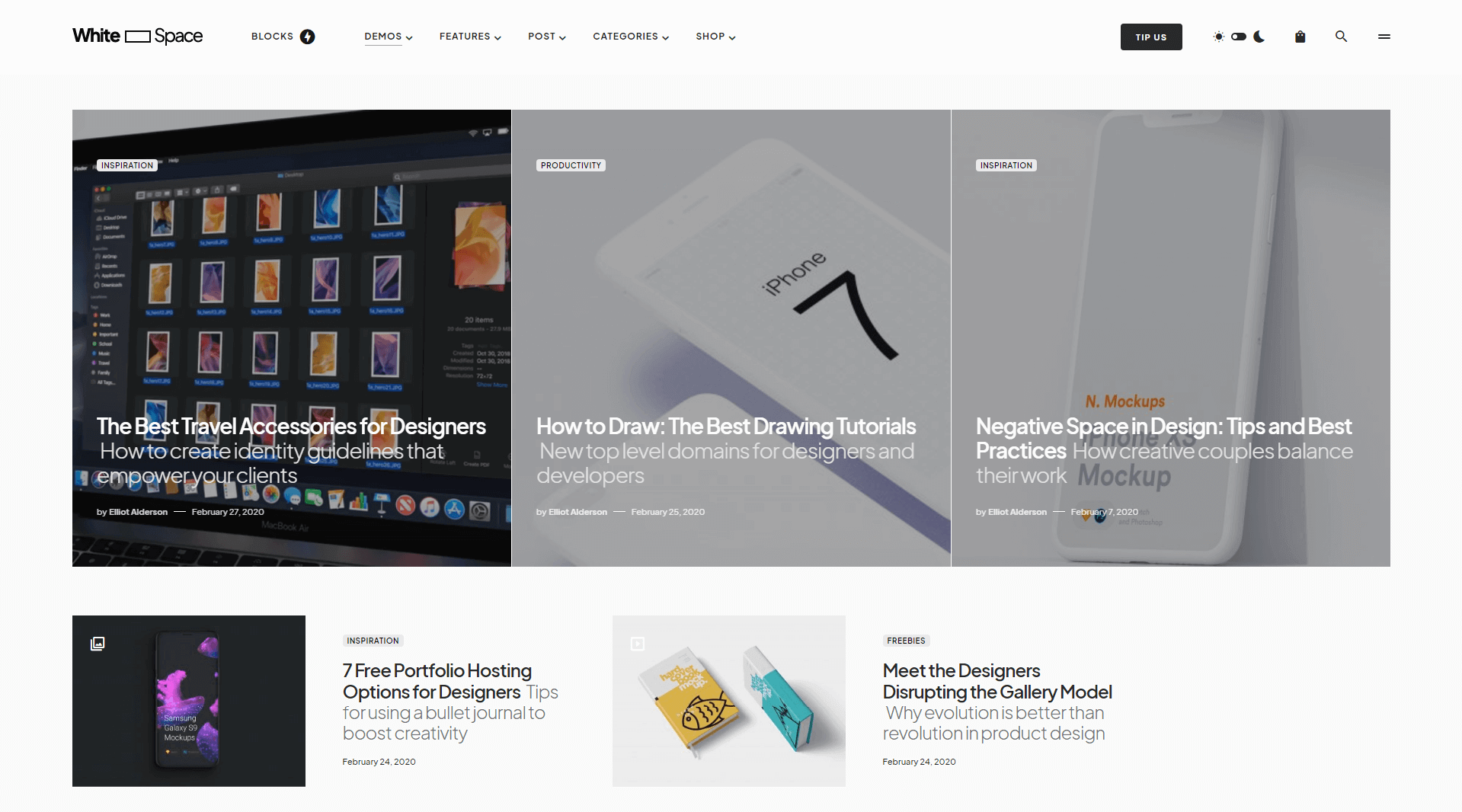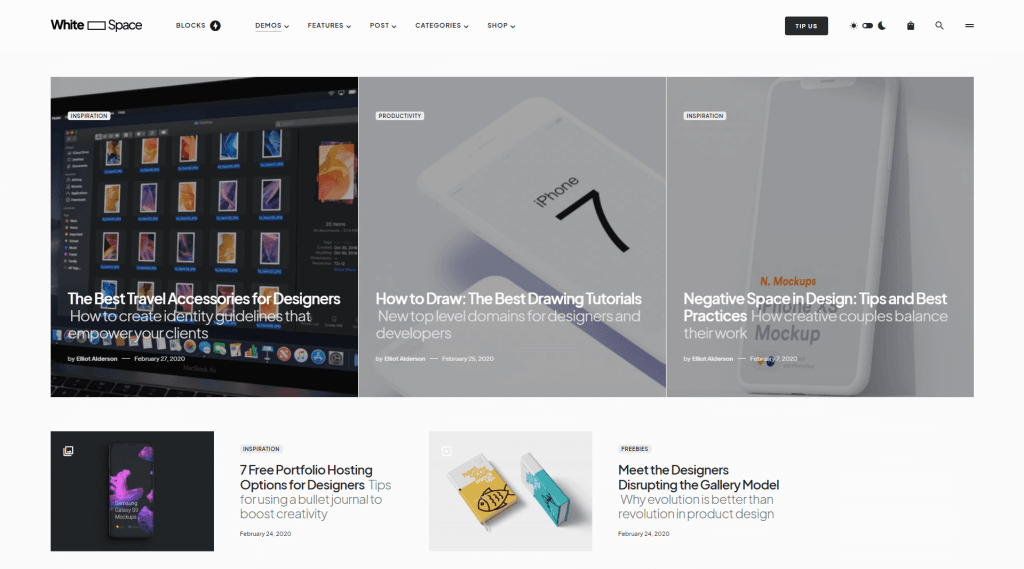 The team at Code Supply Co. are absolute experts in creating themes that maintain a sleek and professional feel to them. Even though Blueprint is their newest release – it's easily one of the better tech blog designs you will come across. Their tech-oriented demo design is called White Space, though they do have 8 additional layouts to pick from.
And that also happens to be the factor that makes this theme so desirable. If we look at the White Space design – it's everything a tech blog would ever need. Great presentation of images, customizable fonts for header titles, and superb presentation for blog posts.
Each design has a dark color scheme, with the option to detect the browser's preferred color scheme automatically. This feature is called Smart Toggle. Interestingly, this feature is also available for back-end editing. So, if you yourself prefer a dark color scheme – you'll be able to use it when editing the site from this theme's control panel.
2. Zeen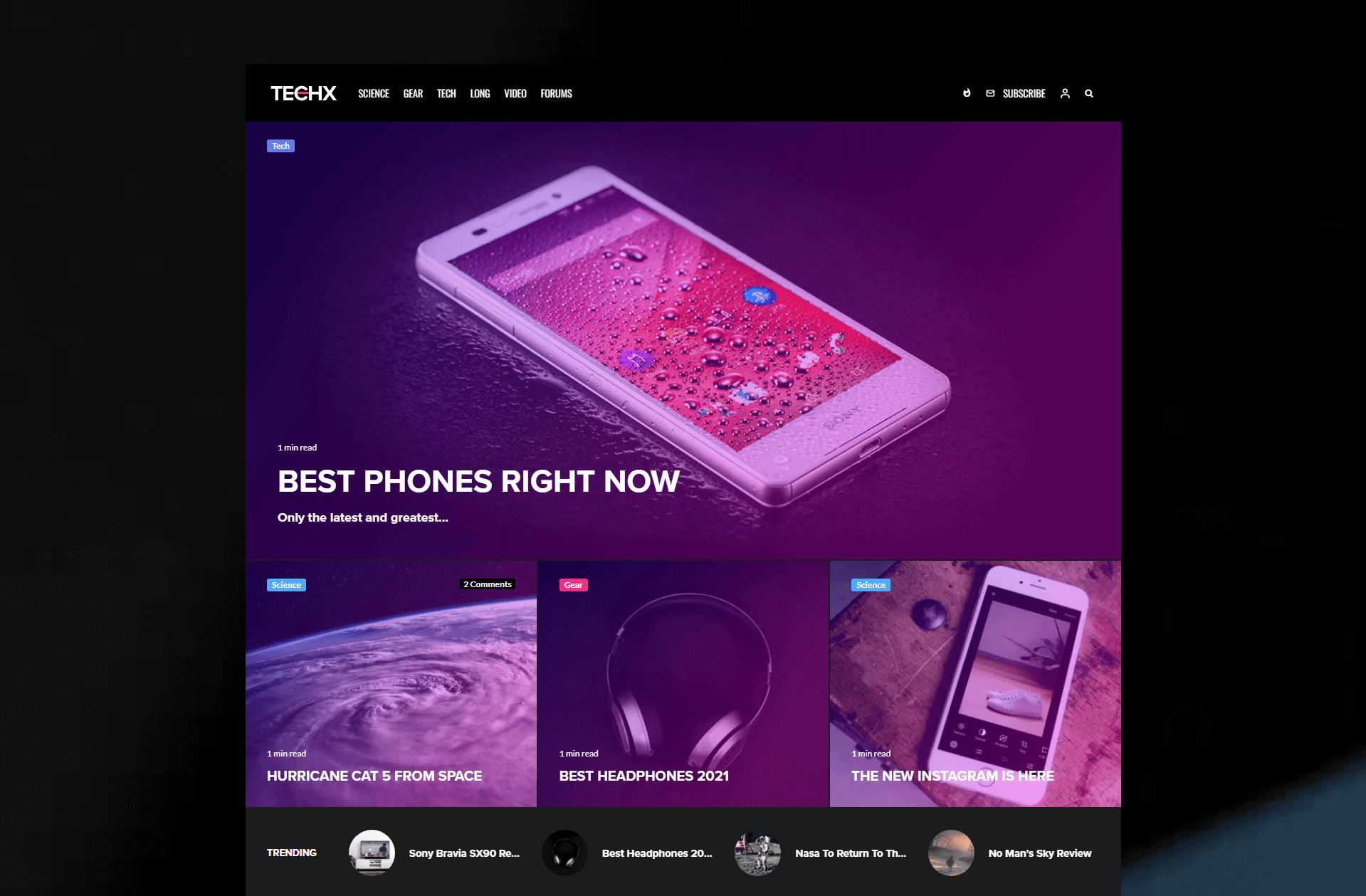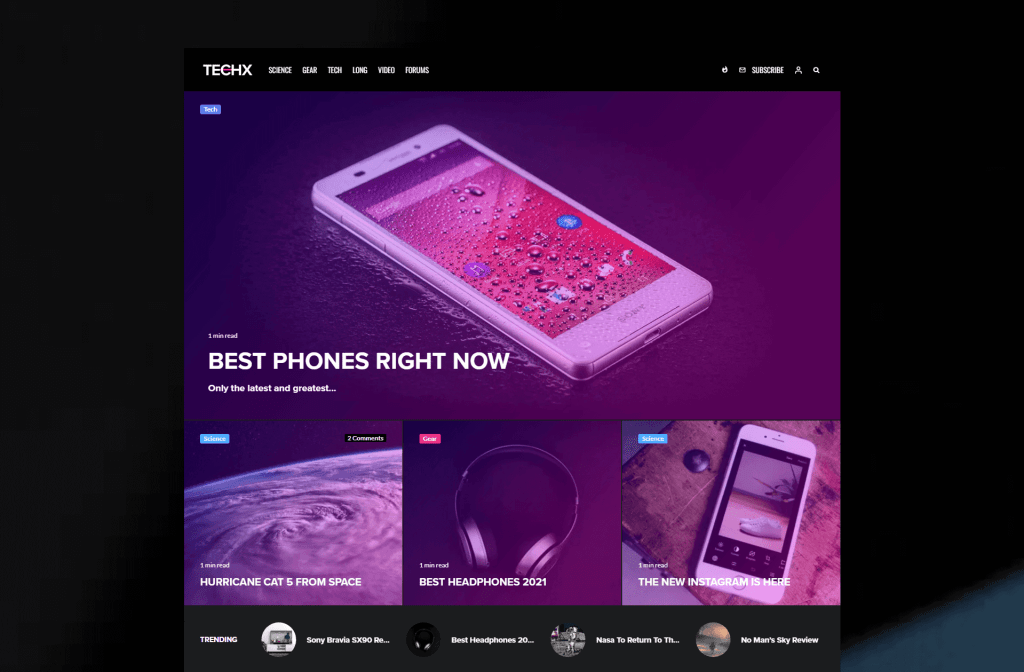 Zeen is a next-gen WordPress theme for news sites, magazines, and editorials. One of the features that sets this theme apart from others (but also why it's so popular) is the amount of flexibility you get in designing your site. The Zeen Tech demo boasts a professional feel to it – carrying over design elements from sites like The Verge and other notable tech editorials.
It's also unique in the sense that Zeen introduces its own page builder – the Tipi Builder. A custom-designed layout builder gives you the tools to stitch together any demo layouts pre-packaged in this theme bundle. And there are quite a few of them.
However, the real kicker for this theme is the bundled plugins that it comes with. In particular, Let's Live Blog is a widget that will let you cover events/news in real time so that readers won't need to refresh the page. Furthermore, the Let's Review widget will give you ample opportunity to cover reviews with valid schema markup and other options.
3. Networker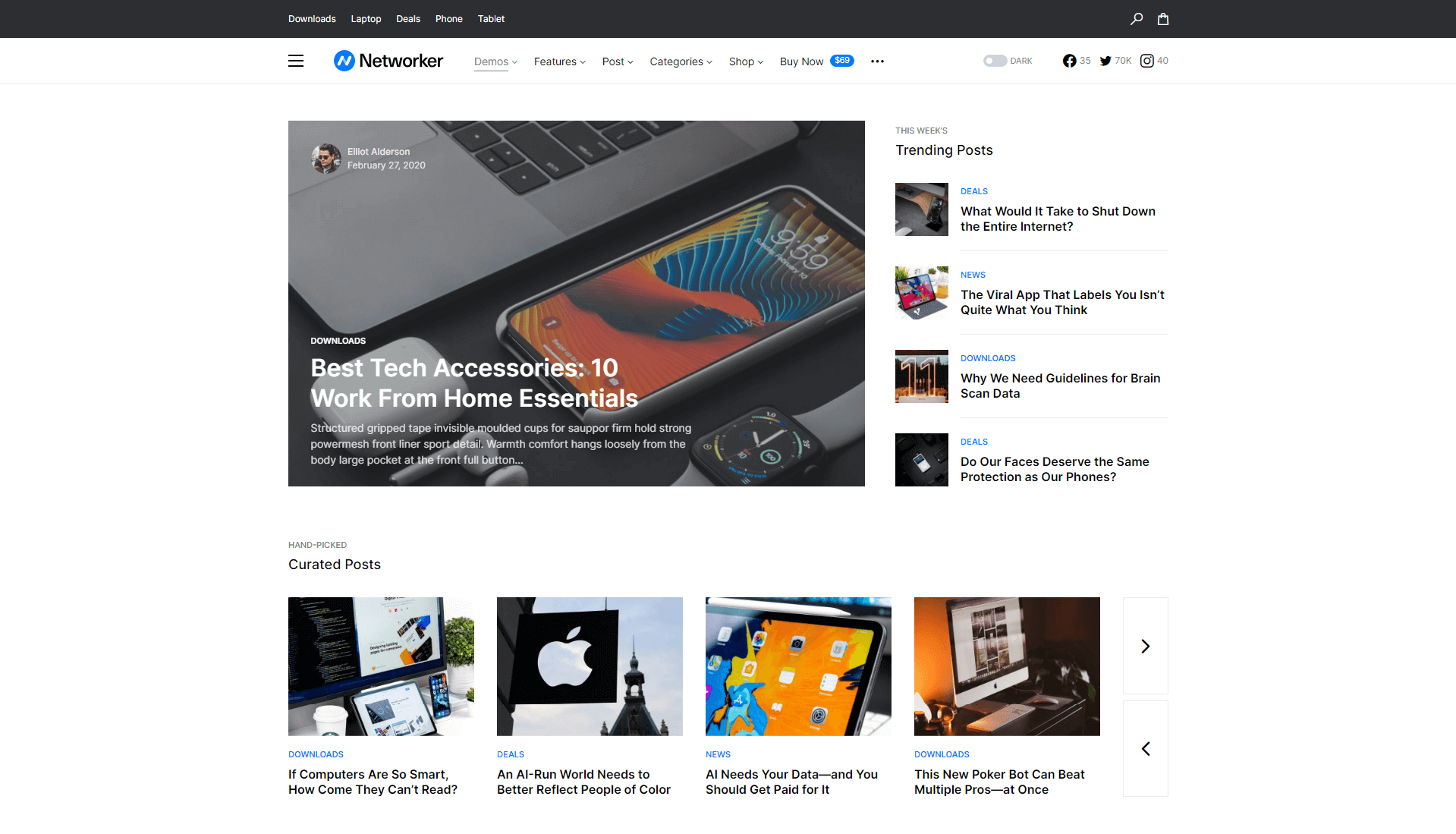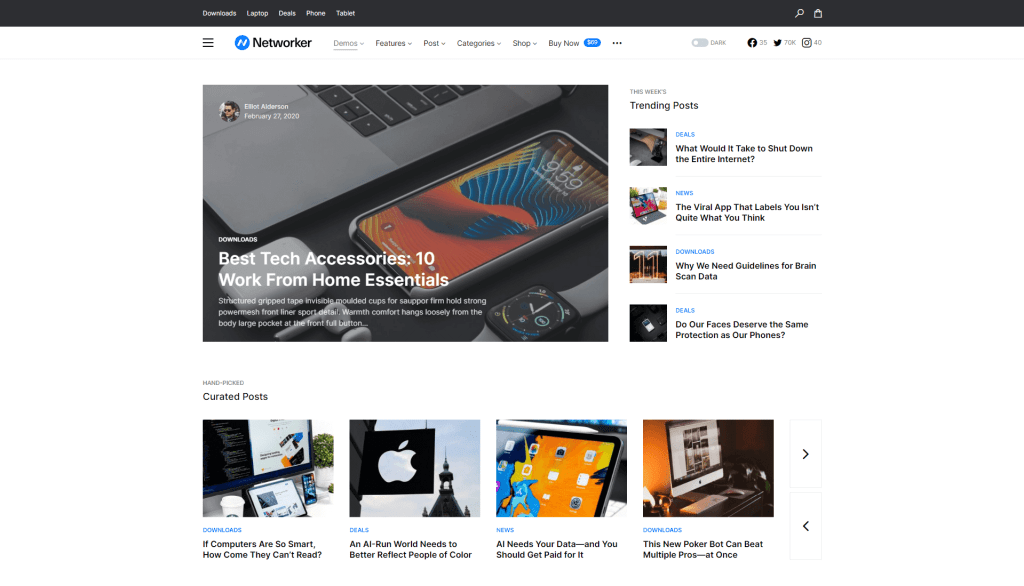 If you're looking for a theme that can do everything – it's going to be hard to beat the features that Networker has in store. I mean, not only does it look great, but it actually implements modern WordPress features, also. Specifically, full-on support for the Block editor, so you can grab design elements and implement them inside your posts. All from the editor itself.
In terms of performance, the Networker theme does not depend on external CSS frameworks or libraries – resulting in smaller files and faster loading times. Likewise, you can opt to use AMP, for which this theme has native support, through the official plugin.
A unique feature to Networker – that you don't see often – is LQIP; Low-Quality Image Placeholders. This will help render the main images of your content while keeping the viewport images slightly blurred, but significantly smaller in size. Above all, the design quality is spotless. Your readers might not even notice your site is based on WordPress.
4. Newsblock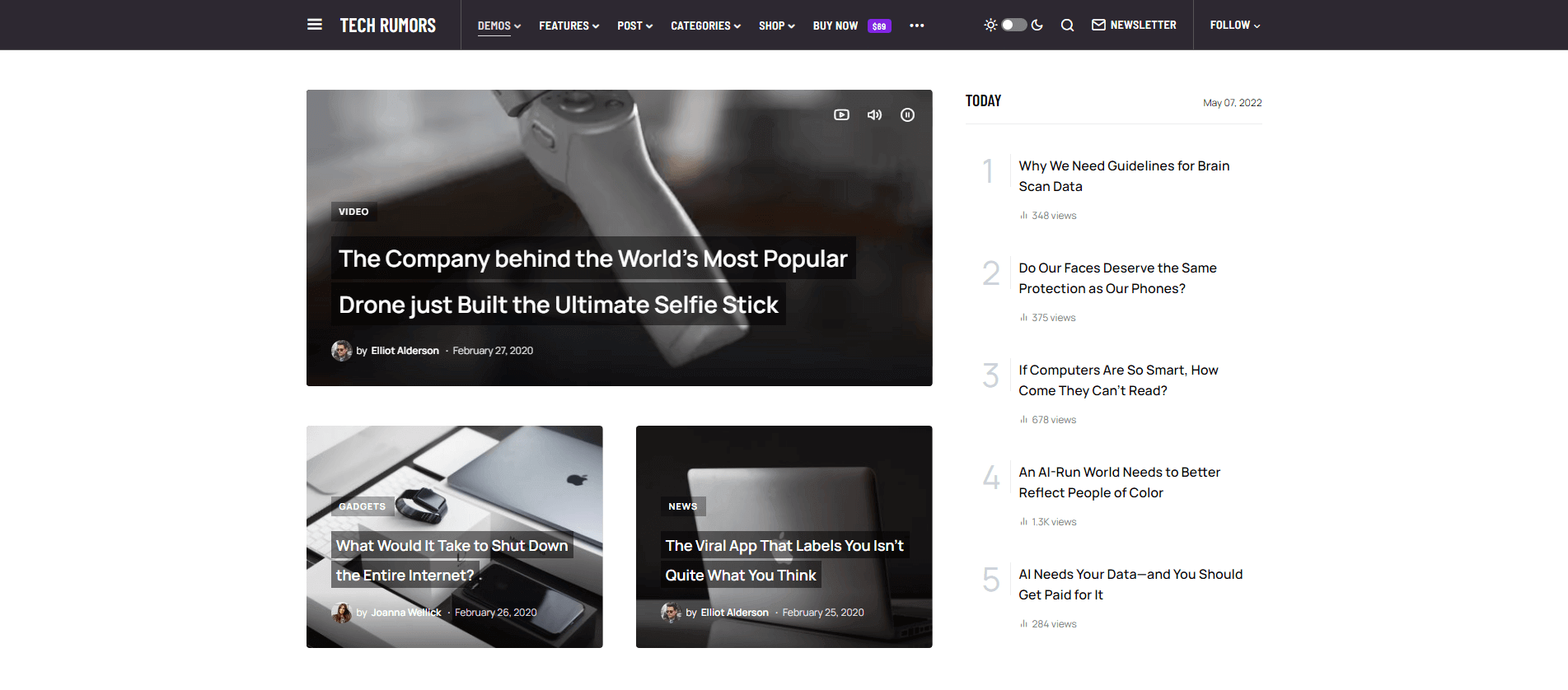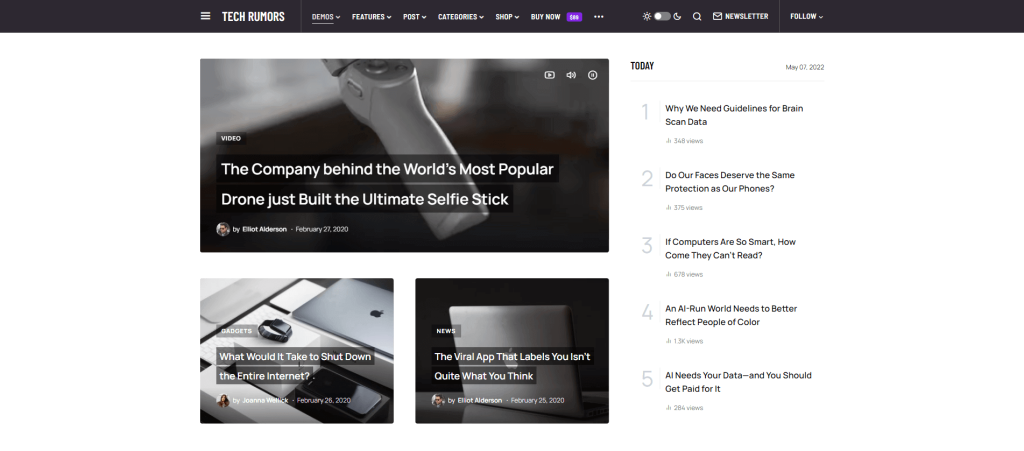 If you were to hire someone to design a layout like the Tech Rumors demo, I'd imagine the cost of it would go well into the six figures. As is evident by the screenshot above, this specific layout has a nice clean feel to it. On the left-hand sidebar (featured posts) – if you however over an item, it will display the featured image for that post. Which I thought was a nice touch.
You can, in fact, also add video-based featured images, and they will play from the featured article slider. Again, really good execution and thoughtful approach. The post layout structure uses a traditional grid-based system. It's a familiar choice and makes it easy for readers to catch up with the news in the categories that interest them.
On the more technical side, this theme ships with the Canvas editor. A custom page builder which utilizes WordPress Blocks for layout building. So, whatever layout options you see in any one of the demo designs – you have the option to combine those elements into one singular layout. This applies to category and archive design, as well.
5. InHype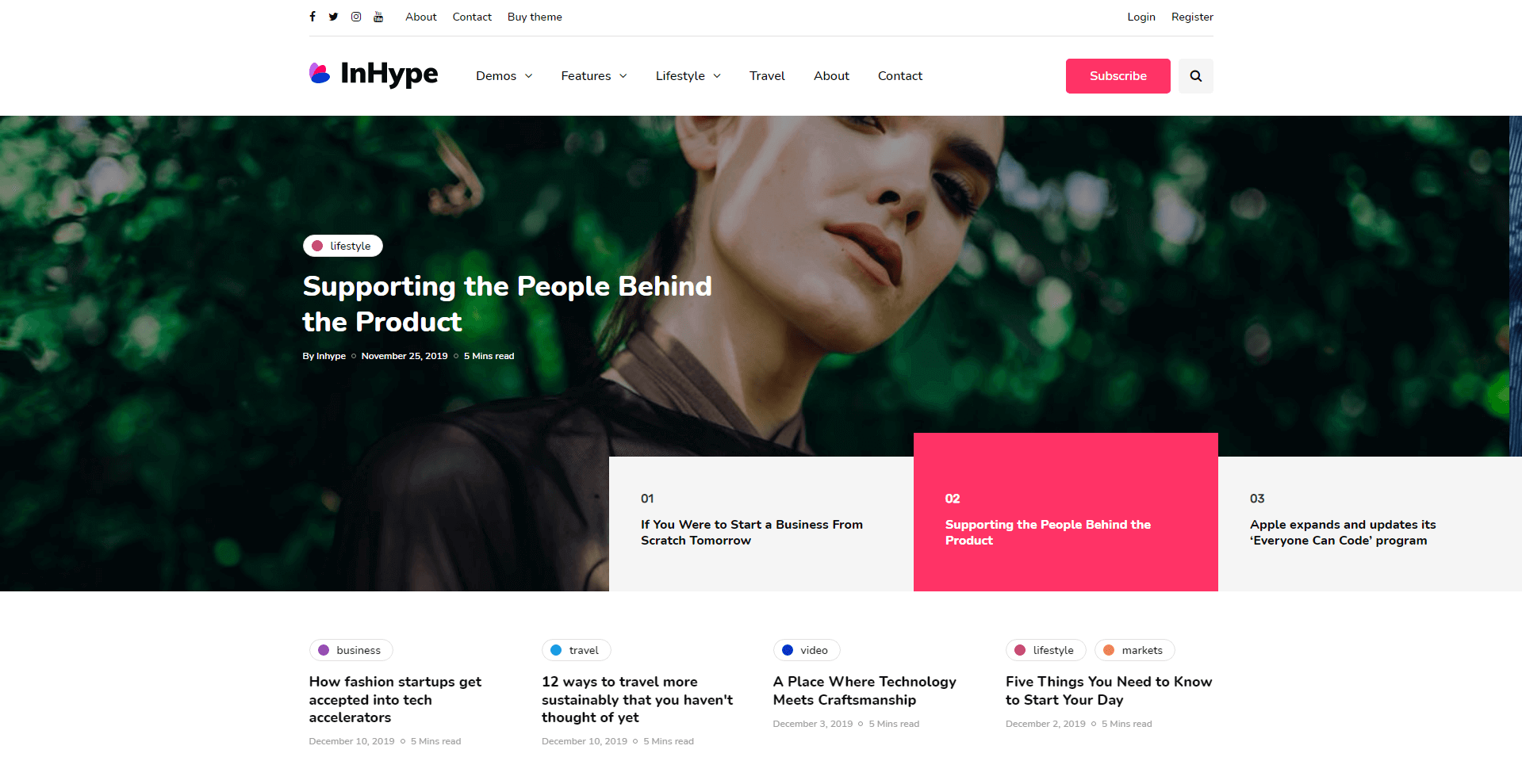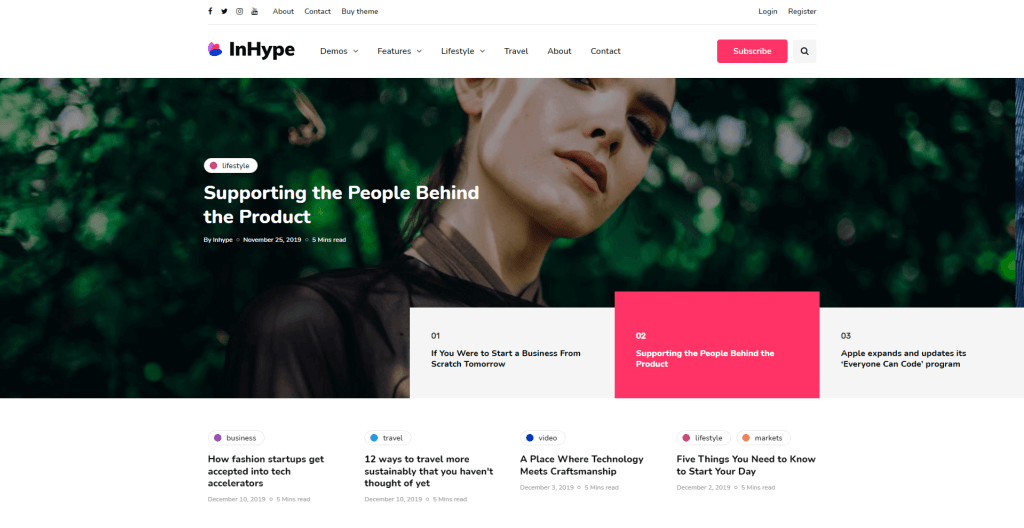 Whenever I choose a new theme for a fresh project I'm working on – the thing I look for the most in terms of design is, "does it feel natural?". In other words, would this be a design that I would appreciate if it was someone else using it? In this context, I feel like InHype lives up to the expectations with a design presentation that has an authentic, unique style to it.
Unlike bootstrapped (practical) WordPress themes – InHype's layout customizer gives you complete autonomy over what your blog will look like. At this time, the theme provides around 40 different Blocks that you can reorganize in your own custom pattern.
As far as tech blogs go – particularly professional – you won't always publish the same post type over and over again. So, the 11 custom article layouts that are included in this theme are going to come in handy. These layouts cover everything from sidebar variations, to full-width, to custom positioning of header titles and featured images.
6. Blabber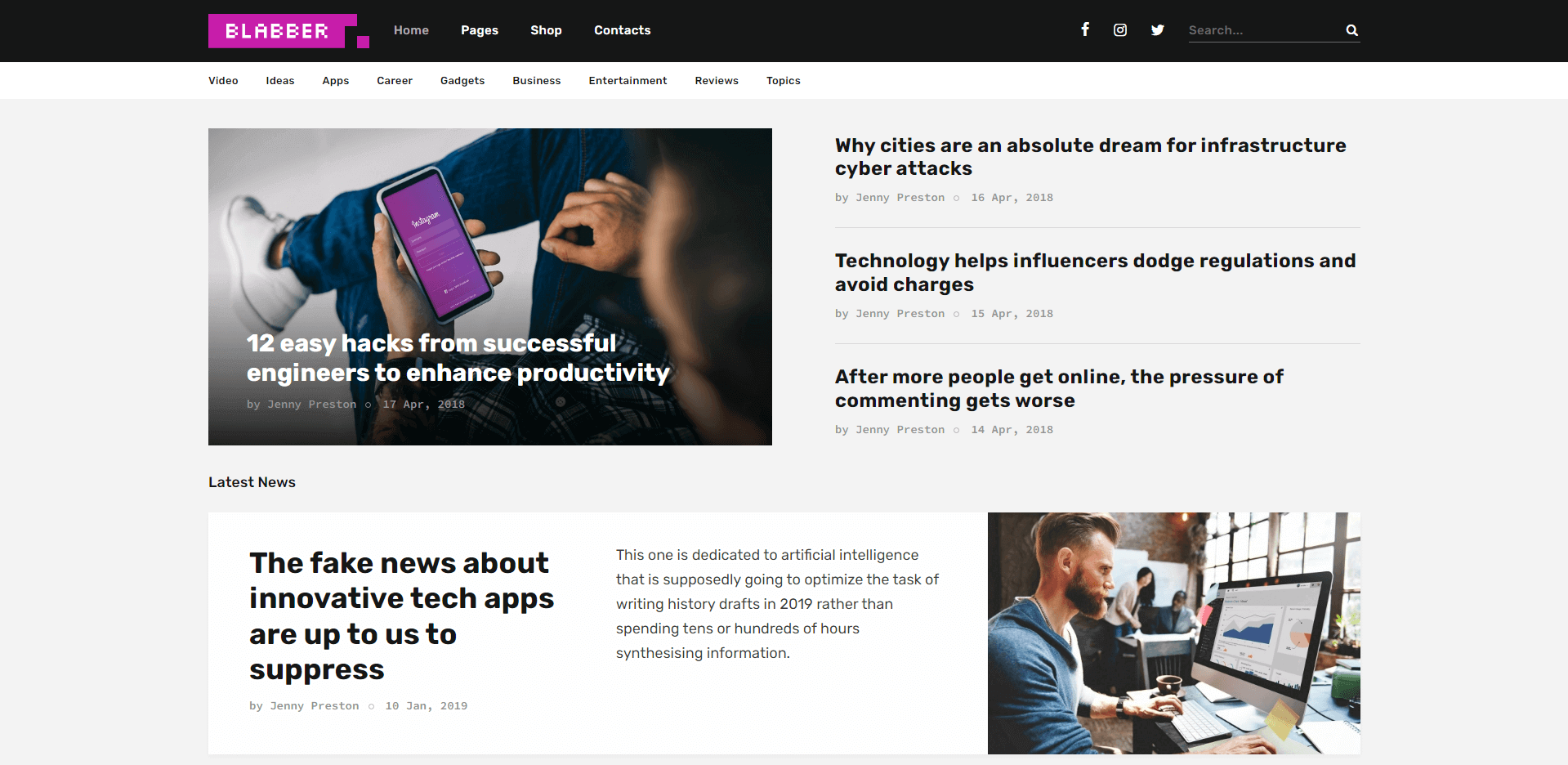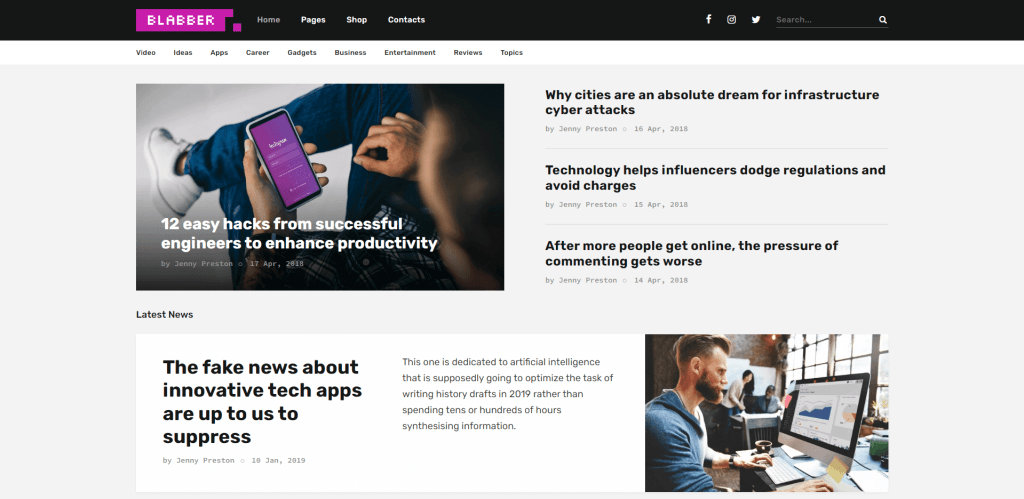 For starters, the Blabber theme is shy of 30 custom demos. And those demos span categories such as tech, gadgets, crypto, reviews, general news, and more. But for this review, we are focusing on the Tech Blabber layout. Which, I might add, has quite the resemblance to the layout that TechCrunch is currently using. In fact, this demo even has the hover effect added to it when a reader moves their mouse over a news post.
A feature I found unique to Blabber is the way blog posts are displayed on the homepage:
As you can see, readers can click on a news post, and it will open in the same window. In fact, the news post can just as easily be closed, all without having to refresh the page. I feel like this is quite a unique approach, and does offer the readers a more simple reading experience.
Other than that, the design is kept honest and without too many distractions. It's a good choice for both daily publishers, but also anyone who writes tech-based tutorials.
7. Blogar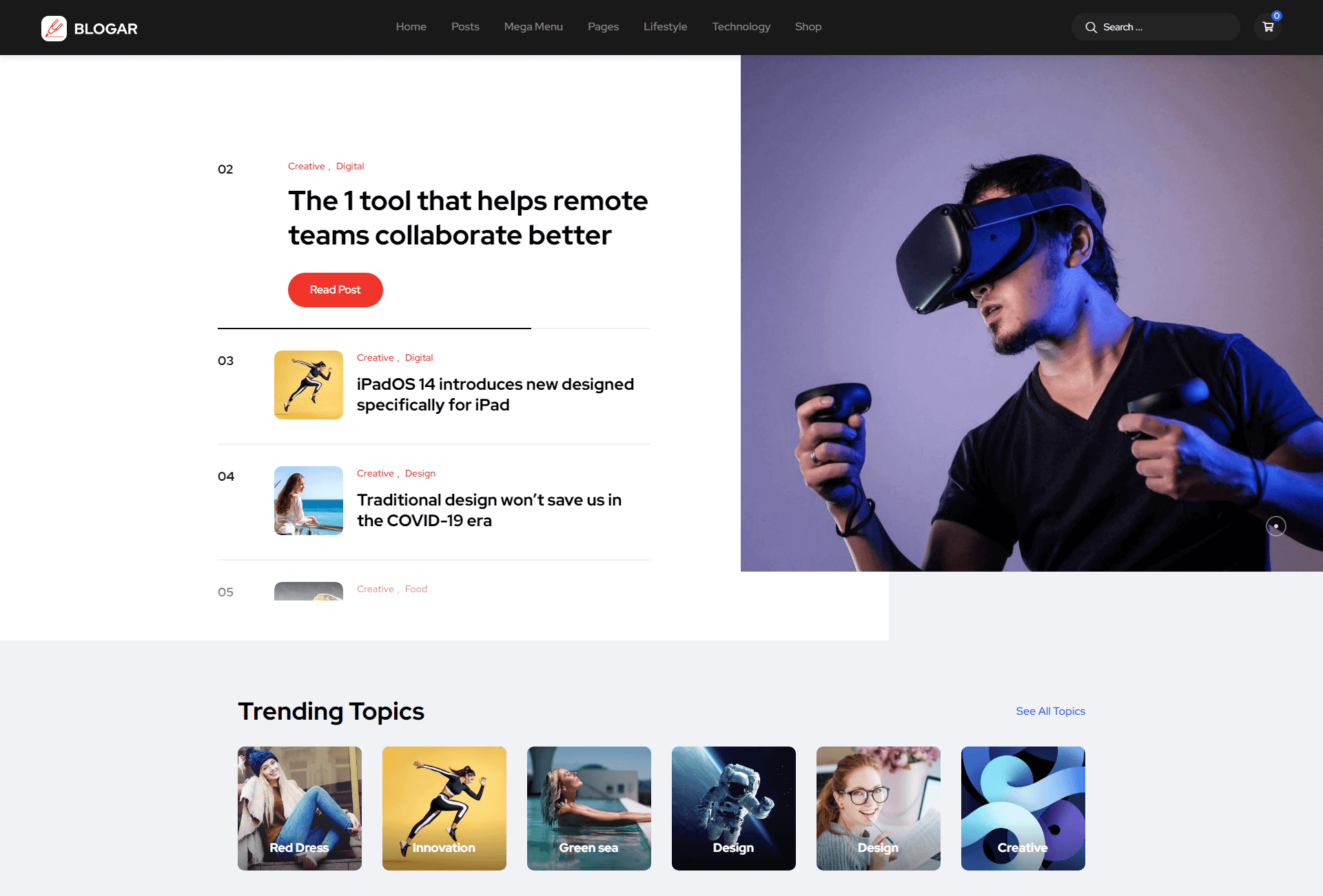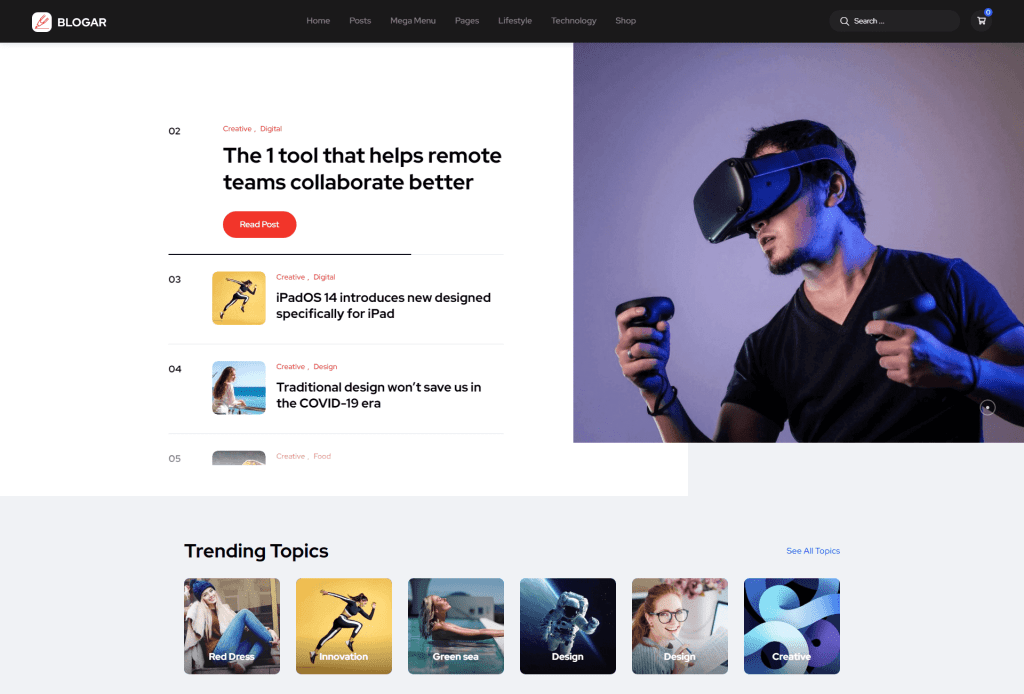 Blogar utilizes plenty of content-driven design patterns, which will greatly help to highlight your best categories, but also trending posts. Specifically, you can highlight trending topics at the top of the homepage. And, add a filter-based list of categories, which, when clicked on, will display content only relevant to that specific category. Like so:
Also, if you look at the sidebar – you'll see the Light / Dark switches. This means that the Blogar theme has native support for dark mode. You can also add it to the top of the navigation menu, so readers can immediately change it when they visit the site.
As far as editing/page building goes – you have two options. First, Blogar works great with the Elementor website builder. And, second, you can customize layouts with the Gutenberg editor. Although, the latter is more for customizing the layout of articles themselves.
8. Newsource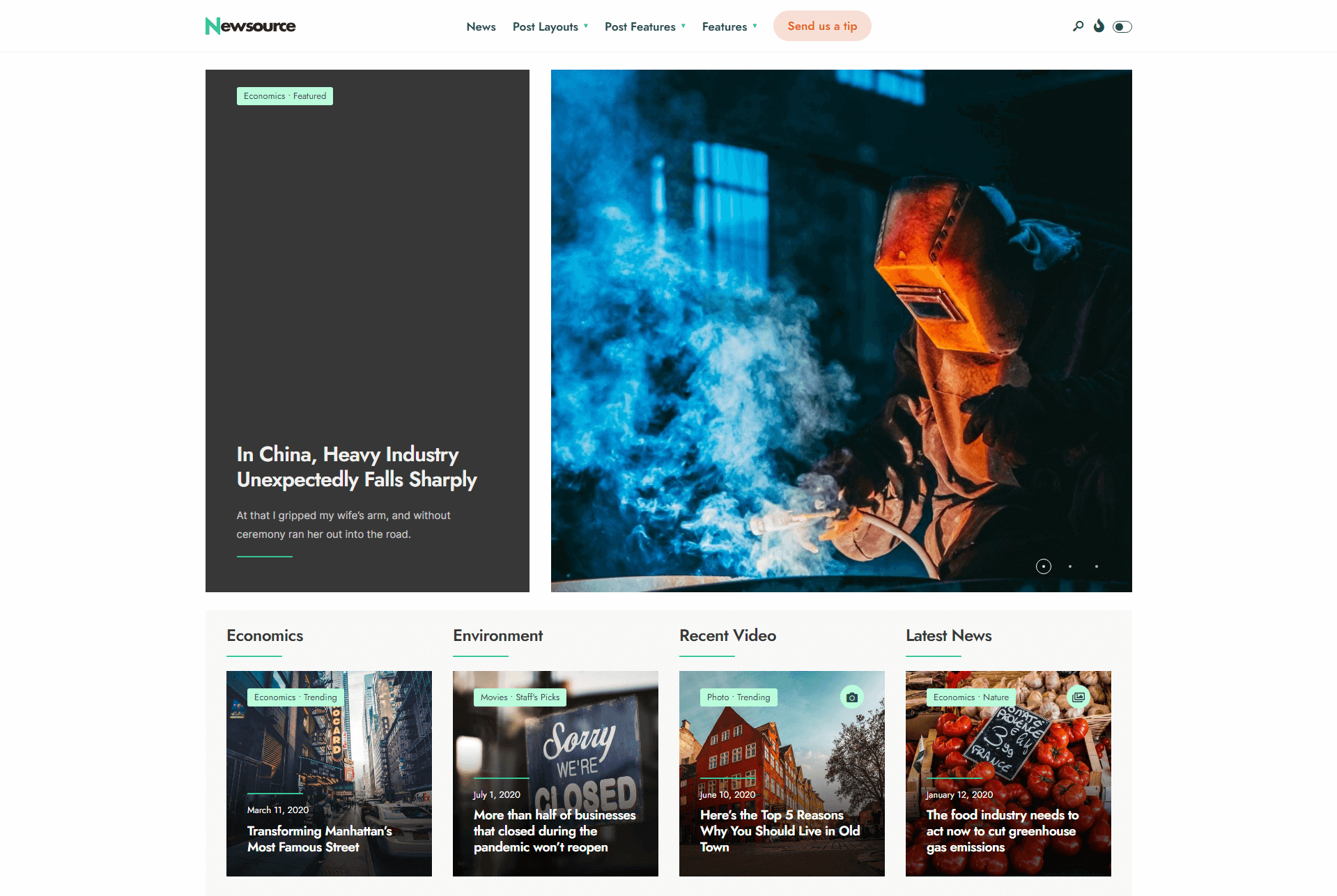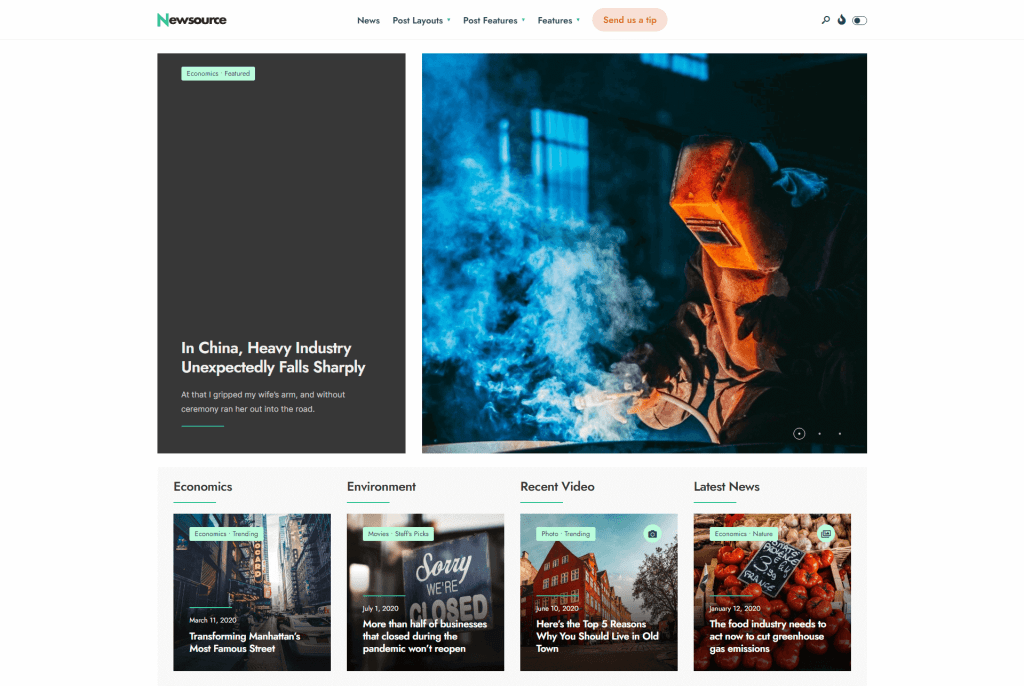 It's one thing to add a lot of custom features to a theme, but it's something entirely else to make those features feel fluid. This, in this case, is where the Newsource theme manages to impress the most. I doubt you'll ever need to change the fonts since the combination of Jost for headers and Inter for content go together so well.
For post layouts, you have 6 different options. The usual sidebar versions, of course, but also a fantastic full-page version. And I wouldn't be surprised if that's the one you keep. It features a full-width featured image section, with the header title overlayed on top.
At the footer, you have your social sharing buttons, a nicely designed newsletter form, and an integrated related posts widget. So, no need to get external plugins. At the very bottom, once again – you can add a global newsletter form, and also include numerous menu items.
9. Magzine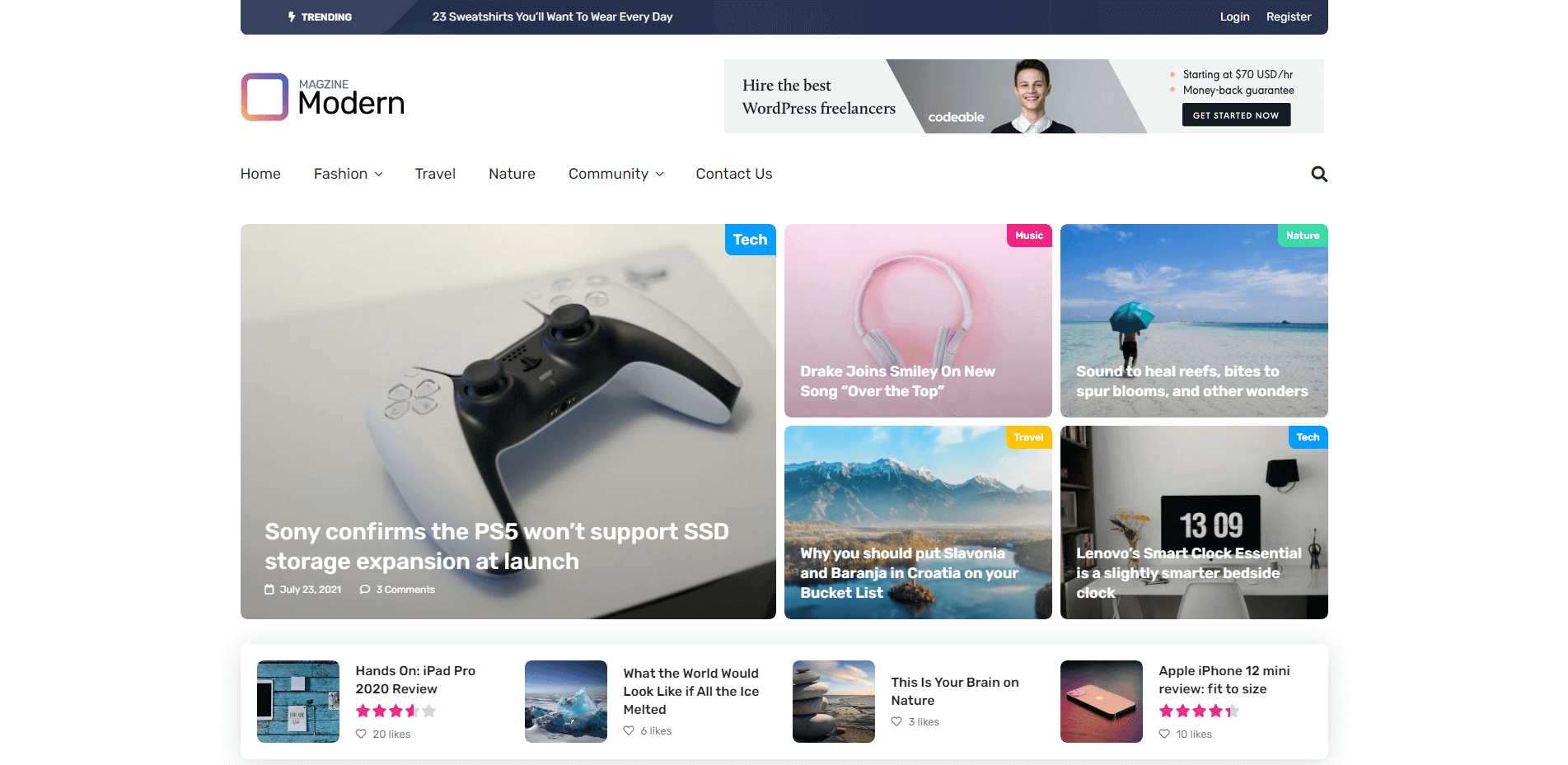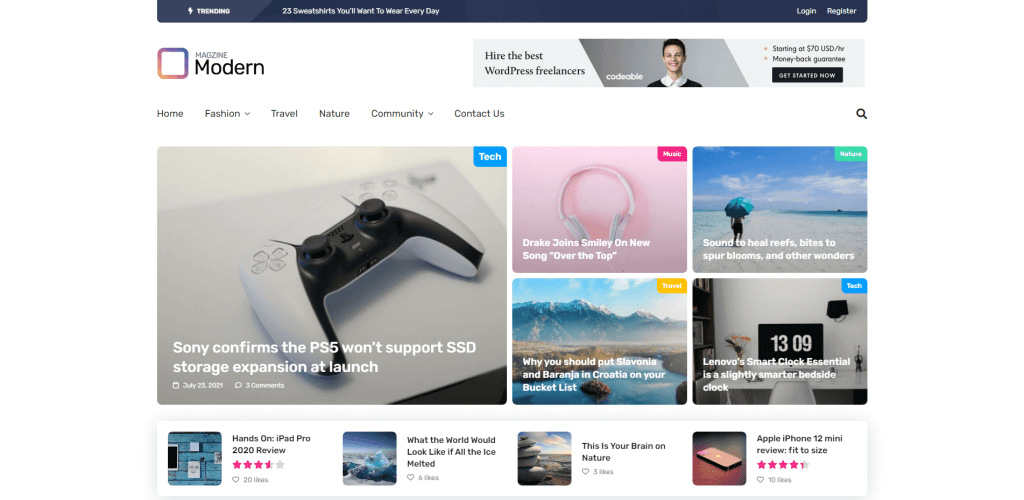 This is a theme I would use if I were to start a new project for tech-based topics like development, design, freebies, etc. Of course, the fact that it comes with a lot of magazine-style functionality makes it just as good of a choice for any tech-based editorial.
A feature that stood out the most for me – if you plan on doing tech/gadget reviews, the Magzine will let you collect reviews from your readers. So, rather than having a traditional comment section – this theme includes the option for readers to submit their ratings and the pros and cons of the product you're reviewing. It looks like this: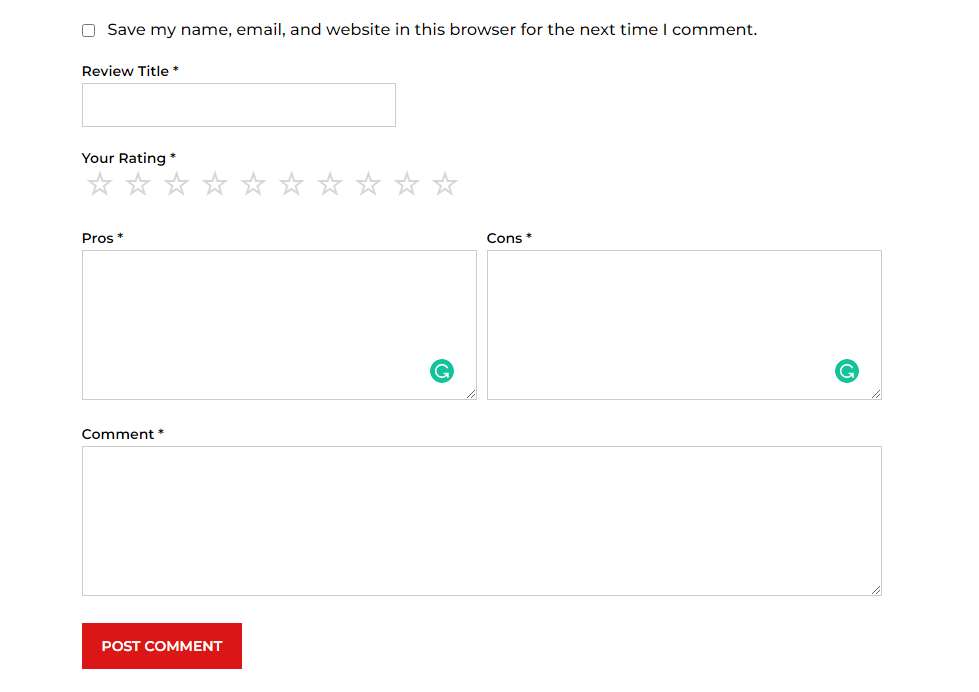 Not only does this engage your readers, but it's also a great way to generate additional content for your blog. And, as such, be more likely to have your reviews featured as a top result in Google Search. Below you can visit the demo page and see this feature in action for yourself, including what the submitted review looks like.
10. Nemesis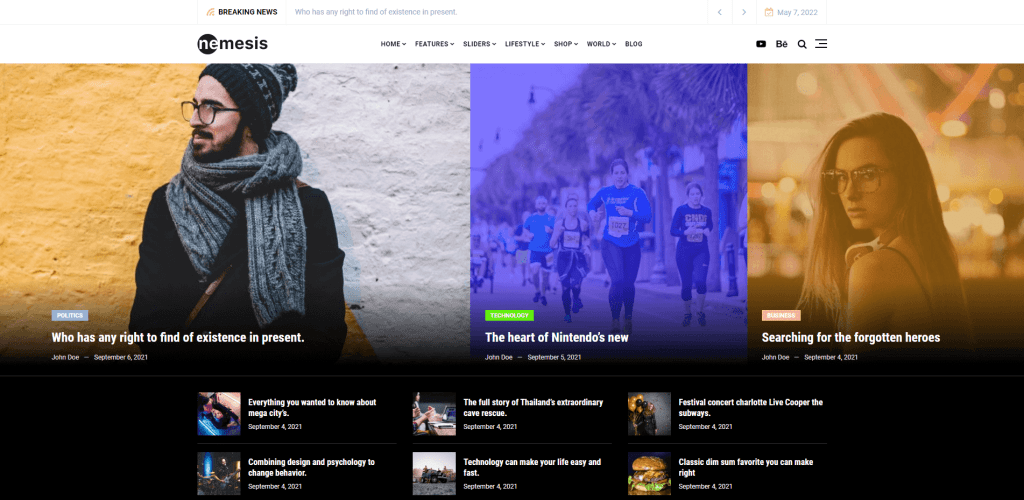 A lot of the time, what happens with custom themes is that the developer keeps the same typography/design alignment for each of the pre-made sites. That won't be the case with Nemesis – a multi-purpose theme for news sites, tech blogs, and magazines.
Once you find your preferred layout – Nemesis opens up the ability to change header styles, and customize the footer, but also add things like popovers and header notices. The kind of features that are useful for highlighting the latest/best news. From a design standpoint, I'd say it's leaning towards modern with a pinch of professionalism in there, too.
11. Newsy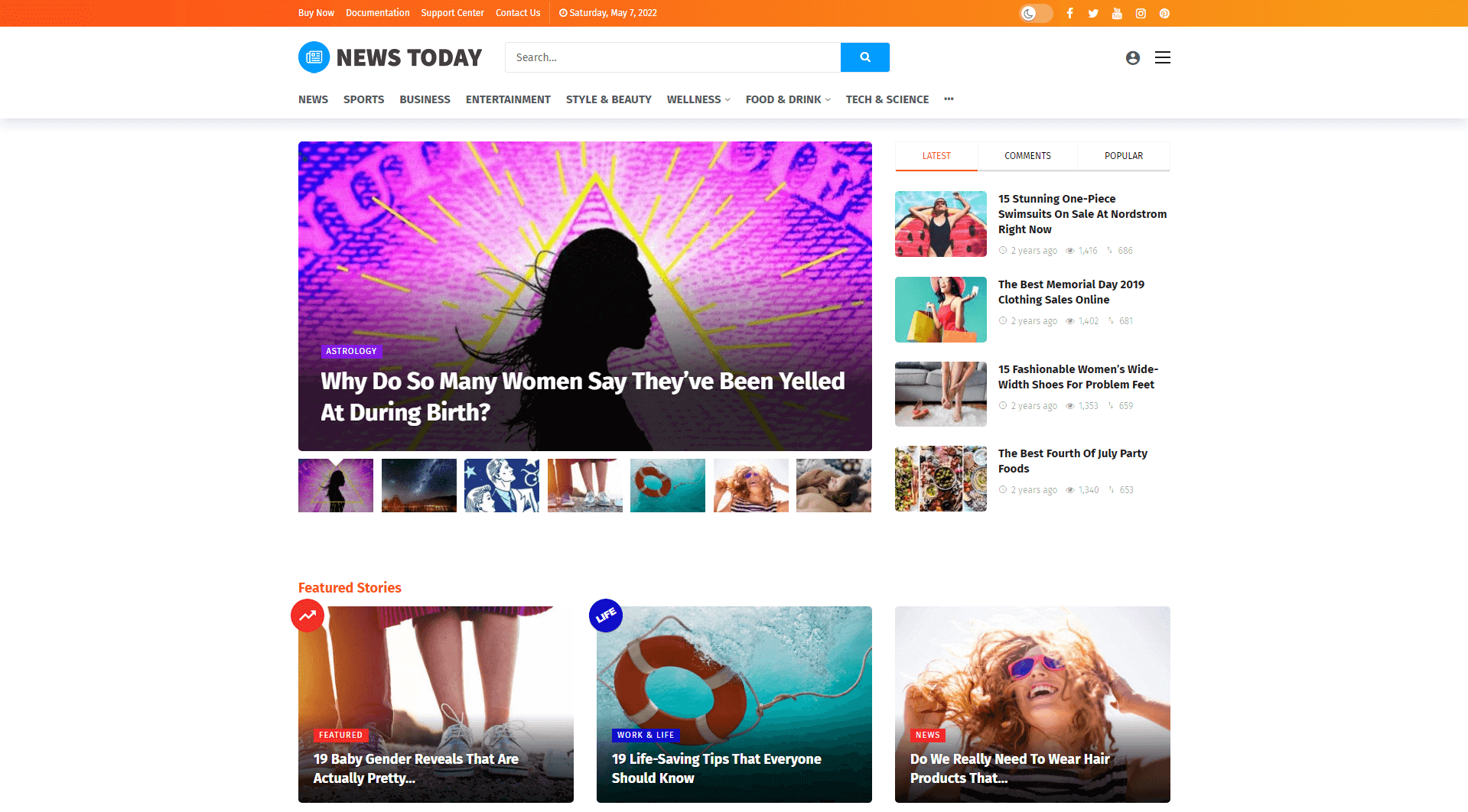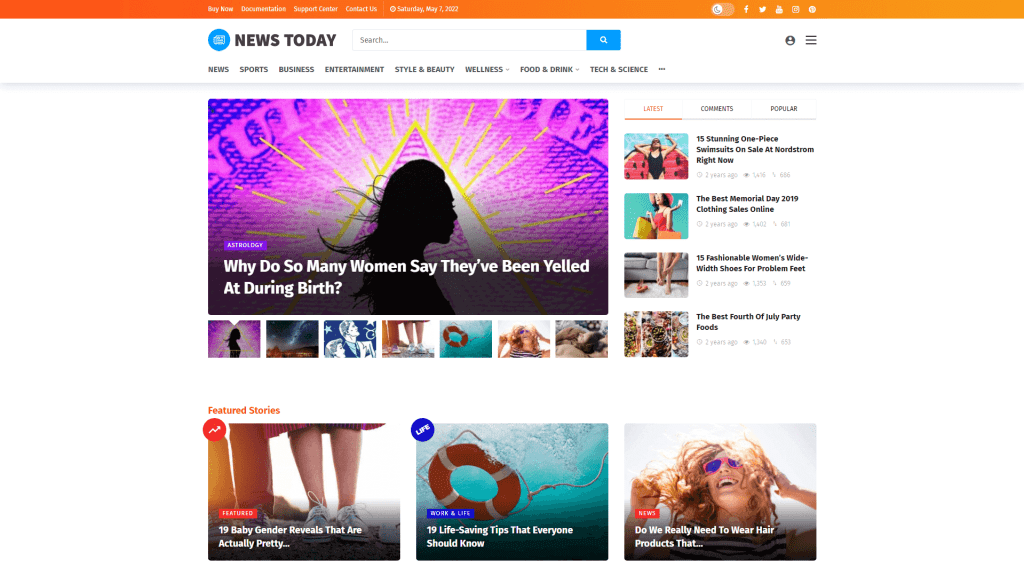 The thing about viral news sites is that they work. Generally, readers are quite responsive to news sites involving active user engagement. This, in this particular case, would be the ability for readers to vote on content, do custom responses, and participate in polls/quizzes.
For me, the design that Newsy offers is already good enough as is. But, with the addition of features like trivia quizzes, checklists, polls, and interactive article elements – I can see how such features could help get your tech blog going. For example, you could do community-based incentives, and then promote them through various quiz-based articles.
It goes without saying that viral sites tend to get a lot more social exposure, too. People want to compete with one another, so having these viral features at your disposal will greatly increase your social engagement metrics. Who knows, it might just work!
12. Opinion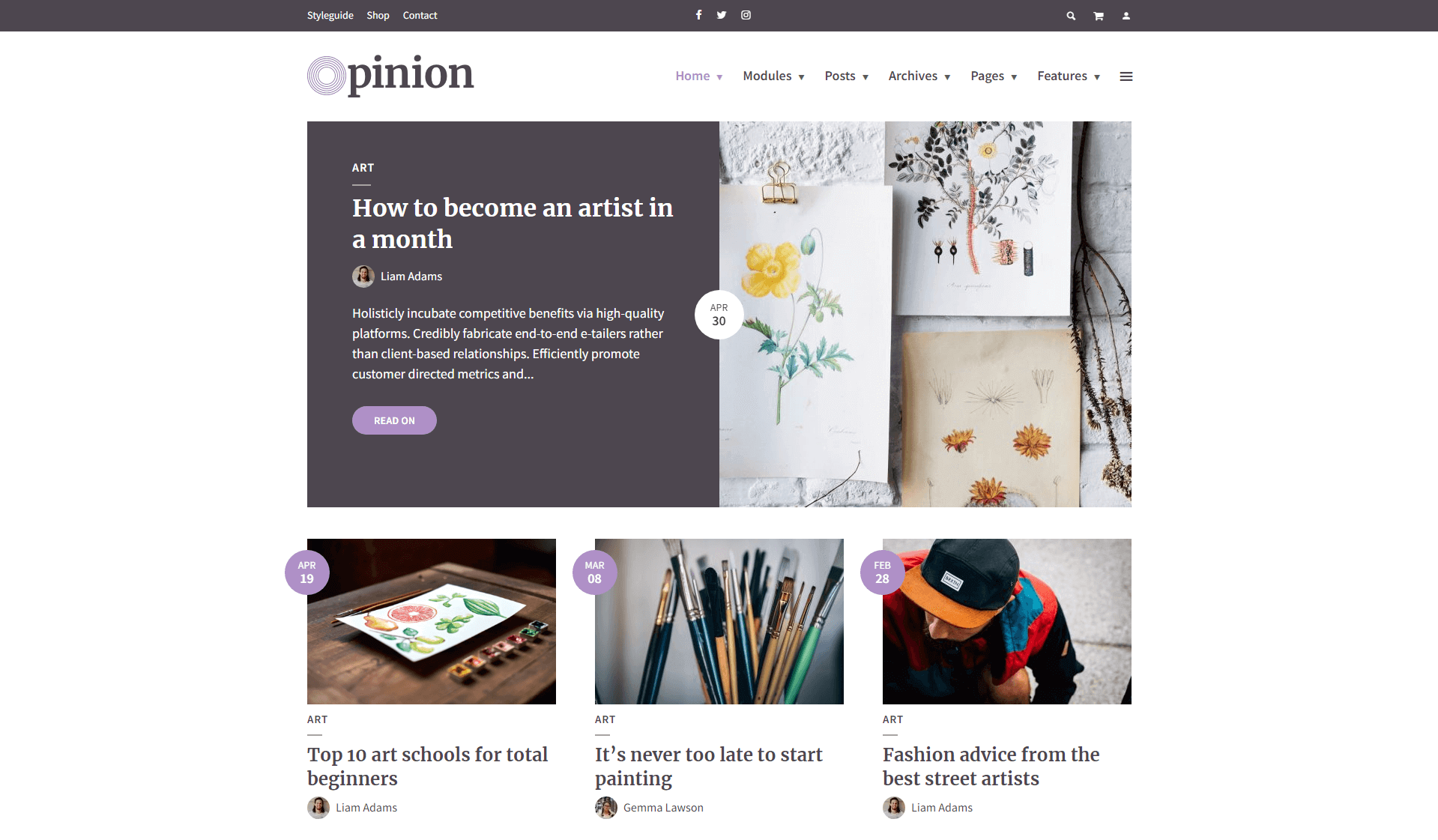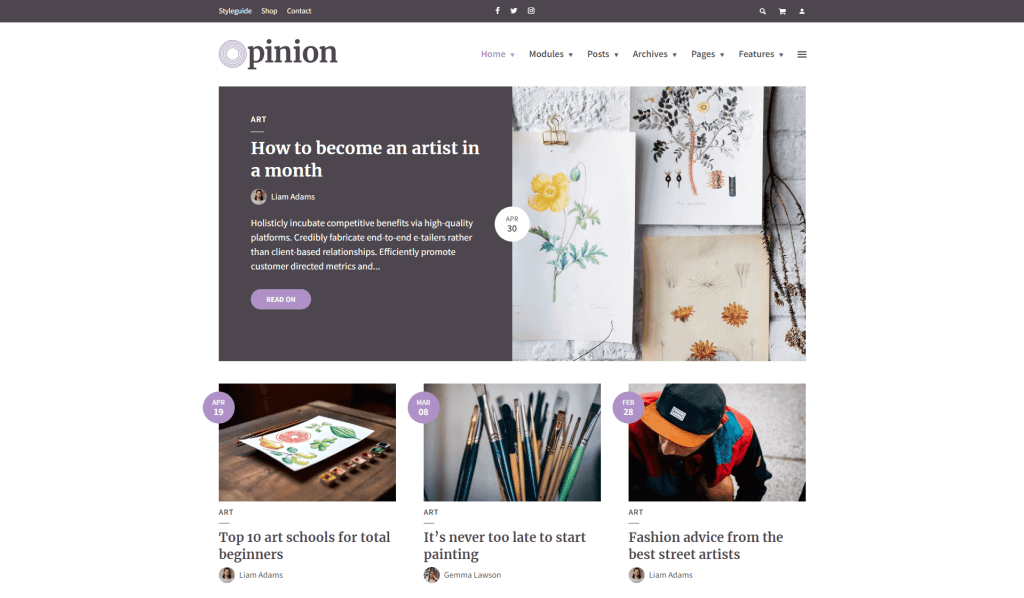 As promised, here's a more laid-back theme that you can use to build a tech blog. I mean, so far, we've been looking at some really nice designs with great features, but the Opinion theme is a nice reminder that simplicity has its place, too.
This magazine-style theme will work great for tutorial sites, affiliate sites, and tech blogs specializing in one area. The simple design with an even simpler post layout does an excellent job of ensuring readers have a distraction-free reading experience.
Rather than using a page builder (which tends to bloat the site, anyway) – with Opinion, you can rearrange layouts using Modules. These are pre-configured layout options that you can put together in an order that satisfies your personal preference.
13. Notizia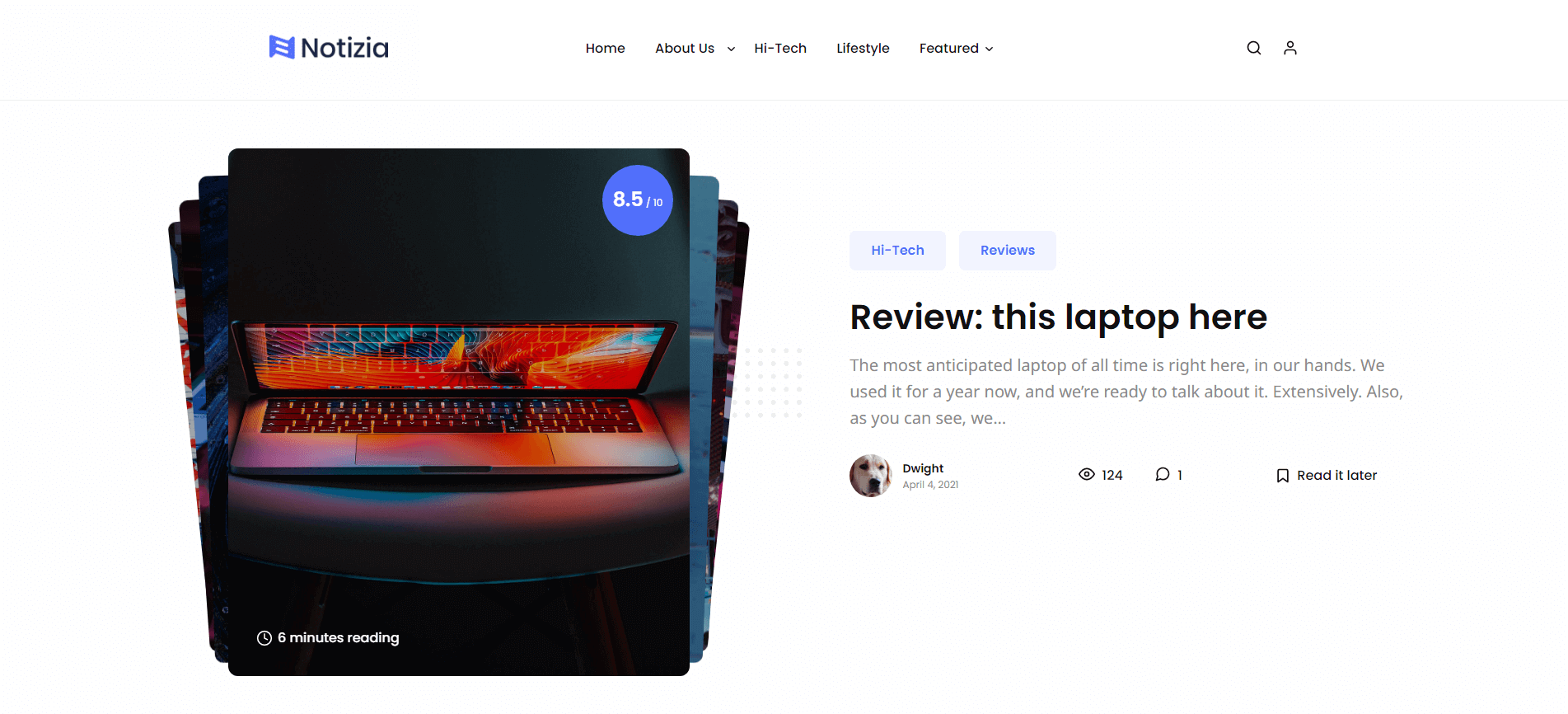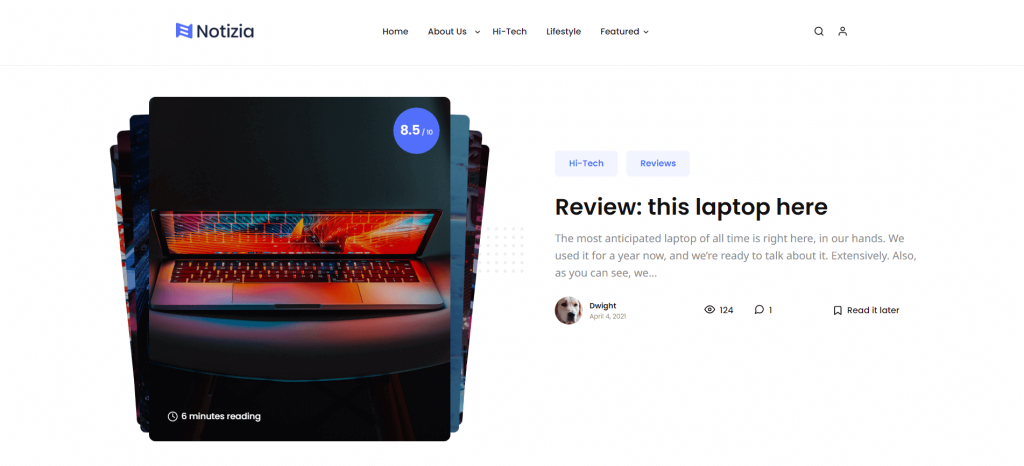 If Opinion was simple, then Notizia is both simple but also incorporates some of that modern functionality you see in editorial sites. It's a nice blend of features like page transitions, large header sections, and sticky sidebars for dividing content sections.
It's not uncommon for tech blogs to build a community. And in such a case, you can enable the Read Later feature in Notizia, which will encourage readers to create an account, so that they can save their favorite articles for later reading. Furthermore, by enabling user registrations – you'll have the option to limit new comments only to community members.
And in the broader picture, this will ensure you're building a newsletter from day one. By having people register to your site (and accept your terms) you can start sending out newsletters without using a third-party service.
14. Ceris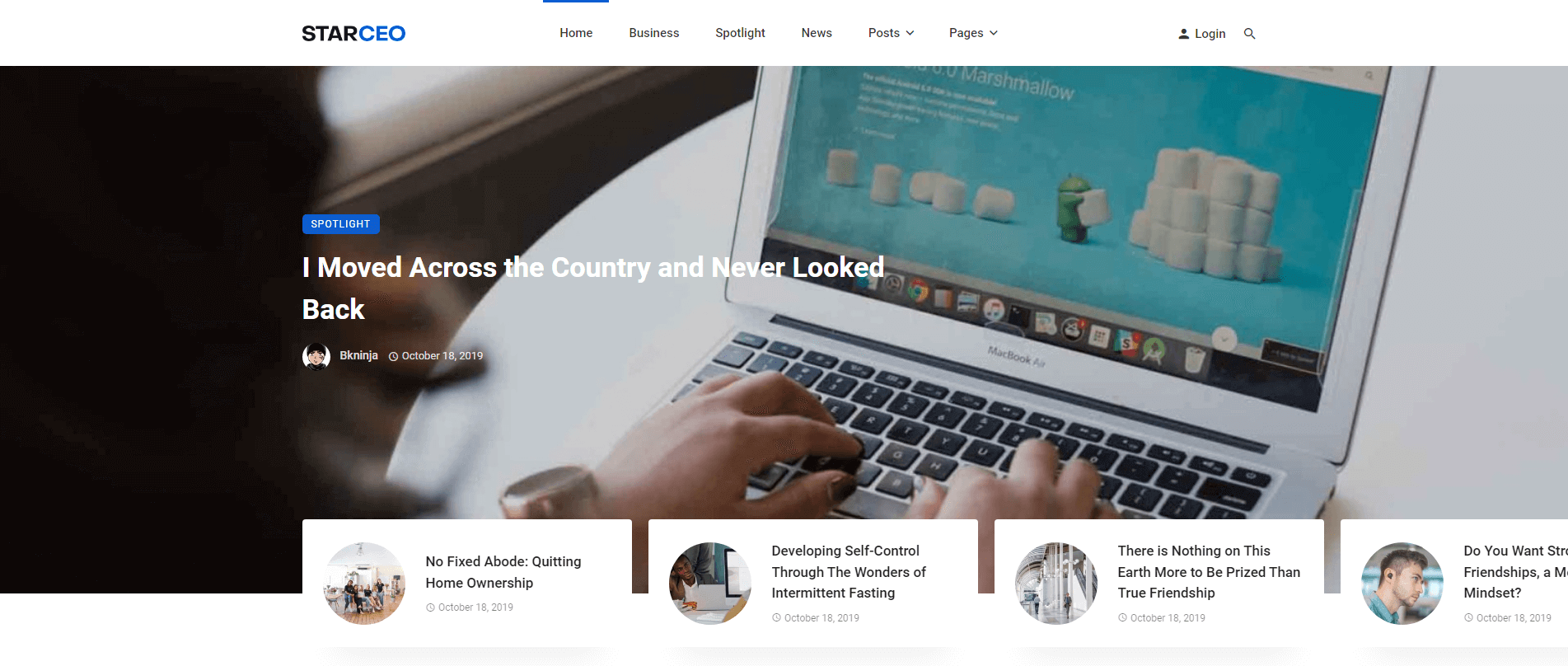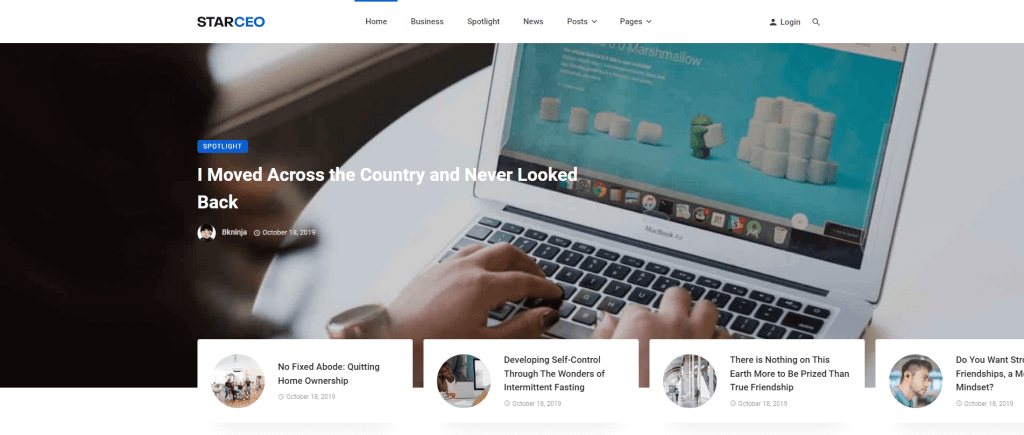 A theme like Ceris doesn't just follow the latest design trends, it's also the culmination of experience that the theme authors have. I mean, this is a very well-put-together theme, with numerous options for layout choices. Though all of them have one thing in common, and that is readability. The experience is smooth and incorporates some unique elements.
Those elements include a reading circle, a next article widget, a sticky social sharing widget, but also a sticky sidebar so you can get more exposure for your advertisements. Overall, a theme like Ceris will be easy to work with. Features such as Emoji reactions and Infinite Scroll will keep your readers engaged long after they've finished reading the first article.
15. Gridbee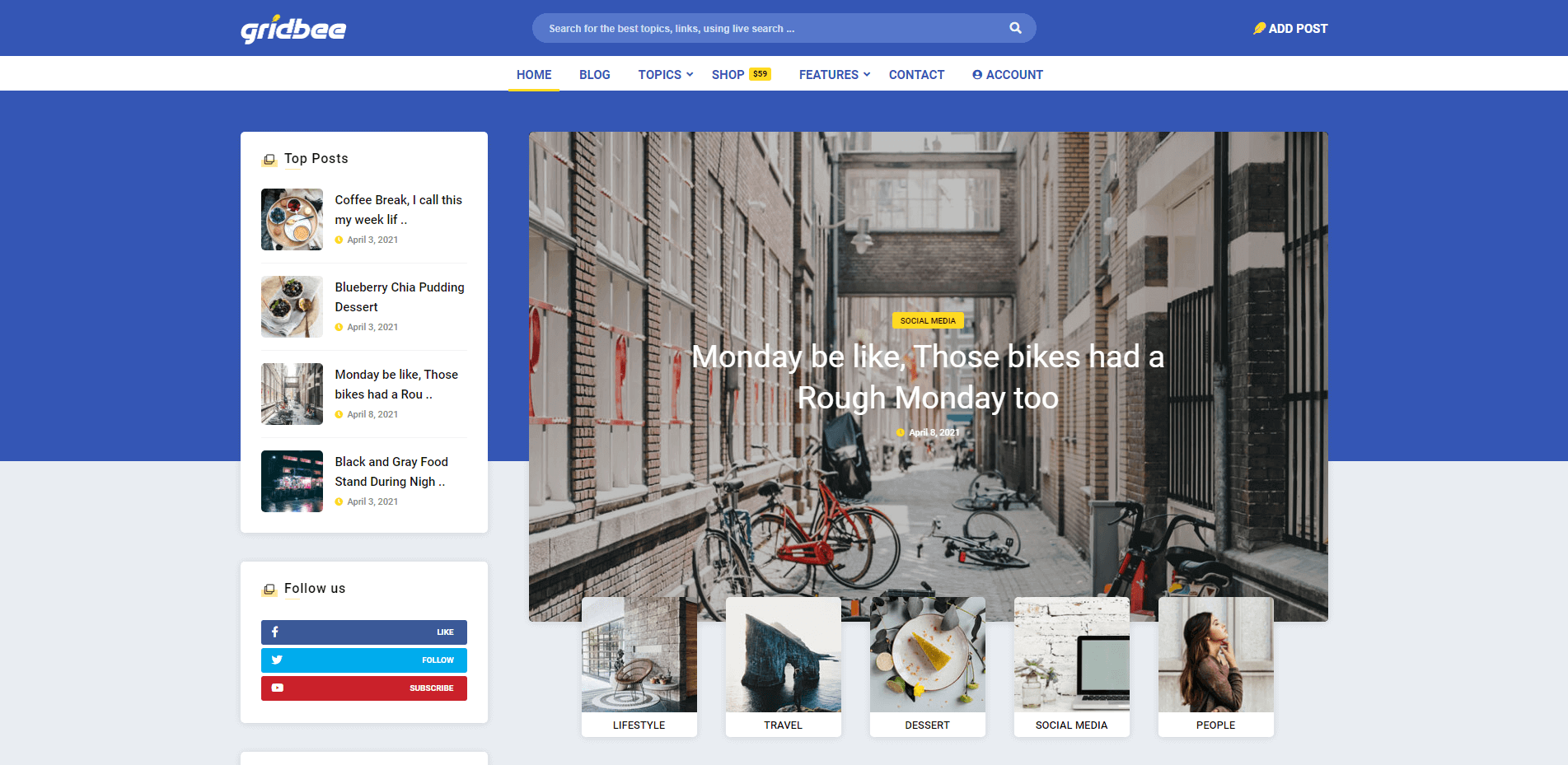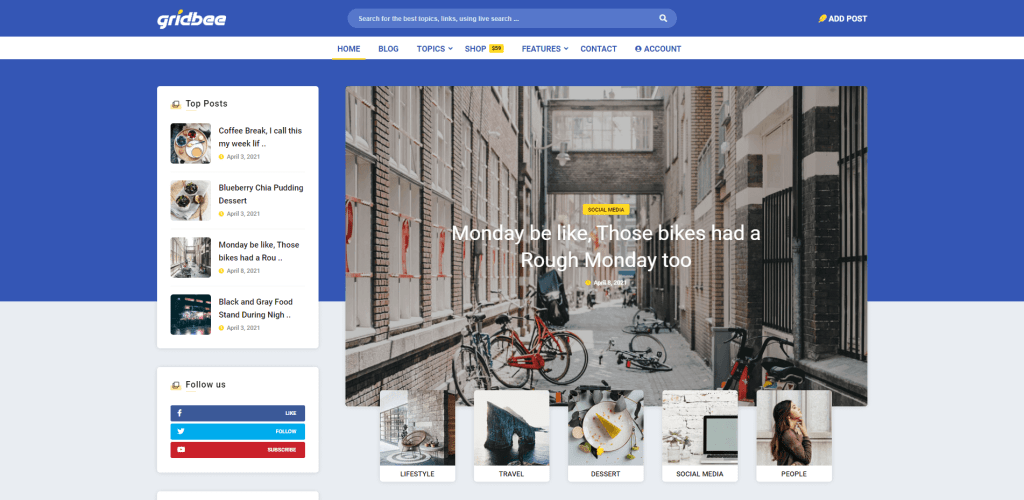 It isn't always the case, but more often than not – the website design is a direct reflection of the type of content you're producing. By which I mean, the quality of it. So, if you're planning to open up or redesign an editorial platform – the Gridbee theme is worth looking into.
Apart from the design, one of the key components for this theme is the user registration and content submission feature. In other words, users can register to your site and submit their own blog posts. This can come in handy if you're building a publishing site similar to BuzzFeed's. So, let users submit content and then have an editor approve it.
The theme supports RTL, has a "like this post" feature, and includes plagiarism protection, article source linking, and infinite scroll. The design itself is incredibly rich, and me trying to put it in words won't do it much justice. Check out the demo below!
16. Mura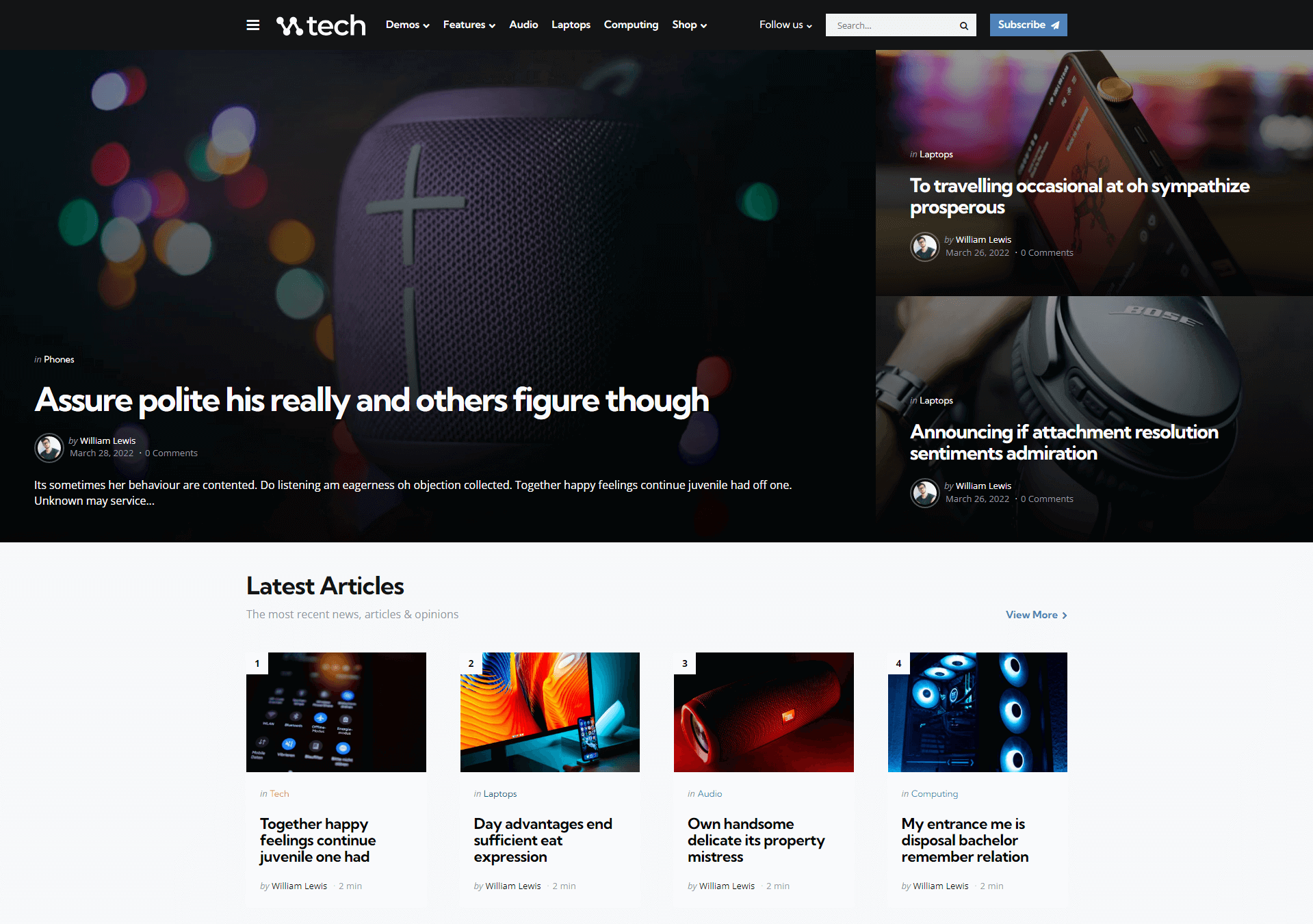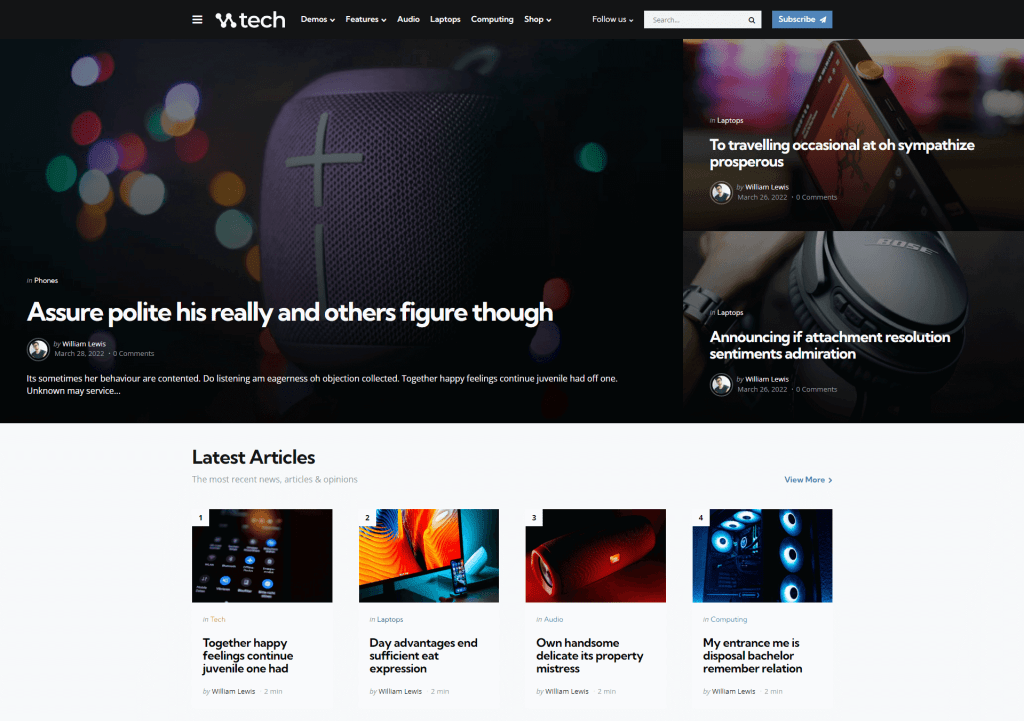 When writing this, this is the freshest theme on the list. And I love it. It reminds me a lot of the style that Design Bombs is using. So, in that context, the Mura theme would work really well with tech blogs that share developer news, graphic design reviews, freebies, inspirational articles, tutorials, and more. This is as far as the default layout goes.
As for the tech demo – as you can see in the above screenshot, it's sharp. The combo of nice typography with smooth images is what brings it all home. You also have a nice selection of widgets throughout the theme to display your latest or category-based articles.
And best of all, all of it comes with an in-built dark mode as an option. The default article layout uses a full-width cover, but you have several options for this. Include various designs that incorporate a sidebar, too. It might sound kinda cheesy, but it's such a nice theme I wouldn't mind starting a new site myself just to use it. Superb work from the developers.
17. Kicker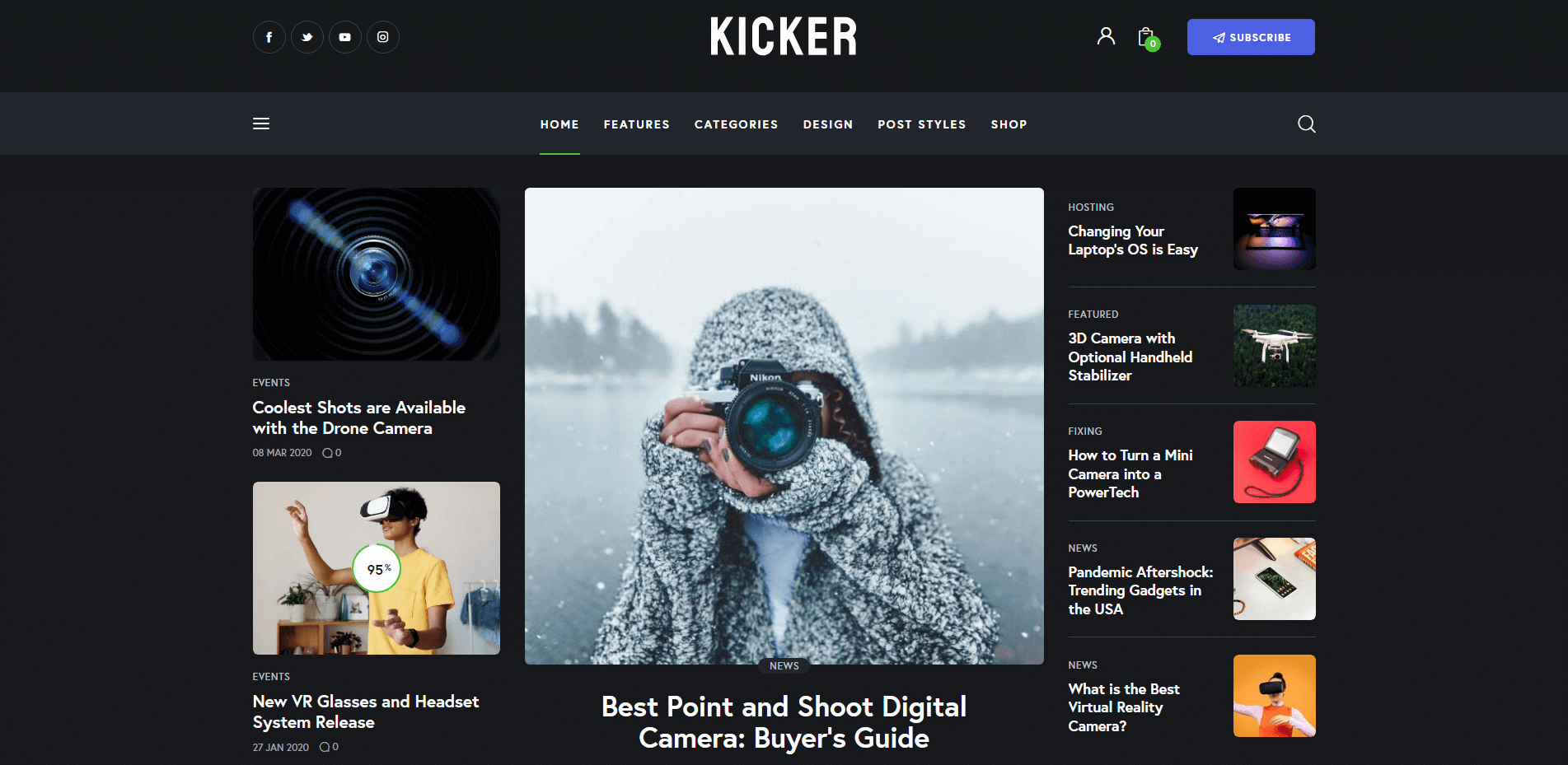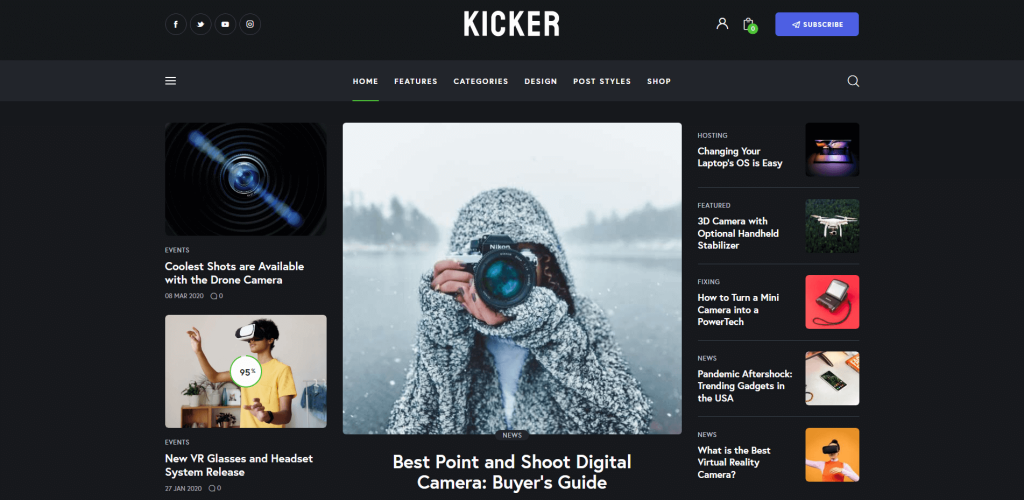 Just look at that preview. Incredible attention to detail, with an even more diverse set of features and custom elements, further solidifying this theme as an absolute banger.
So, because the Kicker theme uses a modular structure – you can, at the bare minimum, put together more than 1,000 unique variations. Yes, that's right. More than one thousand different variations, provide more flexibility than some of the best page builders.
Notable features you'll find in Kicker include mega menu functionality, various slide-out panels, and the ability to apply the sticky effect to sidebars and content columns.
18. Herr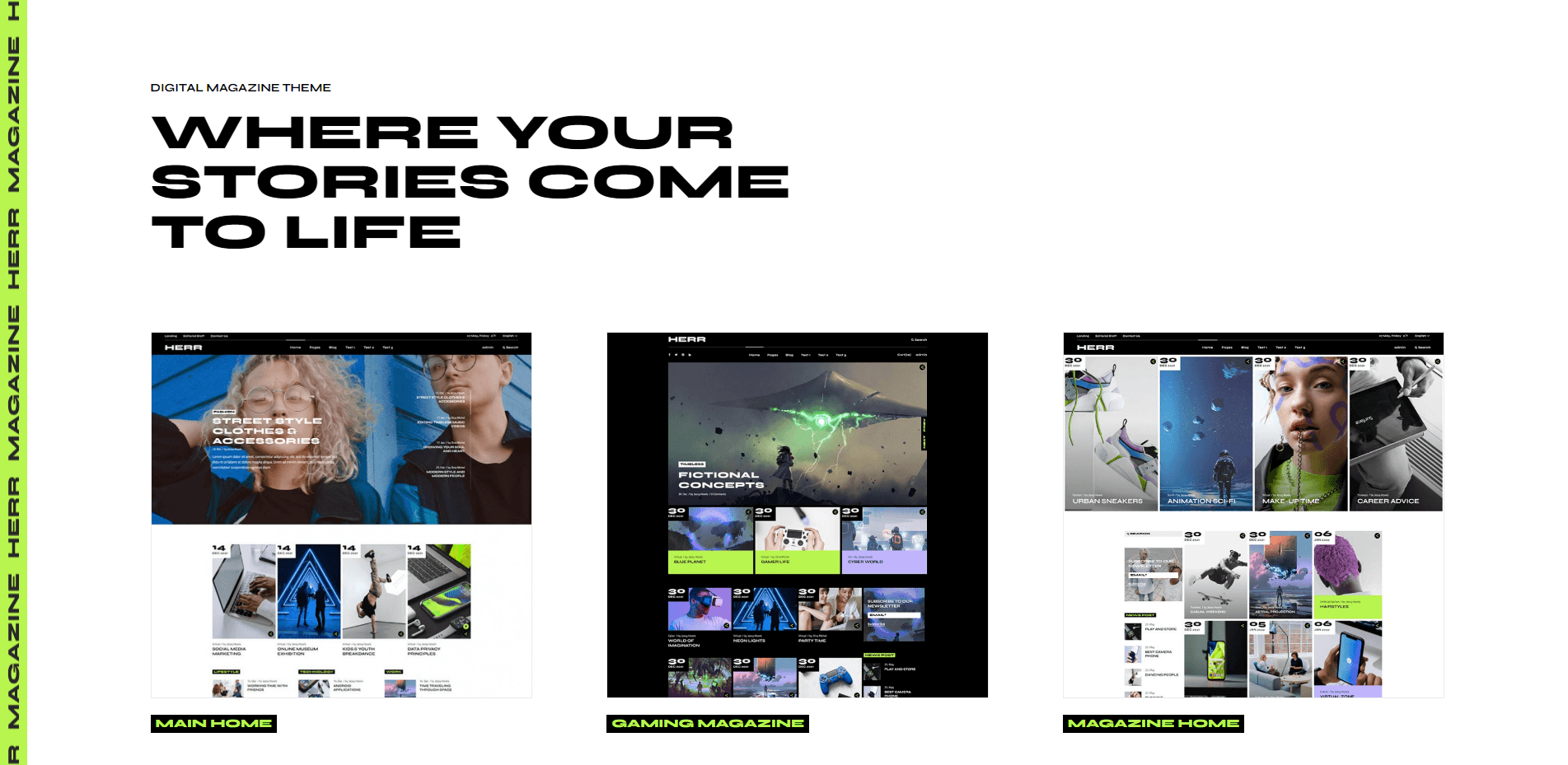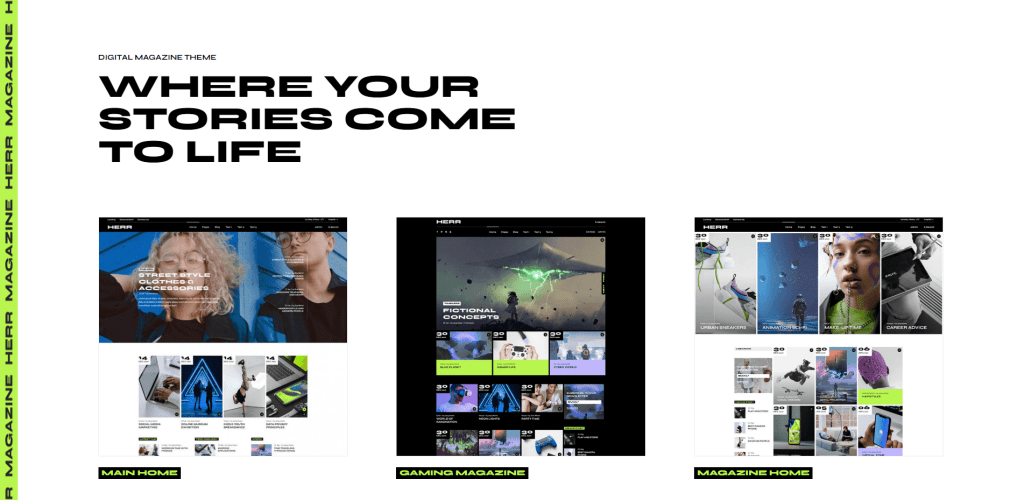 Select-Themes have always had a keen eye for detail, and the Herr theme is no exception. Built as a solution for digital magazines, this theme will blend together nicely for tech blogs and otherwise tech-related publishing platforms. The selection of demos covers niches like a magazine, gaming, fashion, and tech, but also creative use cases.
The mix of dark and light tones provides plenty of alternative options for applying a custom design for each site section. And this can be further utilized for article posts themselves, as you have the ability to choose from several pre-built article styles. As for features, Herr implements elements like a scrolling progress bar, an article switch with arrow keys, and a custom-made newsletter popup for collecting email subscribers.
All in all, my impression of Herr theme is that it's built for professional projects. A high-quality design like this will do wonders to help you build a distinct brand presence.
Building a tech blog with WordPress
I think this is easily the most diverse collection of tech blog themes you can get your hands on. Just a few years ago, many of the features we saw for the themes in this post wouldn't have been possible without external plugins or page builders. Whereas now, it's strange seeing a theme without custom features and professional design elements.
At the very least – I hope at least one of these themes will become the new home for your tech site, and if it does – don't hesitate to reach out and tell me about it!
---